Technobezz is supported by its audience. We may get a commission from retail offers
Summary – An inevitable product in every kitchen that makes life easier and allows individuals to explore a wide range of recipes is the microwave
An inevitable product in every kitchen that makes life easier and allows individuals to explore a wide range of recipes is the microwave oven. The best microwave under $200 is the most sought after category because there is no need to spend several hundreds of dollars on a single product. Besides, it lets you invest in additional kitchen equipment such as blenders, portable smoothie makers, etc. From retro design to modern-day aesthetics, microwave ovens are available in all sizes and shapes. From the list below, choose the one that best suits your home needs.
See also: Best food processors
Best microwave under $200
Bring Retro Style Back to Life
Nostalgia RMO4IVY Retro 0.9 Cubic Foot 800-Watt Microwave Oven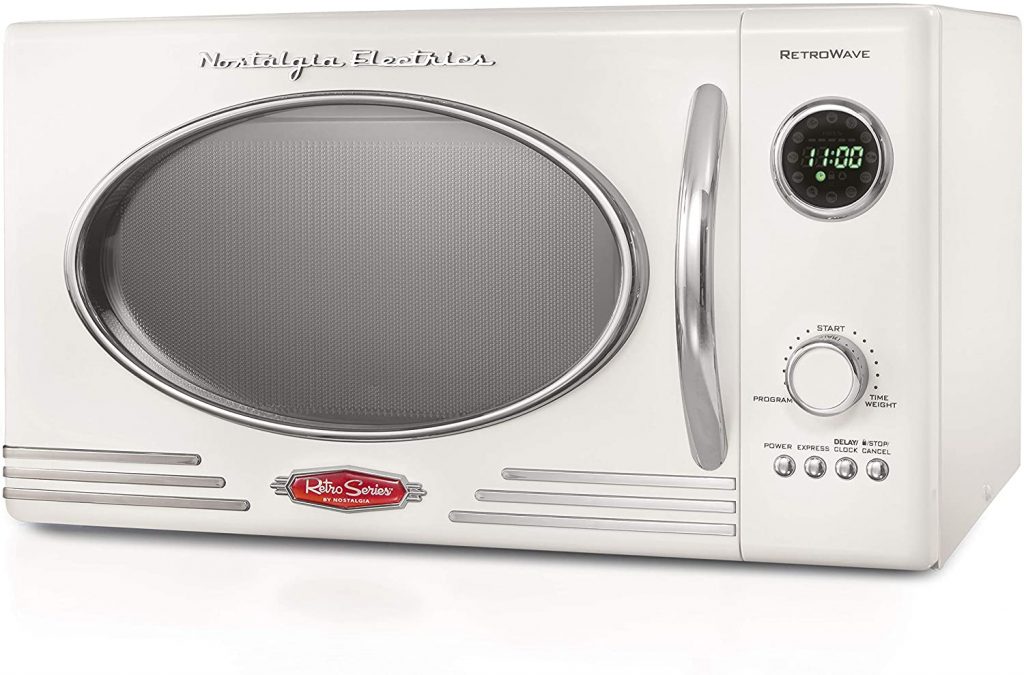 This microwave oven has been designed in such a way that it resembles the radio box from the 60s and 70s. However, this is a full-fledged modern-day gadget designed to make your cooking sessions easier. The total capacity of the Nostalgia RMO4IVY Retro model is pegged at 0.9 cubic foot and its total cooking power is impressive. The 800-watts power is more than enough for all your baking and heating requirements.
The advantage of investing in a new oven is that they all have pre-defined settings to meet your different cooking requirements. This particular model from Nostalgia excels with 12 different pre-programmed settings that can be changed with the touch of a button. Instead of using touch buttons, the retro design features actual buttons and a knob. The experience is unique and most people would love to have this because of the physical touch that is missing in modern-day appliances.
To make it easier for you to see the time, the cooking mode, and the number of hours a dish has been in the oven, there is an LED display. The digital clock lets you plan your cooking hours and it is also useful when navigating between different settings. The glass rotates automatically to ensure that the cooked food is evenly heated on all sides. The front area is covered with retro fonts that further adds up to its design factor.
What Makes the Nostalgia RMO4IVY the Best Microwave under $200?
The experience is unique and is efficient while providing you a retro experience like no other microwave.
The ability to switch between 12 different settings allows you to experiment with multiple recipes.
Who Should Buy This?
Retro lovers who love to have real dial knobs and buttons in their modern oven.
A family of four or more, as the storage capacity is much higher than other similar models.
An Elegant Microwave Oven with Conventional Features
Magic Chef MCD993B 0.9 Cubic-ft Countertop Microwave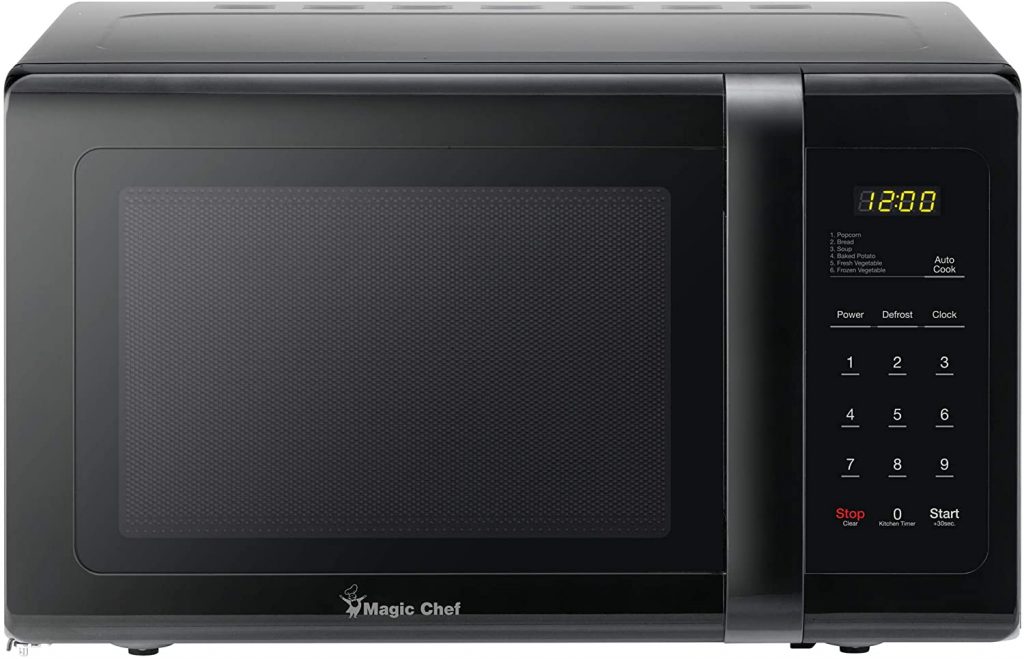 Are you looking for a hassle-free microwave for immediate use? Most users find it easier to have all the buttons in the front panel along with the indicator lights. After all, when you are busy cooking and need to take a quick look at what's happening with the oven, it's always better to have all the buttons and displays right in front. The Magic Chef MCD993B 0.9 Cubic-ft countertop microwave is ideally made for people who want a conventional answer to their everyday cooking problems.
While some ovens occupy less space on your kitchen countertop, some try to be extremely futuristic with no buttons at all. If you are wearing hand gloves to avoid the heat, it is much easier to change the setting or switch off the oven if the buttons are laid out in a conventional manner. Magic Chef makes some of the best models available online and this is one among them. The oven is capable of producing up to 900 watts of sheer power with 8 quick-set buttons in the menu.
The LED display lets you keep a close watch on the timer, check the current time, and choose the right setting according to the dish placed inside the oven. The additional features that are included in the product are time-based defrost. If you have a habit of leaving food items inside the freezer, you can quickly defrost it and get ready for breakfast or dinner. The large capacity of the oven combined with the choice of colors makes it an easy buy.
What Makes the Magic Chef MCD993B an Easy Pick?
The product's design makes it easy to use and anyone can understand easily how its settings work.
The large buttons are easy to use even if you are wearing hand gloves.
Who Should Buy This?
People who are fond of big buttons that make it easier to switch between multiple settings.
Those who need a no-hassle solution, with a good choice of colors.
The Best Microwave Under $200 For Everyone
Toshiba EM131A5C-BS Microwave Oven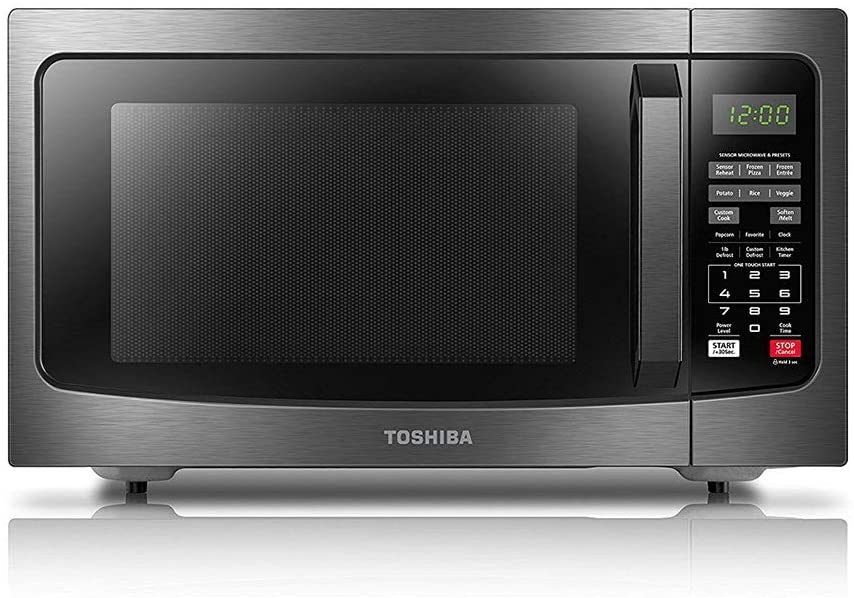 This product has so many features that you'll love. At first look, the Toshiba EM131A5C-BS might not impress you. But then, the ultimate aim of the manufacturer is to provide an excellent cooking experience. With thousands of positive reviews, it is hard for you to go wrong with this one. Besides, it's one of the best-selling products online. The Sensor Cook technology is amazing as it can adjust power and time automatically based on the type of food ingredient placed inside.
People use their ovens mostly to heat food items rather than cook fresh cakes and doughnuts. Toshiba has designed this product to provide optimal heating levels. Be it pizza, potato wedges or vegetable assortment, you can heat them all quickly for consumption. The microwave will also come in handy when you need to cook potatoes for adding to your dinner or breakfast for a healthy diet plan.
The total power is measured at 1100 watts and you can easily clock it down between 10 different power settings. The digital LED display is large and provides a quick overview of what is cooking. A one-touch function is designed for making popcorns while a double tap will help you choose between defrost settings. The first one is a custom mode while another one is for one-pound auto-defrost of different food items.
What Makes the Toshiba EM131A5C-BS Microwave Oven a Crowd Favorite?
The oven is ideal for heating leftover food and defrosts frozen food items.
It features a one-touch button for quick popcorn making.
Who Should Buy This?
If you are a big fan of popcorn made at home, you will find the one-touch popcorn setting handy.
Those who need a silent operation of appliances in their kitchen, especially families with small babies and children at home.
A Clean and Professionally Designed Microwave Oven
Kenmore White 70912 Countertop Microwave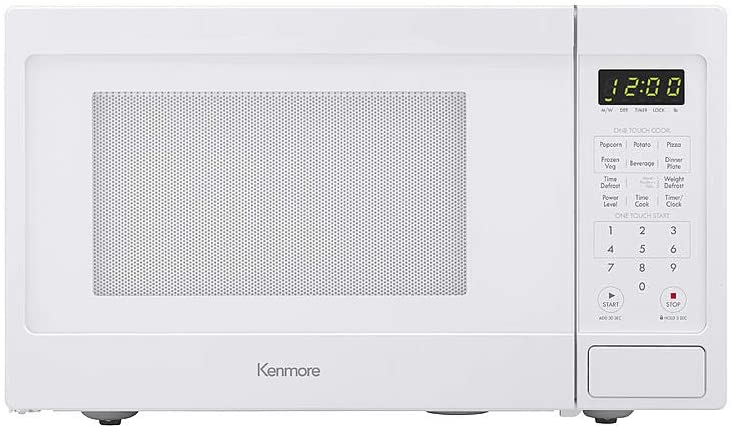 The advantage of having a large microwave oven is clearly felt when you need to cook food for the entire family. You can even consider throwing a small party for a group of friends because the Kenmore White 70912 supports up to 0.9 cu. ft. of food capacity. The product allows users to quickly cook multiple dishes at the same time because there is enough space in the microwave to accommodate them. Just make sure to maintain the heating levels appropriately so that the food items don't get burnt.
Be it popcorn or pizza, you can make them all from the comfort of your home. The oven supports 6 different auto-cook functions from which you can choose the one that appropriately fits your needs. For those of you who have to store food items in their refrigerators, the auto-defrost modes in the microwave help a lot. The defrost-mode allows you to choose based on the weight of the food or the time to turn over the dish.
Parents are often worried that their children might try to open the oven when it is in operation. Similar to many popular brands, Kenmore has ensured the utmost safety. The child safety lock safeguards your kids against any accident. It can deliver about 900W of power that can cook food items of all sizes to their optimal level. The diamond cavity design on the inside allows the heat to be evenly spread on the item being cooked. A 30-second functionality lets you provide that final touch to your chef's recipe.
What Makes the Kenmore White 70912 Countertop Microwave an All-Rounder?
The product has received excellent reviews and is priced at an ultra-affordable range for most families.
The larger cooking capacity allows you to experiment with different recipes at the same time.
Who Should Buy This?
An all-rounder solution for people who have at least four or more household members.
If you are looking for an oven that lasts long and sports a durable build, Kenmore is the one.
If you Love Big Buttons, you will Adore This!
Costway Retro Countertop Microwave Oven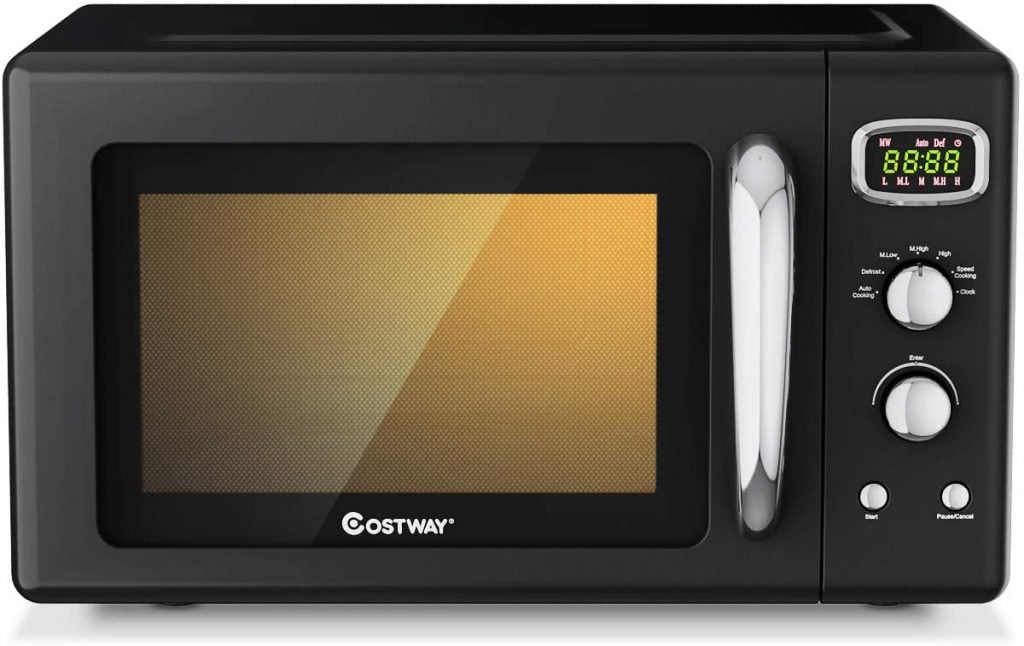 The capability to use your microwave oven for almost any cooking purpose will make you feel good about your purchase. The Costway Retro countertop microwave oven delivers it with five different power levels. You can choose to defrost or go for medium-low, medium-high and high. Based on the type of dish that is being prepared, the variable oven heating modes will help. If you are cooking a large turkey or chicken, the High mode will be ideal for the purpose.
All food items should be properly and evenly cooked. This oven is equipped with a rotating plate that ensures your meat or cake is properly heated on all sides. Based on your settings, you can ensure the food is fresh, delicious, and either crispy or soft to suit your taste. The rotating glass is removable which makes it easier to clean once cooking is done. Another standout feature of this product is the inclusion of large, circular knobs.
They are easy to operate with your hands while the silver finish on all the buttons provides an authentic retro look for your oven. The auto-cooking mode has presets but the user also has the freedom to customize it to suit their cooking style. Be it pizzas, popcorn, or baked potatoes, you can make them all from the comfort of your home. The LED display is large and easy to read while notifications are brought to your attention by the triple beeps.
What Makes the Costway Retro Countertop Microwave Oven an Excellent Choice?
The oven supports 0.9 cu.ft. of food capacity and lets you cook for a large family.
The retro design and the ETL certification are the icings on the cake.
Who Should Buy This?
People who love to have a retro kitchen setup.
If you love large knobs that are easy to use while wearing gloves instead of buttons, go for this model.
A Well-Known Brand for Buyers Who Prefer It
Samsung Electronics MS14K6000AG 1.4 cu.ft Microwave Oven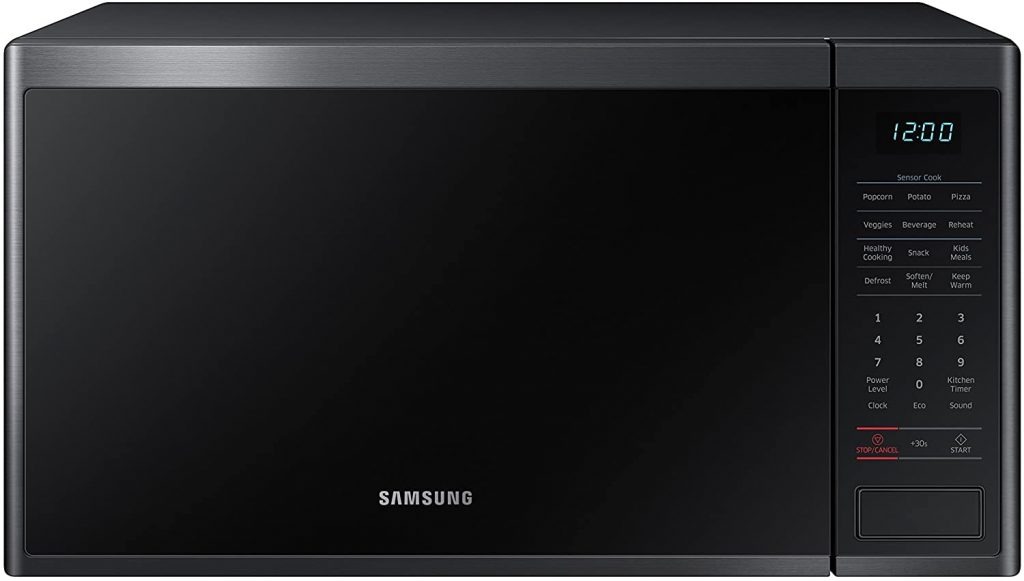 The brand name Samsung is quite popular worldwide. Some people prefer to go for a name that is familiar and has better customer support. The Samsung Electronics MS14K6000AG 1.4 cu.ft microwave oven excels in multiple areas. The oven's food capacity is the standout feature because it can hold up to 1.4 cu.ft. which is large enough for a big chicken or multiple dishes that can be cooked at the same temperature.
Being a futuristic product from a brand that is known for making home appliances, Samsung has achieved something unique and useful. The microwave oven is equipped with a sensor that can set the cooking time automatically. The technology is referred to as the Sensor Cook that saves you time and lets you avoid the hassles of manually setting the timer each time. The sensor can also make out the moisture content of the dish and adjust the temperature accordingly.
The heat disbursal is handled by the triple distribution system that is designed to automatically spread heat on the ingredient. A thorough and even distribution of heat will ensure that the end-product is delicious. The overall build quality of the oven is top-notch and its performance is impeccable. The exterior is made of metal with a matte finish. If you find grease or oil on the surface, just wipe it clean and your product will look as good as new.
What Makes the Samsung Electronics MS14K6000AG 1.4 cu.ft Microwave Oven Reliable?
The brand value of Samsung is much higher than other local brands.
The pricing is ideal and it has lots of settings to choose from, which makes it versatile and useful for cooking almost every type of dish.
Who Should Buy This?
Professional chefs and enthusiasts who like to cook unique dishes at home.
For those who don't want to set the timer every time they cook, the automatic sensor is a great feature.
An Inverter Microwave to Save Power
Panasonic Microwave Oven NN-SN686S Stainless Steel Model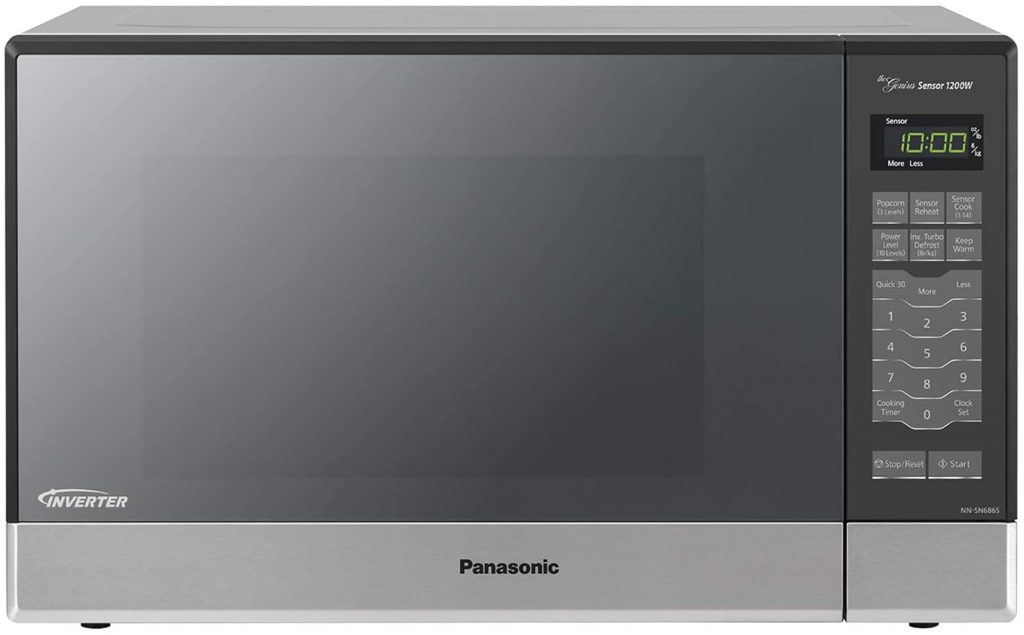 Panasonic is one of the star players when it comes to high-quality home appliances. All their products have the excellent build quality and have several useful features. The Panasonic NN-SN686S stainless steel model is no different and is a very durable appliance. The product delivers 1200 watts power and can handle moderate-sized dishes up to 1.2 cubic feet.
The countertop oven fits easily on your kitchen counter to heat food items or cook when you need to. One unique feature of the product is the inverter technology that delivers constant high power. The turbo defrost reduces the time the oven takes to defrost your food items significantly which in turn helps to prepare your meals much faster.
The Genius sensor is an exciting new feature that is designed to automatically detect the food item inside the microwave oven. It adjusts the temperature and the time accordingly based on different food items. A total of 14 different presets are provided using which you can change your menu every time. A quick-minute timer lets you roast or provides the final touch to a dish while the Delay Start option comes in handy during specific occasions.
What Makes the Panasonic Microwave Oven NN-SN686S a Reliable Solution?
The number of different presets allow users to cook a wide range of dishes without having to manually choose individual settings.
The keep-warm setting is a valuable addition that lets you keep desserts, soups or gravy warm until the primary dish is ready.
Who Should Buy This?
For those who have to do a lot of defrosting, the inverter power helps save on electricity bills.
If you don't want to manually change settings multiple times for each new dish, this is the ideal oven.
A Compact, Easy-to-Use Microwave Oven with Mute Option
Comfee AM720C2RA-A Countertop Microwave Oven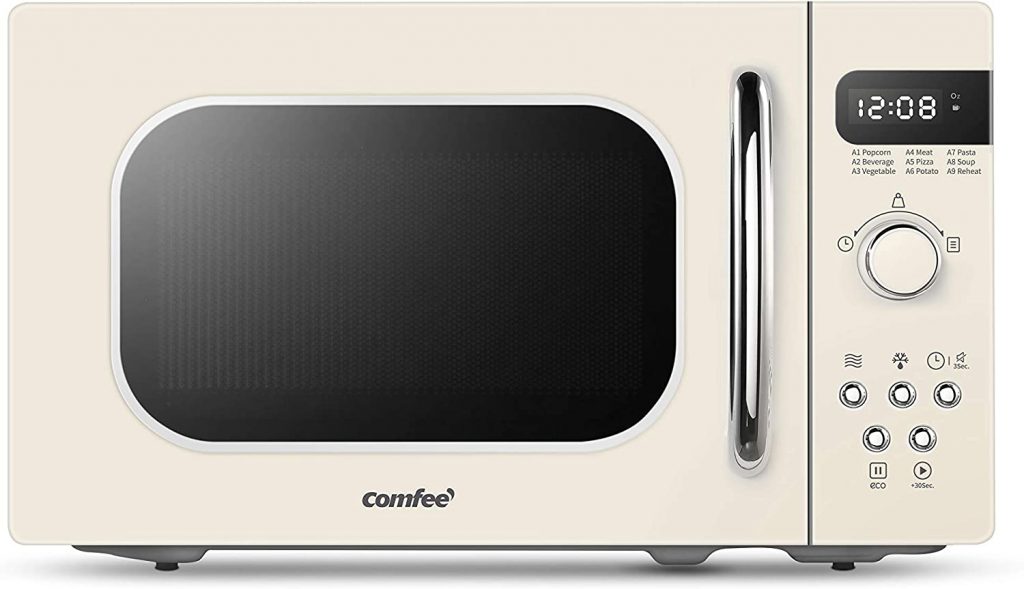 The Comfee AM720C2RA-A Countertop microwave oven comes with a mute option and is designed for moms with babies and for use at hospitals, offices, etc. This oven is the ideal product to have when you need to cook quietly without making beep sounds from the oven. The simple but elegant feature is that it allows you to switch off all sounds. The entire product is made using high-quality stainless steel material and it is a compact oven with up to 0.7 cubic foot capacity.
Despite being a compact product, the oven can still deliver 700 watts of power. There are 10 different power levels to choose from which allows you to cook any dish. Be it an unforgiving turkey that takes a long time to be fully cooked or a quick tub of popcorn, you can simply choose between the right heat settings to cook the ingredient appropriately. There is an energy-saving eco mode that switches of 50% of the power and can be used as a standby mode.
The retro design gives it a cute feel and the product has a year warranty. The buttons are thin and more like touch-buttons which may be slightly difficult to handle with gloved hands. However, they are very responsive. The images of pizza, beverage, or popcorn on the heat settings let you quickly choose the required mode and let the oven do the job.
What Makes Comfee AM720C2RA-A Countertop Microwave Oven Useful?
The eco mode keeps the food warm on standby so that you can start cooking immediately when you are ready.
The display is bright and is easy to read while you have the option to switch off sounds completely.
Who Should Buy This?
Those who have a baby or very young children or elderly people at home would like this oven with its complete sound shut-off feature.
Easy to understand controls that let teenagers or newbies use it easily.
Experience the Power of Speed Cooking
Farberware Professional FMO12AHTBKE 1.2 Cu.Ft. Microwave Oven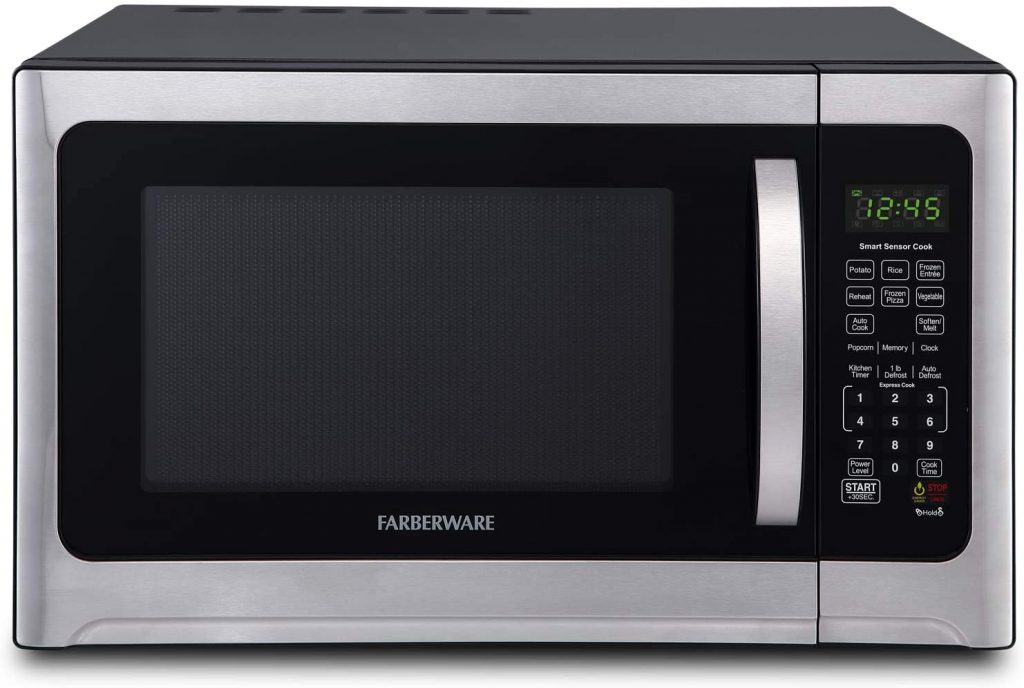 If you like to finish your cooking fast, the Farberware Professional FMO12AHTBKE is made just for you. While all the conventional features of a microwave oven can be found in this product, you will also find some unconventional yet useful additions. The first and most popular choice is the concept of speed cooking. You can complete your cooking in just a minute and up to 6 minutes for large food portions. An additional 30-second button lets you add the final touch to your roasted lamb or duck.
Equipped with smart sensor technology, the oven automatically determines the temperature setting. It detects the steam generated by the food that makes it easier to either increase or decrease the temperature until it is properly cooked. While you do have to manually test it, the custom settings are useful only for seasoned professionals. Others can make use of the pre-defined sensor-based solution found in Farberware.
The front of the oven is made of a large, clear view glass. The design allows you to peek at the food being prepared, see if it is getting properly cooked or getting too much heat. You can make quick decisions to continue heating it or to stop. There are 10 power levels and it allows cooking to be done in multiple stages. There are pre-programmed settings including 4 melt settings, 3 auto defrost and 3 soften settings to warm up stubborn meat before you proceed to the actual cooking process.
What Makes the Farberware Professional FMO12AHTBKE a Solid Entrant?
The oven is convenient to use and has some convenient settings such as defrost, soften, or melt.
It is an elegant looking oven that is equipped with a child safety lock.
The oven has defrost settings based on the weight of the food.
Who Should Buy This?
Those who need a microwave that is easy to handle. The smart sensors combined with food-based heat settings on the one-touch buttons allow you to handle kitchen tasks easily.
For those who have to defrost large quantities of meat etc.
The Best Rated Oven Under $200
Black+Decker EM031MB11 Digital Microwave Oven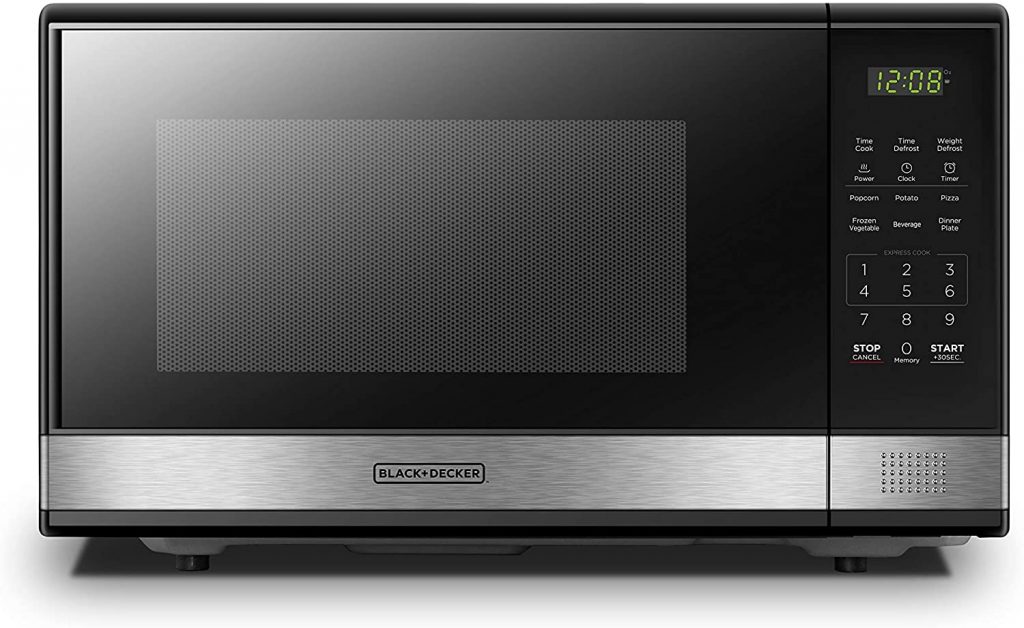 While shopping for a home appliance, especially when it is an important device such as a microwave oven, people tend to be generous in spending. As a matter of fact, there is no need to spend hundreds of dollars on a single product. The Black+Decker EM031MB11 Digital Microwave Oven disproves the long-standing claim that expensive products are the best. Rated as the best microwave under $200, the oven delivers everything you would expect including build quality, features, and ease of use.
With hundreds of positive reviews, you can hardly go wrong with this product. Besides, considering the cheap price tag, it would be difficult to miss out on the Black+Decker brand without giving it a try. This particular model has a moderate capacity of 1.1 cu.ft. A larger capacity of 1.4 cu.ft. or a smaller model of 0.7 cu.ft. are also available. The features are simple and easy to operate. Just press on the corresponding button such as pizza, potato or vegetable which automatically sets the specific temperature and timing.
The push-button door provides safety with an integrated Child Lock while you can still open it by pushing it inwards to unlock it. The digital LED display is large and easy to see from a distance. If you are working on other recipes, you can keep a close watch on the timer. Additional features included in this budget-friendly microwave oven include a quick 30 seconds for the final touch, 10-different power levels and an express cook button to speed up the cooking process. Be it cooking or defrosting, your product can handle both efficiently.
What Makes the Black+Decker EM031MB11 Digital Microwave Oven Value for Money?
The product delivers all the features that you can find in an expensive model.
The oven handles different tasks seamlessly including heating, defrosting and cooking.
Who Should Buy This?
This is for those who need more space in their oven.
For those buyers on a tight budget but do not want to compromise on features.
Professional Oven for the Dedicated Chefs at Home
Panasonic Microwave Oven NN-SN766S Countertop Oven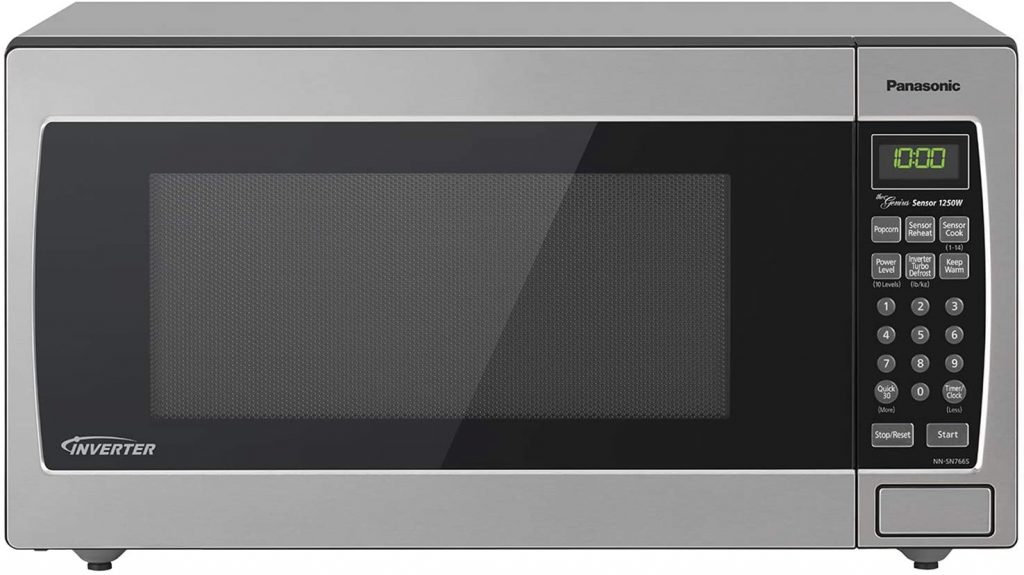 Adding a professional cooking appliance to your kitchen may sound like overkill. Considering the fact that you might be using your oven multiple times in a day to cook, heat dishes, and defrost those left in the freezer, a reliable microwave oven is necessary for the kitchen. This best microwave under $200 helps save you from the guilt of spending a thousand dollars on a microwave while at the same time enjoying the features offered by it. Yet, you can receive the benefits the Panasonic Microwave Oven NN-SN766S Countertop Oven has to offer with a fraction of the cost.
The product stands out because it delivers 1250 watts of power. The capacity of the oven is much higher when compared to many other devices in the same price range. You can easily cook or defrost at 1.6 cu. ft. of food items which means you can cook for a large family or a small party hosted for your friends. The large capacity allows the heat to spread out and retain the flavor in your meat and vegetables.
It is a power-saving solution as the oven makes use of Inverter Technology. An additional useful feature is the inclusion of turbo defrost mode. Compared to many other smaller ovens, the Panasonic model can defrost larger quantities with short turnaround time. It significantly reduces the time taken to defrost your food. The Genius Sensor helps to detect the dish automatically and adjust the temperature appropriately.
What Makes the Panasonic Microwave Oven NN-SN766S Oven an All-Rounder?
With over 14 different presets to choose from, you will hardly face any problem in arriving at the right setting.
A time-saving design with a large capacity of up to 1.6 cu.ft. and 1250 watts of power output makes it a real all-rounder.
Who Should Buy This?
If you want to cook large quantities of food, this will be a useful addition for your family.
A great choice for people who have lots of dishes to be defrosted or to be kept warm such as gravies and soups.
A Microwave Oven with Ceramic Enamel Interiors for Improved Quality
Samsung MG14H3020CM 1.4 cu.ft. Countertop Grill Microwave Oven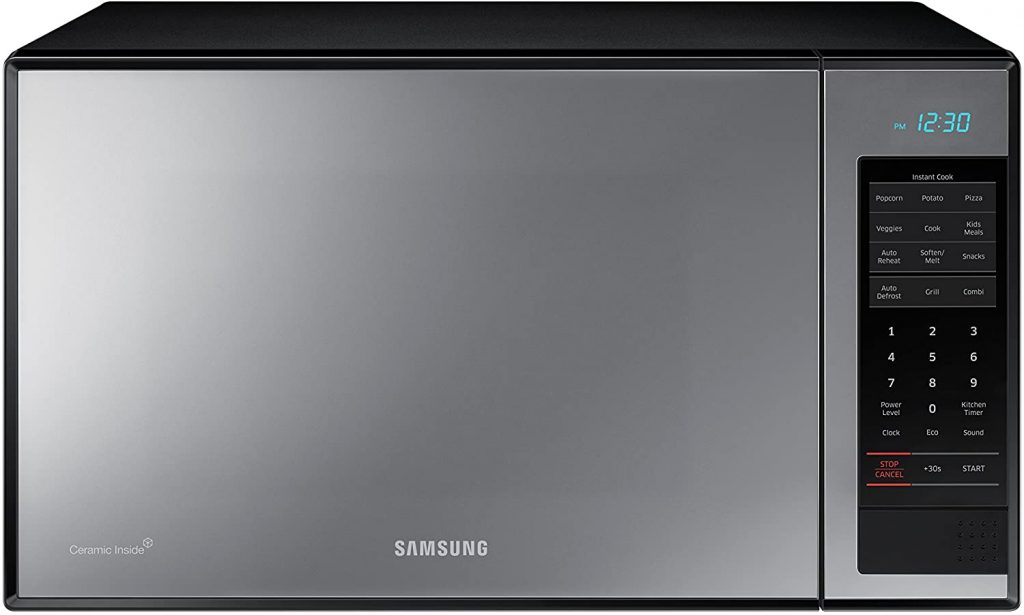 The advantage of having an oven with ceramic enamel interiors is that it helps retain the freshness of your food. While cooking, when the oven reaches unprecedented heat levels, the enamel coating ensures that there is no melting or emission of harmful substances on the food being cooked. The Samsung MG14H3020CM microwave oven falls into the premium category yet is priced within your required budget.
The interior is completely scratch resistant. If it gets food stains you can just wipe it clean. This also prevents flavors of different dishes from mingling, especially when you have to cook continuously. It has a total of 10 power levels to choose from and the LED display is compact, yet easy to read. The total food capacity of the oven is 1.4 cu.ft.
Everything is automated in the Samsung oven as it supports auto-reheating, cooking, and defrosting. A unique aspect of the product is the inclusion of a grilling element. For people who love to have a slightly roasted experience with their pizzas and potatoes, the manufacturer has included a grilling element. This additional feature helps add a better crispy level to your food.
What Makes the Samsung MG14H3020CM Grill Microwave Oven Efficient?
The inclusion of a grilling feature should make food lovers happy.
It works exceptionally well for both defrosting and cooking meat.
Who Should Buy This?
If you love the mirror-like exterior design and want an easy to clean solution, this oven is the right fit.
If you need a large and powerful oven for multi-purpose home use, then go for it.
Conclusion
The best microwaves under $200 are an effective solution for most buyers. When one has to invest in multiple kitchen appliances to make life easier, it doesn't sound logical to invest thousands on a single product. The good news here is that you have nearly a dozen different products to choose from and many of them are less than $150, making them an easy choice for your everyday cooking, heating and defrosting needs.
---