Technobezz is supported by its audience. We may get a commission from retail offers
Summary – Loaded with the latest updates and a great camera, iPhone has always surpassed the boundaries
Loaded with the latest updates and a great camera, iPhone has always surpassed the boundaries of excellence. However, the problem of carrying your phone while you are working out or going for a run has always been a major problem. Carrying it in your hands is difficult while carrying it in your pockets always has the chance of the phone slipping out. Thankfully, armbands have come up as a great way to effectively carry your phone while keeping your hands and your pockets free. If you are looking for the best iPhone armbands, here are a few of the best in the market. This list, along with a search on the internet will help you arrive at the right decision.
See also: Best iPhone 11 Pro cases
Best iPhone Armbands
Best Armband That Fits All Arms
Tribe USA Phone Armband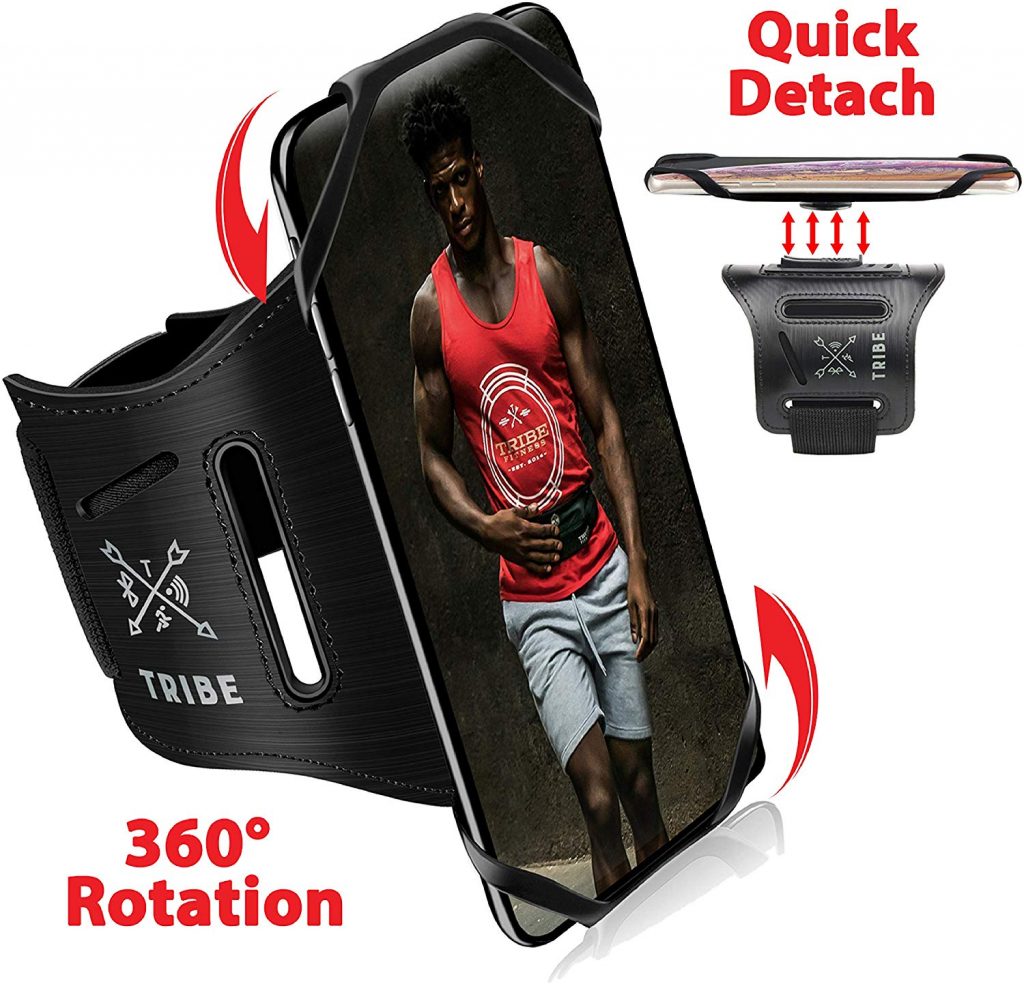 When you are getting an armband you should make an investment that is comfortable for you. You should go for an armband crafted from good materials so that it does not bother your skin after your daily runs. Tribe is a leading name in phone-related paraphernalia and they make excellent armbands too. This armband is crafted from durable silicon. It is a great material because it is sturdy and is shock-absorbing if ever your phone falls with the armband. The device can fit all phone sizes and thus can not only support all the iPhones but also supports all other smartphones as well.
Many great features set this armband apart. You will see that the phone attached to this armband can be rotated in 360⁰. This is a great development over previous models as it enhances the convenience of use. With this feature, you can check your phone even while running. The armband also supports phones encased in a covering. The device has an elastic strap with dual buckle loops. This makes it easily fit around anybody's arm and there are no hanging straps either. This armband allows you to detach the phone as easily as you can rotate it. Thus, whenever you come up with a great view as you are running or need to make an emergency call, you need not go through a great deal of hassle to detach the phone and get going with what you need.
Who should buy this?
Those who like to browse through their phones occasionally while running or during a workout will love to have this armband.
Best Armband to Snugly Fit Your Phone
Revere Sport Premium iPhone Running Armband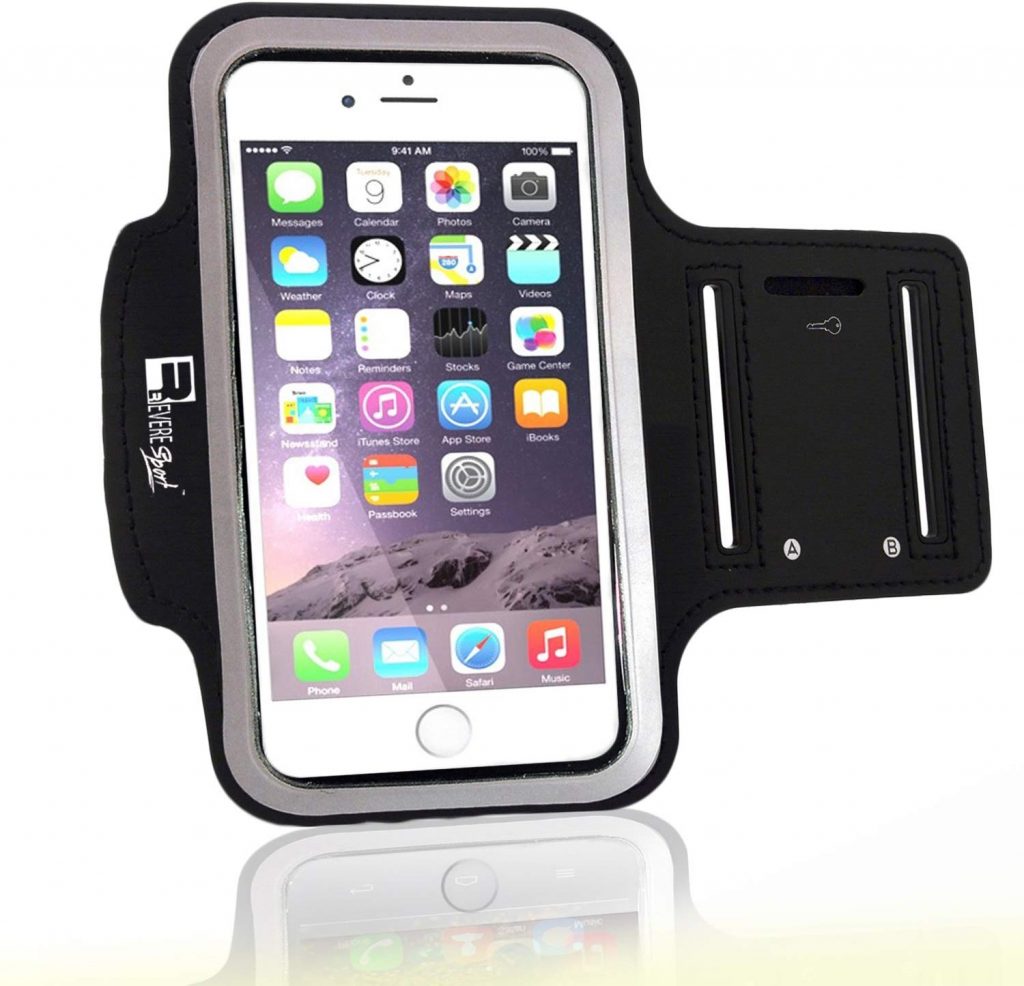 An armband should be like your best friend, it should be like an extension of your arm that holds and protects your phone as you go through your daily exercise or engage in adventure sports. The Revere Sport Premium iPhone Running Armband is particularly crafted for that purpose. It is loaded with all such features that do not let your phone fall off even during the most rigorous sessions and also protect it from other kinds of shocks and jolts. It is designed to house iPhone 7 or 8+. You can even put on a slim case on the phone and fix it to this armband without a problem.
This armband gives you a versatility that is seldom found in other armbands. It has a separate slot using which you can access your phone by giving the fingerprint ID. You can attach a pair of headphones to your phone when it is fixed to this armband. It even features a separate compartment where you can keep your keys, cards, money, and other things without scratching your precious phone. The armband is shielded by a transparent, protective cover that protects your phone from outside elements. The armband is crafted from neoprene material which has advanced moisture-absorbing properties that do not let sweat and rainwater affect your phone. It also has a reflector strip that warns motorists, thereby acting as an amulet of safety for you.
Who should buy this?
If you are someone who is using iPhone 7 or 8+ and are looking for the perfect armband that will hold your phone snugly, you should try the Revere Sport Premium iPhone Armband.
Best Sweat-proof Armband
LOVPHONE armband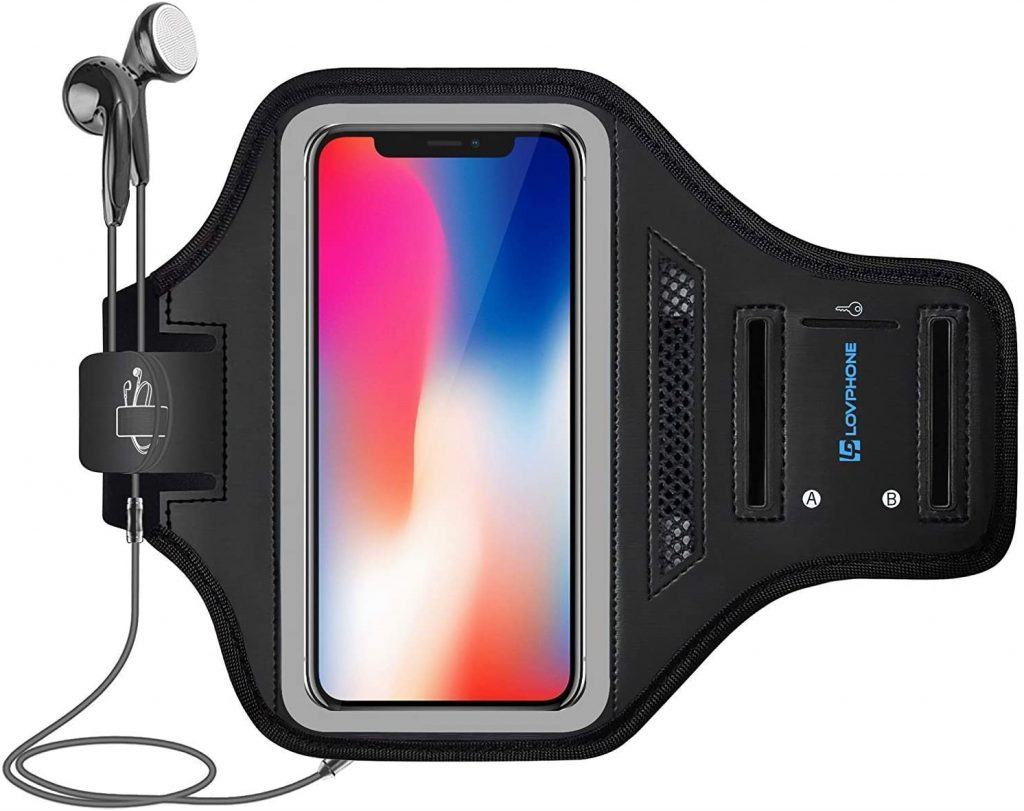 A phone is a multifaceted unit that is your communication and entertainment system at times while at other times it can be even your workout instructor. The latter is generally when you are working out, jogging, running, hiking, and so on. These are times when you cannot carry the phone in your hand and have to depend on an armband such as the LOVEPHONE Armband. This is an excellent armband that comfortably wraps around your arm and will not come off till you remove it. The armband is made from quality materials and has water/sweat resistant properties that keep your phone safe.
This is an exceptional armband that can hold any smartphone or iPhone. It also has a covering that ensures that touch screen functions remain intact. There is a separate compartment for keys and cards, another slot to effectively put your headphones through. You can carry out all the functions of your phone through this wonderful armband. The breathable matrix allows your arms to go as sweat-free as possible. You can jog or run with this armband without fear that your phone will fall down.
Who should buy this?
This super-effective armband is for those looking for an armband that is sweat-proof and comfortable
Best Water-Resistant Armband for Your iPhone
Tribe Water Resistant Cell Phone Armband
Getting an armband for your phone is a difficult task especially with all the options you have available in the market these days. If you want a decent armband that is both stylish to look at and effective in use, you can try the Tribe Water Resistant Cell Phone Armband. If you like quirky colors, this stylishly crafted armband is available just for you. If you want a high degree of functionality, this armband also features that. It is created from a composite material made with a mix of polyurethane with lycra and neoprene. The final material is highly rugged and resistant to the effects of both water and sweat. Thus, your iPhone will stay safe and will never get damaged by your sweat.
The materials used in the construction make this a very comfortable armband. Plush material plus a dual-loop lock ensures the highest degree of safety for your phone. The front side of the armband has a transparent covering that allows you all the touch functions on your phone. There is a slot to place your headphones too. This allows you to listen to songs, manage playlists, receive or make calls easily while using this armband. The size of the band allows you to put iPhones 8, 7, and 6 models and any other phone that has similar dimensions. You may perform any form of exercise while you are using this armband and there is no chance for your phone to slip off or get damaged in any way.
Who should buy this?
Do you want an armband that holds tightly to your arms? Are you looking for an armband that does not hinder the degree of use of your phone? If so, then you should try this lovely cellphone armband crafted by Tribe which is a leading company in manufacturing smartphone paraphernalia.
Best Armband with a Comfy Strap
Tune Belt Armband for iPhone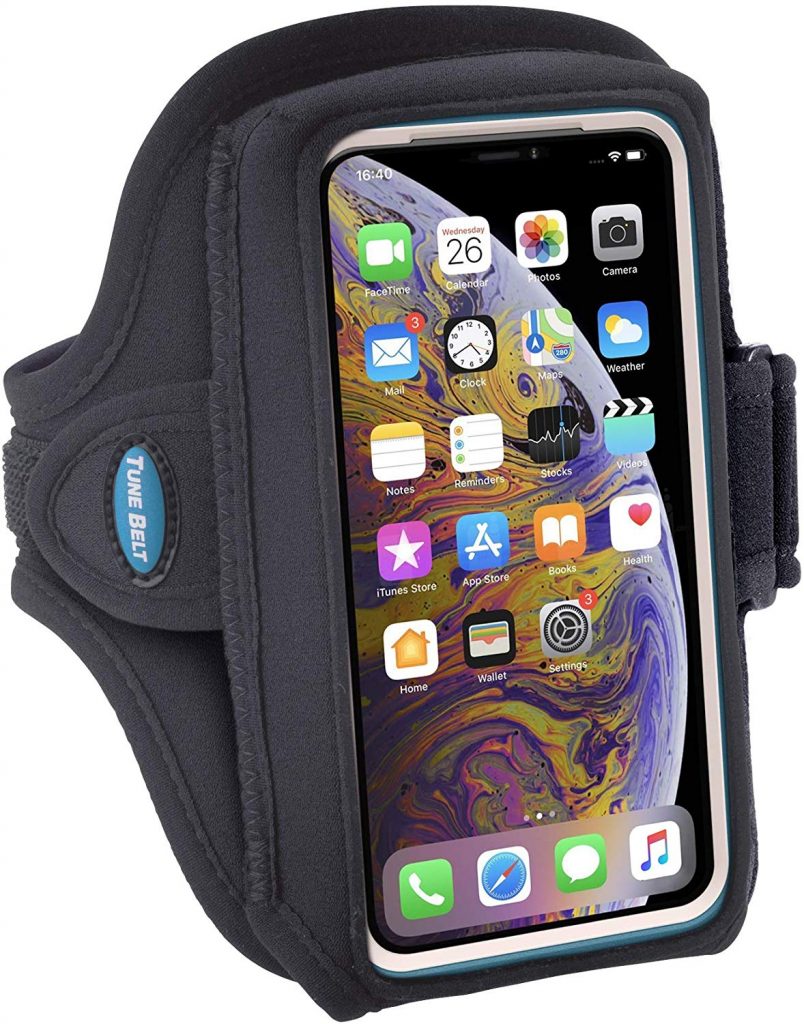 Once you start looking for armbands for your phone, the options in the market can seem dizzying. There are all kinds of designs available out there and the choices are endless. If you are keen on making a good investment on a phone armband then you should try the Tune Belt Armband for iPhone. The need to invest in a good armband is so that you get your money's worth. When you use expensive phones there is every chance of it getting damaged by using a cheap armband. A good one ensures that no matter what happens, your phone will not be damaged.
The very first problem that you get with armbands is that it soaks up your sweat and inadvertently damages your phone. The Tune Belt Armband is made from neoprene fabric material. A great thing about this material is that it absorbs all the sweat and is a breathable fabric. This means that no liquids can go into your phone and affect the delicate mechanism within while keeping your arm comfortable. The fabric material is also plush and soft so that it comfortably fits on your arm- it will stay neither too tight nor too loose and it'll never come off no matter what you do. This armband is fit for the bigger phones such as iPhone 11 pro, X, 7, 8 or the newer Galaxy series phones. It's a snug fit with a separate compartment for keys and headphones. This armband even features a flap that allows you to wrap the cords and to prevent it from getting entangled while you exercise. You can wash this armband anytime to keep it clean and hygienic after all those rigorous and sweaty running or workout sessions.
Who should buy this?
Those who are looking for an armband that will not come off your arm irrespective of the kind of exercise or activity that you are performing will find the exclusive Tune Belt Armband for iPhone useful.
Best Armband Available in Multiple Sizes for a Custom Fit
Sprigs Armband for iPhone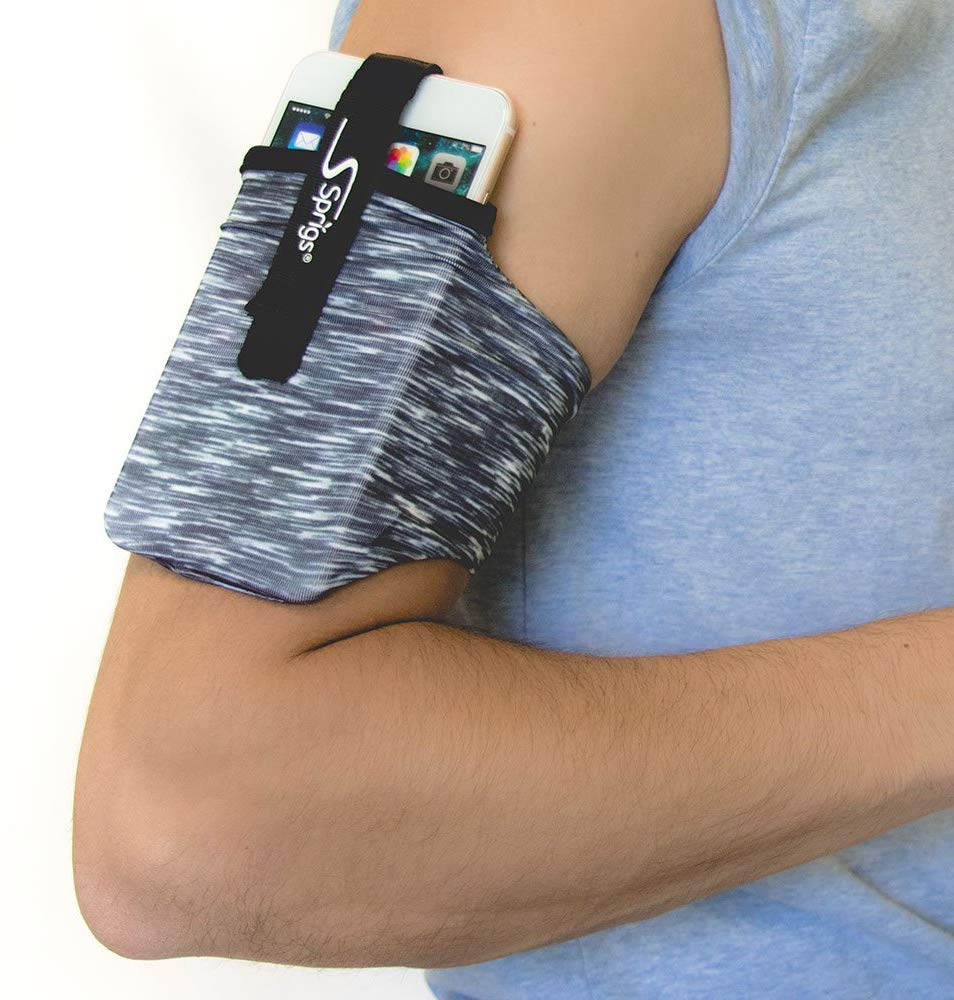 Sprigs Armband for iPhone is an exceptionally well-crafted product, tailor-made to perfection so that it can fit anybody's arm out there. Not only that, this is an exceptional armband that can fit any phone in it. Be it the latest models of the iPhone or the Samsung Galaxy series phone or the older versions, you need not ever worry about having the phone slip out of the armband ever. The best thing about this armband is that it is available in 4 different sizes- small, medium, large and XL. This ensures that the armband is always a perfect fit around your arm irrespective of gender, age and structure of the body. It ensures that the armband is not too tight on your hand thus hindering blood flow, neither is it too loose with the chances of slipping away!
This is a very secure armband to hold both your phone and other small things such as keys, cards, headphones etc.while running or workout. The inner lining of this wonderful armband has grip dots that provide additional grip on the arm. These are an innovative way to enhance the friction between the armband and your arm, thus ultimately supporting the armband and holding it in place no matter what exercise you perform. You may go for a walk, run, jog, hike, do a strenuous workout or whatever you feel like without ever having to worry about the armband. It will get dirty and sweaty after everyday use as all other armbands but you can just throw it into the machine from time to time without any problem and get a clean, hygienic armband before every jog!
Who should buy this?
If you are one who takes hygiene very seriously then this armband crafted from a comfortable yet washable material is the right choice for you as you can wash it regularly without ever worrying about damaging it.
Best Armband for iPhones with a Safety Case
VUP Running Armband for iPhone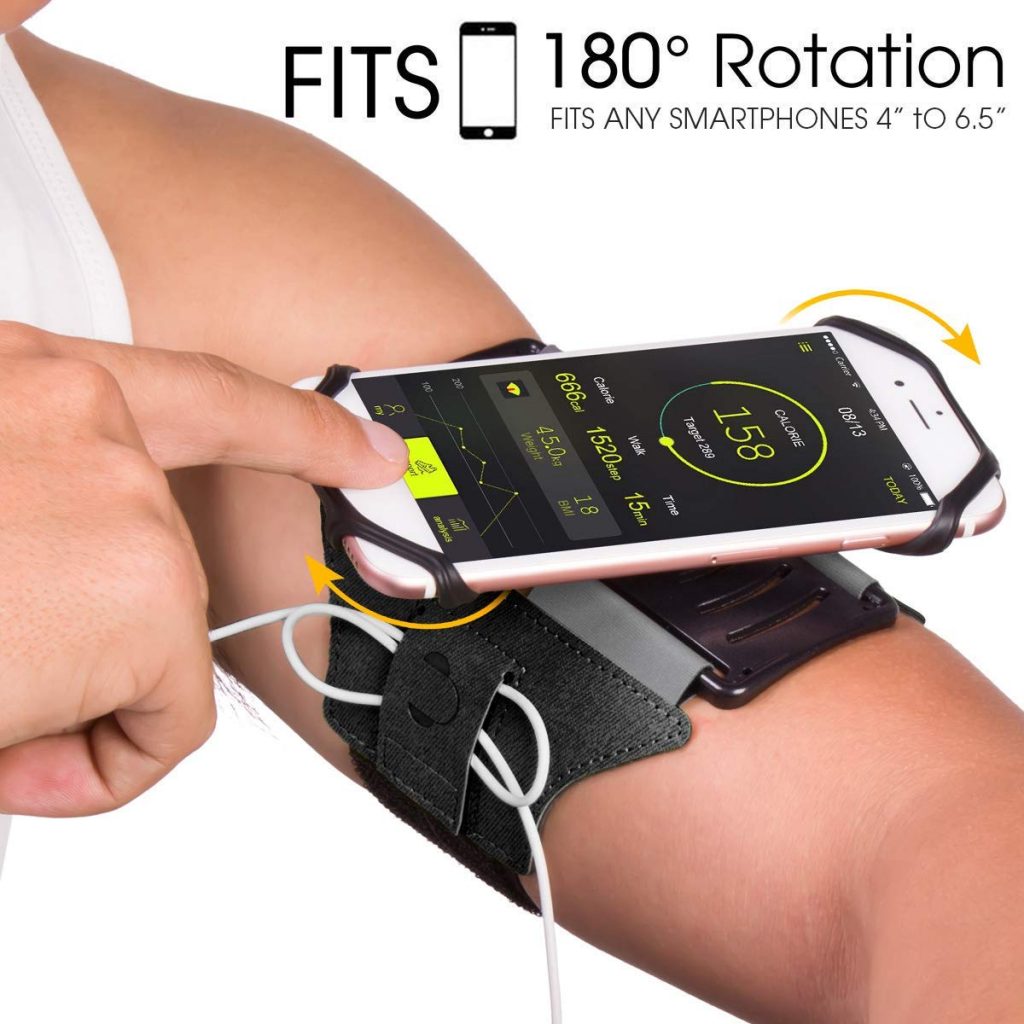 When you go for an armband you surely want one that manages to pack in a lot of functionality with comfort and not one that makes your workout sessions more difficult. Most of the armbands out there don't have a moisture-wicking feature or a strap to wrap loose cords around. These features, though small, have a great impact- moisture-wicking prevents sweat from affecting your phone adversely by absorbing it whereas, the straps ensure that your headphone cord does not get entangled as you run or do a workout. An armband that has catered to all these needs effectively is the VUP Running Armband for iPhone. The most important thing about this armband is that it is crafted from skin-friendly materials. Lycra combined with neoprene is skin-friendly and does not cause unwanted rashes and irritation. It is also extremely good at absorbing moisture and sweat thus keeping your phone safe.
Going for the VUP Armband brings to you a range of benefits. It is not only the material that makes it great. The armband can house any phone as long as it is bigger than 4″ up to 5.5″. You can even have the phone case on while attaching the phone to your armband and that will not be a hindrance. When you are using this armband while running or working out, you can rotate your phone any way you want. The armband supports 180⁰rotation of the attached phone which ensures that you have full accessibility to your phone at all times without any problem. This adorable armband for iPhone is backed by a 3-year warranty and if you are unhappy with this product within the first 30 days of purchase, you can claim a full refund.
Who should buy this?
If you are someone who likes to keep your workout kit clean and hygienic, go for this wonderful armband.Armbands that absorb all the sweat and do not cause rashes, itching or any form of irritation on your arms are great and the VUP Armband for iPhone is just that.
Best Armband to Wash and Reuse
Bone Collection Running Armband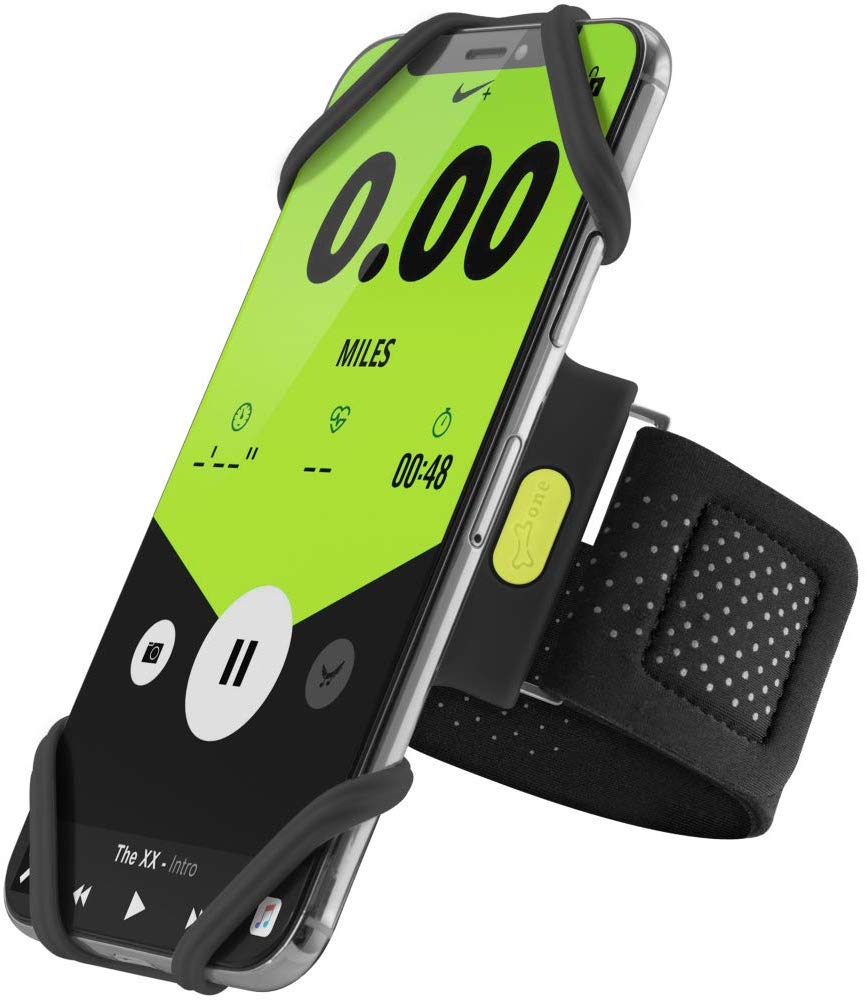 The Bone Collection Running Armband is both stylish and highly adaptable. Most of the armbands you find out there are tailor-made for particular designs of phones. That is not the case with this fantastic armband. It is crafted from an elastic silicone-based material. This not only makes it tough and rugged but also gives it an edge over other armbands- it can fit any phone between 4″ and 6.5″. Thus, it does not matter whether you are using iPhone 5 or iPhone 11 Pro, this armband is the right choice for all the phones. The stretchable phone holder can easily hold all the phones very securely. Since the front side of the phone has no protective cover you can easily access the touch screen of your phone or the buttons along the side without having to take the phone off from the armband.
The holder of this phone is crafted from silicone while neoprene fabric material is used for the band that wraps around the arm. A great thing about neoprene is that it is soft to touch and has moisture-wicking properties. It is also a very breathable material that helps in keeping your arms moisture-free. All these ensure that your phone is not affected by the moisture and you get to attach a comfortable, lightweight strap to your arm. If the armband gets dirty after long time use, you can also clean it very easily.
Who should buy this?
Those who would like to have an armband with great design and texture that can support a wide array of smartphones and for long-term use, will surely like this wonderfully crafted armband.
Best Armband Equipped to Hold iPhones and even iPad Mini
Newppon 180⁰ Rotatable Running Phone Armband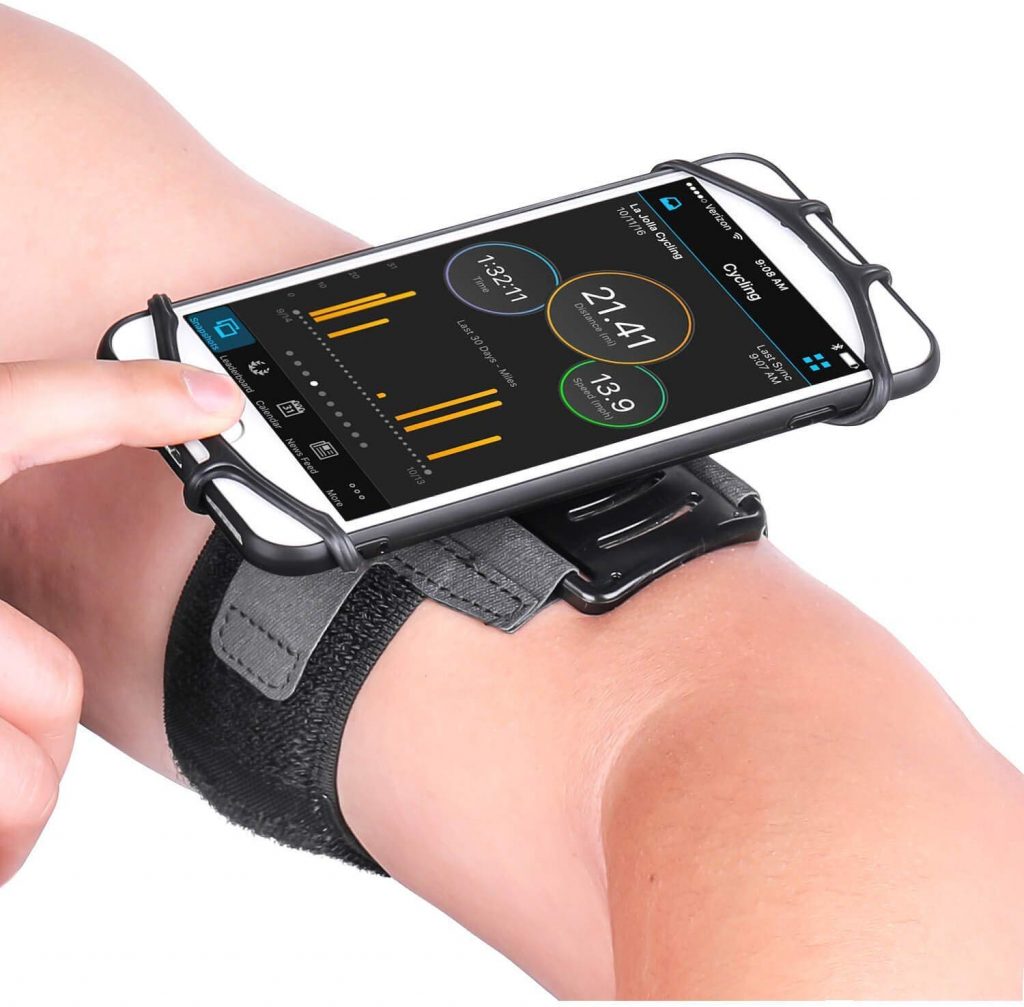 Getting the Newppon Running Phone Armband is a great choice as it is loaded with several features that make it an excellent buy. The one thing that makes a product so desirable is the extent of use that you can put it to and this new armband can be put to great uses. It is crafted from PU leather. This material is soft and hence has a very nice effect on your arms. PU is also completely resistant to water and hence protects your phone from sweat and moisture. The material is also perforated which ensures passage of air to keep the covered area breathable and cool. After purchase, if you do not like the armband you can always go back to Newppon who will give you a full refund for the product or replace the product for you.
This is a great armband that does not hinder the use of your phone at all. It has a housing mechanism that can support phones up to 7.9" and even the iPad mini! You can buy any new phone big or small and this armband will easily support it and hold it securely. Also, it comes in a universal size. This armband is loaded with two strap slots to pass the Velcro through and give you a tight, snug fit around the arm. The armband holds great if your arm falls in the range of 9" to 16". Within the inner lining of the armband are loaded silicone beads that ensure that it always stays in position irrespective of your workout routine. Once you have set your phone up on this armband it does not affect the usability at all. It has a swivel that allows you to rotate the phone up to 180⁰so that all the functionalities of the phone are always available to you.
Who should buy this?
Those looking for an armband that can fit on to multiple arm sizes and has the ability to house phones of varying sizes can depend on this stretchable, moisture-wicking armband for seamless performance.
Best Armband with a Versatile Fit
Trianium Armtrek Pro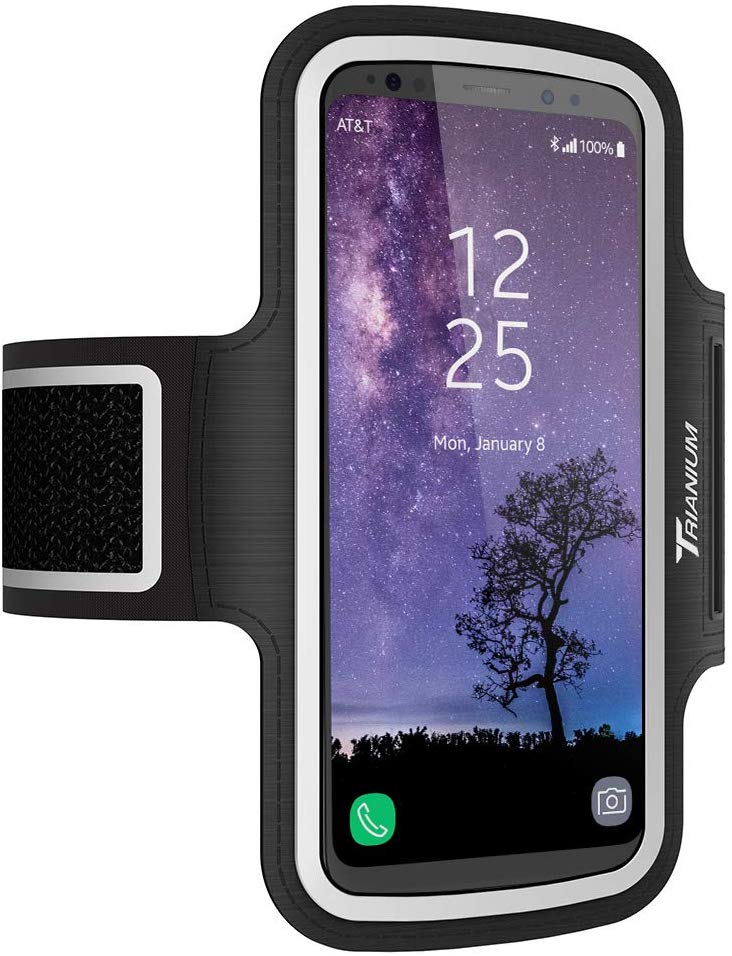 Trianium Armtrek Pro is an excellent armband to have. It is designed keeping the newer, bigger phones in mind. You can even place the bigger phones in their respective cases and still be able to use this armband. The compatible cases with this armband are Otterbox or Lofeproof cases. You can fit the iPhone X or 11 series, and the newer Galaxy series phones in this terrific armband. It will not only comfortably hold your phone but also keep it secure and safe as you go through your routine of strenuous exercises.
The Trianium ArmTrek is crafted from neoprene material. A great thing about this material is that it can stretch without tearing. This is a rugged material and you can twist and turn the holding case without causing any damage to it. The top of the holder is laid with a transparent cover that ensures full phone accessibility. The fingerprint sensor will not work through this cover but your phone will respond to all other touch functions. The covering also protects your phone from the water just like the neoprene material on the back. Yes, the material is also moisture-wicking and absorbs sweat to prevent it from harming your phone. It features a Velcro attachment through multiple slots and this armband can go around any arm up to 14" wide.
Who should buy this?
Those who have arms smaller than 14" and are looking for a satisfying armband that can easily and tightly fit your arms can benefit from having the TrianiumArmtrek Pro.
Best Armband with an Open Design for Easy Access
E Tronic Edge Sports Armband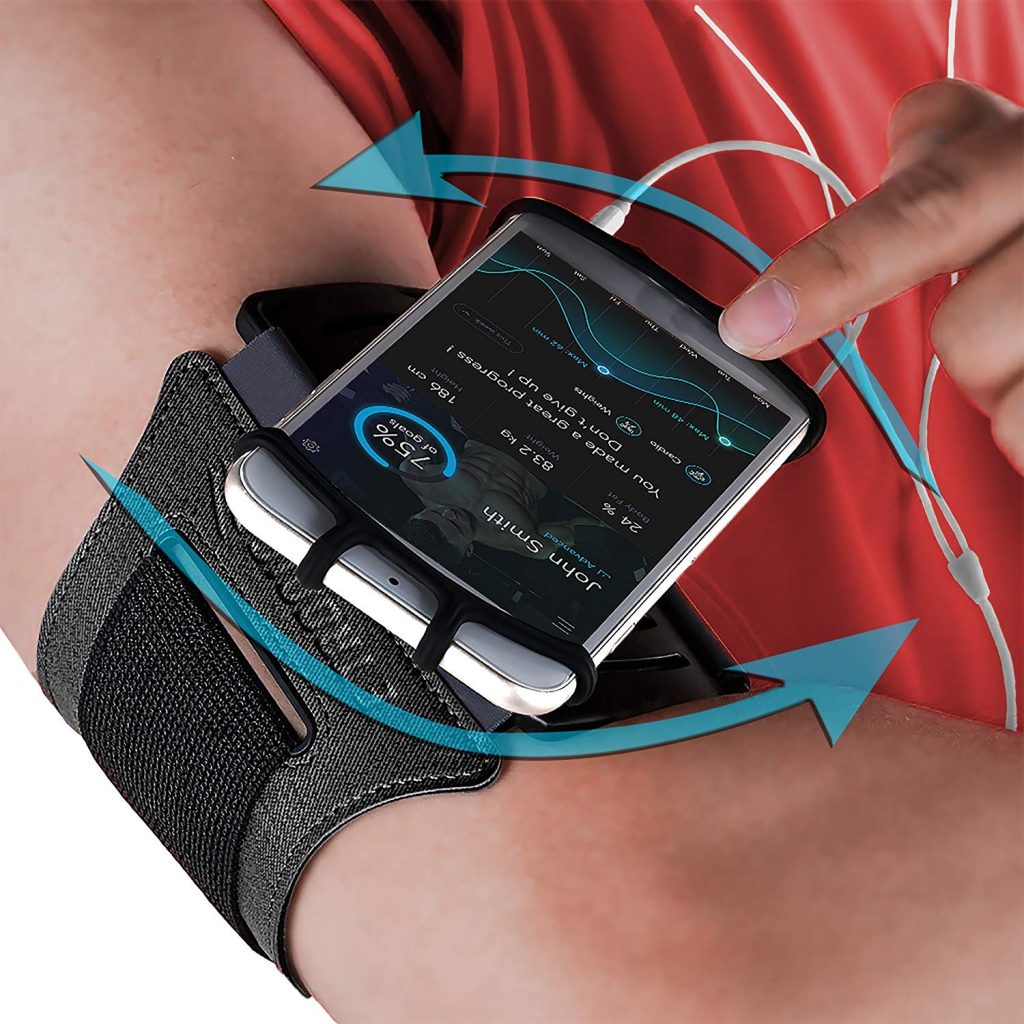 If you are an adventurous kind of person who likes to indulge in outdoor activities, you will surely need an armband. The activities such as running, walking, hiking, mountaineering, camping, and other workouts are great. However, these activities are better enjoyed if you have the facility to use your phone while doing them. An armband allows you to keep your phone on you and keeps it visible while you are doing any of these activities. The E Tronic Edge Sports Armband scores major points and comes up as an excellent choice.
Firstly, this is an amazing armband that can effectively wrap around any arm. You may be skinny or you may have a highly developed and muscular arm, but this armband will fit you whatever the case may be. The armband attaches itself using a strong and powerful strap around your arm that will not budge no matter what. Secondly, there is no covering on top or zippers around to place the phone inside a cover. This armband has a stretchable holder that houses your phone and has an open design. This ensures that you can access your phone any time you want and any way you want. The added rotating feature makes it even better. You can rotate your phone by up to 180⁰ so that it enhances your ease of accessibility.
Who should buy this?
If you are tired of all those fabric options that leave a bright mark on your arms, causes itching, rashes and other such irritations you should try the new E Tronic Edge Sports Armband. This armband is made from a soft fabric material that hugs your arms comfortably and gives you a lovely experience.
Best Armband with Detachable Phone Holder
Pobon Quick Mount Phone Armband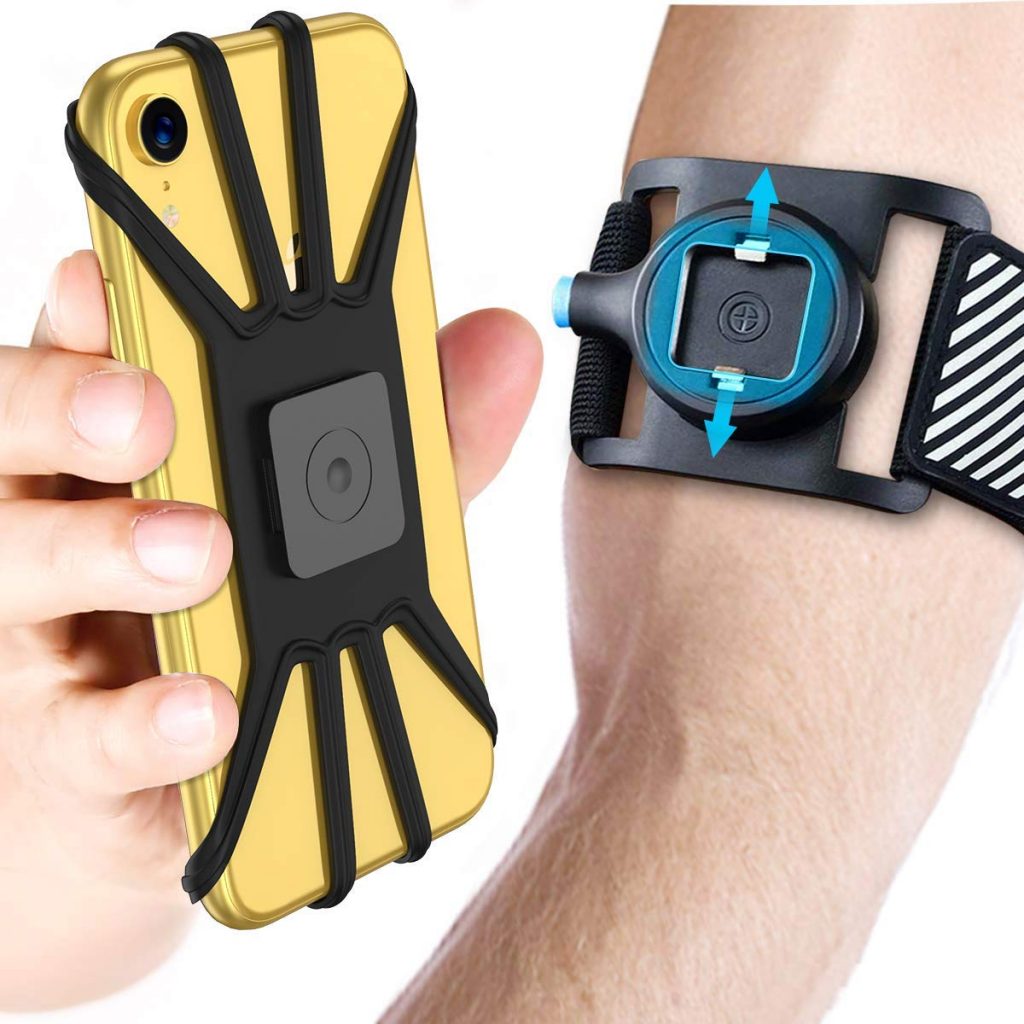 Armbands are a great way to carry your phone while you are exercising or participating in outdoor sports activities. With time, the armbands get more and more innovative and are developed to give you a comfortable experience of handling your phone while you do your run or workout. The Pobon Quick Mount Phone Armband is designed keeping the high-end functionality in mind and is designed to make the phone more accessible to you. The major factor that makes this such a desirable armband is that it is loaded with an attach/detach function. You can easily detach the phone from this armband at the simple click of a button.
There are times when you would like to remove your phone as you are jogging in the morning to take a beautiful picture. Or there are days when you are extremely busy and you have to take lots of calls even while working out. This is a great armband for such situations because you can remove and reattach the phone quickly and without any hassles. You can also attach your phone to the armband in portrait or landscape modes to give you better accessibility. The fully open design allows you to access all the buttons, ports and sensors on your phone. It ensures effortless use and access to your phone at all times without any problems. The armband locks itself around your arm using a very secure buckle. It will never come off. So, if your arms are between 9.8″ to 15.4″, this is the right choice for you.
Who should buy this?
Those who have to depend on their phones at all times and have to continuously take them off and put them back on into the armband can benefit from this exclusive armband for phones by Pobon.
Best Armband to Support the Thickest Arms
Revere Sport Waterproof Running Armband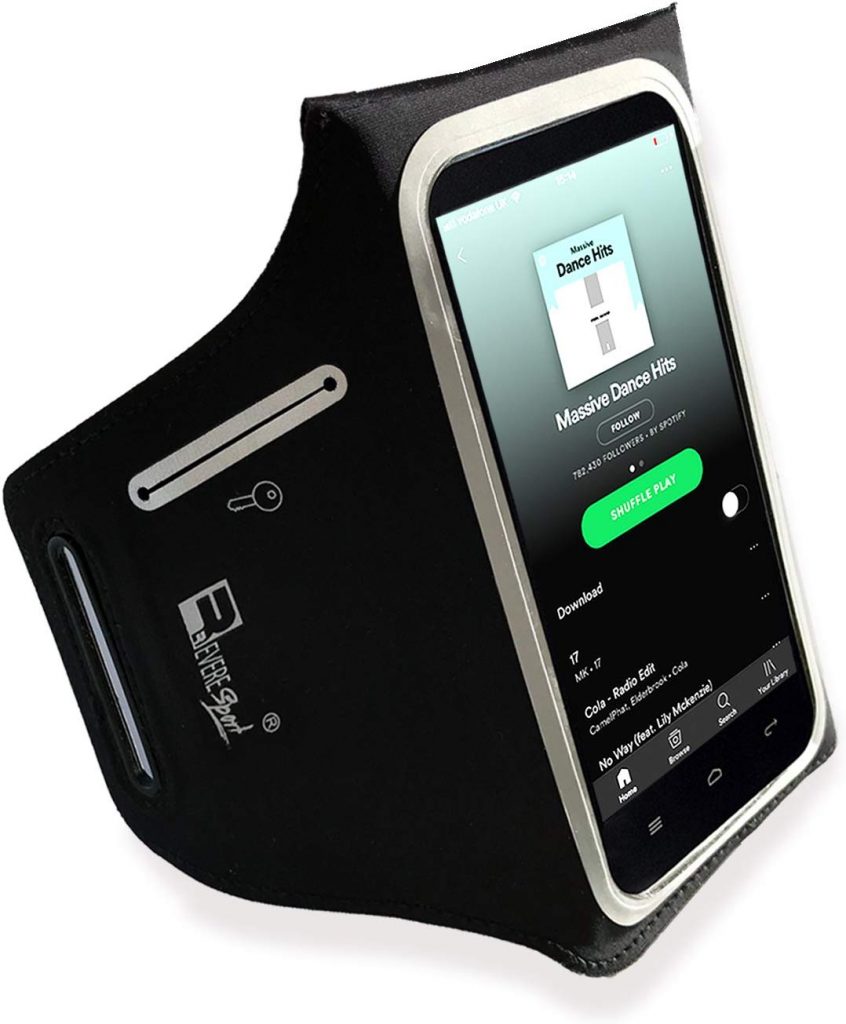 When you go out on a run you want an armband that is highly useful and has the charm factor. In such cases, the Revere Sport Waterproof Running Armband is a great product to rely on. It is equipped with all the desired features that will make using your iPhone XR an effortless experience as you go through a workout session. It is lightweight and allows you to access all the sensors in your phone- touch sensors, face recognition and other features such as the buttons on the side panel. It opens up the whole touch display for you to use without any problem. There are even separate compartments wherein you can carry your keys, IDs, credit cards and other such small things which are very important to you.
The Lycra material used to make this armband is layered in a waterproof material. The front side of the armband also has a cover. Thus, your phone is not affected by rainwater or sweat. Lycra is also a soft and plush material that gives you a very comfortable experience while using it. You may be a beginner at workout or a pro with highly developed arms- this armband will support you in all cases. The lycra material is stretchable and can fit arms between 9" and 17.5". This feature is enhanced by the extender strap that allows a snug fit in all cases.
Who should buy this?
Those who are looking for a running armband that can protect your phone at all costs and has provisions to carry all your other necessary articles will find a great use for the Revere Sport Waterproof Running Armband.
It is also apt for those body-building enthusiasts with huge and handsome arms.
Conclusion
Of the many phone armbands for running that you will come across, there is a simple way of finding out which one to go for. You need to consider the price first and then go for an armband that supports using the phone as you are doing your daily exercise. These are the two important things to look out for when buying an iPhone armband. Most of the armbands fit around all types of arms, be it big or small arms, through adjustable straps. The comfort factor depends on the material of construction and it is recommended that you choose a good material that is both comfortable to wear as well as moisture-proof. Poor material that gets wet from sweat can affect your skin and your phone adversely.
---