Technobezz is supported by its audience. We may get a commission from retail offers
Summary – Blenders are used for making smoothies, purees, sauces, soups, and several other semi-liquids or liquified food items. The structure of
Blenders are used for making smoothies, purees, sauces, soups, and several other semi-liquids or liquified food items. The structure of most blenders is user-friendly making it safe for even kids to use. They are hassle-free to operate and easy to clean thereby saving a lot of manual energy and time. Blenders come in different price ranges making it affordable for all classes of users. Following is a list of the best blenders under $100 for you.
See also: Best rice cookers
Best Blenders Under $100
Best Blender for Personal Use
Ninja Nutri Pro Compact Personal Blender

The Ninja Nutri Pro Compact Personal Blender is a compact model, specifically built for personal use. With 900 watts of power, it easily blends fruits and vegetables into a healthy and delicious glass of juice or smoothie. The nutrients and vitamin extraction feature help to maintain the nutritional value of the veggies and fruits at all times. The twist-on spout lids let one take their fresh blend wherever they go without any spillage. The blender is BPA-free and ensures complete safety for adults as well as kids.
Crush ice, healthy seeds, nuts, or other hard ingredients manually and achieve the desired consistency. After use, put it into the dishwasher and get a clean blender without much effort.
Who should buy this?
Individuals who are diet conscious or like to maintain their health and weight will find this blender very useful.
The compact size makes it ideal for bachelors and people living alone.
Busy young adults can make use of this blender to whip up a healthy drink and take it on the go without wasting any time or extra money.
Students living on a budget can use this blender for making healthy and fresh nutritional smoothie bowls at home.
Best Blender under $100 for Ice Crushing
Ninja Professional Countertop Blender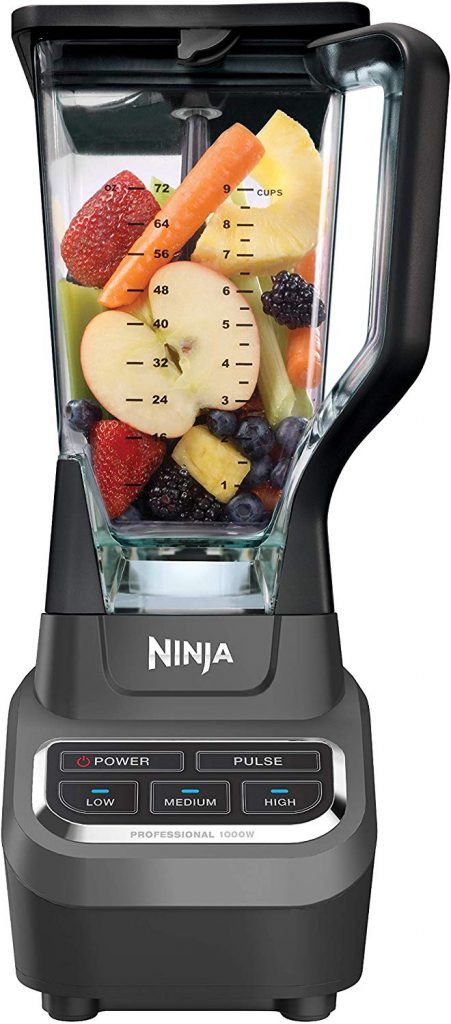 This blender supports 1000 watts of power that can handle a maximum capacity of 64 ounces of liquid. The high-power speed can easily breakdown ice, that can be blended or crushed. The six-blade assembly enhances the smoothness of blends. Blend dips, juices, shakes, smoothies, and sauces with just a few clicks. Choose between low, medium, high, or pulse depending on the ingredients and desired consistency.
This blender is suitable for making large batches of dips or juices for big families or multiple uses. The motor base can be cleaned with just a damp piece of cloth.
Who should buy this?
Perfect for get-togethers or family gatherings as the blender can easily hold 64 ounces of liquid.
Ideal for soon-to-be mothers – make batches of juice, smoothies, or shakes and consume throughout the day as and when required.
Bigger families can use this blender to make sauces or dips for everyone in one go.
Restaurant owners can use this blender to make special sauces or even smoothies for many guests in one go.
Best Blender for Even Chopping
Ninja 400-Watt Blender/Food Processor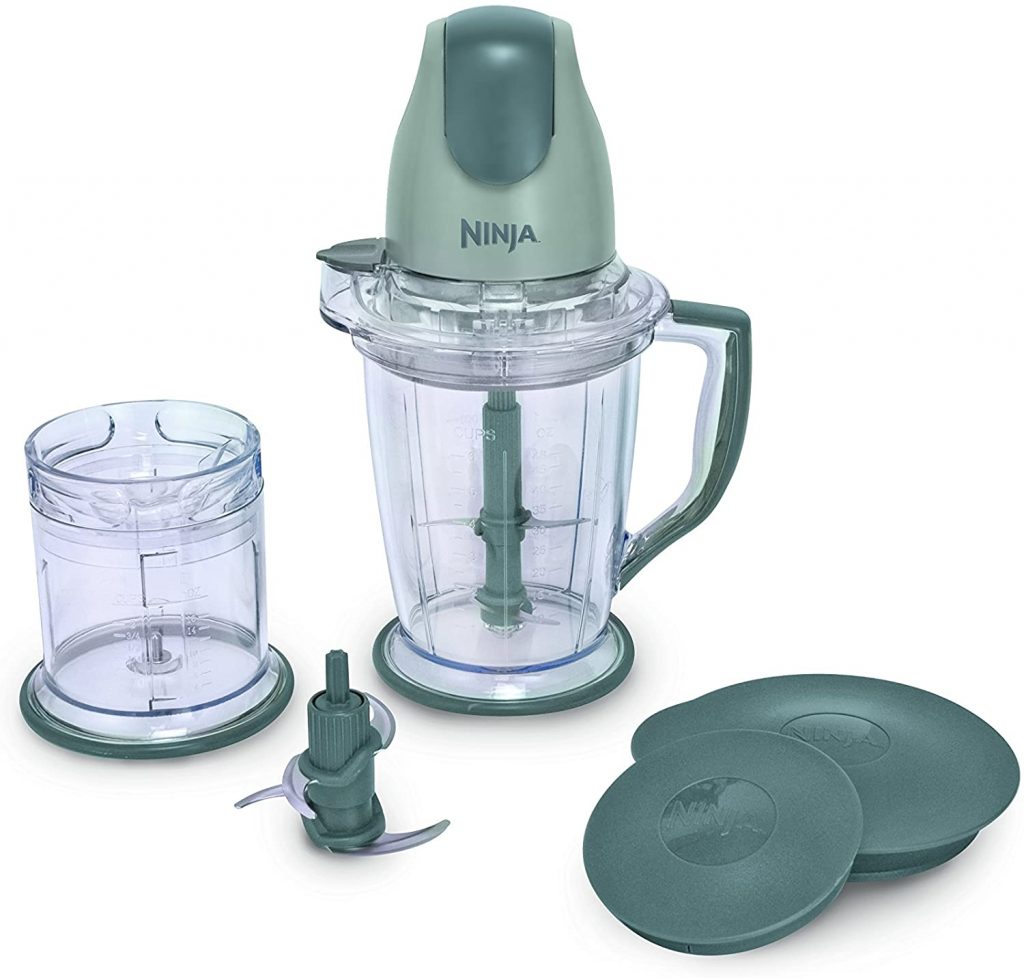 This blender cum food processor can be used for blending veggies and fruits as well as chopping them in the desired sizes. The two different-sized jars allow prepping up ingredients as required. At 4 pounds, the device is easy to use and store. Avoid spillage and wastage with the anti-spill splash guard, an easy-flip pour spout, and a no-slip base. Chop, dice or mince, or simply make blends and purees with the two-cup processor.
The powerhead can be cleaned using a damp cloth or sponge whereas other components are dishwasher safe. The one-touch pulsing makes this device safe to use.
Who should buy this?
This device is ideal for people on a budget as it can be used as a food processor as well as a blender.
Working couples will find this blender useful as it saves a lot of time and energy.
New or soon-to-be mums can use this two-in-one device for meal preps as well as for making juices and smoothies.
People who love traveling but are not fond of outside food can use this blender to whip up a meal from their hotel anywhere in the world.
Best Multi-purpose Blender
KOIOS Powerful 4-in-1 Hand Immersion Blender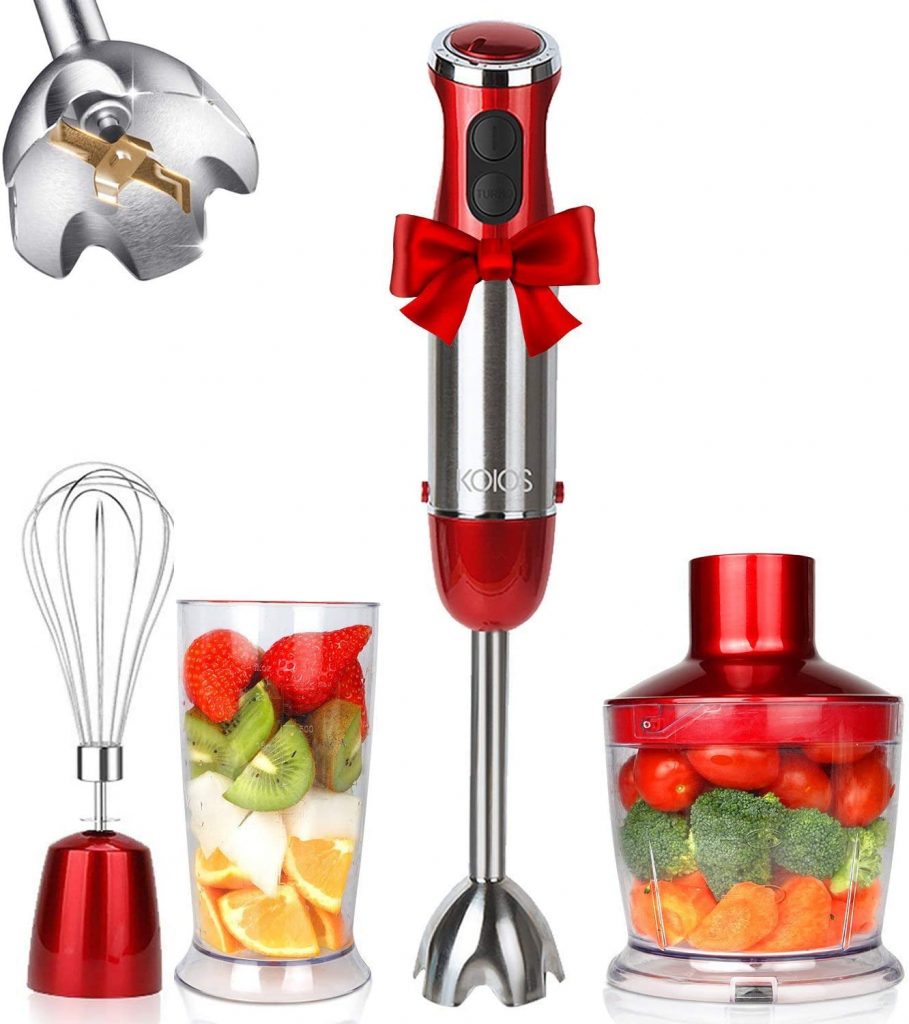 This multipurpose blender is chic and stylish and can be used for making a variety of meals or beverages. With 12-speed blending settings, chop, whisk, puree, blend, or dice without any inconvenience. The two different jars are ideally built for blending and food processing. Use the mixing beaker, whisk attachment or the chopper attachment for preparing ingredients. The BPA-free factor makes this blender cum food processor very safe and hygienic.
Use warm water on the top portion of the food processor to clean the various components of this device. Fruits, veggies, or nuts can be easily blended or processed in this multipurpose appliance.
Who should buy this?
Those who want to save time and energy along with space and money will find this blender cum processor very useful.
This appliance is suitable for newly married couples who are on a budget and want to set up their kitchen starting with a multipurpose processor.
Ideal for corporate gifting as it is very efficient and can be used in a variety of ways.
Bachelors or singles can use this compact appliance for preparing different dishes.
Top Blender with Seven Speeds
Oster Blender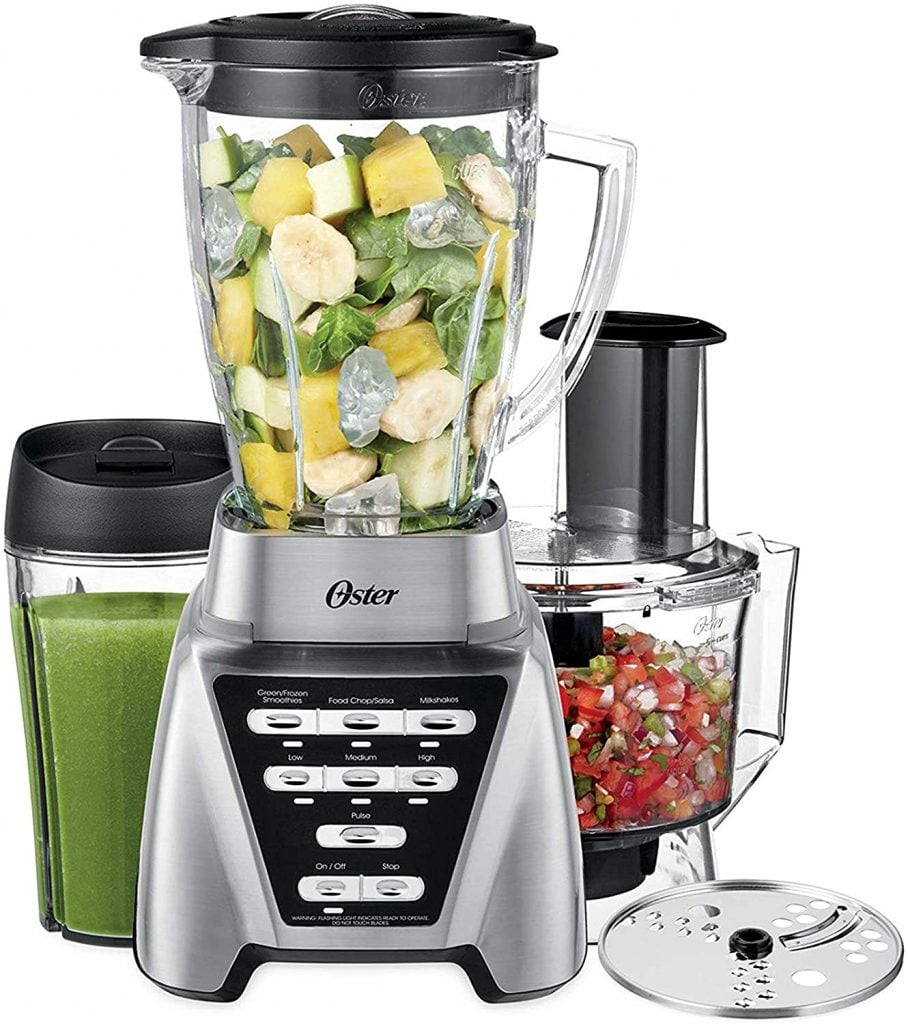 This blender comes with many smart technology settings that are very productive. With seven speeds and pre-programmed settings, this appliance is easy to use. An extra-wide 3.5" blade makes chopping, grinding, and blending a smooth and precise process. The appliance comes with1200 watts power and an impressive ice crushing power of 900 watts. The dual direction blade and pulse feature make this blender a must buy.
The Boroclassglass jar can be safely used in a a6-cup dishwasher and can withstand thermal shocks. With a 10-year Duralast All Metal Drive limited warranty, you can use this blender for decades without any worry.
Who should buy this?
This blender is ideal for those who wish to buy a long-lasting appliance without splurging a lot of money.
People who are on a diet or those who are health freaks can use this appliance for breakfast smoothies or blending healthy juices.
Café and restaurant owners can use this blender as it comes with a long-lasting warranty.
This device can be used by small families for preparing dips and sauces.
Best Blender with 12 Components
NutriBullet High Speed Blender/Mixer System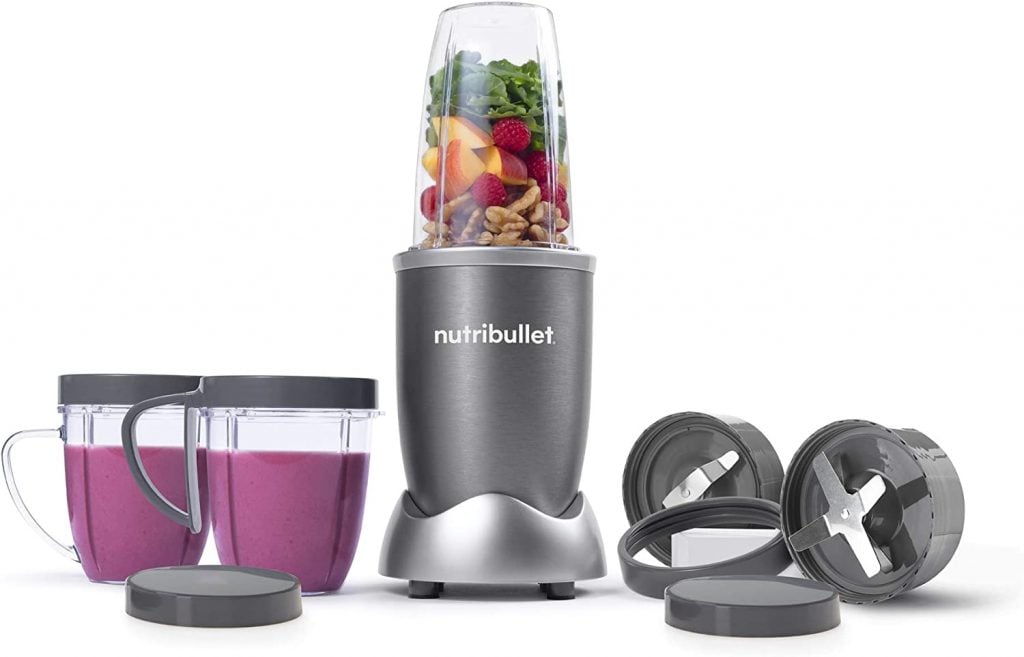 This blender is a 2-in-1 device that comes with 12 components. With 600 watts of power, this compact appliance can blend or mix ingredients to give you nutritional liquid fuel, that can be easily absorbed by the body in minutes. The user manual that comes along with the device makes using, cleaning, and storing it easy. Features like BPA-free plastic cups, stay-fresh re-sealable lids, and stainless-steel blades make this a balanced appliance.
This device can be used for ingredients such as fruits, veggies, nuts as well as condiments. For cleaning after use, simply soak for a few seconds in soapy water and put it in the dishwasher. A one-year warranty makes this device a perfect pick that justifies the price.
Who should buy this?
This device is suitable for small families and couples.
It is ideal for those who are looking for a multi-purpose blender or food processor at a reasonable price.
Those who are inexperienced at using kitchen appliances will find this device easy to use.
Bachelors can use this compact device for making sauces, dips, and other dishes without wasting a lot of time preparing and later cleaning.
Top Blender Made with High Impact Plastic
Magic Bullet Blender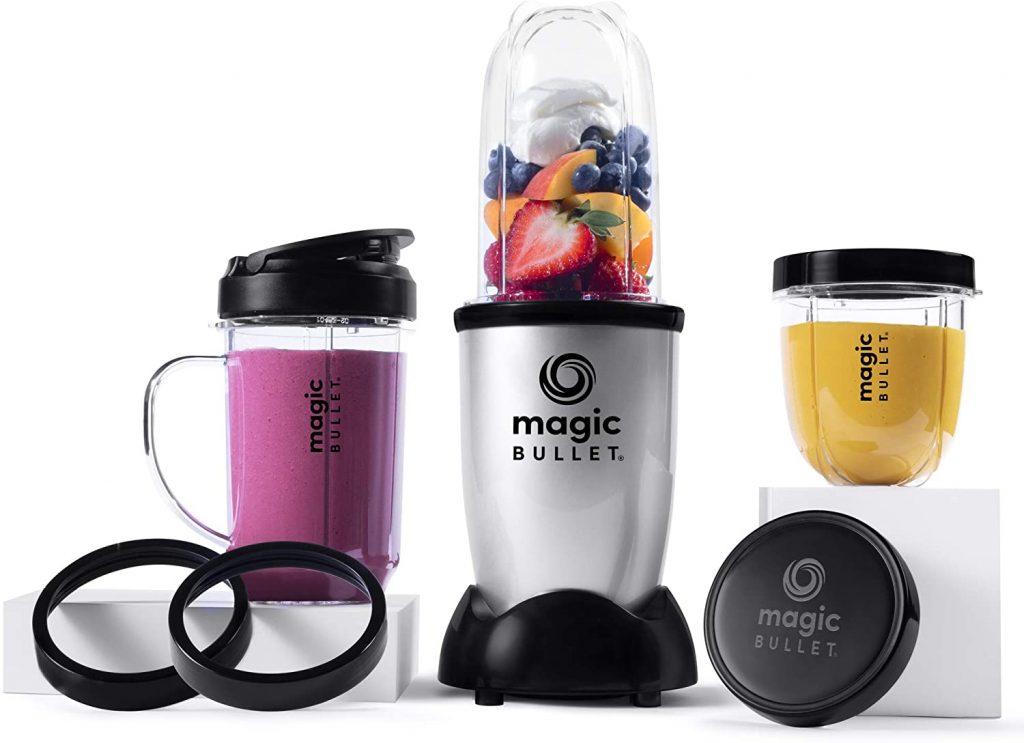 This device as the name suggests magically blends all types of ingredients. The high-impact plastic stays scratch and stain-free for a long duration. At a very affordable price, this 13-piece set is a highly desired product. Apart from the regular blender, this device also has an additional blender that can be used according to the ingredients. A compact appliance, it can easily be stored in any cabinet or nook of the kitchen. Cleaning this device is very easy, simply use soapy water and follow the instructions manual.
Chop, puree, or blend your choice of veggies, fruits, or nuts at ease. Prepare a variety of beverages as well as mix eggs for making omelets, sauces, or dips with this appliance.
Who should buy this?
This appliance is a perfect pick for working moms who want to make fresh meals effortlessly.
This blender is apt for newly married couples as it saves time and energy.
The affordability of this product makes it an ideal buy for adults who like minimalistic living.
Elderly couples will find this device very handy as it is compact and is easy to use.
Best Blender with a 'Diamond Blending System'
KitchenAid Diamond 5 Speed Blender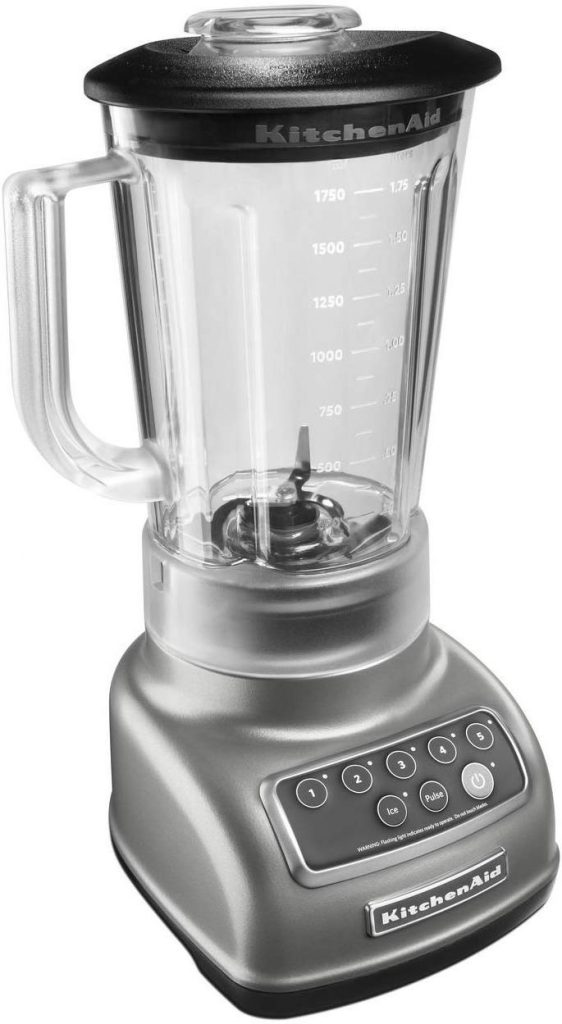 This blender is one of its kind with a 'diamond blending system' that ensures the proper blending of all ingredients. The Intelli Speed Motor Control in this blender conditions itself according to the ingredients and maintains a suitable speed. This appliance can be efficiently used for blending, pureeing, stirring, chopping, or simply liquifying fruits, veggies, or nuts. A limited 5-year warranty with a shatter, scratch, and stain-resistant design makes this a must-buy appliance.
The BPA-free diamond pitcher is patented and very safe to use. Cleaning this device is hassle-free. The easy and simple settings make it easy to use even without any guidance.
Who should buy this?
Restaurant or café owners looking for a reliable appliance will find this blender a perfect pick.
Newly married couples who are keen on buying a device that is multi-purpose and long-lasting will find this an ideal choice.
This blender is apt for people who like classy and chic looking appliances.
Individuals who do not like buying kitchen appliances very often will find this blender a worthy choice.
Best Blender with Auto IQ Base
Ninja Nutri Blender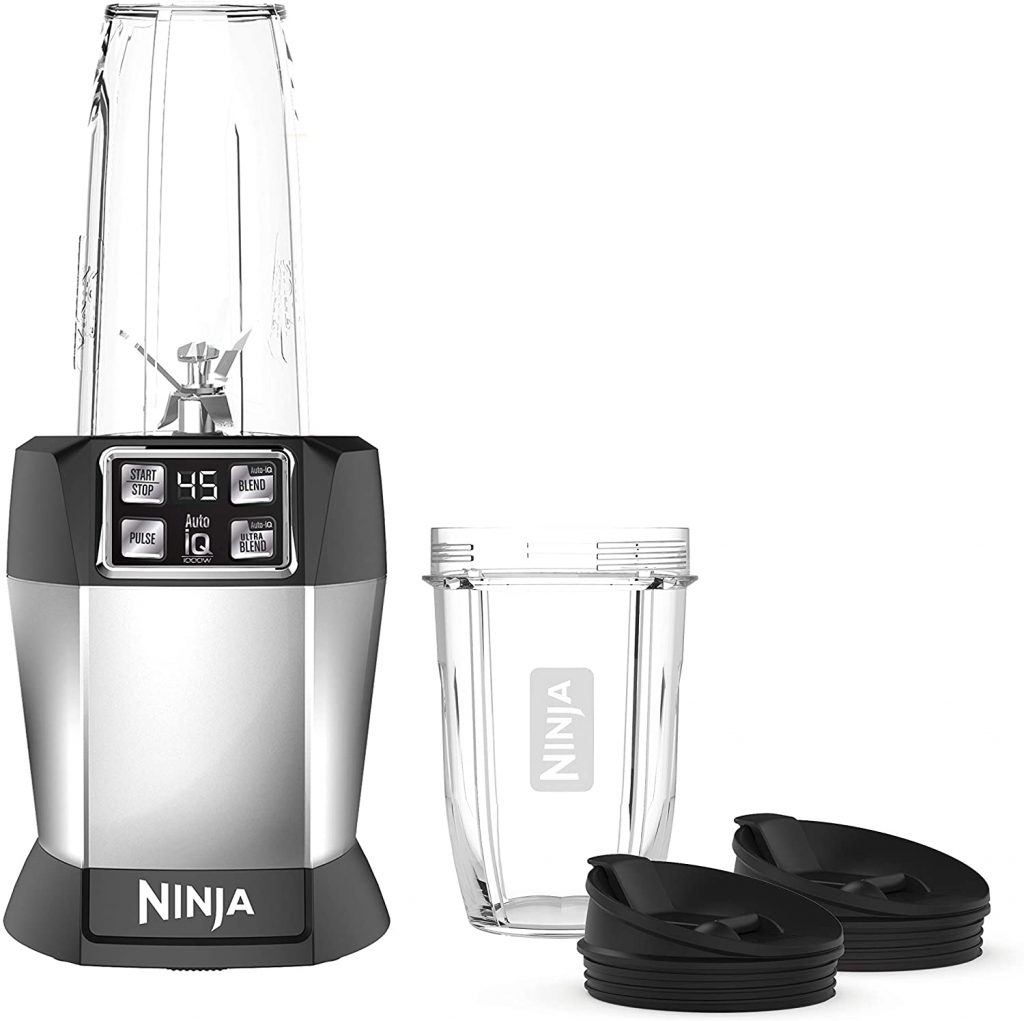 The Ninja Nutri blender comes with Pro Extractor blades and Auto IQ technology that give the best nutritious drinks every time. It ensures that every bit of nutrients and vitamins stay intact along with the taste of every ingredient. The 1000watts motor makes crushing, pureeing and making smoothies an easy task. Whole fruits and small vegetables along with ice can be easily crushed in this blender.
Use a damp cloth to clean the motor base. The small and regular jars, Pro Extractor blades, as well as the sip & seal lids, can be cleaned using soapy water or in a dishwasher. An instruction manual that comes with the blender can be used for assembling and processing the appliance.
Who should buy this?
The easy cleaning process makes this blender an ideal buy for working moms.
People who travel to work will find this blender a perfect companion.
Old people who do not have very sturdy hands can make use of this blender to eat fruits or vegetables without using a knife.
Individuals who love having fresh juices and smoothies will like this blender.
Best Blender with 'Crush Pro 4 Blade'
Oster Core Blender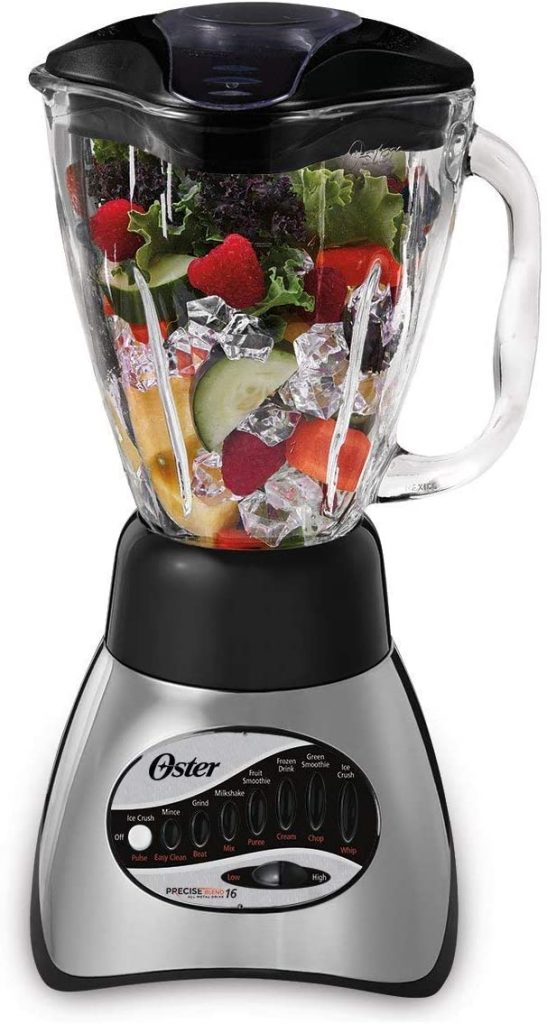 The Oster Core blender is equipped with stainless steel Crush Pro 4 blade that chops and pulverizes with precision. Choose between pulse to puree at ease with 16-speed settings. The blender is BPA-free. It has an impressive 700 watts power and 450 watts of power for blending. Blend, puree, or chop at ease with the help of measurement markings on the Boroclassglass jar. The glass jar is dishwasher friendly making it easy to clean and assemble.
The appliance comes with a 10-year DURALAST All Metal Drive limited warranty, making it a long-lasting product.
Who should buy this?
People who are searching for a long-lasting yet affordable blender will find this product to be the right pick.
Students or singles who are usually short on time will find this blender ideal as it saves a lot of time and energy.
Old people who are not comfortable with using the knife can use this blender to chop or puree fruits and veggies.
Office goers will find this appliance useful as it comes with detailed instructions and is easy to clean thus saving a lot of time.
Best Blender with a 350-watt motor
Cuisinart SmartPower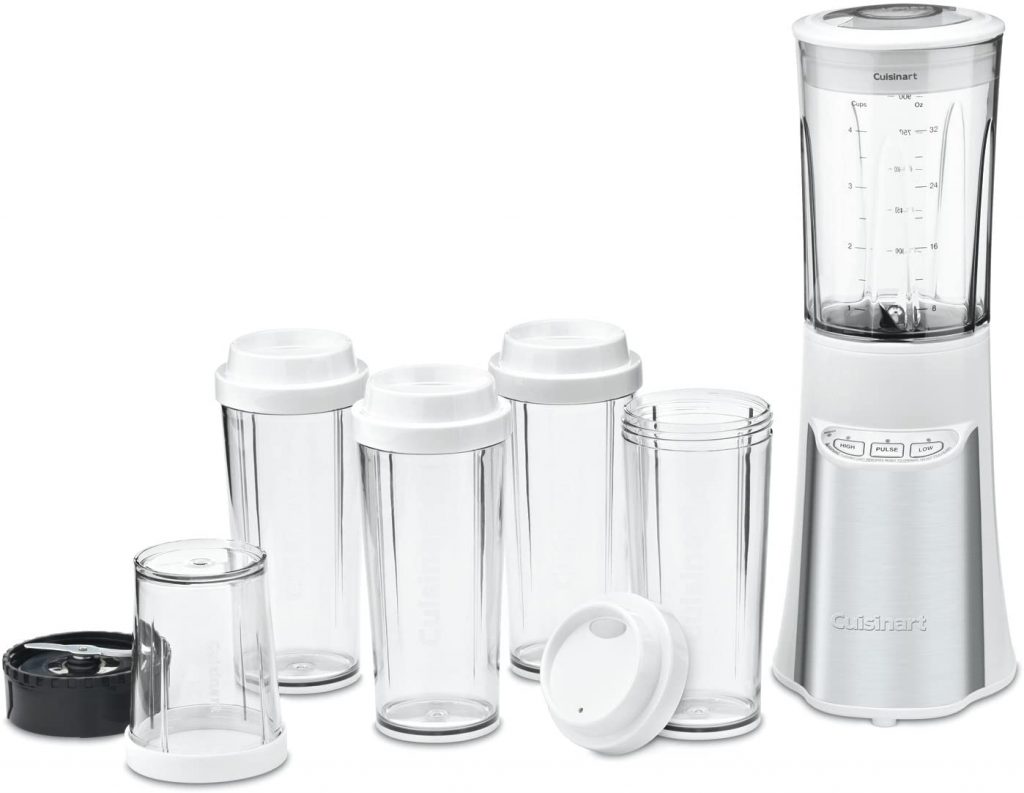 The Cuisinart blender has got the looks and the power of a top-class blender. The blender has a stainless-steel front panel and ABS housing which keeps it stain and scratch-free. This classy appliance has an electronic touchpad, LED indicator lights, and a 350-watt motor. The blender can be used for both blending and chopping. Its patented stainless-steel blades come in a pair. The blender can be used at pulse, high and low modes. The jars are easy to clean.
The blender comes with a blending jar, a chopping jar, and four travel jars. It has a three-year warranty.
Who should buy this?
This blender is ideal for families with kids as the appliance has a safety interlock as well as auto-stop features.
Newbies who are still new to cooking and appliances will find this blender apt for their needs.
Restaurant owners will like this blender as its classy look adds to the décor along with its efficiency.
Health enthusiasts will find this blender perfect as it comes with four travel jars that can be carried anywhere.
Best Blender for Making Smoothies
Hamilton Beach Smoothie Smart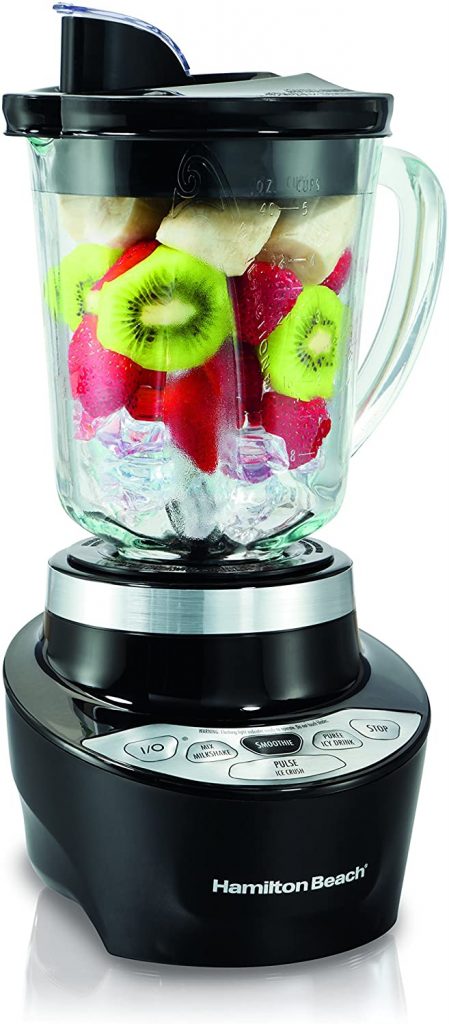 The Hamilton Beach Smoothie Smart blender is the ideal smoothie-making appliance. Available in classic black, this compact appliance functions at a 700 watts peak power. With patented ice saber blades, crushing and blending ice is an easy task. The one-touch smoothie setting can be used to make a delicious smoothie drink at home. The patented wave action makes the mixture blend to uniformity without stirring or mixing.
The blender has a No-Mess spout which is a unique feature that prevents spillage of ingredients. Crush, blend, or puree fruits, veggies, or ice using this blender
Who should buy this?
This blender is ideal for students living away from home.
Bachelors will find this blender apt as it saves a lot of time and energy when making drinks and smoothies.
Individuals with low immunity who are advised to consume fresh juices and smoothies will find this device ideal. The blender preserves most of the nutrients and vitamins contained in the ingredients.
Café owners can make the most out of this blender as it gives the perfect consistency to smoothies and crushes ice with ease.
Best Multi-Functional Blender
Oster Rapid Blend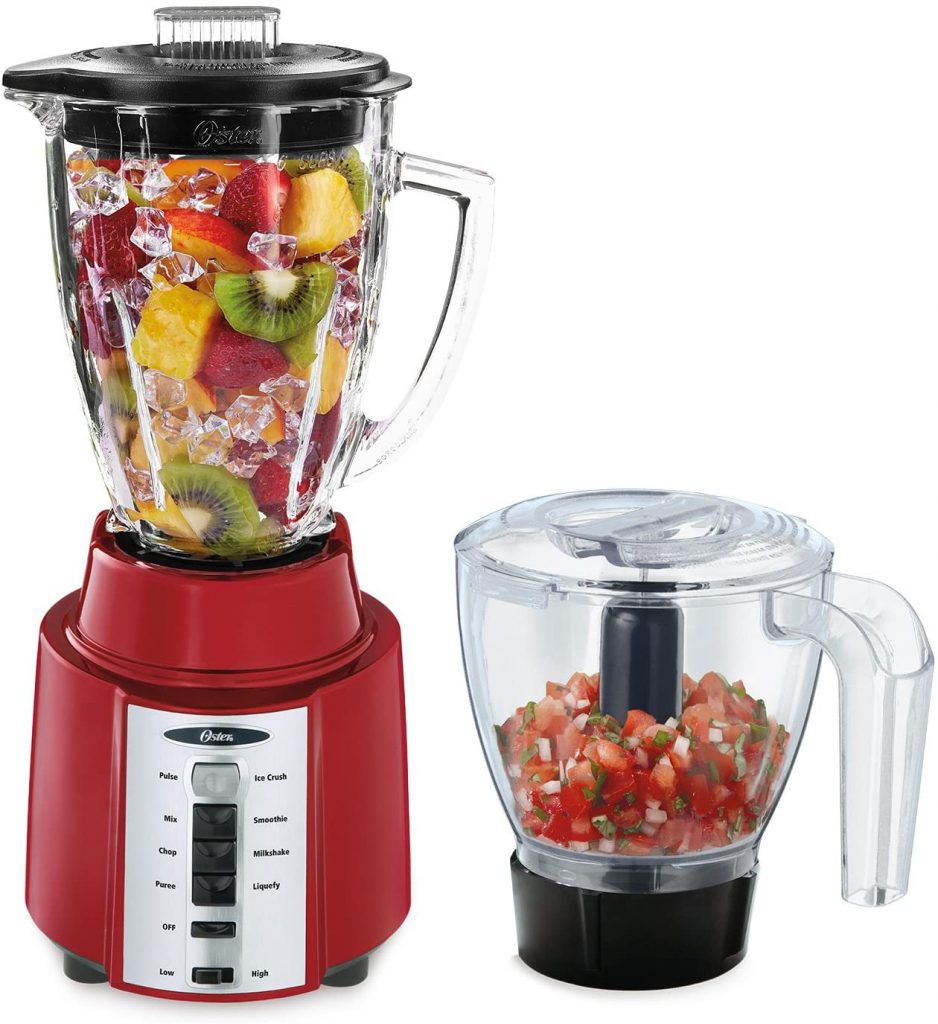 The Oster Rapid Blend blender comes with a 450-watt powerful motor that also supports the food processor attachment. This blender has a 10-year DURALAST All Metal Drive limited warranty. The food processor jar holds3-cups of ingredients whereas the blending jar holds 6-cups of ingredients. The blending jar can withstand different temperatures and is scratch-free. The blades are stainless steel and come in a 4-point design that enables consistent results.
Use the BPA-free food processor to make salads, salsa, shredding greens as well as cheese and finely chopped veggies.
Who should buy this?
People who love cooking elaborate meals will find this multifunctional blender very helpful.
Chefs can make use of this blender-cum-food processor to create many dishes.
Individuals who live alone but love cooking often can use this blender to ease their work.
Couples on a budget will find this appliance apt and ideal.
Best Blender with a No-Spill Spout
Hamilton Beach Power Elite Blender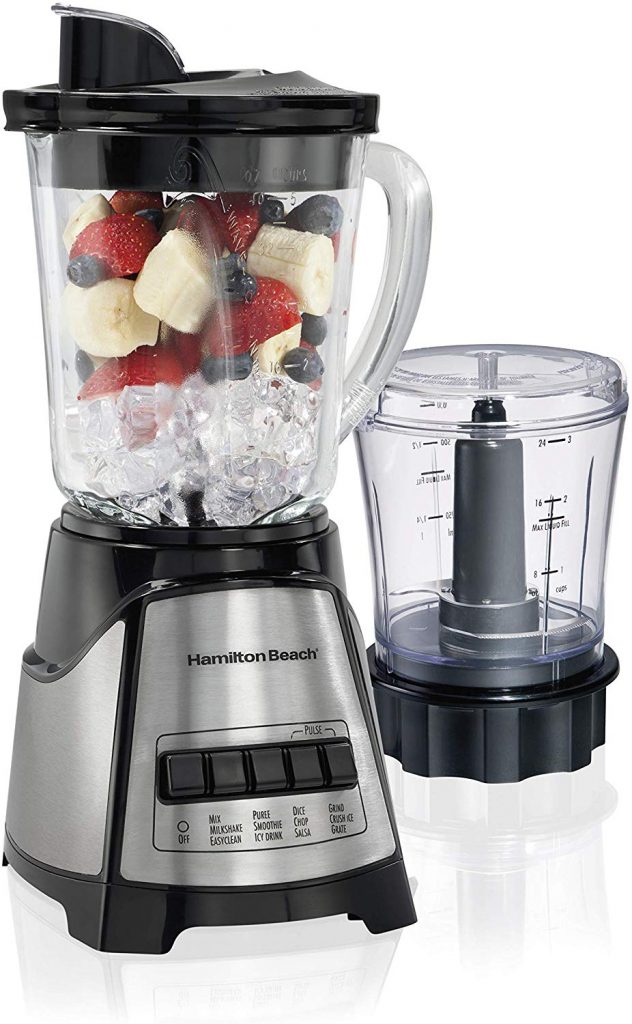 The sleek, compact and powerful Hamilton Beach Elite blender is a multipurpose appliance. With 700watts of power, it is enabled with a special wave system. In this system, the blender pulls the mixture towards the blades resulting in an even consistency. The appliance has just 5 settings but supports 12 different blending functions. A spout in the blender ensures that there is no spillage of the mixture. This multifunction blender is easy to use and clean.
Make icy drinks, blends, purees, or crush ice as per your requirement. The jar, blade, and lids can be easily cleaned using soapy water or a dishwasher.
Who should buy this?
People who like multifunctional appliances will find this blender apt.
Couples or those with kids around the house can safely use this blender as it does not cause any spillage.
Café owners will love adding this blender to their kitchen as it crushes ice with ease making it easy to make juices and ice shakes.
Individuals who like appliances that offer more functions at a reasonable price will find this appliance ideal.
---