Featured in this article (opens in new tab)
We can easily shoot 4K videos using the cinema cameras and DSLRs, but what about the smartphone cameras?
Buying Guide
If you are a big fan of filmmaking using your smartphone then you would enjoy the capability of shooting 4K video with your smartphone camera. So, the question is how many such smartphones are there in the market?
Well, there are quite a few, the Panasonic Lumix CM1 is one of the best that offers better image quality and portability than many compact cameras and another is OnePlus One smartphone which is ahead in the competition with Canon 5D Mark III for video quality.
Best Smartphones that Shoot 4k Videos
High-End Camera Smartphone with Ultra-Fast Charging Support
OnePlus 9 Pro Morning Mist 5G Enabled Smartphone
Check Price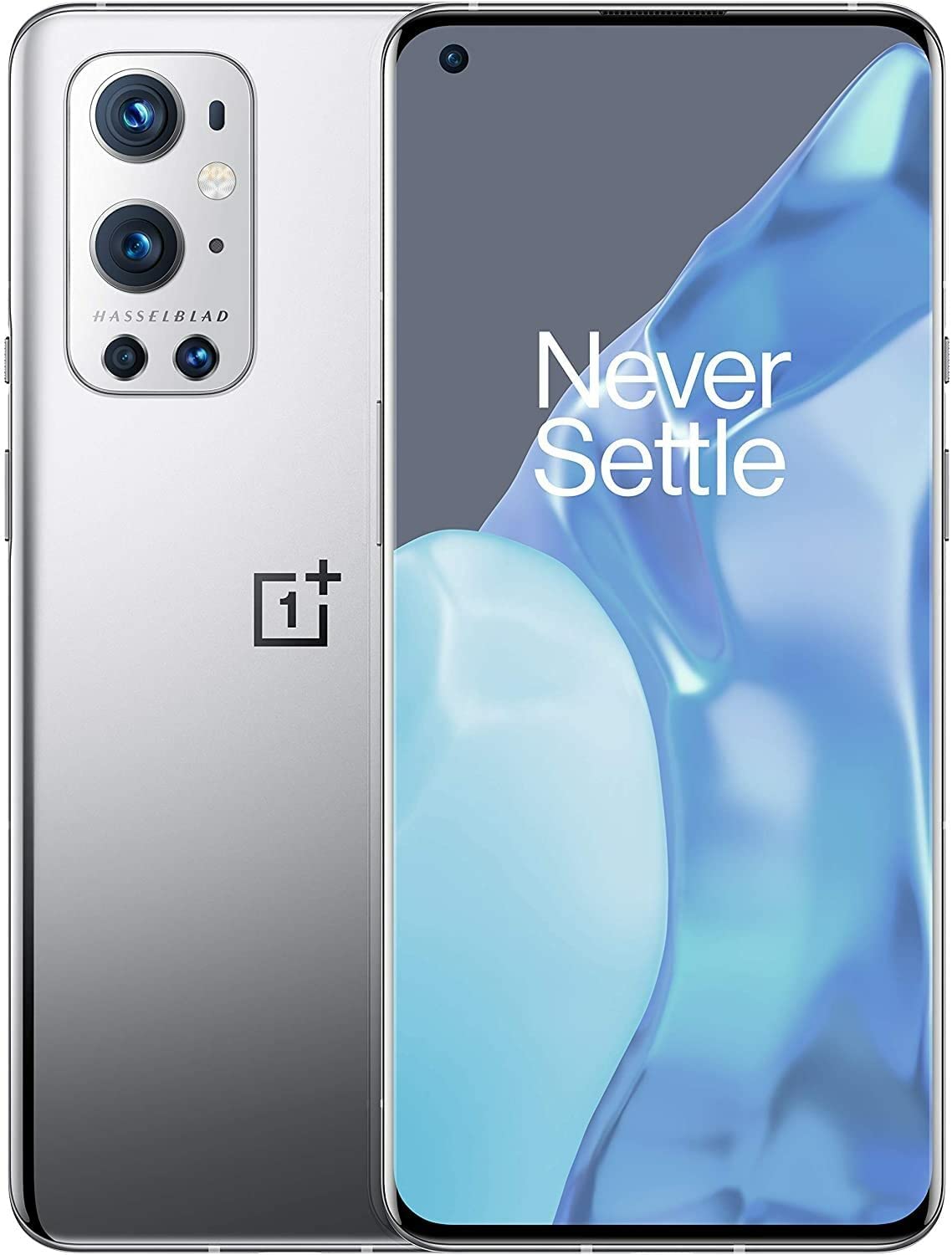 The OnePlus 9 Pro features a 6.7-inch display screen that offers a 120Hz refresh rate and a resolution of 1440 x 3216 pixels. The battery that powers the device has been divided into two parts and gets optimally charged in little time owing to the 50W wireless charging support it boasts of. One of the highlights of the device, undoubtedly, is the fact that it can shoot 4K videos. At 6.8 ounces, it is not a very difficult phone to carry around.
Apart from featuring a premium design, the device comes with the kind of features that make investing in it a worthy proposition.
Highly recommended for those who indulge in smartphone photography and videography regularly.
Premium design
Captures 4K videos
Super-fast charging
High-resolution display screen
Moderate battery support
Digital zoom can be improved
Well-Packaged Smartphone with Excellent Camera Features
Apple iPhone 13 Pro Max Premium Quality Smartphone
Check Price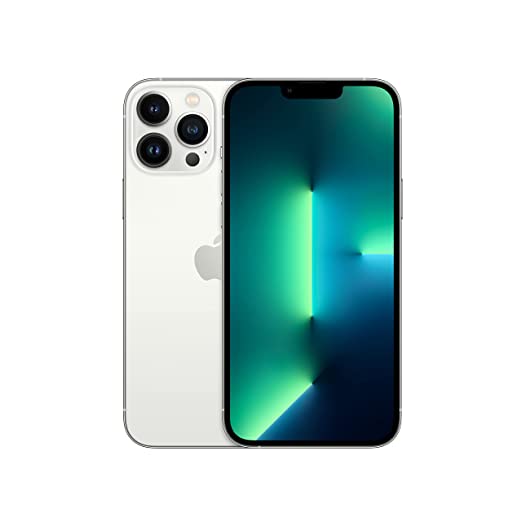 The Apple iPhone 13 Pro Max runs on a very powerful A15 Bionic processor. The smartphone delivers super-smooth performance and comes with some of the most premium features you can expect to find on a mobile device. It features a gorgeous display screen offering a resolution of 2778 x 1284 pixels. It features a telephoto, wide and ultra-wide lens and shoots 4K videos with utmost clarity and precision.
A good option for those looking for a high-end smartphone with excellent camera performance.
Also recommended for filmmakers who like shooting a lot of 4K videos through their phones.
Full HD screen
Advanced camera features
Premium design and build quality
Available in multiple colors and storage options
Expensive
The charging process ought to be faster
Well-Performing Smartphone with Hasselblad Camera System
OnePlus 8T 120Hz Display Screen Smartphone
Check Price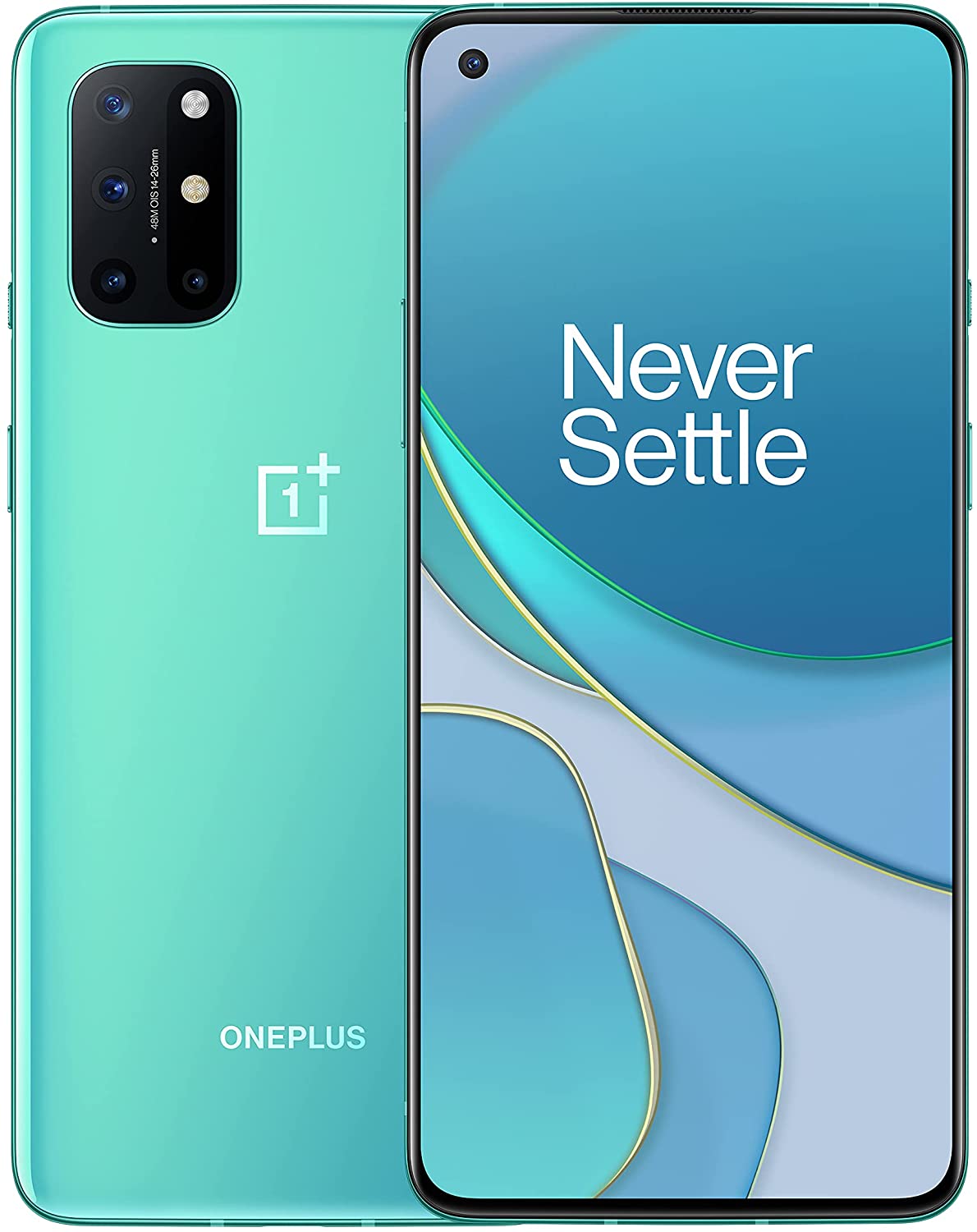 The OnePlus 8T boasts a premium design and offers some great features that make it a good smartphone to invest in. The Hasselblad camera system, consisting of a 48MP primary camera and four rear cameras, is one of its prominent features. It takes good quality pictures as effortlessly as it captures 4K videos.
The 120Hz display screen produces vibrant images and works very well for those who like to consume multimedia content extensively. The smart dual-battery setup ensures that the phone gets charged in a short amount of time. The brand provides a charger offering a charging speed of 65 watts.
If you want a well-designed smartphone that does a very good job of taking 4K videos, you should invest in this device.

This device is ideal for those who like to watch movies and other video content primarily on their phone.
120Hz display screen

Captures videos in 4K format

Dual-battery setup

Impressive camera setup
No wireless charging

Build quality could be better
High-End Smartphone with Great Camera Features
Apple iPhone 12 Pro Max Large-Sized Smartphone
Check Price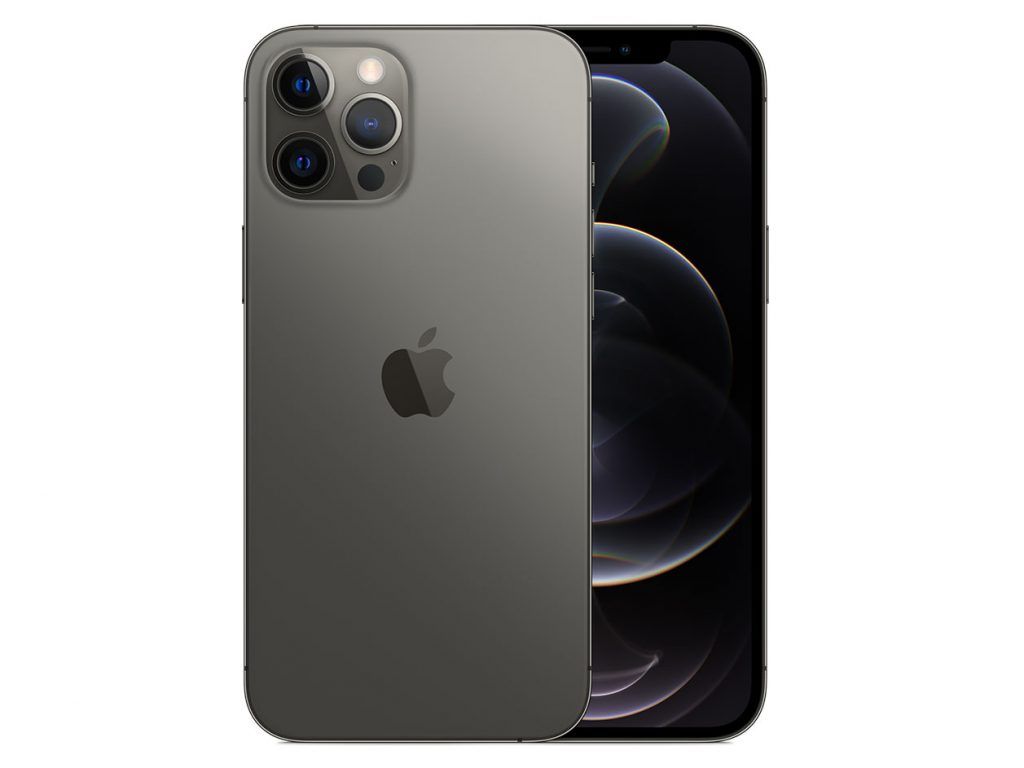 The iPhone 12 Pro Max is one of the largest phones manufactured by the Cupertino-based giant. At 7.4mm, it is quite slim but at the same time, it's fairly heavy to hold. You won't be disappointed by the quality of the pictures and videos it captures. The device is available in four different color variants including Pacific Blue, Gold, Graphite, and Silver.
The 6.7-inch OLED display screen is big and offers great picture clarity. With a resolution of 2778x1284 pixels, the screen proves to be a delight for anyone who likes to binge-watch shows or video content on their phone. The stainless-steel frame in which the phone comes is very attractive. As far as the camera setup is concerned, you get multiple options including a newly introduced telephoto camera.
Why Should You Buy This?
It proves to be a good investment for those looking for a premium quality smartphone that can capture high-quality images and 4K videos.

If you like bigger devices that can perform a large variety of functions, then this would be a good phone to invest in.
Pros
Vibrant display screen

Solid build quality

Impressive video taking abilities

Available in four different colors
Cons
Slightly heavy

Heats up fast
Rugged Smartphone with 6.67-inch FHD Display Screen
Oukitel WP 10 5G Connectivity Smartphone
Check Price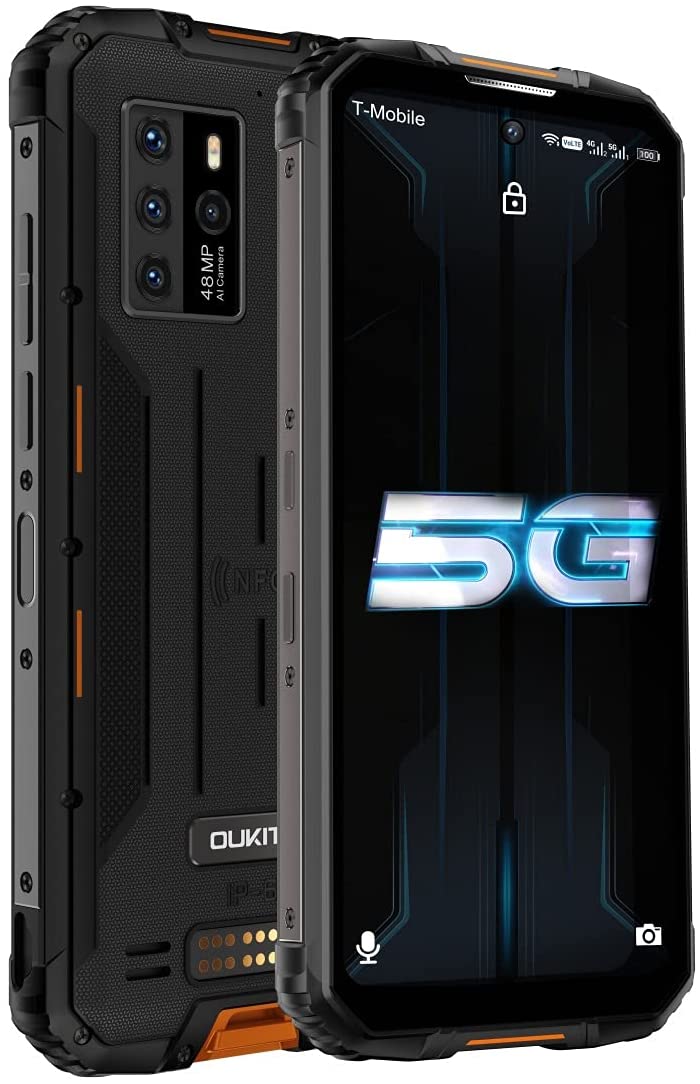 At 380 grams, the Oukitel WP 10 5G is rugged and its heavy build quality is what helps it stand out. What also adds to its durability is the fact that it is highly resistant to dust and water. Another great feature of this phone is its 8,000 mAh battery that lasts for a couple of days on a single charge. One must also mention here that it supports 18W fast charging. The phone also comes with a unique Child Mode feature that helps you decide the amount of time the children in the house can use the phone.
The smartphone has a 6.57-inch FHD display screen that is ideal for watching 4K videos that you can shoot with this phone. With a 48MP rear camera and a 16MP front camera, the camera performance of the device is quite impressive. The display screen is scratch-resistant and offers a resolution of 2400x1080 pixels. The MediaTek Dimensity 800 chipset that the phone runs on offers its speed and stability.
An ideal device for those looking for a sturdy, well-built, and highly durable smartphone that performs well.

Recommended for those who wish to own a fast-performing smartphone that can capture good quality pictures and videos.
6.67-inch display screen

Child Mode feature

Good camera performance

A fast and reliable processing unit
Quite bulky

No micro-SD card slot
Well-Built Smartphone with a Triple Camera Setup
LG Velvet 5G 6.8-Inch Display Screen Smartphone
Check Price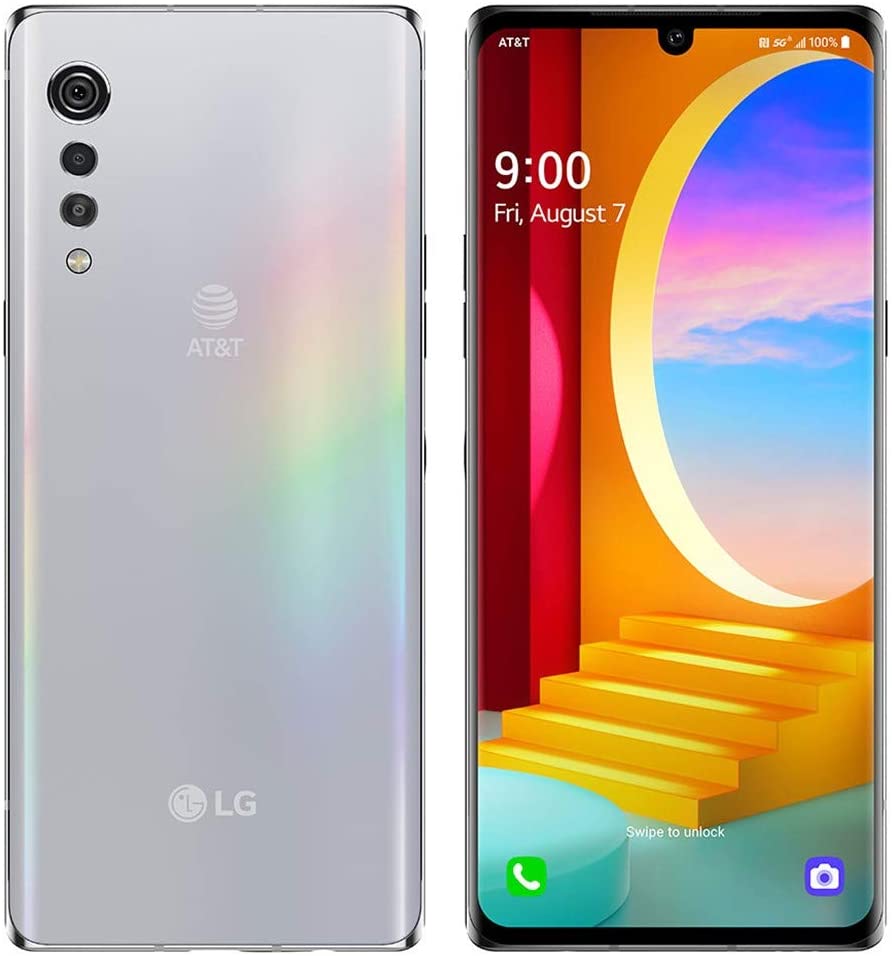 The phone features a 4300 mAh battery and comes in a well-packaged box that also includes a 16.2 W charger. There is no complaint that you can have with the battery life or the charging abilities of the phone. One of its standout features, of course, is its 6.8-inch OLED display screen that offers a resolution of 2460x1080 pixels. The refresh rate is 60Hz which is less than what you would expect on a phone like this. The device also offers dual-screen functionality.
The Qualcomm Snapdragon 845 chipset is functional but not as powerful or fast as some of the latest processing units like the Snapdragon 855. There are multiple connectivity options including Bluetooth 5.1, dual 4G VoLTE, adequate ports, and dual-band Wi-Fi. Because of the audio enhancement feature called 3D Sound Engine, you get high-quality audio output. The in-print fingerprint sensor is very responsive.
Why Should You Buy This?
If you have been looking for a durable smartphone that can capture good-quality videos in 4K, you will not regret investing in it.

Along with a 6.8-inch display screen that produces crystal clear images, this phone offers great audio output.
Pros
Robust battery life

Good connectivity options

Dual screen functionality

Large and vibrant display screen
Cons
Slow processor

Low refresh rate
Budget-Friendly Smartphone That Shoots 4K Videos
TCL 10L Quad Rear Camera System Smartphone
Check Price
Most people think it is not possible to buy a moderately priced smartphone that can shoot 4K videos. This device by TCL busts that myth and not only allows users to capture videos in 4K but also offers an impressive camera setup. The 6.53-inch display screen offers a high degree of sharpness, contrast, and detail.
The phone comes with several useful features like extreme battery-saving mode. You will also find a customizable function button on the device that enables you to create a shortcut icon for any app or feature. For its price, this budget device offers a bevy of great features but there are a few shortcomings too. The Snapdragon processor, for instance, is not the fastest that you get on the market these days and results in the phone slowing down while multi-tasking.
Why Should You Buy This?
If you are looking for a smartphone that can shoot videos in 4K and are on a budget, this is a phone you need to invest in.

An ideal investment for someone looking for a smartphone with a vibrant display screen and an elaborate camera setup.
Pros
Stable performance

Moderate pricing

Features a headphone jack

Captures 4K videos well
Cons
Weak processor

Sub-par audio quality
A Versatile Smartphone That Captures High-Quality 4K Videos
Samsung Galaxy S21 Powerful Battery Smartphone
Check Price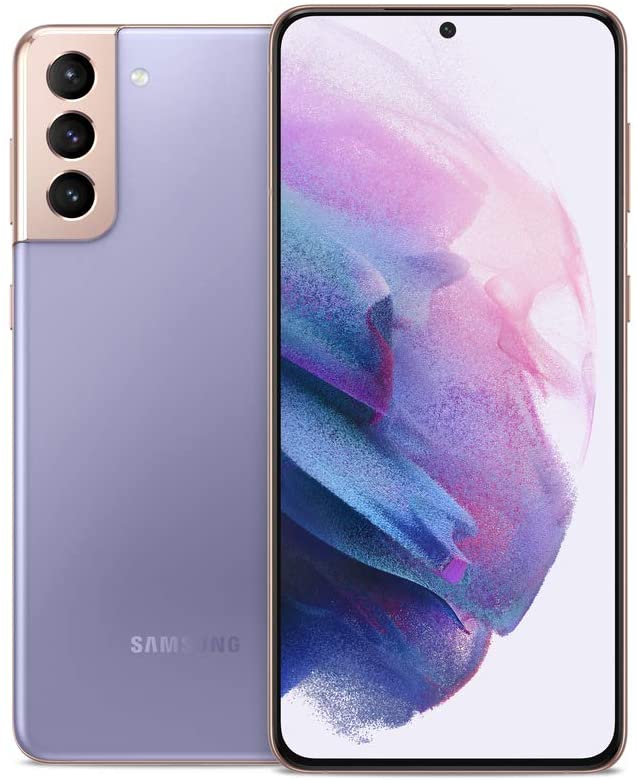 Apart from boasting a stylish design, the Samsung Galaxy S21 features high-quality internal components that assure durability. Powered by the Snapdragon 888 processor, this smartphone offers speed and robust performance. On a single charge, the 4,000 mAh battery can last for almost 10 hours. While the phone doesn't support the use of a micro-SD card, it offers decent internal storage space.
Even if you test the phone just once, you will acknowledge the fact that it does a very good job at shooting 4K videos. The overall camera module is very impressive. You get a 12MP wide-angle lens, a 64MP telephoto lens, and a 12MP ultra-wide lens. The 6.2-inch display screen is large enough to watch video content for hours at a stretch. The device features an ultrasonic fingerprint reader that proves to be extremely responsive.
Why Should You Buy This?
Recommended for those who are particular about the quality of components a phone has been made with and the kind of durability it offers.

If you are a professional photographer/cinematographer and need to shoot 4K videos, then the strong battery life offered by this phone will work very well for you.
Pros
Long-lasting battery

Sophisticated design

120Hz display screen

Elaborate camera setup
Cons
No micro-SD card slot

Limited accessories provided by the brand