Best OBD2 Apps to Diagnose Your Car
Finding a genuine OBD2 scanner is important to ensure your car's health and performance. And so, if you're on the lookout for one, here's a list to follow.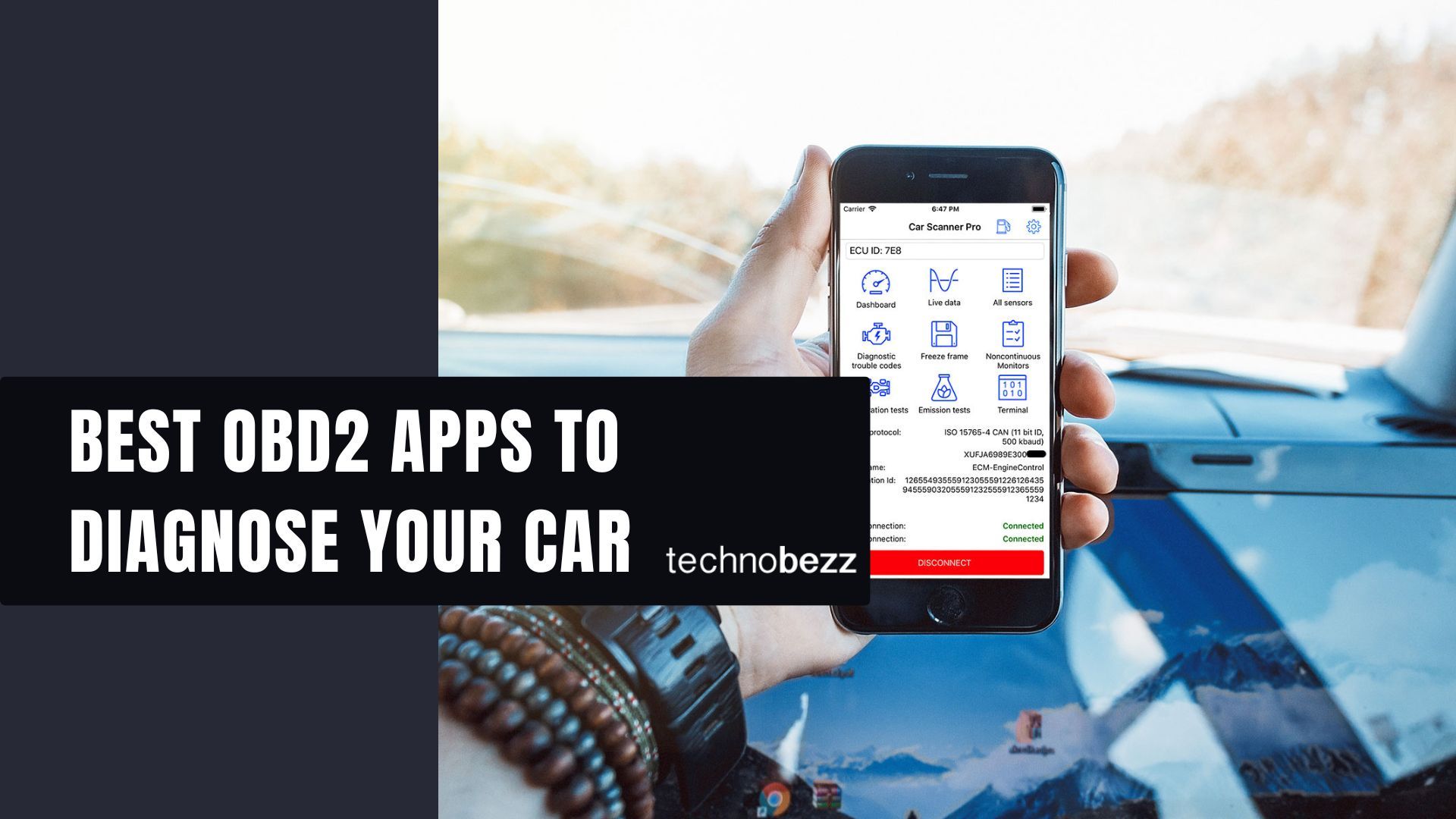 Finding a genuine OBD2 scanner is important to ensure your car's health and performance. And so, if you're on the lookout for one, here's a list to follow. We have selected the best OBD2 apps for Android and Apple users with great features and functionality. While some of these apps are easy to use, others are quite specific when it comes to the indication.
Best OBD2 Apps to Diagnose Your Car
Car Scanner ELM - OBD2 App with Easy Interface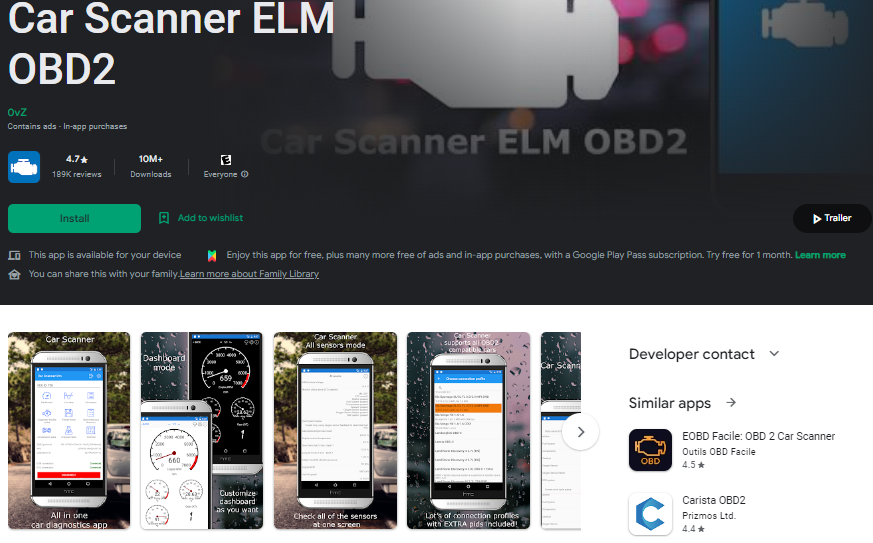 It's a really popular app with more than 10 million downloads and a high rating by trusted users. By checking the vehicle statistics, the digital dashboard of this app lets you check sensors and indications precisely. A few examples of DTCs you can check on this app are MPH, RPM, and coolant temperature sensors.
Car Scanner ELM features dark mode to enhance your readability. The check engine light of the app automatically pops up and shows you the details.
OBDeleven - OBD2 App for VW/Audi Vehicles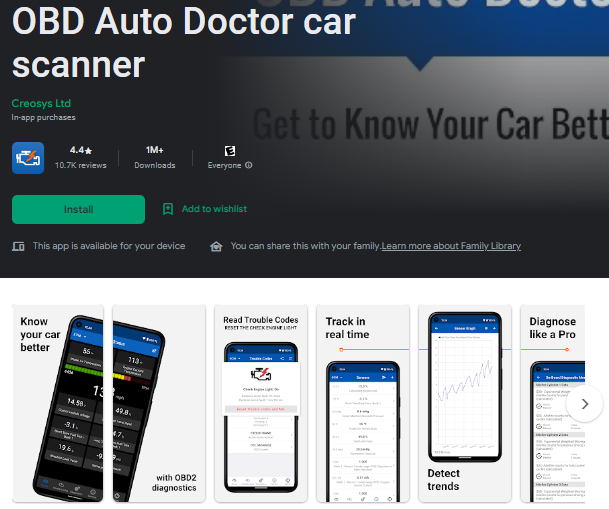 Boasting a huge community of users, OBDeleven stands out as one of the top OBD2 apps for VW/Audi vehicles. It's a feature-rich app with an outstanding interface. From basic info such as your vehicle's modules to intricate ones like transmission oil temperature, you'll find every necessary detail here.
OBDeleven has a one-press feature that lets you search for the fault codes of your vehicle on Google. The in-app garage supports multiple vehicles.
Carista - Best Customizable OBD2 App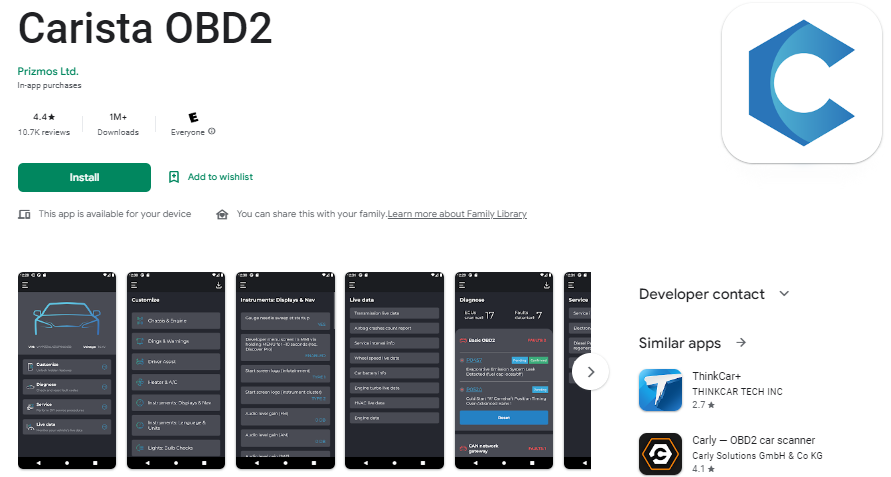 The Carista OBD2 app comes with a customization feature that lets you change the ECU options easily. It supports Bluetooth connectivity as well to ease your on-the-go access. The app works best with Audi, BMW, and Toyota cars, among other brands.
Apple users have no worries as this compact app supports both Android and iOS. However, the free trial of the app is only valid for up to 1 month. After that, you need to opt for the paid version.
BlueDriver - Best Budget-Friendly OBD2 App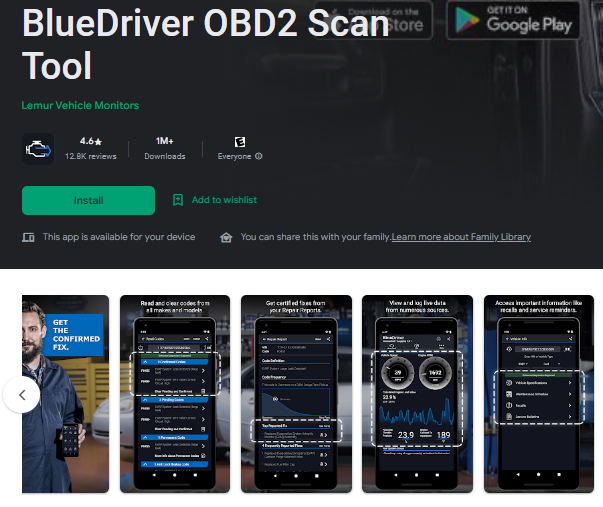 BlueDriver OBD2 Scan Tool is one of the highest-rated OBD2 scanners out there. It lets you check your car's ECU and a lot more such as share reports, clear trouble codes, etc. The wireless connectivity option and iOS, as well as Android support, are two great features to mention.
BlueDriver is also known for reducing travel costs to some extent. The process in which the app diagnoses airbags, ABS, and transmission are way ahead of its competitors.
Carly - Best BMW Only OBD2 App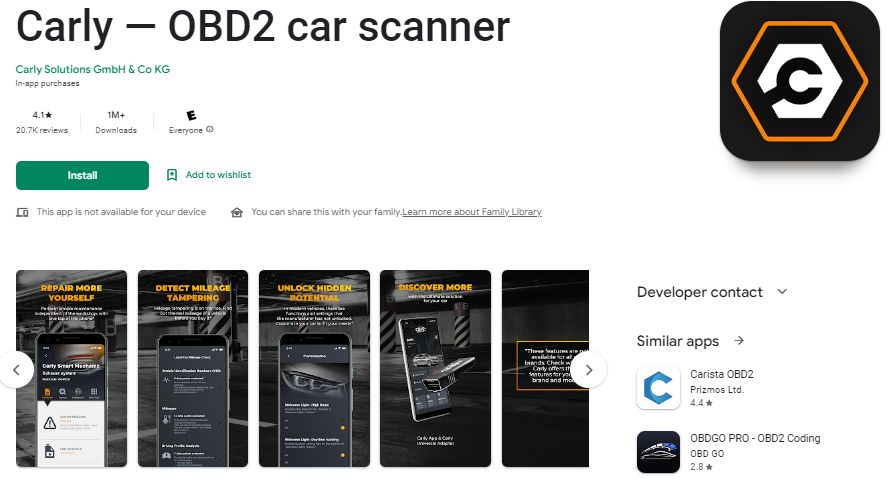 It's an exclusive OBD2 app made for cars under the BMW umbrella. However, the app comes with striking features to enhance your experience of scanning car performance. The best part of the app is its promptness as it shows every update in real-time.
Carly lets you check all components of your car through a unique feature called health check. Carly's customer support is really impressive and attracts a lot of new customers.
OBD JScan - OBD2 App for Jeep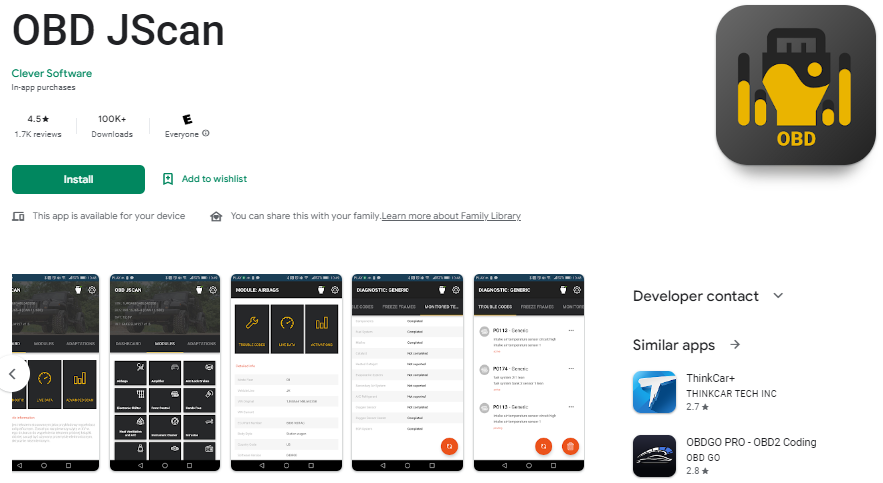 If you're a Jeep owner worrying about your vehicle's performance, here's some great news. Introduced by Clever Software, OBD JScan is a really powerful OBD2 scanner app for Jeep. It's equipped with many features such as HVAC, automatic transmission, and steering column apart from ABS.
You can easily check the diagnostic trouble codes of your car via the simple dashboard of OBD JScan. The icons and options are illustrated intelligently to ensure smooth navigation. Other features worth mentioning are the sway bar and radio.
Infocar - OBD2 App with Parker Car Finder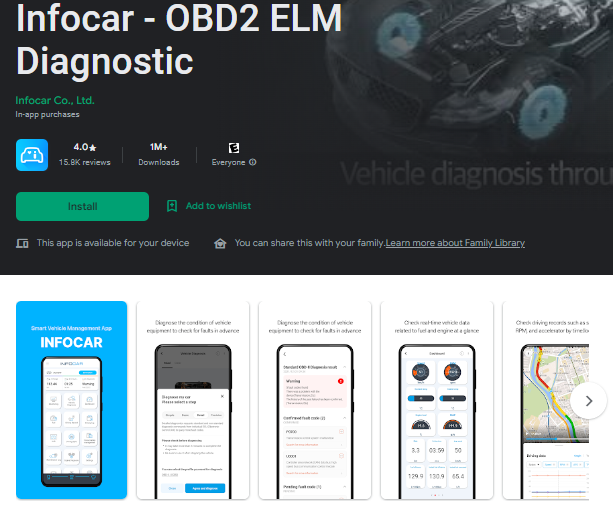 Infocar is another OBD2 app boasting a variety of attractive features. What distinguishes this app from others is the parker car finder feature. Blackbox deserves a special mention, which enhances the experience by letting users view the road and traffic.
The dashboard of Infocar shows every piece of information related to your car's health. You can also check your car's battery voltage on the dashboard. The best part is that Infocar is compatible with both iOS and Android.
Conclusion
Now that you know everything about the best OBD2 apps, just go ahead and choose the one that meets your needs. From the descriptions, you can see that each app has some exclusive feature that sets it apart. For this reason, we hope you will surely be able to make a wise decision.
ABOUT THE AUTHORS
Elizabeth
Elizabeth is your trusted Apple product expert with a wealth of knowledge and experience gained from her tenure as an Apple authorized personnel. She's also a seasoned mobile phone, Samsung, and Android expert. With a keen eye for detail and a passion for all things Apple, Samsung, and Android, she is dedicated to providing you with accurate, reliable, and up-to-date insights. Count on Elizabeth to be your go-to source for expert advice on navigating the world of Apple technology, Samsung devices, and the Android ecosystem.
Bogdana
Bogdana is your technology expert, backed by a strong foundation in consumer electronics and a range of qualifications that make her a trusted source in the tech world. With a deep understanding of the latest advancements and a passion for simplifying complex concepts, Bogdana is your go-to authority for demystifying technology and keeping you informed about the ever-evolving digital landscape. Trust her to deliver reliable insights and expert guidance to help you navigate the world of consumer electronics and beyond.