It's not often you come across equally matched software in the realm of productivity. Every application brings something unique to the mix. In general, the more tools you have, the better. Sadly, that's not how it's done in the real world. Take a simple daily task like working with PDF documents. In this case, you have to narrow down to one pick because uniformity is the preferred approach in any office environment. You need to have a solution that fits all PDF needs, not just reading or editing or conversions.
That brings us to our comparison of Mac PDF editors. We pitted two popular contenders against each other to see how they fared from purely a value-for-money perspective: PDFelement (Standard and Pro) for Mac and PDF Expert for Mac.

Straight off the bat, Windows users are precluded from using PDF Expert because there's no version for them. But since this is a face-off between Mac PDF Editors, we'll let that one slide.
Score – PDFelement 0 : PDF Expert 0
Reading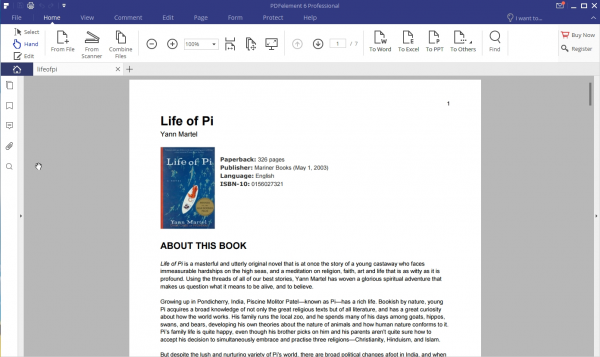 If it can't be used for reading a PDF file containing all possible text and graphical elements, it's not a PDF utility. Even Apple's own Preview app is a great PDF reader, but apart from some annotation possibilities and PDF merging, that's about all it offers. On that front, both PDFelement and PDF Expert match each other feature for feature, be it zoom, scale or page display. In fact, PDF Expert is hugely popular, but PDFelement is catching on fast because of the additional features it provides at a reasonable price. But we'll get to that later.
Score – PDFelement 1 : PDF Expert 1
Editing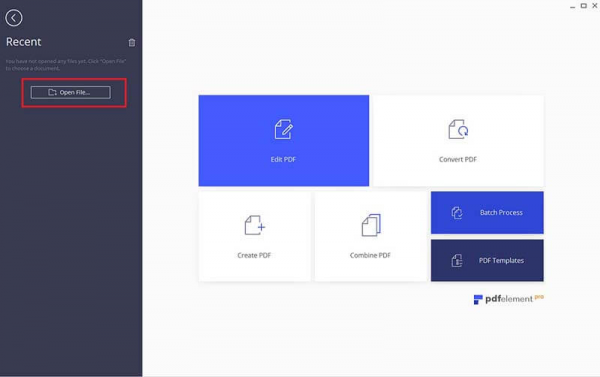 Editing is the next obvious thing to discuss because so much of PDF work involves simple tasks like light editing, signing, copying and pasting, and so on. In this area, both provide the necessary tools for fully editing a PDF file. However, PDFelement is slightly in front here because PDF Expert doesn't offer things like adding or editing headers and footers, changing backgrounds and applying watermarks. These are critical tools for a business, so we're marking PDF Expert down in this area. Neither PDF editor has OCR as a standard feature, but PDFelement does have a Pro version with all of that thrown in.
Score – PDFelement 2 : PDF Expert 1
Page Management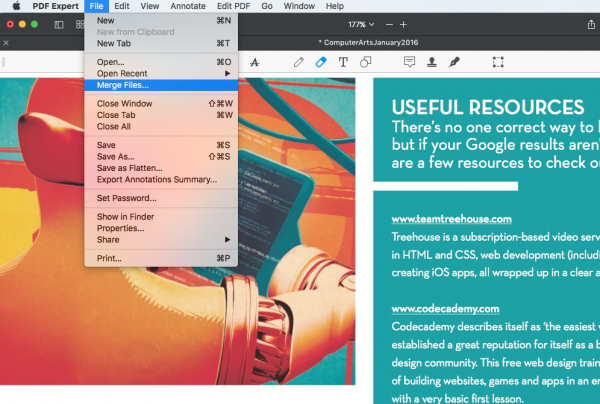 Another key ability of a PDF editor is to be able to rearrange, merge, split and number pages at will. PDFelement does all of that, but PDF Expert doesn't have an option to split pages. The reason that matters in our scoring is that a lot of PDF users only need certain pages from large reports. If you can't split a file into smaller and smaller units, it's hard to mix and match different the different units the way you want to. It's not a deal-breaker for such a popular app as PDF Expert, but it's worth a mention. However, it should be stated that the PDF merging function in PDF Expert has a superb user interface.
Score – PDFelement 3 : PDF Expert 2
Annotations and Commenting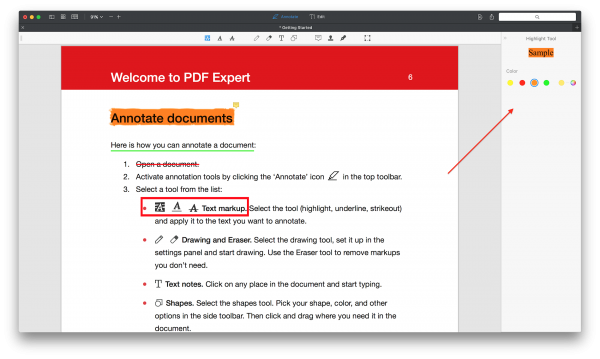 This is a very basic area for any PDF utility. Annotations and comments are an essential part of the collaborative process. If you don't have the right tools to be articulate in your annotating, then the tool isn't right for the job. Both our contenders are equally capable in this area, offering annotation tools like highlighting, underlining striking through, adding Sticky Notes and text commenting, PDFelement has an ever-so-slight edge over PDF Expert because the latter doesn't offer text comments, just text boxes. It's not ideal, but it's definitely not something to swing user preference against PDF Expert. You won't hear users complaining about the lack of commenting and annotation tools.
Score – PDFelement 4 : PDF Expert 3
Protection and Security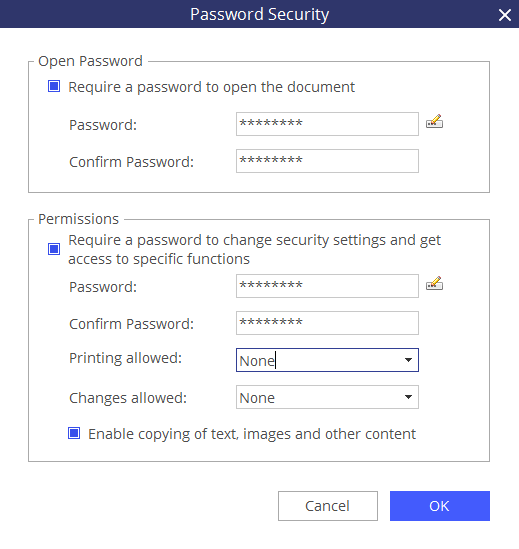 Since PDFs often contain confidential information, it's important to have the right tools to maintain that confidentiality. On the plus side, PDFelement offers access and permission security implementations, but it doesn't have features like redaction and blocking or erasing selections. They both serve the same purpose, but PDF Expert has more tools to safeguard privacy, like the erase selection tool that's useful for removing sensitive information instead of just redacting it or masking it some other way. That being said, the settings for permission security in PDFelement include features like preventing copying and printing. Still, if redaction is a critical requirement, as it is with corporate, legal and accounting uses, PDF Expert scores an extra point here.
Score – PDFelement 4 : PDF Expert 4
Conversion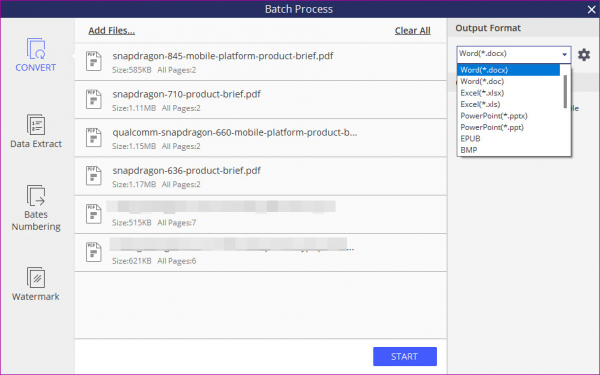 There's really no contest here because PDF Expert doesn't offer any conversion tools. PDFelement excels in this area because even the standard version has up to eight different format options that you can convert PDF files to. And with the Pro version that gets extended to more than a dozen formats.
Score – PDFelement 5 : PDF Expert 4
Forms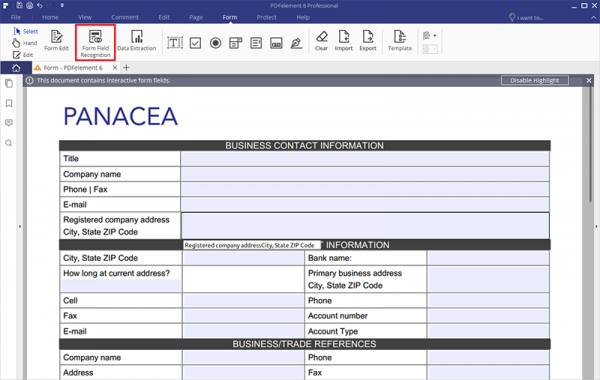 Form-filling is another important aspect of PDF files, but while most tools provide decent form-filling capabilities, not many have extended features like being able to add fields, boxes, radio buttons and a lot more when editing a form. PDFelement has all that, plus the ability to import and export form data from multiple documents. Unless a business is only into using cloud solutions like Google Forms, the ability to handle form content in a number of ways is a very important feature. In addition, PDFelement Pro even offers advanced capabilities like data extraction and form field recognition.
Score – PDFelement 6 : PDF Expert 4
Pricing
The all-important value-for-money test isn't always about the absolute price of a piece of software, but rather how rich its feature set is compared to its price. A full license for PDF Expert costs about $80, while PDFelement Standard can be yours for $60. It's not a huge difference, but when you're deploying it across multiple desktops, the savings add up. Another advantage for PDFelement is that there are Standard and Pro versions, giving you an option to add advanced features like OCR, redaction, file size optimization, batch conversions and other batch-processing tools.
Final Score – PDFelement 7 : PDF Expert 4
The decision based on these parameters is clear. Let's not forget that PDF Expert is hugely popular with Mac users, but at the same time, PDFelement is now getting the exposure it deserves. Both are equally matched, in our opinion, but from a practical viewpoint, PDFelement has more to offer at a lower cost. Of course, that doesn't mean you should immediately switch, but if you can see the value it offers, it might be worth downloading the free trial versions and playing around with both PDFelement as well as PDF Expert. You can then decide for yourself who should win the Battle of the Mac PDF Editors.