Studio app is a powerful tool using which you can add effects to photos and also can edit video clips with the help of a complete suite of editing tools in your Samsung Galaxy S5 gallery. The basic editing things that can be done using the Studio app are adjusting contrast, brightness, and color using a wide option of photo-editing effects.
On your Galaxy S5, there are multiple types of Studios available and these are collage studio, photo studio, video clip studios, shot & more, and video trimmer.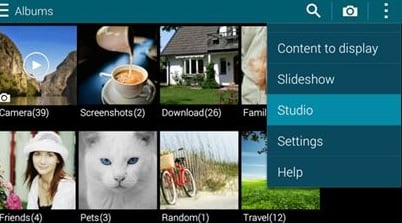 See also- How to fix Samsung Galaxy S5 wifi issue
Here

is

a

guide

on

how

to

use

Collage

Studio

on

Samsung

Galaxy

S5

to

create

a

collage.
> From the home screen, touch Apps to start with the process.
> Then tap on Gallery.
> Inside the Gallery, you will see Menu options icon which is represented with three vertical dots and located at the upper-right side of the screen. Touch that option.
> Scroll the screen to Studio and touch Continue.
> Under Studio, Collage Studio option will be there. Select it by touching.
> Select the image folder that you want to use by touching it.
> Usually, 2-6 photos can be selected or used from the folder. When you are done with selecting the pictures, tap Done in order to continue.
> Select a style that you want for collage layout. Also select how you would like it to split the pictures. If you want to change the collage style, touch shuffle button.
Following are some options using which you can make some adjustments on the collage:
Aspect ratio: Tap Aspect ratio and choose either 9:16 or 1:1.
Border or layout: If you want to adjust the border and layout thickness of the pictures in the collage, touch Border or Layout option.
Shuffle: Tap on shuffle in order to allow Studio to assign background colors, borders and layers randomly.
Background: If you want to change the background color, touch on Background.
That's all. These are the simple steps to use Collage Studio on Samsung Galaxy S5.
Join our newsletter 🎉
Subscribe to our newsletter and never miss out on what's happening in the tech world. It's that simple.
Latest Tech News

Exclusive Tech Deals