If you registered on many websites, memorizing all username and password combinations is almost impossible. If you write them in a text file, you may accidentally delete the file. On the other hand, if all of your accounts have the same password, it is a risk for your safety. If the attackers can gain the access to one of your accounts, they can possess all your personal information. This guide will show you how to save the password in Opera web browser.
You also may read: How To Block Pop-ups In Opera Browser
How To Save The Password In Opera Web Browser
This method is convenient and safe. After you logged on any website, Opera browser offers you to keep your personal information in its database. The next time, all the forms on this website will be filled automatically. You shouldn't be worried about the safety of your data. All passwords are encrypted in a special way and only Opera browser can decrypt them.
Once installed, the web browser is ready to save your data for login. However, if you or other users disabled this feature – it is required to activate it again. This is done in Opera settings. Follow the step by step instructions provided:
Start the Opera web browser
Click on "Menu" icon which is located on the top left corner of the browser
Find "Settings" in the drop-down menu
You can also use the key combination Alt + P, to open these settings
Then you will see a page with browser settings. On the left side is the navigation menu. From there you must choose "Privacy & security» section.
Find "Passwords" and "Autofill" category and select both of them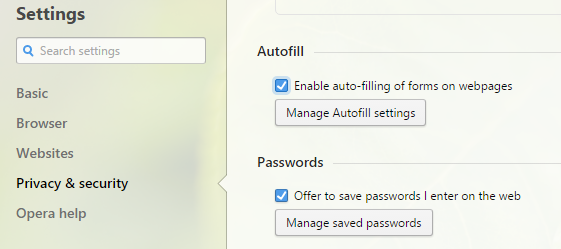 Now your browser will offer you to save your password every time you log into any website.
Then, after the successful login on a website, Opera web browser will ask you to save your password.

Image Source: www.1.bp.blogspot.com
You may also read: How To Make Opera As Default Web Browser