Samsung Galaxy S5 is one of the best smart phones in the market and packed with tons of features. This thing attracts many of the smart phone lovers to this phone and makes them to buy it. The powerful S Health app, excellent camera, bigger and brighter screen than Galaxy S4, all together it's a smart phone to go for it.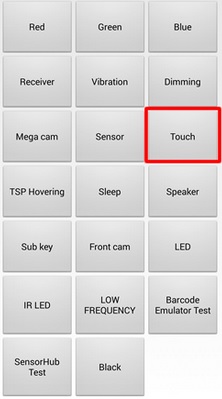 If you already have bought this phone or planning to buy one, then few things you should know, which could be helpful later. Here, I will discuss on how to perform hardware test on Samsung Galaxy S5. This process helps you to make sure that all hardware components such as the display, touch screen sensitivity, etc. are working fine.
See also- Solutions for Samsung Galaxy S5 not charging issue
Steps

to

perform

hardware

test

on

Samsung

Galaxy

S5
> From the Home screen of your Galaxy S5 touch on Phone icon. It will open the Phone app or dialer.
> Dial "#0"# using the keypad.
> A test page will be appeared on the screen. On the test page, you will see different features names and touch on that feature for which you want to perform a test. For example, if you want to test the touch screen sensitivity of your Galaxy S5, then tap the Touch button.
Different options/buttons will be prompted to you for test such as the device's receiver, LED colors, vibration, mega cam, touch, sensor, dimming and more.
> After you select a particular hardware functionality that you want to test, slide your fingers over the grid boxes.
> The grid boxes will turn to green if your Galaxy S5 detects the touch. If all the grid boxes turn to green, it indicates that your phone passed the test. The screen will now take you back to the test page.
> If you want to check more hardware functionality of your phone, more tests can be conducted.
If you find any of the test results are failed, contact with Samsung support or with your carrier and escalate the problem.
Join our newsletter 🎉
Subscribe to our newsletter and never miss out on what's happening in the tech world. It's that simple.
Latest Tech News

Exclusive Tech Deals