Maximizing Efficiency With EdrawMax: How To Visualize Your Ideas In Minutes
Whether it be diagrams, flowcharts, or infographics, they all help to simplify your ideas and thoughts. An engaging visual presentation can help you to captivate the attention of your audience and enhance their understanding of the content.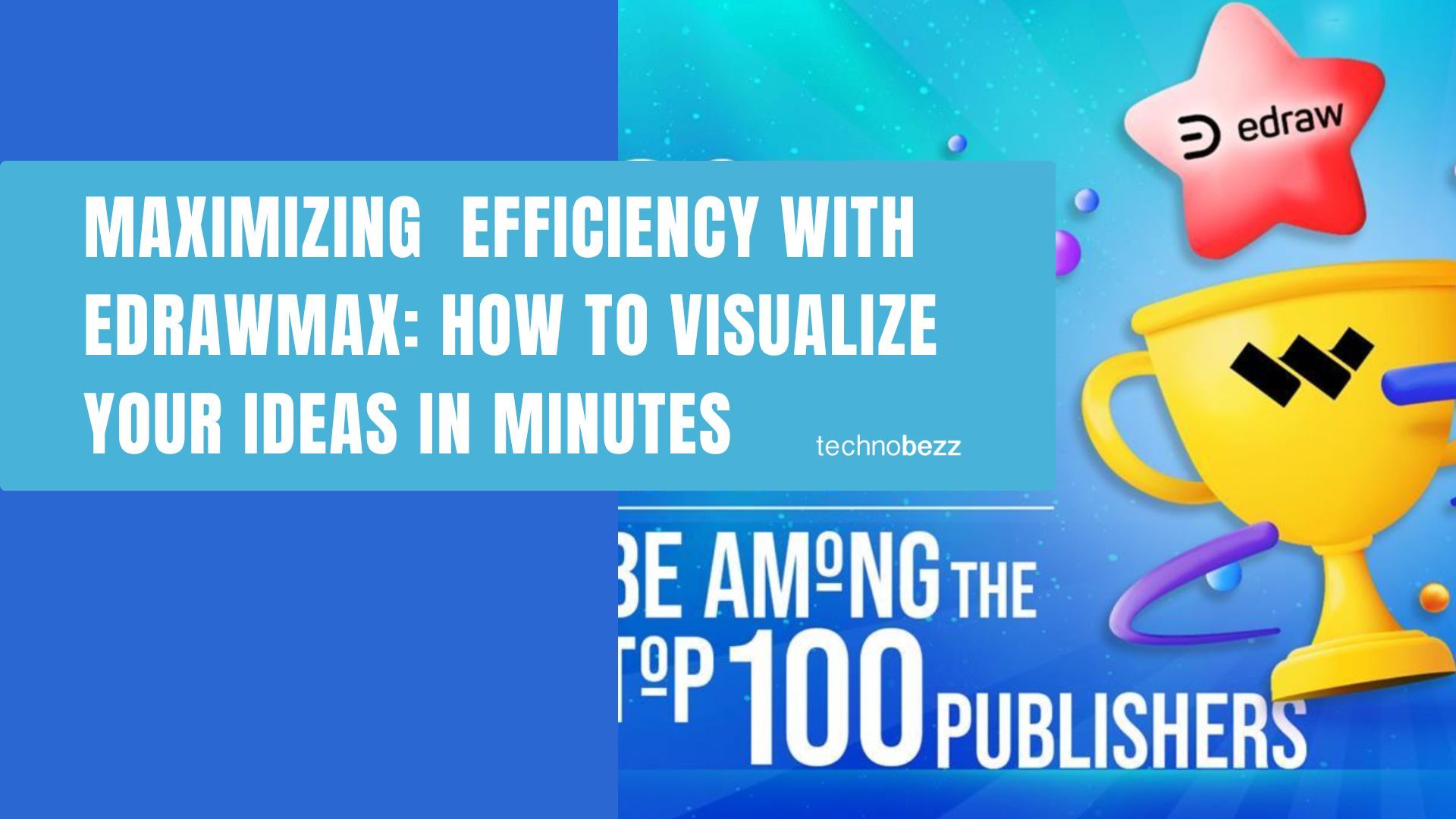 Whether it be diagrams, flowcharts, or infographics, they all help to simplify your ideas and thoughts. An engaging visual presentation can help you to captivate the attention of your audience and enhance their understanding of the content.
According to research, about 83% of what we learn or the information we get comes from our sense of sight. The other research finds that people tend to digest information better and remember it for a longer time if a combination of visuals and text are used in a presentation.
All you need is to find a tool to create visuals for your presentation without the hassle. There is one tool that is easy to use, beginner friendly, and has everything you need to create, share, collaborate, and even export and import files from one format to another. We are talking about EdrawMax!
How EdrawMax Helps You Maximize Work Efficiency
As a vector-based diagram tool, EdrawMax can help you to formulate your idea into an eye-catching professional visual - from a simple organization chart to a complex engineering visual, such as an electrical system or P&ID drawing.
A vector-based program allows you to get high-quality graphic images in small-size files. The vector images can also be scaled or compressed without losing their quality.
Can I use EdrawMax to draw a wireframe web design?
Yes. The tool has more than 2000 professional templates and over 280 types of diagrams used in a variety of fields, including website wireframe templates, for iPhone, Android, and so on. You can modify the templates or create your own wireframe template from scratch. Both ways are effortless, thanks to the drop and drag functionality of EdrawMax.
I have never used a vector-based graphic software before. Will it be a problem?
EdrawMax adopts an intuitive Microsoft-like interface that allows users from any level to use it without struggling. The user-friendly interface with drop and drag functionality lets you create a diagram in minutes.
Once you open EdrawMax on your PC, you will see the settings menu and the categories tabs on the left side. On the main tab, you will see templates from each category. For example, when you select a Business category, the related templates appear on the right tab.
By clicking a desired template, it will direct you to a new drawing sheet. Here, you can simply drag and drop the symbols, shapes, connectors, and all the things you need to create or modify the template. There are at least 25 color combination options to make your template stand out.
Collaboration
If you are working on a project with a team, instead of sending the draft to each department to get their feedback, you can use the real-time collaboration feature on EdrawMax to keep members on track and up to date at all times.
With EdrawMax, you can share your work with your team in any file format, no matter what platform they use. You can share the file in PDF, SVG, HTML, Word, TIFF, and more. This tool is available on Windows, Mac, Linux, and the online web. But, the features are different on each device.
Share A Project With No Worries
Sharing a project with your team or social media platform is easy. But, is it safe? With EdrawMax enterprise-scale security, they safeguard your privacy. All file transfers will be encrypted with the highest level of SSL encryption. Therefore, no one can access your data, without your permission.
Export and Import Files
A common vector file format is SVG or Scalable Vector Graphic. In EdrawMax, you don't have to worry about exporting a file to a non-vector format, like JPG, Word, TIFF, PowerPoint, Excel, and more. You can also import files from any format to EdrawMax in the same way.
Tips to maximize team efficiency with EdrawMax
For those who work with a team right now, here are some tips to improve team efficiency.
Clarify the roles, goals, and responsibilities of each team member
Eliminate unnecessary meetings.
Communicate effectively
Give and receive feedback
Introduce team members to EdrawMax
EdrawMax has everything your team needs to maximize efficiency at work. It allows team members to collaborate and share work done by each member and annotate it. It's an effective way to communicate. Moreover, the real-time collaboration feature on EdrawMax can improve meeting efficiency.
How To Get EdrawMax?
EdrawMax is not a free tool, however, there is a free trial available to users. Sign up for the free trial and select a plan that fits you the most. It is available for Windows, Mac, and Linux. But, if you don't feel like downloading it to your device, you can use the online version.
The plan starts at $8.25 per month (billed annually) or $99/year (individual plan). There is also a lifetime plan for $198 and a lifetime bundle plan for $245. Both are one-time payments with a 30-day money-back guarantee.
Conclusion

In conclusion, visual aids are an effective way to convey information and ideas to an audience. EdrawMax is a powerful tool that can help individuals and teams create high-quality visual presentations, diagrams, and infographics with ease. Its user-friendly interface, collaboration features, and ability to import and export files in various formats make it a valuable asset in the workplace.
By utilizing EdrawMax, teams can improve communication, productivity, and efficiency. With its affordable pricing plans and a free trial option, it is definitely worth considering for those looking to enhance their visual communication skills.
ABOUT THE AUTHORS
Elizabeth
Elizabeth is your trusted Apple product expert with a wealth of knowledge and experience gained from her tenure as an Apple authorized personnel. She's also a seasoned mobile phone, Samsung, and Android expert. With a keen eye for detail and a passion for all things Apple, Samsung, and Android, she is dedicated to providing you with accurate, reliable, and up-to-date insights. Count on Elizabeth to be your go-to source for expert advice on navigating the world of Apple technology, Samsung devices, and the Android ecosystem.
Bogdana
Bogdana is your technology expert, backed by a strong foundation in consumer electronics and a range of qualifications that make her a trusted source in the tech world. With a deep understanding of the latest advancements and a passion for simplifying complex concepts, Bogdana is your go-to authority for demystifying technology and keeping you informed about the ever-evolving digital landscape. Trust her to deliver reliable insights and expert guidance to help you navigate the world of consumer electronics and beyond.