Skype is a very popular software that can run on computer and smartphones, and it allows you to communicate to all the users of the program, regardless of their location and type of the device. When using Skype, you can make calls, send SMS, share media files and chat with your contacts. Skype "Click to Call" plugin offers the unique opportunity to significantly expand the capabilities of Skype. Therefore, it is very important to know how to add the plugin to the browser. This guide will show you how to install Skype Click to Call plugin.
You may also read: How To Remove And Block Contacts In Skype
How To Install Skype Click to Call Plugin
Unique Skype Click to Call plugin allows all users online to call the number on the website with one click of the mouse.
Note: If you want to use all features of this plugin, you must have the latest version of it, as well as on one of the browsers: Internet Explorer, Mozilla Firefox or Google Chrome.
The main purpose of this plugin – to call easily the telephone numbers written on the official pages on the internet via Skype. It is worth to pay the attention to the fact that the video call is free, and calls from mobile will be charged.
To install the plugin, you need to go to the official website of Skype and download it to your computer.
Next, click on the file to install it on your device.
Then, you should perform these actions:
If you using Google Chrome, you must install "Skype" extension if you want to Skype Click to Call plugin run properly.
Open Google Chrome menu, click on Settings < Extensions < Get more extensions and in the search field, type "Skype". When you install the necessary extension, it activates automatically.
If you want to make a call, go to your browser and click on the desired number.
When you click on the number, you will see four options: "Call", "Call from mobile", "Add to Skype" and "Free via Skype".
Choose one of the options and you can start a call.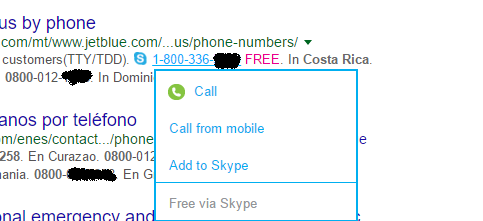 Image Source: www.community.skype.com
You may also read: How To Reset And Change Skype Password