Netflix offers great movies, TV shows, cartoons, and more. Since you can create several profiles for your household members, you can also personalize each profile according to the preferences of the person that is using a profile. So, you and your family members can have a completely personalized experience. If you have been wondering if there is a way to change the subtitles, its font, size or color, the answer is yes. Here, in this article, we are going to show you how to manage subtitle appearance on Netflix.
See also: How to manage playback settings on Netflix
How to manage subtitle appearance on Netflix
As we already said, you can change the size, color, and font of the subtitles and while it may sound like a lot of work, you can adjust it all in a matter of seconds. Here is how:
Open your favorite browser and go to Netflix website
Log in  by entering your email and password
Click on the icon in the top-right corner of the screen and click Account
Next, scroll down and find the profile you want to change
Find Subtitle appearance and click on the option Change
There, you can make the changes you want. You can select the size of the subtitles by choosing between small, medium, and large. You can also change the subtitle color, and font.
When you are done, click Save
If you want to go back to defaults, just click Reset to default.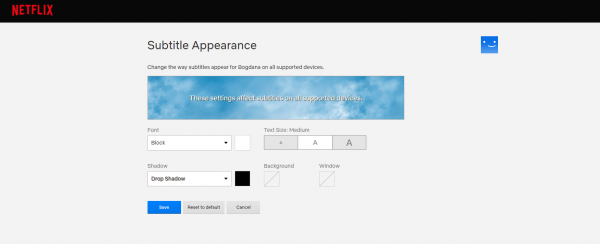 The changes you make will affect all the supported devices.
Manage subtitle appearance using the app
If you prefer using the Netflix app, you can make the changes there. The app will automatically open the browser on your device.
Open Netflix on your Android or iOS device
Tap More in the bottom-right corner
Tap Account (this will open the browser)
Find the profile you want to change and tap on it
Scroll down and find Subtitle appearance and tap Change
Make the changes you want or tap on Reset to default (if you want to restore defaults)
When you are done, click Save.
The same thing can be done for every single profile you have created.