Finally, the iPad can run on its own operating system, called iPadOS. It will no longer feel like an iPhone
Finally, the iPad can run on its own operating system, called iPadOS. It will no longer feel like an iPhone with a larger screen when you using it. The new operating system was announced at Apple World Wide Developer Conference last year. The new OS is a kind of iOS derivation with better design and more power, especially when it comes to multitasking. Unfortunately, users who bought an iPad before 2019 may not be able to have iPadOS as default. You have to install it manually. How to get iPadOS on iPad?
See also: iPad Pro -Apple to Plan a 12.9-Inch Model in Fall 2020?
iPadOS Compatibility
Having iPadOS seems interesting, especially if you use the iPad for productivity instead of using it for browsing, socializing, or entertainment purposes only. Unfortunately, not all iPad versions are able to get iPadOS. If you don't find your iPad on the list below, it means your device is not compatible to get iPadOS.
iPad Air 2 and 3
iPad Mini 4 and 5
iPad (6th and 7th generations)
9.7-inch iPad Pro
10.5-inch iPad Pro
11-inch iPad Pro
12.9-inch iPad Pro
How To Get iPadOS on iPad
Backup
Installing iPadOS on iPad is not hard work at all. But, don't you ever start the process before doing a backup. Otherwise, you are at risk of losing your important data on the iPad. There are several methods to back up your data. If you want to do it faster and simpler, use iCloud. You can also backup on a Mac with iTunes.
To do an iCloud backup, you need to connect the iPad to WiFi. Then, go to the Settings of your iPad, tap on your name, and choose iCloud. Scroll down and find iCloud Backup, tap on it. On the Backup screen, make sure the button next to iCloud Backup is enabled or green-colored. Last, tap Back Up Now option.
To back up on a Mac or PC, make sure you have the latest iTunes version if you use older macOS or PC. First, connect the iPad to Mac or PC using USB to lightning cable. Open iTunes or open Finder for macOS Catalina users. Select your iPad in the sidebar and click the General tab (for Catalina) and click Back Up Now. For older macOS users, you can directly jump to Back Up Now.
Installing iPadOS on iPad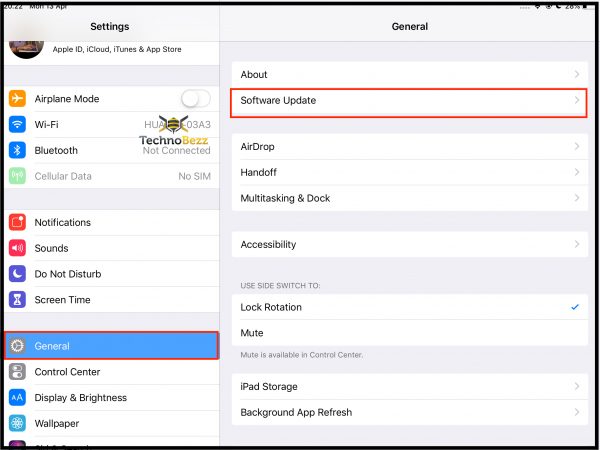 To get iPadOS on iPad, you will only need a few steps and minutes. Just make sure you have a good internet connection. Also, make sure that your iPad has at least 50% of its battery life. Otherwise, connect it to a power source.
On iPad home screen, tap Settings.
Choose General and tap Software Update. It will load to check the update.
When you see the availability of iPadOS on the screen, tap Download and Install.
Wait until the installing process is done.
---