This tutorial is for users of Samsung Galaxy S5, so users of other devices do not follow the steps here to flash stock ROM.
Galaxy S5 users who have bricked their phone or have installed custom ROM but now want to get back to the stock ROM, this guide will help them to do that. Here we will discuss in step by step process how to flash stock ROM via ODIN on Samsung Galaxy S5.
See also- How to flash stock ROM via ODIN on Samsung Galaxy S3
Flashing your phone can delete all the data on your phone, so make sure that you backup the data including contacts before proceeding with the steps. Also make sure that the following things are with you:
Your Galaxy S5
USB data cable using which you need to connect your phone to your PC.
Internet connection to download some files which are required for the process.
Make sure that the phone is charged fully and switched off.
Steps to flash stock ROM via ODIN on Galaxy S5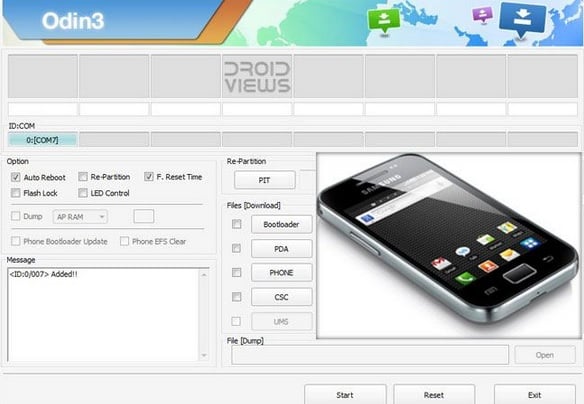 > The first step is to download and install Samsung Kies on your computer. It will contain the default driver for your phone. Click the link to download Samsung Kies.
> Switch off your phone, then press the Home button, Power button and Volume Down button together and hold them to enter into Download mode.
> Now your phone needs to be connected to your PC using the USB data cable.
> Go to Control Panel > Device Manager > Universal Serial Bus Controllers, you Galaxy S5 will be appearing as Samsung Mobile USB Composite Device. If you do not see it, that means the driver has not been installed correctly. In such case you need to disconnect your phone from your computer, delete Samsung Kies and other Samsung related software from your computer and then reinstall them again. If then also it does not work, then Unofficial Samsung USB Driver needs to be downloaded and installed and then check again.
If none of the methods work to install the drivers, then you need to use Windows Update in order to find and install the drivers. For that it is mandatory to be connected to the internet. Here are the steps for that:
Uninstall all software those are related to Samsung from your computer.
Enter your Galaxy S5 into Download mode.
Go to Device Manager, you should find the phone as two uncategorized devices, CDC ACM Data and CDC Abstract Control Model in Other Devices list.
You need to right click on the CDC Abstract Control Model > Update river Software > Search for updated driver software.
Windows will then start searching for the appropriate driver and will install the same. After the installation is done you will see Samsung Mobile USB Composite Device which will be found under Universal Serial Bus Controllers. Now you can go ahead with the next steps.
> After the driver is installed correctly and your Galaxy S5 is in Download mode you need to download ODIN tool and Firmware package mediafire and Googledrive.
> The ODIN's zip file needs to be extracted now and put it in a folder. Also the Firmware package needs to extract and put in another folder. After extracting the Firmware Package you will get to see 3 main files, MODEM, CSC and PDA.
> Go to the ODIN extracted folder and then run ODIN. Under ODIN you will see a box ID:COM. Under this box you should see 0: or something like that. # is any number and if you see that the box is blank that means something wrong is there and ODIN cannot find your phone.
> Do not change any default selections unless you understand what you are doing.
> After clicking on PDA button you will get option to browse the PDA file in the extracted Firmware Package. Then you need to click on Open.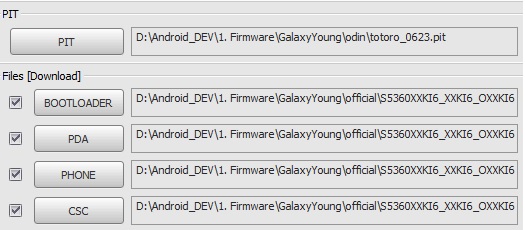 > Now the PHONE button needs to be clicked and browse to the file which is starting with MODEM in the Firmware Package and then click on Open.
> Same way the CSC button needs to be clicked and browse to the file which is starting with CSC in the Firmware Package after extracted. Click on Open.
> Next the START button needs to be clicked in order to start flashing and wait for some time to finish it.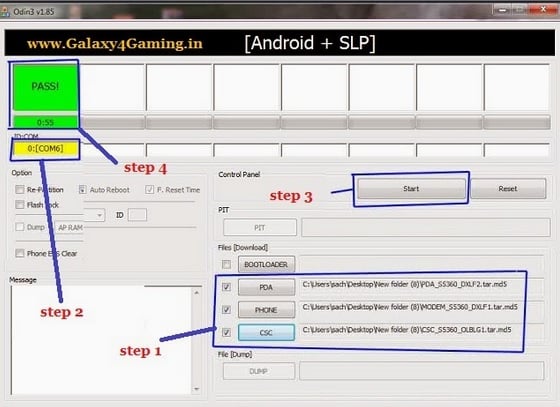 > It will show you PASS once completed.
> The phone will reboot automatically, it may take long time to boot up but nothing to worry. Disconnect all the connection now.
Join our newsletter 🎉
Subscribe to our newsletter and never miss out on what's happening in the tech world. It's that simple.
Latest Tech News

Exclusive Tech Deals