iTunes is one of the most useful things to feature in the iPhones. It is able to keep all your music, videos, podcasts and any or every media that is important to you. These can be organized and then can be switched to any other device that supports iTunes. So iTunes is basically a media player, a media manager, a media library, a radio broadcaster and a mobile device manager. So using an iPhone without iTunes means not being able to use it fully. And when you have errors related to this utility which is so heavily used then it can be really annoying.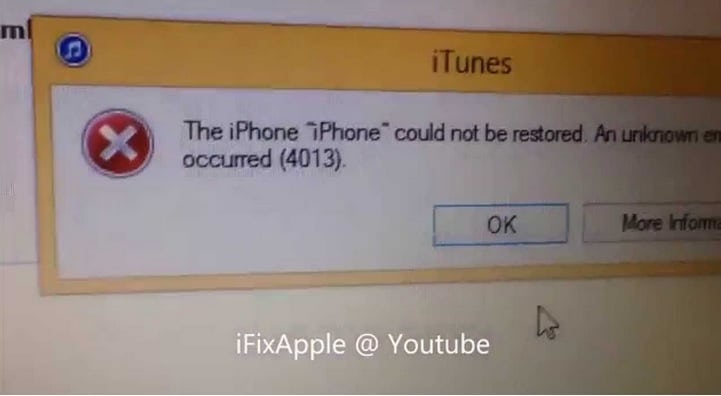 This photo is taken from YouTube.
Now recently, the iOS users and that too particularly iPhone users started encountering these strange 4013 and 4014 errors when they wanted to update the device to iOS 7 using iTunes. The problem that they are having is not something related to the software of the device. It is basically a hardware problem. And like any other issue this problem too has its solutions. In this post we are trying to focus our attention on iPhone 6 Error 4013 and how to fix it. The same fix of iPhone 6 Error 4013 will work for Error 4014 as well.
If you face Unicode Message app crashing issue on your iPhone or other issues like battery problem, wifi issue, visit here.
See also- Common iPhone 5 problems and solutions
Ways to fix the iPhone 6 Error 4013 and Error 4014
Method 1- Updating to the latest version of iTunes
Not being on the latest version of iTunes can be one of the reasons why you might be getting the iPhone 6 Error 4013 or 4014. So you would have to update your laptop or desktop computer with the latest version of iTunes.
Method 2- Change of USB Port
Another fix could be by changing the USB Port which you are using on your laptop or desktop to connect with your iPhone 6. This is a really simple solution but has worked for a lot of people so you can try this before you go forward and try the other methods. So first change the USB port that you use to connect your iPhone 6 and check to see if you are still getting iPhone 6 Error 4013 or 4014. And also make sure that you are using an original USB cable (original Apple accessory) for connecting your iPhone 6.
Method 3- Update the iOS version to latest iOS 6.0 and then iOS 7.0
If you are using the iPhone 6 which does not have the latest version of iOS 6.0 then first update it to the latest version of iOS 6.0 and then you can go forward with updating the device to iOS 7.0.
Method 4- Clear up space on your iOS device
One more issue that can be the reason for the error is not having enough space. So one more fix is to clear up the device memory and freeing up some space on the device. This even if sounds unrelated to the hardware issue but might end up solving the problem for you.
Method 5- Restoring the iOS device
Well if nothing of the above fixes work then the last resort could be restoring your iOS device. This is going to erase everything from your device and is going to bring it back to the time when you first bought the device.
Before starting make sure that the device is sufficiently charged.
For restoring the device to fix iPhone 6 Error 4013 or 4014 follow the following steps.
Connect your iOS device or iPhone 6 to the computer and turn on the iTunes utility.
Now backup your device as this process is going to wipe away all the data.
Once the backup is done just disconnect the device and close the iTunes.
After disconnecting the iPhone 6 or any other iOS device and quitting iTunes you would have to put the device into recovery mode.
Now again open the iTunes on your desktop or laptop.
Connect your iOS device to the PC again. The iTunes would show that the device is connected in the recovery mode.
Just go ahead with restoring your device. All the data will be erased and the device would come back to its original factory form.
Once this is done you can go ahead with the update and this might solve the issue of iPhone 6 Error 4013 or 4014.