Dating apps and services are pretty popular, and you have plenty of options out there. One of the apps that caught the attention of many is Bumble, and perhaps you could give it a chance. Who knows? Perhaps the app leads you right to your perfect match. While it may seem like every other dating app, Bumble is actually a bit different, and we are going to talk about it here. Let's see how does Bumble work.
See also: Online Dating: Yes Or No?
Bumble features
Bumble has some pretty cool features. You can voice or video chat with people on Bumble. If you want to video chat, it is essential to add a badge "Virtual dating" that is showing you are interested in video chatting. There are also some premium features that are designed to help you find top-quality matches. Some of the premium features are unlimited numbers of matches you can extend, undo a swipe, swipe right as much as you like, just to name a few. Bumble boost is something you have to pay for, and there are different deals and options for you to explore. In addition, you can choose Bumble Premium that will allow you to get all the boost options along with some other great options and benefits.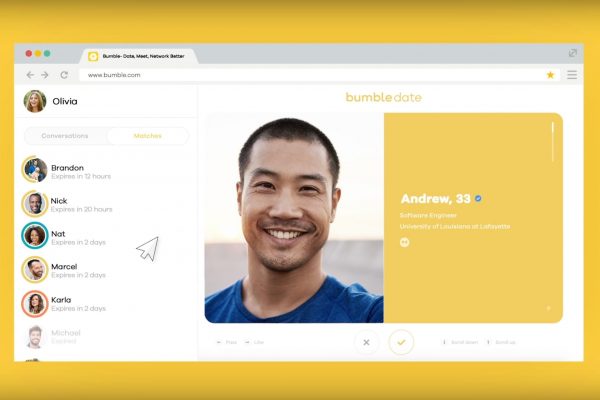 How does Bumble work
In most apps, there is an option "Swipe left" to pass a person, or "Swipe left" to like someone. If two users like each other, they can start a conversation.
But here is what makes Bumble different – here, women are the ones who start the conversation! Ladies, if you want to boost your confidence and do something different, perhaps this could be a great option. If you like a guy, and he likes you, you have 24 hours to send him a message. A guy will have 24 hours to reply.
When it comes to same-sex couples, both can be the initiators of the conversation. When it comes to the time span, it remains the same. You have 24 hours to send a message, and 24 hours to reply.
If you find it interesting, make sure you give it a try!