The Huawei P20 Pro is a brilliant smartphone which will instantly appeal to any buyer and you might have already
The Huawei P20 Pro is a brilliant smartphone which will instantly appeal to any buyer and you might have already purchased the phone if you love the triple camera setup. While it's got the best camera, great battery life and affordable pricing, the phone has its fair share of flaws. Instead of going for a different device, you can actually understand all common Huawei P20 Pro issues and their fixes. They are very easy to do and through the process, you can also understand how Android's recovery mode, factory reset and other advanced features work.
See also: Common Huawei P20 Issues and Their Fixes
Problem 1: The Phone Randomly Reboots without you doing it
A smartphone that reboots on its own without the user doing anything is not a surprising or a new issue. It has persisted on different versions of Android and not so luckily has been spotted multiple times on the P20 Pro as well. Based on the comments left by different users in the official Huawei forums, in discussion threads and XDA Developers forum, it looks like the phone reboots suddenly when they are browsing the web, their gallery app or randomly watching videos on YouTube.
There is no set pattern for this issue and if you spot it on your phone, try some of the methods we have mentioned below which should possibly solve your issue.
Method 1: Wipe the Cache Partition and Reboot Your Phone
Hold the Power Key on your Huawei smartphone and wait for the options to appear
Select Power Off
Once it is switched off, hold the Power and Volume Up keys together
Hold them until the Huawei Logo appears on your phone and release the power button
Keep holding the Volume Up until the Recovery Mode options are displayed
Scroll using the volume up/down keys and press power button to wipe your cache partition clean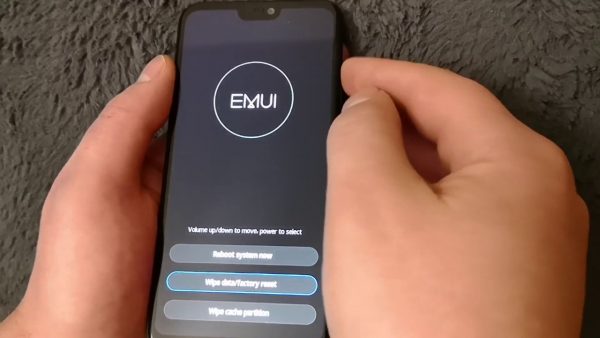 Method 2: Try Factory Reset if You Suspect an App has Been Causing the Rebooting Issue
People love to use smartphones to the core and they end up installing a lot of new apps and games through the months of using the phone. If you are one among them, it's time to factory reset your smartphone. A rogue app could have been rebooting your Huawei P20 Pro for no apparent reason. It's very difficult to find it without going for a factory reset which will delete all your data including call logs, SMS and local files.
Before you do a reset, make sure to save your files on the cloud. You can backup photos on Google Cloud, use apps like Evernote, LastPass and Google Drive to save your files in different locations. Local content downloaded on Netflix, Spotify and similar apps should be downloaded again through a Wi-Fi network.
Head to the Settings on your smartphone
Find System and tap on Reset
Choose Factory Data Reset and accept to Reset Phone
It might take a couple of minutes and reboot
Use your phone without installing any new apps and see if the rebooting issue persists
If it doesn't, the issue is with one of the apps which have to be manually sorted out
The issue should mostly be solved with the aforementioned steps but if it doesn't, it is most probably a hardware issue. Consider visiting the Huawei customer support center and get your phone replaced. Your cellular service provider can help you out with this process.
Problem 2: Your P20 Pro Battery Drains Too Quickly
The Huawei phone boasts of one of the best battery life in the smartphone segment and not many devices can make the same claim. It is powered by a cool 4,000 mAh battery which allows users to use it for more than a day. On moderate usage, you can even get it working for two days before you need to use the charger again.
While it is the strength of the phone, due to some software issues, some users continue to complain of their battery draining quickly. It could be caused by lots of aspects including the type of settings you use on your smartphone. Compared to most other devices, it's reliable yet you can tweak it further by following the tips below.
Method 1: Use Power Saving Mode
Open Settings on your phone
Scroll to find the Battery options
Tap to open it and you will find an option named Power Saving Mode and Ultra Power Saving Mode
Switch them on and use your phone for a day or two
The mode stops certain apps from draining your battery life and if you get more out of it, you can keep it turned on always
Method 2: Make More Tweaks in Your Battery Settings
Head to the Settings page
Open Security options
You will find an option named Screen Lock and Passwords
Tap on Always display information and switch it off to save more power
In the same Settings page, head to Battery
Open App Launch and switch off whatever feature you could, in order to boost your overall battery life
Method 3: Reduce Your Display's Resolution
Did you know you can save a lot of battery power by reducing the display resolution? The battery capacity has considerably increased in the past few years that they are quite capable of handling 1080p displays for a long time. The higher resolutions such as QHD do affect battery life. Among common Huawei P20 Pro issues and their fixes, this is one of the best that users sometimes miss out on.
Tap to open the Settings page on your device
Keep scrolling until you find the Display option
Open it and switch the resolution from FHD+ to HD+
You can also choose to use the Smart option to automatically switch between resolutions
The change can improve your battery life to a considerable extent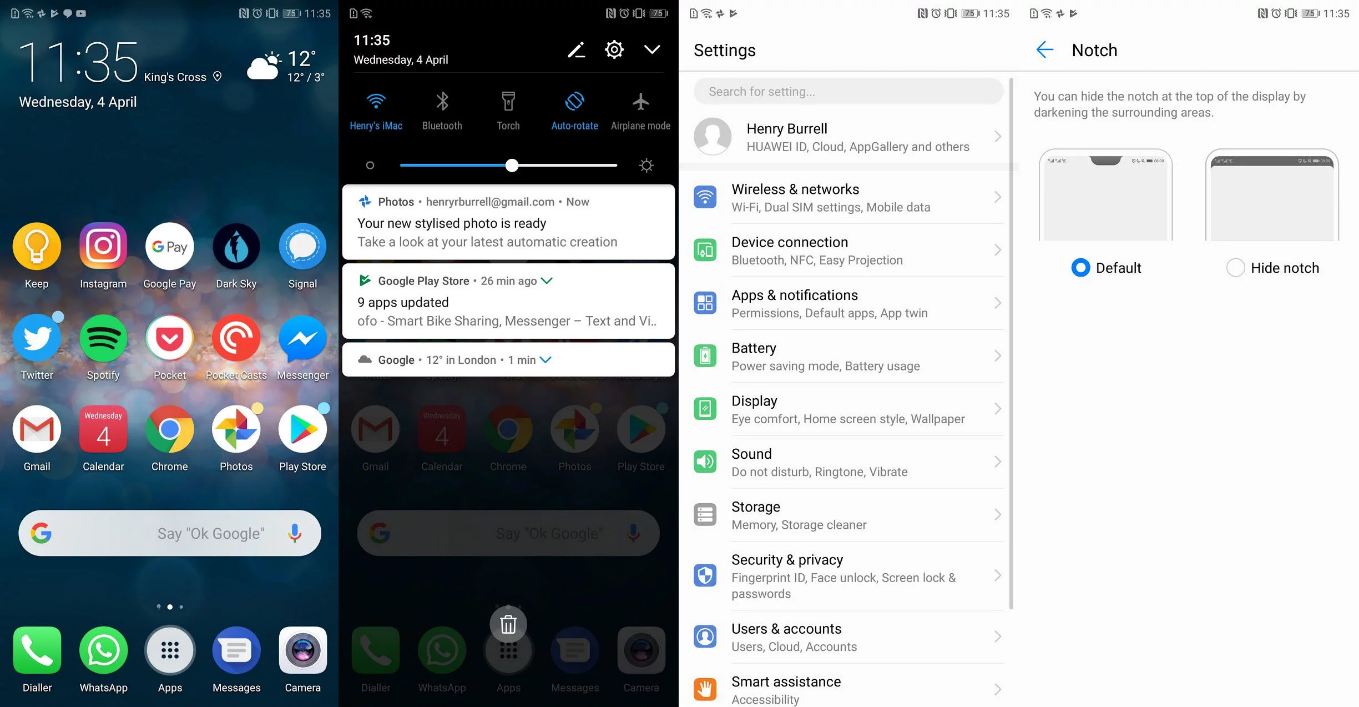 Problem 3: The Microphone Doesn't Work Properly During Phone Calls
The issue has not been prevalent among the majority of users but it does exist as lots have complained in different comment sections. The microphone on the phone doesn't work properly at times that people report they can't hear the person when they are speaking on the Huawei P20 Pro. Similarly, it doesn't record properly when recording videos or during video calls.
Method 1: Bluetooth Connections or Headphone Adapters Can be Fixed with a Restart
For some reason, the smartphone manufacturers have abandoned 3.5mm headphone jack and are moving towards USB Type C as the only port available. When users are forced to use Bluetooth headphones or use an adapter to connect, the software at times gets corrupted. Most modern day headphones have a microphone and volume control options which could cause this issue.
Hold the power button
Tap on Restart and wait for the phone to load the OS again
If the microphone works perfectly after a restart, it is highly possible that an adapter or Bluetooth connection is causing the issue
Method 2: Disable or Uninstall Apps that Use Microphone
Almost every app requests microphone access and it is high time you get rid of them
Disable or remove app permissions in the Settings menu
Open Apps and Notifications
Open Permissions and disable microphone access
If it solves the problem, it could be caused by a particular app and the updates released by its developer
Problem 4: Fast Charging Not Working as Intended
The fast charging feature on the P20 Pro is supposed to charge the massive battery in under 90 minutes but some users have spotted that it doesn't work as intended. It takes much longer and you can fix it in a timely manner so that you don't miss out on the warranty period if required.
Method 1: Check Your Cable and the Phone's Physical Condition
The official charger and the cable provided by Huawei is a must to get the most charging speed
If your phone is kept in an airtight location, it may slowly charge to avoid overheating issues
Place your phone on an uncooked rice bowl which is known to absorb excess moisture
Check if your phone has any physical damages
The final step would be to visit the support center so that you can get your phone replaced if it still under warranty and is a defective piece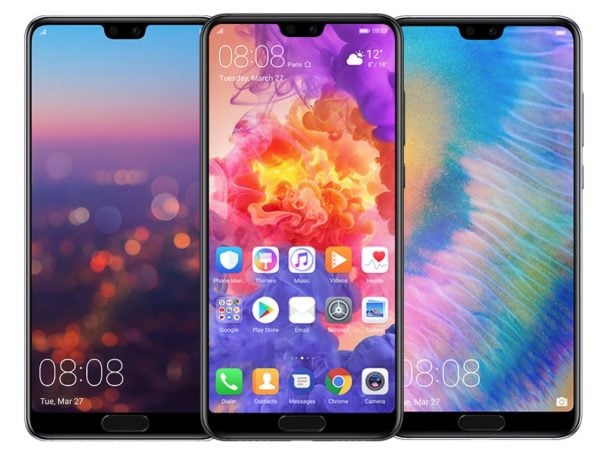 Problem 5: Touchscreen Issues, Performance Lag
Some users have reported that their touchscreen is not as responsive as it should. Sometimes, the phone slows down and wouldn't respond to your touches. It may also cause issues when scrolling through Facebook feed or other apps where the touch should immediately respond to your fingers.
Method 1: Change Smart Assistance
Open Settings and Smart Assistance
Switch off the Glove mode as it has been designed to tweak touchscreen performance when you are wearing gloves
Download the latest software update from Huawei
The Bottomline
The most common Huawei P20 Pro issues and their fixes are easy that you can easily try it on your own. Restarting the phone and factory resetting is the most common solution while Huawei is expected to roll out software updates regularly to stop battery draining and screen lag issues. If you are sure that it is a hardware issue, get your phone replaced at the earliest from an authorized service center or your cellular service provider.
---