Technobezz is supported by its audience. We may get a commission from retail offers
Blogging has never been as popular as it is now. Decades ago, the concept of blogging was unheard of in most
Apple 10.2-inch iPad
Amazon Fire HD 10 1080p Screen Tablet
Samsung Galaxy S7 FE 12.4-inch Screen Tablet
Table of Content
Blogging has never been as popular as it is now. Decades ago, the concept of blogging was unheard of in most places around the world. Today blogs and online articles are a part and parcel of our digital lives. From products, reviews, and travelogues to news, people from all over the world can read their favorite topics within seconds at the push of a button. A blogger needs to constantly create content for their readers. So, unless you have a dedicated team of fellow writers, you might find it hard to keep up the speed and deliver regular content for your readers.
Buying Guide
There are a number of great tech options out there to help you in this regard. One device that is necessary is a mobile phone that will allow you to get the latest updates and news from all over the world. A more important device to have, however, is a tablet. With its larger size, you can read content more easily and even take photographs to add to your blog content. It's also far easier to write on a tablet than on a phone thanks to its display size. You can even buy additional accessories, like a Bluetooth keyboard, for more convenient writing. You can also write while you're on the go and even when you are stuck in traffic. The possibilities are endless.
Thanks to the insane breakneck speed of emerging technology, the market is saturated with a wide variety of tablets. All the major phone manufacturers have their own line of tablets. The sheer number of options can easily overwhelm you if you're not sure about what you want.
Every tablet will have its pros and cons and you have to pick the one that suits your specific needs. Here are some of the best tablets for bloggers.
See Also: Top best gaming laptops under $1000
Top Best Tablets For Bloggers
Premium Quality Tablet For Bloggers
Apple 10.2-inch iPad
Most bloggers think of investing in an iPad at some point in time. That is because whether you want to take pictures, write content or shoot videos for your blog, you need a device that offers smooth operation and great multimedia features. The device comes with a sharp 10.2-inch display screen that offers a resolution of 2160 x 1620 pixels. The screen produces bright images and features an anti-reflective coating. To support your blogging needs further, you could also invest in an Apple Pencil and a Smart Keyboard.
The screen also comes with the innovative True Tone feature that works towards adjusting the display screen in a way that complements the ambient lighting in your natural environment. The device also benefits greatly from the upgraded A13 Bionic processor that is responsible for its high-speed performance. As compared to the earlier models, this device offers better widget functionality. While the device comes with Touch ID recognition feature, it offers no biometric security support.
The 2022 iPad offers everything that a blogger would want in a tablet device.

This tablet comes with a vibrant display screen that does not cause any strain on your eyes.
Anti-reflective 10.2-inch screen

Great multimedia features

Fast and responsive processor

Compatible with Smart Keyboard and Apple Pencil
No biometric security feature

Audio output could be improved
Well-Packaged Tablet That Offers Good Value For Money
Amazon Fire HD 10 1080p Screen Tablet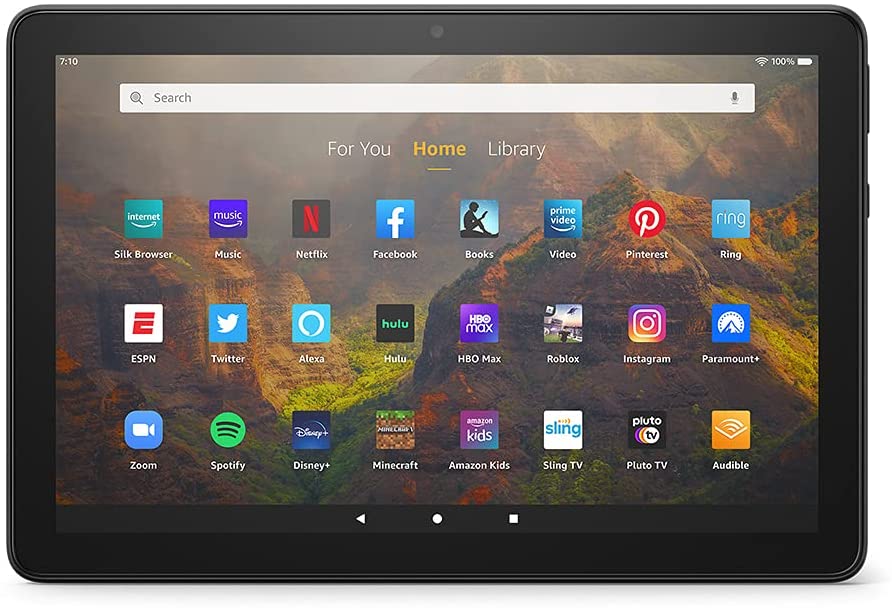 The Amazon Fire HD 10 might not work that well as a general-purpose tablet but the kind of multimedia features it offers make it a good tablet for bloggers. The tablet is manufactured with good-quality matte plastic and is easy to hold and manage. On the top, you will find dual speakers that produce good audio output. The built-in battery offers a backup of 12-13 hours on a full charge which is pretty good.
Apart from watching movies and Netflix, the 10-inch wide display screen is ideal for making long notes, reading e-books, and browsing the internet. The one demerit of this tablet is that does not support the inclusion of Google Play Store. You do get the Amazon app store but it does not offer access to every single app out there. The 2.0GHz octa-core processor works very well and ensures the device operates smoothly.
I

f you are an Amazon fan and swear by their products and applications, you should definitely invest in this tablet.

An ideal device for those who use multimedia features extensively and consume a lot of audio-visual content.
Good picture and audio quality

Reliable processing unit

Strong battery life

Durable build quality
No Google Play support

Slightly confusing interface
Versatile Tablet with Premium Build Quality
Samsung Galaxy S7 FE 12.4-inch Screen Tablet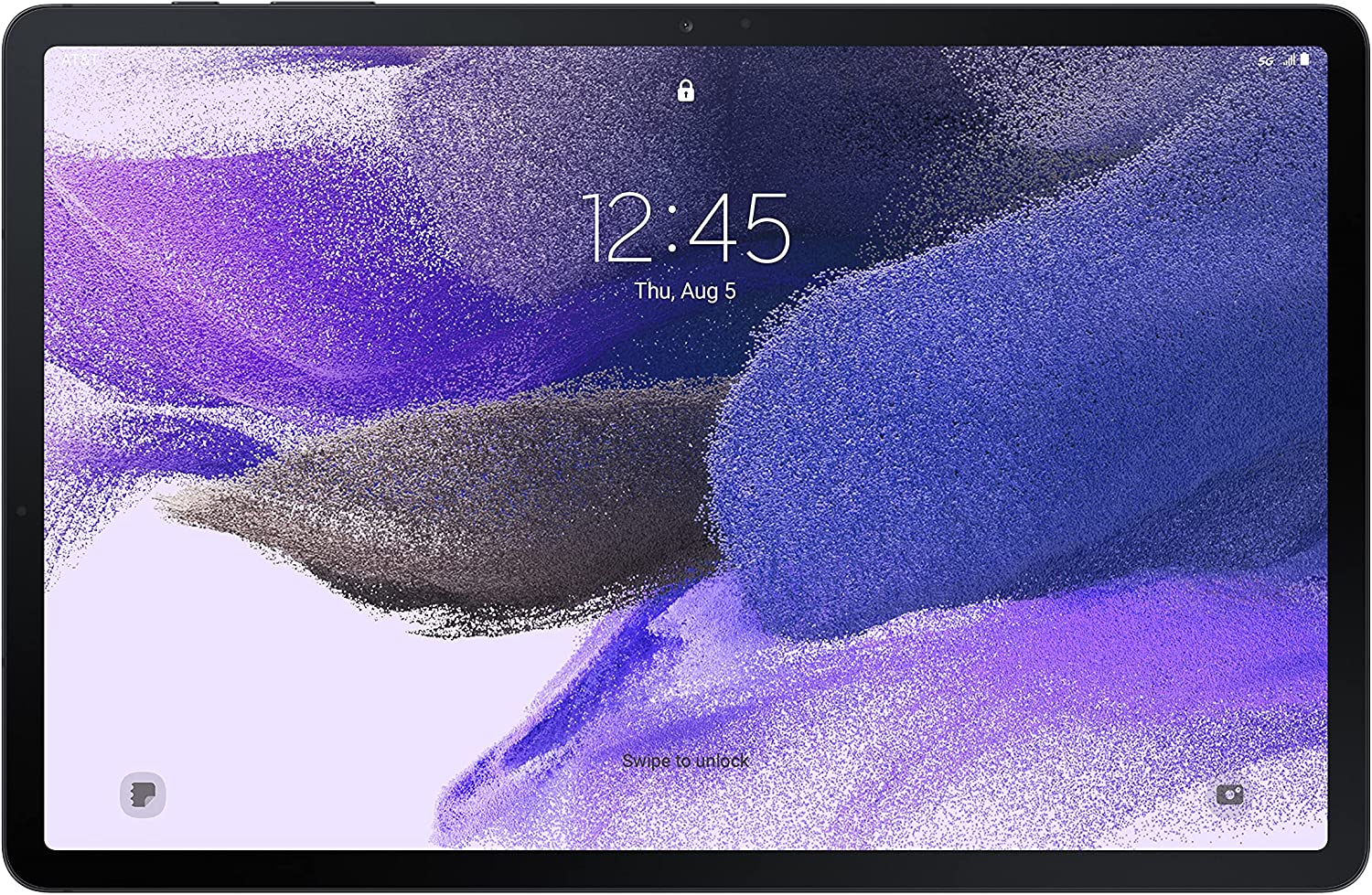 The stylish design of this tablet catches your attention instantly and when you use it, you realize it is also a very durable device. One of the highlights of this tablet is its 12.4-inch display screen that offers a resolution of 1600 x 2560 pixels. Another great aspect of this tablet is its battery life. On a single full charge, the 10,090mAh battery offers a runtime of 10-11 hours.
While buying this device, you can choose from four different colors, mystic black, mystic pink, mystic green and mystic black. You also get two storage options (64GB and 256GB) to choose from. A Stylus pen, offered with the tablet, helps you navigate through the device very conveniently. You also have the option of buying a keyboard case provided by the brand separately and using the tablet as a convertible device.
If you are looking for a premium quality tablet that aids your blogging activities, this would be a good device to invest in.

An ideal option for those who have been planning to buy a well-rounded Samsung tablet.
Excellent build quality

Good battery support

High-definition 12.4-inch screen

Available in different storage and color options
Slow charging process

No fingerprint scanner
Well-Designed Tablet with Good Features For Bloggers
TJD 10.1-inch Display Screen Tablet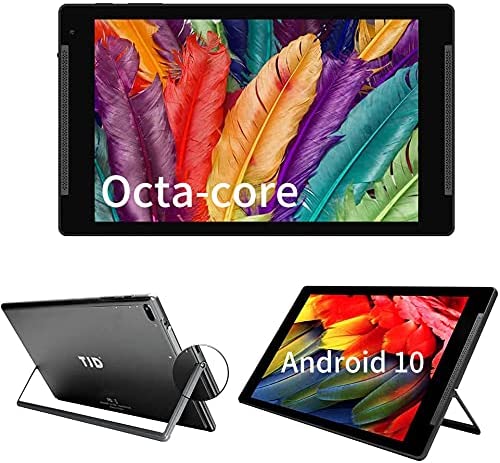 TJD might not be one of the biggest names in the electronic good manufacturing space but the brand has managed to build a good base for itself with its services. This particular tablet boasts of good multimedia features and comes with a colorful 10.1-inch display screen. While the design of the tablet is visually appealing, one also gets to choose from three different color options black, metallic black, and gray.
Apart from offering a one-year warranty on the product, the brand also offers a good-quality leather sheath worth $20 for free. The 1.8GHz processor is good but is in need of an upgrade. The 32GB of internal memory support might put some people off but they should be happy to know that the device allows you to expand the memory up to 512GB using a microSD card. The 6,000mAh battery offers an average runtime of 8-9 hours.
Why You Should Buy This?
Apart from being attractive, the design of the tablet is user-friendly and contributes to a smooth handling experience.

For bloggers, who store a lot of data on their smartphones or tablet, this is a good device to invest in.
Pros
Stylish design

Good brand support

Expandable memory

Available in three color options
Cons
Average battery support

Faster processor required
Magnesium Alloy Built Tablet with 12.3-inch Display Screen
Microsoft Surface Pro 7 Next-Gen Convertible Tablet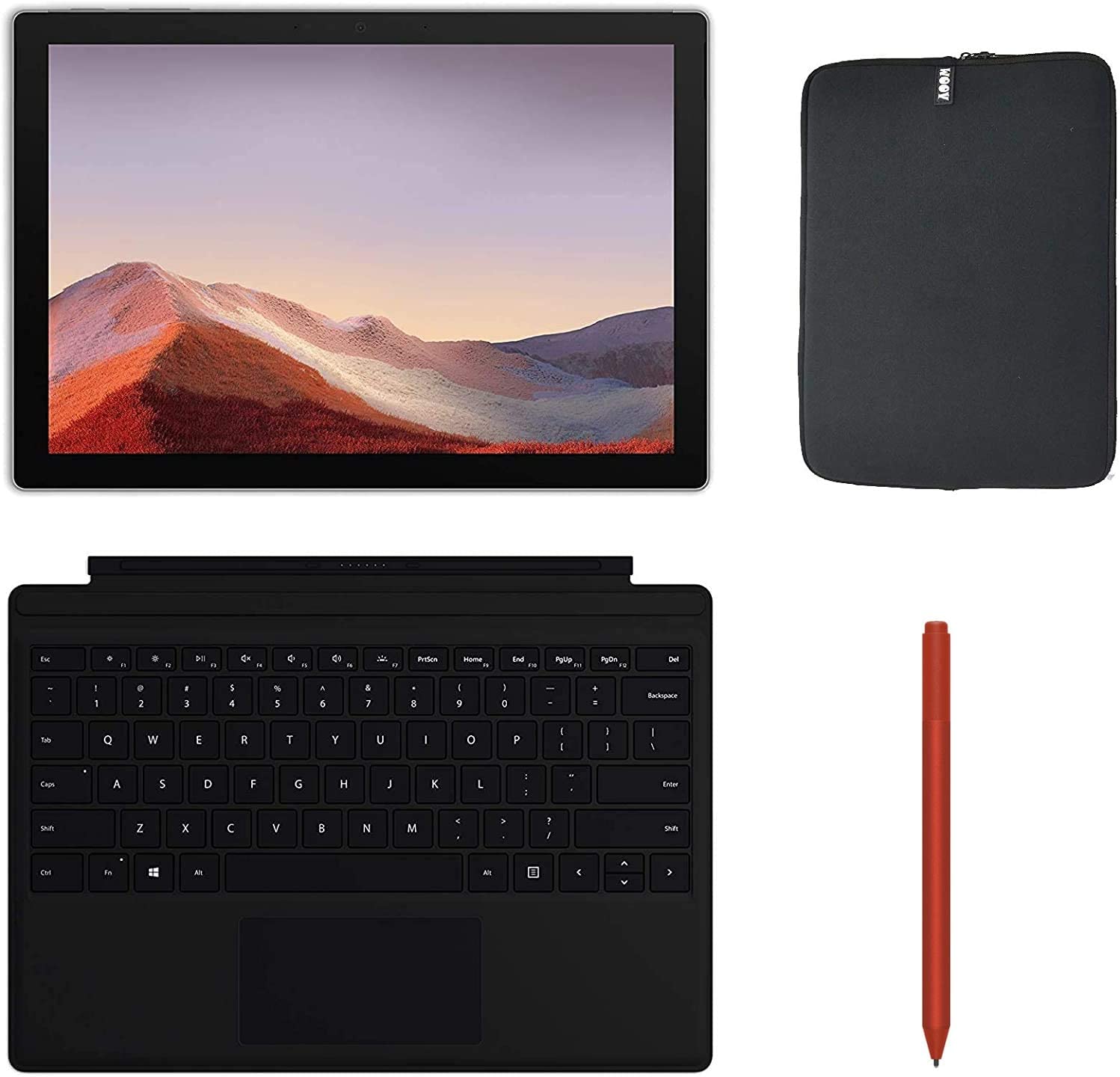 Built with magnesium alloy, the Microsoft Surface Pro boasts of durable build quality and remains resistant to wear and tear for a very long time. The display screen is 12.3-inches wide and offers crystal-clear images. At the same price point, you get a variety of accessory combinations to choose from while buying this tablet.
By attaching a keyboard to the device, you can use it as a laptop. The brand also provides you with a Surface Pen that helps in making input functions easier. The 10th generation Intel Core i3 processor works very fast and ensures that you don't get a scope to complain about the device's speed or functionality. On a full charge, the battery offers a backup for 10-11 hours.
Ideal for bloggers who need a tablet that can also double up as a tablet while performing high-intensive tasks

The speed offered by the tablet makes it the ideal device for carrying out multi-tasking activities.
Convertible function

Solid durable build

Large HD screen

Good battery backup
Accessories are slightly expensive

Limited connectivity support
Moderately Priced Tablet Designed For Bloggers
Hoozo 10-inch Android Tablet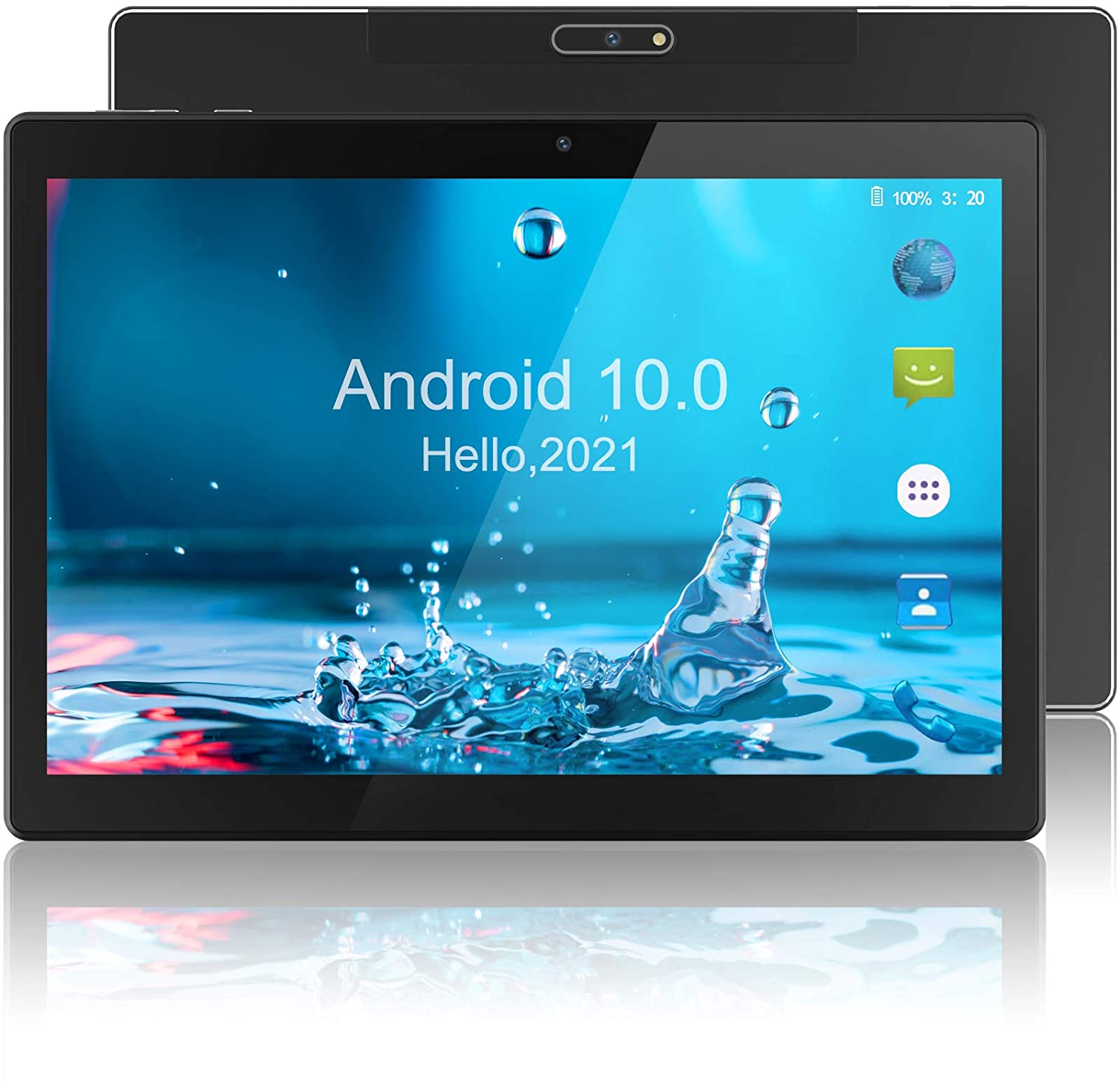 A blogger does not need an elaborate tablet but they do need a device that comes with the kind of features that helps them do their work properly. This tablet by Hoozo features a 10-inch display screen that possesses good image reproduction abilities. The design of the device is quite basic but you do get three color options (black, slate black and silver) to choose from.
The tablet offers 32GB of internal memory support that can be expanded up to 128GB with the help of an external memory card. The 6,000mAh battery offers a runtime of 7-8 hours which might disappoint a section of the users. On the rear end, there is a 5MP camera and on the front, you get a 2MP camera. The 64-bit quad-core processor is not the best in the market but supports the device fairly well.
Why You Should Buy This?
If you are on a budget and need a well-functioning tablet to further your career as a blogger, this would be a good device to invest in.

Also recommended for those looking for a moderately priced tablet with good multimedia features.
Pros
Budget-friendly

High-resolution screen

Good multimedia features

Comes with multiple pre-installed apps
Cons
Inadequate battery life

Average product design
One of the Best Samsung Tablets for Blogging
Samsung Galaxy Tab S4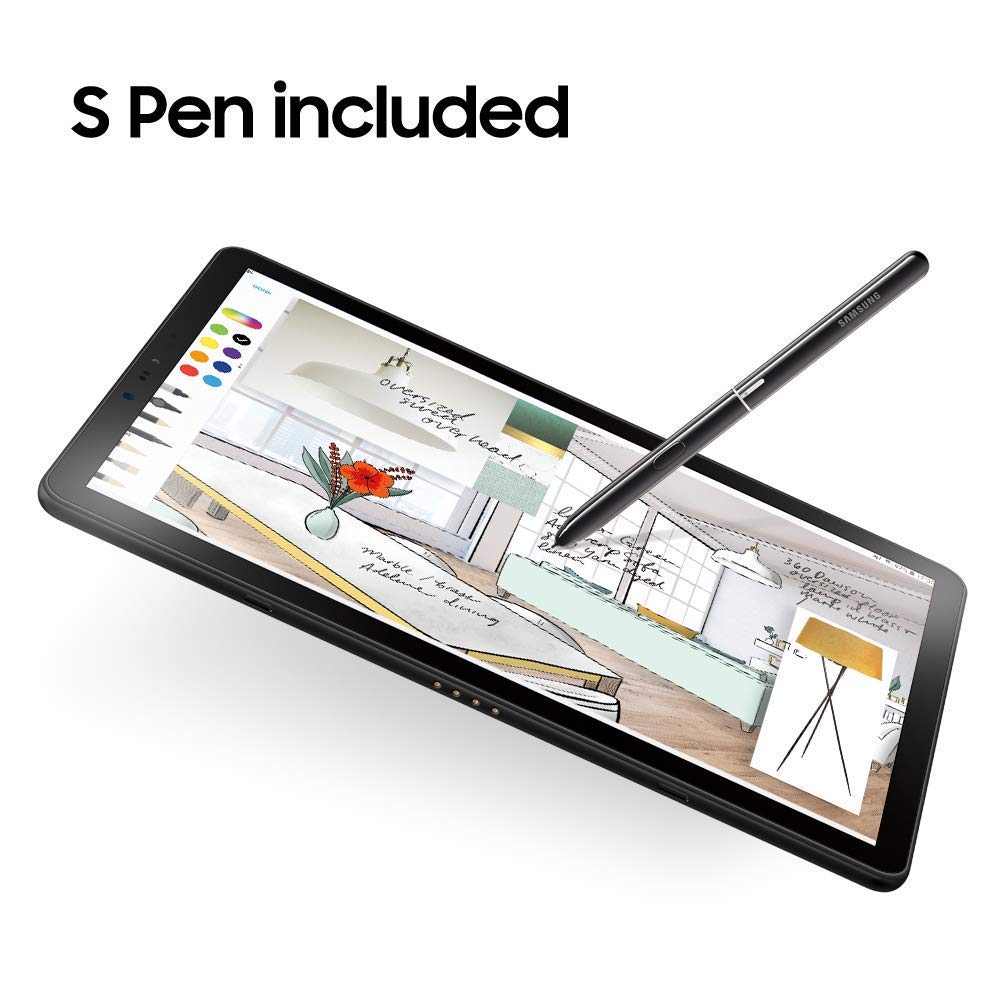 The Samsung Galaxy Tab S4 comes with a 10.5 inch Super AMOLED display, an Octa-Core processor, Android 8.0 Oreo OS, DeX software, Dolby Atmos sound and a stylus pen. One of the main selling points of this tablet is the DeX software which allows you to switch over to the laptop mode more efficiently and easily without the need for any bulky hardware. The DeX software mimics a desktop interface and even provides you with second-screen capabilities. All you have to do is attach the keyboard cover and you will be good to go. However, you will have to buy the keyboard cover separately for the 2-in-1 tablet experience.
Looks wise, the Samsung Galaxy Tab S4 looks absolutely gorgeous and sleek as hell with its glass and metal body. It looks even better once you attach the keyboard cover to it. It comes in two colors, namely black and gray. They also removed a substantial amount of bezel to provide the 10.5-inch Super AMOLED display as opposed to the 9.7 inch one in older models. It's pretty cool to control your S4 from a distance with the help of Google Assistant using the far-field microphones.
As far as performance goes, the device does a good enough job of running everything smoothly. You can easily run multiple tasks on this laptop without experiencing any issues. The 7300 mAh battery does a great job of providing up to 16 hours of video playback after a full charge. It also supports fast charging allowing you to quickly recharge your tablet in 3 hours and 16 minutes. As far as storage space is concerned, you can choose the 64 GB version or the 256 GB version. You can rack up an additional 400 GB via the micro-SD card too if you need a lot of space. All in all, it isn't the best tablet available in the market today, but the DeX software along with the tablet's looks, performance and battery life make it one of the better Samsung tablets out there today. With a few key updates and refinements, it could easily be one of the best tablets out there.
Who should buy this?
It's perfect for those looking for a premium Samsung 2-in-1 tablet for their work.
Those who are looking for a versatile tablet with a stylus pen will find the S4 to be ideal for their needs.
One of the Best Value Tablets for Blogging
Dragon Touch X10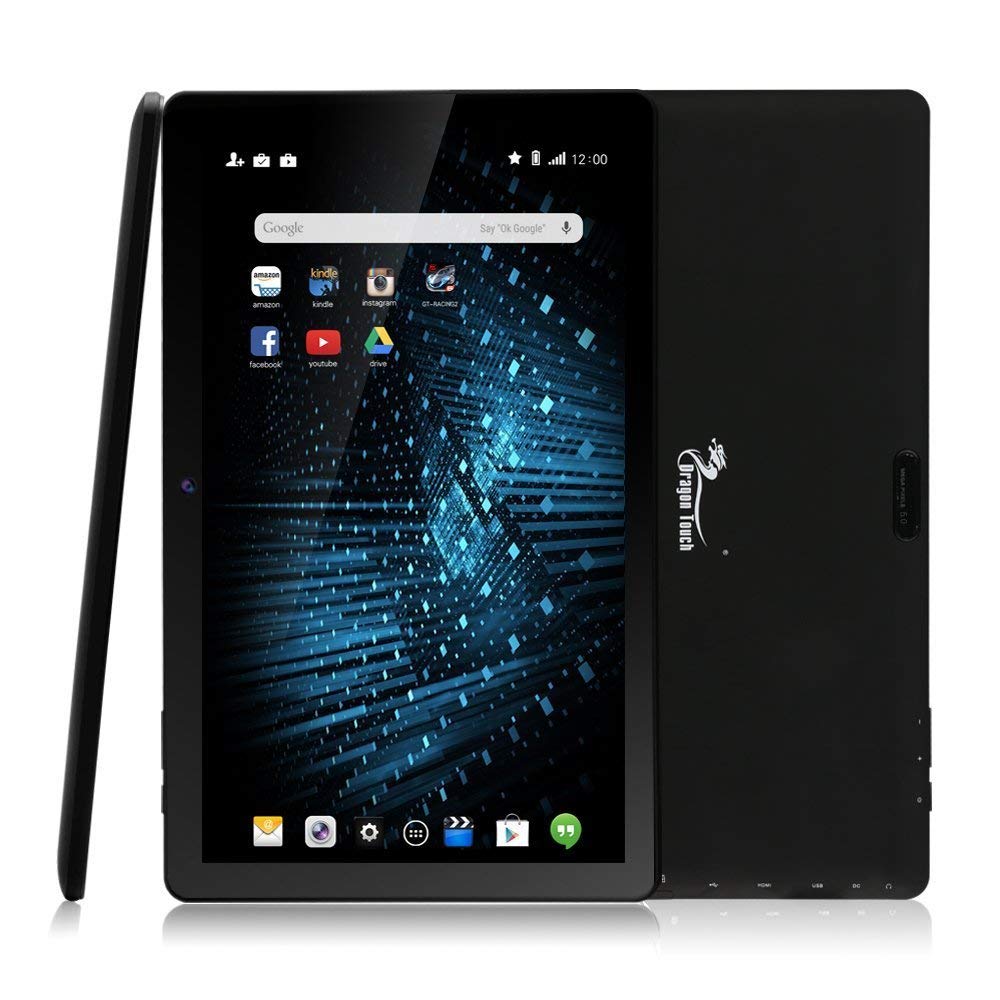 The Dragon Touch X10 comes with a 10.6 inch IPS display, a 2.0 GHz Octa-Core CPU 8X Cortex A7, an Octa-Core PowerVR SGX544 GPU, 1 GB RAM, 16 GB storage space and a 7200 mAH battery. This tablet is easily one of the best value products in the market today by a long shot. The display comes with a pre-installed screen protector which is very handy to have. The IPS display really shines here as it allows you to view the screen from numerous different angles without the colors getting washed out. The 1366 x 768p resolution makes the tablet ideal for viewing content such as e-books, videos, films and more. You get clean and crisp visuals with deep blacks.
The design of the Dragon Touch X10 looks sweet with a rounded rectangular body and the dragon branding on its backside. The body is actually soft to the touch which is pretty unique as most tablets have a very hard metallic/plastic casing. The overall design isn't groundbreaking by any means, but it somehow manages to look both simple and aggressive at the same time. The X10 runs Android 5.1 Lollipop but if you want the latest Android 8.1 OS, then you can go for the K10 which is a newer version. However, the K10 only comes in white and the X10 comes only in black.
When it comes to performance, the Octa-Core processor does a brilliant job of powering the tablet. Web browsing is very smooth on this device making it ideal for catching up on the latest news and researching content for your blogs. With the mini HDMI port, you can connect your tablet to various devices, such as an HDTV, projector, computers and more. Though the storage space is quite low at 16 GB, you can buy a Micro-SD card to increase it.
Who should buy this?
It's perfect for those looking for a great value tablet for writing blogs.
If you care about getting the most bang for your buck, then the Dragon Touch X10/K10 is the right one for you.
It's ideal for those looking to purchase an off-brand one-of-a-kind affordable tablet.
Best Tablet From Amazon With Rich Set Of Features
Amazon Fire HD 10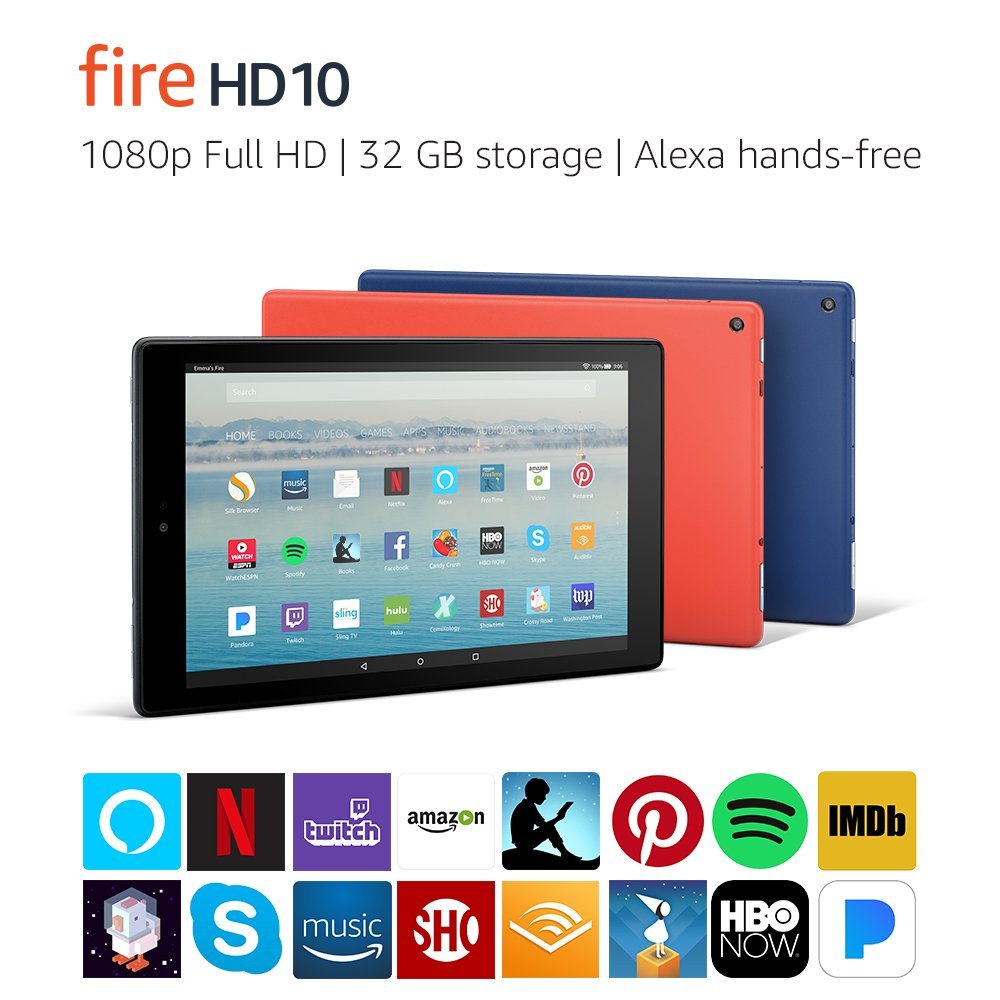 Priced at just USD 150, Amazon Fire HD 10 is one of the best options for budget-conscious bloggers. With its expandable memory to its powerful 10-hour battery, this tablet provides tough competition to its more expensive variants. A useful feature of this product is its built-in access to Alexa in hands-free mode. This provides prospective bloggers with unlimited availability of information. Its exclusive access to Amazon Prime also provides its users with access to a wide variety of entertainment.
Conclusion
There are many benefits to using a tablet for bloggers. The most obvious one is of course mobility as it allows you to write on the go no matter where you are. Nothing can compare to writing on a desktop, but you can only write when you are at home or at work. With a tablet you can write wherever you want and whenever the latest news breaks. The faster you are in bringing your content online, the more readers you will get, which is always a plus in the blogging world. Another great advantage is that tablets can display graphs, videos and other bits of information which you can use in your blogs. Having the ability to create notes can help a lot when it comes to writing content for blogs and articles. Moreover, with additional accessories such as a dock, Bluetooth mouse and keyboard you can write more efficiently and quickly no matter where you are.
Before buying a tablet, however, there are a few things you need to consider such as your budget, how long you plan to use it, whether you need a stylus, etc. Each individual will have their preferences in regards to how they write. If you are someone who is always on the go, then you need a durable tablet that is compatible with external accessories such as a power bank, keyboard, mouse, stand, etc. All tablets do support accessories; however, some of them might provide a smooth user experience due to compatibility and optimization issues. You also need to look for reviews from multiple sources to get an accurate picture of the quality and user experience. Once you are satisfied with what you have found out, you can be on your way to purchasing the right tablet for your needs.
---