Technobezz is supported by its audience. We may get a commission from retail offers
A pet is as much a family member in a home just like any human being. Hence, it goes without saying that when a pet gets lost, it can shatter the owner to bits. This is when a pet tracker can come in handy. The main purpose of such a device is for you to keep a tab of your furry friends always so that you never miss out on them. There are two types of trackers from which you can choose what you think would best work for your pet and you. These are GPS based trackers and radio frequency-based trackers. The following is a list of some of the best pet trackers.
See Also: Best Kid Trackers
Best Pet Trackers
Best Pet Tracker with MAZE Technology
Findster GPS Tracking Collar Style Pet Tracker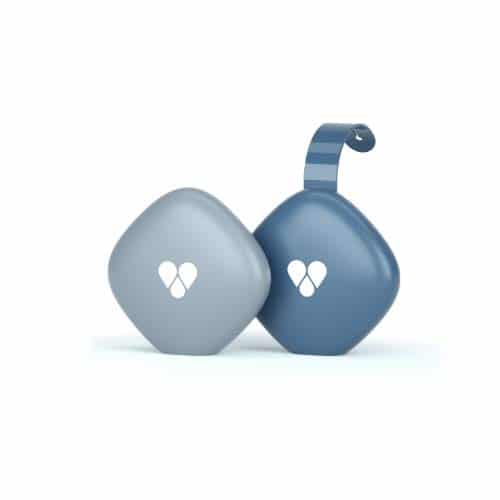 The Findster pet tracker is one of a kind that uses MAZE technology, which does not need a cellular connection for sending the GPS coordinates. This eliminates the need for cell coverage or a SIM card, thereby helping you save on monthly fees. The shockproof device allows you to set a safe area for your pet and keeps you informed of the pet strays out of the marked territory.
The blue tracker doubles up as a pet activity monitor and helps you keep a tab on how fit is so that you can meet their daily needs. It comprises two modules – one for you and one for the pet. The two modules communicate with each other wirelessly using the MAZE technology in a radius limit of three miles and a range of 0.5 miles in urban areas. The battery will last up to 12 hours if the GPS is always on and for several days if the GPS is turned off when not in use. The waterproof unit resists damage when it comes in contact with up to a depth of one meter. The associated Findster smartphone app is compatible with iPhone 5+, iOS 9+, and Android 5+. The device can track up to three pets at a time. The pet tracker is available in three options of one piece, a bundle of two pieces, and a bundle of three pieces.
Who should buy this?
A Findster pet tracker is a great option for pet lovers who wish to know if their pet is keeping fit
The smartphone app makes the device ideal for those who wish to compare their pet's statistics with other pets in multiple categories
Best Pet Tracker with Worldwide Location Monitoring
Tractive Waterproof Pet Tracker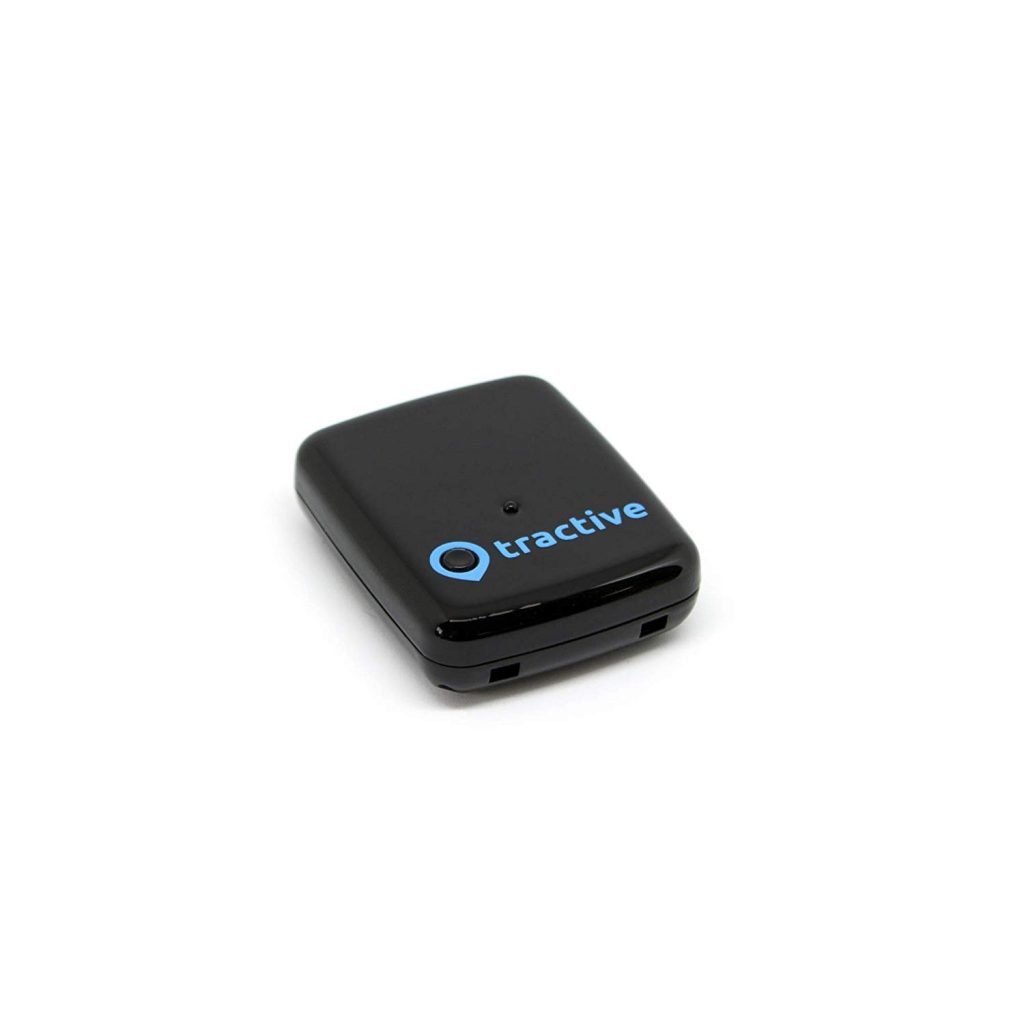 The Tractive pet tracker uses 3G connectivity and a GPS tracking mechanism and requires pet owners to opt for a monthly subscription plan at a nominal fee. The robust tracker can be easily fitted to the collar of your pet dog or cat. It keeps you informed about your pet's activities through your smartphone. The device allows you to set a secure area for your pet with the Virtual Fence feature and keeps you informed if the pet moves out of this domain. The dog collar also allows you to track your pet's location in more than 150 countries with the Tractive GPS app or even a browser, thus giving you global coverage.
The Tractive tracker is completely waterproof and does not get affected when the pet comes in contact with water. The Live Tracking feature of the accessory supports real-time viewing of where your pet is at the moment. The position is to update every couple of seconds and displayed it online or on the map. The Location History feature helps you keep a track of the current position and also all the places your pet was in in the past. The black-colored device does not have any coverage range restriction and features a lithium-polymer battery. The battery takes two hours to charge fully and has a battery life of two to five days. The app is compatible with iPhones and iPads running on iOS 8, as well as smartphones operating on Android 4.1 and higher. The Tractive pet tracker comes with two collar clips of Size A (collars up to 0.19" thickness at the back) and Size B (collars up to 0.12" thickness at the back), a user manual, and a USB cable with a charging clamp.
Who should buy this?
The Tractive pet tracker is recommended for pet owners with pets weighing more than 4.5 kgs/9 lbs
The device is a good choice for those who are apprehensive of the accessory getting damaged when it comes in contact with water
The accessory is ideal for people who wish to track their pets from different parts of the world
Best Pet Tracker with GLONASS Satellite Reception
Garmin Handheld Pet Tracking System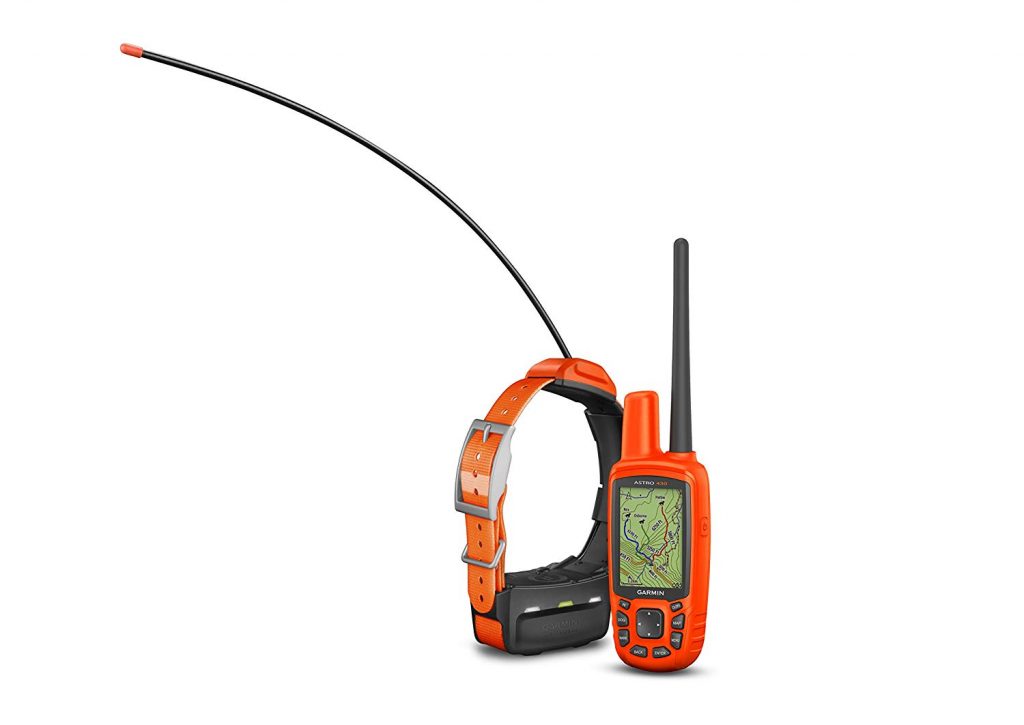 The Garmin pet tracking system consists of a dog collar with an antenna and a handheld unit with a 2.6-inch color display. The bundle assists in tracking up to 20 dogs from a maximum distance of nine miles. The combination of GLONASS satellite reception with high-sensitivity GPS allows you to track your dogs in very challenging environments. The system updates at an interval of every 2.5 seconds so that you can track the location faster when your pet is on the move.
The Hunt Metrics feature helps you out with vital dog statistics like time afield and distance traveled so that you can train your dog to do better. The Dog Identification feature notifies you when your dog is on point or tied to a tree. It also supports setting up bark alert so that you are kept informed whenever your dog barks. The black and orange unit is preloaded with Topo US 100K mapping, a free Birds-eye satellite imagery subscription for a year. The accessory also encompasses an optional in-unit rechargeable AA battery and a micro-SD card slot. The pet tracking system is available in three variants of the base model, mini collar bundle, and regular collar bundle.
Who should buy this?
The Garmin pet tracking system is a great idea for people who would like to use the same setup for all their pet dogs
The bundle is apt for those who wish to keep track of their dogs' activities, patterns, or actions when they take them out for sports like hunting.
The Astro display makes the setup worth considering by pet lovers who want to know not just the current location of their pet but also its trail.
Best Pet Tracker with Bluetooth Support
Find my Pet GPS Long Battery Life Pet Tracker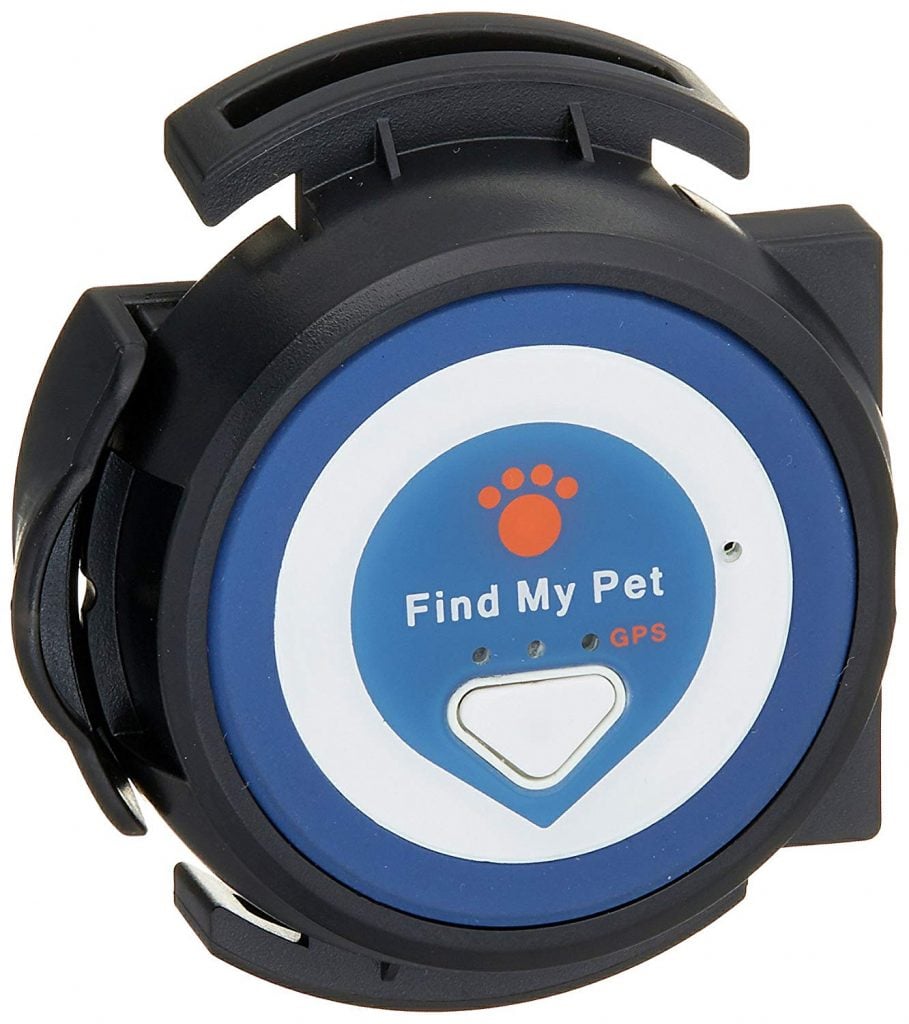 The Find My Pet pet tracker is capable of helping you track your pet dog both indoors and outdoors. You can also track as many dogs as you want at the same time as your account. The tracker uses GPS satellites to sense the pet's whereabouts when it is outdoors. The device also incorporates Wi-Fi and Bluetooth signals to check the indoor location of the pet without ever needing a password.
The waterproof tracker comes with a SIM card and allows you to track down your pet and determine its location in any part of the world through your smartphone if you have a 2G GSM cell network coverage. The device also allows you to track your pet on the company's website. The tracking is done in real-time in one-minute intervals so that you have a very less chance of missing out on any location. The black and blue circular accessory also allows you to update the pet's location manually. It encompasses a rechargeable battery with a long life of two to four days based on your environment and usage. The device gives you an indication when it is time to recharge its battery. The Find My Pet brand pet tracker comes with free usage for the first month. Following this, you can choose a monthly, a one-year, or a three-year small cell network subscription plan for a small fee.
Who should buy this?
The Find My Pet pet tracker is the best option for pet lovers who are looking for a device that can track their pet both indoors and outdoors
The device is a great idea for those who wish to update the location of their pet manually on their own
Best Pet Tracker with Activity Monitoring
Poof Health Assessment Pet Tracker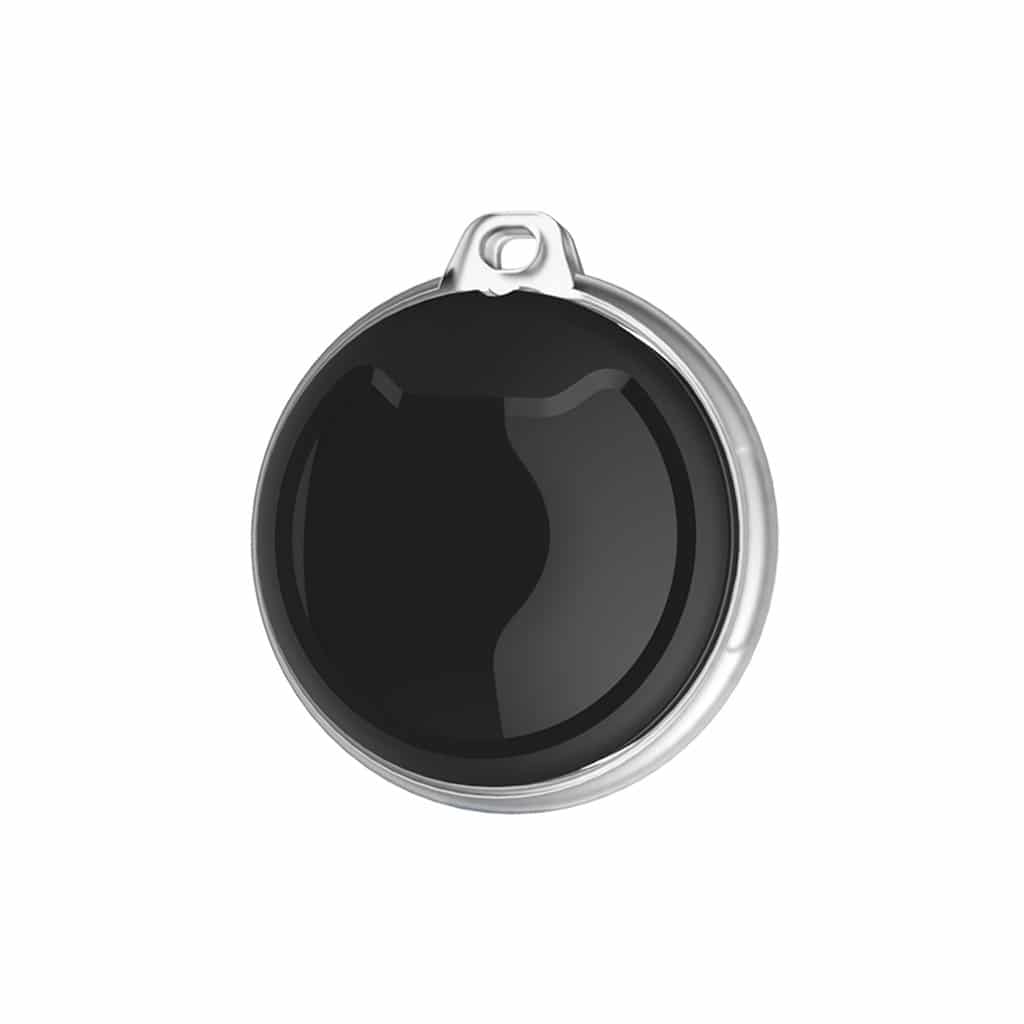 The Poof pet tracker offers exclusive assistance in keeping your pet healthy and happy by monitoring its activities all day long. The lightweight circular accessory can be used on both dogs and cats as either a tag or attached to the existing collar. The tracker keeps a tab on the pet's activities, calories burnt, calories consumed, and sleep quality for you to ensure that it has an active and healthy lifestyle. The supporting easy to use Poof app gives you these details on an hourly basis. The app also allows you to post these details on a pet-loving social network for you to compare with other pets.
The customizable device is waterproof and is not prone to damage when it comes in contact with water up to a depth of 1 meter for half an hour. It encloses a coin cell 3 V lithium CR2032 cell battery that easily lasts for half a year. The accessory is available in three color options of black, green, and pink. The unit comes along with a tag ring, a rubber collar holster, a charger, and a quick start guide. The Poof pet tracker is compatible with systems operating on iOS 8 and higher or Android 5.0 and above and supporting Bluetooth 4.0 and up connectivity.
Who should buy this?
The Poof pet tracker is ideal for pet lovers who would like to keep a track of the health-related activities of their pet every day on an hourly basis
The customization capability makes the accessory definitely worth trying out by those who want their pet's tracker to look different from the usual ones
The device is a good choice for those who want different color options from which they can select a color that they like
Best Pet Tracker with Splashproof Silicon Sleeve Case
Girafus Large Coverage Area RFPet Tracker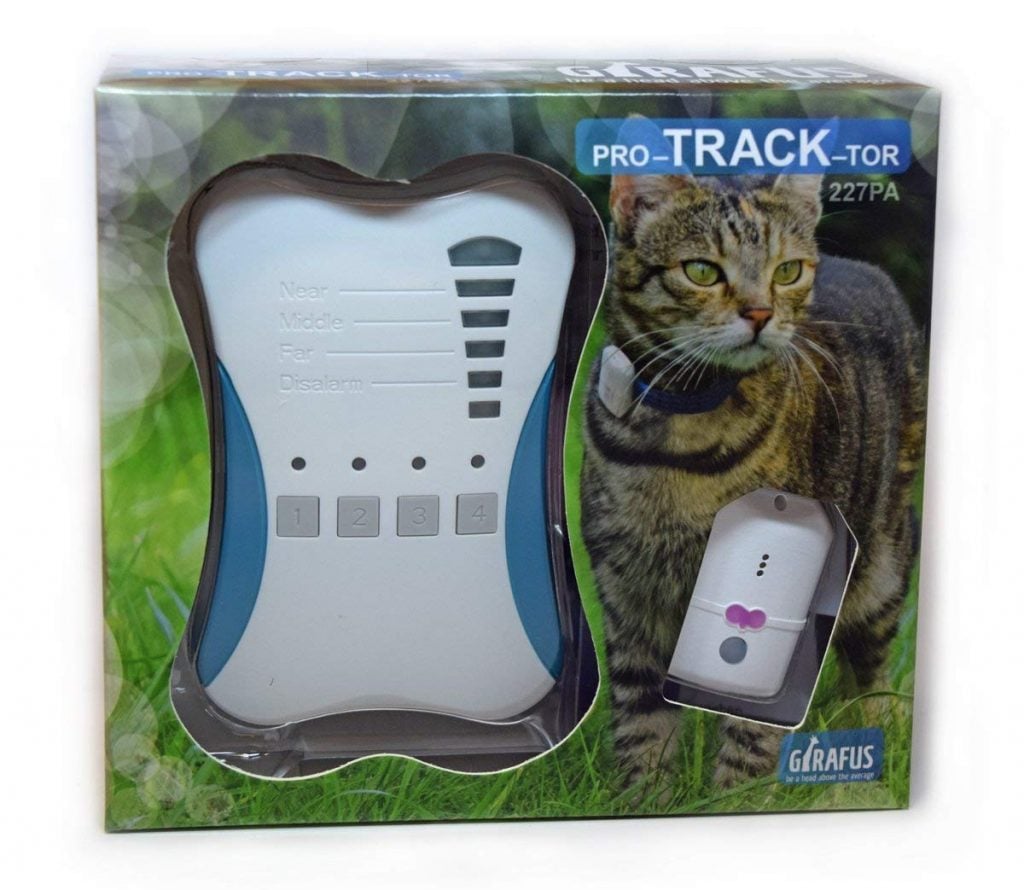 The Girafus pet tracker is exclusively designed, keeping the needs of cat lovers in mind because cats are capable of hiding in places that dogs usually do not. The RF-based pet tracker helps you to track your pet both indoors and outdoors leaving no area unchecked. The accessory has a wide coverage area of up to 500 m/1600 ft which is much more than a standard GPS tracker.
The device is integrated with a direction indicator that lets you know the correct direction in the search area even as the LEDs and signal tones keep you informed about how far you are approximately from the transmitter. A green LED gets lit up if you are facing the direction of your cat, while the signal tones are faster beeps as you get closer to your pet. The tracker comes configured to allow you to search for a maximum of four cats at a time. You can get started with using the tracker by just inserting the batteries and turning the base unit on. Although the unit comes with AAA size CR2032 button cells, it is advisable to use LIR2032 batteries if you plan to use the tracker below 0 degrees. The Girafus pet tracker kit also includes a base unit; a tag unit comprising one, two, three, or four tags based on individual preferences; a hook; a strap; a Velcro strap; a user manual, and a splashproof silicone sleeve case.
Who should buy this?

The Girafus tracker is a worth considering option for cat lovers if their search for their cat is in the right direction
The sleeve case makes the accessory is ideal for those who are planning to buy a case to keep their trackers safe when not in use
The device is apt for people who want to know how close they are to their pet when searching for it
Best Pet Tracker with Text-to-Speech Technology
TeckNet Temperature Detection GPS Pet Tracker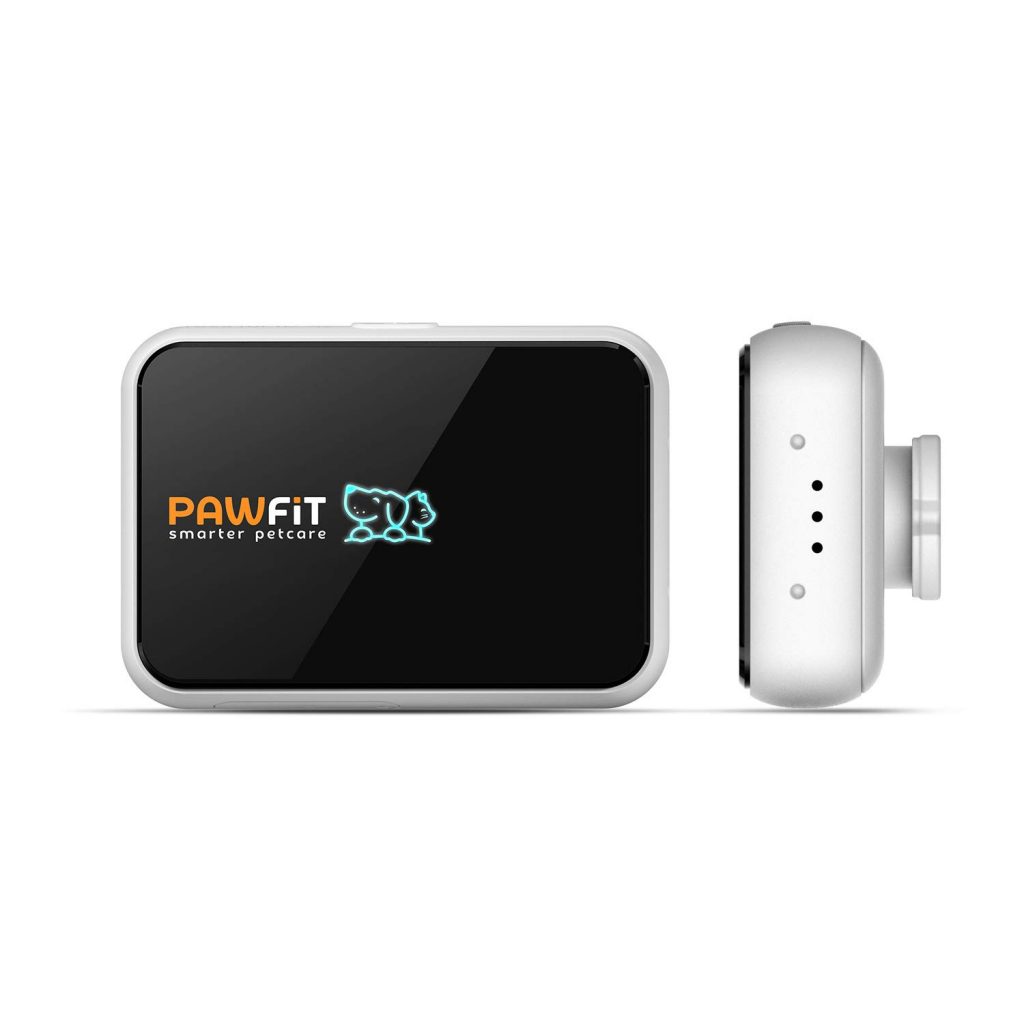 The TeckNet pet tracker uses a nano-SIM card and incorporates a combination of GPS, cellular and Wi-Fi technologies, along with advanced optimization algorithms. This ensures that you avail the most accurate and fastest tracking services possible. The accessory monitors the areas where your pet roams, as well as records its activity details that comprise rest and active hours, distance covered, and calories burned through the supporting Pawfit app. These details are recorded for seven days based on the breed, age, weight, and steps taken by your dog or cat. You can also set up 10 safety zones and monitor up to four pets using the app. The app is compatible with Android 5.0, iOS 9.0, and their higher versions. The unit allows you to record a message about the details of your pet. It incorporates text-to-speech technology through a power button present on the unit. Anyone who finds your pet astray and presses the button will be able to hear your recorded message and help you reunite with your fur baby.
The device features sound and LED alerts to give you the exact position of the pet in the last 10 meters covered and low battery indication. Notifications are sent to keep you informed when the pet has crossed the safety zone, the tracker has come off its collar, or the surrounding temperature is uncomfortable. The ultra-lightweight black and silver unit is made of hardened ABS shell and is dust-proof and waterproof. It can be easily fixed on pets weighing 7.75 pounds or more wearing a collar or harness with a maximum width of 1.26 inches. The accessory works with a 700 mAh rechargeable battery that supports four to six days of regular use and has a standby time of seven to 10 days. The Tecknet pet tracker comes with a USB charging cable, a charging base, a collar strap, a collar attachment, and a quick start guide.
Who should buy this?
The Tecknet pet tracker is apt for people who would like finders of their lost pet to be able to locate the owner easily because of the ability to include the pet details
The temperature alert makes the device is ideal for those who are concerned if the pet is feeling too cold or hot in their absence
Other models worth buying
Whistle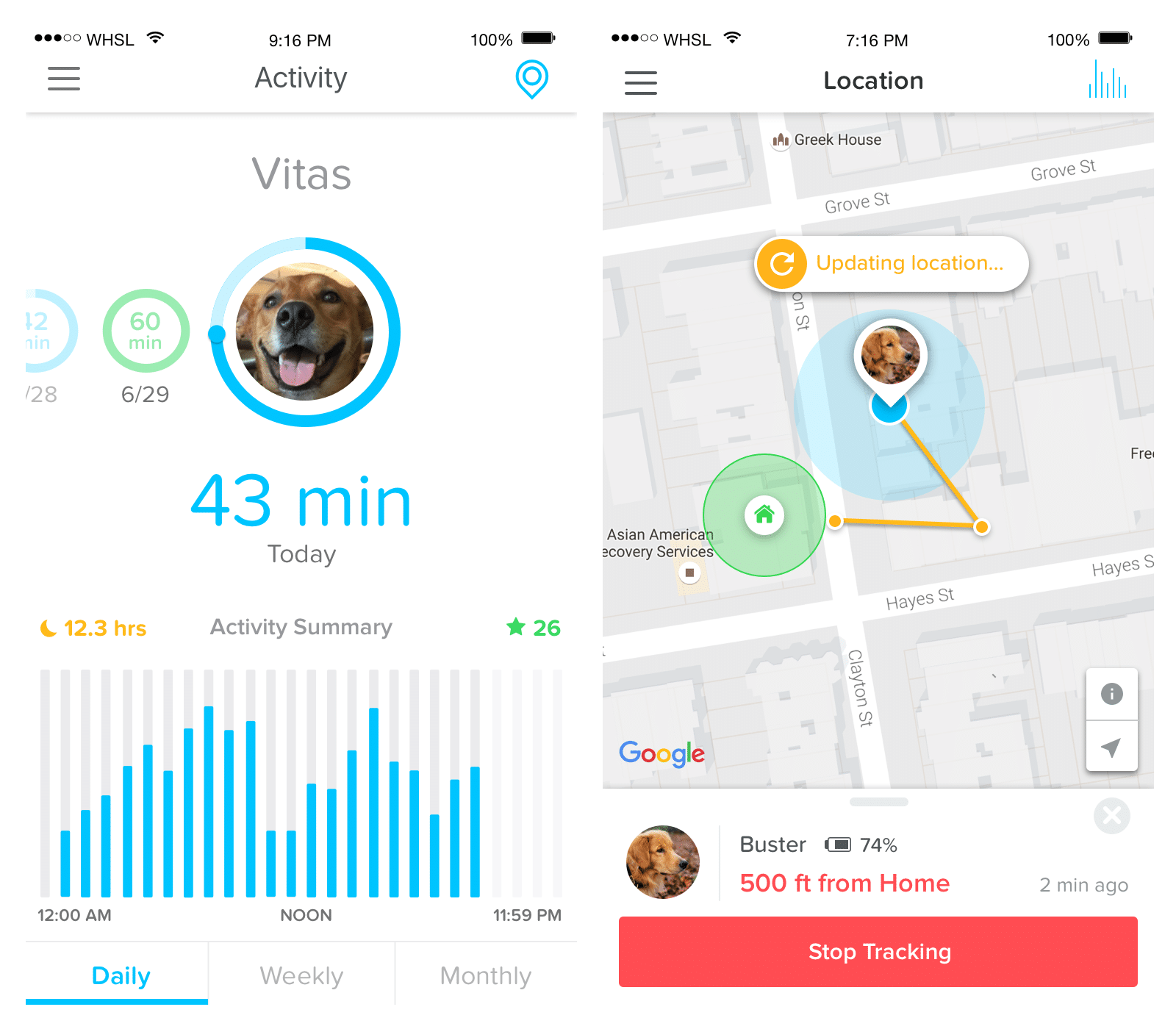 Whistle is the latest and the most advanced version of the pet trackers in 2022. Designed by the company named New Deal Design (also known for designing the Fitbit Flex), the device offers excellent GPS tracking through its gadgets. You can buy the Whistle band that can track your pet easily and also ensures the overall wellness of your pet.
The unit offered by Whistle is minimal and highly portable. It can be easily fit to any collar band that is more than 1-inch in width. You can connect the Whistle gadget on your smartphone through its app. This would keep track of all your pet's activities while you are away. As far as the GPS factor of this gadget is concerned, the users can obtain the real-time location of the pet. The battery of this gadget charges up fast in just one hour and can last for a great ten days.
PitPatPet
As the name implies, this pet tracker is solely designed for the benefit of your pet. This is a sort of Fitbit for your pet and is considered to be one of the best pet trackers in 2022. PitPatPet is one of the gadgets that boasts a year-long battery life to keep the entire track of your pet's movements round-the-clock. In addition to ensuring the top-notch security of your pet, this smart pet tracker can also assure the health condition of the pooch. It ensures whether that naughty little being is getting enough exercise or not.
The best feature of this gadget is that it will keep you informed about the changing behavior of your pet and whether they are happy or not. You can download the PitPatPet pet tracker app on both the Android as well as iOS versions.
TabCat by Loc8tor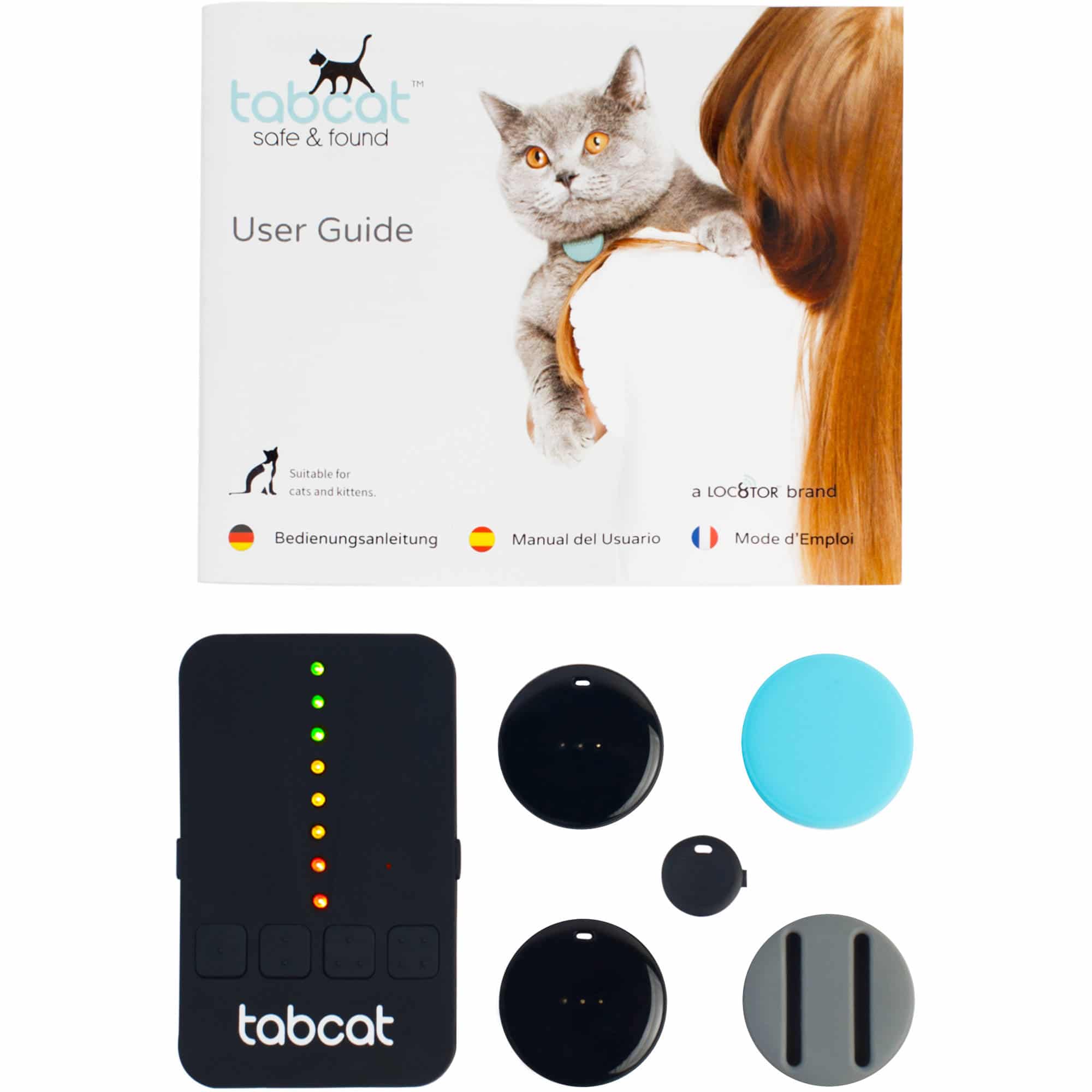 This unique smart gadget for pet tracking has been developed and designed by Loc8tor which is one of the leading names in offering amazing GPS products & services. TabCat is a wearable gadget that is designed to be clipped to the cat's collar. This pet tracker helps you find them in case they get lost. Instead of connecting to the smartphone, the TabCat gadget connects to an RF receiver that comes with it. This device would display the nearby signal on the LED strips that would result in the beeping of the sensor which would guide your cat.
The gadget is small enough to fit your cat's collar easily. In addition to this, there is no need to pay for the data subscription. It also catches up signals quite far away from your cat.
Tractive Pet tracker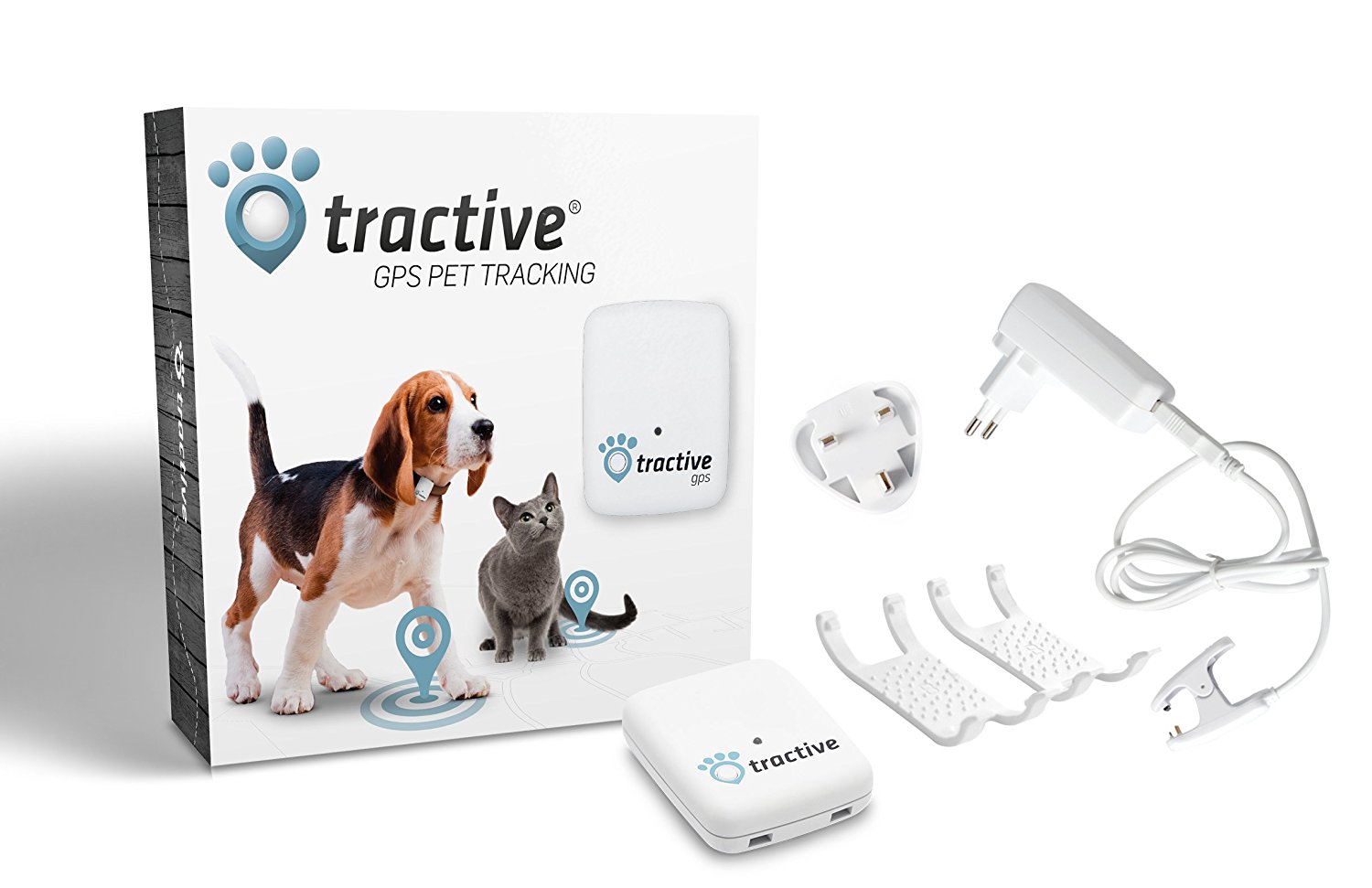 This attractive pet tracker comes in a myriad of colorful options. The pet tracking device by Kyon is waterproof and can help you in tracking your lost pet with ease. There is the presence of advanced GPS features and 3G radios as well. In addition to pet tracking, the water sensor in this gadget can determine if your little pet is in any danger of drowning. Moreover, there is also a heat sensor that transmits alerts to your smartphone in case you have left your pet in the car.
The altimeter and accelerometer are used for giving you warnings in case your pet has been sedated or is in some serious health problems. If you need to calm down your pet, then you can make use of the ultrasonic buzzer that acts as an effective pacifier. Several notifications relating to your pet's health like vaccination dates and appointments are sent to your smartphone and are also shown as LED displays on the gadget. The battery life is also good that can last for 30-long days. With so many exciting features, Tractive pet tracker can be considered as one of the best pet trackers.
The Paw Tracker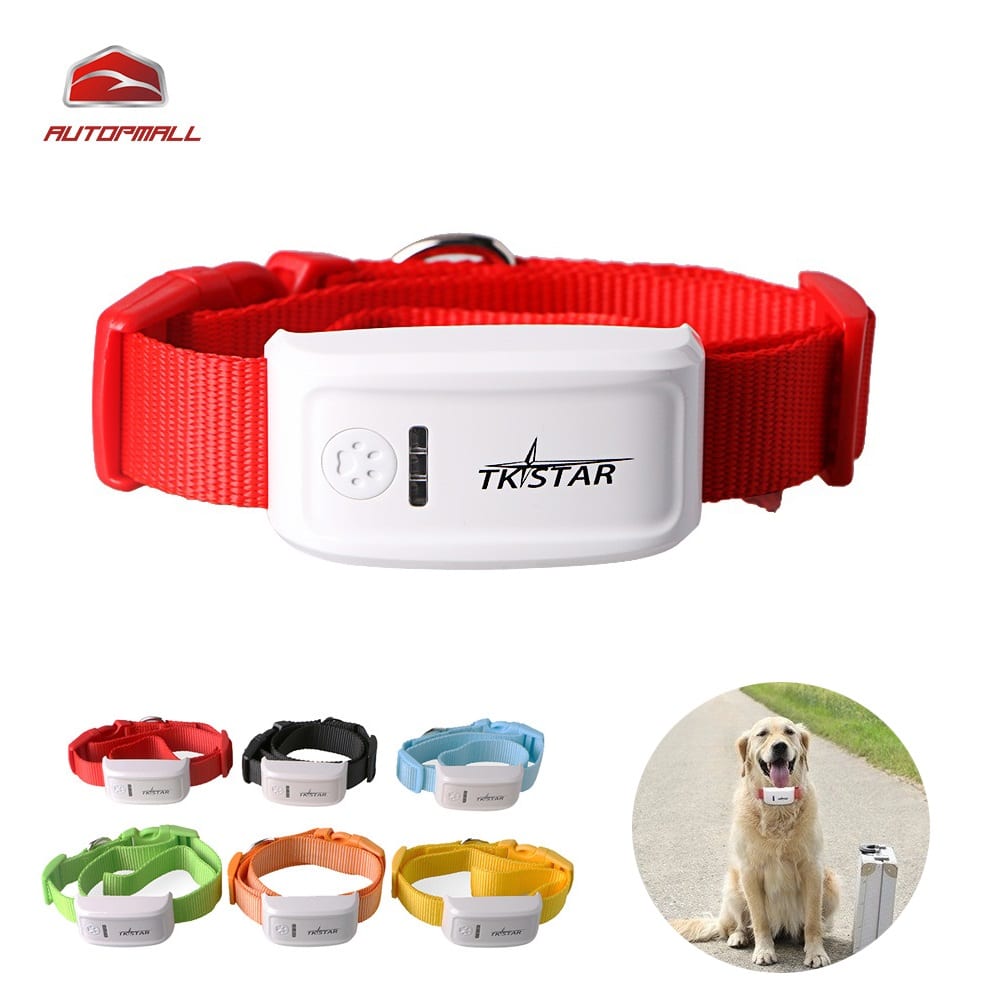 This is probably the most feasible and one of the best pet trackers in 2022. This smart gadget makes use of the GPS satellite for determining the exact location of your lost pet. You can, at all times, be connected to your pet with the help of this effective pet tracker. The Paw Tracker has been designed and developed by a USA-based company. You can also get additional benefits from the excellent customer care support unit of this tracker company in case of any issues.
The overall cute design with as many as three options of color makes this gadget a super-buy product for your lovely pet. The app for this pet tracker can be downloaded on both Android as well as iOS smartphones. To top it all, this smart gadget is highly notable for the lightweight properties that make it highly portable by pets. The device comes with an activated SIM card. Therefore, you have to face no hassles to start using this smart technology.
GIBI Pet Locator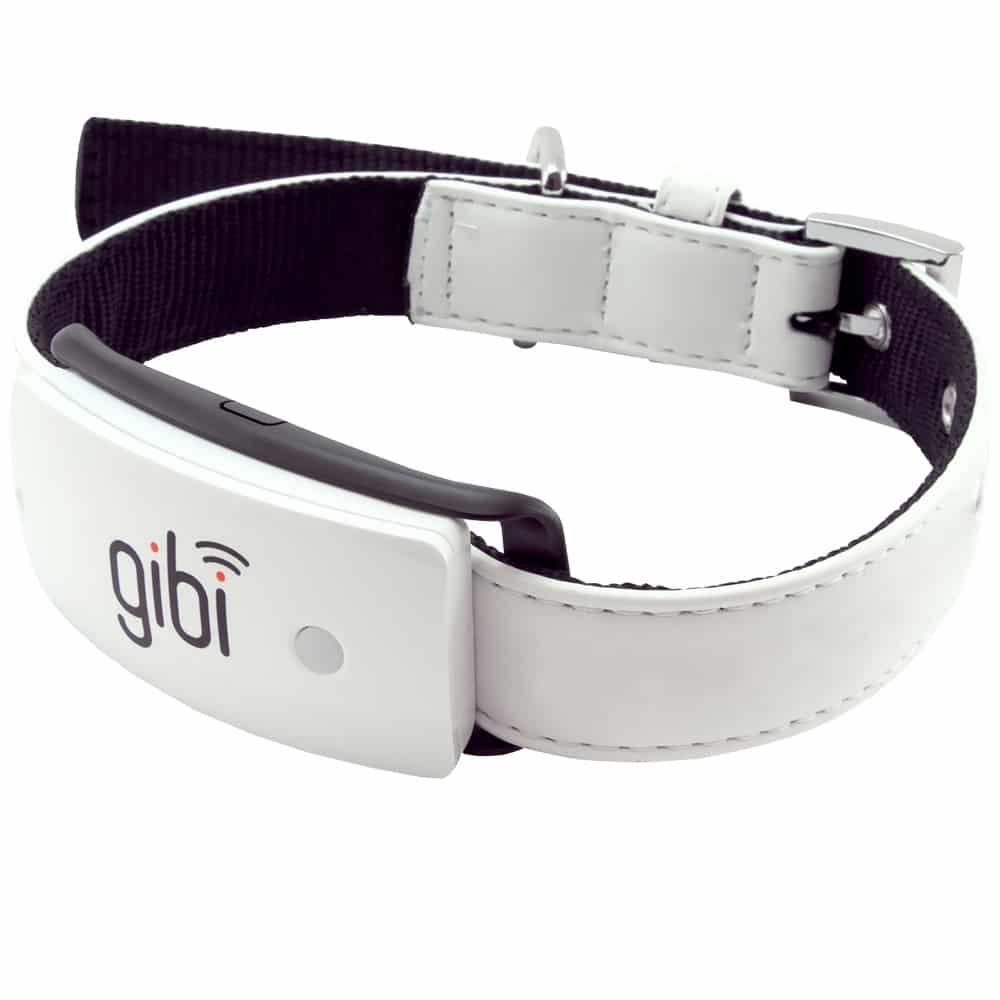 This specialized pet tracker is known for its waterproof, tough, and lightweight properties. This is a highly technical GPS device that can help pet owners in finding their lost pets with much ease. The GIBI pet locator comes as a stylish device version that is an online-based app. Therefore, you can make use of both your smartphones as well as laptops to track down the activities of your beloved pet.
With the help of the browser-based app of GIBI, you can also create safe zones for your pet. In case, your pet leaves the safe zone, you are alerted of the same through texts or emails. You can also check for real-time updates of the activities of your pet, obtain exact location information, and set directions with the help of the one-click button of the GIBI pet locator. This pet tracker is smartly designed to fit any pet collar and can thus be a great option for you to buy.
Conclusion
When you decide on a pet tracker, you must first understand the difference between the two types. Like mobile phones, GPS trackers work using cellular networks. So, it goes without saying that you will mostly have to pay a nominal fee to use them. On the other hand, an RF tracker utilizes a transmitter fixed on the pet) and a receiver that is in your hands. GPS trackers are bigger than RF trackers, which are about the size of rice grains. Moreover, GPS trackers operate using batteries that last for 2-5 days while RF trackers do not need any battery for operation. Last, but not least, GPS trackers are more cost-effective than RF trackers. You may want to consider all the above-mentioned factors to make an informed buying decision.
Was this article helpful?
This helps us improve our website.