Technobezz is supported by its audience. We may get a commission from retail offers
X
Our Editorial Process
Each year more than 60 Million users visit Technobezz to solve a problem or research a product. Our goal is that everyone finds what they are looking for, and that is why we cover a variety of products, problems, and solutions on our website.

Writing an article that contains a lot of valuable information may seem simple. But when the article is written, the story doesn't end. We are constantly updating the content so that you can always get up-to-date and accurate information.
---
Technobezz's Editorial Guidelines
Today, there is a DVD player in almost every home. The DVD player is a great boon for those who enjoy watching
Table of Content
Today, there is a DVD player in almost every home. The DVD player is a great boon for those who enjoy watching movies and cannot go to a theater for the same. You can also use a DVD player to listen to your favorite music. There are many DVDs on the market for you to look at and make your choice.
Buying Guide
One of the best features of most DVD players is that they are sleek and do not take up much place in the room you plan to keep yours. Yet another highlight of a DVD player is its ease of connectivity. You can connect your TV and DVD player with just a few wires to start using it immediately. Interestingly, most DVD players are also capable of playing CDs. The following is a list of some of the best DVD players.
Consider the following before buying a DVD player:
Presence of HDMI ports
Number of USB ports
Possibility for upscaling
Has Bluetooth connectivity
Support for different regions
See also: Best Wireless Chargers For Galaxy Note 8
List of Top Best DVD Players
Blu-Ray DVD player with a Triluminous Display and High-Fidelity Surround Sound
Sony BDP-BX370
Check Price

Sony BDP-BX370 is a top-notch Blu-ray DVD player that produces video output in full HD 1080p with clear and detailed images. Being equipped with a tri-luminous display, it displays blues, reds, and greens vividly with precision. Alongside an outstanding video output, it also provides an excellent sound output. Due to its high-fidelity surround sound, you can feel every audio detail while streaming, even the most minute ones.
Setting up the device is simple and easy. You can start streaming your favorite content in just a few seconds by connecting the device to its HDMI cord. The device is built to give you the best streaming experience on several platforms. It comes with an intuitive and quick graphic interface. These include Pandora, Spotify, YouTube, Netflix, and more. With its built-in Wi-Fi, you can connect to a world of apps and look forward to an invaluable streaming experience.
It is the best DVD player that produces HD video output at 1080p with amazing picture clarity and detail.
It is easy to use and has advanced Wi-Fi technology for fast streaming without lagging.
Full HD 1080
Image clarity with true color display
High-fidelity surround sound
Fast streaming on different devices
Lacks Bluetooth connectivity
It doesn't have 3D playback or a 4K UHD up-scaling feature
Compact Blu-ray DVD player with USB Direct Playback Feature
DID A R Mini Blu-ray Disc Player
Check Price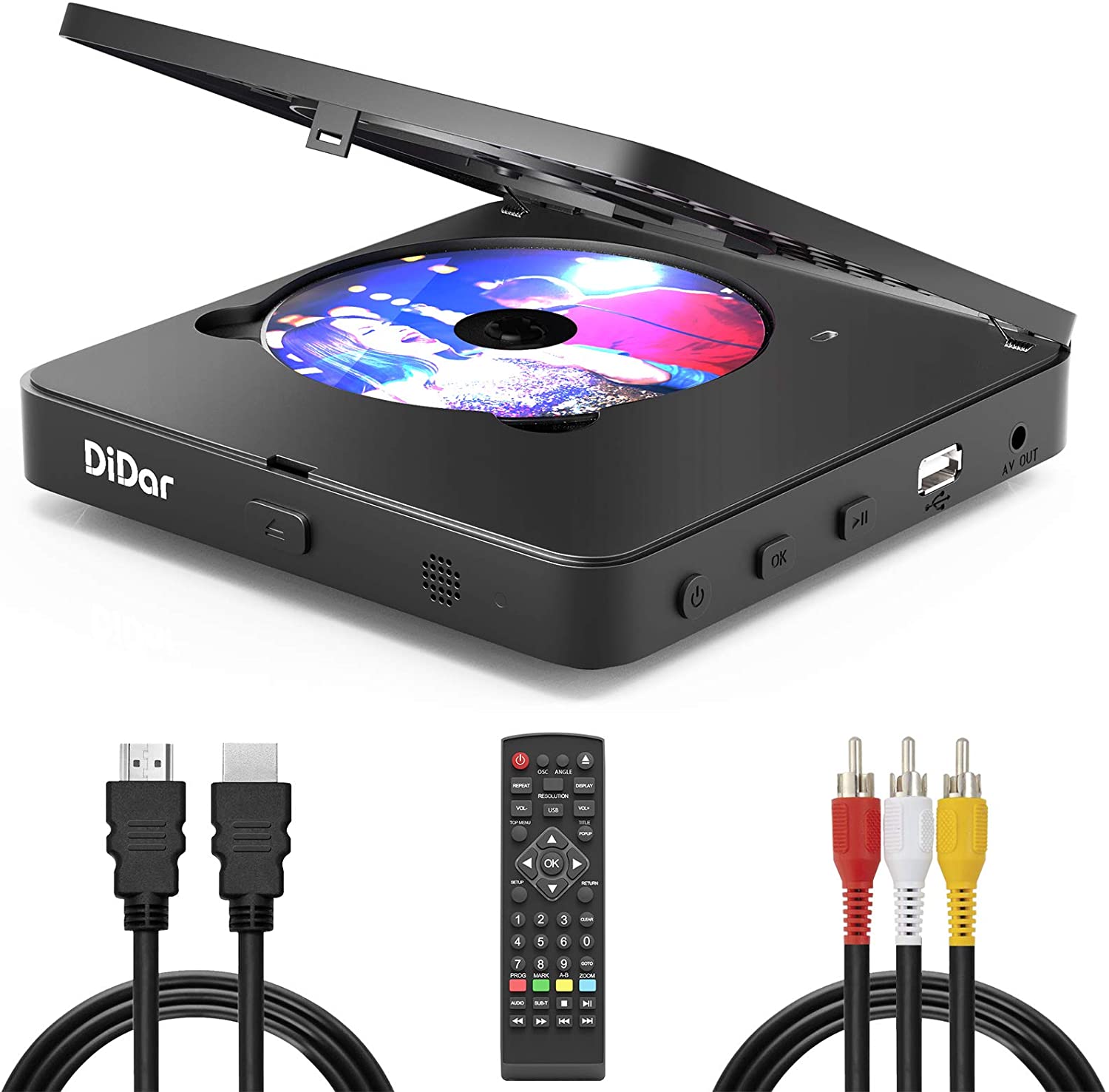 This compact Blu-ray DVD player from DID A R, a Chinese manufacturer, fits in all spaces. What makes it special is its amazing 1080p video performance in high definition (HD). Due to the upscale feature, it provides an excellent video viewing experience. Its Blu-ray disc support region is quite wide, so you can also use old DVDs in conjunction with it.
Alongside quick connections, it also possesses the feature of USB direct playback, which makes it all the more special. Due to this feature, you can easily connect it with USB-based devices. After connecting the DVD player with such devices, you can enjoy an HD video viewing experience and listen to high-quality audio simultaneously.
It is compact and delivers an amazing 1080p video performance in HD.
It has USB direct playback, upscale features, and a wide support region.
Compact
1080p HD video playback
USB direct playback
High-quality audio
Issues with durability
Vulnerability to slow response rate
Dual Speakers-Based DVD Player for Multiple Settings
MAITE DVD Player
Check Price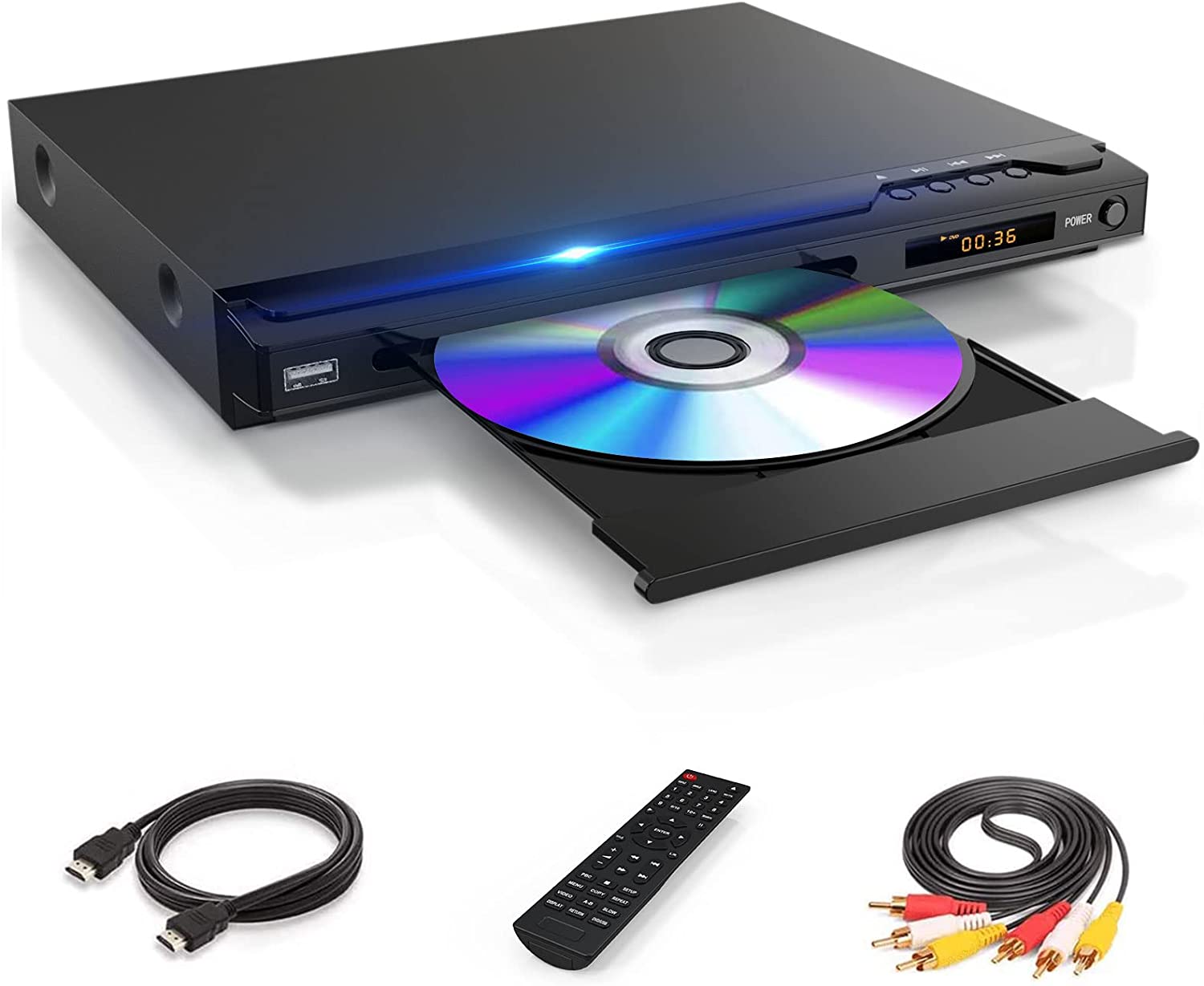 This DVD player has dual microphones, which constitutes one of its hallmark features. There aren't too many items with this feature in the market. With it, you can play media in different ways. Prominent among them are AV output, USB playback, and HDMI. Regardless of how you connect the item to a TV, you can expect stunning effects and true color. For an outstanding viewing experience, you can connect it to a home theater, monitor, projector, or TV.
MAITE DVD Player is the best buy, even from a compatibility standpoint. Apart from being compatible with most DVD players, including Region 2, the compact DVD player reads almost all kinds of files. The HDMI cable is also very long.
It has dual speakers and delivers great video and audio output
It is compact, compatible with different DVD players, and has a long HDMI cable.
Dual microphones
Compact
Amazing audio and video output in HD
Compatibility with a wide range of DVD players
Long HDMI cable
Issues with longevity
Lacks stability
DVD Player for TV with Slim Design and Multi-Connection Feature
Majority Oakcasatle DVD 100
Check Price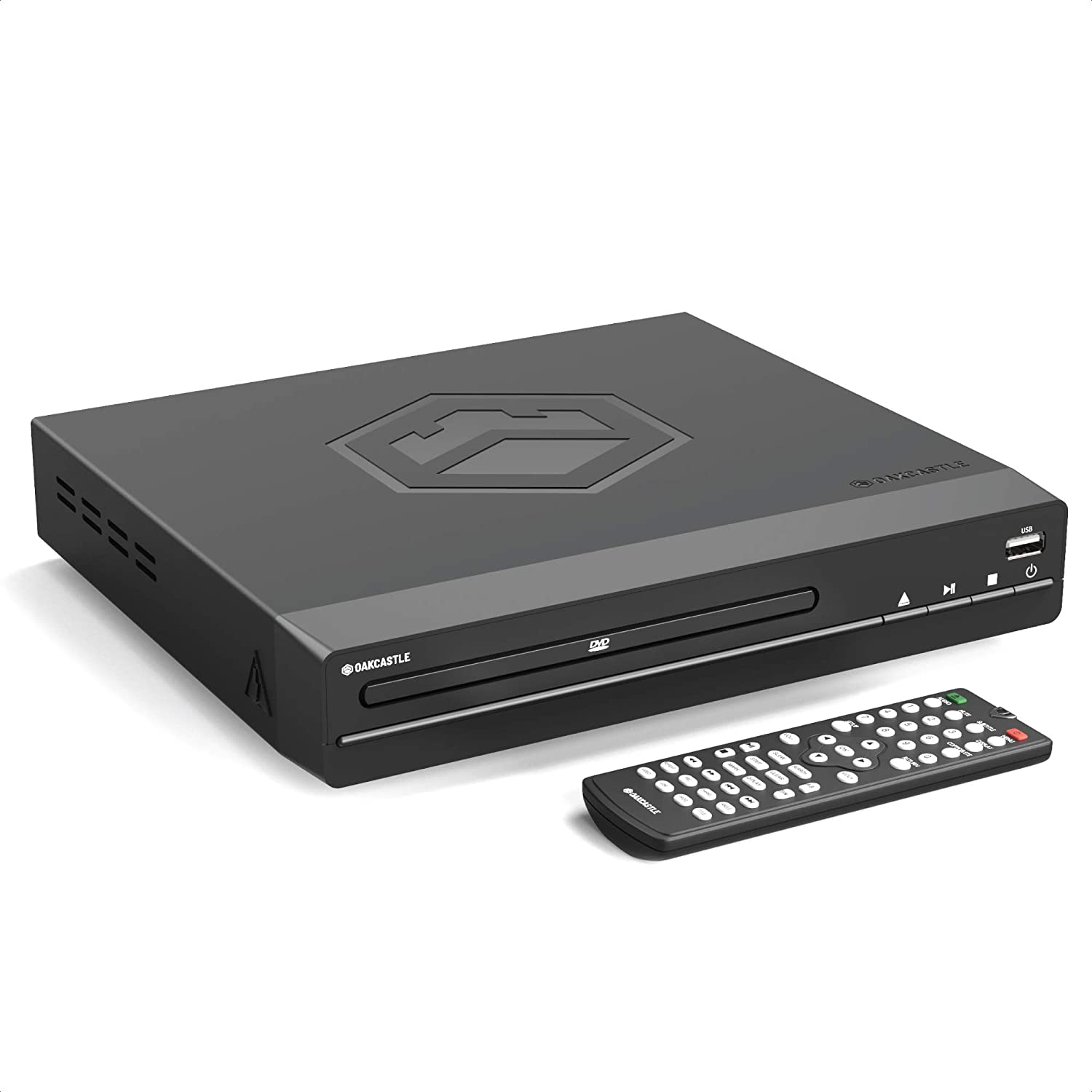 Majority Oakcasatle DVD 100 is a mighty product in a small package. Despite its compact size, it can read USBs, CDs, and DVDs. Besides, the ability to read dusty discs is what makes it the real deal. You can control the playback and navigation of this device with remote control. For connectivity, you can use USB, RCA, and HDMI options.
Oakcasatle DVD 100 comes with multi-region support, making it suitable for all zones and regions. Apart from that, it is also compatible with a wide range of file formats. These include MPEG4, MPEG2, MP4, MP3, CD-R, CD+RW, CD-MP3, and DVD-R/RW.
Why Should You Buy This?
It supports all general connectivity options and is compatible with files in different formats.
It comes with multi-region support and remote control for controlling navigation and playback.
Pros
Compact
It even reads dusty discs
Compatibility with different connections
It supports different file formats
Easy playback and navigation
Cons
It doesn't come with an HDMI cable out of the box
Vulnerable to durability issues
A compact TV DVD Player with Multi-Region Support
Majority TV DVD Player
Check Price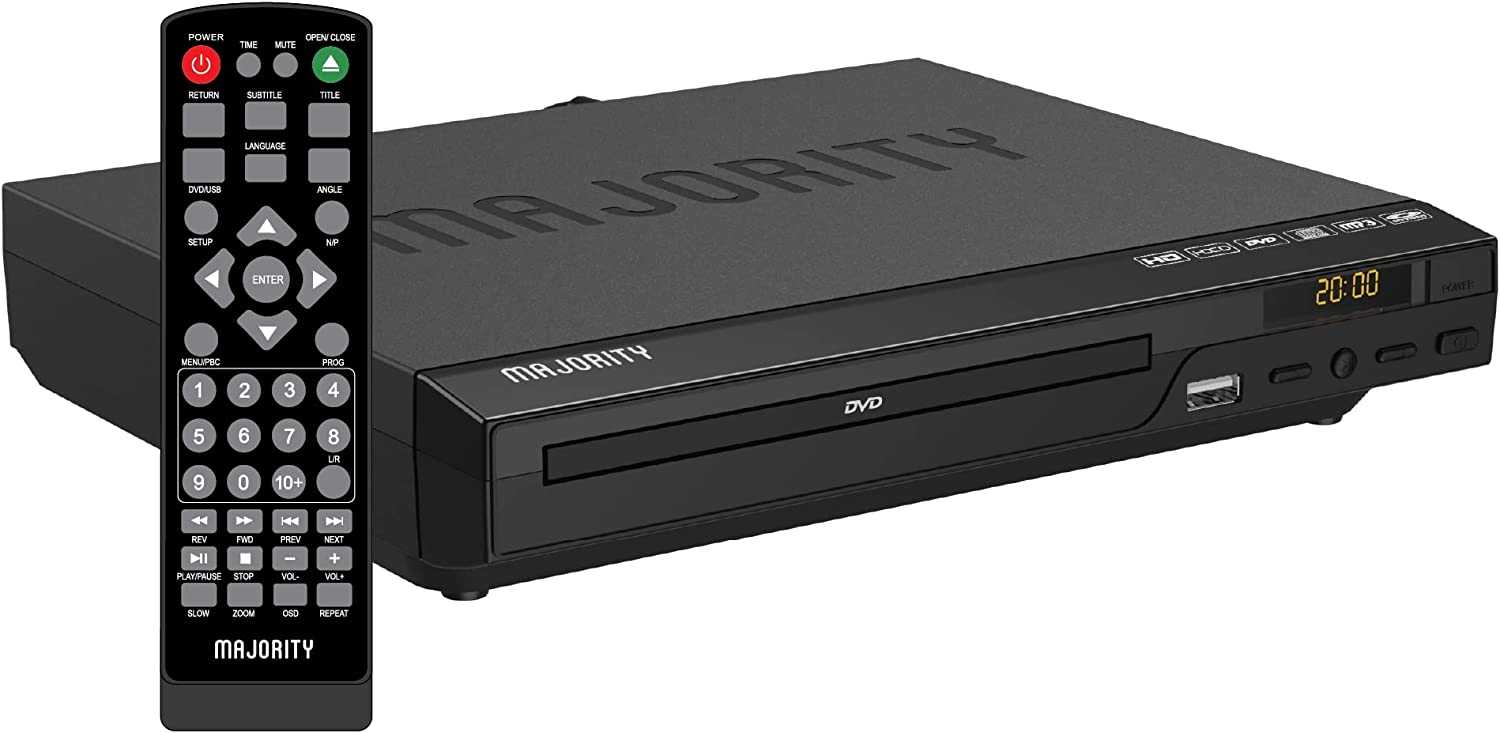 This item can play CDs and DVDs effectively with a compact TV DVD player. Due to its multi-region support, you can expect it to deliver desired performance without region-related constraints. It has a USB port for connecting USB-based devices. Other than devices with USB features, you can connect this item to a television with the RCA or HDMI connectivity option.
The majority of TV DVD Player also supports a wide range of connections like MPEG4, MPEG2, MP4, MP3, CD-R, CD+RW, CD-MP3, and DVD-R/RW. Regardless of how you connect this item to an output device, it produces a clear picture and sound with incredible detail while playing 1080p HD videos.
It gives the desired performance while playing both CDs and DVDs.
It supports a wide range of connections and file formats.
Compact
Supports distinct connections
Audio and video clarity
Support for different regions
Noisy
Vulnerable to technical glitches
Noiseless HD DVD Player with Customizable Options
Gokuid HD DVD Player
Check Price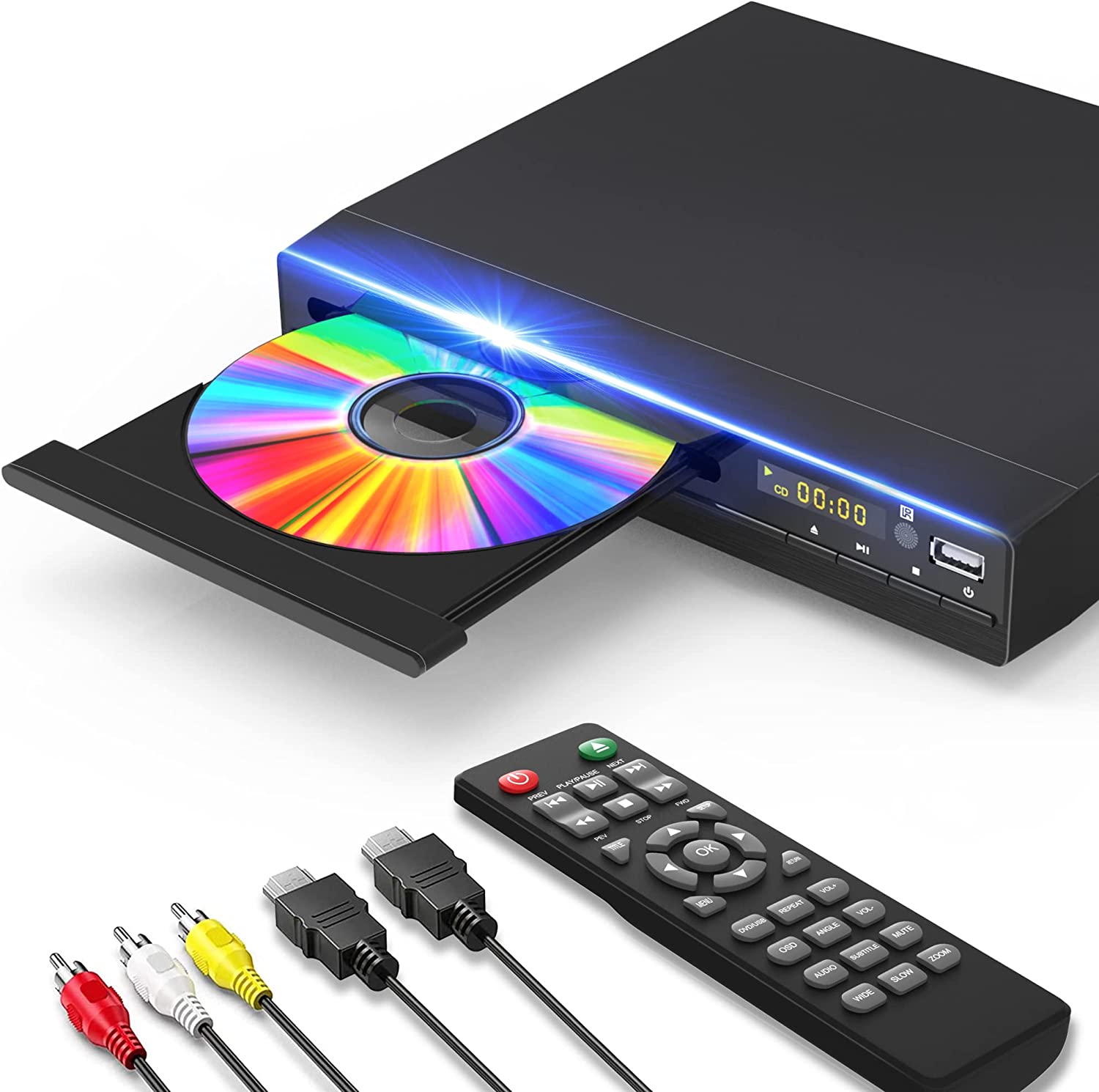 Gokuid HD DVD Player is the ultimate DVD player for users desirous of a product with a good reading speed without annoying noise. With this product, you can customize your viewing experience. In this regard, you can try out many options based on your preferences. This includes directory loop, single loop, advanced zoom, skip, and slow motion.
It is a region-free DVD player, making it suitable for all regions' users. You can connect this item to compatible devices using USB, HDMI, and RCA options to play videos. You can enjoy 1080 HD videos with great pictures and sound clarity in all these connections.
Why Should You Buy This?
It reads CDs and DVDs at a good speed.
It provides top-notch video and audio output without any noise.
Pros
Noiseless
Customizable options
Multi-region support
1080 HD video playback
Cons
Lacks durability
Does not have NTSC support
Conclusion
Many manufacturers offer different DVD player models, so you will have lots of options. If you are someone who travels abroad often and brings home CDs/DVDs from the country you visit, you can opt for a multi-region DVD player. On the other hand, if you want nothing but the best when it comes to picture quality, take your pick from a player with an HDMI port for upscaling. Portable DVD players with monitors are ideal for those who enjoy traveling by car and want to keep kids entertained during their travel. Last, but not least, if you cannot decide whether you will place your DVD player on a table or mount it on a wall, you may want to invest in a DVD player that supports both options.