Technobezz is supported by its audience. We may get a commission from retail offers
X
Our Editorial Process
Each year more than 60 Million users visit Technobezz to solve a problem or research a product. Our goal is that everyone finds what they are looking for, and that is why we cover a variety of products, problems, and solutions on our website.

Writing an article that contains a lot of valuable information may seem simple. But when the article is written, the story doesn't end. We are constantly updating the content so that you can always get up-to-date and accurate information.
---
Technobezz's Editorial Guidelines
A car charger is an important accessory you must have ready before you embark on a road trip in your car. This
Ankuee USB Car Charger with Gold-plated Circuitry
Car Charger with Anti-slip Body from Ankuee
Apple MFi Certified Car Charger from Mitsugawa
Table of Content
A car charger is an important accessory you must have ready before you embark on a road trip in your car. This is because the batteries in smartphones and tablets usually drain out faster than you expect them to. This is especially true if you use many apps and keep your handset always connected to the Internet. A car charger can save you from the apprehension of the battery dying out, especially when you are on the move, so that your phone will not let you down in an emergency. Car chargers are usually USB compatible and operate in a plug-and-play style when you switch on your car's engine. In most cases, the port that you use to plug the car charger is a cigarette lighter port.
Buying Guide
Consider the following while buying a car charger
Compatible with Android, Apple, and Google devices
Dual-port fast charging
It prevents overcurrent and overcharging
Suppresses heat generation
Alexa voice control
There are many types of car chargers, and at the onset, you may find it difficult to choose the right one. To get started, you can check out some of the best car chargers listed below.
See Also: Best i7 laptops of 2023
Top Best Car Chargers
Lighting Charger Adapter with 42.5W Output
Ankuee USB Car Charger with Gold-plated Circuitry
Check Price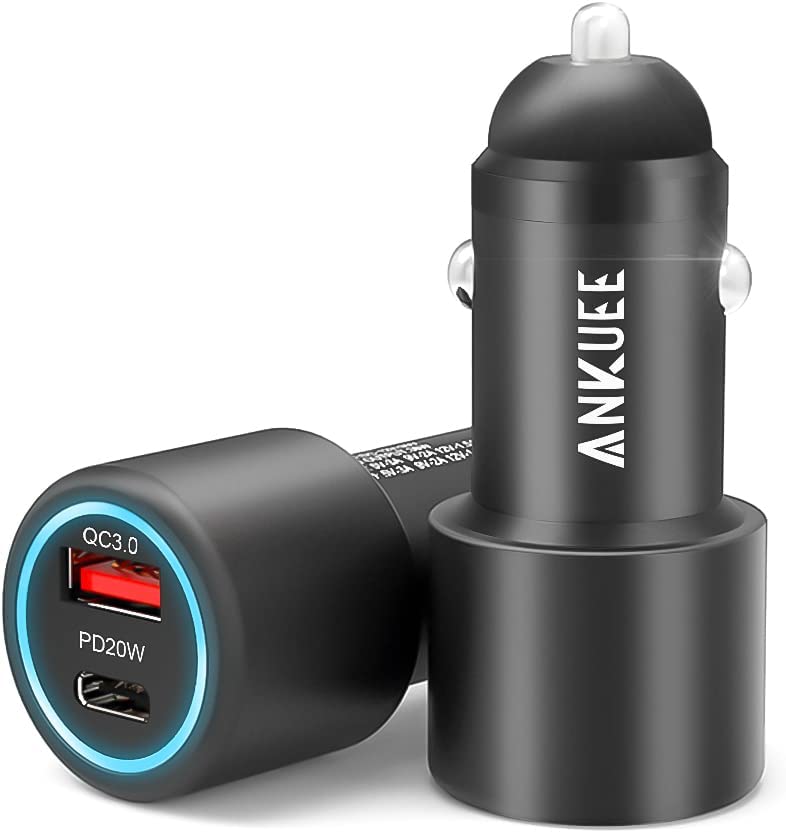 This fast car charger comes with a built-in smart chip that prevents over-heating. Its scratch-resistant aluminum alloy exterior, dual PD ports, and universal compatibility are some of its outstanding features, among many others. With a working temperature that ranges between zero and fifty degrees Celsius, this compact charger is compatible with the Galaxy S22/21, Google Pixel 6, and even the iPhone.
This quality charger enables the charging of two devices simultaneously and at lightning speeds. It's perfectly designed to fit into the auto vehicle's cigarette lighter USB charger socket. The charger has a ridged end, making it very easy to plug and unplug comfortably. This space-efficient charger comes with an input of DC:12-24V and has a USB output of DC5V~2.4A/QC3.
Offers universal compatibility with several devices.
It ensures maximum driving safety and comfort.
Provides a 3X charging speed
It prevents overcurrent and overcharging
Offers temperature protection
Dual-port fast charging
Universal mode and a lifetime guarantee
The device is not too sturdy
Dual Ports Fast Mini Car Charger
Car Charger with Anti-slip Body from Ankuee
Check Price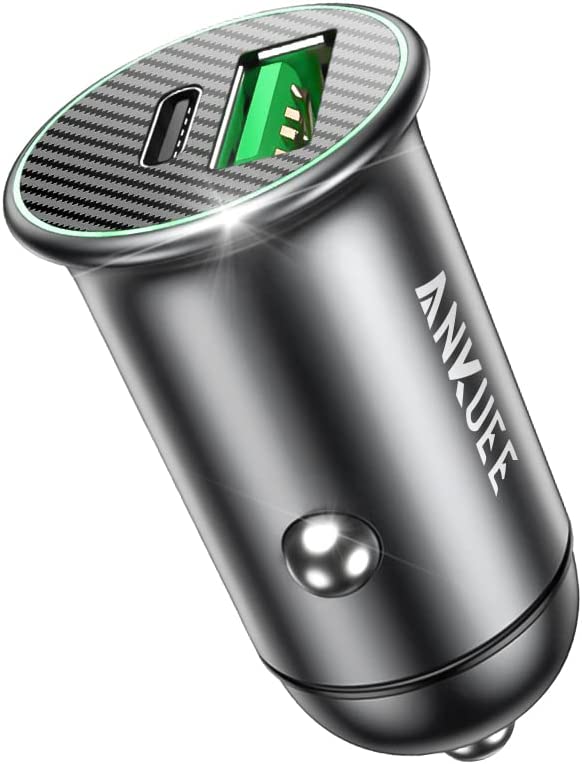 This mini car charger is crafted with two premium quality charging ports that enable speedy charging. It can charge your devices' battery from 0% to 80% in only 30 minutes. Made of quality aluminum alloys, this charger has an anti-slip finish on both sides, which holds it firmly in position.
The built-in intelligent chip boosts charging at incredible speeds without impacting the battery. This charger is designed with an LED light that can be used effectively in the dark. It prevents overheating and overloading, as well as short circuits. Once the device is fully charged, the adapter shuts off automatically.
This light-weight and high-quality charger is compatible with wide-ranging models of the iPhone, Galaxy, MacBook Air & Pro, to name a few.
The charger serves better heat dissipation and furnishes the desired protection to the device.
Input voltage of 24 Volts
Stable connectivity
Excellent after-sales customer service
It does not come with a cord
Quality Metal 60W Car Charger
Apple MFi Certified Car Charger from Mitsugawa
Check Price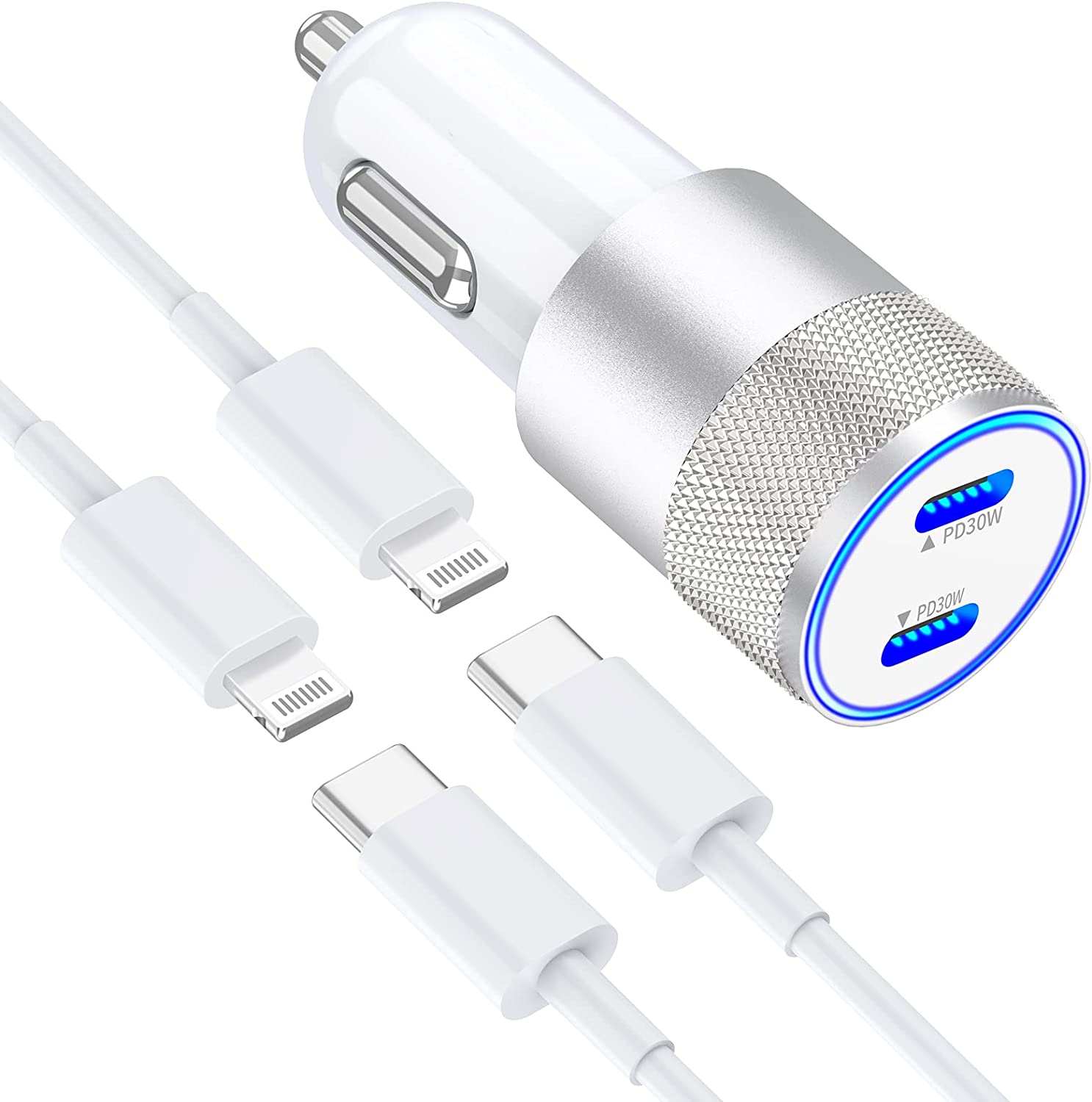 Speed charging is one of this car charger's most arresting features, crafted with upgraded smart charging technology. This dual USB-C car charger is designed with a blue LED light that helps detect the charging location while driving at night. You can charge two devices uninterruptedly at the same time.
The scratch-resistant finish of this sleek charger is complemented by a C94 terminal and an original chip. The built-in IC chip efficiently detects and supplies the best power to your devices. The iPhone's lightning cable and charger cable furnish you with high data transfer speeds.
This well-designed metal car charger offers improvised heat dissipation and a lifetime warranty.
It is compatible with a majority of popular car models and all iOS and Android devices, among many others.
Charges devices from 0%-80% in 30 minutes
Smooth charging across surfaces
Provides multiple protection to devices
Hassle-free customer service
Not compatible with iPad Air 4
Weak connection cords
Dual Port Car Charger with Universal Compatibility
Lightweight Car Charger with Smart Chip from Moioee
Check Price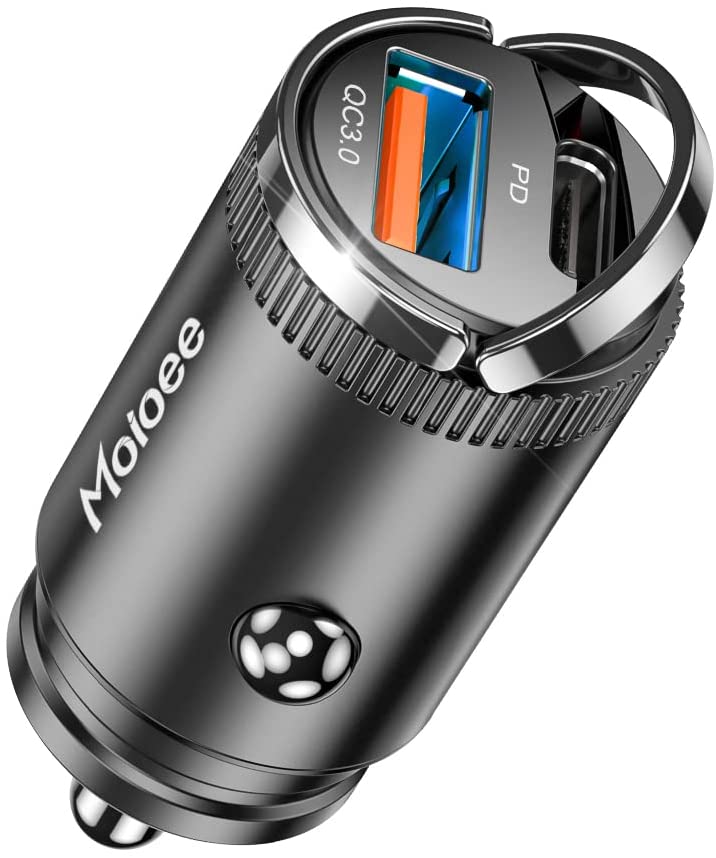 Uniquely designed, this thumb-sized car charger comes with an anti-scratch, zinc alloy metal body and two 30W ports. You can charge two devices simultaneously in a flawless manner. Its double pull-ring helps you to plug and unplug it effortlessly. Renowned for its safety protections, this prevents over-heating and shuts down automatically when the battery is fully recharged.
Its soft LED light facilitates locating the charger in the dark. With an input voltage of 30 watts, this portable charger is preferred for speed charging. This is compatible with various models of the iPhone, Notebook, and other devices. Its fast-charging feature enables charging from 0%-80% within half an hour.
Why Should You Buy This?
This charger comes with a better design and a warranty of 12 months.
Its unique build and power-packed features make it a wonderful gift for near and dear ones.
Pros
Made of fire-retardant material
Prevents short circuits
Dual-port fast charging
Suppresses heat generation
Cons
The charger doesn't seem to fit well
Award-winning Dual Port Car Charger
Car Charger with Built-in Alexa from iOttie
Check Price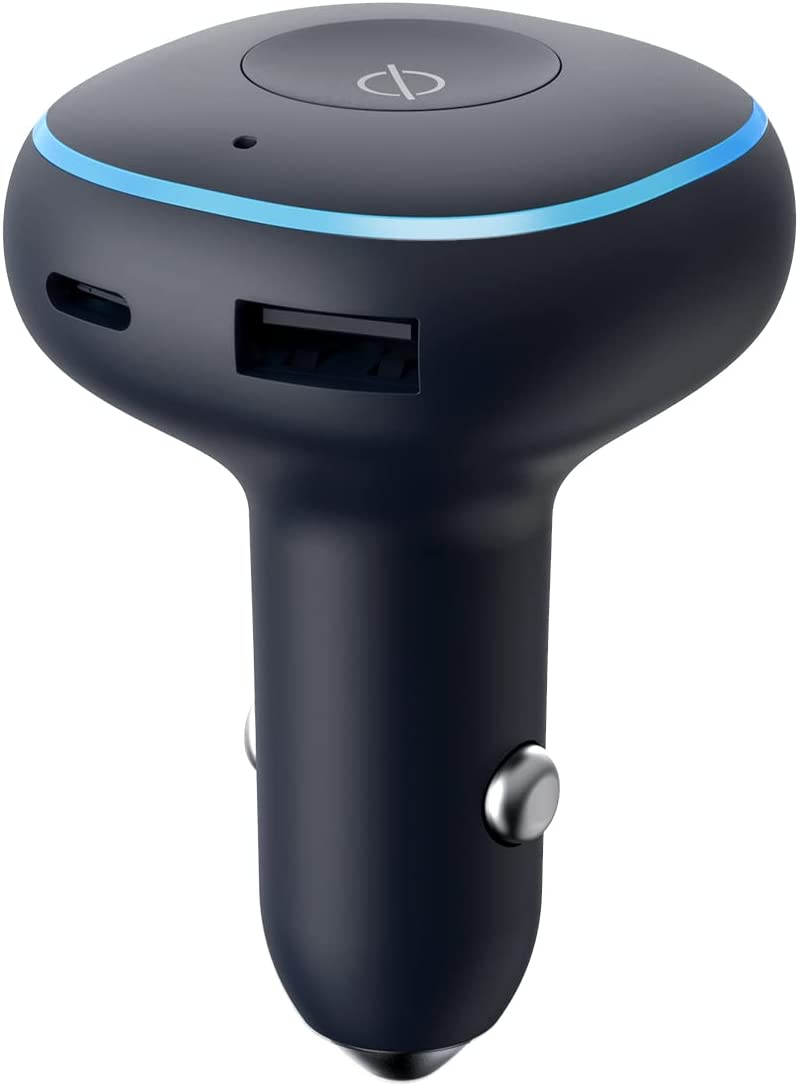 This magnificent, black-colored car charger comes with voice-activated commands. Its built-in Alexa facilitates road directions, telephone calls, weather conditions, and even music selection while you drive. The dual microphone comes with a noise-cancelling feature to provide optimal voice recognition.
This car charger is designed with USB-C fast charging and USB-A ports which help you to charge many devices simultaneously. This Aivo Boost charger is well supported by the iOttie Connect app, which helps you manage your device's updates. These charger-rich features are known to enhance your driving experience.
This award-winning car charger enhances your driving with its Alexa ecosystem.
Its noise-cancelling processor creates clear communication with Alexa.
You can wake or mute Alexa with a single tap
The Interactive LED ring allows smooth communication with Alexa
Compatible with Apple, Android, and Google devices
Speedy charging for multiple devices
Dual USB Car Charger with 51W
Car Charger with Smart Chip Driver from PSXROUKI
Check Price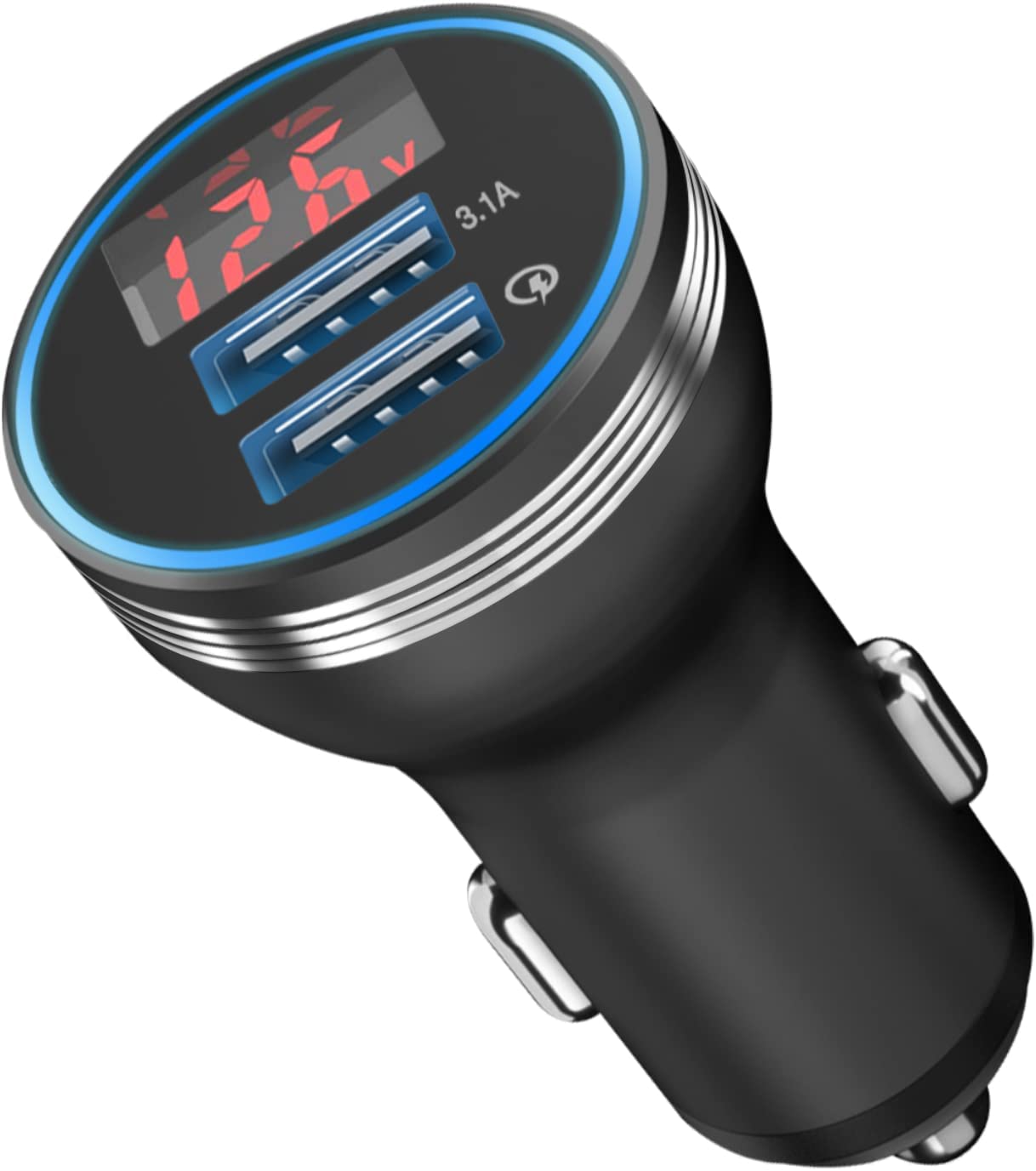 This car charger has a super-fast charging output and facilitates simultaneous fast charging of both devices. It comes with a quality aluminum alloy which is safer than plastic. This well-designed charger is crafted with an intelligent circuit design that prevents overheating even at high temperatures. Its attractive LED light is a good detector to locate the charger in the dark.
Intelligent digital displays help to monitor the working voltage in real-time. This charger's intelligent circuit design prevents overheating. Its strong metal build enhances the durability of this charger and makes it last longer. Compatible with most iPhone Series, this charger is also compatible with the wide-ranging models of Samsung and Huawei.
Why Should You Buy This?
This charger comes with a powerful and highly efficient dual smart chip driver, which enables fast charging of two devices without impacting the speed.
It prevents power outages caused by vibrations during driving.
Pros
Super-fast charging
Supports numerous fast-charging protocols
Ease of charging
Twelve-month warranty
Cons
Best Car Charger with an Affordable Price Tag
Ainope 4335022087
Check Price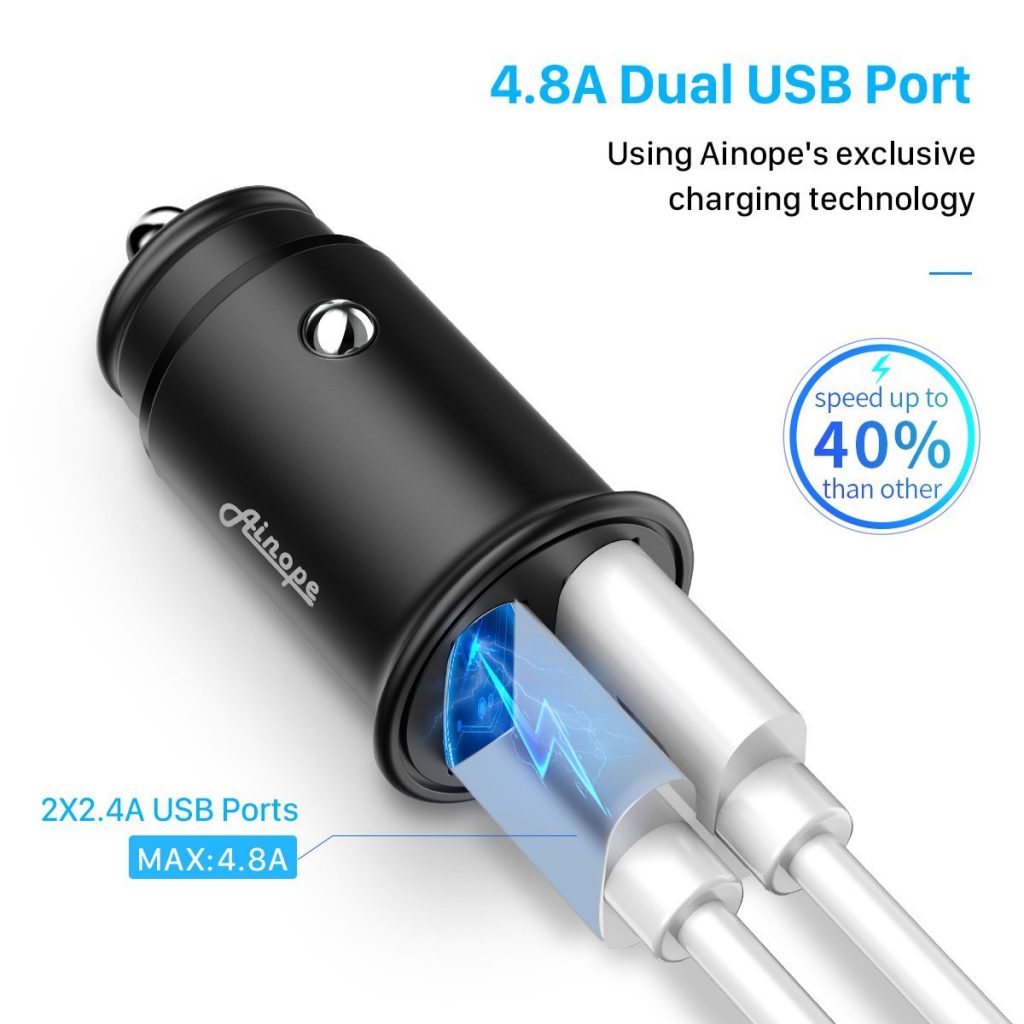 This car charger has a full metal body made of a zinc-aluminum alloy that is resistant to scratches. The charger fits most car cigarette lighters. The Ainope charger consists of two USB ports to charge two devices simultaneously at 40% more speed than usual chargers. It features protection against high temperatures, overheating, overcharging, and overcurrent that keeps the device safe and free of damage.
The charging unit works with all USB-powered devices and has a non-disruptive LED light on each USB port. The charger has an input voltage of 12 to 24 V, an output voltage of 5 V, and 2.4 A per USB port. The portable device comes in a compact size that makes it easy for you to take it wherever you go. The unit is available in three color options: black, red, and silver, at a nominal price.
Who should buy this?
The scratch-resistant features of the Ainope car charger make it a good choice for those who want their device to look new.
The charging device is ideal for people who want to charge USB-powered devices other than smartphones like power banks, sports watches, and video game controllers when driving in their car.
People driving at night will find this charger useful because of its bright blue LED lighting.
Best Car Charger with USB Type-C Cable
Syncwire SWXC071
Check Price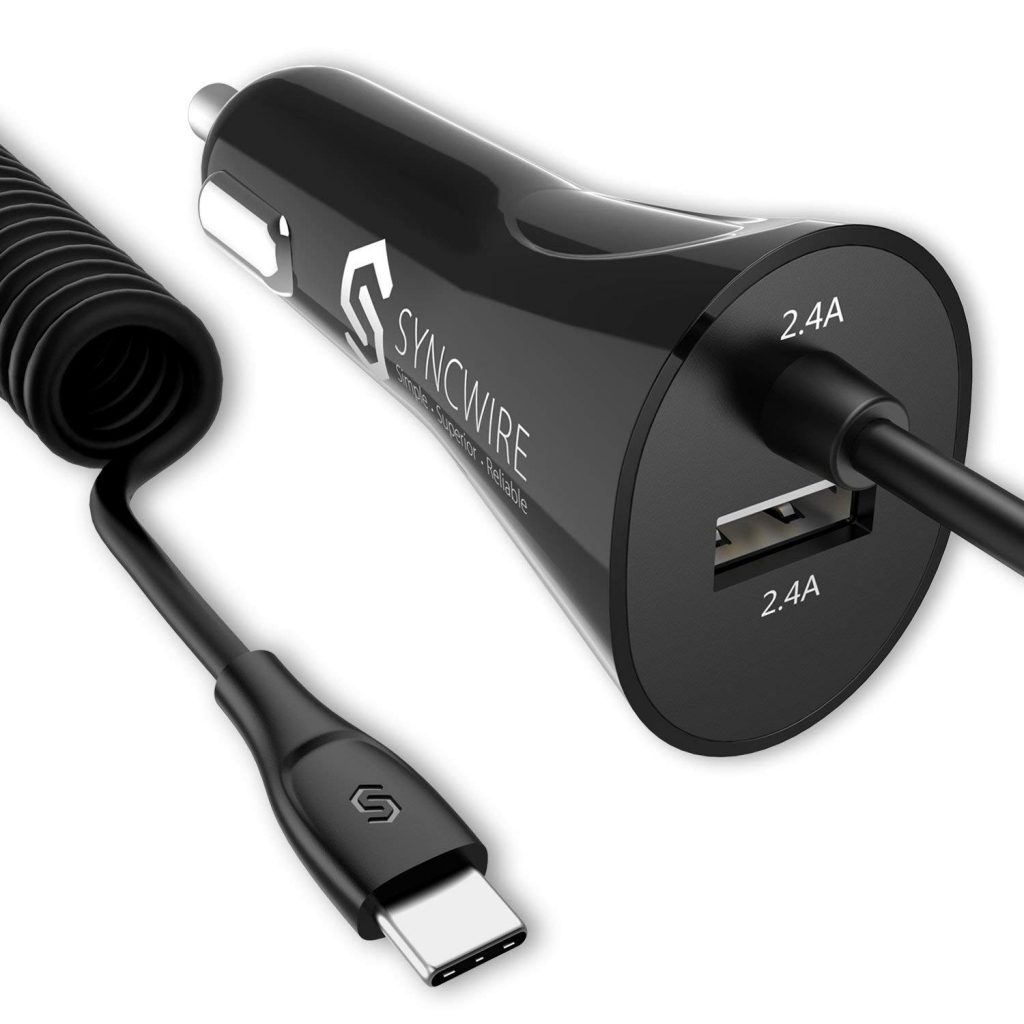 The black wire car charger encompasses an ordinary USB port and a USB Type-C connector with a compatible cable. The Syncwire charger works with all devices that support these connectivity options and can operate simultaneously at an ultrafast rate. The Type C connector is very slim and fits comfortably into small cases. The lightning cable features a shape retention facility with an extended length of 1.2 m when pulled tightly and 0.2 m length on the natural extension. It has an optimal use length of 0.6 m to 0.8 m.
The charger works with all vehicles with an input voltage of 12 V to 24 V range. The rugged polycarbonate housing with thermal materials and Smart IC design, offers surge protection and protects the adapter from being prone to overcharge, overload, and overheating, damaging the charging devices.
Who should buy this?
The Syncwire car charger is apt for those who want to charge two USB 2.0, USB 3.0, Type-C compatible devices, or a combination of any two of these devices when on the move.
The charger makes a good choice for people apprehensive of getting damaged due to interference such as Bluetooth, Wi-Fi, and radio.
Conclusion
Many car chargers are available from different manufacturers on the market today. Most of them support one or two USB ports for charging a maximum of two devices at a time. However, there are some car adapters with even four or more ports so that each family member can have fully charged USB-powered systems. It is a good idea to buy a car charger with an LED light to help you determine whether it is working or not. However, the light should not be so bright as to disturb you when driving at night. If you are thinking of buying a car charger with a built-in cable, then it is worth keeping in mind that if the cable breaks, the charger is useless. Therefore, you can consider buying an extra compatible cable and using that instead. To get the best charging results, you must buy a car charger with voltage, current, and power ratings that match your device's specifications. You can check the wall charger to see these values and buy a car charger accordingly.
See Also: Best high-performance desktop PCs