Technobezz is supported by its audience. We may get a commission from retail offers
Summary – A car charger is an important accessory that you must have ready before you embark on
A car charger is an important accessory that you must have ready before you embark on a road trip in your car. This is because the batteries in smartphones and tablets usually tend to drain out faster than you expect them to. This is especially true if you use many apps and keep your handset always connected to the Internet. A car charger can save you from the apprehension of the battery dying out especially when you are on the move so that your phone will not let you down in an emergency. Car chargers are usually USB compatible and operate on a plug and play style when you switch on the engine of your car. In most cases, the port that you use to plug the car charger is a cigarette lighter port.  There are many types of car chargers and at the onset; you may find it difficult to choose the right one. To get started, you can check out some of the best car chargers listed below.
See Also: Best i7 laptops of 2022
Top Best Car Chargers
Best Car Charger with an Affordable Price Tag
Ainope 4335022087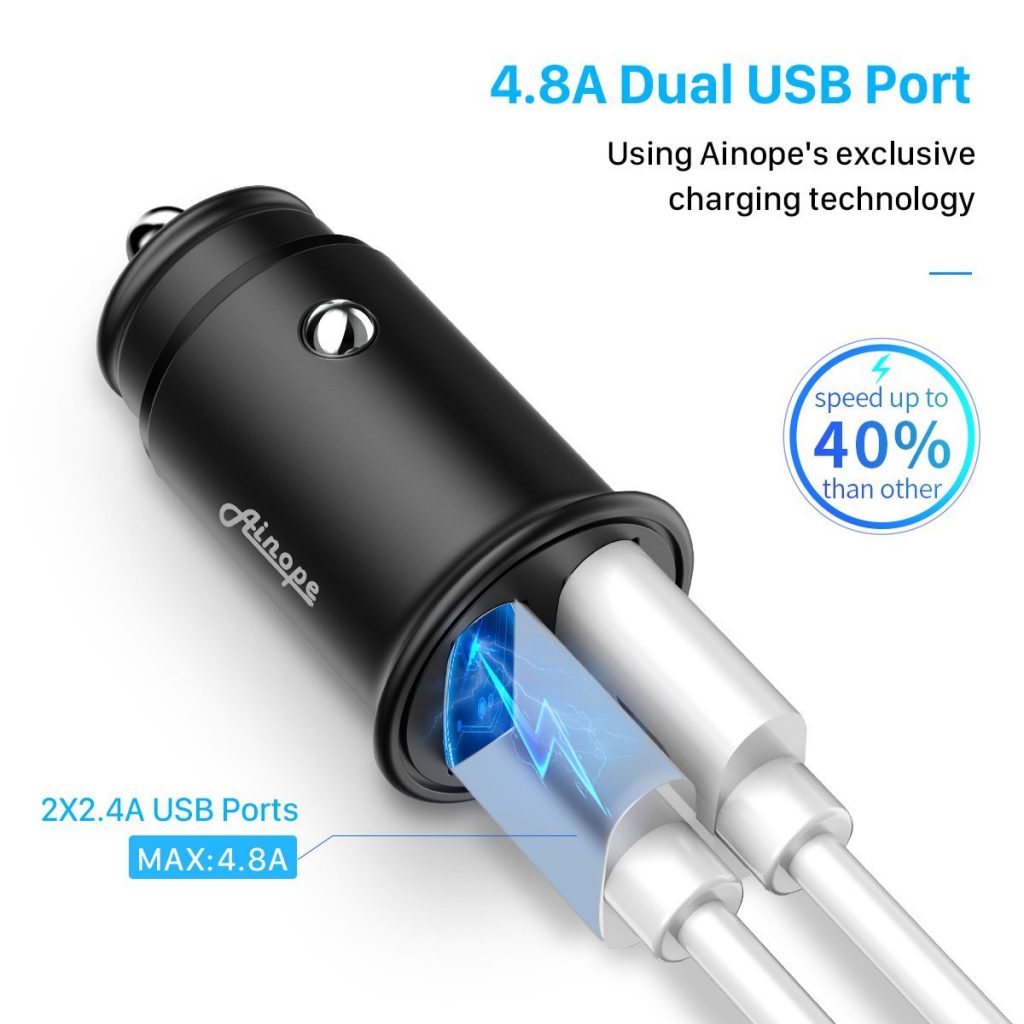 This car charger has a full metal body made of zinc-aluminum alloy that is resistant to scratches. The charger fits most car cigarette lighters. The Ainope charger consists of two USB ports to charge two devices at the same time at 40% more speed than usual chargers. It features protection against high temperature, overheating, overcharging and overcurrent that in turn keeps the devices safe and free of damage.
The charging unit works with all USB powered devices and has a non-disruptive LED light on each USB port. The charger has an input voltage of 12 to 24 V, output voltage of 5 V and 2.4 A per USB port. The portable device comes in a compact size that makes it easy for you to take it with you wherever you go. The unit is available in three color options of black, red and silver at a nominal price.
Who should buy this?
The scratch resistant feature of Ainope car charger makes it a good choice for those who want their device to look new always.
The charging device is ideal for people who want to charge USB powered devices other than smartphones like power banks, sports watches and video game controllers when they are driving in their car.
People driving at night will find this charger useful because of its bright blue LED lighting.
Best Car Charger with Quick Charge 3.0
AnkerAK-2228011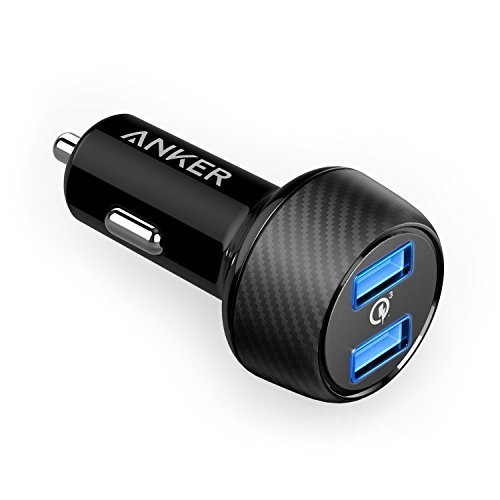 The Anker car charger comes with two USB ports with a power rating of 39 W that charges two USB supported devices at a time. The torch shape charger also includes an anti-slip carbon fiber mesh and soft blue LED lights for night visibility. The black unit encompasses an ultra-compact build with a sleek finish and an advanced safety design.
The Quick Charge 3.0 features fast charging capability that charges compatible devices up to 80% in slightly more than half an hour. The two other features VoltageBoost and PowerIQ charge non-Quick charge devices at a very fast rate and do not allow charging speeds to be affected because of old or long cables. The charger incorporates 10 safety features that protect your USB units from any kind of damage by offering various functionalities like temperature control, surge protection and more when they are charged.
Who should buy this?
The car charger is the best option for people who want almost drained Quick Charge supporting devices to attain maximum charge in a short period.
The multiple safety options make the car charger suitable for those who give a lot of importance to safety.
The anti-slip grip ensures that the Anker unit is ideal for those who are sceptical about the car charger accidentally falling from their hands.
Best Car Charger with Flush Fit Dual Port
AukeyCC-S1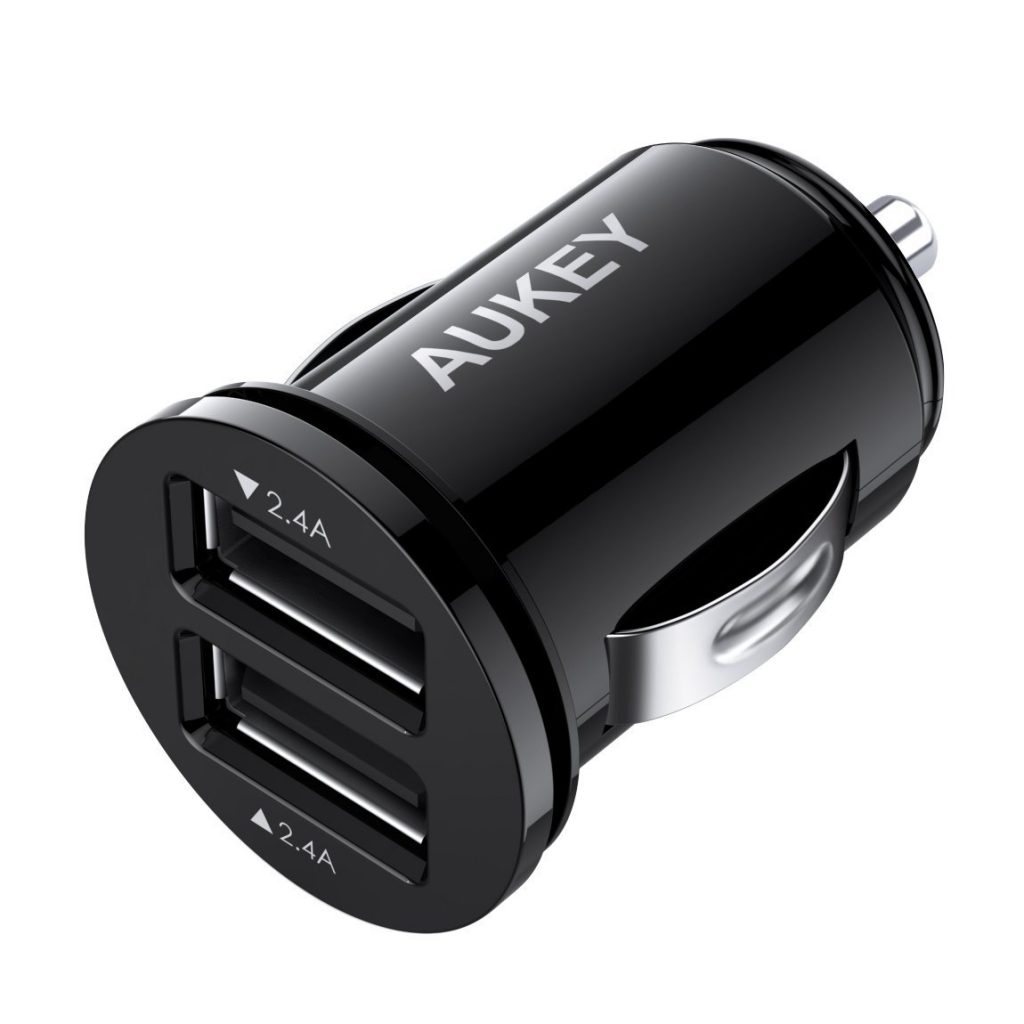 The charger is compatible with 12 V / 24 V outlets and has two USB ports with 2.4 A current rating per port. The charging unit features a flush mount style. The Aukey device charges all USB powered devices like Bluetooth speakers and headphones, smartwatches, iPhones and Android tablets and phones.
The car charger features the AI Power adaptive charging technology so that the devices you charge attain maximum charge safely.  It encompasses inbuilt safeguards and advanced circuitry that protects these charging devices against overcharging, overheating and excess current. The black unit comes with two stainless steel curved grip like fittings on the sides to ensure perfect fit into the cigarette lighter. The charger comes with a user manual that gives instructions on how to use the product.
Who should buy this?
The Aukey car charger is the right choice for anyone who wants to charge any kind of USB powered device when traveling by car.
Best Car Charger with iSmart 2.0 Technology
RAVPower RP-P031 B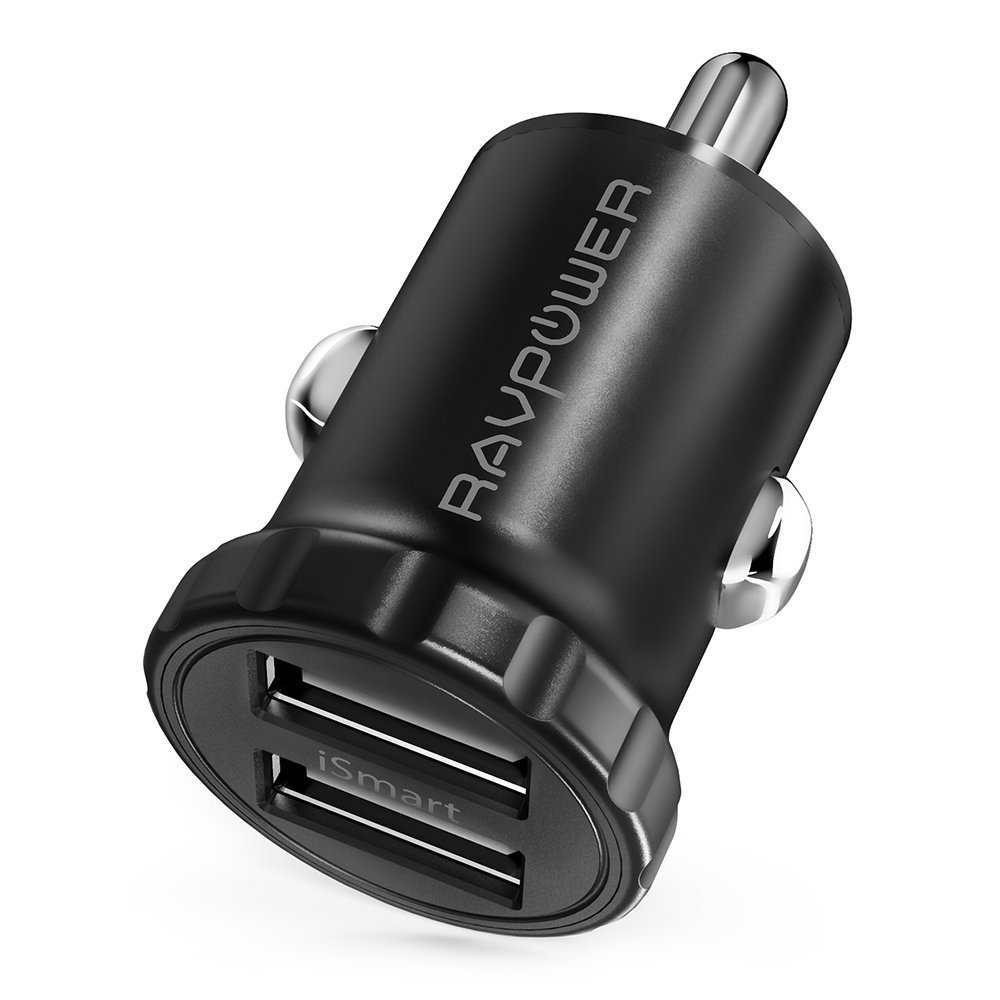 The dual USB port car charger is very compact and is just about the size of your thumb. The unit operates at a voltage rating of 12 V / 24 V and a current rating of 2.4 A per port. It has a user-friendly design that supports easy insertion and removal of the charger into and from the cigarette lighter port. The blue LED light indicator highlights when the charger is in use and when it is idle. Its iSmart 2.0 technology detects and renders the optimal current to charge the connected devices as fast as it can. The charger also adjusts the voltage rating automatically to ensure a steady and constant charging rate.
The sleek and sturdy charger is made of aircraft aluminum alloy with two knobs on the sides and has a matte scratch resistant finish. The inbuilt high-class circuitry offers protection against short circuit, high and low voltages, overcharging and high temperature. The small unit comes in black and red color variants.
Who should buy this?
The scratch-resistant finish makes the RAV Power charger the best bet for people who are likely to keep the unit in their pockets.
The multiple protection features ensure that a charger is a good option for those who tend to leave their USB device connected to it for a long period.
Best Car Charger with USB Type-C Cable
Syncwire SWXC071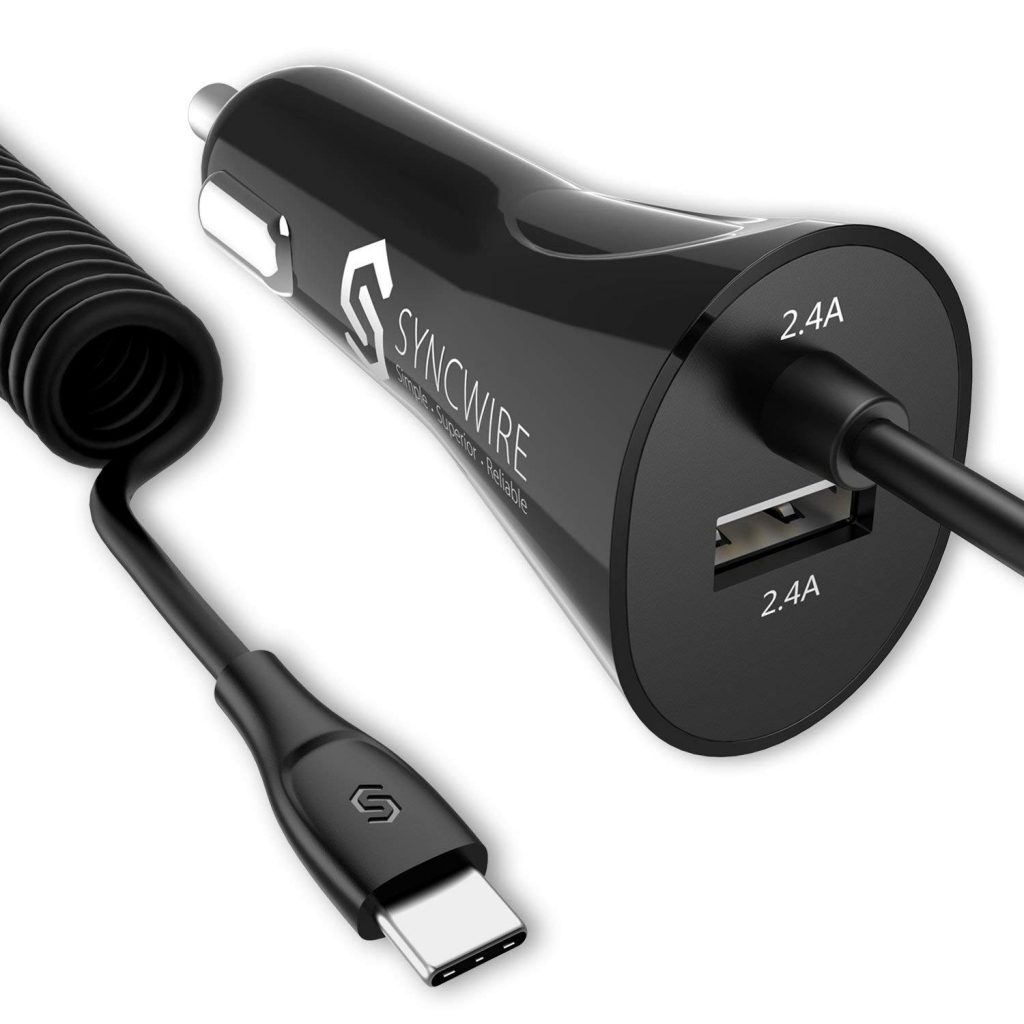 The blackwire car charger encompasses an ordinary USB port and a USB Type-C connector with a compatible cable. The Syncwire charger works with all devices that support these connectivity options and can operate simultaneously at an ultrafast rate.  The Type C connector is very slim and fits comfortably into small cases. The lightning cable features shape retention facility with an extended length of 1.2 m when pulled tightly and 0.2 m length on the natural extension. It has an optimal using length of 0.6 m to 0.8 m.
The car charger works with all vehicles that have an input voltage in the 12 V to 24 V range. The rugged polycarbonate housing with a thermal material and Smart IC design offer surge protection and protects the adapter against from being prone to overcharge, overload and overheat resulting in the damage of the charging devices.
Who should buy this?
The Syncwire car charger is apt for those who want to charge two USB 2.0, USB 3.0 or Type-C compatible devices or a combination of any two of these devices when on the move.
The charger makes a good choice for people apprehensive of getting it damaged due to interference such as Bluetooth, Wi-Fi and radio.
Best Car Charger with Multiple Ports
Jelly CombICH-08BCE65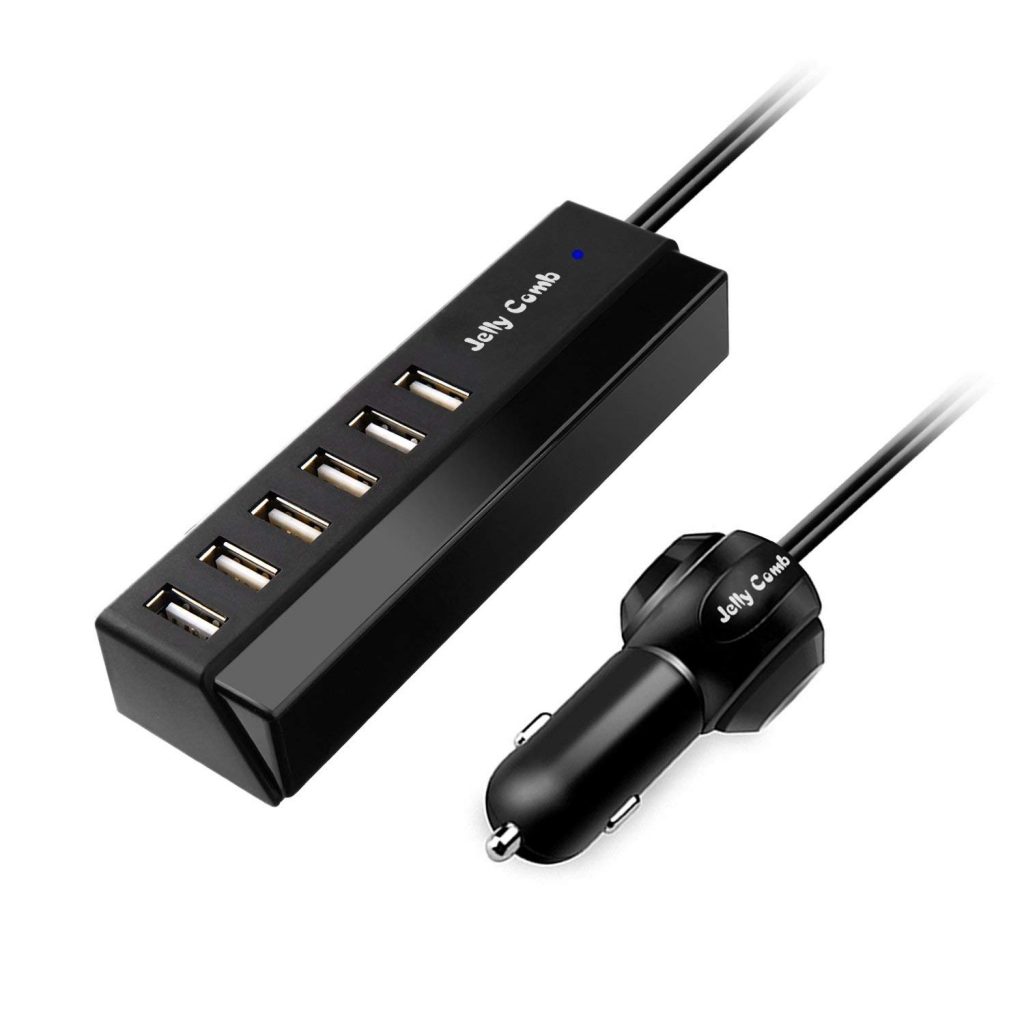 The rectangular black car charger is capable of charging six USB powered devices very quickly. The Jelly Comb unit integrates smart identification technology that is capable of identifying each device and distributing the maximum charge current accordingly. The adapter cable is 4.6 feet long allowing even back seat members to access the car charger if needed. The charger has a small blue LED light to indicate that the charger is on.
The unit is made of industrial grade solid ABS to resist wear and tear due to extensive use. The premium inbuilt circuitry ensures superior reliability and performance without damaging the charging devices due to short circuit, high temperature and overcurrent. It is compatible with any 12/24 V car cigarette lighter and features power and current ratings of 65 W and 13 A respectively.
Who should use this?
The Jelly Comb charger is the best option for people who enjoy long family trips in their car so that the multiport functionality can be made use of to the maximum extent.
Best Car Charger with Apple MFi Certification
AmazonBasics ICH-08BCE65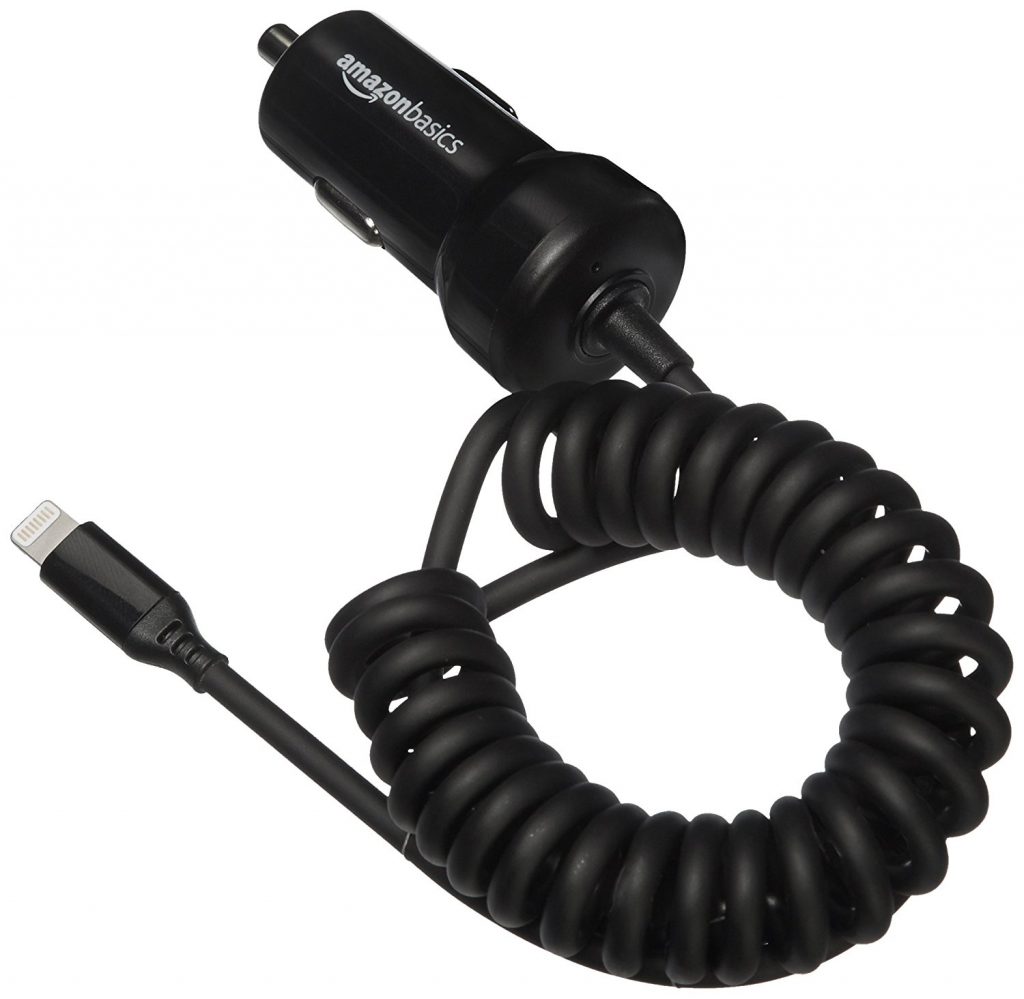 This is Amazon's own lightning car charger that you can plug directly into the 12 / 24 V DC adapter of the car to charge your Apple device at high speed with 2.4 A output rating. The Apple MFi certification assures you of sync compatibility and complete charge with almost any device from the manufacturer. The unit comes with a coiled cable that has a length of 1.5 feet when stretched naturally and a maximum length of 3.9 feet when uncoiled by pulling tightly. The inbuilt circuitry ensures the safety of the charging device from overvoltage, short circuit and overload.
The car charger is available in black, white and black and red color options. It comes with a one-year limited warranty from AmazonBasics.
Who should buy this?
The AmazonBasics car charger meets the requirements of people on the go with lightning port supported Apple devices such as iPhone 6s, iPad Pro and iPod Touch 5th Generation to name just a few.
Best Car Charger with Smartphone Holder and Voltage-Current Display
SOAIY 4326588495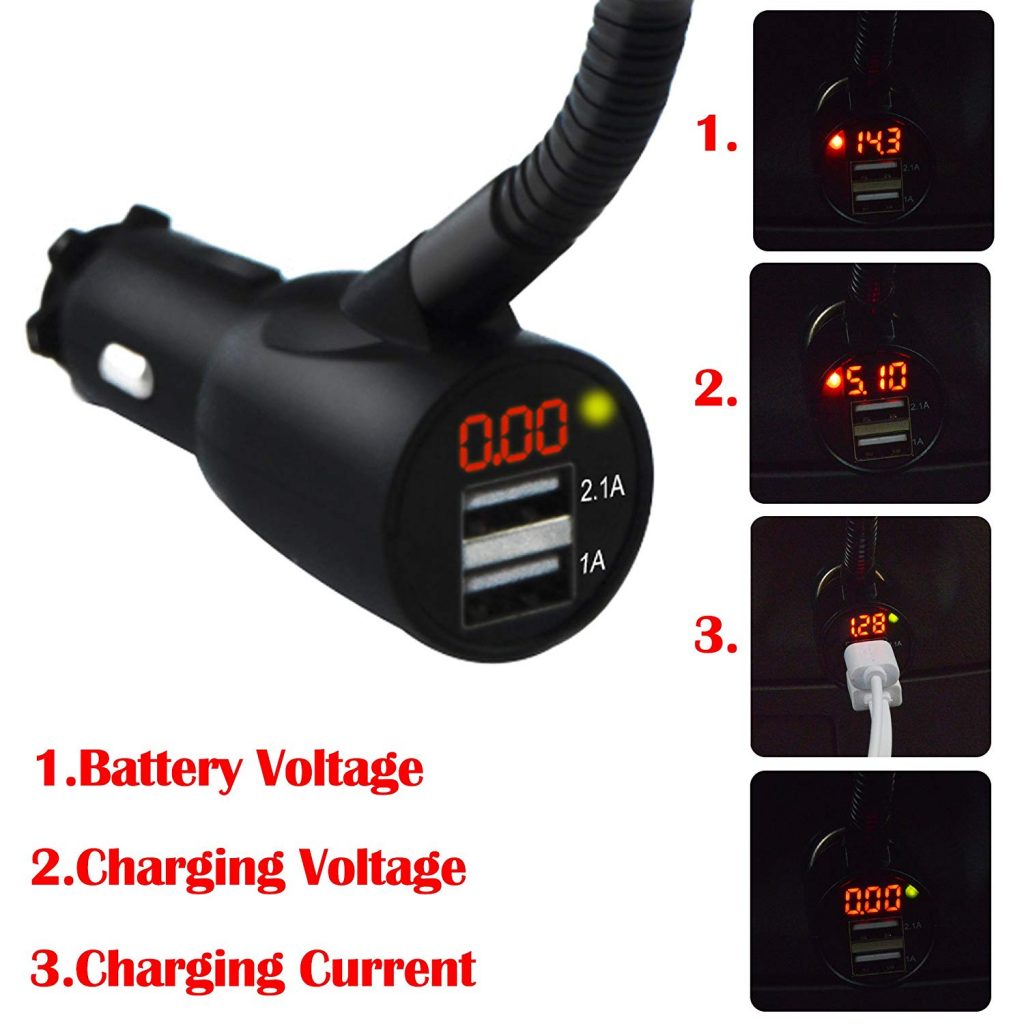 The SOAIY car adapter has two USB ports for dual device support and intelligence protection circuitry against overheat, overcurrent and overvoltage. The unit also features a red LED display that highlights the car's battery voltage, USB charging voltage and charging current. It works with a 12 V input voltage.
The black charger comes with a 360 degree rotating and flexible gooseneck smartphone holder to mount one of their charging devices. The holder can help in positioning the charging device vertically, horizontally or in any optimal viewing angle. It features a wide extendable grip to hold smartphones and tablets of varying widths and non-slip rubber surface and feet to keep the device locked in position and prevent moving around or falling down. There is a button on the side of the holder with one press functionality to release the locking mechanism of the holder and take your device with just one hand.
Who should buy this?
The SOAIY car charger is a good choice for people who use apps like GPS because the accompanying holder allows you to keep the device in a comfortable position of your choice while charging.
This device would suit those who would like to know the charging current, USB charging voltage and the car's battery voltage when the charger is in use.
Best Car Charger with Trickle Charge Mode
Yoobao YB-CCar1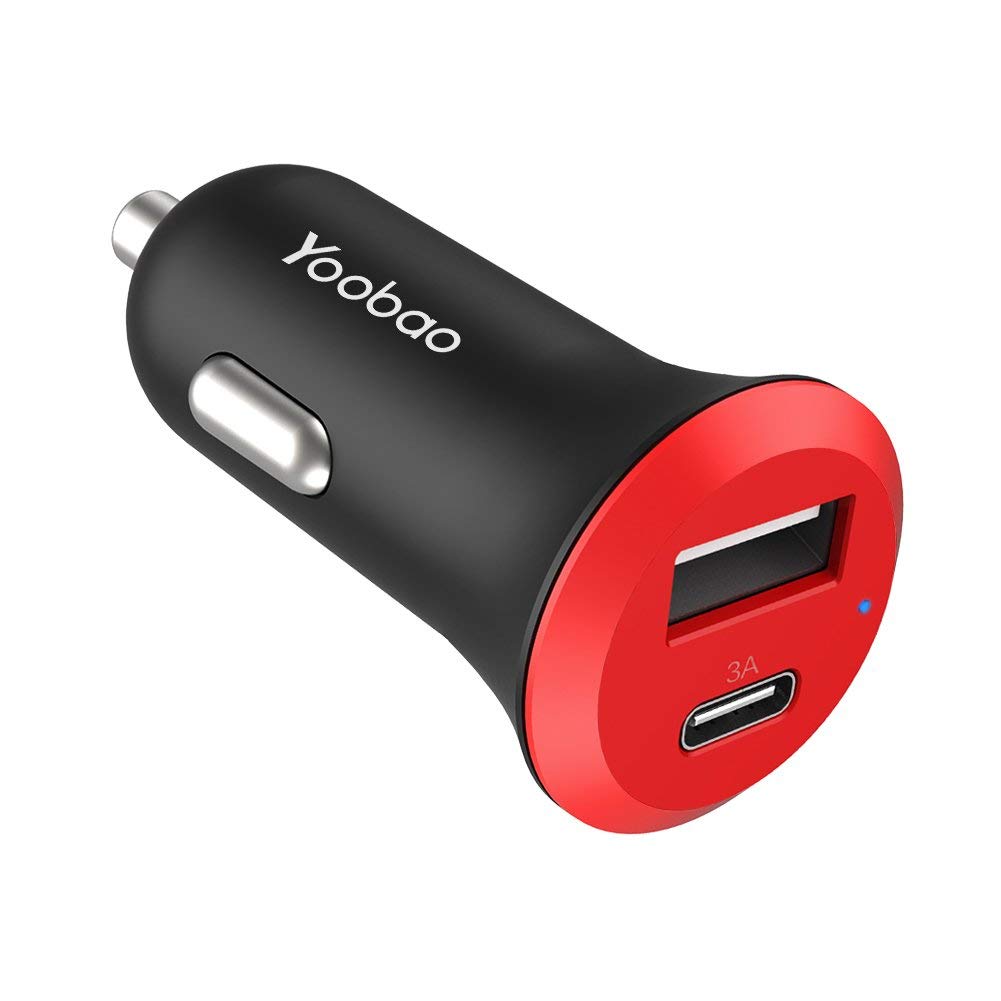 This car charger from Yoobao offers you the best of both worlds by supporting both an ordinary USB connector and a USB Type-C connector. The inbuilt smart chip identifies the actual current required for charging each device and outputs the same. This ensures fast and efficient charging. The multiprotect safety system takes care to see that the devices being charged are not damaged because of the adapter. The unit switches to trickle charge mode automatically when the battery is almost full to lessen the current delivered accordingly.
The black and red charger is designed to be compact and portable using environment-friendly ABS plastic. It comes with a user manual and a warranty for 18 months.
Who should buy this?
The color combination and choice of material make the charger worth considering by people who want a classy looking unit that is durable at the same time.
Best Car Charger with Foldable Plug
NDLBS B07CJMWBXD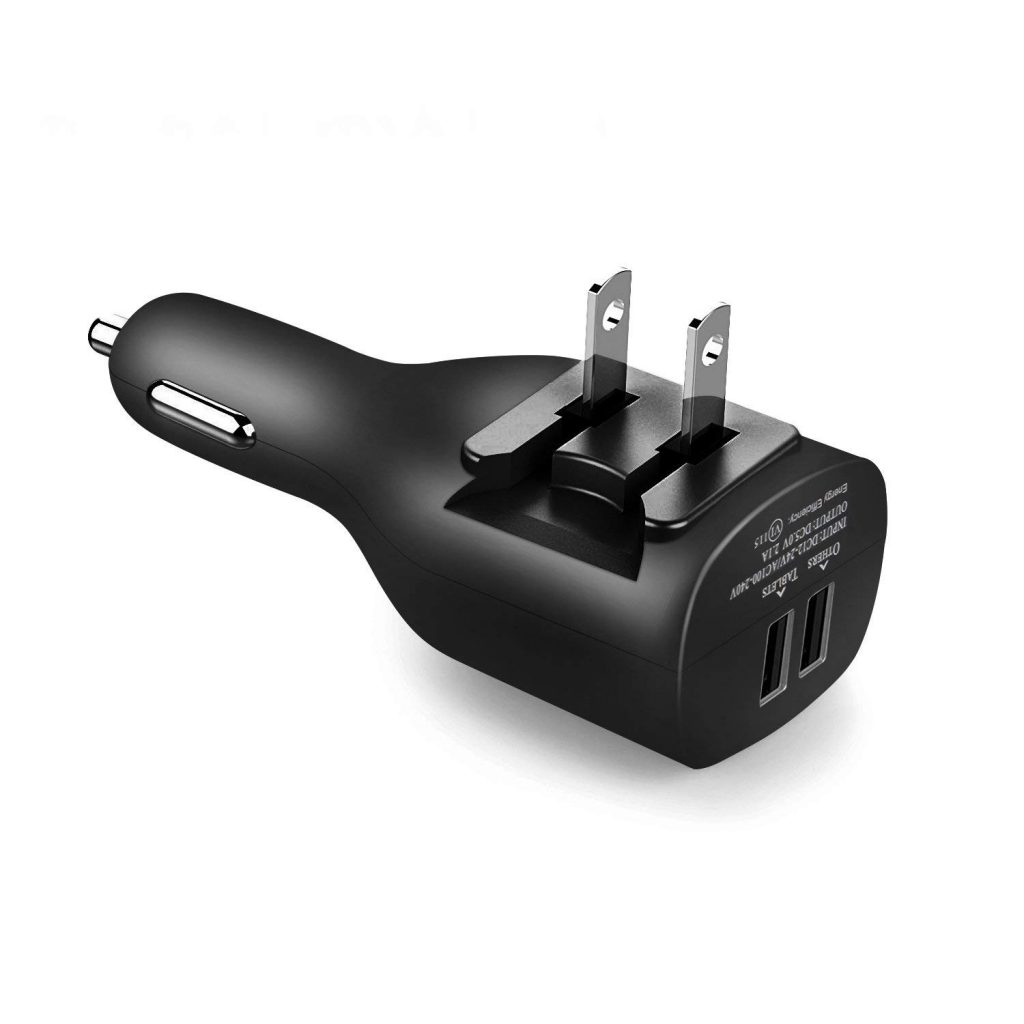 The NDLBS charger comes with the dual function of a car charger and a home charger. The unit has two USB ports to charge two devices at a time. It has a portable size and lightweight design with foldable plugs that make it easy to carry the charger wherever you go. The foldable plugs can be released to connect the adapter to a wall AC socket and use as a home charger. The built-in circuitry protects the unit from overcurrent, overheat and transient overpressure that in turn prevents overcharging of the device connected to it.
The SmartIC technology based car charger features an input DC voltage rating of 12 to 24 V, an output voltage rating of 5 V and an output current rating of 2.1 A per USB port. It comes in various color options of black, white, gold and camo.
Who should buy this?
The NDLBS car charger is ideal for those who want to use the same unit for charging their USB devices both at home and in the car.
The unit is worth giving a thought by people who want different color options instead of the standard black color.
The adapter is ideal if you want to own a charger that you can carry easily in your pocket.
Best Car Charger Available as a Pair
Trianium TM000054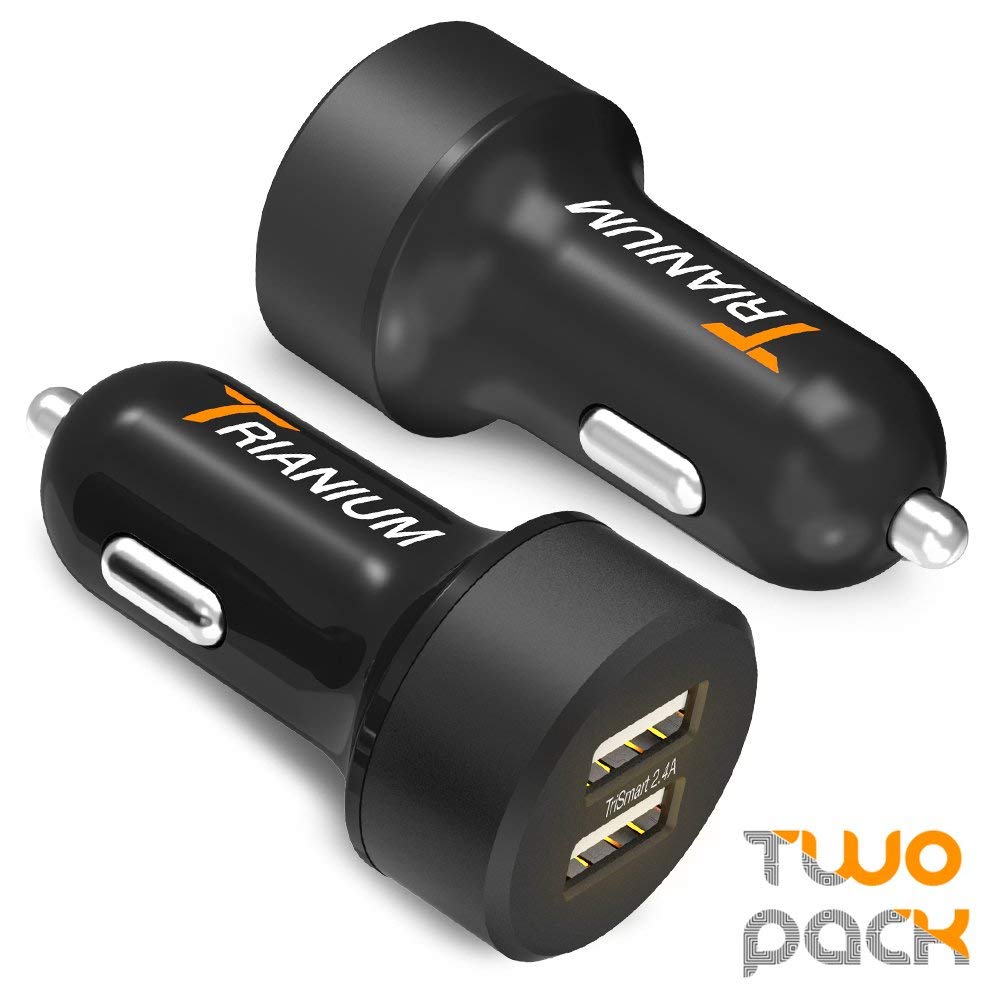 The Trianium offering comes as a set of two pieces that you can use in two cars at a time. Each AtomicDrive USB car charger has two USB ports with a total power rating of 24 W and outputs current rating of 4.8 A. The integrated TriSmart technology optimizes the charging speeds so that the devices are charged quickly. The ports feature LED lights on the inside to indicate whether the USB cables have been connected properly. The charger retains uniform voltage throughout the charging for the safety of the mobile devices while the inbuilt circuitry protects against other factors such as overcurrents, overheat, and short circuits. The unit stops charging automatically when the battery has reached full charge.
The compact car adapter comes with a tough aluminum top frame and black color that makes it both elegant and durable at the same time resulting in no damage due to accidental falls. The small build makes the black unit hardly noticeable in the car.
Who should buy this?
The Trianium car charger is a good bet for people wishing for their unit to sport a stylish look.
The unit is worth looking into by those who are concerned about problems like a short circuit and overheating.
Best Car Charger with Automatic Protective Fuse
Choetech CHOE-C0046T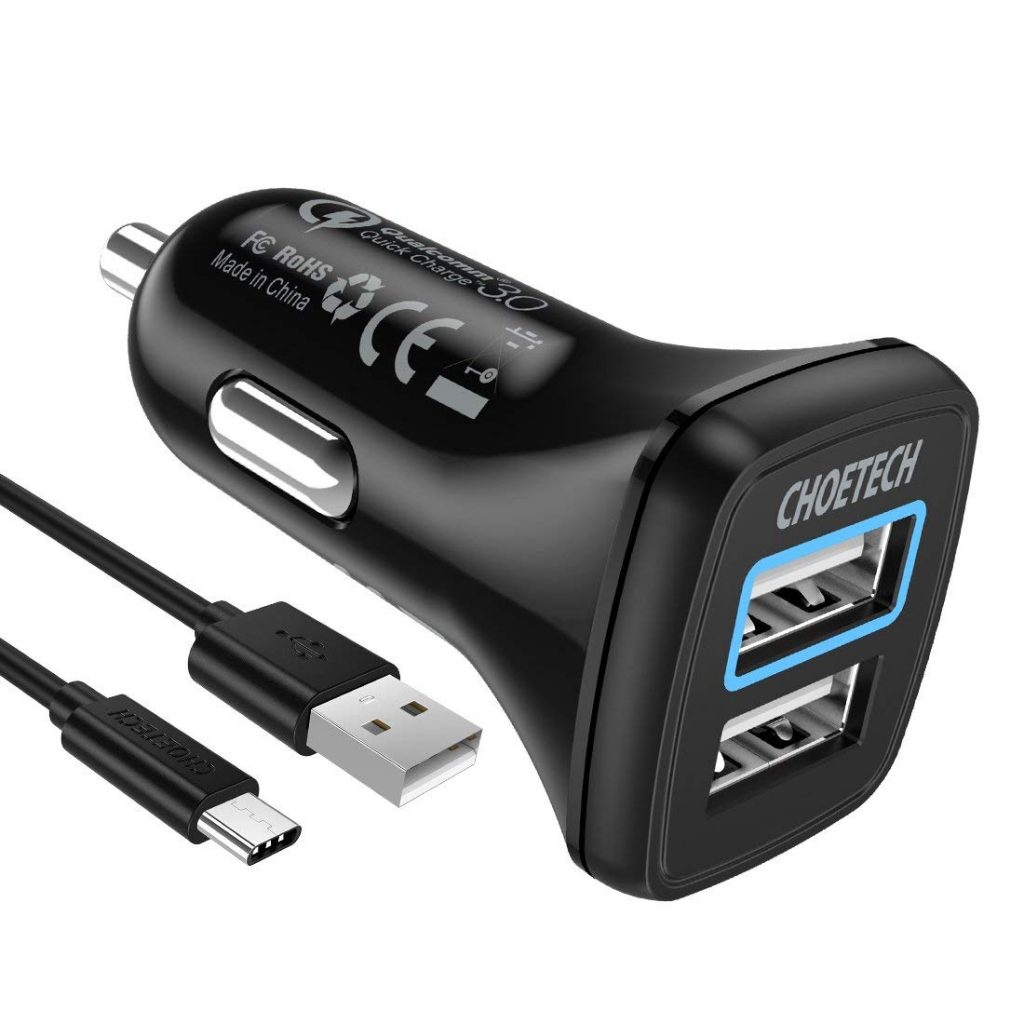 The Choetech car charger comprises a Qualcomm Quick Charge 3.0 port on the top that charges mobile devices four times faster than its counterparts. This port is backward compatible with previous versions of Qualcomm Quick Charge (1.0 and 2.0). The unit has an auto-detect port that helps in charging non-Qualcomm Quick Charge devices. It comes with a 1 m long USB-C to USB-A cable.  The Smart Charging technology identifies the device being charged and distributes the current accordingly. The blue light LED indicator helps in identifying whether the cable is inserted into the connector properly.
The excellent circuit design coupled with the inbuilt automatic protective fuse safeguards both the charger and the charging device from being damaged due to various factors.  The black charger is made of a mixture of ABS and fireproof polycarbonate. It comes with a user manual and 18 months warranty.
Who should use this?
The Choetech charger is ideal for those who want to charge both Qualcomm Quick Charge and non-Qualcomm Quick Charge devices.
Best Car Charger with Hands-Free Function
Lihan LHFM1039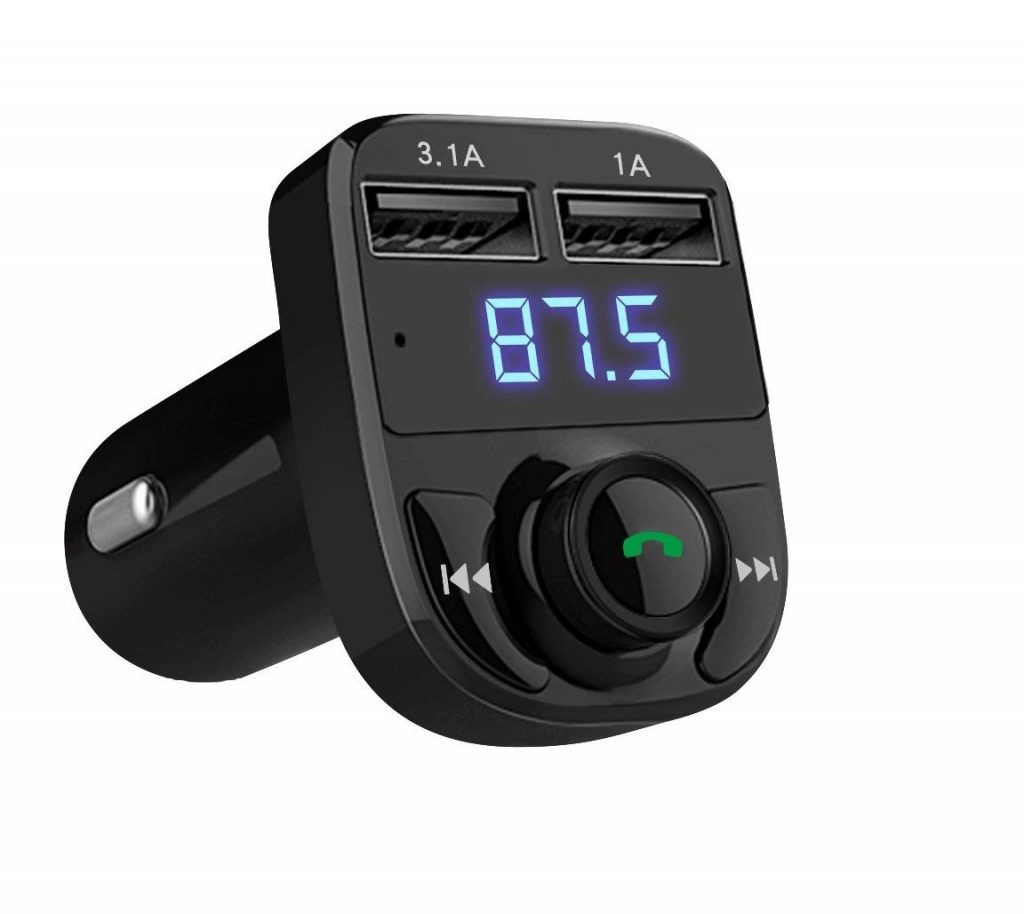 The Lihan car charger has two USB ports that are capable of charging most USB devices. One of the ports is a 3.1 A charge port that identifies the device being charged and supplies the current accordingly. The other port is a 1 A port that features USB charge and reading function. The inbuilt wireless Bluetooth 4.0 FM transmitter features noise suppression and anti-interference performance technologies, as well as compatibility with car radios and supports Bluetooth Music, WMA or MP3 player, TF Card and USB Disk to allow you to listen to music with clear sound when your device is charging. The order of playing is Bluetooth followed by TF Card and USB respectively.
The black adapter has a built-in microphone that changes from music playing mode to hands-free mode automatically to answer or reject incoming calls, hang up or recall by pressing just a single button. The black car charger comes with a 12-month guarantee.
Who should buy this?
The Lihan unit is a good choice for those who want to listen to music while their device is charging.
The hands-free mode makes the charger a great idea for people who do not want to stop charging their phone or driving their car to answer or make a call.
Conclusion
There are many types of car chargers available from different manufacturers in today's market. Most of them support one or two USB ports for charging a maximum of two devices at a time. However, there are some car adapters with even four or more ports so that each member of the family can have fully charged USB powered systems. It is a good idea to buy a car charger with an LED light to help you determine whether it is working or not. However, the light should not be so bright as to disturb you when driving at night. If you are thinking of buying a car charger with a built-in cable, then it is worth keeping in mind that if the cable breaks, the charger is useless. Therefore, you can consider buying an extra compatible cable and using that instead. For best charging results, you must buy a car charger that has voltage, current and power ratings that match your device's specifications. You can check the wall charger to know these values and buy a car charger accordingly.
See Also: Best high-performance desktop PCs
---