Technobezz is supported by its audience. We may get a commission from retail offers
| | | | |
| --- | --- | --- | --- |
| LG Electronics 49SK8000PUA 49-Inch 4K Ultra HD Smart LED TV (2019 Model) | Samsung UN40MU6290 6-Series 39.9″ LED 4K UHD Smart TV | TCL 65R617 65-Inch 4K Ultra HD Roku Smart LED TV (2019 Model) | Vizio P-Series 55″ Class 4K HDR Smart TV (2019 Model) (P55-F1) |
| | | | |
| See on Amazon | See on Amazon | See on Amazon | See on Amazon |
–
Just a couple of years back 4K TVs were considered a luxury, not everyone could afford. It is all different now. Here we are today with almost all leading manufacturers producing 4K TVs. A higher demand and improved visual graphics resulted in more companies making 4K TVs in all shapes and sizes. Below is our take on the best 4K TVs under $1000.
See also: Best Huawei P20 Accessories
List of Top Best 4K TVs Under $1000
The Cheapest Best 4K TV that You Could Buy
Toshiba 43LF621U19 43-inch 4K Ultra HD Smart LED TV with HDR – Fire TV Edition
Would you really believe if there is a UHD 4K television that you could buy for just $300? Toshiba is one of the popular technology manufacturers of the past before brands like Samsung and LG took over. The company is back and this time, they are partnering with Amazon to push the Fire TV Edition. Considering how cheap the product is, it's no wonder thousands of positive reviews have popped up online and people are more than willing to buy this edition.
The entire world of entertainment has moved to 4K resolution and your best bet is to make the leap so that you could enjoy movies and gaming in the ultra-high definition. Being a Smart TV, it saves you the extra cash you need to spend on a Chromecast or Amazon Fire Stick. Instead, it comes bundled with lots of popular apps like Netflix, Prime Video, Hulu, HBO and Starz so that you could start using it right out of the box.
In terms of technical specification, the Toshiba 43LF621U19 43-inch 4K Ultra HD Smart LED TV is strong with 3 HDMI ports and the remote control even supports Alexa. You can talk to the AI assistant to control smart devices in your home. The television delivers stunning high definition picture and supports HDR as well so that you could use your UHD Blu-ray or the Xbox One X console to enjoy games with an improved contrast ratio.
What makes Toshiba TV the Best 4K TV under $1000?
The cheapest 4K HDR experience you could get with Smart TV functionalities
Remote control that supports Alexa and has dedicated Netflix among other popular app buttons to easily access them
Compact 4K Display Experience with Accessories Bundle
Samsung UN40MU6290 6-Series 39.9″ LED 4K UHD Smart TV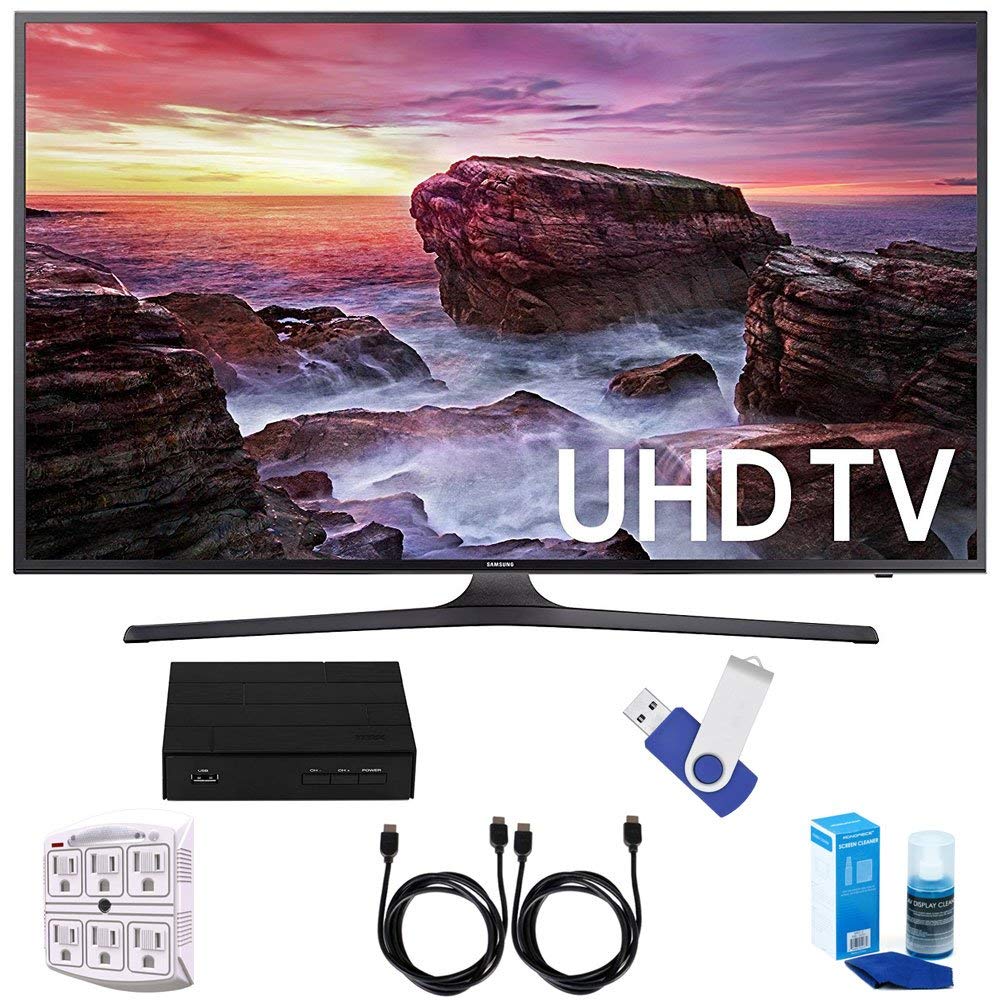 A lot of buyers have this common assumption that you should go as big as possible to enjoy the 4K experience. In fact, compact display sizes such as a 40-inch display is more crisp, colorful and have more pixels per inch compared to a very large 60-inch display. The Samsung UN40MU6290 6-Series 39.9″ LED 4K UHD Smart TV ideally balances this size and delivers well beyond its capacity at an amazingly low price tag.
While there are many Samsung models with OLED displays that sell for thousands of dollars, you don't have to invest in an upcoming technology but rather make use of what's available. This model offers great color clarity as Samsung is known for their excellent panels and comes with a bunch load of goodies that you could make use of. You could save more cash by going for a bundle like this one which is directly sold by the manufacturer and not any random third-party sellers.
The UHD television supports HDR technology to provide improved color and contrast ratio. It has enough number of HDMI ports to connect all your set-top box, gaming console and Blu-ray player. It supports 120-hertz refresh rate and uses an LED backlight display. In terms of performance, it's more than average that any consumer would love and you could even go for it as a spare TV for your bedroom.
What makes the Samsung 4K Model stand apart?
If pricing is your primary concern, you can go for this model which is made by a reputed manufacturer like Samsung and assures a quality build
The additional accessories including cable tuner, HDMI cable and USB drive further sweetens the deal
The Best 4K TV Under $1000 with a Huge Display
TCL 65R617 65-Inch 4K Ultra HD Roku Smart LED TV (2019 Model)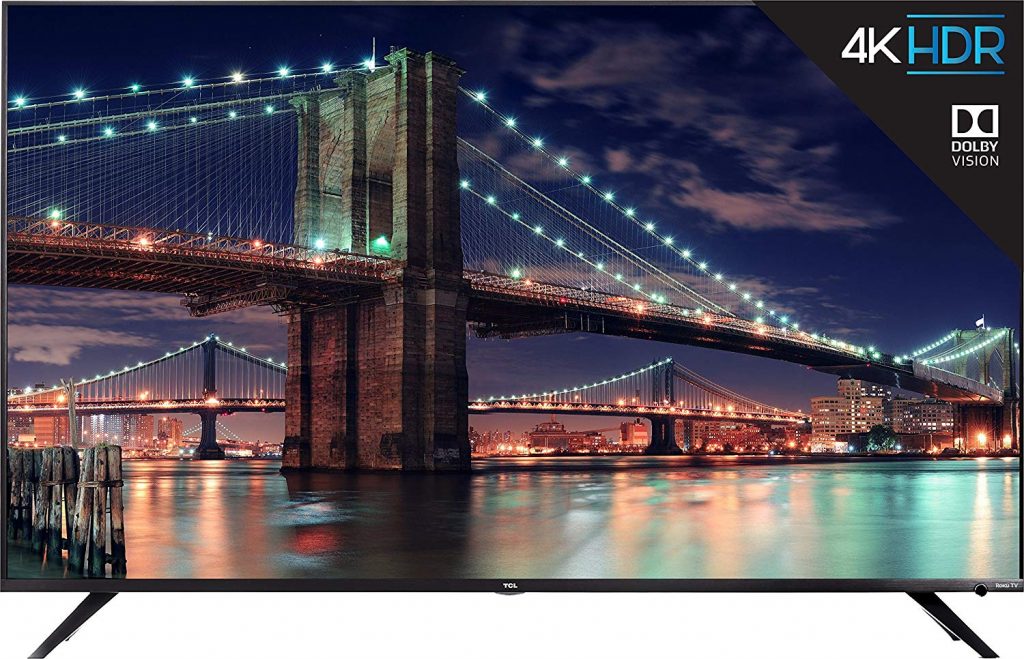 TCL as a brand has been gaining traction through the years and they have been continuously improving their product quality in the recent past. The company may not have access to the latest technologies like Samsung or LG, yet they impress with their price to performance ratio. You would find it impossible to actually get a 65-inch 4K television at this price point but TCL has made it possible.
The TCL 65R617 65-Inch 4K Ultra HD Roku Smart LED TV surprises at every front because it pushes the term 'smart' to a whole new level. Instead of trying to integrate their own OS which often leads to a cumbersome customer experience, the company has partnered with Roku. The streaming stick service provider has integrated the Roku stick within the display providing you instant access to 500,000 movies and television episodes. It also includes access to all popular apps like Netflix, Hulu and Prime Video so that you don't have to buy a streaming stick individually.
The model has three HDMI ports which are more than adequate to connect all your devices. It supports HDCP 2.2, has a USB drive, RF Composite and a headphone jack. The TCL television has a 4K resolution and supports Dolby Vision with HDR allowing you to experience the best from your UHD Blu-rays and gaming. The manufacturer promises excellent blacks and contrast ratio. The remote may not impress but the television is surely on par with most other popular brands.
What Makes the TCL model the Best 4K TVs under $1000?
Excellent price to performance ratio, build quality and it also supports Dolby Vision HDR
Roku TV is bundled within making it the best smart tv experience
Best 4K TV with Highest Level of Brightness
Vizio P-Series 55″ Class 4K HDR Smart TV (2019 Model) (P55-F1)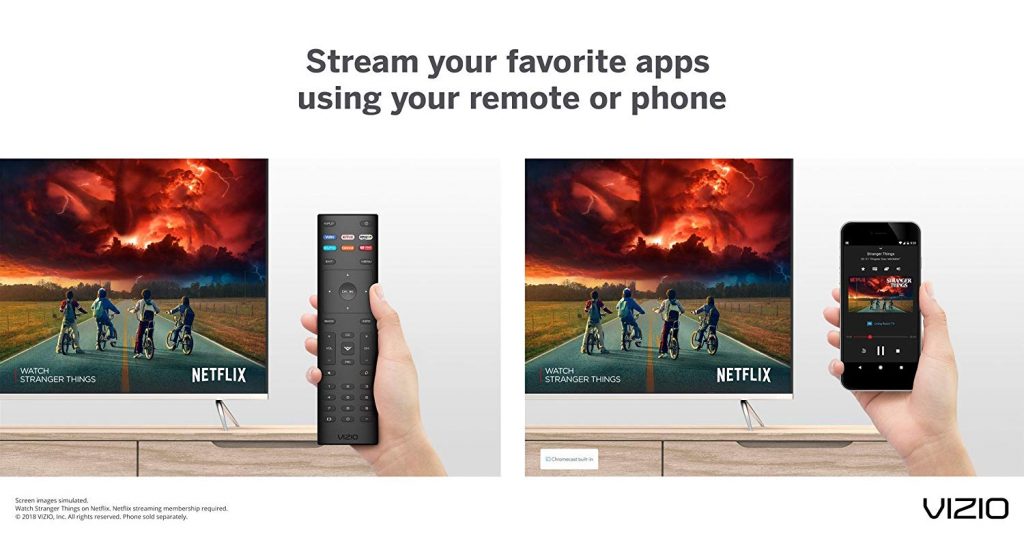 Each product focuses on a specific feature that caters to the particular needs of the buyer. While most popular televisions focus on contrast, deep blacks and HDR, the Vizio P-Series 55″ Class 4K HDR Smart TV stand out of competition with its brightness levels. Being able to produce the highest level of brightness without compromising on the blacks. This ultra-bright model can go all the way up to 1000 nits of peak brightness, which is excellent, especially if you are planning to use it in a brightly lit room with natural light.
Vizio is a decent brand which makes some quality products and they are coming back after a break with this exciting 55-inch 4K television. Apart from offering UHD resolution on its slim panels, the television also delivers HDR capabilities required for watching movies and gaming with the highest contrast ratio. Its improved brightness doesn't compromise on its contrast and black levels. The television is also a smart TV which has all the popular apps like Netflix, Prime Video and Hulu to make it easier to access them without using an individual streaming stick.
The company also claims that they have an array of LEDs at the back which allows them to provide the highest level of brightness possible on a TV. It also easily syncs with voice-controlled products so that you can easily change the channel or find the content you need using Amazon Alexa or Google Assistant. It features a bezel-less design as people love slim televisions these days but you might have to use a soundbar or external speakers to get the best sound output.
What Makes the Vizio P Series a Great Television?
The television offers the highest level of brightness making it ideal to be used in brightly lit areas
It's smart TV functionalities are easy to use and has all the popular apps
Slim 4K TV from Sony with Alexa Support
Sony XBR49X900F 49-Inch 4K Ultra HD Smart LED TV (2019 Model)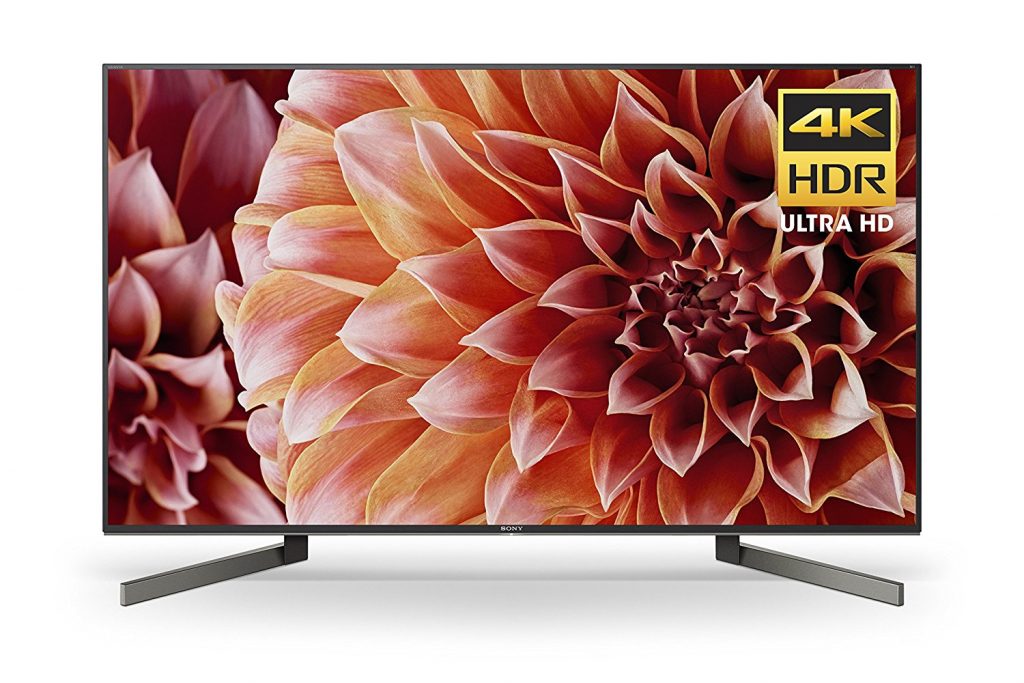 Alexa is all the rage now and Sony, which has been consistently making minor modifications in their 4K televisions, has now brought in Alexa support. The 2022 models have received a minor change with an open-design stand which is expected to improve the overall stability of the product. When it comes to color reproduction and build quality, you hardly have anything to complain when Sony is behind it. The brand has created a name for itself in the home entertainment segment and they continue to deliver upon it without fail.
The Sony XBR49X900F is a 49-inch model capable of producing the highest pixels per inch (ppi) because it is a 4K resolution TV. The model is powered by the X1 extreme processor which controls the brightness levels and the contrast ensuring that every picture displayed on the screen is as close to the original content as possible. To the naked eye, you will hardly be able to spot any differences as it looks brilliant and is perfect for watching movies at their best iteration ever.
The television supports Amazon Alexa voice control along with other smart capabilities such as the Netflix app, voice search, and much more. It also uses Sony's proprietary technology including the X-Motion Clarity and Triluminos. These technologies enable you to see fast-moving images without any blurring issues and get better contrast. The model generously offers 4 HDMI ports, 3 USB ports, and other connectivity options including a remote that supports voice input.
What makes Sony TV perfect?
It offers smart functionalities, supports Alexa's voice, and uses Sony's technologies to deliver true depth color
The pricing is more affordable than most other models and you might be able to pick it for less with coupons
Sturdy 4K UHD Television with HDR10 and Dolby Atmos
LG Electronics 49SK8000PUA 49-Inch 4K Ultra HD Smart LED TV (2019 Model)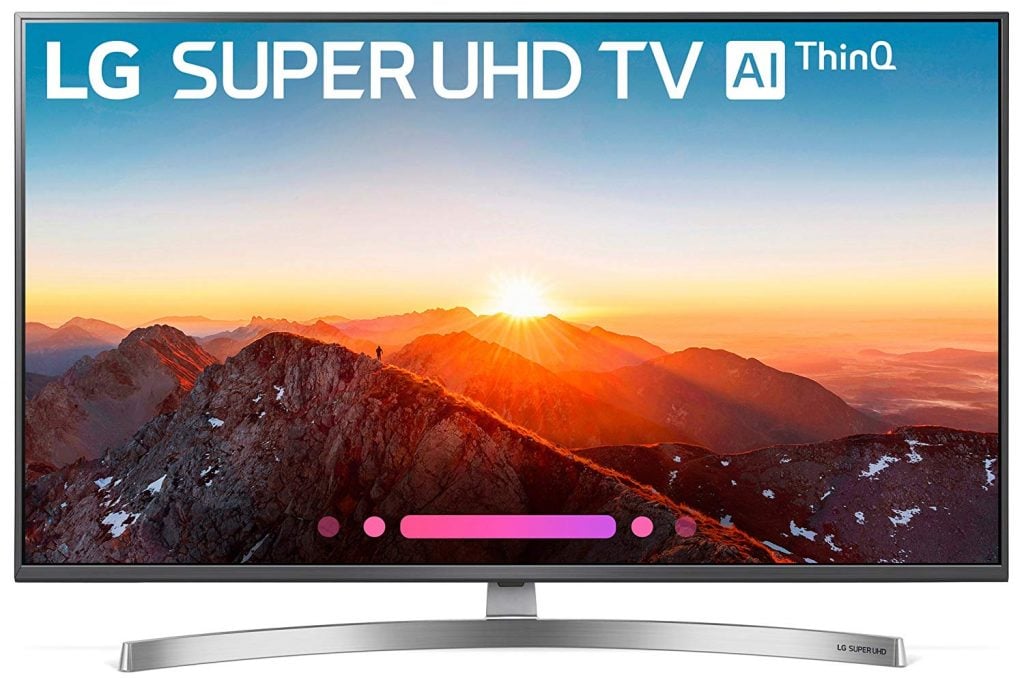 LG Electronics had gone the extra mile to ensure their buyers get the best possible home entertainment and surprisingly, it's not going to cost you an arm and a leg. The UHD space is becoming more affordable than ever and the 49-inch display is more than enough for your viewing pleasure. The LG Electronics 49SK8000PUA 49-Inch is powered by an A7 processor which allows the panel to produce life-like colors, better contrast ratio and deep blacks.
The company has been continuously pushing the ThinQ AI technology in all their products and while it doesn't stand out as a must-have feature, it does make life easier. The television has Google Assistant built into it and uses LG Magic Remote. You will be able to control your television using voice commands and also control other items in your home. The 4K television is rich in features as it supports multiple display technologies, including, Dolby Vision, HDR10 and HLG.
HDR is a must-have feature as it is being ushered in all 4K Blu-rays. You can easily play it on your Xbox One console or any Blu-ray player. It is also supported by multiple next-gen game titles. The LG TV has ample connectivity ports including four HDMI ports which makes it easier for cinema addicts to connect an AV receiver, gaming console, cable and one more gadget of their choice. It includes an optical port, Ethernet, RF, composite and everything else that you would expect without increasing the price tag. Dolby Atmos is supported to offer immersive sound quality and at 49 inches, it offers the highest level of pixels per inch for sharp visual fidelity.
What makes the LG 4K TV awesome?
Supports HDR10, Dolby Atmos and produces best visuals made possible by a dedicated high-end processor
Perfectly balances the price and quality ratio making it affordable for most enthusiasts
The Perfect 4K UHD TV for Your Bedroom
TCL 55R617 55-Inch 4K Ultra HD Roku Smart LED TV (2019 Model)
Home entertainment is best experienced when you could lie back on your bed and enjoy an episode of Game of Thrones in 4K or browse through Netflix. While some television sizes, such as 39-inch or 43-inches could be smaller, this one maintains the ideal size between a home theater and a medium-sized screen television. The TCL 55R617 55-Inch 4K Ultra HD Roku Smart LED TV (2019 Model) is a perfect choice for your bedroom because it is neither too big nor too small but at the same time is more than capable of offering you immersive experience as you would expect.
TCL has been consistently gaining popularity for their quality products and they are much cheaper when compared to other brands like LG or Samsung. They do make some compromises but it is not visible at the buyer end and you get an easy purchase without having to spend a small fortune on a 4K television. The television is equipped with a range of smart functionalities powered by Roku that makes it more reliable than any other TV OS that is usually slow and sluggish to respond. It has Netflix, Hulu, Spotify and all other popular apps so you could browse content on it right out of the box.
The television, besides delivering excellent clarity and contrast ratio, also supports HDR powered by Dolby Vision. It is necessary to enjoy all your movies and games with boosted contrast ratio. A lot of content support HDR these days and it is to be seen how the technology fares up in the following years. The TCL TV has three HDMI ports ample for connecting all your consoles, TV box and AV receiver besides a headphone jack, optical audio out, USB and other ports. It's remote is not the best of them all but it does serve its purpose.
What makes the TCL 55-inch 4K TV the best?
The screen size is perfect for a 4K television and ensures it perfectly fits a smaller space like a bedroom.
The TV supports HDR and is priced at the right level that most UHD lovers could go for it either as their main or a secondary TV
Compact 4K Television Powered by PurColor Technology
Samsung 40NU7100 Flat 40" 4K UHD 7 Series Smart TV 2022
Samsung makes the best display panels in the world and they are known for their OLED screens that even Apple purchases it from them. When you buy a 4K television from them, you can rest assured that their product is of top quality and delivers value for your money. The Samsung 40NU7100 Flat 40" 4K UHD 7 Series Smart TV 2022 is a compact television as it is just 40-inches in size and will ideally fit a small room or a bedroom where you could relax watching your favorite content.
The unique aspect of this television apart from the 4K UHD resolution and slim design is that it is powered by PurColor technology. Most manufacturers use their processors and the graphics engine to create deep blacks, vibrant contrast colors and implement them in the movies as you watch them. The smart TV capabilities help in this aspect and Samsung has done a great job. The model also supports HDR10+ which is a steal at this price that's affordable even for those on a very tight budget.
Being a smart TV, the Samsung 40-inch 4K TV allows you to stream all your video content from multiple apps within the same OS. Samsung already makes the best Android phones and their expertise is evident in the lag-free UI they use in their smart televisions. The remote control has been designed in such a way that it is easy to access multiple apps, navigate through video content and find what you need. It has a motion rate measured at 120 which provides the best picture when watching action movies, fast sports scenes or gaming.
What makes Samsung 4K TV the Best UHD Television?
The 40-inch display size is powered by PurColor that enhances contrast ratio and overall color output
It is a compact display and the pricing is awesome
Experience QLED Technology, the Next Best Thing to OLED
Samsung QN49Q6F FLAT 49" QLED 4K UHD 6 Series Smart TV 2022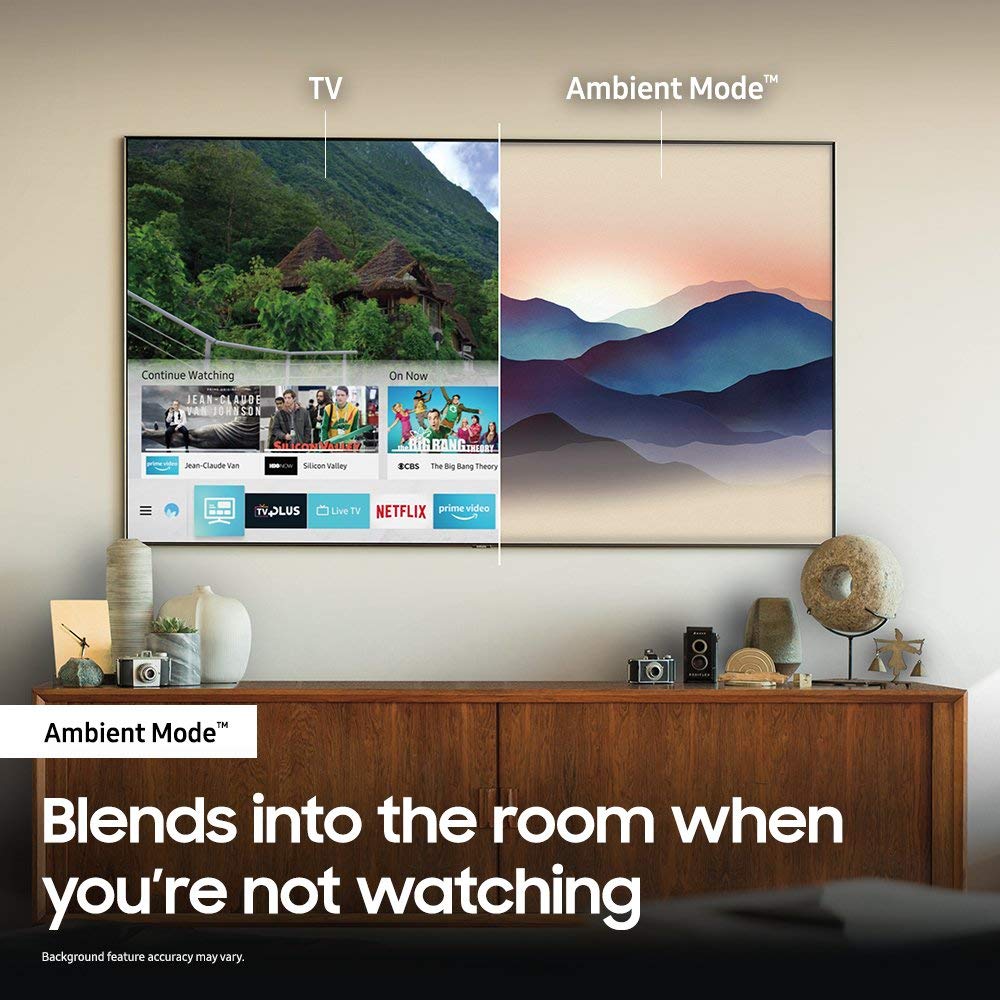 OLED is an amazing technology which is on par with plasma that evolved a couple of years ago but vanished due to some big cons. Samsung is best at OLED televisions that are very expensive this days but if you still want to experience something close to it, the Samsung QN55Q6F Flat 55" QLED 4K UHD 6 Series Smart TV 2022 offers what you are looking for within your budget. The model is relatively new as it was released in 2022 and ever since its launch, it has managed to consistently receive amazing five-star reviews because of various reasons.
The Samsung TV is powered by the Q technology which includes Q Contrast, HDR and Q Style. While it is not actually technical, it stands for the company's dedication to make the television look stylish and sexy. It is implemented with the best possible colors and the contrast is strikingly good that you might actually assume it is an OLED television without second thoughts. The model has an Ambient Mode which fills up your room with colorful backgrounds from the TV screen, use photos, background music or display your photos when your television is idle.
The Samsung QLED 4K model has a large 49-inch screen which is big enough for movie marathons and extended gaming sessions. Be it a new gaming console like the Xbox One X or PS4 Pro, you can confidently connect it to this television and expect some outstanding visuals. The thin bezels are an added advantage as they blend with the environment. It uses Bixby voice assistant making it easier to find movies or television series by simply speaking into your remote control.
What makes the Samsung QLED TV the Best 4K TV Under $1000?
The thin bezels and exciting QLED technology enhances overall picture clarity
It supports voice assistant and also has smart app support for your favorite content
Other models worth buying
Top Best 4K TVs From Sony
Sony XBR49X800E 49-Inch 4K Ultra HD Smart LED TV (2017 Model)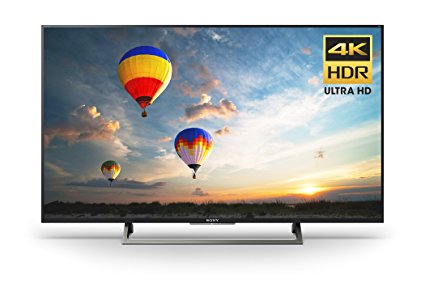 This model is an upgrade from its 2022 model. This is a smart 4K TV with excellent picture quality. The colors of this TV are very vivid and exquisite. The TV produces a whole new range of shades of red, green, and blue. These colors are produced because of the Triluminos Display which is the reason behind such fine picture quality and colors. One of the best features of this 4K TV model is that it has Dynamic Contrast Enhancer which produces brighter highlights, deeper black and better natural and tonal gradation.
Sony X800E has a wide viewing angle and displays a wide spectrum of colors with a smooth gradient. It boasts of 60Hz refresh rate and Motionflow XR which makes it a hit among gamers. It has several Android functionalities where you can use features like Voice Search that lets you search for anything in over 42 languages. You can also use Google Cast which helps you use your phone as a remote.
Top Best 4K TV with Excellent colors
Samsung Electronics UN55MU8000 55-Inch 4K Ultra HD Smart LED TV (2017 Model)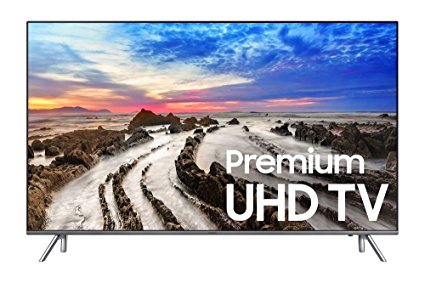 This model is the best in the category of 4K Ultra HD LED TVs. It has a superb picture quality. With Samsung's Colour Drive Extreme, a shift from a 4K regular to a 4K UHD makes a huge difference. The colors are highly crisp and defined. The image is made of almost lifelike colors and that shows in the seamless image quality. This TV is an intelligent pick if you are a movie buff. Apart from movies, it is also great to watch the action, sports and play games on it. The 120 MHz refresh rate keep the image seamless.
One of the Best 4K TVs From Samsung with Wireless Connection
Samsung Electronics UN40MU6300 40-Inch 4K Ultra HD Smart LED TV (2017 Model)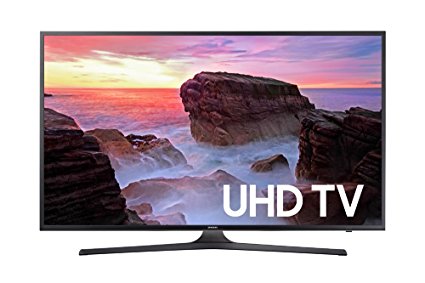 The Samsung UN40MU6300 is a decent deal owing to its budgeted price. It has a good image quality and vivid colors. There are a brilliant native contrast ratio and low input lag. One remarkable feature of this TV is its Eco setting which adjusts the brightness according to the lighting in the room.
The speakers that boast of DTS premium sound are a major takeaway going by user feedback. The OneRemote detects any device connected to the TV automatically with no programming required. It is great for watching movies owing to its Motion Rate of 120. UN40MU6300 also has WIFI functionality so that you can connect it to any wireless connection and stream.
Top Best 4K TVs under $1000
TCL 55S405 55-Inch 4K Ultra HD Roku Smart LED TV (2017 Model)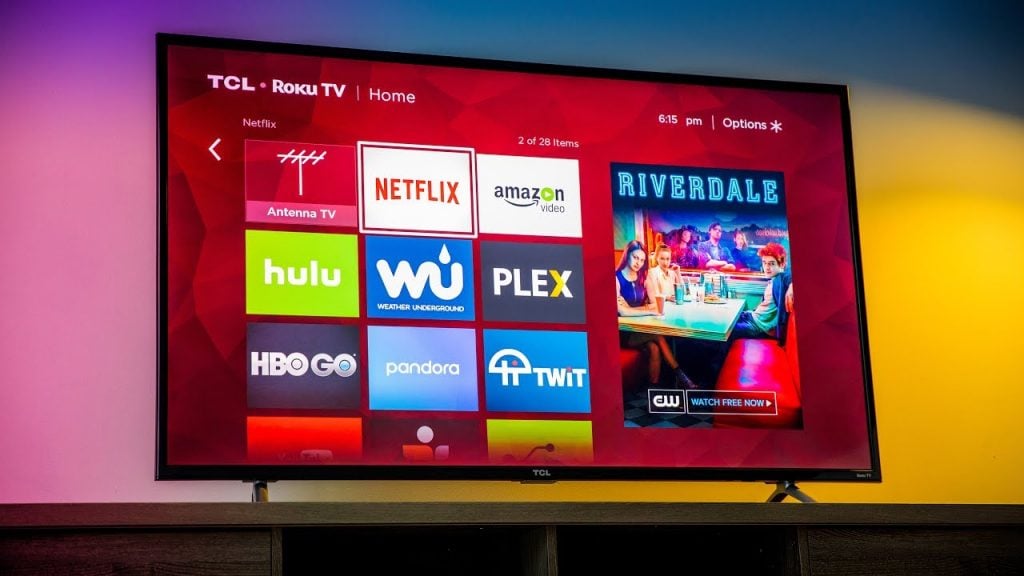 This model by TCL is yet another high performing and affordable 4K TV which provides finer details and great image quality. The menu and options can be streamed through the in-built Roku. Roku TV has around 4000 streaming channels that you can watch. It has Dolby HDR (High Dynamic Range) which makes TV viewing a great experience. The crisp and vibrant color and 4K Ultra HD picture just add on to this experience. A whole range of backlighting gives a deeper black which adds to the fine details when the movie or show has scenes in the dark.
The 120Hz refresh rate does not let the action go into a blur when sports or action is watched. The 4K TV is compatible with your mobile phone through the Roku TV app where you can use your phone or tablet as a remote.
Top Best 4K TV With The Richest Of Colors And Fine Quality
LG Electronics 60UJ7700 4K Ultra HD smart LED television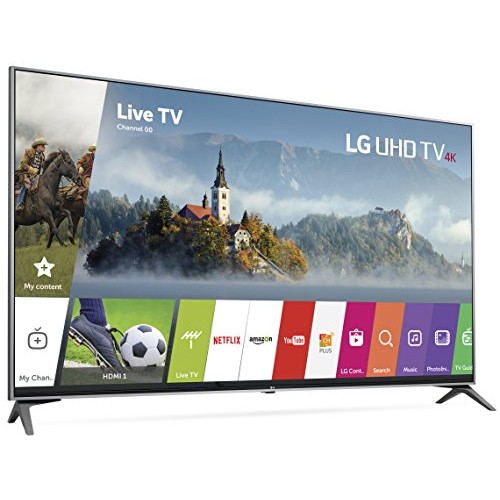 LG Electronics 60UJ7700 has webOS 3.5 functionality that allows you to use a variety of TV streaming apps like Netflix, Amazon Prime, Youtube, and many others. These TV viewing apps can be streamed using LG's Plus mobile application. This Ultra HD TV has High Dynamic Range and Dolby vision which gives outstanding image quality and excellent scene by scene performance. The backward-compatible HLG HDR standard increases the image quality even more. LG Electronics 60UJ7700 has True Colour Accuracy which makes the colors a notch more vibrant and provides a smooth gradient.
Affordable Top Best 4K TVs
LG Electronics 43UJ6300 43-Inch 4K Ultra HD Smart LED TV (2017 Model)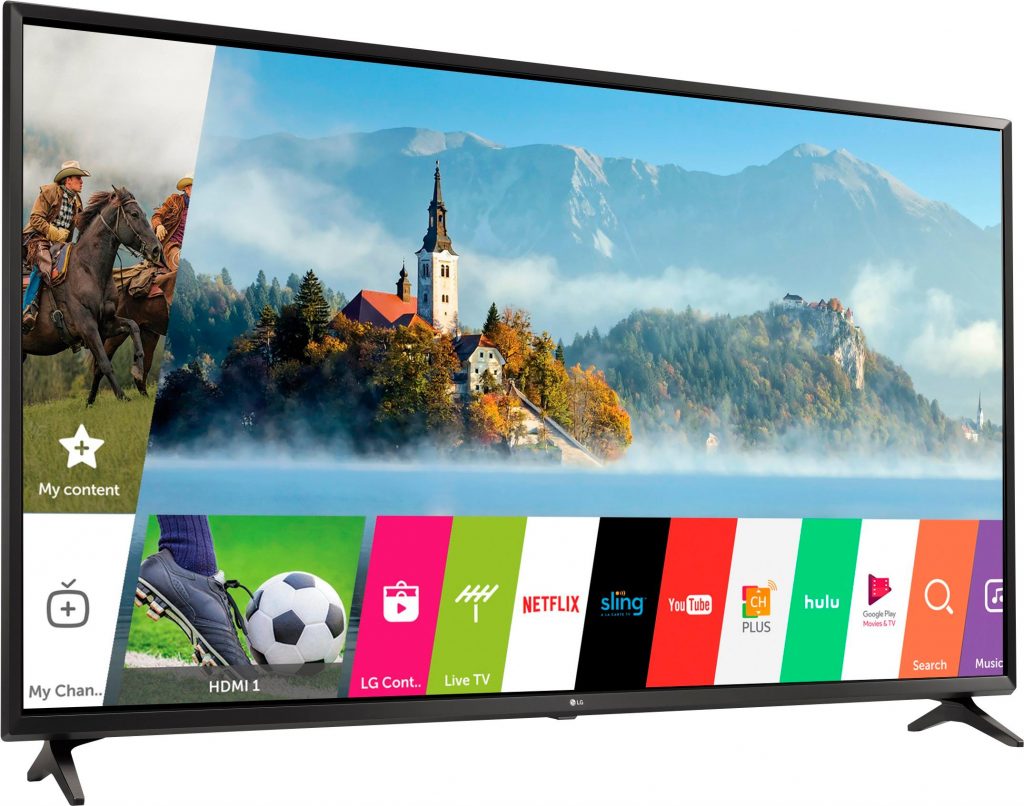 Another 4K TV from LG. The Direct-lit LED gives great picture quality. The webOS 3.5 functionality provides streaming on the best TV apps like Netflix, Amazon Prime, and YouTube. You can watch your favorite shows using the Channel Plus App on your phone or tablet. The True Colour Accuracy and High Dynamic Range provide a high definition and outstanding picture clarity. The image quality at an affordable price, this is an ideal choice for people looking for a good 4K TV at a relatively lower price.
Top Best 4K TVs with 40-inch Display
Samsung Electronics UN40MU7000 40-Inch 4K Ultra HD Smart LED TV (2017 Model)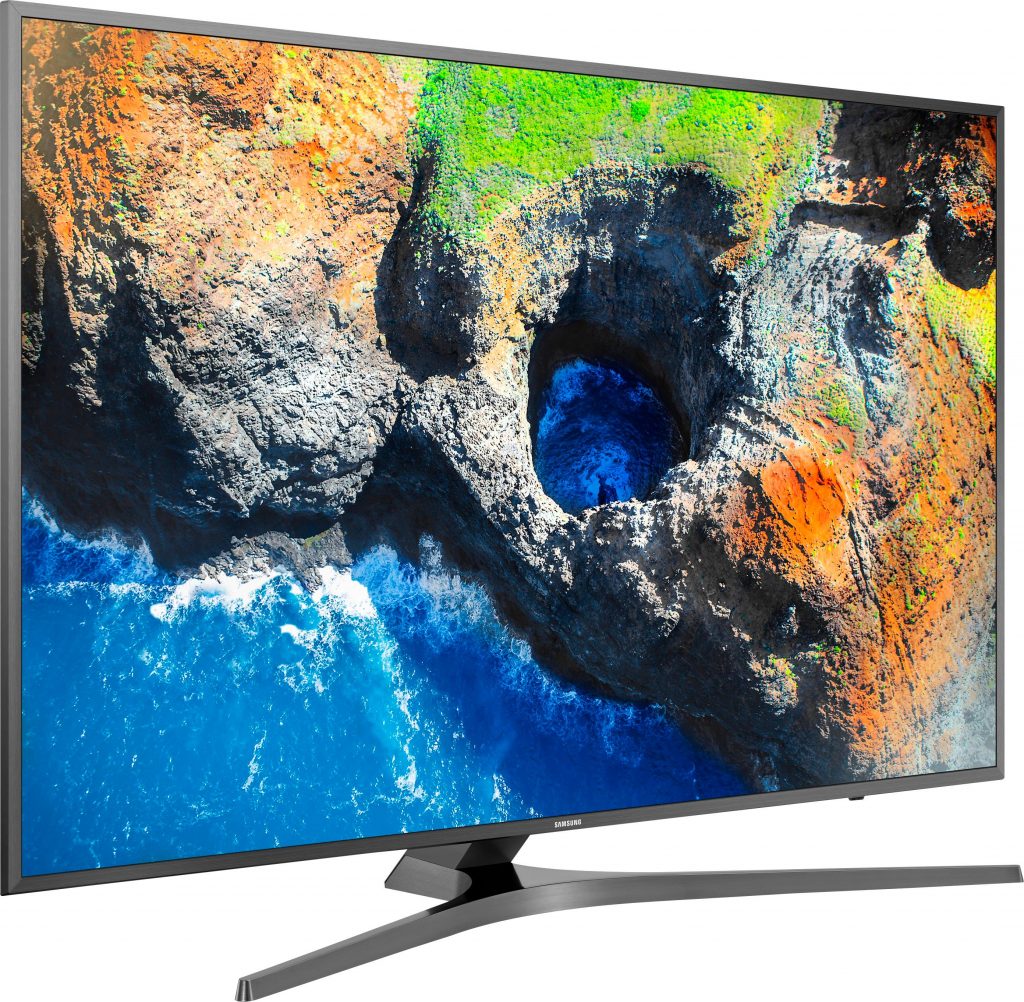 This TV is ideal if you want to have a TV viewing experience in a small room. This model gives a lifelike picture quality in a 40-inch display. It is optimized to stream online TV platforms like Amazon Prime, Hulu, and Netflix. You can watch umpteen number of channels on these apps. The 4K Colour Drive Pro gives more authentic colors and contrasts which makes the image quality perfect. The high definition colors make the experience even better. It has a Motion Rate of 120MHz. This is incredible when it comes to minimizing distortions and giving a consistent image when you are watching action intensive movies or sports.
Top Best 4K TVs From Sony
Sony XBR55X800E 55-Inch 4K Ultra HD Smart LED TV (2017 Model)
This 4K UHD Smart TV has user-friendly functionalities and a modern design. High Dynamic Range and Triluminos Display make it one of the finest 4K TVs. It is integrated with the Android TV which will get you Google's Play Store apps, Google Voice, and Google Cast. You can watch your favorite movies or TV show using Netflix, Amazon Prime, and Hulu. The Motion flow technology smoothens out the action scenes without letting the high-speed action go into a blur. The Dynamic Contrast Enhancer adds finer details to your picture quality by deepening blacks and pumping up highlights.
Best 4K TV with Curved Display
Samsung Electronics UN49MU7600 Curved 49-Inch 4K Ultra HD Smart LED TV (2017 Model)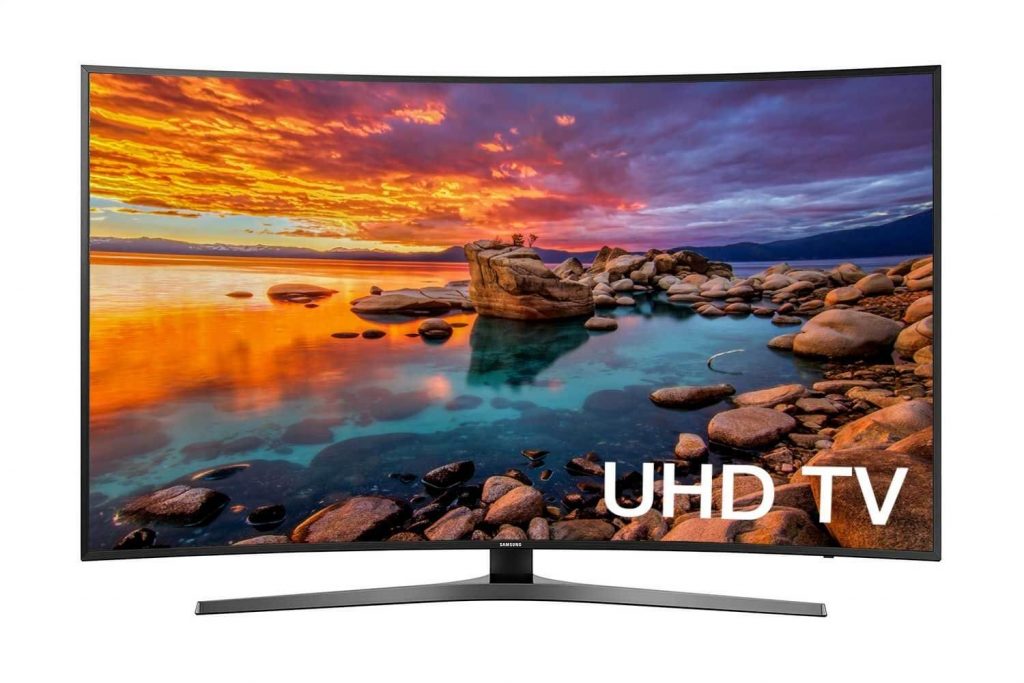 This UHD4K Smart LED TV has a curved display. The main highlight of the curved display is that it gives great angles and draws the viewers into action in a more effective and impactful way than a flat-screen TV. The functionalities of this TV are great. The expanded field of view makes TV viewing a delight. The Colour Drive Pro feature that creates a lifelike color experience is an add-on. On top of that, the Auto-Depth Enhancer feature of this TV enhances contrast and gives greater image quality.
Top Best 4K TV with Alexa Compatibility
Sony XBR43X800E 43-Inch 4K Ultra HD Smart LED TV (2017 Model)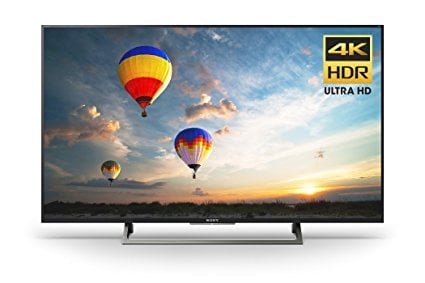 This 4K TV has all smart functionalities and gives you access to all your favorite apps using the Sony Android TV. It has a Motion Flow of 60 Hz that evens out the action scenes and make for a seamless viewing experience when you are watching motion intensive action movies or sports. The Edge-lit LED produces excellent picture quality. XBR43X800E has a sleek slim design which adds to its visual appeal. This TV is also compatible with Alexa, so you can use your TV with voice commands.
Conclusion
Going for a UHD television is more of a necessity now than luxury because we have plenty of 4K content on cable, Netflix and every other platform. The best 4K TVs under $1000 is a great choice to step into the world of ultra HD Blu-rays, gaming and HDR content without breaking the bank.
See also: Top Best Cheap Bluetooth Speakers
Was this article helpful?
This helps us improve our website.