Technobezz is supported by its audience. We may get a commission from retail offers
X
Our Editorial Process
Each year more than 60 Million users visit Technobezz to solve a problem or research a product. Our goal is that everyone finds what they are looking for, and that is why we cover a variety of products, problems, and solutions on our website.

Writing an article that contains a lot of valuable information may seem simple. But when the article is written, the story doesn't end. We are constantly updating the content so that you can always get up-to-date and accurate information.
---
Technobezz's Editorial Guidelines
Are you searching for one of the best 15-inch laptops? Well, then you landed on the right page as we have listed
HP 15.6-inch Touch-Enabled Screen Laptop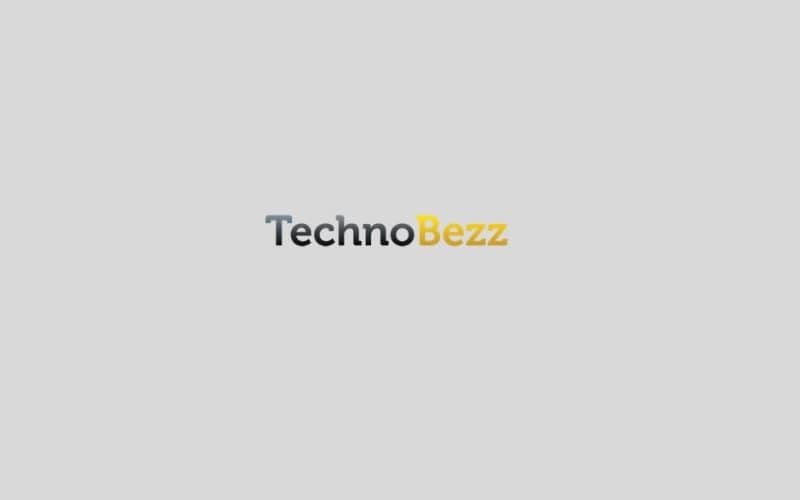 Dell Inspiron 15 512GB SSD Laptop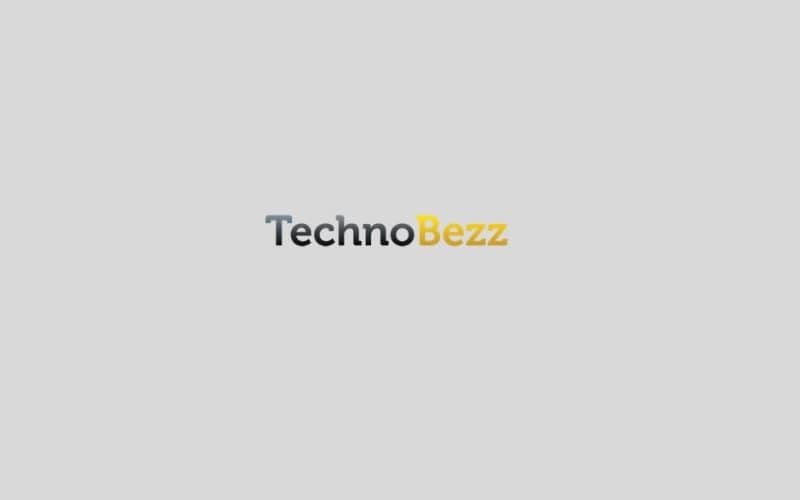 Lenovo Ideapad 3i Lightweight Laptop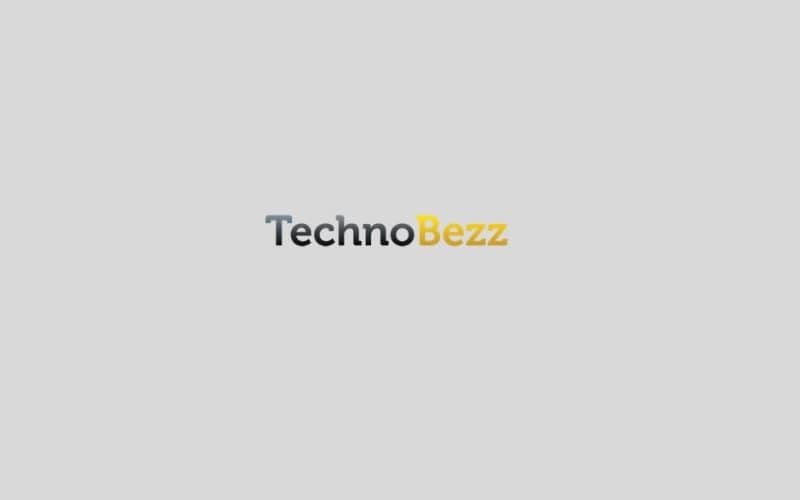 Table of Content
Are you looking for one of the best 15-inch laptops? Well, then you landed on the right page as we have listed the best 15-inch laptops suitable for various purposes, including playing games, watching movies, etc.
Laptops have become indispensable in our lives and have steadily begun replacing desktops in most houses. This is primarily due to less space utilization and ease of portability. Based on the screen size, they come in various dimensions. In addition, varying configurations make some laptops better suited for specific applications than others. While most laptops are black, some manufacturers offer metallic and other color options. They also come in different price ranges based on their specifications.
However, the screen size is not everything. You need to look at other specs, such as battery life, processor performance, pixels, etc., to have a truly spectacular experience. The following is a list of a few 15-inch laptops that you could consider checking out if you want a medium-sized laptop.
See also: Best 11.6-inch laptops to buy in 2022
Buying Guide
When buying a new gadget such as a laptop, it is advisable to use the latest edition available. The best 15-inch laptops released in 2022 are quite new and have improved processor capability and the latest graphics card. It helps make both office goers and entertainment lovers/ gamers happy as they can get it all done on their devices.
Value for money – Just because you have decided to invest thousands of dollars wouldn't simply get you the best laptop in town. There are many overhyped features that you may never use. It is good to have a budget and focus on acquiring a value-for-money device to utilize your purchase in the long run.
Display resolution – Can you use 4K resolution on just a 15-inch display? Obviously not! That's because unless there is better screen real estate to use an increased resolution or refresh rate, it is not advisable to spend so much or drastically push its limits. While HD is not ideal, go for a full HD 1080p display resolution that would do wonders for your movies and gaming.
SSD is a must – If you are all about productivity and need the maximum speed on your device, ensure it is equipped with an SSD. Some use NVMe technology, while there are conventional models as well. Whatever your choice is, if the operating system is installed on a solid-state drive, it can last longer and run in a stable environment, especially when you move your laptop around lots.
Hybrid laptops with touchscreen – This is a possible choice in 2022 for people who like to take a single device to work and flip it out for entertainment at home. Look for a laptop with a touchscreen, and while 15-inches will be big to handle, you can use it at home on your bed or a table for watching movies or television series.
Balanced battery life – The battery life should be balanced because if you reduce the display resolution, it doesn't make sense to enjoy great content. Similarly, the laptop should be ideal for travel, allowing you to do your work wherever you are.
Best 15 Inch Laptops To Buy
Durable Laptop Featuring a Sophisticated Design
HP 15.6-inch Touch-Enabled Screen Laptop
Check Price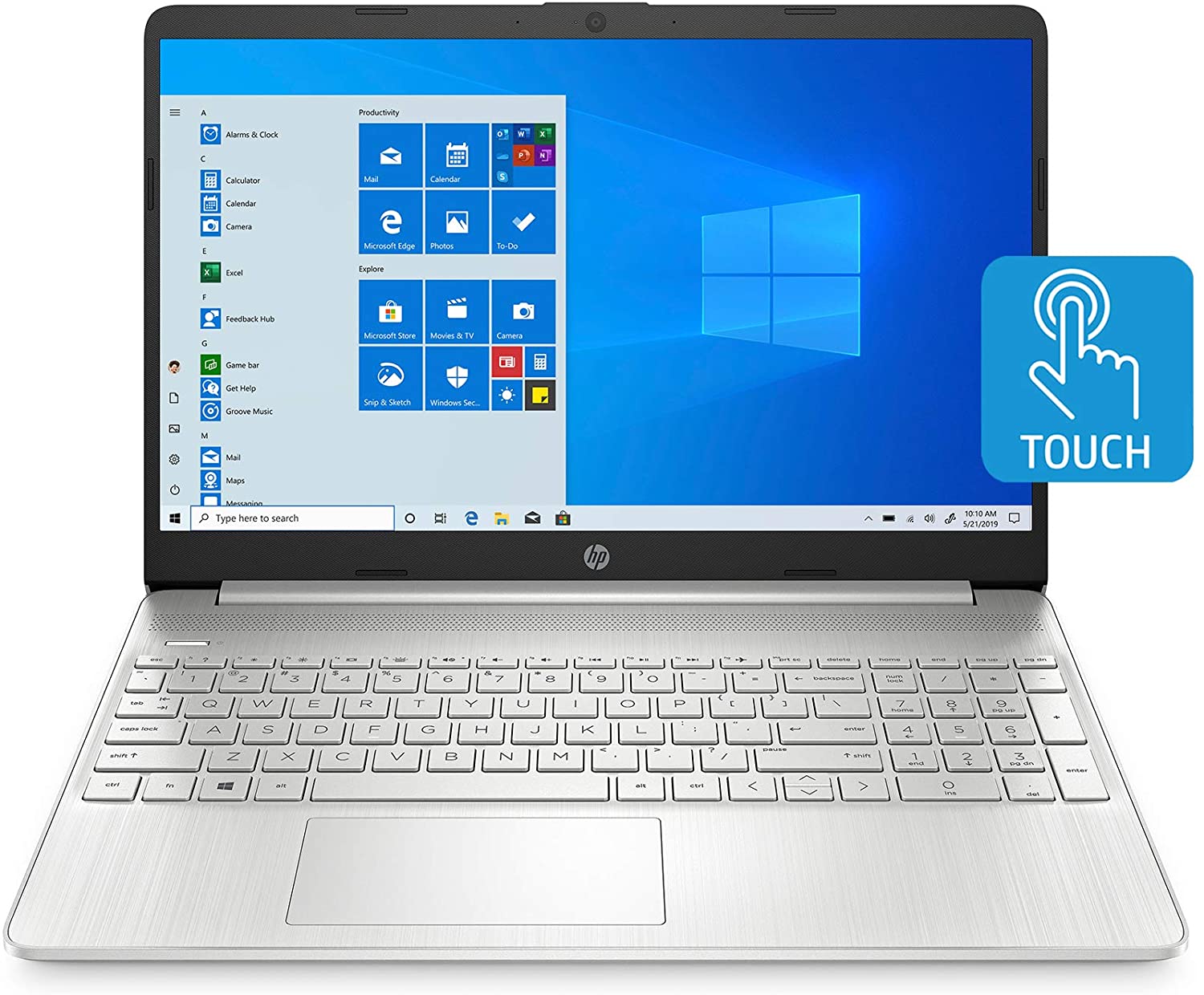 Colored in natural silver, the classy design of this HP laptop makes an instant impression. The 15.6-inch screen is touch-enabled and produces a resolution of 1366 x 768 pixels. The device wins brownie points for boasting of environmentally-friendly technology that contributes towards conserving energy. The display screen, for instance, is made of mercury-free material. The AMD Ryzen 3 3250U processor works at a very high speed.
The build quality of the device is excellent, so you should not be worried while traveling around with it regularly. At 3.75 pounds, the device is not too heavy, and the bezels are quite thin. When optimally charged, the laptop clocks in at a runtime of around 9 hours which is okay. You get a wide range of connectivity options on the device, but you must be prepared to work without an optical drive.
A good recommendation for those looking to invest in a highly durable laptop that you can conveniently carry along during work or personal trips.

It is also a good option for those planning to buy a 15-inch wide laptop with good multimedia features.
Highly durable

Energy-efficient

Sharp display screen

Fast processing unit
No optical drive

Moderate battery life
15.6-inch Screen Laptop with Robust Processor
Dell Inspiron 15 512GB SSD Laptop
Check Price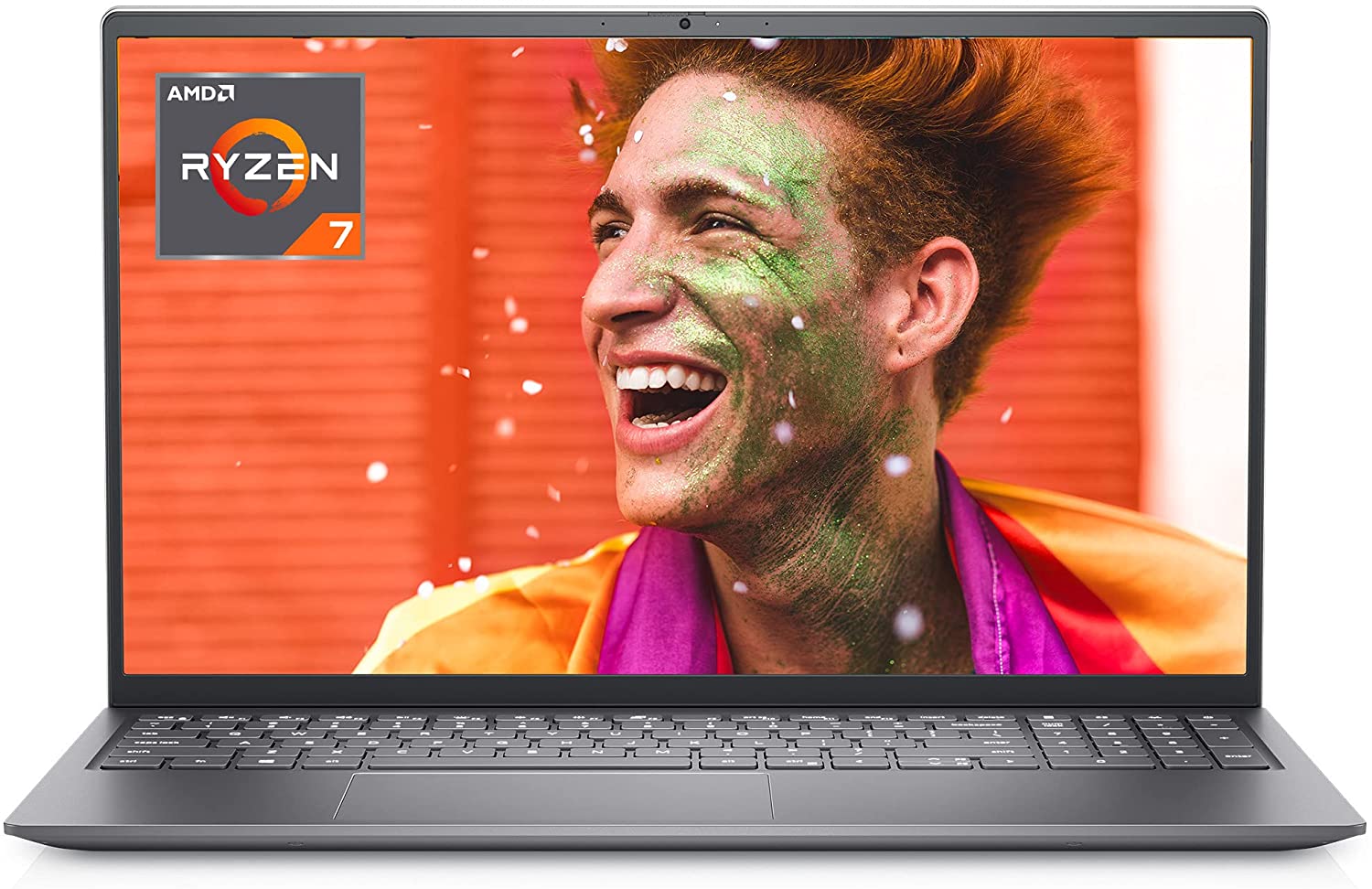 The Dell Inspiron 15 features a 15.6-inch display screen offering a resolution of 1920x1080 pixels. The screen has several great features that make it highly desirable. Apart from being touch-enabled, it boasts anti-glare technology and LED backlighting. The graphics that you see on the screen are of very high quality. It is powered by an AMD Ryzen 7 5700U processor that ensures the device works at a super-fast speed.
The laptop weighs 3.6 pounds and is not very difficult to carry around. The 512GB solid-state drive offers you enough space to store a large amount of data on the laptop. Except for an optical drive, the device features all the connectivity options you would expect to come across on a laptop. The webcam has a resolution of 0.9MP, which is just about okay. The presence of a fingerprint reader makes you feel assured about the safety of the data in the device.
An ideal option for those looking for a 15-inch laptop offering great picture clarity.

It is also suitable for those who wish to invest in a laptop that delivers robust performance and comes with modern features.
High-definition screen

Reliable processor

Lots of storage space

Responsive fingerprint reader
No optical drive

Low-resolution webcam
Well-Designed Laptop with a 15.6-inch Screen
Lenovo Ideapad 3i Lightweight Laptop
Check Price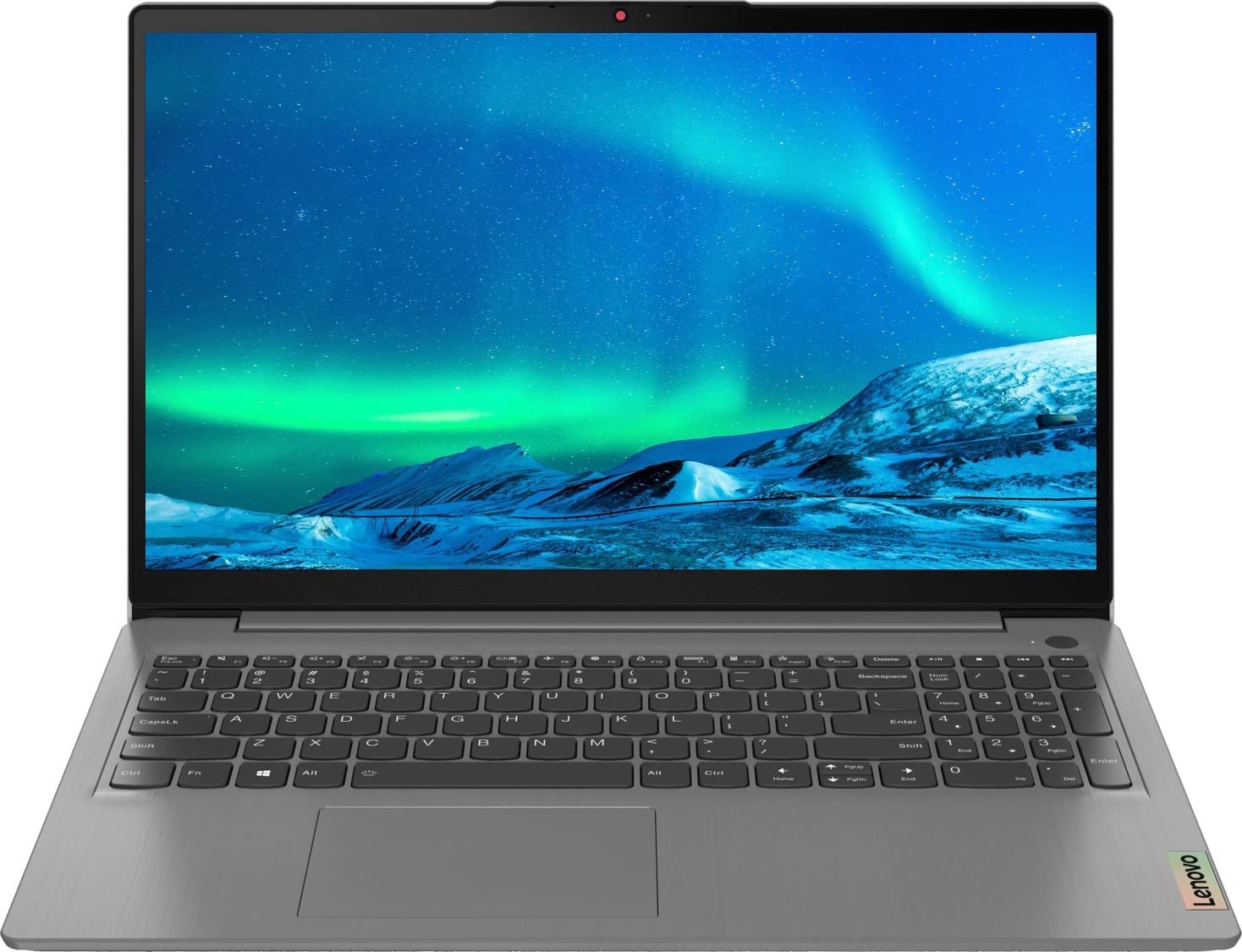 With a weight of 1.6 kilograms, the Lenovo Ideapad 3i is very easy to handle and carry around. The device features a 15.6-inch screen that produces a resolution of 1920x1080 pixels. Along with watching movies, you can use this high-definition screen effectively for browsing the internet and engaging in video conferences. The only issue some users might have with the phone is that it is not touch-enabled.
The laptop comes with multiple connectivity ports. If you like to use headphones while working, you can use the 3.5mm audio jack well. The Intel Pentium Gold 7505 dual-core processor ensures the device runs smoothly and at a good speed. The device comes equipped with a 1TB hard drive that will enable you to save a large amount of data. On a full single charge, the battery lasts for around 7 hours.
Recommended for those who travel extensively and need a reliable laptop to carry along.

It is also suitable for those who wish to invest in a laptop with a 15-inch widescreen and a large amount of storage space.
1TB hard drive

HD display screen

Lightweight structure

Fast-performing processor
Average battery life

The screen is not touch-enabled
Moderately Priced Laptop with Long-Lasting Battery
Acer Chromebook 15.6-inch High-Definition Screen Laptop
Check Price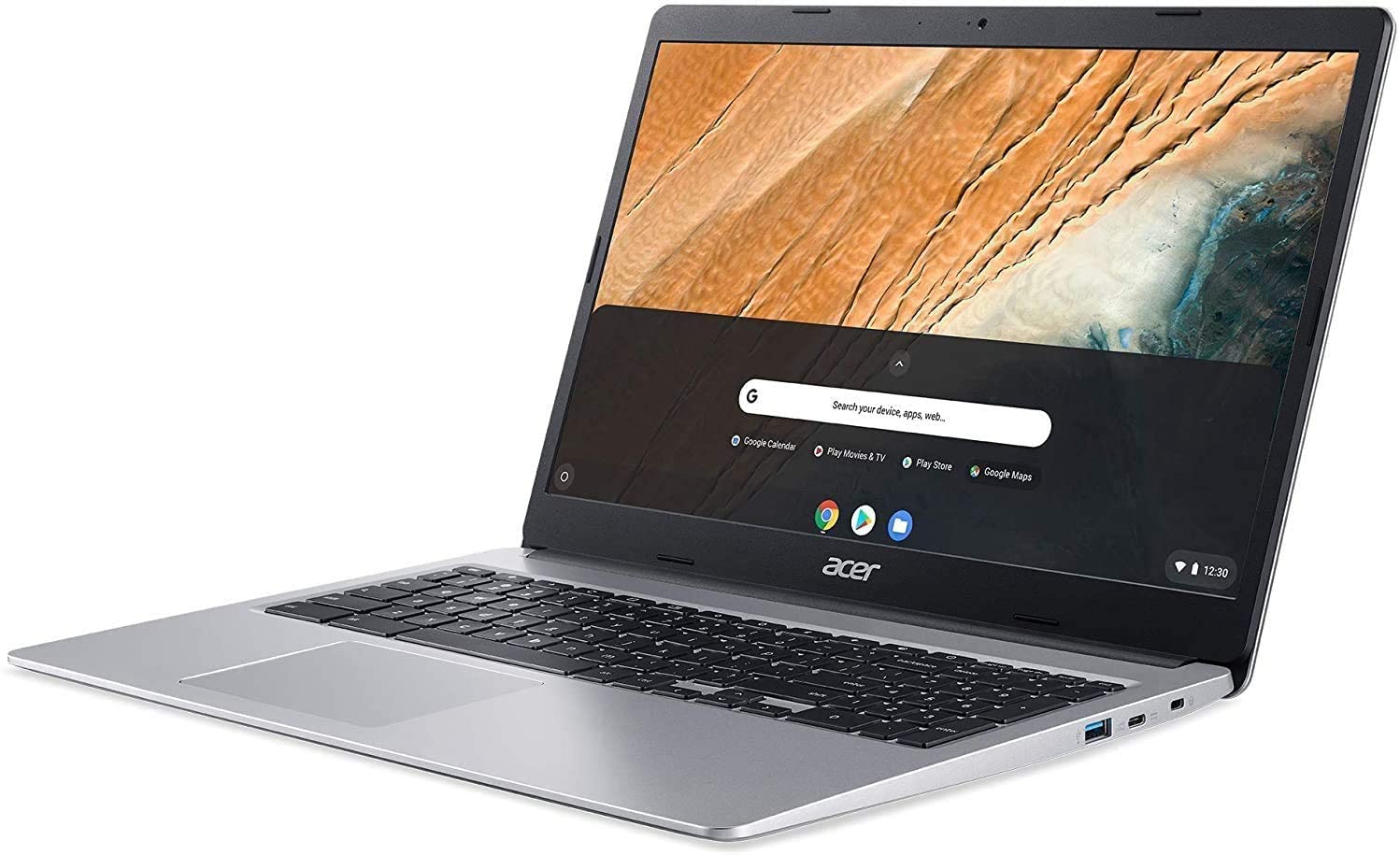 Despite being a fairly budget-friendly device, the Acer Chromebook packs in a good number of premium features. The 15.6-inch screen offers full HD resolution and is touch-enabled. The display screen, made with high-end technology, is glare-free. The silver metallic design of the device charms you instantly. One of the biggest selling points of this laptop is its mammoth battery which offers a runtime of 12-13 hours on a single charge.
The laptop has an Intel Celeron N4020 dual-core processor that ensures steady operation. At 4.19 pounds, the device is moderately heavy. As far as storage space is concerned, it features a 64GB solid-state drive. The keyboard is fairly well-built and does not feature a backlight function. It has multiple connectivity ports, including a microSD card reader and a headphone jack.
Why You Should Buy This?
A very good option for those who want to buy a laptop with a high-definition, touch-enabled display screen.

It is also suitable for those who travel regularly and need a laptop device that offers great battery backup.
Pros
Strong battery life

Sophisticated design

Robust processing unit

Multiple connectivity options
Cons
Slightly bulky

No backlight feature on the keyboard
Stylish Laptop with Anti-Glare Display Screen
Dell Inspiron 15.6-inch Laptop For Professionals
Check Price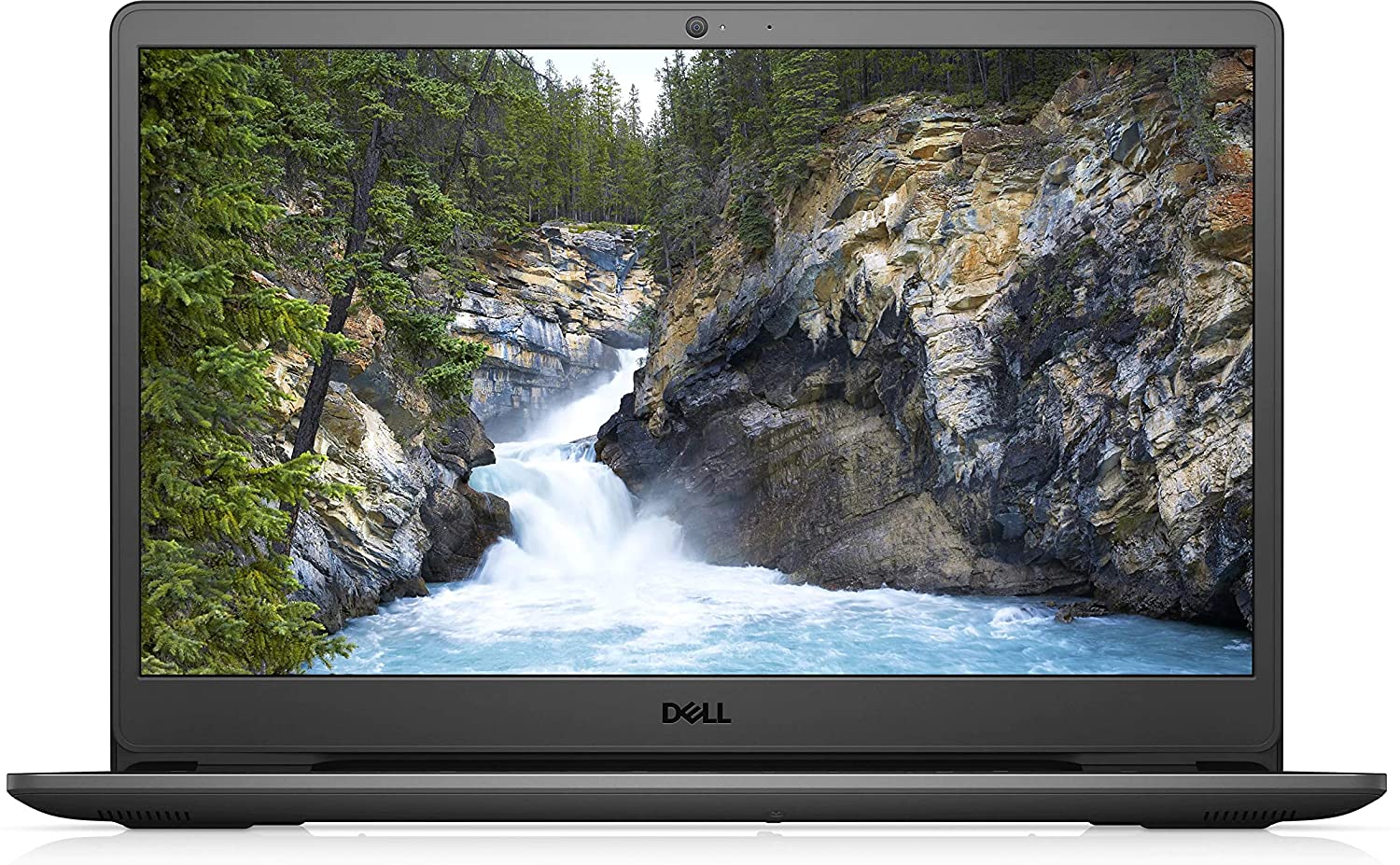 The black-colored, minimalistic design of the Dell Inspiron helps it register an impression instantly. The display screen produces a resolution of 1366x768 pixels and does a good job of reproducing images. Though the screen does not come with a touch function, it is glare-free and is equipped with backlit lighting. Along with 16GB RAM, the device features a 512GB solid-state drive. It offers multiple connectivity options, including a microSD card reader and a headphone jack.
The laptop is powered by the Intel Celeron N4020 processor, which provides good functionality. The processor works at a speed of 2.8Ghz, reflecting the efficiency with which the laptop works. You can work on multiple things at one go without worrying about the device getting slowed down. The laptop is available in a variety of models featuring different storage capacities. The overall weight of the laptop is 4.8 pounds.
Recommended for those looking for a 15-inch wide laptop with an excellent display screen

It is also suitable for those who need a business laptop that can efficiently carry out various tasks.
High-speed processor

Vibrant display screen

Sufficient storage space

Strong connectivity support
Slightly heavy

The screen is not touch-enabled
Mid-Range Laptop That Offers Great Functionality
HP Pavilion 15 15.6-inch Versatile Laptop
Check Price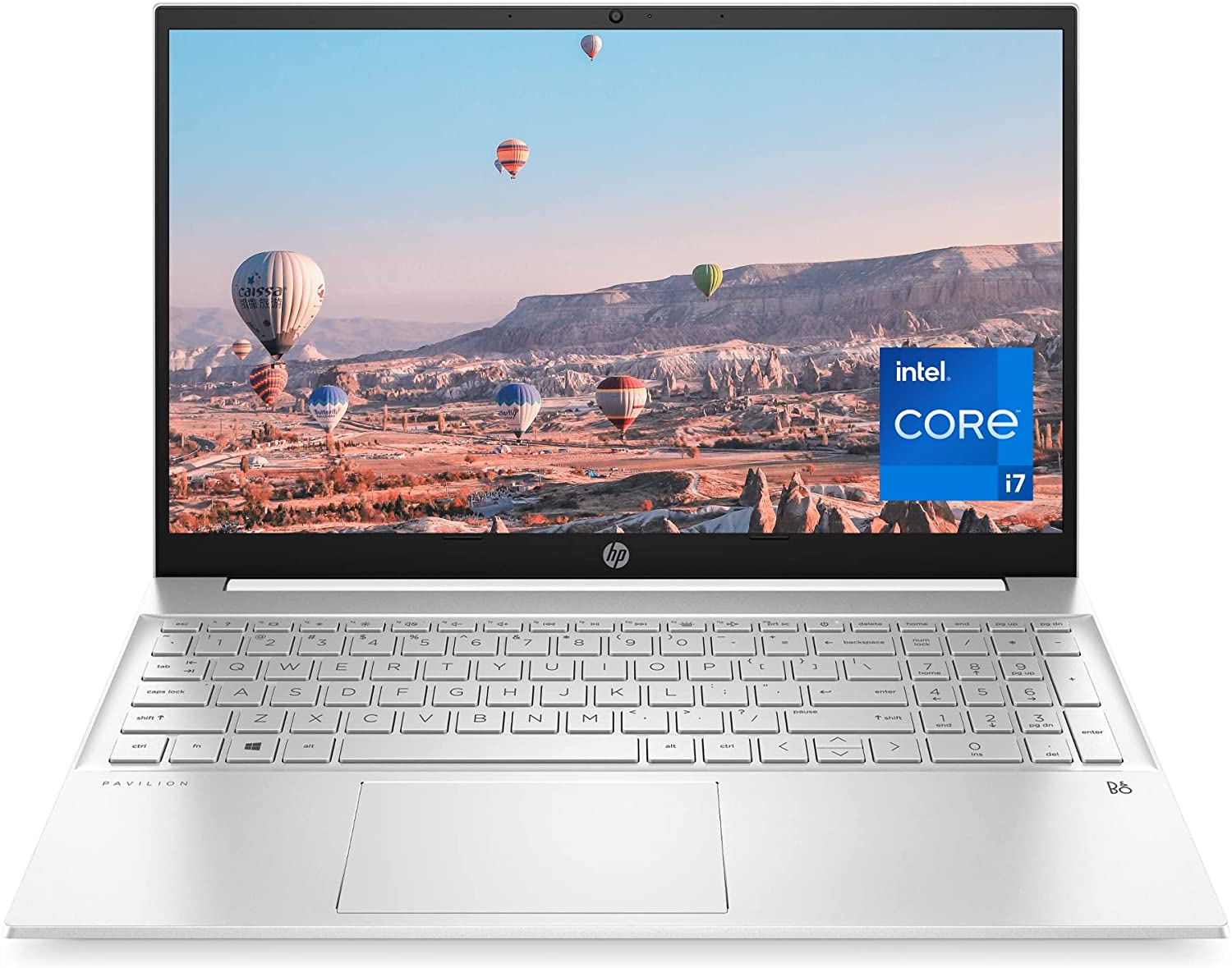 The 15.6-inch screen of the HP Pavilion 15 is one of its highlights. Still, several other features make it an all-rounder and the kind of device that proves useful for everybody ranging from a student to a professional. The screen is touch-enabled and produces high-definition images. Along with a quick-start guide, you get a 45W charger from the brand when you buy this laptop. While the device's design is quite ordinary, the plastic build proves to be fairly durable.
Some users might be disappointed that it does not feature a 360-degree hinge. Though the laptop can handle multi-tasking, it is not the most suitable device for high-end gaming. You have multiple connectivity ports that can be found on either side of the device. The chiclet-style keyboard is quite sturdy but is not backlit. The brand offers a one-year-long hardware warranty on the product. On a single charge, the device can last up to 8 hours.
Why You Should Buy This?
Recommended for those planning to invest in a lightweight laptop loaded with useful features.

It's also a good option for those who prefer using a laptop that proves to be durable in the long run.
Pros
Good brand support

HD display screen

Reliable processor

Lightweight structure
Cons
No 360-degree hinge

Inadequate battery life
Affordable Laptop with High Storage
HP Pavilion 15-C2010nr
Check Price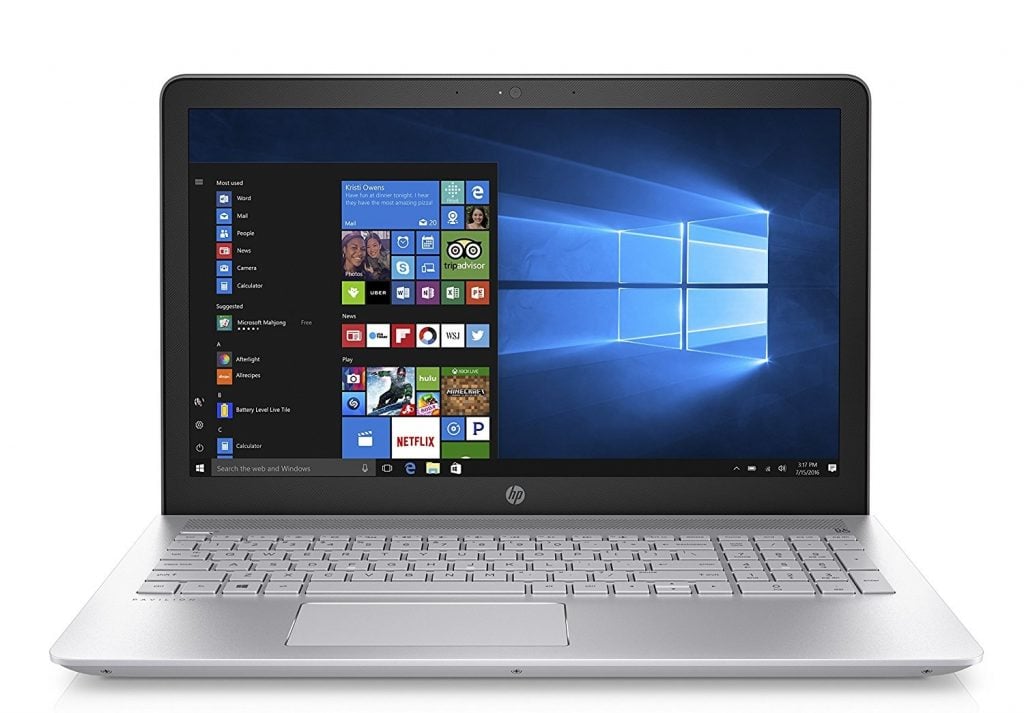 The HP laptop has a bold and sleek design with an elevated keyboard, 1366 x 768 screen resolution, and dual speakers that boost the audio experience. The device has a built-in Intel i5-8265U chipset, a quad-core processor that can get boosted up to 3.9 GHz, and an Intel HD 620 graphics processor. This 1 TB hybrid hard drive has a Serial ATA hard drive interface and a rotational speed of 5400 RPM. The silver-colored unit comes with 8 GB RAM and a memory speed of 2400 MHz.
The SVA WLED-backlit touchscreen on the Pavilion device supports swipe, zoom, and pinch functionalities that allow you to control the laptop with the help of the screen. It also offers 802.11 b/g/n wireless connectivity options. The lithium-ion battery allows you to use the Windows 10 laptop without interruption for up to nine hours for mixed-use and 7 hours 15 minutes for video playback.
Who should buy this?
The sleek design ensures that the HP laptop is ideal for people who want to take it wherever they go.
A whopping 1 TB hard drive makes the laptop one of the best options if you want to store a large number of large-size files or want the device to boot up and launch the app quickly.
15.6 inch Chromebook with Wide Viewing Angle
Acer Chromebook 315-3HT-C296
Check Price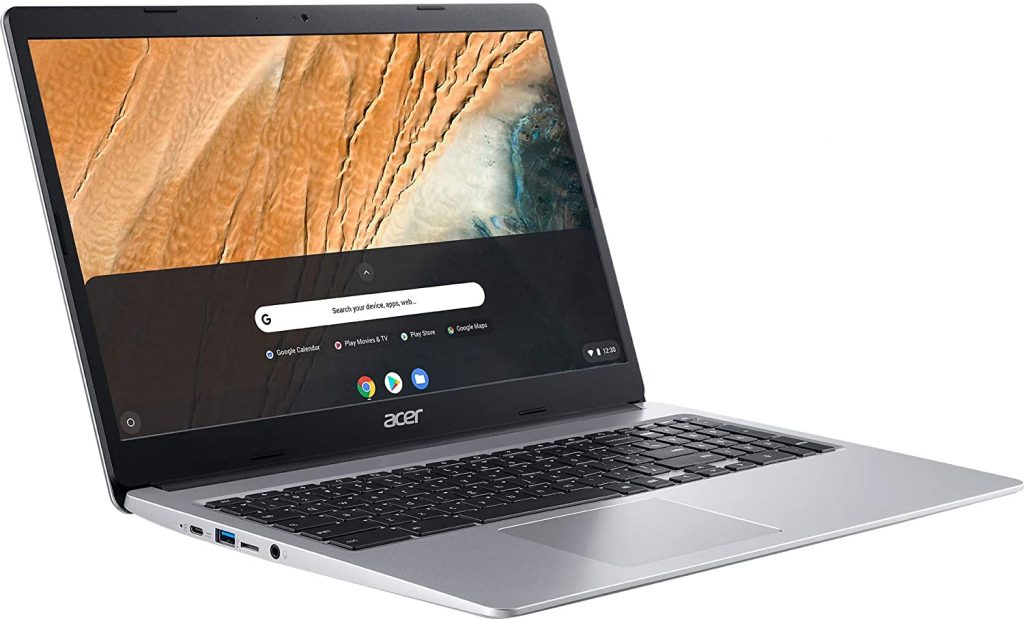 The Chromebook has a Full HD 15.6" Widescreen with 1920 x 1080 screen resolution, 16:9 aspect ratio, and a LED-backlit display. The silver laptop encompasses a 4 GB LPDDR4 memory, an Intel Celeron N4000 dual-core 1.1 GHz up to 2.6 GHz processor, and an Intel UHD graphics processor. It also features a 32 GB SSD, a 1280 x 720 webcam, and an 88-degree wide-angle lens supporting High Dynamic Range (HDR). The device offers high-definition audio support with its upward-facing dual stereo speakers.
The Acer unit comes with a Lithium-Ion Battery, up to 12. 5-hours Battery Life when the Chromebook is fully charged. It also has a slew of connectivity options like Bluetooth 5.0, 802.11 ac Gigabit WiFi which can deliver up to 1. 73Gbps.
Who should buy this?
The Acer Chromebook is suitable for those who want to open and edit MS Office files without installing the MS Office software and by using Google Docs or QuickOffice editor.
Wide viewing angles and t

wo built-in Stereo Speakers

make the laptop a good bet for games and movie lovers alike.
The excellent picture quality of the webcam makes the device a great option for those who enjoy video chatting.
15.6 inch Laptop with Extensive Connectivity Options and Storage
Asus ZenBook Pro
Check Price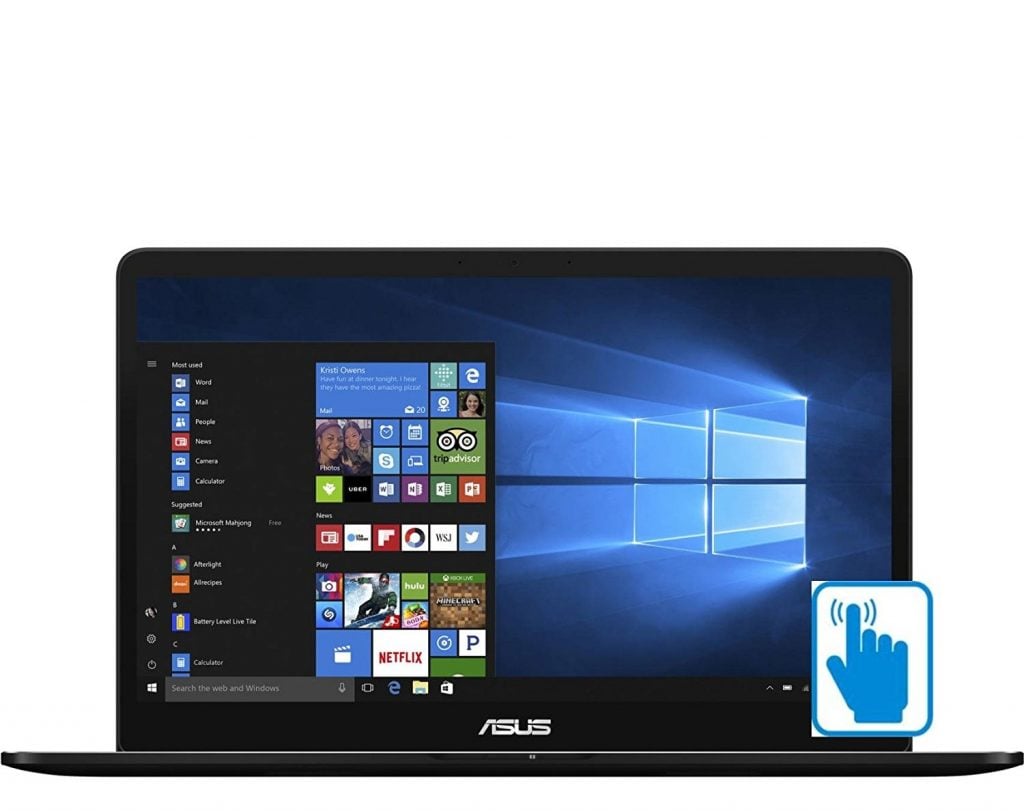 The Asus unit has a nano edge Full HD 1920 x 1080 display with a 178-degree wide-angle view. The laptop encases a 7th Generation quad-core 2.8 GHz Intel i7-7700HQ that can turbo up to 3.8 GHz, an NVidia GTX 4 GB 1050TI graphics card, 16 GB DDR4 SDRAM memory, and 2 TB SSD. The keyboard has a backlit display to make it easy to see the keys even in the dark. It comes with a Windows 10 Pro operating system already installed.
The black laptop contains a built-in fingerprint sensor, an SD card reader, and an eight-cell 73 WH battery with a 120 W AC adapter. The device has multiple connectivity options: HDMI, 802.11 AC, dual-band Wi-Fi, two Type C (Gen 2) USB 3.1 ports with Thunderbolt, two Type-A USB 3.0 ports, and Bluetooth 4.2.
Who should buy this?
The Asus ZenBook with large storage is best suited for people who want to use a laptop at their workplace.
A laptop is a good option for those who want multiple connectivity options.
One of the Best 15 Inch Laptops With Excellent Battery Life
Acer Aspire 5 A515-55G57H8 Laptop
Check Price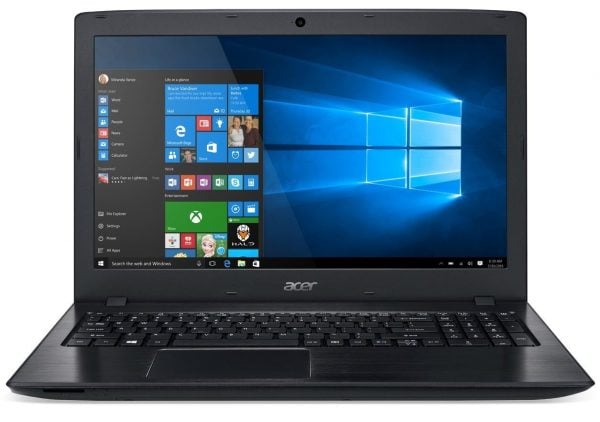 This is a budgeted 15.6-inch laptop great for various purposes. Be it for official purposes, gaming, or any other work, you can use it anywhere. The best thing is you can get it for under $700. It comes with Intel Core 10th Generation i5-1035G1 Processor, NVIDIA GeForce MX350 graphics card, 8GB RAM, 512 GB SSD, 15.6-inch Full HD display, backlit keyboard for easy typing, Windows 10 Home OS, etc. Another important thing to mention is the 8 hours of battery life.
Who should buy this?
Ideal for those looking for a productive laptop that delivers solid gaming performance.
Good for those who do not wish their laptops to have just the most important connectivity ports.
It comes with a dedicated graphics card which is good news for professional gamers.
Best 15.6 Inch Laptop With Special Features Included
MSI GL65 Leopard Gaming laptop
Check Price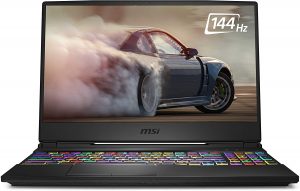 Apart from considering this one as one of the best gaming laptops, MSI has manufactured this laptop so that you can finish all your tasks smoothly due to its speedy performance. Core i7 10750H processor clocked at 2.6 GHz, 16GB RAM, 1 TB hard drive, and NVIDIA GeForce RTX2070 are the specifications that ensure you will never face any kind of lag while doing any job or playing on the laptop. It runs on a Windows 10 operating system. Its special features include an anti-ghost backlight key with silver lining and that true color technology.
Who should buy this?
Those looking to invest in a moderately priced gaming notebook should be very happy with its features.
It is recommended for individuals who are particular about owning a laptop that would last them for years.
It is ideal for people who expect a laptop to have many good brand components.
It is a very good portable device and suitable for those who work in different places throughout the day.
See also: Top best ASUS gaming laptops
FAQs
Is a 15-inch laptop enough for daily work?
The display size is more than enough for most work, whether at the office or for entertainment. If you buy a hybrid laptop, it is easier to flip it open for entertainment whenever you have to. The balanced display makes the laptop compact to carry around but at the same time large enough for all kinds of activities.
How do I choose the best laptop that has a good resolution?
The full 1080p HD resolution is the best available on a laptop because they help preserve battery life in the long run. Even when the laptop is running at its maximum resolution, it can last up to ten hours if the processor and the design favor it to support improved productivity.
What are some components that make a laptop truly fit for 2022?
The best 15-inch laptops in 2022 are the ones that feature the latest Intel processor and AMD chipset. The AMD series 4000 is a newly launched product that is more power-efficient and easily delivers ten hours of battery life. The gadget may also feature an Nvidia graphics card released in the past few months, making it future-proof.
How do I claim a warranty on my device?
Based on the brand you have opted for, look for their official store in your country. Most companies like LG, Samsung, Asus, and many others have a global presence. The code on your laptop will allow them to find out if it is still covered under warranty, and in most cases, it ends within a year.
Should I go for a laptop with a graphics card?
It is advisable to choose a laptop with built-in graphics like the AMD or an Nvidia graphics card paired with an Intel chipset. They make using software programs like Adobe for designers and Avid for video editors easier. Gamers and casual gaming aficionados will find a helpful component to run both multiplayer and AAA titles.
Conclusion
The best 15.6-inch laptops are listed here. They are from different manufacturers and are available in different price ranges starting from $500. 15.6-inch laptops sell a lot more than laptops that come in other sizes. One of the reasons behind it is that 15.6-inch laptops are seen as the ones which offer good performance and can be used for various tasks. They are neither too big nor too small and are suitable to be used by people of different age groups. It is quite convenient to slip them into a bag and carry them around while traveling. They are suitable to be placed on your lap and operated on. All the laptops listed are great so go through the list and pick the one that suits your needs best.