Technobezz is supported by its audience. We may get a commission from retail offers
Summary – You would've seen athletes and fitness enthusiasts using some of the best workout wireless
You would've seen athletes and fitness enthusiasts using some of the best workout wireless headphones during their workout. Wires can be troublesome during intensive workouts. Moreover, most gyms are noisy places due to the sound of weight plates, landing dumbbells, not to speak of groans and grunts from fellow gym members. This can be distracting during a workout. Also, the generic music playing from the gym speakers may put you off. Hence, it is advisable to go in for noise-canceling workout headphones.
See also: Best headphones under $50
Best Workout Headphones
Affordable In-Ear Wireless Bluetooth Workout Headphones
Jaybird X3, Sparta Whit
 These are a universal fit, popular Bluetooth earphones that offer good value for money. Beyond the earphones comes the inline remote control with buttons along with gold connection points for the charger, which can just be snapped into the cradle.
The battery is powerful and can offer around 8 hours of music, with a stand by time of 200 hours and a charging time of 2.5 hours. It also has a quick charge of 20 minutes that will give you 1 hour of playtime. The Bluetooth connection is reliable even during running sessions. It is sleek and sweat-proof, suitable for sports, workouts and all types of weather conditions. It comes with a nano-coating that is hydrophobic and keeps sweat and moisture away so that it can be used in the rain or snow.
The earphones offer ease of use, as you can easily remove or re-attach the tips, which are lined with stiff rubber rings. This helps them to hold the shape and slip easily into place so that you don't have to struggle with the flimsy tips. It can also be worn over the ear or under the ear. These are solid earphones that remain secure during all types of physical activity and will not fall off even when running. It comes with cord clips that hold them snugly to the head.
You can personalize the earphone sounds using the Mysound app and save them to your profile. The dimensions are 21.5 x 0.5 x 0.9 inches and it weighs 7.2 ounces.
Who Should Buy This?
Those who want an affordable pair of headphones for workouts, without making any compromises.
Those looking for wallet-friendly, in-ear headphones offering top audio quality.
Those who want a solid, chunky and durable pair of earphones during their workouts.
In-Ear Stellar, Water-Resistant Workout Headphones, Headphones Built for Exercise
Beats Powerbeats Pro, Ivory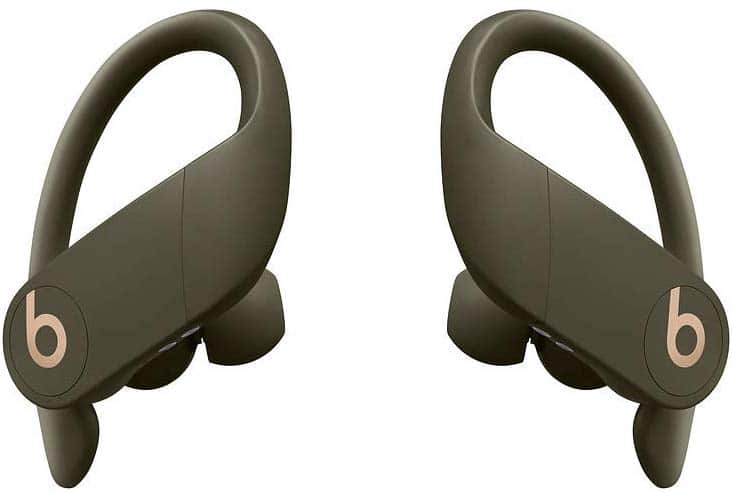 These are water-resistant earbuds that come with a secure fit, sleek design and offers stellar performance. They offer bold and vibrant sound and have superior battery life. They are totally wireless and offer high performance. You can listen to about 9 hours of music. The earphones come with adjustable ear hooks that are lightweight, stable and have a secure fit. The design has been reinforced to provide resistance to sweat and water, even during tough and sweaty workouts. All controls, such as volume and track, are present on each of the earbuds, along with features like Auto Play and Pause. It also features excellent noise isolation capabilities. It is efficiently designed and looks slim without any clunky wires tethering the earbuds.
These are in-ear headphones with dimensions of 5 x 3.5 x 6.1 inches and weighing 1 lb. They are Bluetooth wireless headphones that are created for elite athletes. You can customize them with several eartip options that stay in place, regardless of the activity levels. Each of the earbuds connects separately with your device, offering better connectivity and fewer dropouts. External noise is filtered with the use of several microphones and a voice accelerometer.
It comes with 4 pairs of ear tips and a Lightning cable. Two buttons are present on each of the earbuds, for intuitive controls. You can use either hand for controlling the playback and also use each of the earbuds separately. In addition, there is a multi-function button that can also be used for talking to Siri. Buttons are intuitive and easy to use. It is water-resistant with an IPX4 rating, but it cannot be submerged in water.
Who Should Buy This?
Those who want wireless workout headphones with sophisticated design and swoon-worthy features.
Those who want compact workout headphones with a great fit and sophisticated design.
Best Headphones for the Gym and a Run
AfterShokzTrekz Air, Midnight Blue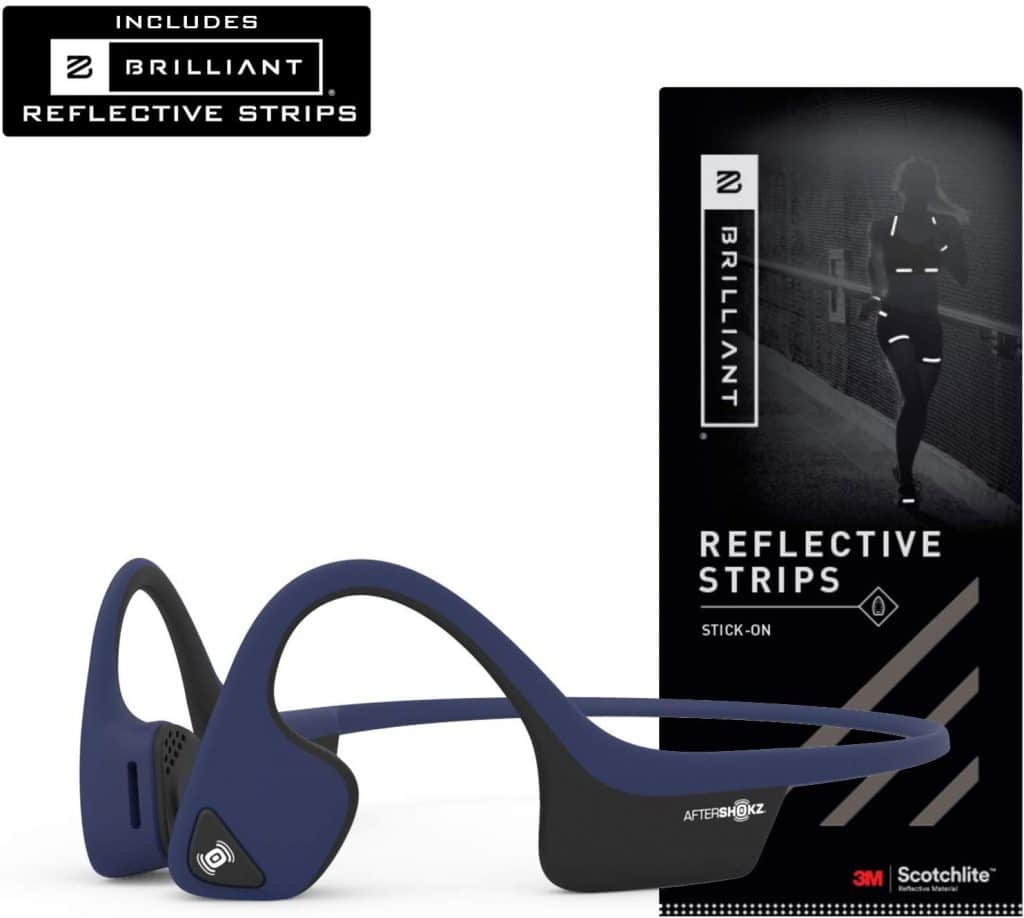 These are bone induction headphones that are very comfortable and come with a stable fit which makes them ideal to use while running, exercise, etc. It is flexible and lightweight and is capable of blocking ambient noise. An interesting feature of these headphones is that while it offers noise cancellation it also supports situational awareness with the help of bone conduction.
You can wrap these wireless headphones around the back of your neck. It includes a pack of reflective strips. The open Fit design makes it sweat-proof and offers the situational awareness feature, whereas the reflective strips help drivers be aware of you. The strips can be adhered to bikes and helmets or even to shoes etc. and are visible from up to 500+ feet during night time, made of sturdy 3M Scotchlite material. There is also a safe option, whereby you can use the mute button while crossing a street. The headphones are both sturdy and flexible, due to the use of titanium in its construction. It also comes with an IP55 waterproof feature.
It is lightweight and can be comfortably worn all day. The battery life is around 6 hours. It comes with Bluetooth connectivity and is truly wireless with multipoint pairing, being compatible with both iOS and Android devices. The sound quality is premium offering rich bass and dynamic range, reduced sound leakage and dual-mics for noise cancellation offering a good audio experience while on the go. Setting up is easy and the controls are also simple.
Who Should Buy This?
Those who want the best workout headphones for the gym, a run with good sound quality, the outdoors or the office.
Made for aspiring athletes who want an affordable pair of workout headphones.
Great to use in the office also as you can listen to music without the fear that you might miss out on an order from your boss.
Secure Fit Wireless Workout Headphones
Jaybird Vista, Nimbus Gray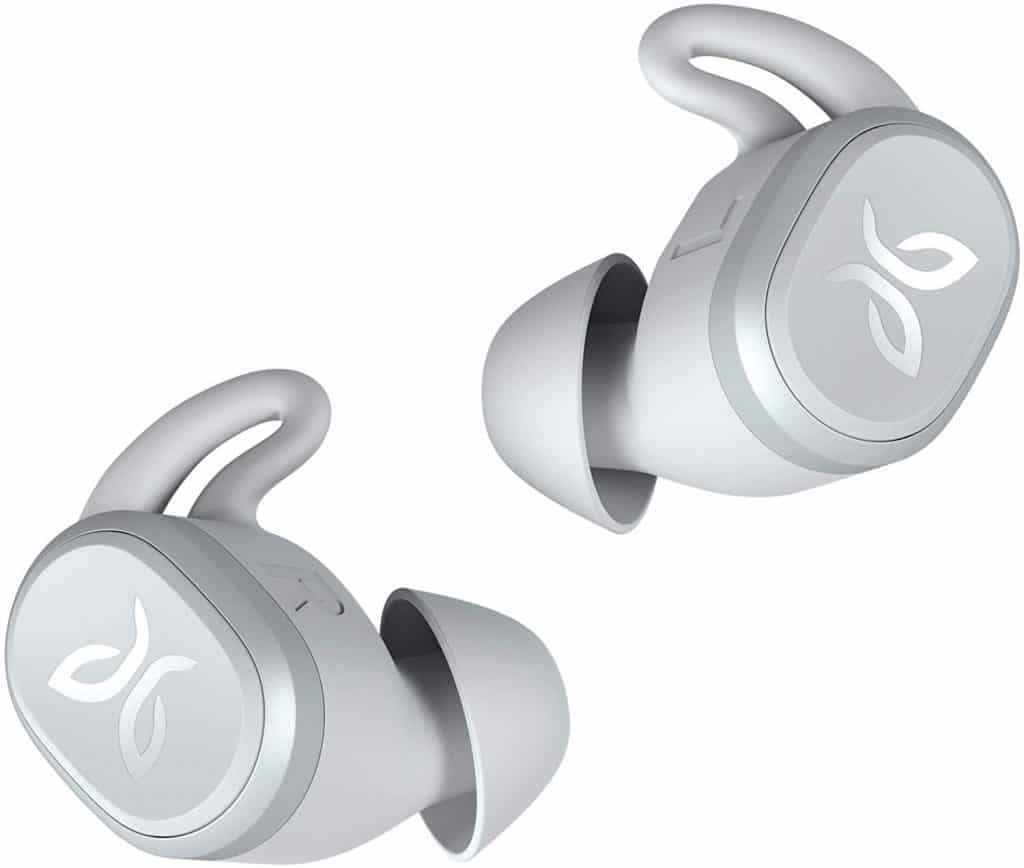 These are wireless running headphones offering a reliable connection and secure fit. They come with ear and wingtip sleeves so that they rest securely against your ears. They are sporty and sleek earbuds accompanied with a compact charging case. The build is rounded and blocky with angled nozzles that are comfortable for wearing.
The design is cool-looking and appealing and they auto-connect instantaneously. It is an excellent workout headphone, as it remains secure to the ear while climbing, biking, running, etc. However, though they are waterproof, they are not swimmer-friendly earphones but are waterproof and sweat-proof to withstand all kinds of weather conditions. Its capsule construction comes with an IPX7 full-waterproof plus sweat-proof rating, meeting MIL-STD 810G military-standards for ruggedness.
The battery offers around 6 hours of audio, along with an additional 10 hours in the charging case, with 32 hours if using one Bud. There is also a Quick-charge feature of 5 minutes offering one-hour playback. JBS1 wireless technology offers clear stereo sound music. It is small and lightweight with 3 interchangeable ear gels offering an ultra-comfortable fit.
The Jaybird MySound app is useful for locating your earbuds, updating firmware, etc. The app gives good EQ control over the 6 mm drivers resulting in an excellent audio experience. You can also use the Find My buds feature for keeping track of the earbuds, using the app. The case is compact and low profile, making it easy and effortless to carry. It can withstand dirt, sand or dust to a great extent. The in-ear buds have a dimension of 5 x 1.97 x 7.2 inches and it weighs 0.55 lbs.
Who Should Buy This?
Those looking for a pair of workout headphones which are truly wireless with a good fit, with noise isolation and which are lightweight, yet durable.
Athletes who want a subdued design in a compact charging case that can easily be carried on the go.
On-Ear Sweat-Resistant Headphones for Workout
Plantronics BackBeat FIT 500, Teal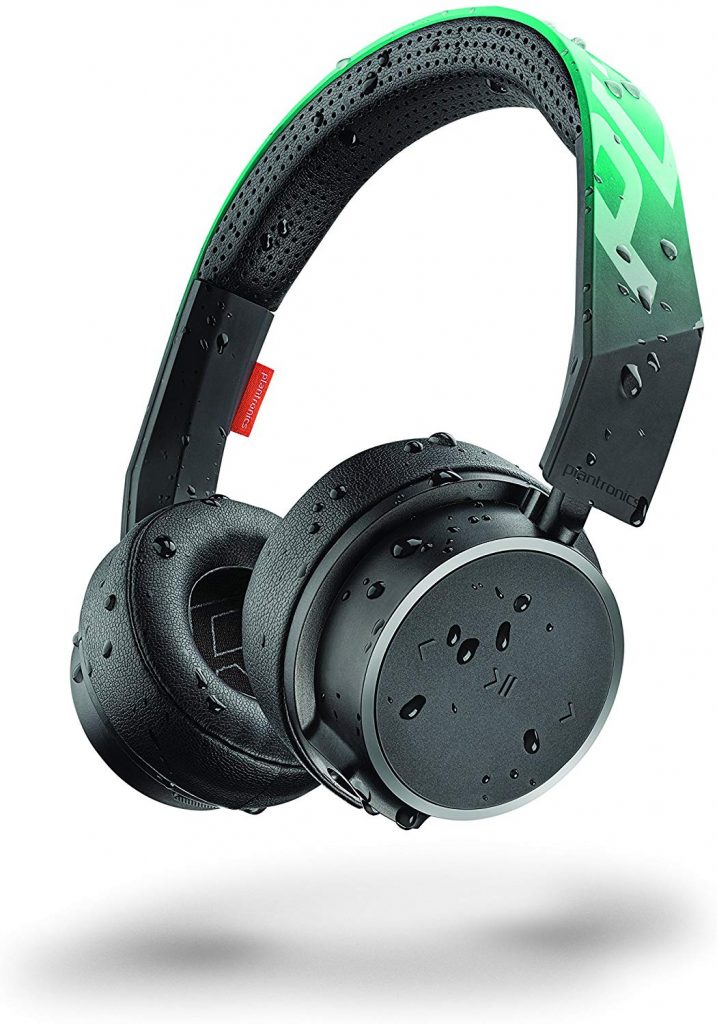 It is an On-Ear pair of wireless headphones suitable for workouts that come with an IPX5 rating for water and sweat resistance. It comes in a sweat-resistant design with easy to operate controls and a comfortable fit. It has a good water repellent coating, which can withstand a good downpour.
As for the battery, it is a rechargeable one that allows up to 18 hours of listening with a single charge. The design is comfortable with memory foam headband along with earcups offering total comfort and sound isolation while listening to music or watching movies. The nano-coating is P2i military-grade, protecting it against sweat and moisture. You can stream up to a distance of 33 ft from your smartphone or tablet. The 40 mm drivers make use of advanced audio technology offering the right balance of sound.
It can be automatically connected with 2 devices at the same time and paired with a maximum of 8 devices. There is also a 3.5 mm cable that comes included if you want a wired option. The headphones have dimensions of 8 x 8 x 2 inches and it weighs 5.47 ounces.
The controls are durable and practical, with raised buttons placed on a rubberized panel, being spaced far enough from each other so that runners can easily use them while running. It also pairs and reconnects effectively, so long as you are within the stipulated Bluetooth range. If you are an athlete looking for a decent pair of on-ear wireless headphones, this is good value for money.
Who Should Buy This?
Those who are looking for a pair of lightweight, comfortable and budget-friendly headphones for use during workouts.
Useful for runners, as it ensures a secure fit while you move.
It is also suitable for those living in places with unpredictable weather conditions, as it has a good water-repellent coating that protects the buds in case of a sudden shower.
Full Sweat-Resistant Truly Wireless Workout Headphones
Jabra Elite Active 65t, Titanium Black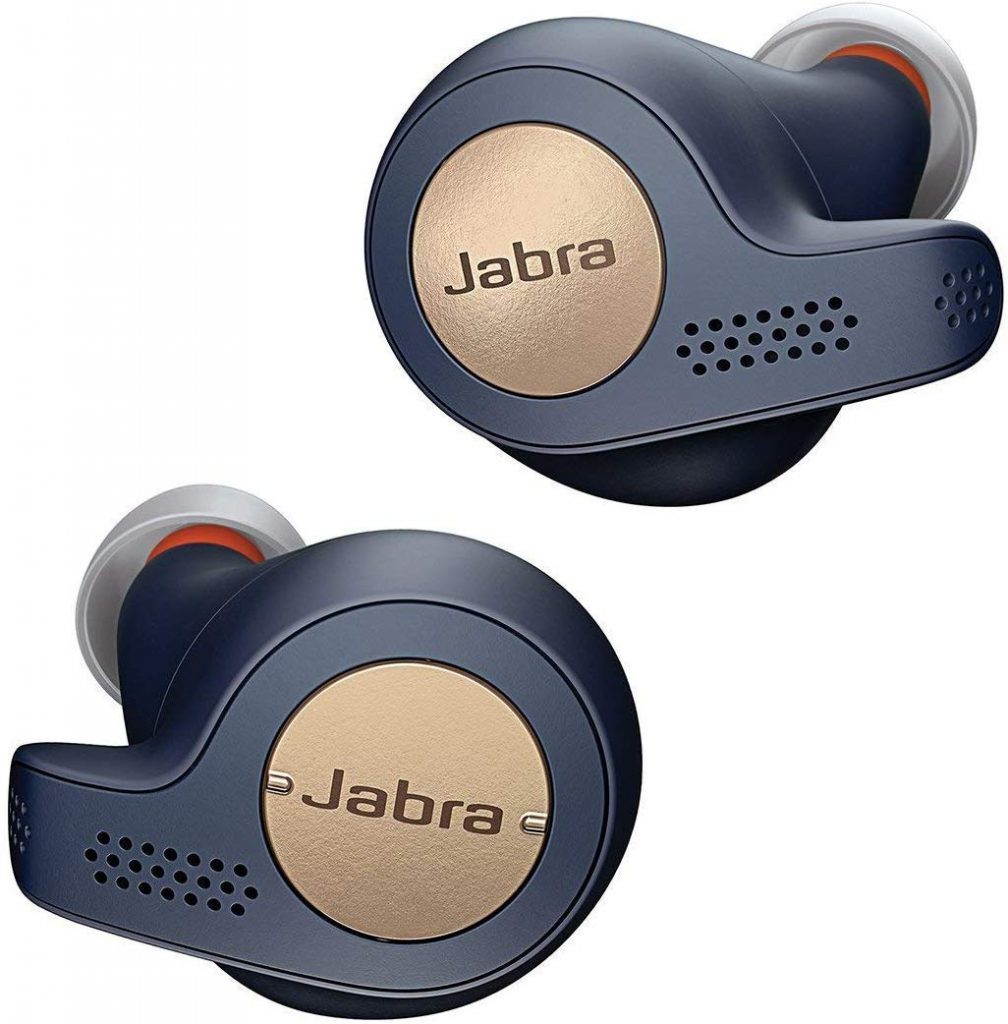 These are fully sweat-resistant and truly wireless earbuds fitting securely and comfortably into your ears, suitable for use during workouts. The performance is reliable and the sound is excellent, having 2 microphones on each earphone. The battery life is good for around 5 hours with one charge and it also includes a charging case delivering 2 additional charges. You can also use the quick charge feature to get 1.5 hours of battery life with a 15-minute charge.
It is small and compact and can easily fit in the pocket. It comes with 3 different sizes of ear tips. Though there are no wings for holding it in place, it stays secure in the ears and gives a tight seal. The noise-isolating feature ensures that ambient noise is sealed out, but you also have a HearThrough transparency feature that you can turn on, to adjust the degree of noise that you wish to let in. It comes with an IP55 rating and so, it is splash-resistant and dust-resistant. It also has Bluetooth 5.0 offering a stable wireless connection and fewer dropouts. You can also use it with earlier Bluetooth versions, as it is backward compatible.
The design is comfortable and it offers support for all the major VAs, including Alexa on the go. It is an in-ear design and comes with dimensions of 2.83 x 2.01 x 1.02 inches weighing 0.42 ounces. It features background noise reduction capabilities and comes with a built-in motion sensor allowing you to track your fitness activities. However, there is no heart rate monitor as in the earlier versions.
Who Should Buy This?
For those who want a small, compact, truly wireless pair of workout headphones to use in the gym or while on the go.
Excellent Design and Comfort Workout Headphones
Sony WF-1000XM3, Black, In-Ear

It is a truly wireless version of in-ear headphones with noise cancellation abilities. They are portable and comfortable with an ergonomic 3-point fit and a non-slip rubber nozzle. They are pill-shaped and come in a sophisticated design, being most comfortable to wear for a long time, during workouts, at the gym or while running. All touch-controls can be accessed from either of the earbuds. The dual-microphone setup combats external noise and is effective in noise cancellation.
The charging case features a magnetic interior, useful for securing the earbuds to the charging pins. You can use them without the app, but the app is useful for customization. As for battery life, it offers 6 hours with one charge and the case supplies 3 full charges, offering up to 24 hours of battery life totally. There is also a quick charging feature offering 1.5 hours playback with 10 minutes charging.
Sound quality is good for music as well as making calls. However, it does not come with an official IP rating. You get a wide selection of non-slip rubber and foam covers for the earbuds along with the box, so users can experiment and find the best fit for comfort. It has Bluetooth NFC pairing features and also supports Google Assistant, along with support for hands-free voice calling. You can easily pause the music, by taking out one earbud, with music resuming when you put it back in the ear. All touch controls for changing the track, activating voice assistant and making calls can be done by tapping the touch panels located in each of the earbuds. Smart Listening technology adjusts the modes according to your activity and surroundings. The earbuds weigh 2 lbs.
Who Should Buy This?
Those who want non-bulky, portable, workout headphones that are ergonomically designed.
Those who do not mind paying a premium price for a premium product.
Ultimate Workout Buddy
JLab Audio Fit 2.0, Black/Green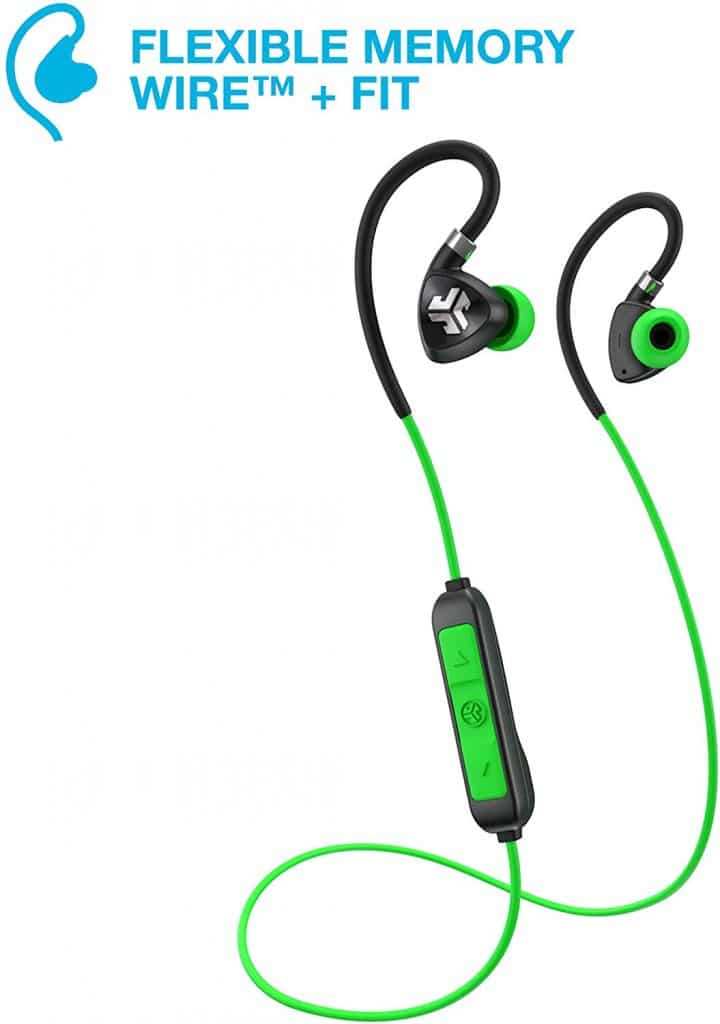 If you do not want to spend on additional bells and whistles and are looking for a reasonably priced workout earphone providing all the essential features, such as dust resistance and water resistance, this one is for you. It is suitable for athletes and comes with moldable ear hooks that can be shaped to any size of ears and offer a stable fit. It also has an IP55 certification for dust and water resistance so that you can use them at the beach or sweat it out in the gym if you wish. You can find a customized fit along with Memory Wire ear hook and 7 gel tips included in this earphone pair.
The earbud housing is triangular and made of plastic, containing a 10 mm dynamic driver delivering full-range audio and deep bass, all available in a compact size. The design effectively blocks out any ambient noise, so you can enjoy your music during a workout at the gym or in public places while on the go. The fit is perfect and it comes with three silicone gel tips reducing noise with 2 Cush Fins offering the perfect fit for the ears. The battery life is also decent at over 6 hours with a wireless range of 30 feet and Bluetooth 4.1 capabilities. It is durable and comfortable with plasma coated PCB boards sealing the battery compartment.  The ear hook gets shaped to the ear, so that maximum fitness and security are assured even during an intensive workout.
They are perfect for those leading an active life. You can use them while running races, cross-training or for your daily gym workout. They are both sweat and water-resistant, so they will not get damaged. Sound quality is also good and the price tag is low and affordable. The dimensions are 0.3 x 4 x 5.6 inches and it weighs 1.6 ounces.
Who Should Buy This?
Those looking for budget workout headphones that are reasonably priced.
For athletes looking for cheap yet viable workout earbuds. Suitable for climbing, running, biking, and other such activities.
Over-Ear Gym Friendly Workout Headphones
Plantronics BackBeat Fit 6100, Black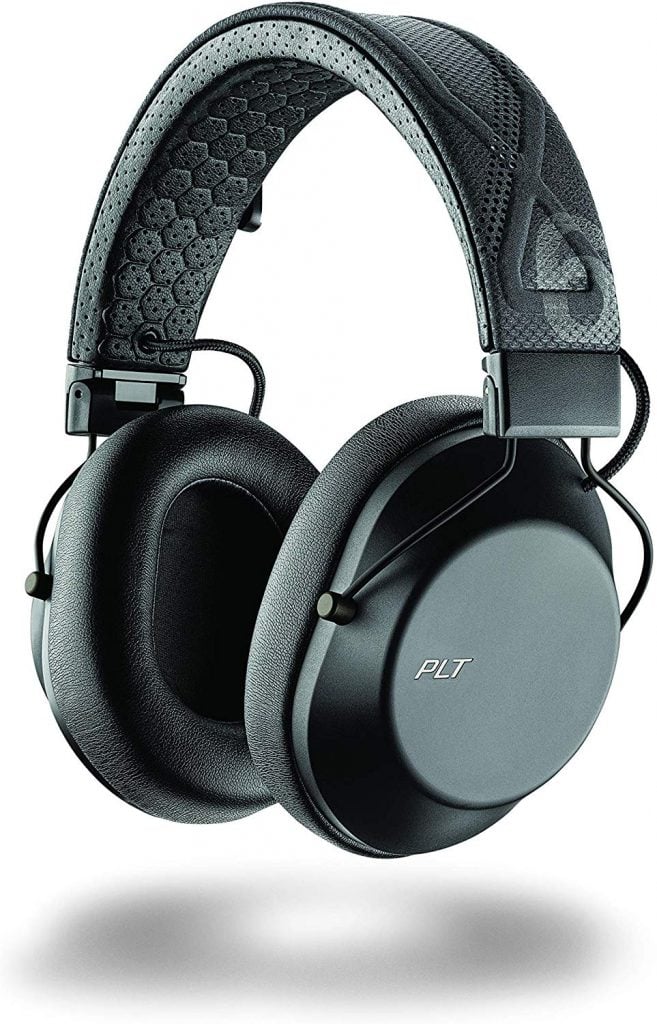 These are over-the-ear headphones that are suitable for an active lifestyle and sports lovers. They come with a breathable headband and have an IPX5 rating. It also has an additional cinch mechanism that stabilizes them on the head. The sound quality that it produces is excellent. Besides, it has an awareness mode that helps you listen to the surroundings and tap actions that can be customized. The noise-isolating design creates a special acoustic chamber offering rich and powerful audio. If you want to be aware of your surroundings, you can adjust the Sound Mix and the Awareness mode directly from the headphones.
The special sport fit headband can be adjusted to give you an ultra-stable fit during rigorous training and the hexagonal pattern offers additional grip. The drivers are angled at 40 mm offering noise-isolating features. As for the battery, it can offer around 24 hours of battery life with a single charge. In addition, there is a quick charge of 15 minutes providing one hour of power on the go. You can also use it in the corded mode, as it has a USB 3.5 mm micro cable included with it.
The dimensions are 12 x 9 x 4.5 inches and it weighs 0.53 lbs. It has an understated athletic look that is suitable for gym enthusiasts. The large ear cups are angled well for offering a good fit and are foldable too. The headband pattern is focused on sports, as it is entirely perforated, offering breathability with an expandable cinch called Beast mode, which tightens the band around the head while jumping, squatting or running.
Who Should Buy This?
Suitable for gym and workout activities, for those who do not like in-ear buds.
Those who want over-ear cups that can withstand sudden movements and sweat but can also double up for use during commuting and in your desk job.
Sweat-Proof Bluetooth Earphones for Workout
Wireless In-Ear Workout HeadphonesTreblab XR100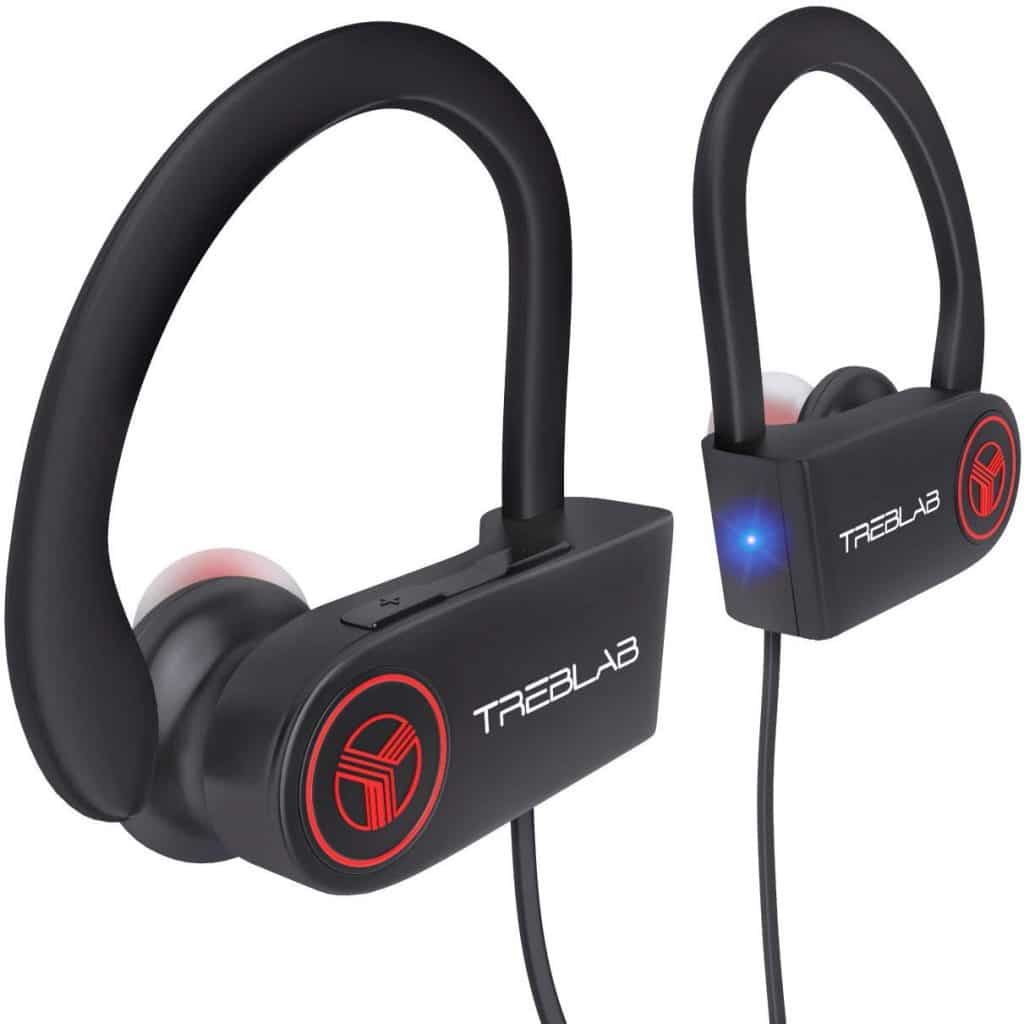 They are wireless but not completely, as there is a flat cable connecting the two earbuds. They are plastic with a silicon type of covering. The outside has a multi-function button for power off, on, pause, etc. It comes with different sizes of ear tips included in the package. They fit well and are comfortable for wearing all day for sport or workout. The Bluetooth range is also excellent and comes with a signal range of 10 meters. It has high definition sound and features noise cancellation capabilities, with passive noise isolation. These are wireless, in-ear headphones with ear hooks.
It makes use of the latest Bluetooth 4.1 version with advanced components. The earbuds are suitable for wearing while running, biking or training in the gym or for any other physical activity. They are IPX4 certified and therefore both sweatproof and waterproof. The ear tips feature expandable foam, which blocks out all external noise so that you can listen to music without any disturbance. The battery life is decent at 8 hours of music play. The charging time is around 2 hours.
It has a built-in microphone for answering calls and is compatible with all devices enabled with Bluetooth, Android, and iOS. As for the speaker unit, it is 11 mm in diameter. The earbuds are small and ergonomic offering true stereo HD sound. They are among the best choice for use during a workout.
Who Should Buy This?
The sound signature of the Treblab XR100 makes it ideal for use during an intensive gym workout.
Suitable for activity in the rain or during the hot summer months, as it is both water and sweat-proof.
Workout Headphones for Sports Enthusiasts and Commuters
Bose SoundSport Wireless, Black, In-Ear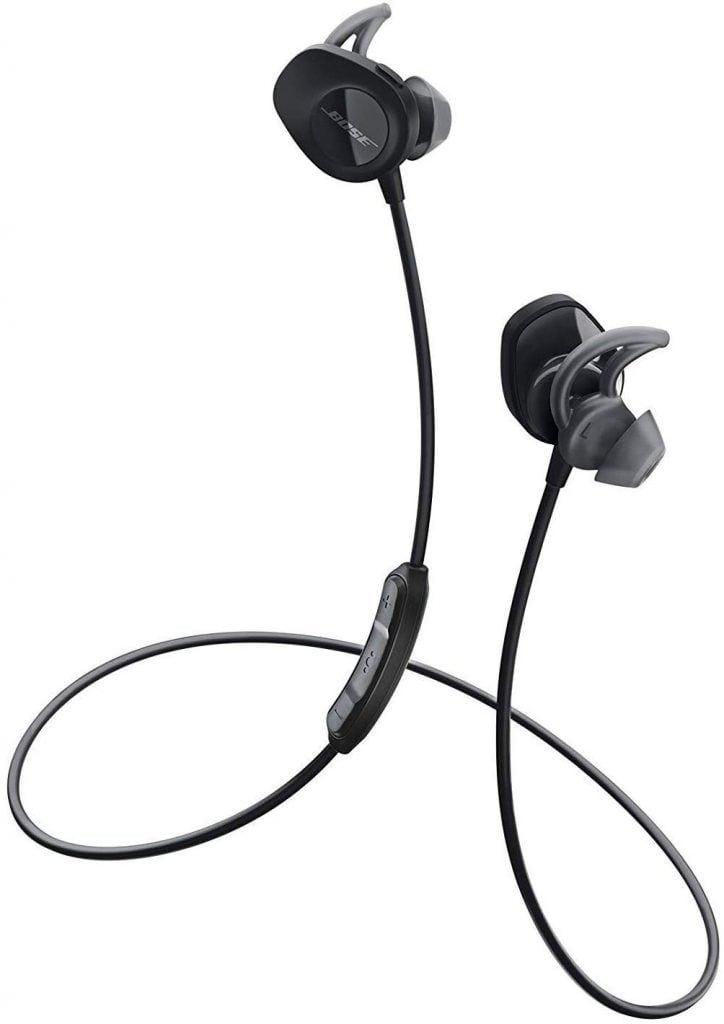 Bose is well known for its noise cancellation enabled devices and the SoundSport wireless is targeted for use during workouts. They are lightweight and come with a built-in battery. It has a microphone for making calls and remote control that is also built-in. It is both sweat-proof and splash-proof. However, it does not have an IP rating.
It has a battery that can offer up to 6 hours of music. The headphones come along with 3 pairs of ear tips in the box. The earbuds sit on the outside of the ear canal so that you can also hear some outside sounds instead of being completely shut out. The tip has rubber wings that hook into the outer ear, enabling to lock the buds in place. It has a short neck cable and it fits comfortably in the ear thanks to the winged tips.
The Bose SoundSport Wireless offers an excellent audio experience, as it makes use of the Bose Active EQ. Pairing is easy with NFC assisted by voice prompts. The StayHear+ Sport tips are built to withstand the toughest of workouts. It comes with a Bose Connect app, which makes it easy to connect with devices and personalize settings. With Tile, you can find your headphones if you misplace them. These in-ear earphones have a dimension of 0.98 x 1.2 x 1.2 inches and it weighs 0.8 ounces.
Who Should Buy This?
For sports enthusiasts and commuters.
For those who want a great sound quality combined with a snug and secure fit.
Swimming and Workout Over-Ear Headphones
AfterShokzXtrainerz, Black Diamond
It comes in a slim and lightweight design that is comfortable to wear over prolonged periods of exercise or activity. The pads are bone-conducting and sit in front of the ear holes and the bands sit perfectly at the back of the skull. The buttons are accessible and easy to press and can be activated while exercising. It also comes with an In and Out of Water mode for different conditions, which is useful if you are splashing in the pool. It comes with an IP68 rating.
However, it is not a Bluetooth device, so you can only listen to MP3s or podcasts that can be transferred from your computer to the Xtrainerz. They offer good resistance to seawater and are suitable for triathlon training, so you can switch from a pool to the bike or running, with ease. You can dive into the water about 2 meters deep for 2 hours wearing these headphones.
It comes with a swim cap and it renders the sound through the cheekbones and not through the ear canals, so there is nothing over the ears. The 4GB MP3 storage can hold over 1200 songs, so it is possible to upload all your favorite audiobooks and podcasts and listen to them during your workout. It supports MP3, WAV, WMA, AAC, and FLAC files, though it is not Bluetooth compatible.
As for the battery, it offers 8 hours of premium audio that you can enjoy while cross-training. It is fully waterproof and you can use it for all types of training. The design is open-ear, so it offers a bud free, comfortable listening experience, with the headphones remaining in place stroke after stroke while swimming. The dimensions are 5.31 x 3.69 x 6.65 inches and it weighs 1.06 ounces.
Who Should Buy This?
Perfect for workout enthusiasts.
Suitable for open water swimming.
Conclusion
The best workout headphones are noise-canceling wireless headphones that are ergonomic, as it has to stay snug over the ears while you are active. It should also be sturdy enough to be suitable for rugged physical activities. Truly wireless headphones are in-ear ones without a cord connecting them. On the other hand, IEM wireless phones are earbuds with cables connecting them as a neckband, with the controls present in the cables. There are also wireless over-ear headphones that operate over Bluetooth. Look out for the form factor, waterproof rating of at least IPX8. Other factors to look for are whether it is water or sweat resistant, fits comfortably, stays on well, has built-in controls, sound isolating features, good battery life, etc. We hope this helps narrow down your choices making it easier for you to select the best workout headphones.
---