Technobezz is supported by its audience. We may get a commission from retail offers
Having a clean household is the first step towards creating a hassle-free living environment. The best vacuum
Having a clean household is the first step towards creating a hassle-free living environment. The best vacuum cleaners make life easier because you can clean dirt and debris stacked up inside the couch, under the bed and maintain a clean environment. There are powerful cleaners that deliver exceptional sucking force while there are versatile models that come with a load of accessories. Be it a budget-friendly solution or an all-out premium product, here are some of the best vacuum cleaners available to help you get rid of dust and dirt.
See also: Best toasters
Best vacuum cleaners
An All-Rounder Performer
Shark Navigator Upright Vacuum for Carpet and Hard Floor

Most people rely on a vacuum cleaner when they require extreme suction. This capability to get the job done will make a product the top-selling choice on websites. The Shark Navigator Upright Vacuum has a design that delivers on all fronts because it sucks debris and dirt like no other vacuum cleaner out there. Besides, if you have pets in your household this is the perfect solution as it includes a pet upholstery tool to clean the area.
On the inside, the cleaner is equipped with a HEPA filter that is anti-allergen and provides excellent sealing against dust or allergens that may get accumulated inside the product. It is essential because when cleaning areas frequented by your pet, the chances of allergens affecting your health becomes manifold. The filter also helps to empty and clean the vacuum cleaner easily.
The weight of the product is just 12.5 pounds and it easily falls under the lightweight category. The upright posture lets you move it around couches, chairs, and beds in your household. Irrespective of the location, whenever there is a requirement to clean, this vacuum cleaner should come to your rescue as you can comfortably move it around your house without being constrained by its design. The only setback is that it is kind of top-heavy and the user has to manage the weight for efficient use.
What Makes the Shark Navigator Upright Vacuum an All-Rounder?
The best vacuum cleaners are the ones that can handle a wide range of situations, and the Shark Navigator does it!
The product has a range of features including powerful suction, pet upholstery tool and a HEPA filter that traps all allergens.
Who Should Buy It?
A perfect choice for people with pets at home that shed lots of hair.
The design allows you to reach every nook and cranny of your household for perfect cleaning.
Most Value for Your Money
Hoover BH50020PC Linx Signature Cordless Vacuum

Trying to sell a wireless product is much easier than marketing a corded device. That could be the reason why Bluetooth headphones became exceptionally popular than wired ones during the past few decades. If you are looking to cut the cord and enjoy a seamless experience, the Hoover BH50020PC Linx Signature Cordless Vacuum can comfortably meet your requirements.
Being able to move around your rooms, cleaning, without a wire tagging along is definitely a welcome feature. After all, who wouldn't love to have the convenience of wireless and clean their home in convenience and style. The cleaner effortlessly glides through different surfaces including carpets, hardwood floors and can even clean shallow carpets. The controls are easy to access and are placed in such a way that you can access them without any trouble.
Another unique aspect of this vacuum cleaner is that it weighs only10 pounds that makes it possibly fall under the featherweight category. The product is easy to carry around wherever you go and you can even take it out of your house in your car, in case some cleaning has to be done in your office or other locations. The wireless capability further enhances its uses and the cleaner makes use of the Wind Tunnel technology to get rid of stubborn debris that wouldn't easily move out of its position.
What Makes the Hoover BH50020PC Linx Signature Cordless Vacuum Amazing?
Considering the price tag, this is probably the most affordable yet technologically advanced product available in the market today.
It can easily transfer from one type of floor to another.
The wireless facility is delivered by a lithium-ion battery.
Who Should Buy It?
For those who prefer a low profile and lightweight design that can be taken anywhere in the house for cleaning.
The product is perfect for users who have to cover a large area in their household and it is made easy with the built-in battery. There is no need to attach this vacuum cleaner to a charging point.
Best Vacuum Cleaner with Premium Build Quality
Miele Electro + Canister Vacuum Marine Blue
The most powerful vacuum cleaner can make a big difference in keeping your home clean and tidy. In many cases, people tend to manually wipe-clean stubborn debris and dirt found on the floor. In another scenario, the chances of cleaning hair shed by your pets may pose a threat to the cleanliness factor of your home. The Miele Electro + Canister Vacuum delivers the most powerful motor you can ever ask for.
The product is powered by a 1200-volt motor and the fact that the product comes from Miele ensures that it is a heavy-duty product with lots of reliability attached to it. If the motor capacity doesn't impress you, consider looking at other features including the six different suction settings available and the ability to adjust the height. You can choose between five different height settings so as to reach the deepest crevices and clean the area until it is sparkling clean.
Apart from its performance capability, the product also includes some useful accessories. It has an upholstery tool to reach all areas of the upholstery, a crevice tool for the corners and a dusting brush for your couch among other furniture. The weight is moderate at 18.7 pounds though it might seem heavy for some users. However, if you are looking for an exceptionally powerful motor and a product that can remove allergens from the room, this is the best vacuum cleaner available.
What Makes the Miele Electro + Canister Vacuum Marine Blue Truly Premium?
The range of accessories provided with this product makes things easier as you can use it in a wide variety of cleaning situations.
It is heavy but also houses a really powerful motor on the inside that makes use of the HEPA AirClean exhaust filter.
Who Should Buy It?
A great choice for professional users at the office or at home where you need to get the place perfectly clean.
The heavy equipment is also good at removing allergens that affect households, especially with young children.
Professional-Grade Premium Vacuum Cleaner
Dyson Upright Vacuum Cleaner Ball Multi-Floor 2

Before you buy the best vacuum cleaner, give the internet a shot. In all the professional blogs, forums and YouTube videos out there, Dyson will get far more recommendations than any other brand. The company excels at making some of the best cleaners but it does come with a premium price tag. Compared to many sub-$100 products out there, you should be ready to shell out a couple of hundred dollars to own this product.
The Dyson Upright Vacuum CleanerBall Multi-floor 2 is available in a bright yellow color. The product's design may often turn off people who are keen on aesthetics and want a stylish product. However, when it comes to getting the work done, this upright cleaner excels in every aspect. The product is lightweight despite how it looks and is certified to protect from Asthma and other allergies because of the HEPA filters used inside it.
The dust collection bag can be placed above the garbage container and with the push of a button, you can empty it. It reduces the chances of having to touch the dirt with your hands that lead to infections. The Dyson vacuum cleaner has a solid five-year warranty to justify the heavy price that you pay for it. A very strong suction ensures maximum cleaning and it is equipped with a ball, making it easy to move it below the couch or reach the wall or any other surface.
What Makes the Dyson Upright Vacuum Cleaner Ball Multi-Floor 2 the Best?
Dyson has built a brand name for quality products around the world and ensures that its products come with robust build quality and strong suction.
The product is easy to clean, move around the house and makes use of an easily disposable garbage bag.
Who Should Buy It?
If you are willing to spend a premium amount and want the best in its class, this is the right pick.
The vacuum cleaner has a five-year warranty period and is perfect for use in offices, warehouses, and other venues.
The Best Vacuum Cleaners for Households with Cats and Dogs
Dyson Cinetic Big Ball Animal Canister Vacuum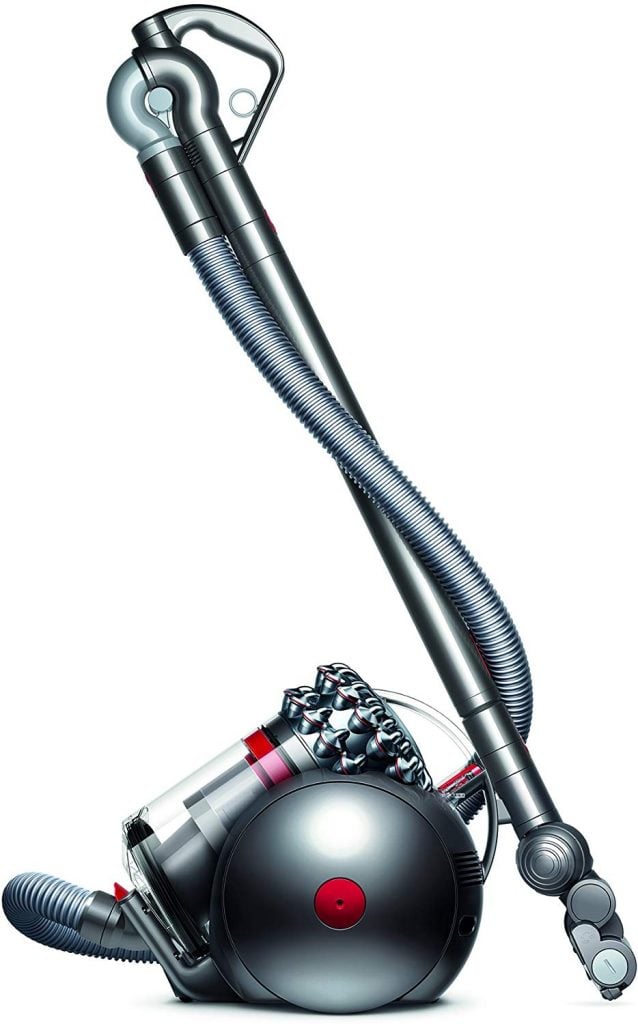 You love your favorite dog or cat! They keep walking around the house, making cute noises and looking adorable. But that doesn't end there because pets tend to leave a trail of hair across the floor and on furniture. They often climb on top of the couch and you will realize how miserable it is only when you start cleaning! The Dyson Big Ball Animal Vacuum is precisely made for this purpose and should help ease off the stress associated with owning a pet or pets as you prefer.
The company known for making quality vacuum cleaners and delivering perfect quality has launched this pet-friendly product. The design aspect is different compared to other Dyson products. This vacuum cleaner has a unique design with 36 cinetic tips that help remove microscopic dust from the floor and other places. Another unique and noteworthy advantage of the product is that there are no dust filters to remove and clean. If there is one thing that people detest, it is the process of having to change dust bags and clean filters.
You no longer have to do it which is great for households with young children or people who are allergic to dust. The collected dust can be emptied into the garbage can with the touch of a button and you don't have to touch it at any point. The dirt collector is made of carbon fiber turbine and the 360-degree handle allows you to reach even the most stubborn corners in your home. The lengthy cord allows you to reach up to 35 feet on the floor and the wall for cleaning.
What Makes the Dyson Cinetic Big Ball Animal Canister Vacuum Unique?
The vacuum cleaner is specially made for pet owners to make their cleaning easier.
It has a large and robust handle while the dirt ejector is easy to use, as your hands will never come in contact with the dust and debris.
Who Should Buy It?
The product is directed at pet owners and if you have cats/dogs at home, this is a must-have.
The powerful suction capabilities are ideal for any household that gets dirty fast.
Best Wireless Vacuum Cleaner that's Budget-Friendly
Moosoo Cordless 4-in-1 Lightweight Vacuum Cleaner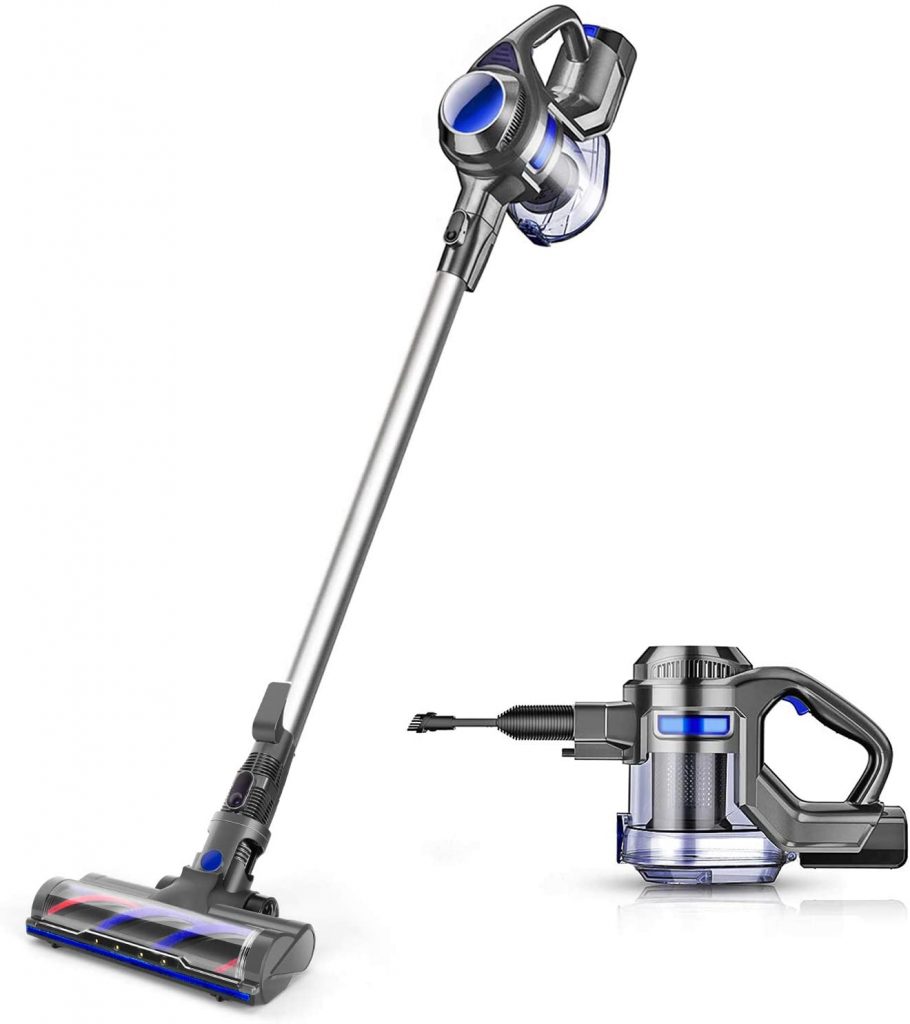 Buying a new vacuum cleaner can be a tedious affair if you are not sure about your requirements. But without having to go too deep into the features, some of the obvious requirements include having a product that is lightweight and easy to move around. A cordless solution is preferred most of the time because there is no need to switch it from one power source to another throughout your house.
The Moosoo Cordless 4-in-1 lightweight vacuum cleaner makes life easier for those who have a large house or need to clean on a regular basis. The cleaner is equipped with a powerful 2200mAh battery that can easily last up to 35 minutes. You should be able to clean the entire house and do more before it runs out of power. The product uses HEPA filtration to get rid of allergens and it has a 120-watt powered motor that delivers the suction power needed to remove debris effectively.
Powered by a triple-layer filtration system that includes a honeycomb filter, HEPA and cyclone filtration, the vacuum cleaner assures that your residence is 99% dust and bacteria-free. The 10KPA powerful suction combined with the lightweight body that weighs just 3.3 lbs makes it the best cordless solution that you can carry around easily. A wide range of dust particles in different areas including the floor, carpets, bed, and couch can be removed easily.
What Makes the Moosoo Cordless 4-in-1 Lightweight Vacuum Cleaner Useful?
The cordless variant is easy to use and is quite affordable for most buyers.
It supports fast charging and can be fully recharged in 5 hours.
Who Should Buy It?
If you have a requirement to quickly clean and leave the cleaner in the charging port, this vacuum cleaner will suit your needs.
People who love to split up their work will find the cordless variant handy as you can split up to clean each room or area separately.
Best Commercial Vacuum Cleaners
Oreck Commercial XL2100RHS Upright Vacuum Cleaner XL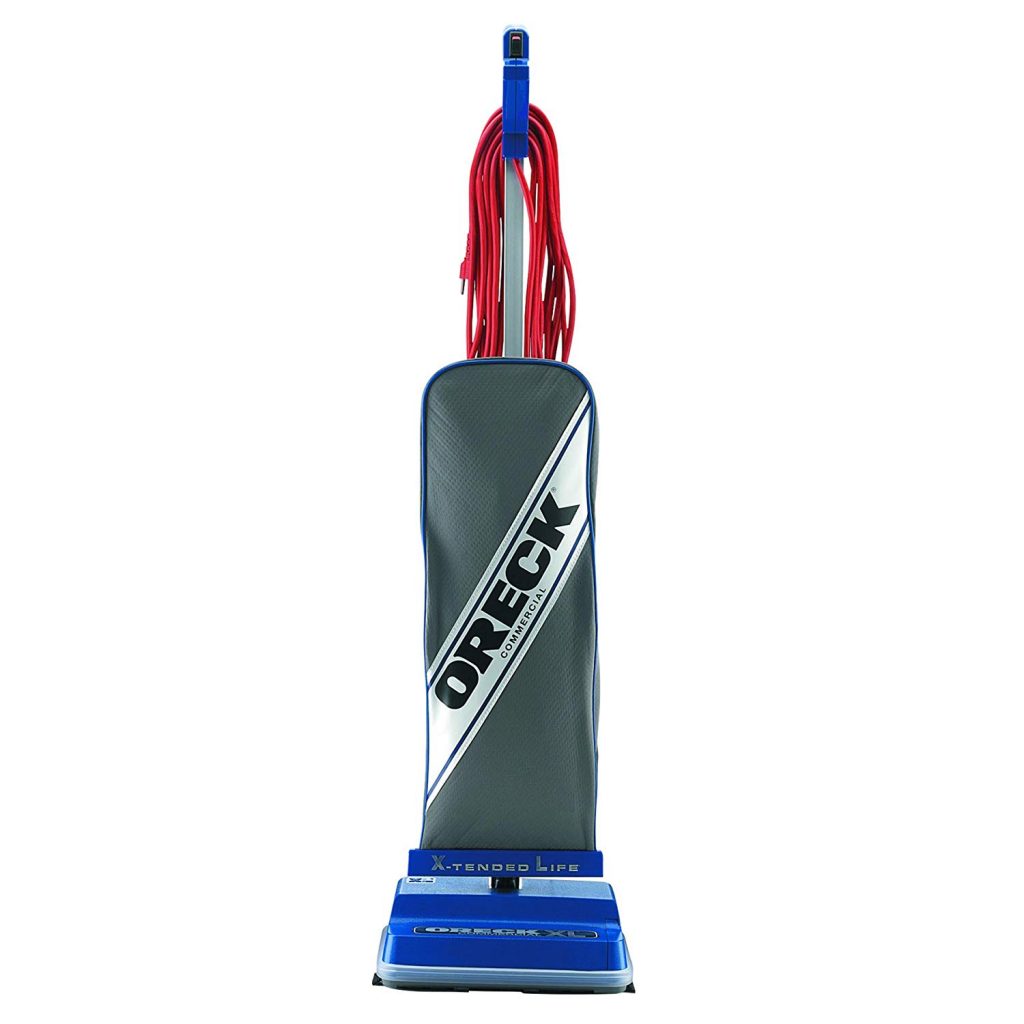 Depending on the type of debris and dirt that plagues the floors of your house, you can choose to go for a commercial-grade product. The advantage of choosing a commercial solution over a consumer choice is that they are designed to be robust, durable and withstand heavy-duty usage. The Oreck Commercial XL2100RHS Upright Vacuum Cleaner XL can clean even the most stubborn dirt because of its suction capability and a wide 12-inch garbage bag.
While there is the additional expense of having to purchase the bag separately, it does have its benefits. If you have any commercial work going on in your house, have many residents or construction work going on, it is important to have a commercial-grade vacuum cleaner. The Oreck is not expensive out of the box and given the fact that you should buy the bags at an additional cost, it will compensate if you can use it occasionally when there is a requirement.
In terms of design, the product looks a lot like a gadget from the 90s. However, it is designed to be extremely durable and easy to use in different conditions. You can push it under the couch and bed to clean the insides as the handgrip will rotate accordingly. The powerful brush spins at 6,500 RPM that produces ample power to remove the dirt and suck it into the dirt collection bag. It is extremely hygienic as you can collect large quantities of dirt and dispose them off neatly.
What Makes the Oreck Commercial XL2100RHS Upright Vacuum Cleaner XL Robust?
The product features a furniture-friendly design so that you can clean all the nooks and crannies effectively.
The top-fill bag design is easy to remove dirt from without affecting your hygiene.
Who Should Buy It?
Designed for professional use as the dirtbag is large enough to cover an entire office, warehouse, or large homes.
The design works great for people who need to use the cleaner for hours and are not okay with short-term cordless variants.
Popular Best vacuum cleaners from a Reputed Brand
Eureka PowerSpeed Bagless Upright Vacuum Cleaner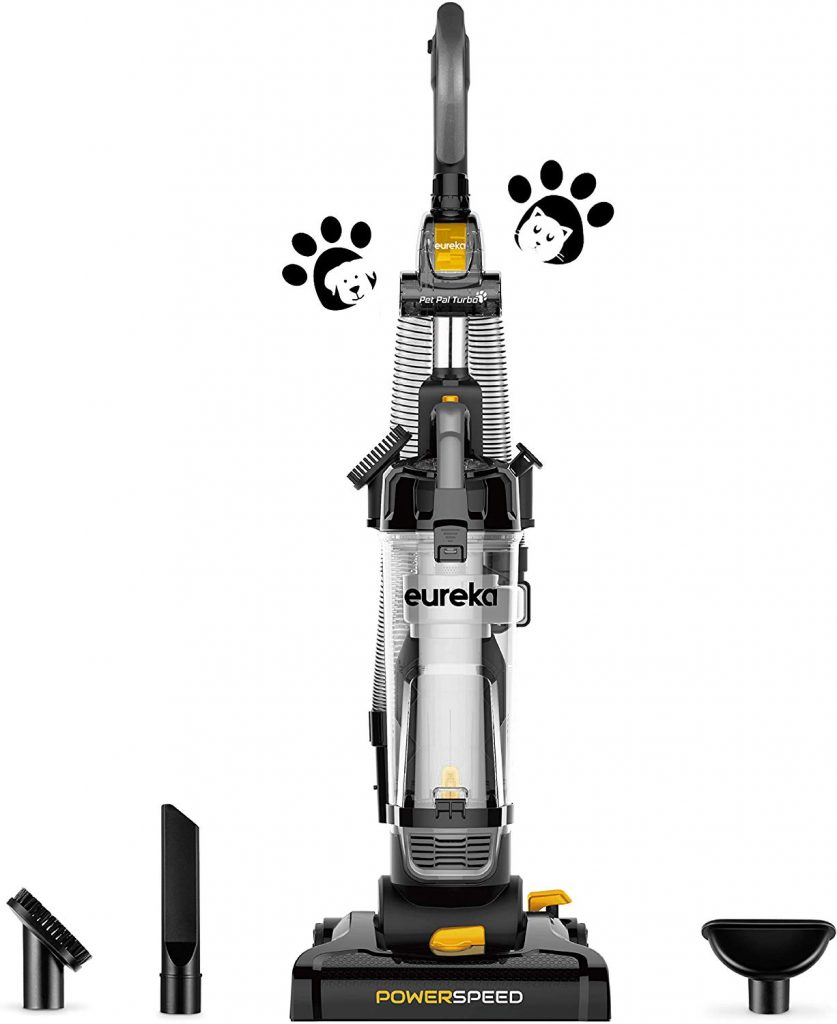 The Eureka PowerSpeed Bagless vacuum cleaner is designed to be lightweight and portable. Any person can easily move it around to clean different corners of the house, the flooring, and the furniture. The Eureka PowerSpeed cleaner truly justifies its name by offering the best suction capacity. It can handle all kinds of debris, dust, and dirt ensuring sparkling cleanliness.
Despite its slim design, the cleaner is equipped with a large 6L dust cup. It is easy to empty the collected dust without getting your hands dirty. The product is designed to be compatible with varying floor scenarios as you can easily adjust the height of the handle. It supports five different height adjustment options and you can manually alter it to suit the area where the cleaning process is underway.
While the primary purpose of the cleaner is to deliver maximum suction power, it is also designed to help pet owners clean excessive pet hair from their homes. The pet turbo-tool is handy for such cases. The Eureka brand assures zero-cost maintenance as the filters and the dust bag are completely washable. There is no need to purchase them individually and spend more on a product that you have already purchased.
What Makes the Eureka PowerSpeed Bagless Upright Vacuum Cleaner Reliable?
This vacuum cleaner is from a known brand, that is reputed the world over for making outstanding cleaning equipment.
It is robust and lightweight, ensuring durability.
Who Should Buy It?
If you like to have a couple of bundled accessories with your vacuum cleaner, go for it.
The product is perfect for pet owners and users who need increased suction power to clean stubborn dirt and hair from corners and other areas.
A Transparent Vacuum Cleaner for Cleaning Pet Hair
BISSELL Cleanview Rewind Upright Vacuum Cleaner

Among the best vacuum cleaners, the ones that offer the highest level of suction power are the best to get rid of pet hair. Depending on the age of your pet and the quantity of hair it sheds, the household could become dirty and miserable. Not all cleaners are equipped with the right dust bag and design to remove pet hair. The BISSELL Cleanview Rewind Upright Vacuum Cleaner is specifically made to help people who love cats and dogs but have a lot of their hair to clean up.
Besides, the brand is largely committed to helping homeless pets through its foundation and every purchase you make grants a sum to help those creatures in need. In terms of performance, the vacuum cleaner is one of the best as it reduces dust scatter through its scatter-free technology when in operation. The power cord is 27 feet long. With the help of automated cord rewind, you will never have to put up with the tedious task of having to roll it inside.
The BISSELL vacuum cleaner uses a triple action brush roll to remove pet hair, lift stubborn dirt and also make use of multi-cyclonic suction to get rid of any debris on the floor. The design allows you to clean your house from edge to edge. The filters are easy to clean under running water and the multi-level filtration ensures your home stays allergen-free when the cleaner is used on a regular basis.
What Makes the BISSELL Cleanview Rewind Upright Vacuum Cleaner Pet-Friendly?
The cleaner's high suction capability removes any pet hair lying on the floor.
The triple-layer filtration setup keeps the cleaner safe and is easy to clean when detached.
Who Should Buy It?
Similar to many other products, this one is best suited for pet owners.
It is easy to clean and if you need a corded solution without the hassle of rolling it back, this is the right choice.
An Ultra-Affordable Vacuum Cleaner
Eureka NES210 Blaze 3-in-1 Swivel Lightweight Vacuum Cleaner

Can you purchase a vacuum cleaner for under $50? The claim may sound far-fetched but there are buyers like students, people with limited space in their homes and those who may need an additional accessory. For all those unique and budget-conscious needs, the Eureka NES210 Blaze is the perfect solution. Besides being an ultra-affordable cleaner, it also happens to be a reliable and robust solution for what you pay.
The 3-in-1 device is equipped with a crevice tool that allows you to easily customize the vacuuming process based on your requirements. The extremely lightweight product weighs just 4 pounds and it makes handling easy like no other vacuum cleaner of its type. Instead of having to spend lots on a cordless cleaner with the necessity to charge its battery regularly, a super lightweight solution as this one lets you carry it anywhere within the house.
The advantage of having such an affordable cleaner is that you can easily purchase two or three of them for different parts of your house. It makes cleaning easy and the product will always be ready for use. It is equipped with a 2-amp motor that can comfortably absorb dust and collect it in the bag. The bag has a built-in filtration system and the extra-long 18-feet power cord allows you to cover a large area before the power outlet needs to be changed.
What Makes the Eureka NES210 Blaze 3-in-1 Swivel Lightweight Vacuum Cleaner Great?
This cleaner is the cheapest solution that you could find in the market.
It has a long power cord and is extremely lightweight, making it easier to move the product around the house.
Who Should Buy It?
If you are on a tight budget and need a quick solution, this is the vacuum cleaner for you.
ThisEureka product is an ideal secondary cleaner for those who don't want to spend hundreds of dollars on a large and expensive vacuum cleaner
Conclusion
The best vacuum cleaners are available in different sizes and they can be purchased in both corded or cordless versions. The pricing varies based on the brand you choose, as a powerful vacuum cleaner like the ones from Dyson is more expensive when compared to the affordable Eureka products. At the end of the day, it's all about personal preference and the kind of product that best suits your needs. You can always go for a lightweight cleaner or an all-powerful premium product that is designed to remove the last speck of dust.
---