Technobezz is supported by its audience. We may get a commission from retail offers
The technology world is rapidly changing from micro USB ports to USB Type C as the most preferred connectivity medium. They are more powerful, supports much better data transfer rates and are reversible. Reversibility removes the frustration of having to find the right side every time you plug it in a power port. The best USB-C hubs make life easier for people at the office, during travel or at home when you have lots of devices to be charged at the same time or data to be transferred.
See also: Best USB Flash Drives
Best USB-C Hubs
A Single USB-C Hub for All Your Laptop Connectivity Needs
Anker USB C Hub Adapter for MacBook Pro, iPad and XPS Laptops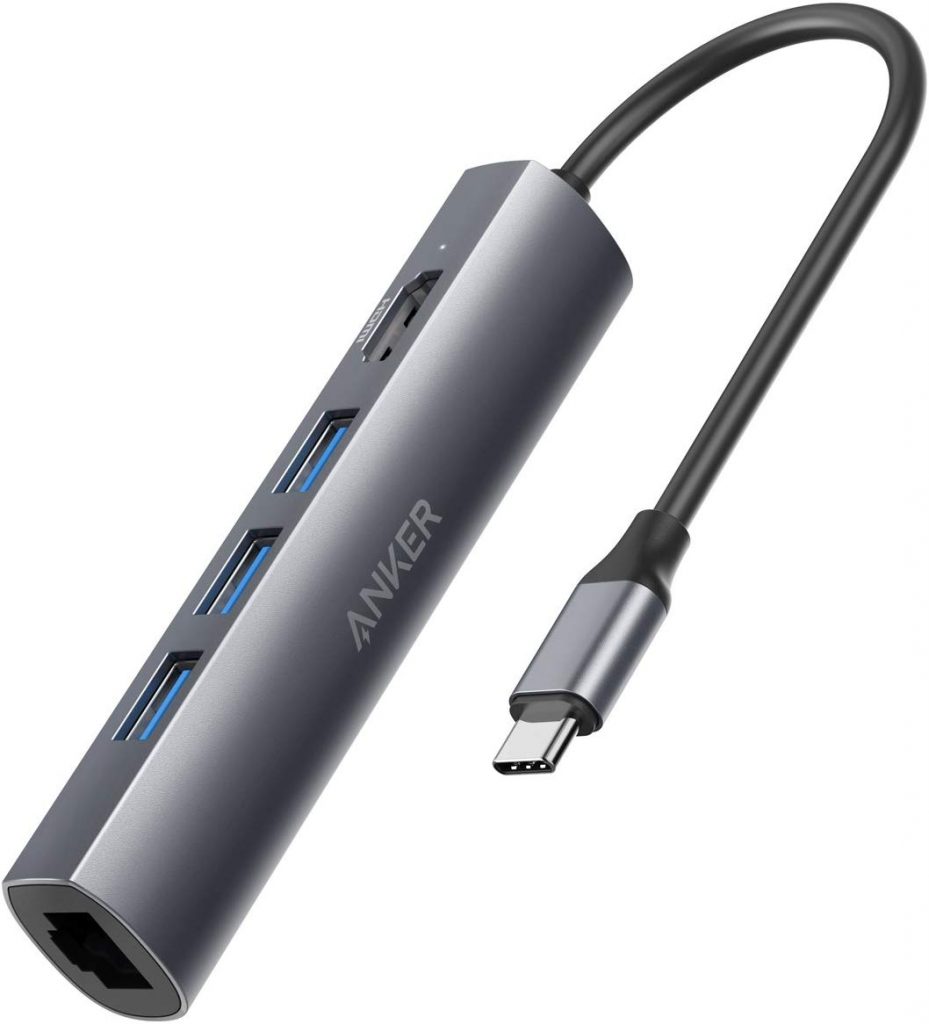 A growing number of laptops these days feature a single USB Type-C port making life really difficult for the average user. It all started with Apple and the company for some odd reason assumed that just two ports on their MacBook would be sufficient for all your connections. All your old USB drives, HDMI connected televisions and many other devices were made redundant immediately.
The same wouldn't happen now if you have a MacBook Pro, laptop or an iPad with a limited number of modern ports -just connect the Anker adapter which is branded, reliable and worth the investment! With the Anker USB C Hub Adapter, you can instantly connect three different full USB ports to your laptop and transfer data or simply use it as a way to charge your other devices.
There is an HDMI port that is not easily found in all hubs but this one has it. The advantages are plenty because you can stream high-quality 4K resolution videos from your laptop to your television or a large computer monitor. For users who do lots of presentations, this is a useful feature. Another added advantage of this add-on is that it comfortably supports faster file transfers. The USB 3.0 ports can support up to 5120 Mbps data transfer speeds, making it one of the best and reliable way to handle large files.
What Makes the Anker USB C Hub Adapter a Solid Choice?
The Anker product is easily one of the best USB-C hubs because it not only supports large USB ports but also has an HDMI port.
The size is compact and easy to carry around.
Recommended For:
Users who need to do presentations using 4K videos will find this hub useful.
It is compact and allows people who need to use a wired keyboard, mouse as well as USB drives to transfer data at faster speeds to meet their requirement.
Best USB-C Hub for Photographers and SD Card Users
FlePow USB C Hub Multiport Adapter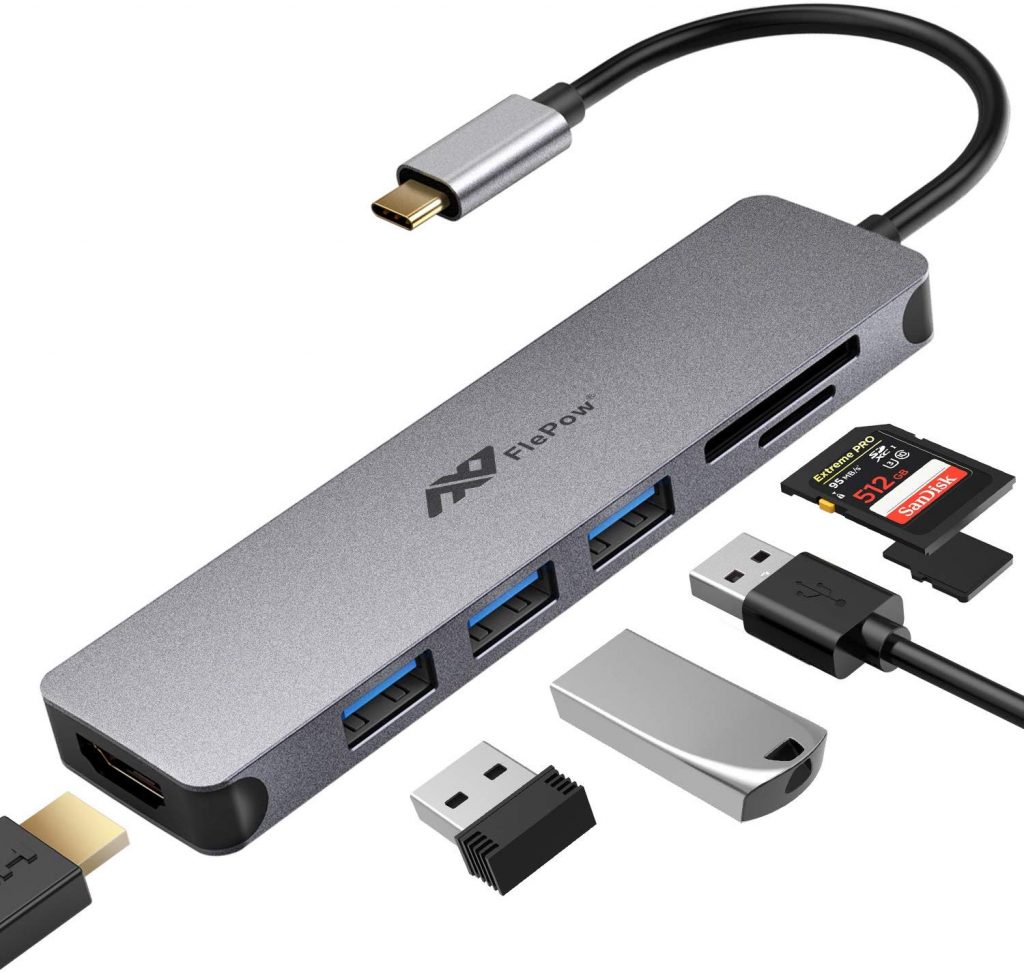 When using any laptop for that matter, be it an Apple MacBook Pro or a Dell XPS device, you would obviously need an adapter that helps overcome the constraints. No one can simply rely on a single port because USB-C is more of brand-new technology and all kinds of storage solutions are on legacy devices like a USB drive. Besides, the laptop manufacturers are also removing the SD card reader from their devices.
Gone are the times when most laptops featured an SD card reader. Instead of purchasing them all individually, all you need is the FlePow USB C Hub Multiport Adapter. Aimed at professionals like photographers who work a lot with SD cards on their professional DSLR cameras, the hub allows you to quickly transfer all your photographs to your laptop and start working on it.
The product features 7 different ports including an HDMI port for 4K video streaming to another device or television combined with a USB C power adapter to charge your devices that support it. All major products such as smartphones, headphones and power banks have slowly upgraded to the latest Type C as the norm. The adapter only helps in making life easier for the next few years until it is found by default on all devices that you purchase.
What Makes the FlePow USB C Hub Multiport Adapter Useful?
The product has seven different ports that come in handy.
The USB 3.0 ports enable faster file transfers and allow you to connect multiple devices at the same time.
Recommended For:
Perfect for photographers and travelers because it has an SD card reader to transfer files from a camera.
The equipped temperature control makes it the perfect travel companion that also allows users to transfer files at the maximum possible speed because professionals need speed.
Best USB-C Hubs for Chromebooks
HooToo 6-in-1 USB C Adapter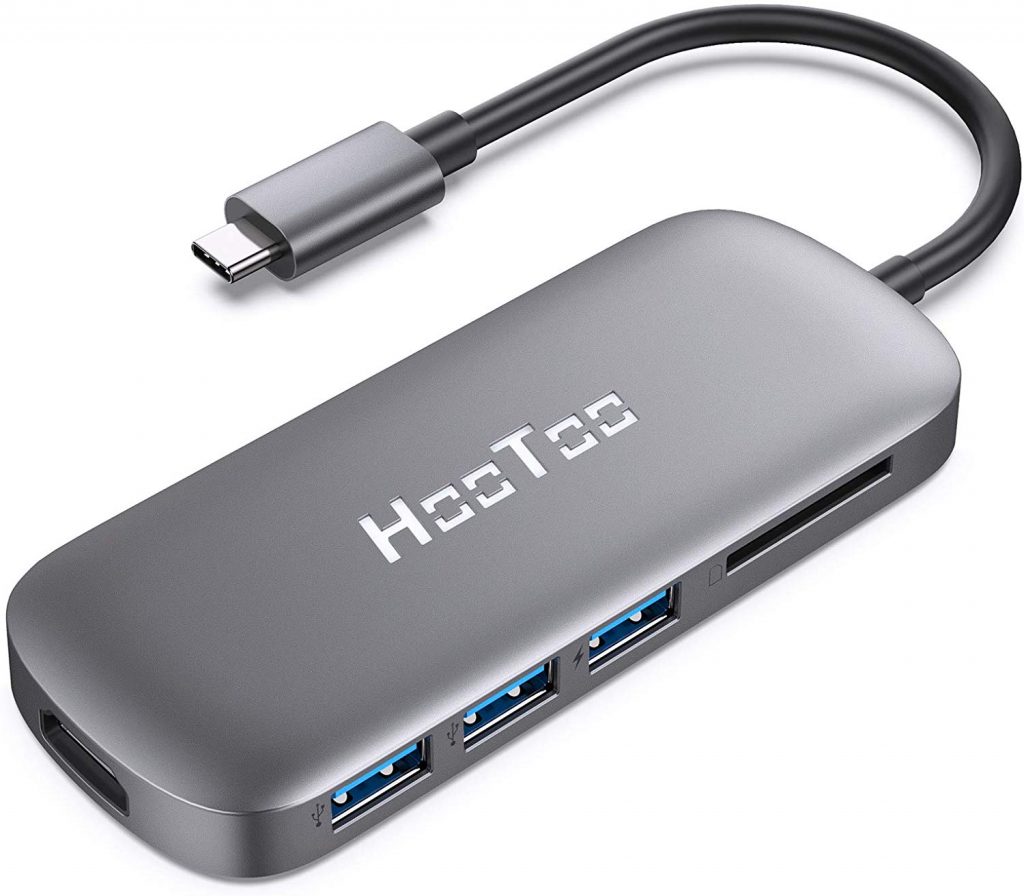 While there are no specific hubs designed primarily for Chromebooks, a lot of these devices get launched with just one or two ports. We can probably keep the discussion on whether they are actual computers or not for a different day but connectivity is a must for both professionals and casual users. The HooToo 6-in-1 USB C adapter ideally meets this requirement with a whole lot of ports.
The advantage of having a single sharing adapter with all the ports you need are plenty. The obvious reason to have one is to make it easier to connect multiple keyboards, mice, SD cards to transfer files and possibly charge your other devices using your Chromebook. To make laptops slimmer and sleek, manufacturers are removing almost all the ports and SD card readers are no longer found in these devices.
The Mac-style design makes the HooToo adapter a fun and stylish accessory to own. You can use it with a range of devices including MacBook, iPads, Laptops, and Chromebooks but the only requirement is that they should have a USB-C port for it to work. The adapter has a total of three USB 3.0 ports, an HDMI port so that you can stream 4K videos to television and the SD card reader which is useful for photographers and other professionals.
What Makes the HooToo 6-in-1 USB C Adapter Useful?
This is a useful accessory for all Chromebook owners because of the limited number of ports found in some models.
The stylish and suave look of the adapter will appease Mac owners who seek perfection.
Recommended For:
A highly durable Type-C adapter for those who need a rugged solution that they can depend on.
If you need an all-in-one package that is also small in size, this should be the only adapter you would need for your USB-C devices.
A Dedicated Adapter with an Ethernet Port and Other Connectivity Options
Aukey USB C 8-in-1 Hub Adapter
The ethernet adapter is possibly the largest port that laptop manufacturers wish to get rid of because they restrain them from creating slim products that are stylish to look at. It won't be long before major manufacturers completely remove all kinds of ports except for the USB-C port. The ethernet port is already not used in many models and the Aukey USB C 8-in-1 Hub allows you to add just that.
Despite being a small and easy to carry around the product, the hub has enough space to cram in a full ethernet port. The advantages are you can get uninterrupted internet throughout the day at the office, add the port to a laptop that may not have it or use it in places where wireless internet connectivity is really slow due to bad signal. In every respect, it delivers what it promises.
The Aukey product also has enough ports including USB 3.0 ports and it can also be used to charge your MacBook Pro with Thunderbolt 3 or any other laptop that has a compatible port. Make sure to carry your original charger to make use of this splitter hub. The HDMI port allows you to share videos on a bigger display in 4K resolution and it also includes an SD card reader.
What Makes the Aukey USB C 8-in-1 Hub Adapter a Multi-Purpose Solution?
The adapter is capable of 100W charging so that you can use the single port to charge your laptop while keeping other devices connected at the same time.
Everything including your display monitor, SD card reader and wired devices can be connected to a laptop at the same time.
Recommended For:
If you use your laptop in the office and need multiple ports to connect display, keyboard, and mice for better productivity.
The best USB-C hubs that also lets you connect ethernet and is ideal for business users as well as those who travel, but may suffer from wireless range issues, for example at an airport.
A Compact Adapter that is Easy to Carry Around
Uni USB C 6-in-1 Hub with Detachable Cord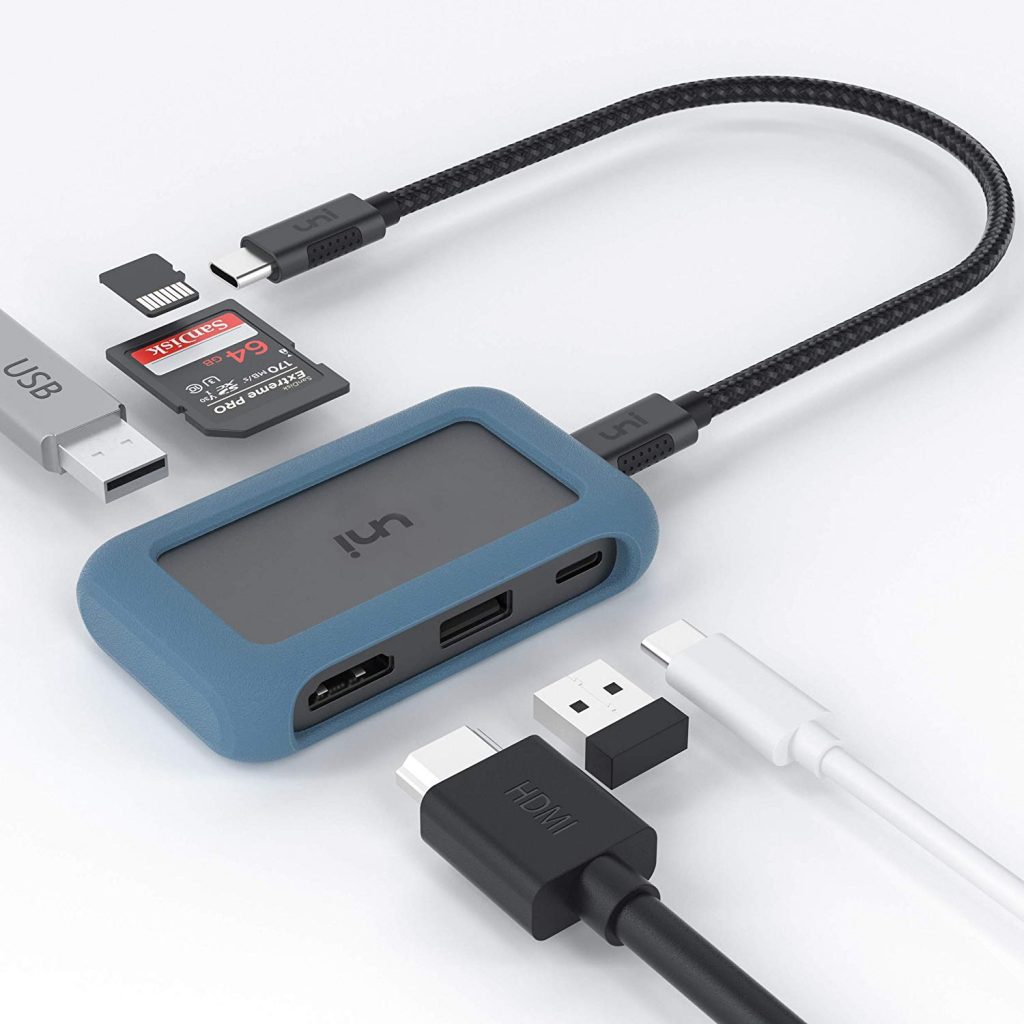 The main purpose of opting for an adapter is to keep things easy and mobile. While some users may have the requirement to extend their ports on a desktop PC, most would want the same on their laptops. Be it MacBooks, Chromebooks or any other modern-day laptops, many are being shipped with dual USB-C ports and nothing else. The Uni USB C 6-in-1 hub with a detachable cord saves time while being a compact accessory to carry around.
Being a branded product with a whole lot of rave reviews, you can be assured that the build quality, reliability, and durability of the device is on par with your other devices. You don't have to worry about charging your laptop while connecting other peripherals because the Uni product lets you charge as it supports speeds of up to 100W. Be it laptops, smartphones or tablets, you can use the port to charge them on the go.
MacBook Pro is the most popular professional laptop that has the least number of ports one could ask for. The adapter which is just as big as a credit card can be used in any location, on the go or if you need the SD card reader to transfer files at the fastest possible speeds. It also has an HDMI port that allows you to create a display on large monitors or televisions, as well as make presentations.
What Makes the Uni USB C 6-in-1 Hub with Detachable Cord Useful?
The product supports dual-SD cards at the same time allowing you to work with faster speed.
The USB cable is detachable so that you can coil it up in your backpack while on a trip.
Recommended For:
For users who need the best durable adapter out there, this is the one because it's compact, easy to use and also has braided cables for reliable connectivity.
You can use it as a charging port for your laptops and smartphones besides making use of the SD card reader.
The multiple ports become handy for both professionals and travelers to get work done on the go.
Seamless Aluminum Design and Aesthetics for Apple Fans
Satechi Aluminum Multi-Port V2 Adapter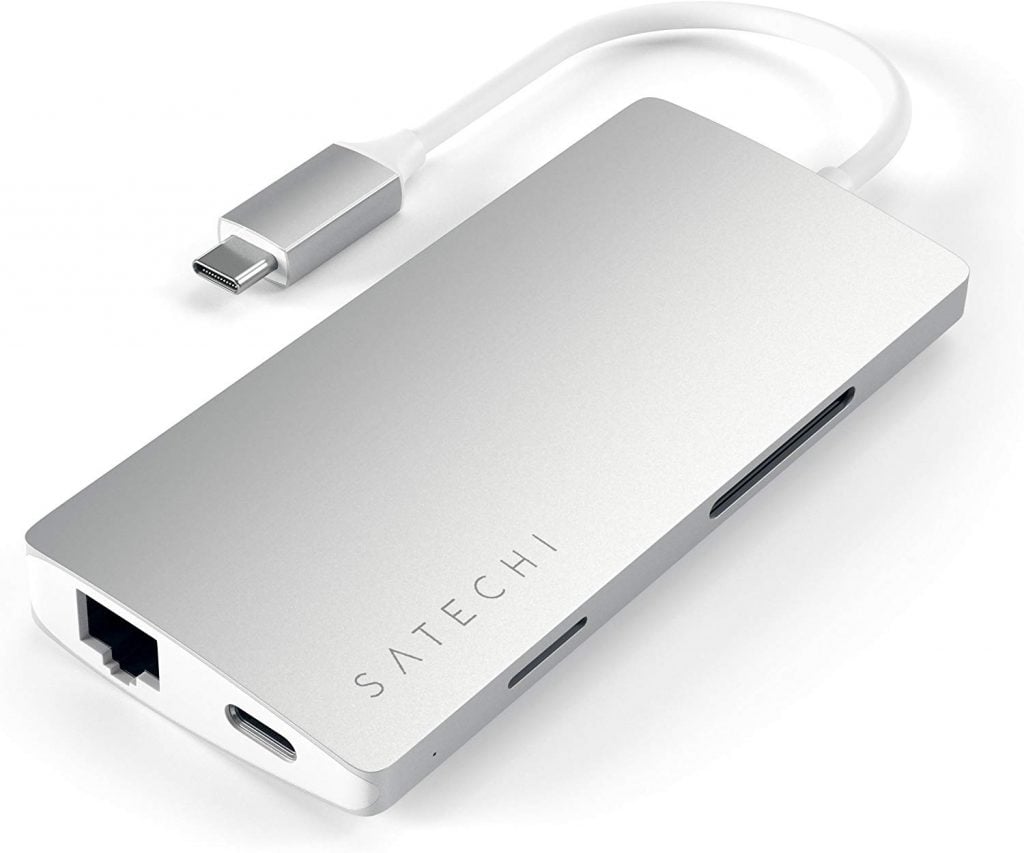 Once you have started using Apple products and get used to the clean aesthetics the company delivers, there is no going back. At the same time, the company's range of products is significantly bringing the number of ports down to one or two. For those who are in need, the Satechi Aluminum Multi-Port V2 Adapter is among the best USB-C hubs that you should buy right away.
While there are many other similar products available online, the advantage of going with this one is that it will easily sync with your existing MacBook Pro, iPhone setup. Instead of using cheap plastic or colorful materials, the manufacturer has gone with an all-silver design with an aesthetically pleasing build. The choice of ports is plenty on this product.
Right from a collection of three USB 3.0 ports with fast data transfer speeds to a USB Type-C port to charge your other devices and HDMI port for 4K TV output, all kinds of connectivity options are provided in the same product. The adapter is made for Type-C Apple devices that were launched in the last few years and it is rumored that the iPhone 12 will have the same port too, making your purchase future proof.
What Makes the Satechi Aluminum Multi-Port V2 Adapter Ideal for Apple Users?
The silver design is very much inspired by popular Apple products.
The device supports plug and play so that you can get it up and running in a matter of minutes with all connections established.
Recommended For:
Connectivity ports are plenty and if you are a fan of Apple's designs and use their products, this is the adapter that you should buy.
A perfect choice for MacBook users with Type C ports to expand their connection and even using it as a way to use the Ethernet port for reliable internet connectivity.
The Best USB-C Hubs with Assured Build Quality
QGeeM USB C Hub with HDMI Adapter and SD/TF Card Reader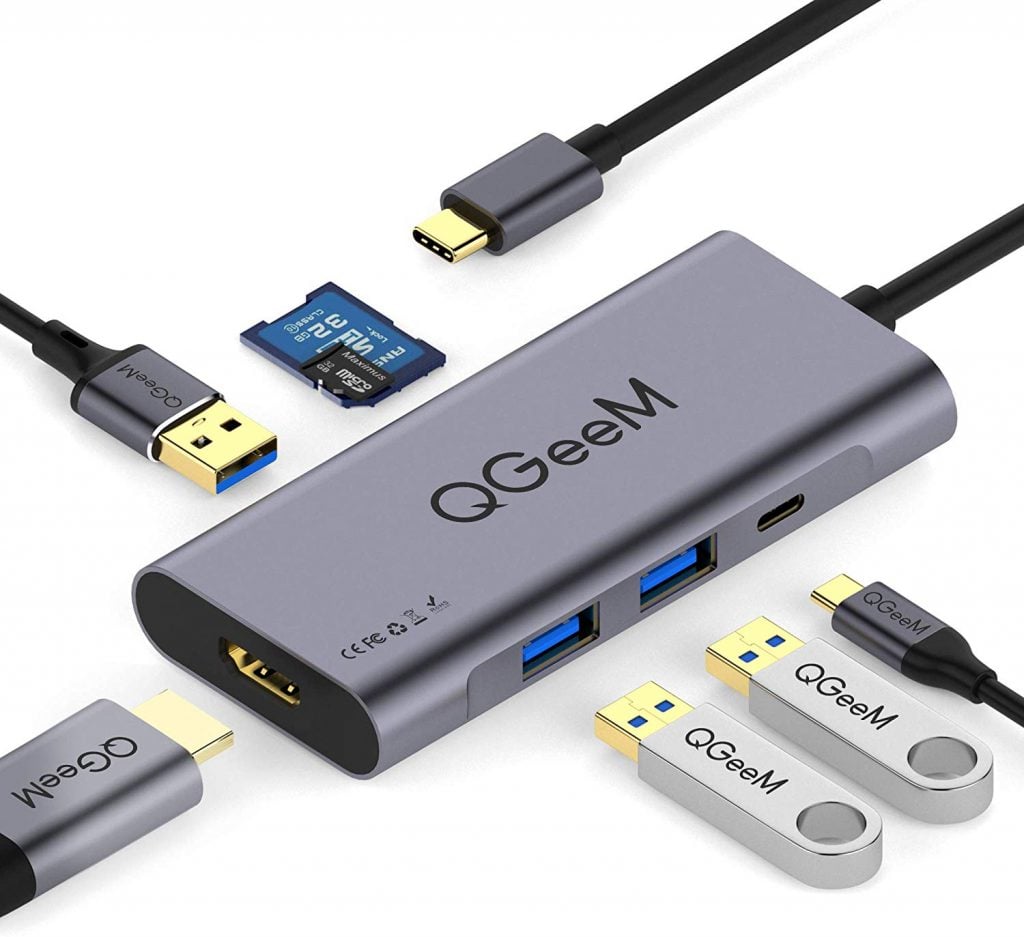 Almost every other product available online looks similar! In order to make an informed purchase, you can also check out the reviews and overall ratings the particular device has received from users. The QGeeM USB C Hub with HDMI Adapter is designed to be extremely reliable because all the ports should function in a laptop which has limited ports.
The device has plenty of connectivity options including support for SD and TF card readers. Be it a game console like Nintendo Switch, smartphones or cameras, you can easily transfer all the data to your laptop by making use of the high-speed 3.0 data transfer capacity. The HDMI port can comfortably output displays in 4K resolution and as an added advantage, the adapter works without having to install additional software.
The plug and play allow you to connect it to your MacBook or any other laptop without spending any time on setting it up. With the capability to deliver up to 100W power, the adapter can be used to charge other devices that support a USB C port. With the number of ports available, you can instantly convert your laptop into a desktop by connecting an external display, keyboard, mouse and also use it as a memory card reader.
What Makes the QGeeM USB C Hub with HDMI Adapter a Useful Accessory?
Most of these hubs are designed to complement a MacBook and hence the silver finish that looks aesthetically pleasing.
It can be used with a wide variety of phones like Samsung Galaxy devices, Huawei and others that support USB C.
Recommended For:
A sturdy product for users who need to move around a lot and also have plans to set up a desktop by using a laptop with limited ports.
The wired connection provides reliability for users who don't like to go all wireless and focus more on charging those devices.
Perfect Adapter for Large-Scale Office Use
TBI Pro 12-in-1 USB C Hub for Large Extensions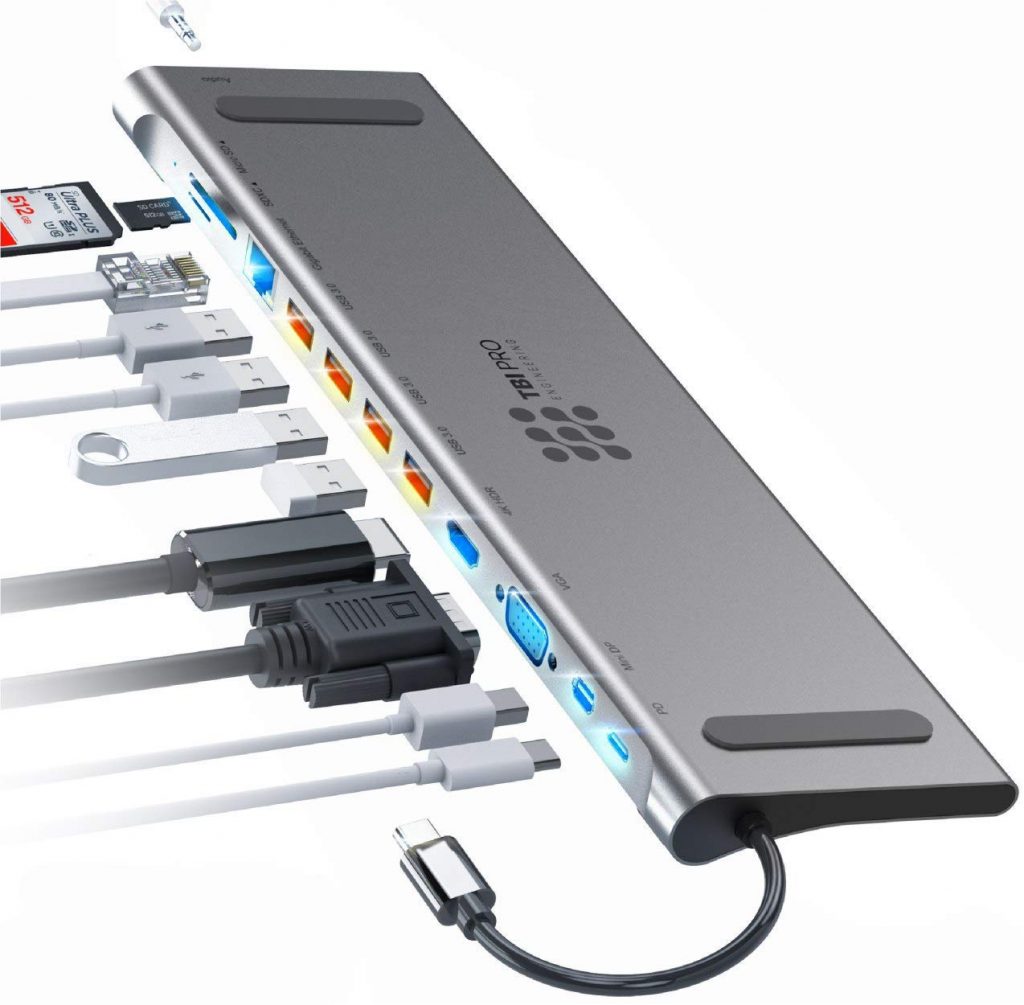 Most people assume that a compact and small device is the best USB C hub that you can purchase but in real life, the requirements could drastically vary from one place to another. Offices use MacBooks and newer laptops these days that are equipped with the least number of ports. For such scenarios, the TBI Pro 12-in-1 USB C Hub becomes the handiest tool for large enterprise users.
At first look, the product resembles a huge router found in office spaces. However, it comes with a single Type C cable using which you can easily replicate multiple ports. Connectivity options include HDMI and VGA ports. For places where old school monitors with VGA ports are being used, this is probably an essential accessory that is not easily found in most compact adapters available.
A host of four USB 3.0 ports are available for maximum possible extension while the included VGA port can support 1080p resolutions, making it usable with large HD televisions and monitors to project the laptop display. The Gigabit port assures the fastest possible internet speeds and similar to other adapters available, it can also deliver 100W power for charging. But you should bear in mind that it doesn't allow data transfers.
What Makes the TBI Pro 12-in-1 USB C Hub Ideal for Large Extensions?
The number of conversions that you could achieve and connectivity is phenomenal with this adapter.
It is large and not designed for on the go but rather to be used in a static setup.
Recommended For:
Desktop users who still have a conventional monitor with VGA port will find this adapter helpful.
Perfect for music lovers in offices where you can charge, use the headphone jack on phones that have only USB ports and get lots done without including multiple accessories.
Extend the Number of USB Ports with the Best USB-C Hubs
Anker USB C Extender Hub with 4 USB 3.0 Ports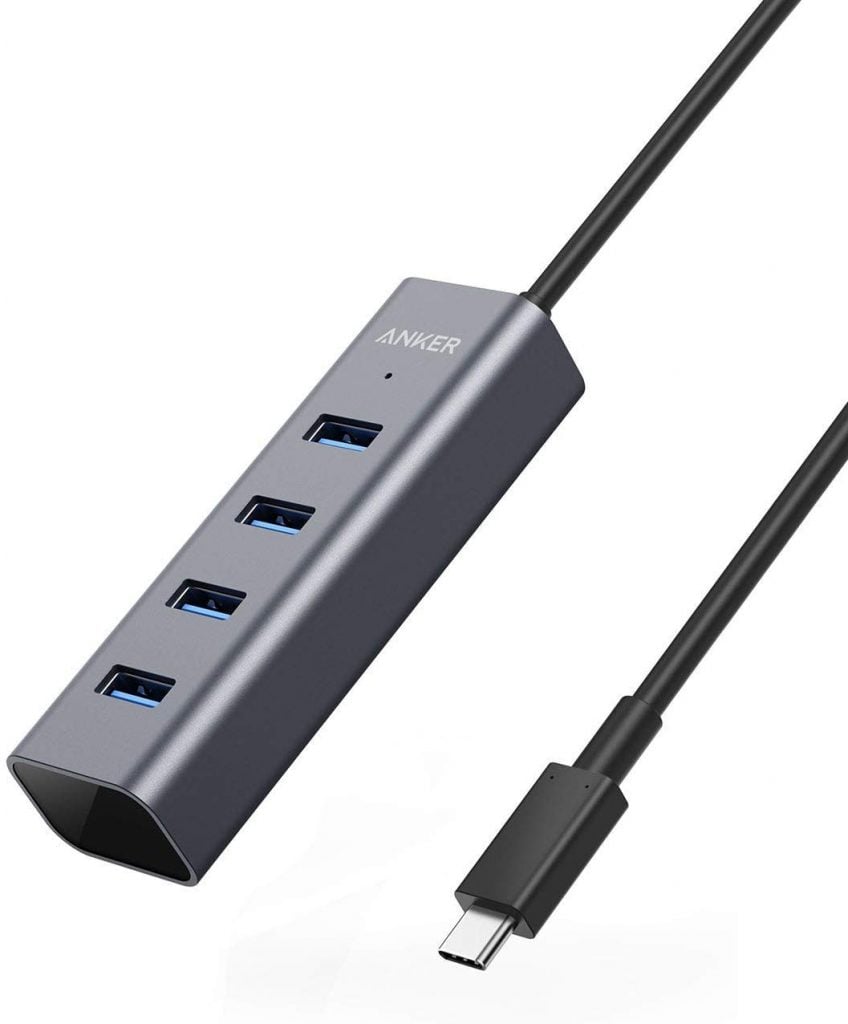 The accessories market is usually flooded with an all-in-one solution that primarily focuses on taking every kind of output from a single USB C port. Instead of trying to be an all-in-one solution, the Anker USB C Extender Hub offers a generous number of four different ports that you can make use of. The advantage is that you can keep all your peripherals connected to your laptop in wired mode without having to charge or worry about a lag in the input.
The USB-C port is compact but has a large connecting adapter. So, it would be better if you can keep it tucked away at a safe distance from your MacBook or any other laptop. The ports can comfortably handle speeds up to 5 Gbps so that you can transfer large office files, movies or programs that need to be edited in a matter of minutes. This is a must-have accessory for professionals.
With a single port, you can easily extend it using the adapter and connect a keyboard, mouse, external hard drive and even have external USB drives connected at all times. Compared to the typical USB 2.0 connectivity which clocks in at just 480 Mbps, the newest USB 3.0 technology can go all the way up to 5120 Mbps. The improved speeds, reliability, and compactness of the hub ensure that you get the best experience without having too many other ports attached to it.
What Makes the Anker USB C Extender Hub with 4 USB 3.0 Ports the most Recommended?
It is a recommended extender adapter because the product focuses on the single purpose of extending the number of USB 3.0 ports you have.
The compact device is further complemented with the inclusion of a cable that provides more space for you to lay down your peripherals.
Recommended For:
People who want a straight-forward, no-frills adapter.
Those who require a direct USB extended with lots of ports will find this to be the perfect device.
If you require an adapter with a large 1.3 feet cable to better arrange your laptop or desktop setup, the product is an apt pick.
Experience the Power of 9 Ports in One Adapter
iTeknic USB C 9-in-1 Adapter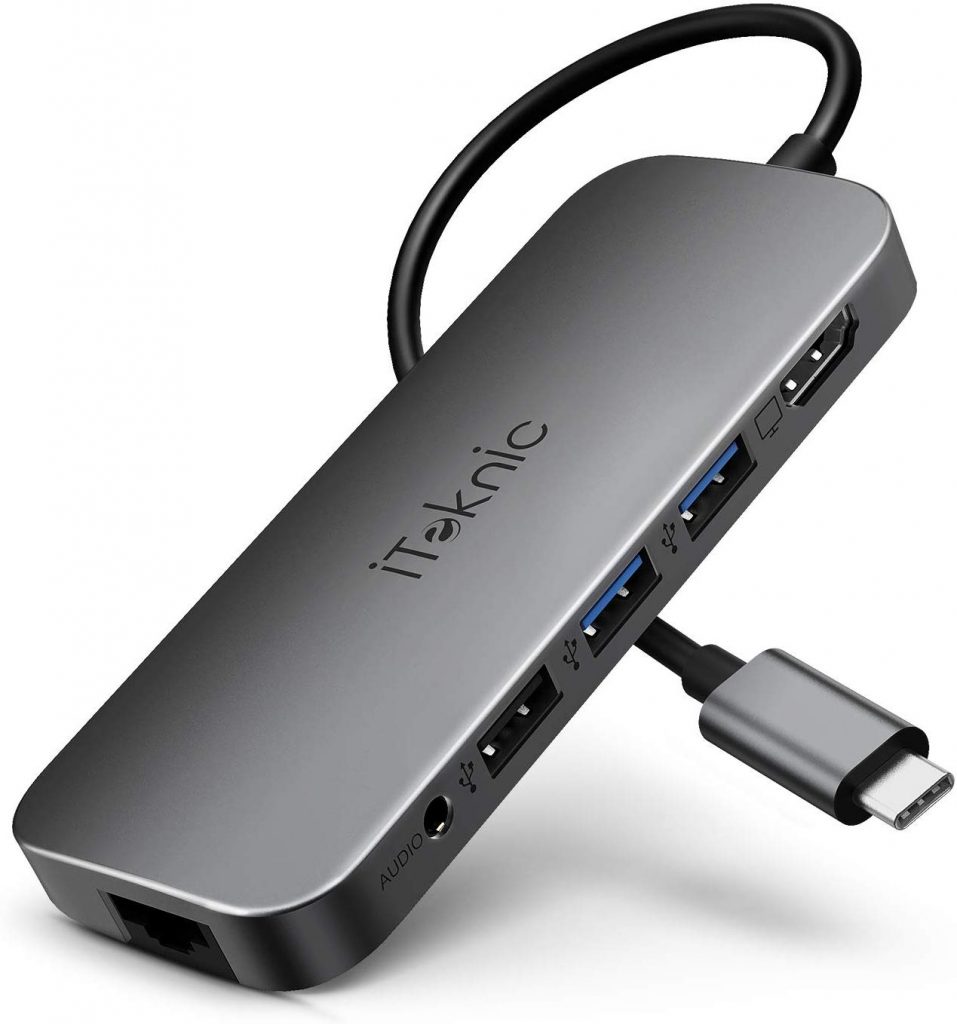 Choosing the best USB-C hubs is usually based on the maximum number of ports that a single adapter can offer. After all, if you love to move around a lot, travel or simply don't want to carry so many tangled cords inside your backpack, a single all-in-one adapter is the right way to handle the situation. The iTeknic USB C 9-in-1 Adapter is the ultimate solution that can meet the requirements of the most demanding users.
Designed to be a multi-function adapter, the product has a total of 9 ports for you to connect all your external peripherals. At the rate companies are removing the 3.5mm headphone jack from smartphones, it wouldn't be surprising if they suddenly removed it from laptops too. Apple MacBooks still retain them but just in case, this adapter also has a headphone jack to connect your headphones to it.
Projecting your presentations during an office conference is not easy because HDMI ports are not readily available on most laptops. This compact adapter lets you project your content in 4K resolution and with utmost clarity to impress clients. Similar to many other products in the category, the iTeknic adapter is compact, stylish and sleek so that it can be used with premium laptops like a MacBook Pro.
What Makes the iTeknic USB C 9-in-1 Adapter Superior?
Some unique features make this adapter superior such as 4K video output, 5 Gbps transfer speeds on USB 3.0 and SD/TF card reading at the same time.
The audio microphone on this adapter can transmit 48K stereo out, apart from offering support for CTIA headphones.
Recommended For:
If you need a clean looking adapter with all possible ports packed into one, this is the product for you.
You can also purchase it if you are looking for high-speed data transfers and also to get a headphone jack for devices that don't have it.
USB-C Hub with Wireless Charging for Supported Devices
IIQ USB C Hub with Wireless Charger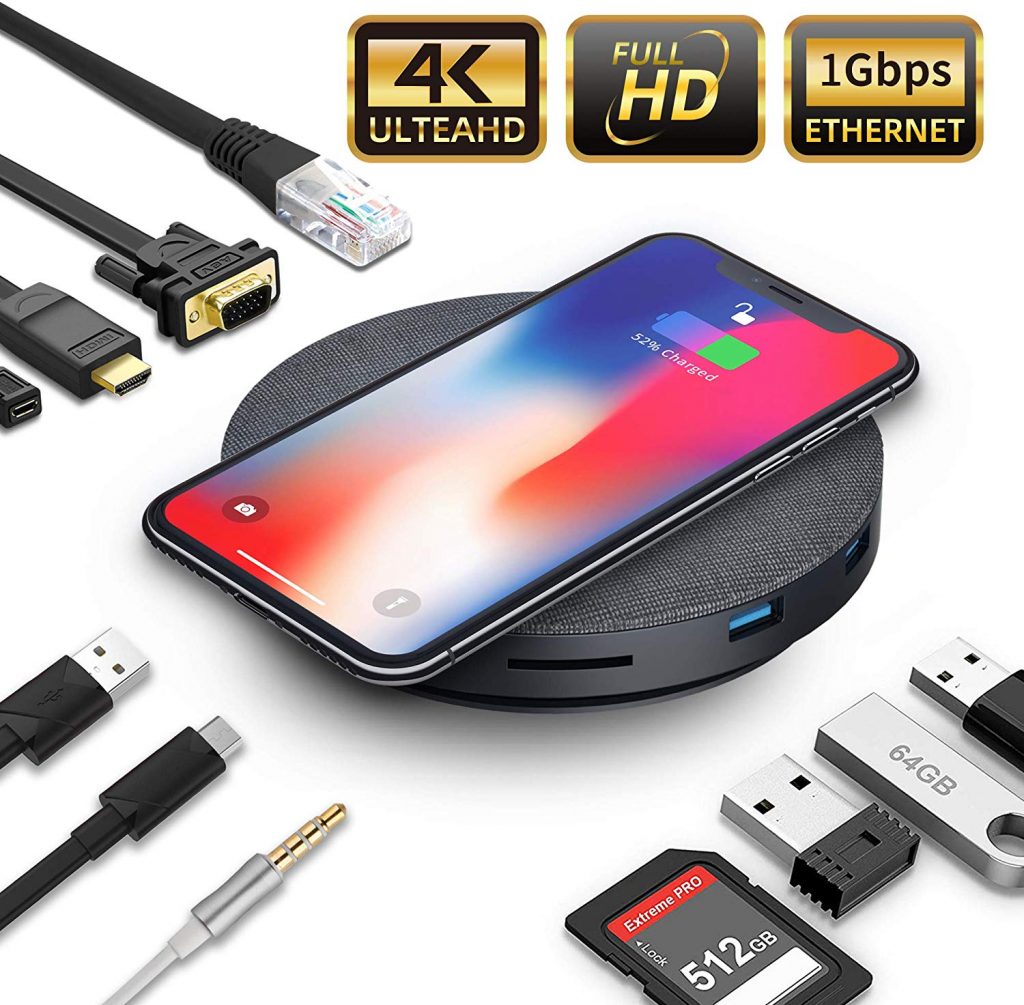 There are no limitations on what manufacturers may include in their adapters and accessories but the creative limitations prevail for most brands. IIQ has gone a step ahead and decided to make things interesting for all its competitors. Why should an adapter purely focus on providing just ports? With this hub, you can wirelessly charge your iPhones and other supported devices as well.
All the expected features and connectivity ports in an extension adapter can be found in the IIQ product. The device has a USB-C port that allows users to charge their phones using a cable. There are multiple USB 3.0 ports and the SD and TF card readers are perfect for professionals to transfer data from different devices. Combining all these makes it the best USB-C hubs that you could purchase for all your needs.
The round shape of the adapter is another unique aspect as almost every other product available are flat rectangles that are only mildly appealing. In terms of design, the IIQproduct resembles Amazon Echo devices and it's a good thing because it brings it into the home territory. You can use it in office and also at home without looking too professional and the ports are plenty to get every kind of task done.
What Makes the IIQ USB C Hub with Wireless Charger Amazing?
The circular design is unique when compared to so many similar products available.
The ports offer reliable data transfer combined with the ability to charge phones and even create a headphone jack in devices that don't have one.
Recommended For:
Home users will find this gadget amazing as it supports wireless charging as you might use in your office.
If you are keen on design aesthetics and would love to have a handy wireless charging feature, this is the product to buy.
A USB-C Adapter that You Can Attach to Your Laptop
Purgo USB C Hub Adapter Dongle for MacBook Air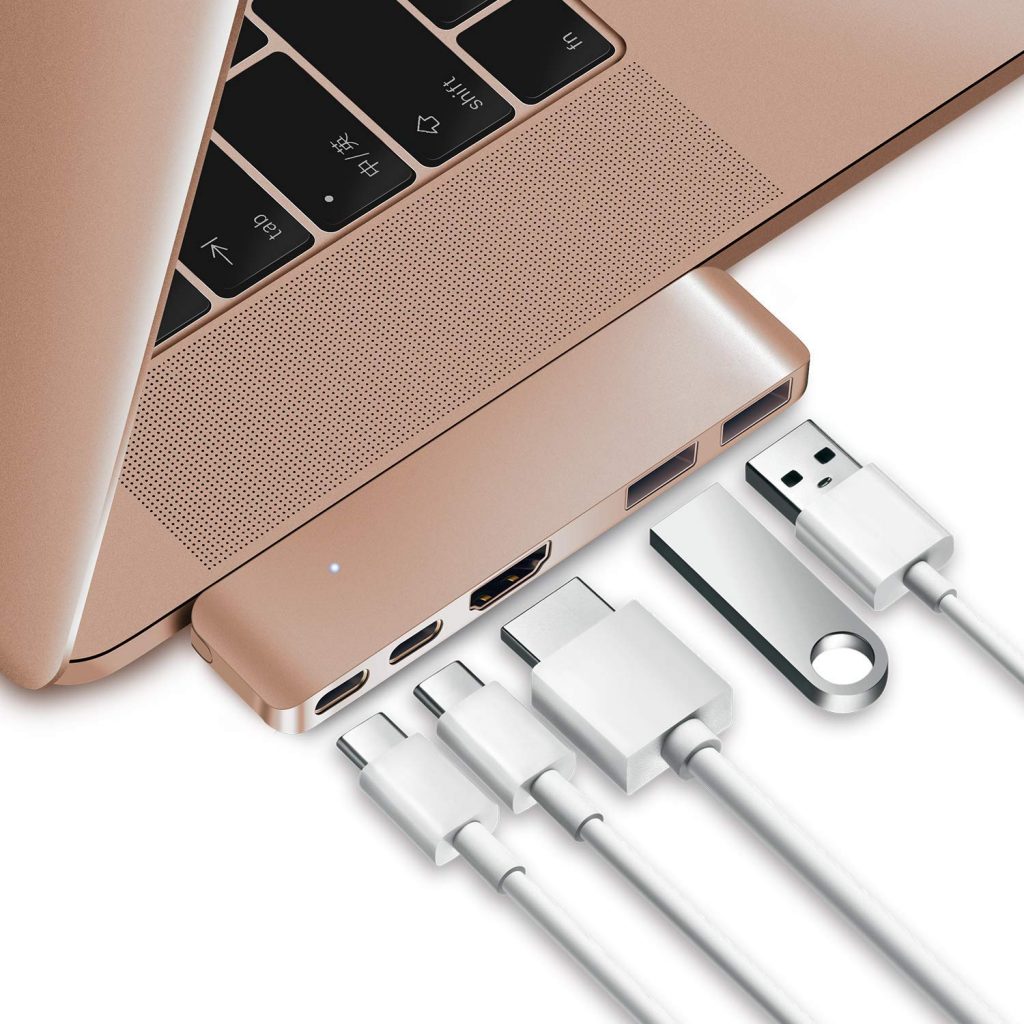 The adapters are always focused on Apple MacBooks because they were the most popular laptops to have removed every port at the same time and left just two USB-C ports for connectivity. Every professional user had to face lots of shortcomings because of this problem which is why so many adapters sprouted in the first place. The Purgo USB C Hub saves time because you can directly attach it to the machine.
Instead of having a long cable to attach and carry around which is difficult, you can choose to directly plug in the adapter to your MacBook. The best part about this Purgo product is that they are available in three different colors and the manufacturer has meticulously made it in such a way that it suits silver, grey or gold as Apple usually delivers their MacBooksin these colors, that further adds to the adaptor's authenticity.
The connectivity ports are limited because of its attachable design but you still get enough space for two more USB ports, which is great. The adapter also offers HDMI port to output your content to another monitor or a television and the USB-C ports make it easier to further expand the connectivity or simply charge your devices that use the same port. It is a plug and play product that doesn't need any software installation.
What Makes the Purgo Product the Best USB-C Hubs to Buy?
The attachable design is very unique and there aren't many other products that are tailor-made to suit the design of a MacBook.
The ports are properly split across so that you can connect both conventional and modern-day devices to the same extender.
Recommended For:
If you are planning to have your adapter attached to the MacBook, this is among the very few options available.
The adapter is amazing when it comes to delivering true Apple style for big-time fanboys along with productivity.
Conclusion
The best USB-C hubs are available mostly in a compact form so that you can easily carry it around with your laptop or MacBook. Manufacturers won't stop there because there are large hubs and adapters primarily designed for office users. You can easily connect a dozen different products to your single device using the same USB-C port. The wireless charging hub is a unique addition and so is the one that you can attach to your laptop to be carried around everywhere. In the end, it is purely an individual preference for what you need and like the most.
Was this article helpful?
This helps us improve our website.