Featured in this article (opens in new tab)
Tablets are handy and can be a substitute for a laptop or desktop. Picking the right one can be tedious because of the number of options available in the market.
While there are several expensive ones around today, we are going to talk about the budgeted ones.
We have enumerated some of the best tablets under $200 in 2023. These tablets are affordable yet come equipped with some of the best features needed on a tablet.
See Also: Top Best Android Tablets
Buying Guide
Top Best Tablets Under $200
A Slim Design Tablet with Huge Storage
Samsung A7 Lite Sturdy Metal Frame Tablet
Check Price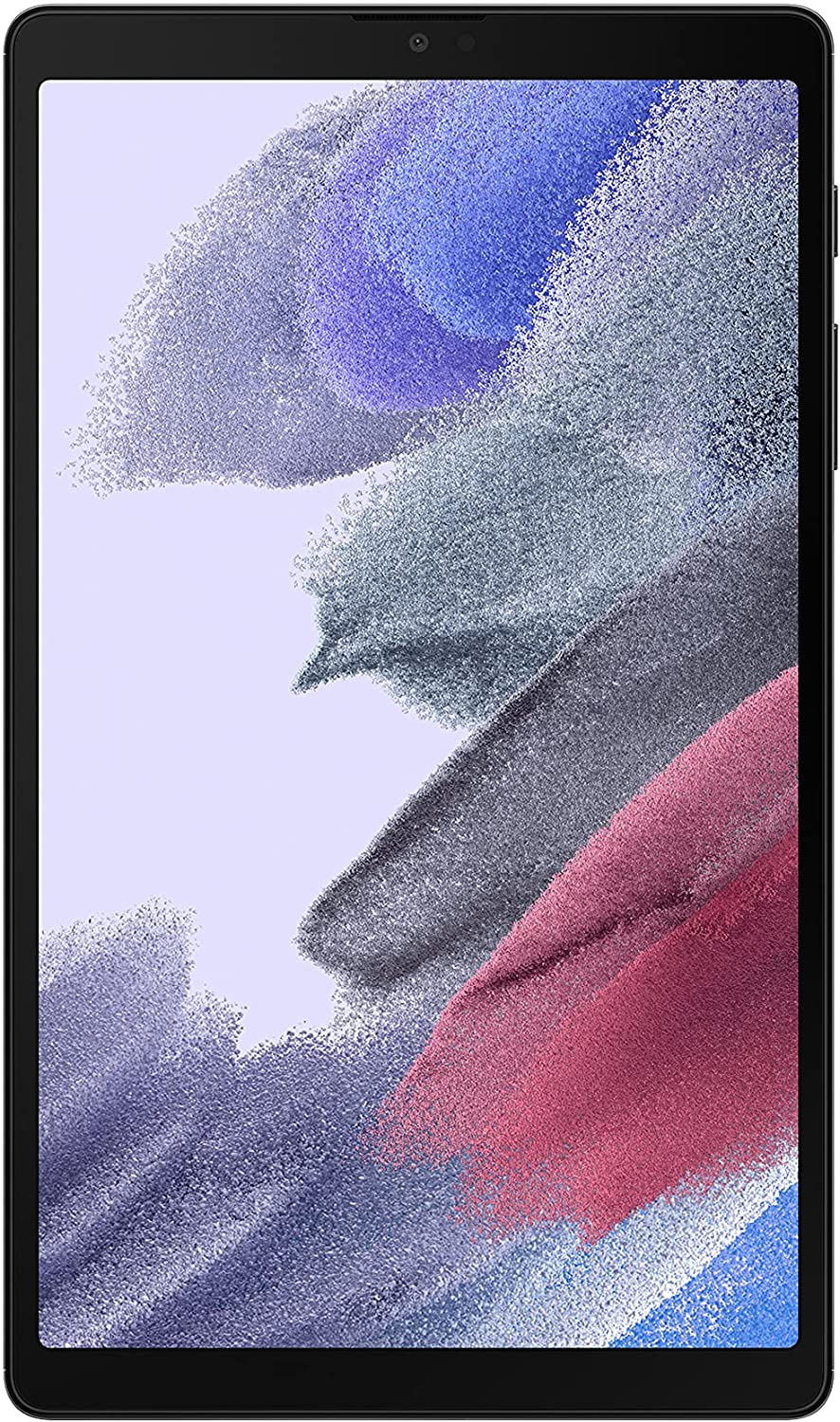 This Samsung tablet is just what you will need if you are looking for ruggedness and a sleek profile at the same time. The tablet comes with an Android 11 operating system preloaded with 3GB RAM and 32GB of memory that you can increase further up to 1TB. The 8.7-inch device supports a WXGA+ screen with 1340 x 800 screen resolution. The tablet has a MediaTek processor, an 8MP rear camera, and a USB 2.0 port.
The slim form factor, fast speed, and sturdy metal frame are other key highlights. The 5,100mAh battery ensures that you can use it for a long time with just one charge. The tablet allows you to enjoy uninterrupted videos without ads using a free YouTube Premium account for two months. It is available in white and gray color variants.
This tablet allows you to retain all your favorite photos, videos, and other media files with huge memory expansion support.

The device has a high degree of ruggedness due to its frame, making it suitable for adults and children alike.

Fast speed minimizes the app's loading time and ensures smooth video streaming.
Very durable and suitable for rough use

Good for light activities like browsing and online shopping

Handles fast internet connections
Average camera quality

Loud start-up sound
A Fast and Responsive Tablet with Vibrant Display
Amazon Fire HD 8 Fast Charging Tablet
Check Price
This Amazon tablet has an 8-inch IPS HD 1280 x 800 screen resolution display with 2GB RAM and 2GHz quad-core processor. The tablet is available with two memory options of 32GB and 64GB. Both versions support a memory increase of up to 1TB with a microSD memory card. The device has a 30% higher speed compared to many other tablets. The two speakers support Dolby Atmos technology to enhance the audio experience.
The Alexa-compatible tablet has a 2MP camera on the front and rear. The long-lasting battery allows you to enjoy up to 12 hours of reading, web browsing, listening to music, and video watching. The USB Type-C port helps to get your battery-drained tablet up and running quickly with full charge in less than 5 hours. The inbuilt apps like OneNote, Outlook, and Zoom help you to stay on track with your daily tasks.
The tablet has a built-in stand that makes both landscape and portraits viewing modes equally memorable.

The device helps users to enjoy a hands-free viewing experience because of its compatibility with Alexa.

The tablet is available in four interesting color choices twilight blue, white, black, and plum.
Inbuilt VoiceView reader for visually impaired

Dual-band Wi-Fi and built-in Bluetooth 5.0 LE with A2DP support

External volume controls
A Compact Tablet with Long Battery Life
Pritom L8 IPS Display Tablet
Check Price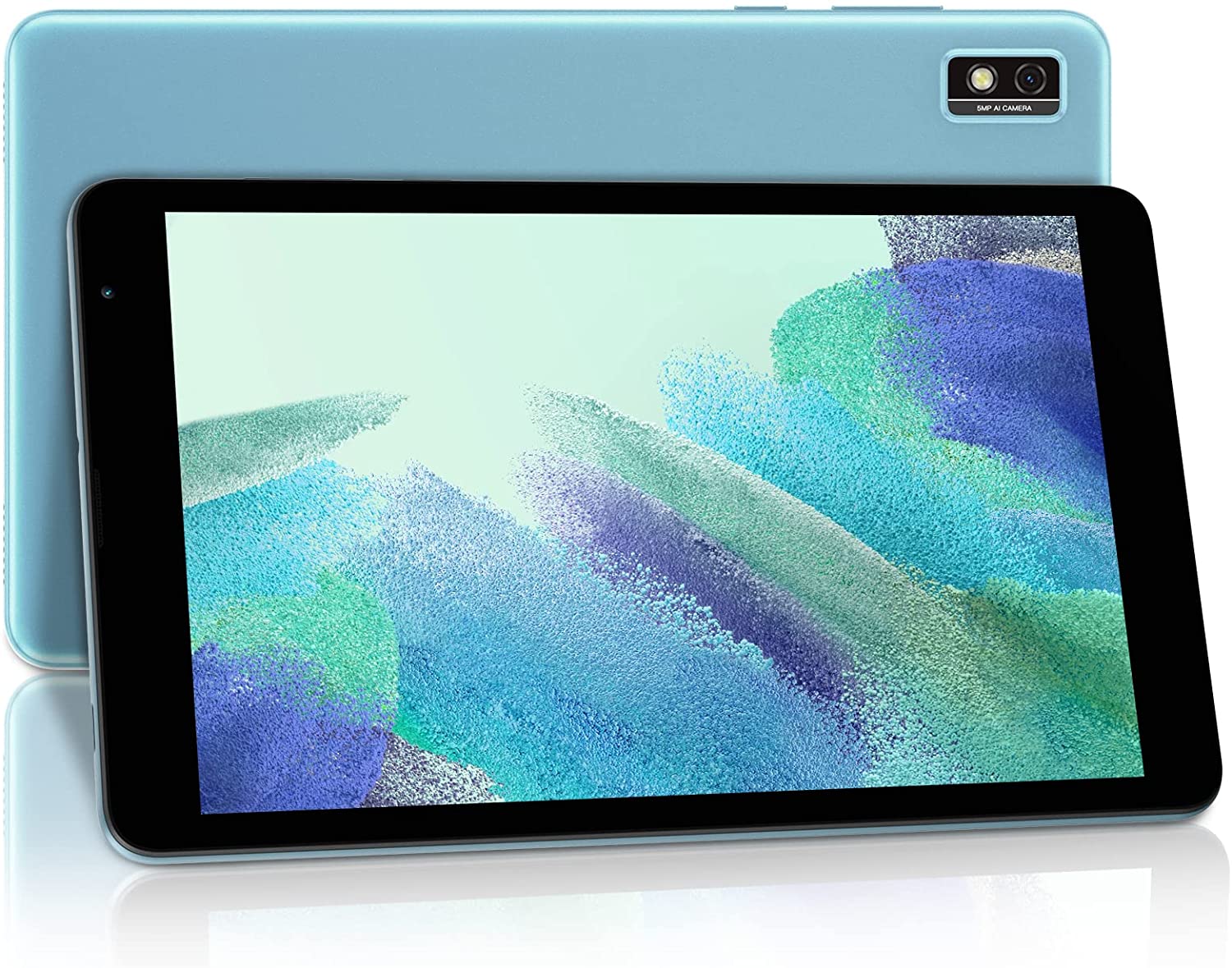 This Pritom tablet with the Android 10 operating system preloaded comes with many exciting features at an affordable price. The key highlight of this tablet is its HD IPS display with excellent 1920 x 800 screen resolution. The laptop has an 8-inch screen, a quad-core processor, 2 GB RAM, and 32GB memory storage. The high-performance device has an inbuilt eye health mode that ensures less strain on the eyes.
The lightweight Wi-Fi-supporting tablet has a slim body that makes it easy for anyone to carry it around. The tablet has an 8MP rear camera and a 2MP front camera to shoot your favorite moments. The black color gives the device a classy look, while the 3900mAh battery allows you to use it for up to 8 hours without interruption.
The tablet allows you to store more content because of the large amount of memory supported.

The device charges quickly in just a couple of hours using a micro-USB power adapter.

This tablet has less bloatware allowing you to install more of your favorite apps.
Excellent video and audio quality

Memory expandable by 128GB

Comfortable reading experience
No HDMI port

Less screen durability
An 8-Inch Tablet with Inbuilt Gravity Sensor
Winnovo M8 Dual Camera Tablet
Check Price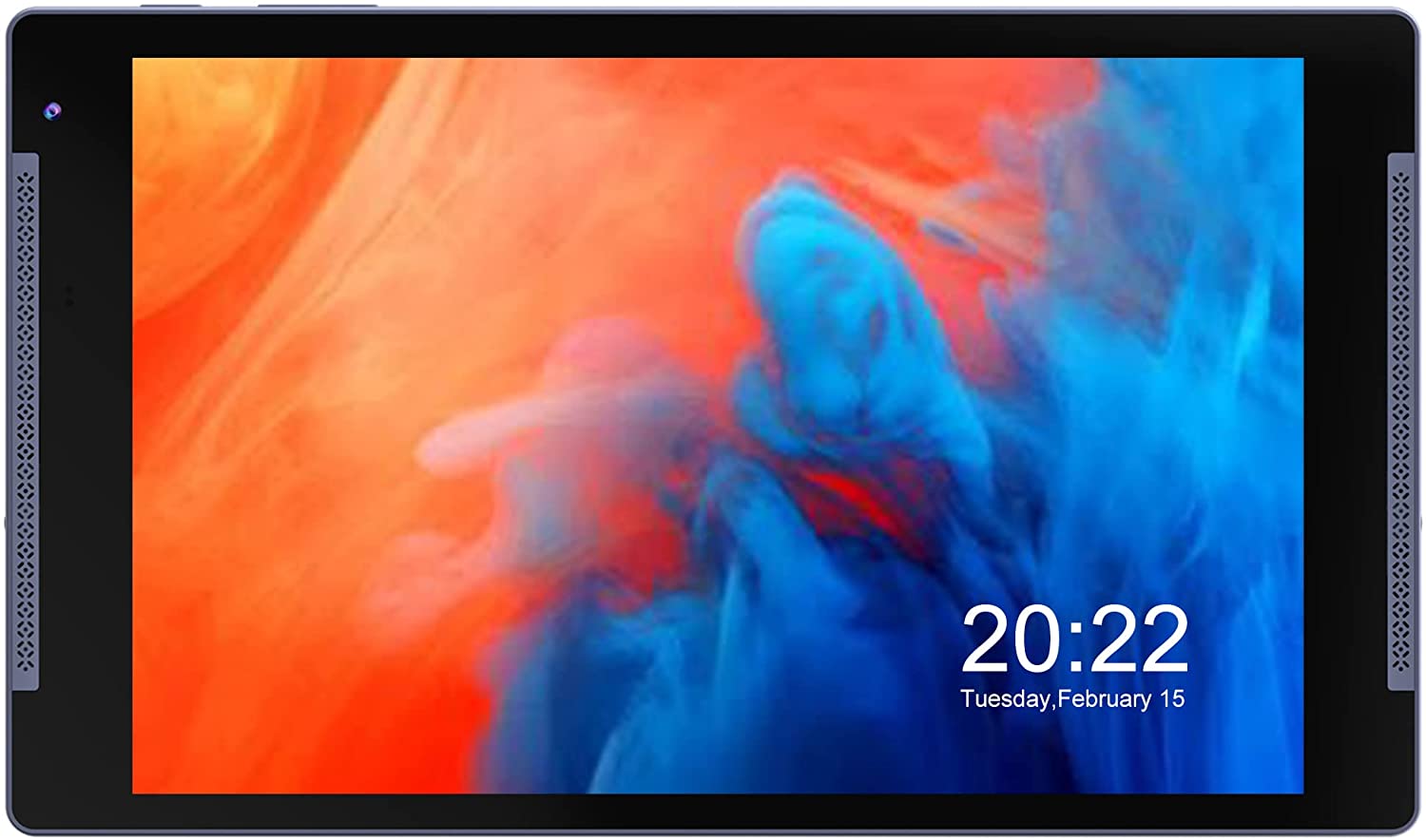 This Winnovo tablet houses 1GB RAM, 32GB storage, and a 64-bit quad-core MediaTek MT8167 processor. The 1280 x 800 resolution 8-inch IPS HD touchscreen offers the assurance of high visual clarity. The tablet comes with various inbuilt features such as Dark Theme, Privacy Control, and Focus Mode to mention just a few. The Android 10 tablet supports memory expansion, so you can download your favorite apps from the Play Store.
The integrated G-sensor helps to detect even the slightest movements of the tablet. It has a 3,500mAh battery that allows you to enjoy long hours of uninterrupted use. The Family Link feature helps in easily locating the tablet if it has been accidentally misplaced somewhere and monitoring your child's location and online activity. The tablet comes with a dual-camera setup.
Why Should You Buy This?
The tablet adds life to light gaming activities because of the ability to sense each movement.

The device is entertaining during a long journey because of its good battery life.

The tablet promises high picture quality, wide viewing angles, and excellent color accuracy.
Pros
Comfortable use in dark settings

Minimizes distractions on busy days

No compromise to your privacy
Cons
Occasional slow performance

No inbuilt navigation apps
A Massive Battery Tablet with Built-In Box Speakers
TJD Large Screen Tablet
Check Price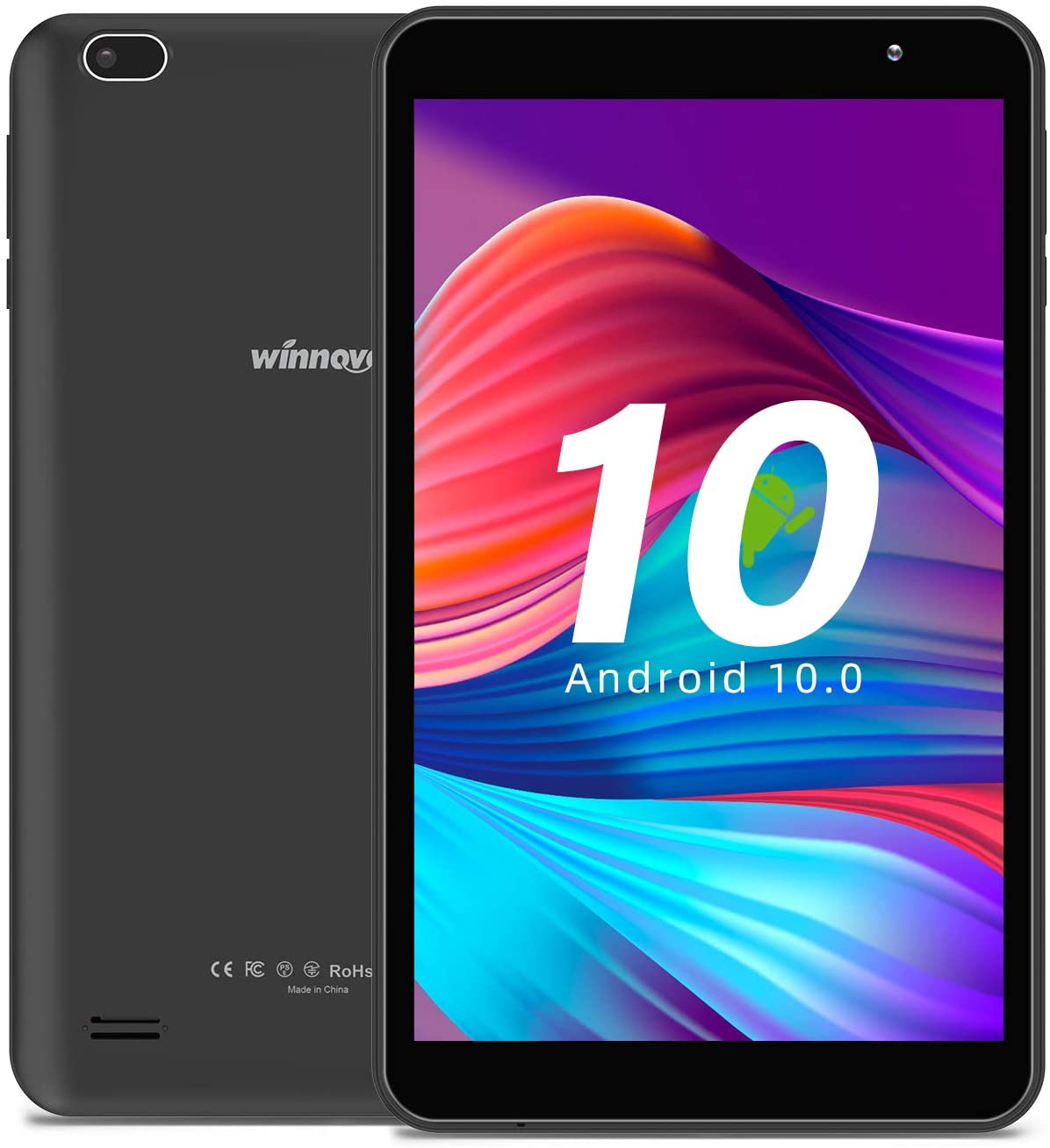 This TJD tablet has a lot of high-end features for its attractive price. The key highlight is its 10.1-inch large IPS touchscreen with 1280 x 800 pixels resolution. Dual box speakers enhance the auditory experience as well. With a 1.6GHz quad-core processor, 2GB RAM, and 32GB memory that can be increased by another 512GB, the apps on this tablet load very fast with very less waiting time.
The back stand of the tablet allows you to rest it on any flat surface easily. The 6000mAh battery has a long lifespan of 12 hours, allowing you to enjoy up to 8 hours of video or 20 hours of music non-stop. It supports Wi-Fi 2.4G and Bluetooth 4.0 connectivity options. The tablet is available in three color choices: black, gray, and metallic black.
This tablet has a large screen to render a more realistic viewing experience.

The Type-C port allows you to charge the tablet anywhere at your convenience.

The device helps you enjoy a hands-free experience when enjoying your favorite activity.
Leather sheath included for tablet protection

Durable metal back stand

Long battery life
Very little screen shutoff time

Hard to access power key and volume buttons
A Massive Battery Tablet in Multiple Colour Options
Blackview Tab 6 Dual SIM Slot Gaming Tablet
Check Price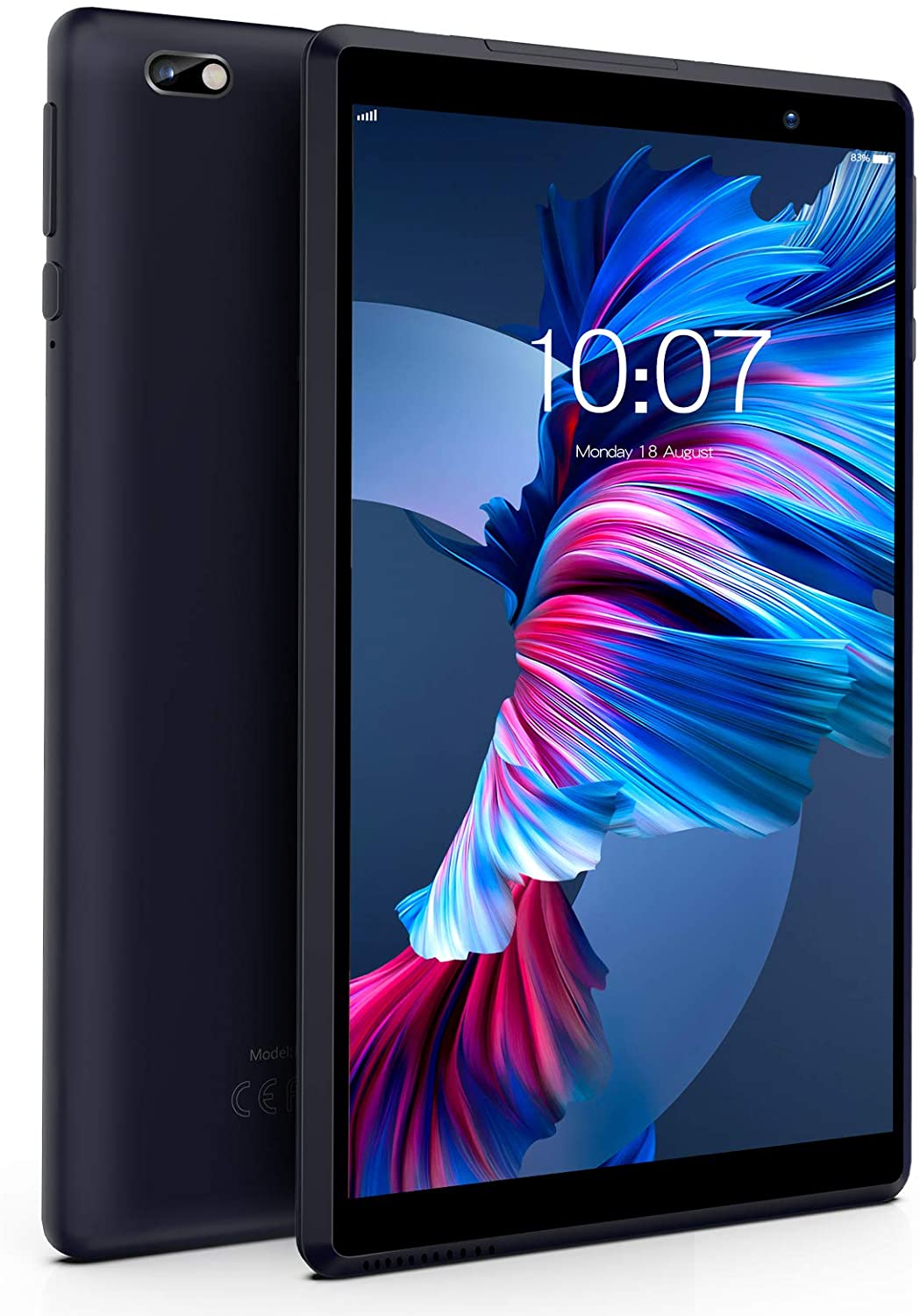 This Blackview tablet comes with two SIM slots for you to insert a nano-SIM card into one of them and use it as a phone. Another slot can be used to add a memory card and boost the existing 32GB memory by up to 256GB or more nano-SIM cards. The tablet comes with 3GB of RAM and a 2GHz quad-core that increases the speed by 30%. The 8-inch IPS + HD 1280 x 800 resolution, complete with two box speakers in front, ensures that there is no compromise to the visual and auditory experiences.
The tablet comes preloaded with the latest Android 11 operating system. It has several modes and features like a dark theme, data migration assistant, game mode, screenshot with three fingers, reading mode, and much more. The 5,500mAh battery ensures you don't run out of juice when engaged in your favorite activity. The tablet has color options of blue, rose gold, and black.
Why You Should Buy This?
The 5G Wi-Fi support renders a non-lagging and smooth streamlined experience when you are online.

The dedicated game mode makes the games lifelike and lively for avid gamers.

The tablet can be used for both making calls and entertainment.
Pros
Less eye strain because of easy-to-read grayscale mode

You can insert a nano-SIM card

The latest version of Android
Cons
Best Tablets Under $200 with a Compact 8-inch Display
Samsung Galaxy Tab A 8.0-inch Touchscreen
Check Price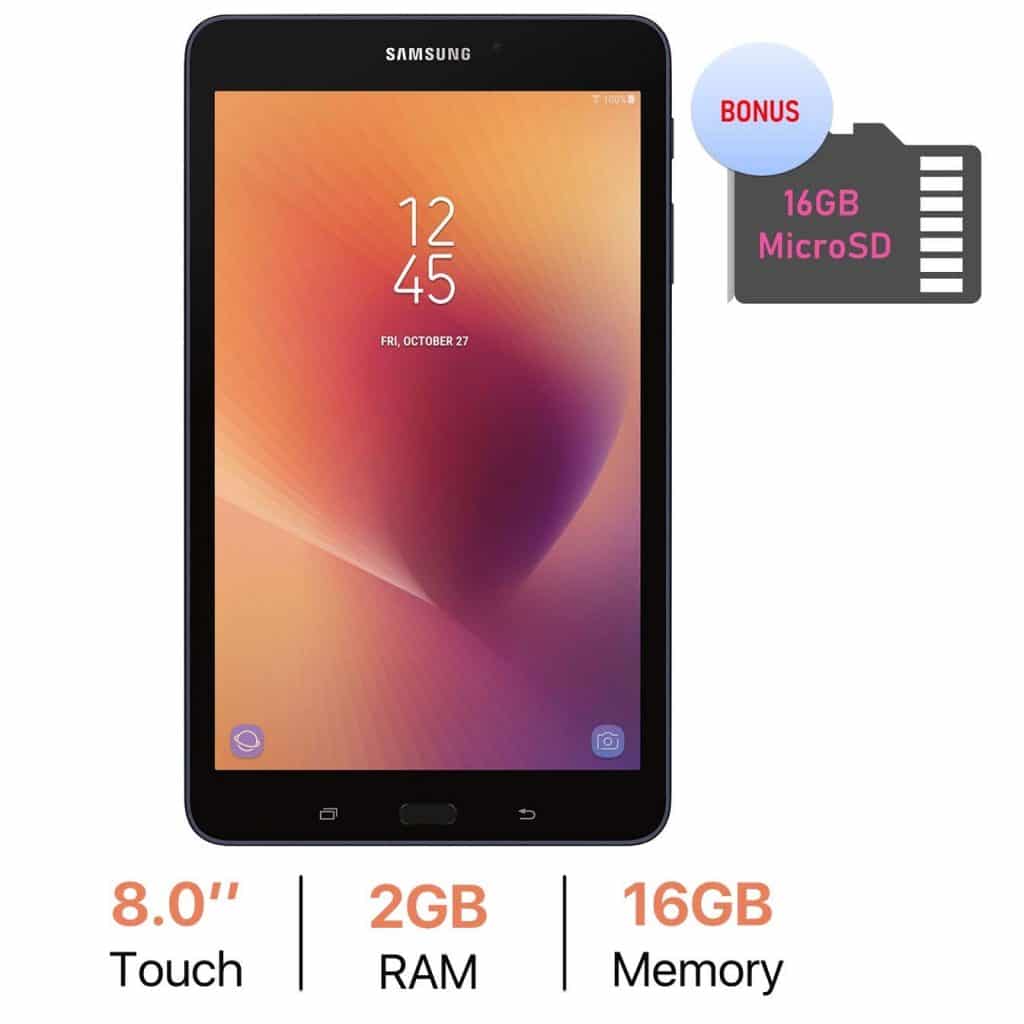 When Steve Jobs launched the Apple iPad back in the day, he was super confident that a tablet should be 10 inches or more to justify its category range. He also believed that smartphones shouldn't be 5 or 6 inches as they are too big to hold. However, times have changed, technology has evolved, and now we have smartphones that are more than 6-inches in display size, with bezel-less displays. The tablet category has undergone some minor changes as well. The Samsung Galaxy Tab A maintains the best size so that it is neither too big nor too small for your multimedia consumption requirements.
Most people use their tablets to watch YouTube, movies, and music and send occasional e-mails. In other words, it is a consumption device, especially when you are going to a smaller one, unlike the very expensive iPad Pro models. The Galaxy Tab A has an 8-inch display with 1280 x 800 pixels resolution. Under the decent build, the product houses a 1.4 GHz Quad-core Qualcomm APQ8017 processor, which is capable of handling all modern-day apps and games. Unless you are a hardcore gamer, this should be right on the charts as high-end games require more powerful hardware. It also has 16 GB of storage space with the ability to expand it further using an SD card and 2 GB of RAM to handle multiple tasks simultaneously.
The Galaxy Tab A has an 8-megapixel rear-facing camera along with a flash. Considering how powerful smartphone cameras are these days, you may not find much use for this camera, but it can be used to take quick photos of locations or documents in case you need them. The front-facing 5-megapixel camera is adequate for video calling and taking occasional selfies. The tablet uses high-speed Wi-Fi connectivity even though it doesn't have AC, which is justified because of its low price tag. There is a micro-SD card slot for memory expansion and Bluetooth 4.2. The device runs on Android 7.1 and promises up to 14 hours of battery life with a matte back finish that feels good to hold in your hands.
What Makes the Samsung Galaxy Tab A an Affordable Choice?
The tablet has an affordable price tag and a screen size measured at 8-inches, which is easy to handle.
It has expandable storage, ideal for installing most of your essential apps.
The plastic body is sturdy enough for everyday use.
Recommended For:
An ideal tablet for kids or family members who have minimal usage with a couple of games and apps, the pricing makes it easier to buy more than one if required.
A Tablet Exclusively Designed for Kids
Fire HD 10 Kids Edition Tablet with 10.1-inch Display
Check Price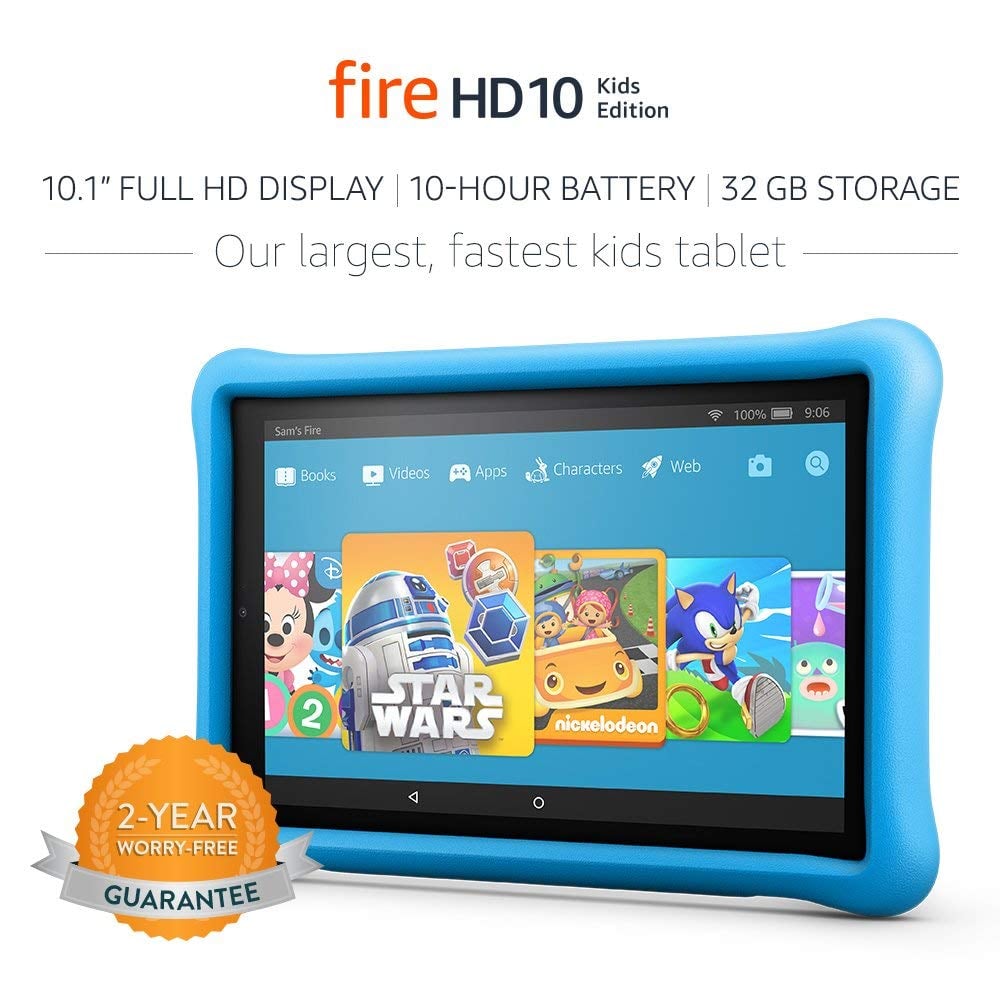 Tablets are primarily used by kids more than adults. While some may love to watch movies and browse YouTube on their large-screen tablet, the young ones usually love to spend hours on it. It is important from a parents' viewpoint to make sure they learn and use the right apps, play games that promote learning and make the most out of their fun time. The Fire HD 10 is an amazing new tablet from Amazon, which is the same as the original edition, but the UI and the design are customized to make it more kid-friendly. The corners of the tablet are fully covered with a rubberized grip so that young ones can handle it easily, protecting it even if it accidentally falls.
The HD 10 Kids edition sports a large 10.1-inch display with a massive HD resolution of 1920 x 1200 pixels. It has 32 GB of internal storage, which is ample for storing all your apps and a couple of games. The product, similar to many other Amazon-branded contents, integrates with many pre-installed apps. It also has a one-year free Amazon Free-time Unlimited subscription and a solid two-year warranty period, so you don't have to worry about your kid breaking or damaging the tablet. The best aspect is that as part of this subscription, you will have access to over 20,000 movies, books, and video content from Disney and Nickelodeon to make your kid's times more productive.
Being a kid-friendly product, it is affordable, too as you can renew the subscription at $2.99 after one year. It is equipped with the latest Wi-Fi AC for super-fast connectivity, works great with YouTube, and even the Minecraft pocket edition seamlessly works on this product. Parents will have complete control over this easy UI, allowing kids to easily swipe through to find the content they love. They can set screen off timers, monitor, and block any unwanted content, making it the best product that you can simply hand over to your kids.
What Makes the Fire HD 10 a Great Tablet for Kids Under $200?
The design is rubberized on the corners for improved grip and is easy to hold for kids of all age groups.
It has a new UI that is easy to operate while content blocking is enabled by default, and screen on or off timers can also be decided by the parent.
The monthly subscription plan is free for a year and provides Disney and Nickelodeon content to keep kids engaged while teaching them new stuff.
The tablet is available in pink, yellow, and blue, which are attractive color variants.
Recommended For:
Parents looking to buy a large and educational tablet for their kids can choose the Fire 10 HD Kids edition, which has everything including kid-friendly movies, learning materials, and more content to explore.
Bringing back the beauty of Google Nexus Tablets
SimbansTango Tab 10-inch Tablet
Check Price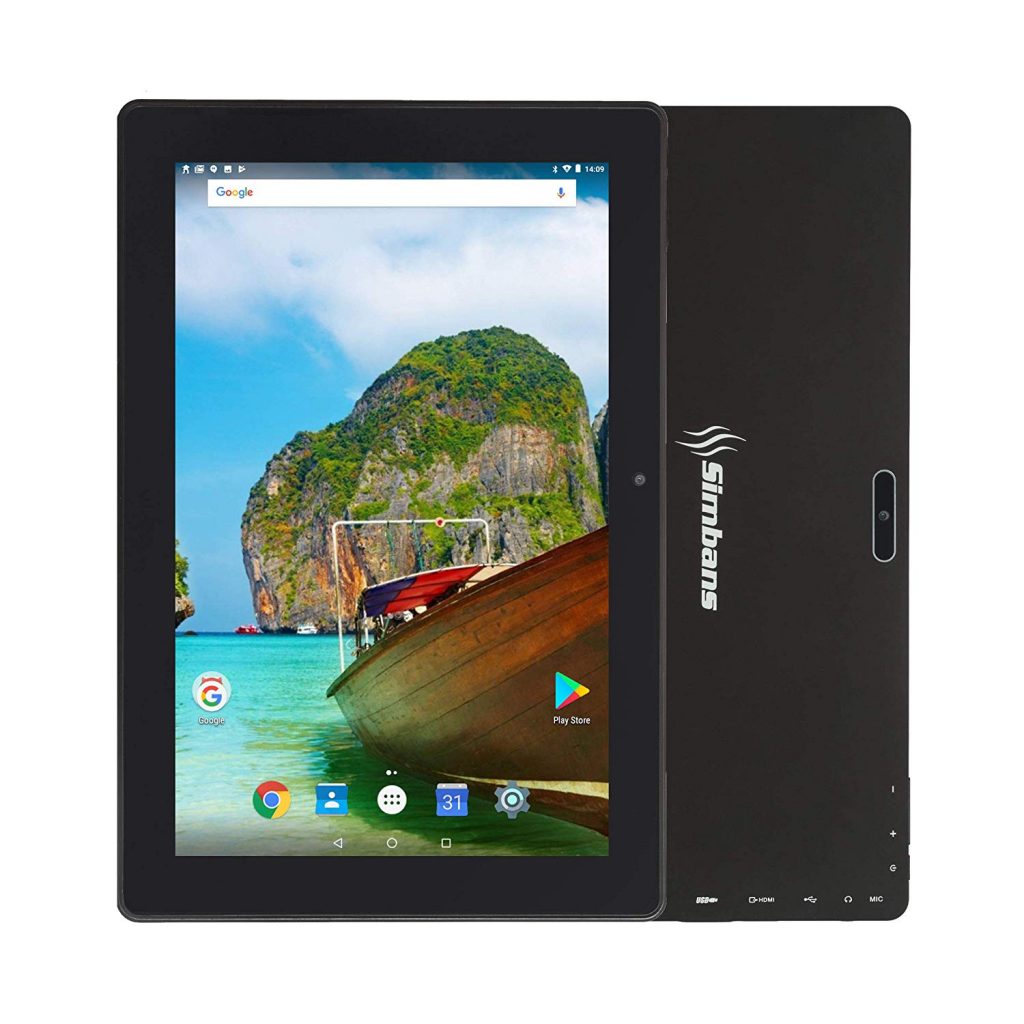 The SimbansTango Tab will immediately remind older people of Google's Nexus lineup of tablets. While the company has completely discontinued the Nexus range of smartphones and tablets, it used to be all the rage back. The company made some of the best tablets, with a brilliant textured rubber material on the black and a balanced 7-inch display perfect for all kinds of entertainment, including movies and YouTube videos. They were affordable too, but now, Android tablets have become more expensive than they used to be. The Simbans product is still affordable for most people and also comes with a cool one-year warranty so you can claim it if something goes wrong.
The tablet features a large 10-inch display but has a sleek design, and you should be able to easily hold or operate it with one hand. Under the hood, it is powered by a branded MediaTek Quad-Core processor, which significantly changes the product's multi-tasking capabilities. You will be able to keep a bunch of apps open at the same time and still be able to open a new one or work on it without any signs of lagging. However, know that it has 2 GB RAM, limiting your capability to have over a dozen apps or games open simultaneously. This is a budget tablet, and its limitations should be considered. It has 32 GB of storage space for all your files and many connectivity options, including Wi-Fi, GPS, Bluetooth, and a mini USB port which is old school but gets the job done.
The tablet from Simbans is not just another product from China but rather certified and approved. It has been legally certified by the FCC and CE standards which assure the type of plastic used, the signals created by the product, and so on. With the help of the mini HDMI port, you can easily connect it to the television and view all your content, be it videos or images on the big screen. The device uses an IPS HD display, a 5-megapixel rear camera, and a 2-megapixel front camera so that you can make video calls besides taking pictures when required.
What Makes the SimbansTango Tab the Best Tablets under $200?
Powered by a MediaTek processor, it delivers excellent power to keep all apps and games running smoothly.
With 32 GB of storage space, you can keep all your games and files saved on your local drive
Certified by FCC and CE standards.
The product has a one-year warranty which safeguards your investment.
Recommended For:
The tablet offers a decent Android experience with a large 10-inch HD display with plenty of ports and connectivity options. It is an easy pick for anyone looking for an affordable Android experience.
Best Tablets for Everyone with a Slightly Higher Price Tag
Apple iPad with Wi-Fi 32 GB
Check Price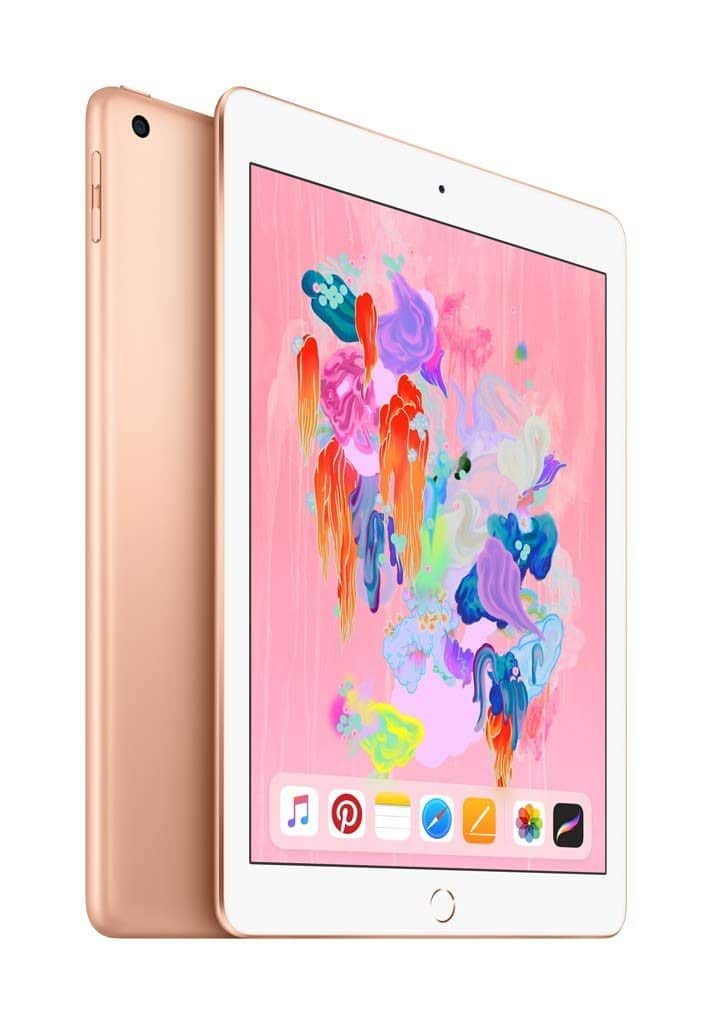 Because this list focuses on tablets priced at $200 or lower, the Apple iPad should have never made it to the list because it cost almost $300 in the past. However, the pricing has significantly come down, and you can get it for $230 to $250 based on the seller you are buying it from. Besides, the list has Android and Windows tablets, but there are no iOS products because they are expensive. The latest iPad Pro models go up to $700 or even more if you are going to increase the display size and the hardware specifications of the product.
The iPad Wi-Fi 32 GB model is the cheapest way to experience iOS, combined with the excellent build quality and an amazing range of exclusive apps. The tablet sports a large 9.7-inch Retina display with 2K resolution and looks brilliant. Apple has always been at the forefront of delivering eye-popping visuals, a great touch screen experience, and a build that should easily last you years. The only catch is that you will spend at least $50 more to get this premium experience, but it is worth the money.
The iOS tablet is powered by the A10 Fusion Chip, which is more than capable of handling all kinds of apps and games and is among the best tablets under $200. Be it titles like PUBG or apps like Netflix; you will be able to enjoy them in their highest possible resolution with great visual fidelity. The tablet still retains more iconic features like a 3.5 mm headphone jack so that you can listen to your favorite music and the fingerprint sensor and also uses two-speaker audio to listen to content without headphones. It has a 1.2-megapixel FaceTime camera to make calls to iOS devices and promises a solid 10 hours of battery life on a single charge.
What Makes the iPad's 32 GB Wi-Fi Edition the Most Affordable iOS Tablet?
While the pricing is not exactly within the proposed budget, you can get it for that pricing as a refurbished product, but the new one would cost slightly more.
The iOS experience is flawless and has some amazing exclusive apps like Garage Band.
The tablet has a headphone jack and is one of the best entertainment devices.
Recommended For:
iOS lovers are willing to spend more to get the best experience on a tablet that should last them years while providing a very elite experience rather than a cheap non-branded Android tablet.