People love smoothies especially when it's summer and the scorching sun makes them as thirsty as ever. Sipping a healthy smoothie, relaxing in the warm evening sun, and reading a book or listening to music is what people refer to as nirvana. The best smoothie makers under $100 allow you to enjoy making these delicious drinks from the comfort of your home.
The time taken to drive long to that Thick Shake Factory or drop into a restaurant to taste your favorite smoothie can be totally eradicated. Just keep vegetables and fruits in the refrigerator and make delicious drinks in minutes, whenever you need it, with the help of these compact and efficient products.
See also: Best immersion blenders
Best smoothie makers
A Compact, Portable Smoothie Maker
Homgeek Personal Mini Blender with Travel Bottle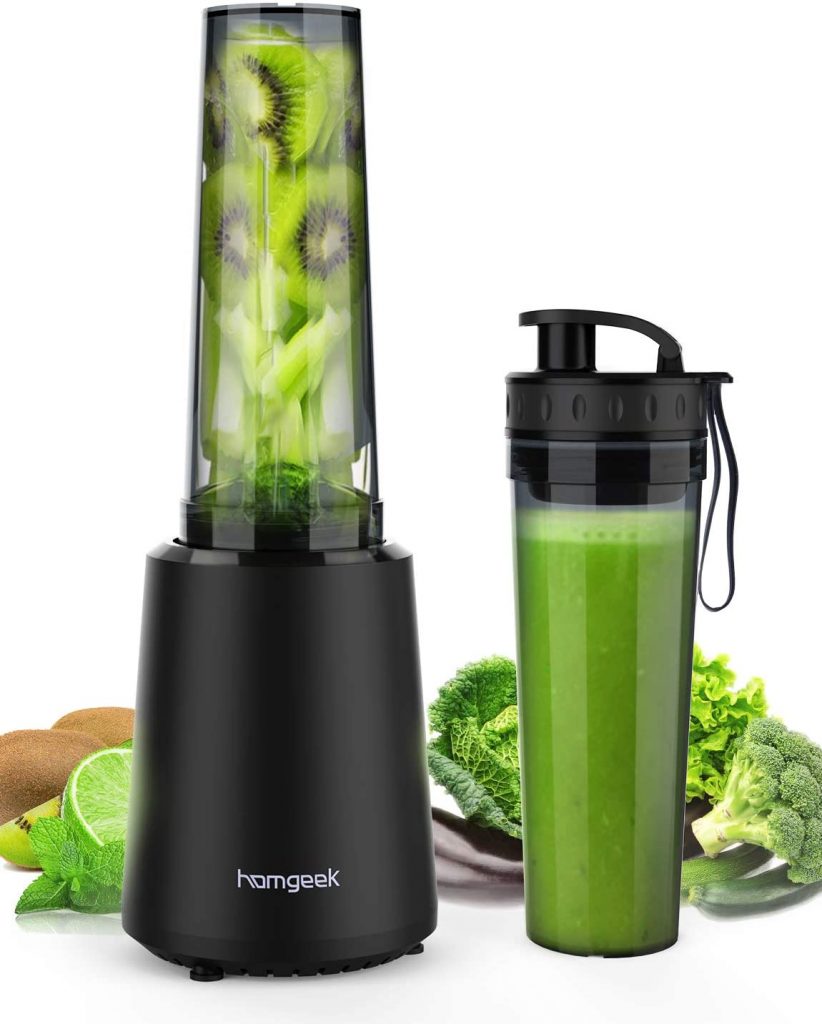 Making a great drink is just the first of many steps. The process once complete doesn't mean you can start drinking immediately. The travel bottle that comes with it makes life easier so that you can store it in the refrigerator and drink whenever you like to. Besides, it also helps everyone to create a diet schedule. If you are supposed to drink a cucumber smoothie at 2 pm, blend it in the morning and keep it refrigerated.
The Homgeek Personal Mini Blender has an excellent rating and is recommended for any type of user. The advantage of having a compact product is that you will not end up removing all the nutrients contained in the ingredients. The motor is 300W of power which is powerful enough to crush the ingredients without getting too hot to spoil its original taste.
The storage bottle and the mixer's top is made using baby-food grade Tritan material. It's certified to be safe for use and will not cause any long-term health problems. Similar to many other products, this blender can be cleaned using the dishwasher. Once the blade is clean, it can be air-dried in the open. You don't have to risk cleaning the blade or any other part manually.
Why is the Homegeek Personal Mini Blender with Travel Bottle Recommended?
The ultra-affordable pricing makes it an easy-to-pick product for most.
The product is made using 304 food-grade stainless steel and has four sharp blades that cut food items efficiently. It saves you time.
Who Should Buy This?
A perfect smoothie maker for people who are always on the go as the travel bottle lets you take the drink with you.
The best affordable solution for healthy diet plans as you can plan small quantities of various drinks.
Extraordinary Power in a Small Package
Sboly Portable Mini Blender with USB Rechargeable feature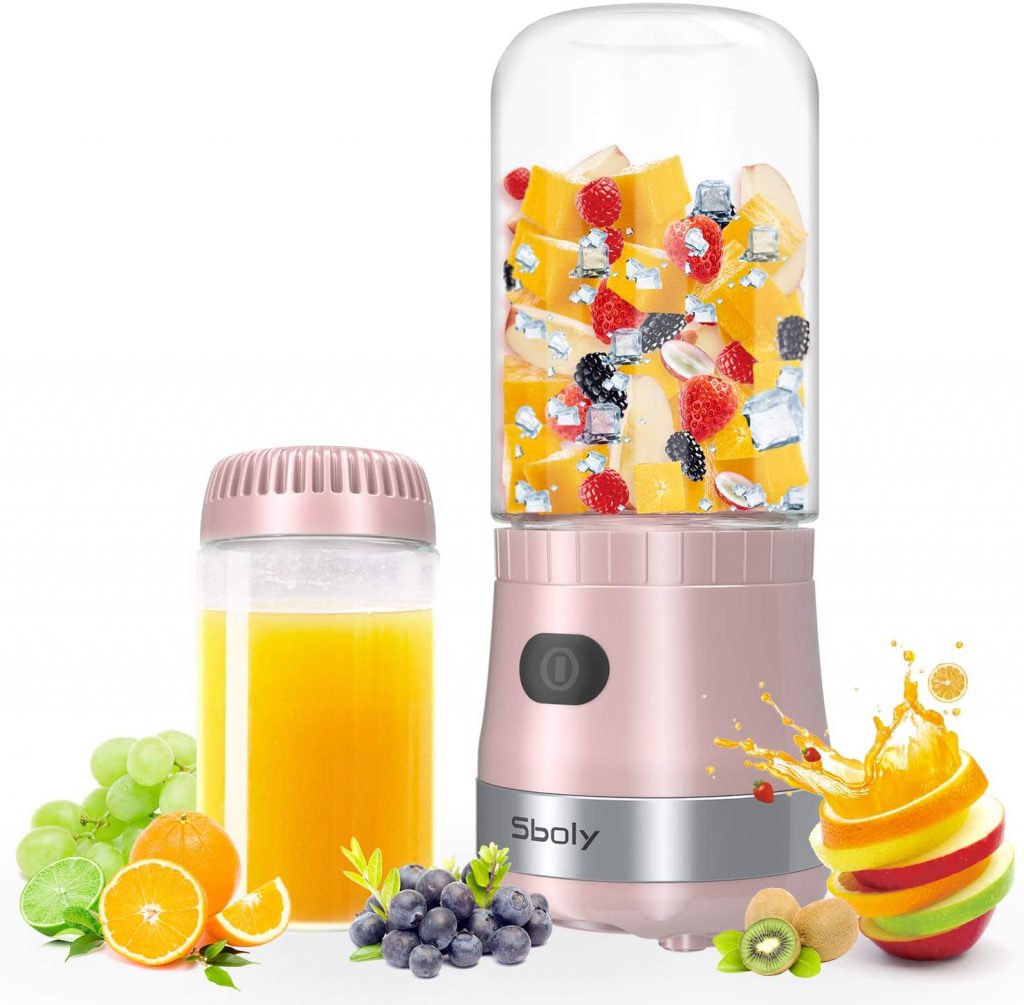 The portable mini blender has managed to get everything right. You can take it out in the open, make a smoothie, and enjoy the delicious drink amidst nature. The Sboly personal blender is extremely small. However, the 18000 RPM motor is exceptionally powerful and can easily crush hard ice in just 20 seconds for your drinks.
The blender bundle includes two BPA-free cups. The addition may sound simple but it makes a whole lot of difference when it comes to carrying your juices to different areas. The bottle is not just another addition but a hybrid one. The cup includes a blade on top so that you can use it to blend the juice and also take it to school, office, or wherever you have to be.
This product has a built-in battery of 4000mAh that makes it compact. You can recharge the same using a power bank. These days, kitchen equipment such as portable blenders are equipped with in-built batteries, the same as your smartphone. With a fully charged battery, you can blend 10 to 15 times and it takes about 4 hours or less to charge the battery to its full power. The product is easy to clean and includes two plastic bottles. You can directly attach the bottle to the blender to blend fruits or vegetables.
What Makes the Sboly Portable Mini Blender with USB Unique?
The bottle acts as a juice jar so that you blend directly and shift it for consumption to the second bottle.
It's powered by a rechargeable USB port and is truly portable.
Who Should Buy This?
For athletes and frequent travelers, you can now enjoy your juice on the go.
The product's build quality is excellent and can withstand any harsh outdoor conditions.
The Most Popular Choice
Cincred Personal Countertop Blender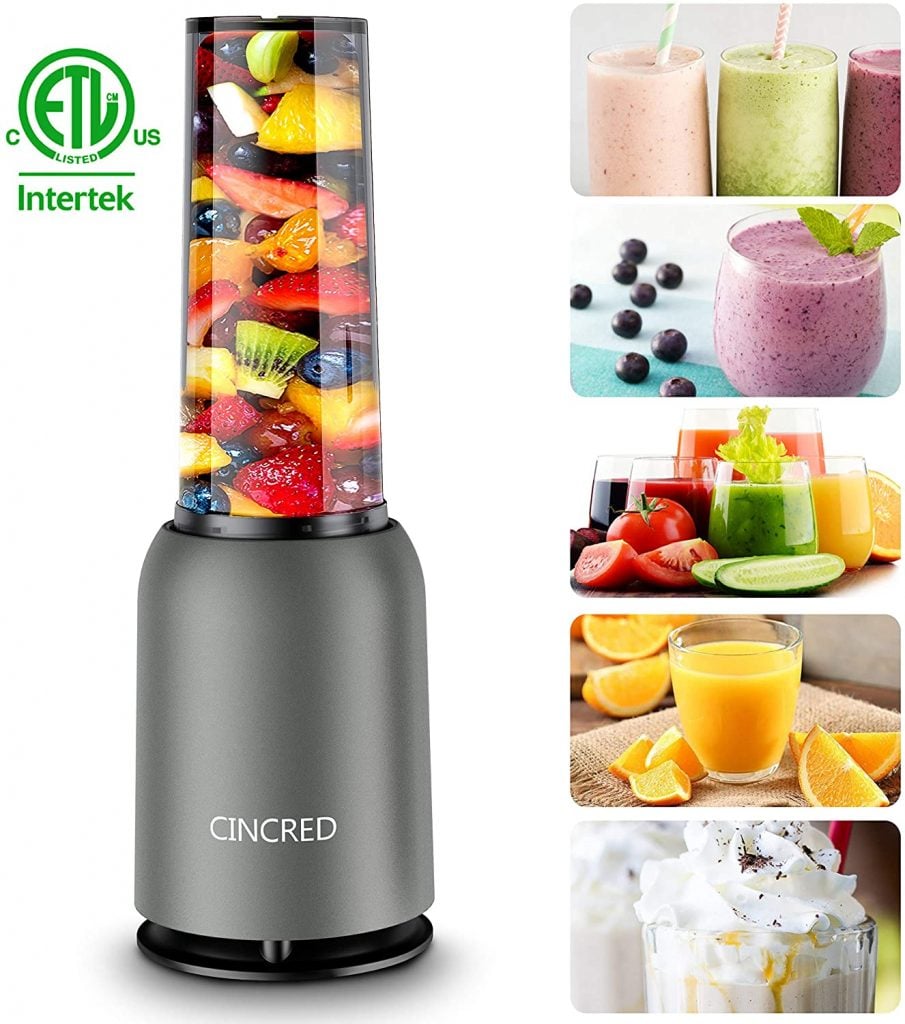 Leading a healthy lifestyle is a big dream for most people. If you are under the assumption that you should spend thousands of dollars to alter your diet, then you are mistaken. With hundreds of amazing milkshake makers available online, it's easier than ever to monitor your food consumption. The Cincred Personal Countertop Blender is an extremely popular choice among buyers. With thousands of positive reviews and counting, it's difficult not to recommend this product.
The juice mixer follows the innovative idea found in select blenders these days. It's compact and is bundled with a large bowl. Just put all your cut vegetables and fruits into it, secure the lid tightly, flip the top onto the mixer and press it down. The mixer blades will automatically blend the contents of the jar and your smoothie will be ready in no time. This best smoothie maker under $100 can be used to make fresh fruit juice, fruit paste, milkshakes, and sorbet.
The Cincred Personal Countertop Blender is equipped with powerful, food-safe stainless steel blades. The four blades ensure your fruits are cut and juiced properly. For people who are health conscious and need a quick drink after their workout, just carry the bottle wherever you go. With strict quality measures, it's made using high-quality food-grade plastic.
What Makes the Cincred Personal Countertop Blender Popular?
The build quality and its ability to juice ingredients without spoiling the natural taste is the main reason for its popularity.
The bundled double-duty cup is safe to use and can be left in your bag as you don't have to worry about leakage of its contents.
Who Should Buy This?
The blender is perfect for people who need an easy-to-carry solution and blend juices wherever they are.
If you need a spill-proof bottle, go for this product because it includes a double-duty spill-proof cup to store your smoothies for later use.
Best Smoothie Makers Under $100 with a Large Travel Bottle
Willsence Smoothie Blender with 20oz Portable Sports Bottle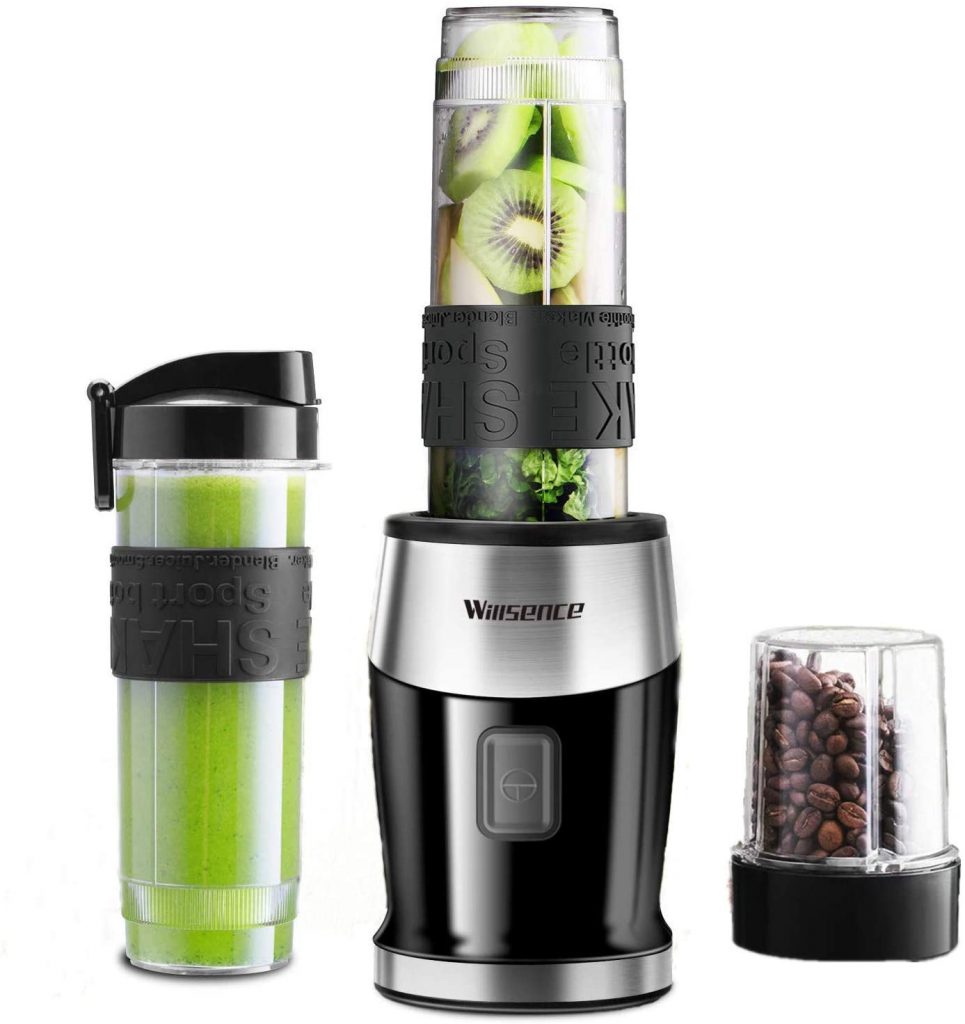 Most blenders have the design where you can use the same bottle for blending, storing, and takeaways. However, not all of them have high-quality bottles. The Willsence Smoothie Blender has a professional design and solid build quality. The drink bottle can be flipped over onto the blender for a quick smoothie.
The total motor capacity is pegged at 300 watts. This blender has four stainless steel blades that are powerful enough to cut vegetables and fruits. At the same time, they are easy to clean with just a rinse. The 2-in-1 portable blender supports both blending and grinding. You can not only make smoothies and juices but can also grind coffee beans and nuts.
All the materials used in this smoothie maker are BPA-free and food-grade and therefore they don't cause any harmful health issues in the future. The portable design makes it easy to hold in one hand. The safety-lock feature ensures the bottle stays firmly in place when the blender is in operation. The total capacity of the bottle is 570ml and has a convenient carry lid that makes it the perfect companion for joggers, fitness enthusiasts, and travelers.
What Makes the Willsence Smoothie Blender with 20oz Portable Sports Bottle Great?
The product has a professional design that should appeal to purists who need the best for their kitchen setup.
The carry bottle is large and is easy to carry around.
Who Should Buy This?
For those who are diet-conscious and are looking for easier ways to keep their drink handy, this blender solves the problem.
For those who need a great design coupled with good safety measures.
The product is multi-purpose as it can be used for making smoothies and juices as well as grinding.
Multi-Purpose 3-in-1 Blender for All Your Needs
Deik 5-in-1 High-Speed Countertop Blender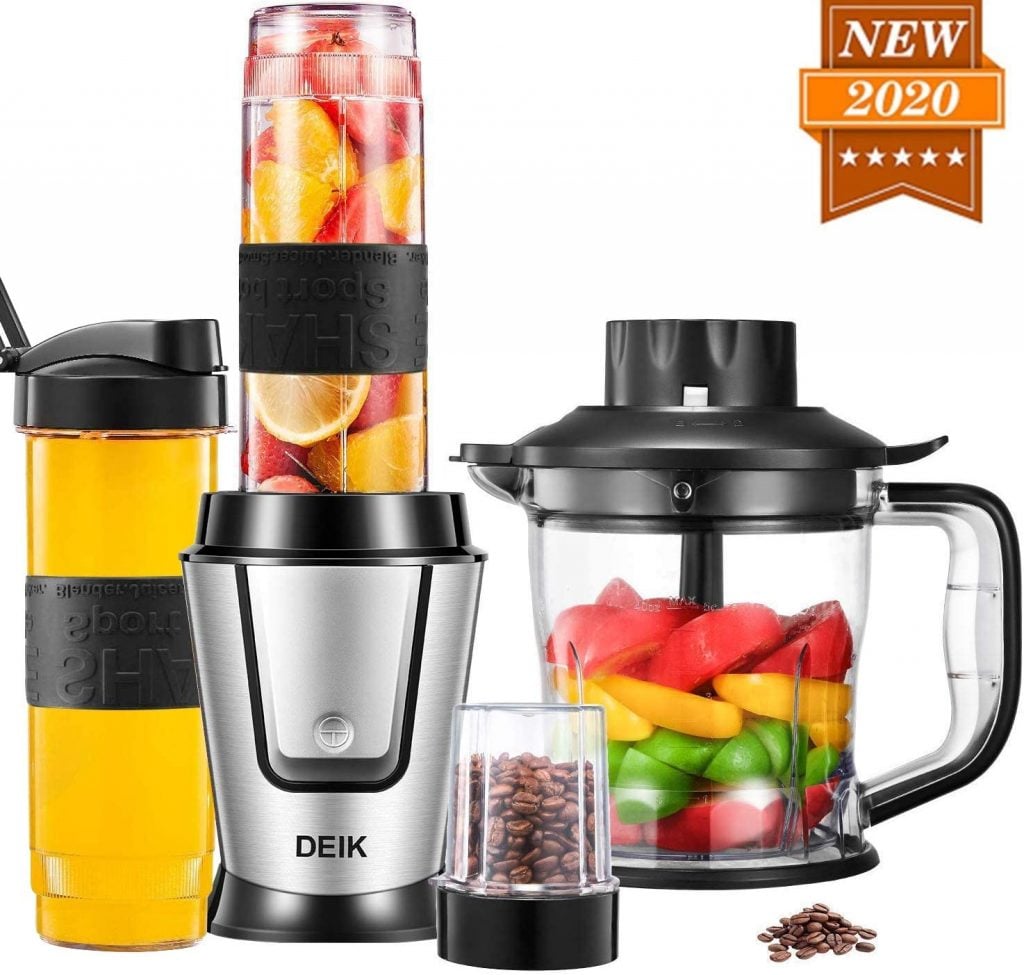 Are you a big fan of smoothies and milkshakes? Do you love coffee but would want to grind the beans yourself? Maybe, you are planning to purchase multiple machines including a food processor and a blender. Strike off that idea because Deik's 5-in-1 solution is the perfect countertop blender for all kinds of household cooking needs. Equipped with a powerful 500W motor and 20K max RPM capacity, it can comfortably handle all the tasks of a 3-in-1 countertop blender under $100.
Even though it is a countertop blender, one of its drawbacks is that it is not a portable machine. The design is in such a way that it is best left on your kitchen counter to make juices or blend food ingredients. This latest product in town also happens to be the one that offers the most number of accessories bundled with it. It's made using 304 stainless steel blades that can cut ingredients without affecting the minerals and vitamins in them.
The bundle includes a chopper bowl, travel bottle, grinding cup, lid, and blade set. It can be used to chop meat, potato, grind spices or make delicious smoothies or ice cream blends. The instructions tell you which blades to use for the effective blending of ingredients. The safety lock keeps the bottle firmly in place while it is in operation and the one-touch button lets you finish the job quickly.
What Makes the Deik 5-in-1 High-Speed Countertop Blender An All-Purpose Solution?
The number of accessories bundled with the blender makes life easier and allows you to handle all kinds of grinding, whisking, and cutting jobs.
This countertop model is sturdy and has a more powerful motor when compared to other compact blenders of its type.
Who Should Buy This?
If you are looking for value for money and like to use the same blender for multiple purposes, this is the one for you.
The large cup used in this model allows you to mix and store large quantities of smoothies, fruits or meat.
The Ultimate Professional Smoothie Maker
Homgeek Professional Countertop Blender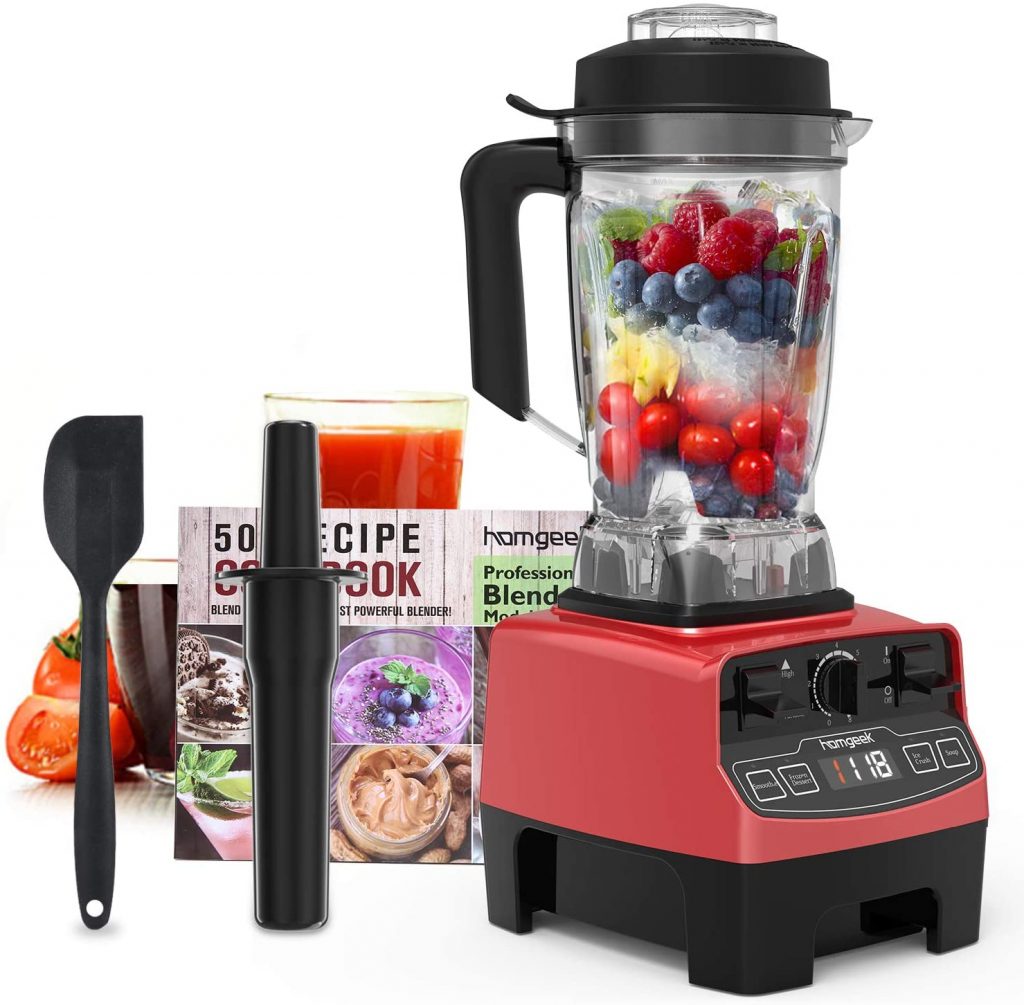 This product may resemble a mixer grinder that you might have seen in large restaurants or food industries. The design is not the only area where it's professional but everything else about the Homegeek professional countertop blender is impressive. The product is equipped with 4 pre-programmed settings so that you can instantly get to making smoothies, juices, or crush ice using the template setup.
The blade count is rather high when compared to conventional, compact models. There are 8-stainless steel blades and it's evenly spread out in three layers. The layered design allows the 1450W motor to cut and powder tough ingredients such as vegetables, ice, and coffee beans to the required texture. The top lid is split into two parts and the advantage is that while the machine is in operation, you can add ingredients without having to remove the entire jar.
With a total of 8-variable speed settings, you can make different dishes including hot soups, ice creams, frozen drinks, and many more. The jar fits comfortably into the crevice and has safety locks to ensure that it stays in place during operation. After every use, the jar can be cleaned by running it with dish-wash liquid and warm water.
What Makes the Homgeek Professional Countertop Blender Truly Pro?
The large and powerful base cuts and blends tough ingredients easily.
The product is equipped with the maximum number of blades for fine blending.
Who Should Buy This?
If you need an extra powerful smoothie maker under $100, this is a perfect choice.
For those who want to blend hot ingredients or baby food and not just juices.
A Stylish, Grippy Blender Plus Carry Bottle
Aeitto Portable Blender with USB Rechargeable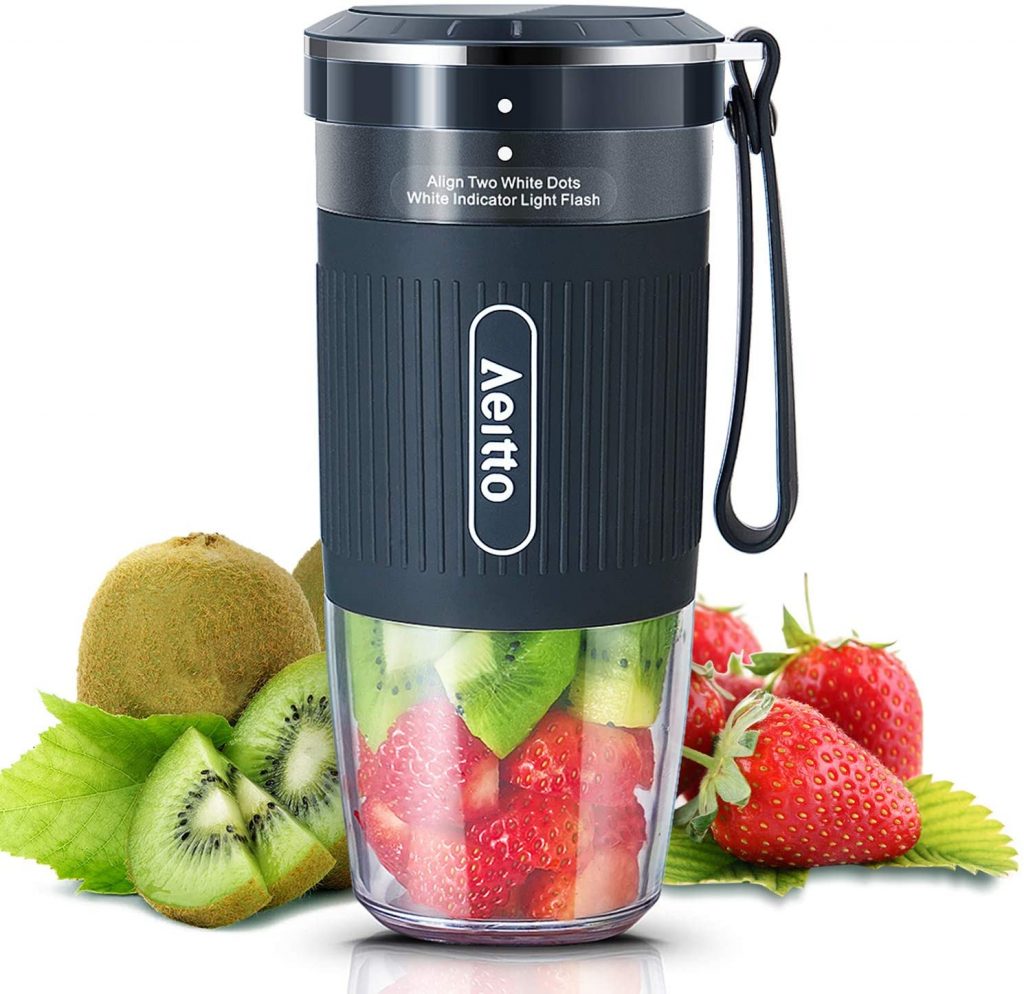 Whether you are a sports personality, an avid bodybuilder, or someone who loves to work in the outdoors, there are so many instances that a smoothie could come in handy. Healthy fruit smoothies keep you rejuvenated and fresh amidst your stressful work and healthy routines. The Aeitto portable blender makes life easier and easily tops as one of the most powerful portable blenders that you can lay your hands on.
The total motor power is pegged at 300W and it can deliver up to 21000 RPM making it perfect for smoothies, protein shakes, and milkshakes. You can also make delicious juices or salad dressings to spice up the meal for your guests. There are so many different occasions during which this blender becomes a useful add-on. This product is made using FDA approved and BPA-free material. The Tritan container is safe to use and doesn't affect the vitamins in your fruits.
Similar to many widely acclaimed products, Aeitto has provided utmost attention to the safety factor. The blade with a safety cover is on the top while the consumption cup is at the bottom. The blades run only when the safety valve is closed. It's easy to rinse and clean the blades. It's easy to charge the machine using a USB cable at the home, office, or in your car.
What Makes the Aeitto Portable Blender Useful?
The product is truly portable and needs no attachments to run. You can charge it using any USB plug.
The entire operation is channeled through a single-button.
Who Should Buy This?
Ideal for travelers. They can make juices on the go, whether from a hotel room or even the airport!
Safe to be used in houses with children. It also suits fitness enthusiasts for their daily drink routine.
Vacuum Blend Technology for Smoothies that Taste a World Apart
IKICH Vacuum Blender with 25oz Smoothie Cup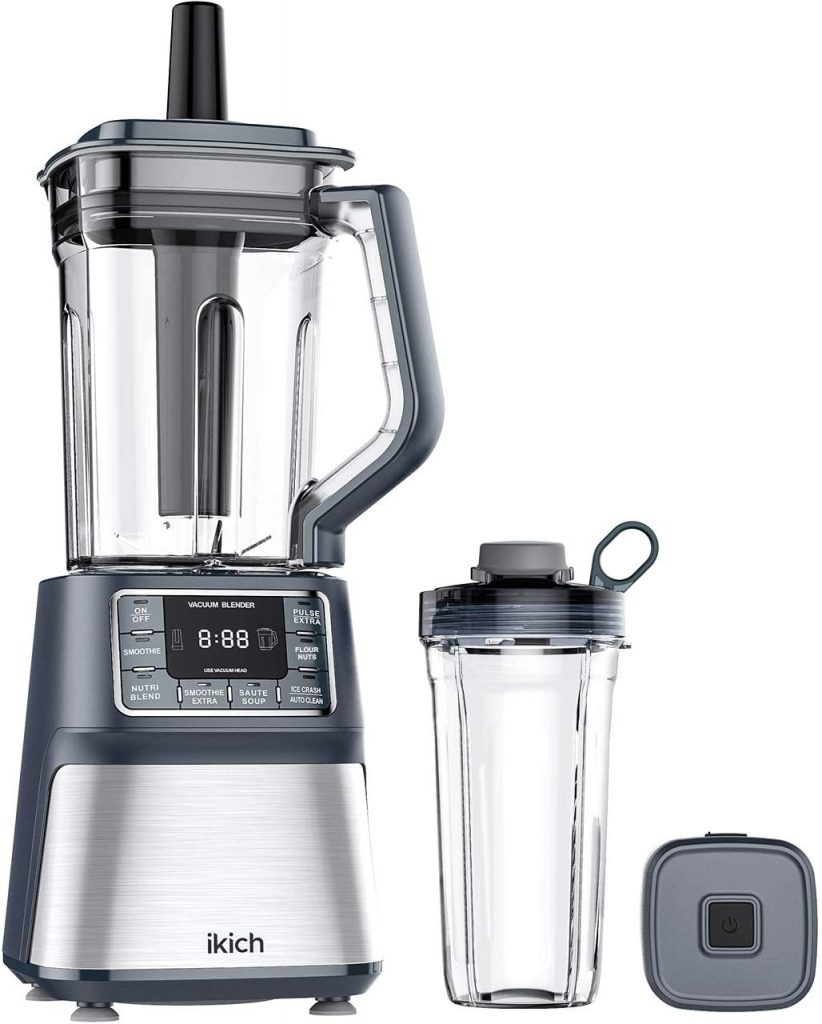 Most users think that smoothie makers should always be portable. Being compact and having a portable design might be great but then, the size of blades and cutting capacity will be limited. If you are looking to make some chef-grade smoothies and juices at home, it would be bad to invest in a product like this one. The IKICH vacuum blender excels with its anti-oxygen technology that preserves the freshness of your fruits like no other.
The anti-oxygen technology ensures that your fruits will not fade in color, with no change in the nutrient quality or unwanted bubbles in your smoothies. The blender looks very professional as it has a stainless steel silver finish. The smart settings allow you to choose between smoothies, shakes, and other demanding tasks such as crushing ice. The total motor capacity is phenomenal at 1000W giving it the power to chop vegetables and fruits with its sturdy blades, in no time.
The product supports auto-cleaning when water is filled for this purpose and the Auto-Clean button is activated. It rinses and cleans thoroughly with this feature. The cup is made using BPA-free material that safeguards the food ingredients inside from harmful chemicals. A locking system ensures that the contents of the cup stay intact. You can safely place it in your laptop bag, gym bag or use it in the office without the risk of spilling juice on electronic equipment.
What Makes theIKICH Vacuum Blender with 25oz Smoothie Cup a Pro-Product?
The product uses Vacuum-Blending technology to safeguard the nutrients in fruits and vegetables.
The build quality is excellent and it can be used to blend large quantities of juice, smoothies, and other healthy drinks.
Who Should Buy This?
Designed for people who have little time and but would like to make multiple glasses of smoothies.
The customization options and powerful blending capacity will suit demanding users who are not looking for a portable solution.
Experience Colorfully Styled Smoothie Blender with 500ML Storage Bottle
Kermat Portable Juicer Blender with 500ML Fruit Mixer

The best aspect of the Kermat juicer blender is that it's available in four different colors. You can choose between red, pink, green, or turquoise. This blender makes it easy to prepare smoothies, juices, and blended fruit mixes for that healthy lifestyle. It has a slim design and comes equipped with a 2600mAh battery that can run for 2 to 3 hours.
You can recharge your mixer wherever you are from power ports, the car, or even from your battery bank when on a trip. The advantage of a portable blender is that you can buy fruits from where you are and mix it instantly for a tasty drink. The blade can also crush small ice cubes to add a chill froth if you are after great cold coffee shakes or ice cream shakes. The travel lid is extra strong and can be swapped with the blade to convert it into a carry-bottle.
The large 500ML storage bottle makes the blender one of the best around. Among the best smoothie makers under $100, very few products offer such a large travel bottle. It's an essential add-on to carry your smoothie or juice wherever you go. The accessory makes it easy to prepare a quantity of juice that can be split and used separately at different times as part of your daily diet schedule.
What Makes the Kermat Portable Juicer Blender with 500ML Fruit Mixer Amazing?
The large 500ML travel cup which is part of the product makes carrying your juice easier.
It's easy to clean, has four blades for strong slicing, and supports USB charging.
Who Should Buy This?
For people following a strict diet chart, this 500 ML bottle helps to plan and consume their healthy fruit or vegetable drink.
It can be charged on the go which is a boon to travelers.
A Professional Blender for the Perfect Smoothie Experience
BioChef Galaxy Personal Blender with 1000W High Performance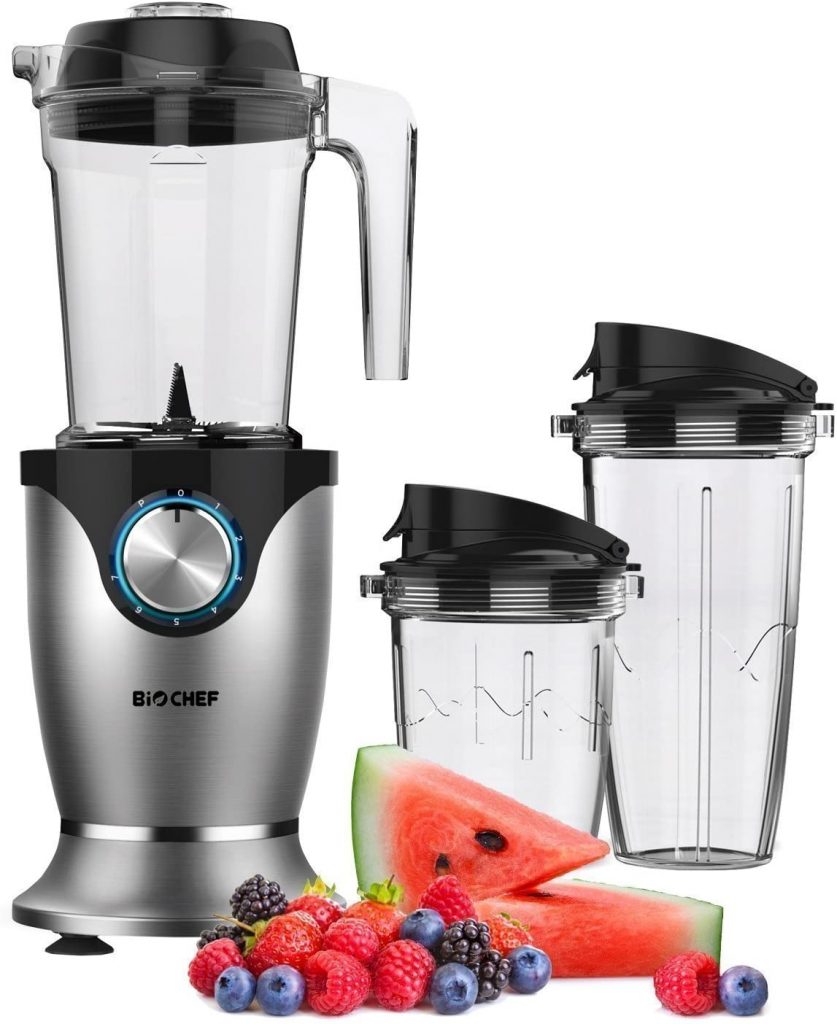 The large size of this blender may remind you of professional, stainless steel appliances used in restaurants. Not everyone is a big fan of such large products because the space in their kitchen has to be managed properly. The BioChef Galaxy Personal Blender is aimed at users who are not so happy with the small blades and the quick solution provided by portable smoothie makers.
The large stainless steel blades that are easy to clean, can cut through any stubborn fruits and vegetables. The total power delivered by the motor is pegged at 1000W which is more than enough to deliver about 7 different speeds. You can easily choose between the speed settings and also use the pulse setting whenever needed. The blender can be used to make purees, soups, dips and baby food apart from your choice of smoothies.
The blade is easy to clean with a rinse but there is the option to remove it and clean it individually for sparkling brightness. All you need is a minute to get the jar clean and back in action. The large blending jar is handy as it allows you to make juice or smoothies for the entire family or a group of friends. The portable blenders are focused on one person's diet while you can deliver the best drinks for a group of people with a much larger jar.
What Makes the BioChef Galaxy Personal Blender a Solid Contender?
The large jar capacity is ideal for all kinds of situations including parties, the family meets and getting the ingredients ready for greeting friends with some hot soup.
The product has an impressive warranty period of up to 2 years that enhances the value of your investment.
Who Should Buy This?
For those who need the assurance of a maximum warranty, this is the product to go for.
For those who need a smoothie blender that will cater to the needs of the entire family.
Make Your Delicious Smoothie in Seconds
Amuouzi Portable Smoothie Blender with 4000mAh Battery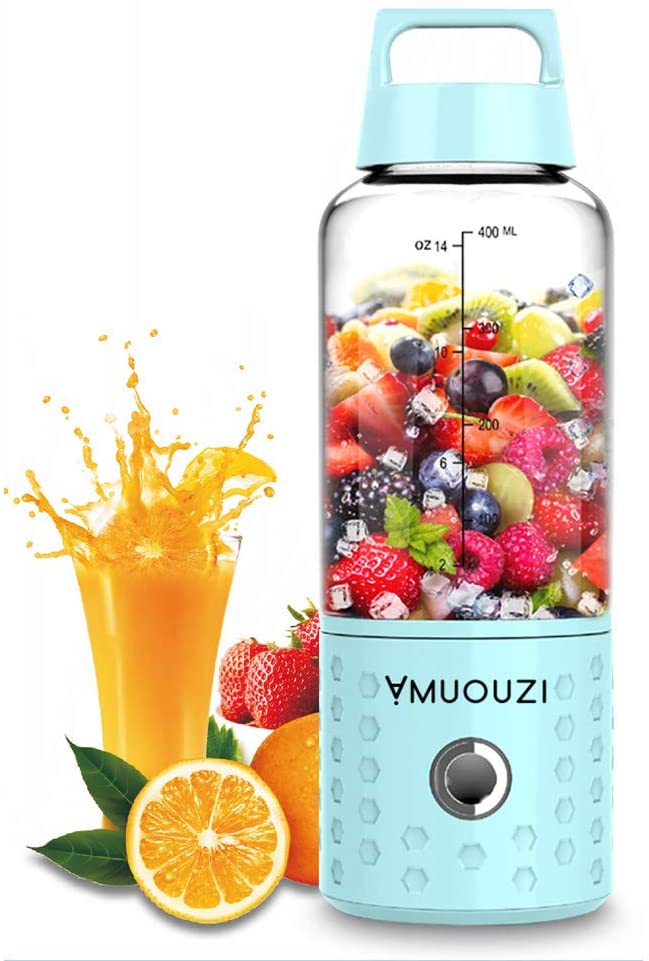 At a glance, you know that this is the most portable product available. The fact that it has a blade on the inside and can be used to chop fruits and make smoothies might surprise most people! The Amuouzi portable smoothie blender is easily a good and durable solution to your blending problems. With a large 4000mAh battery, we can comfortably refer this to you as the best smoothie maker under $100 that also supports charging on the go.
The unique aspect of this product is the detachable cup. Once the smoothie mixture is ready, you can detach the cup from the base and take it anywhere as you please. All the materials used in manufacturing this product are certified to be food-safe and approved by the FDA. The use of BPA-free material ensures that you can even make baby food using this product. The batteries can be charged using any USB port or even a power bank.
The advantage of having a quick and portable blender is that you don't have to make your smoothies and drinks in large quantities. Instead, you can enjoy quick smoothies and juices besides any other such drink. The smaller quantity also allows you to experiment with a wide range of recipes. The blades are small to improve compatibility but they are still capable of delivering 20000rpm of power. With this, you can get your smoothie ready in 20 seconds.
What Makes the Amuouzi Portable Smoothie Blender Reliable?
The battery with 4,000mAh of power assures you of usage, multiple times.
The blending capacity and the powerful motor deliver excellent performance.
Who Should Buy This?
A compact solution for those who need a streamlined diet.
If you need a blender that will stay powered up for extended hours, this is the one for you!
A Blender that Suits Every Dishand Diet Plan
Chulux Smoothie Bullet Blender Maker with Recipe Book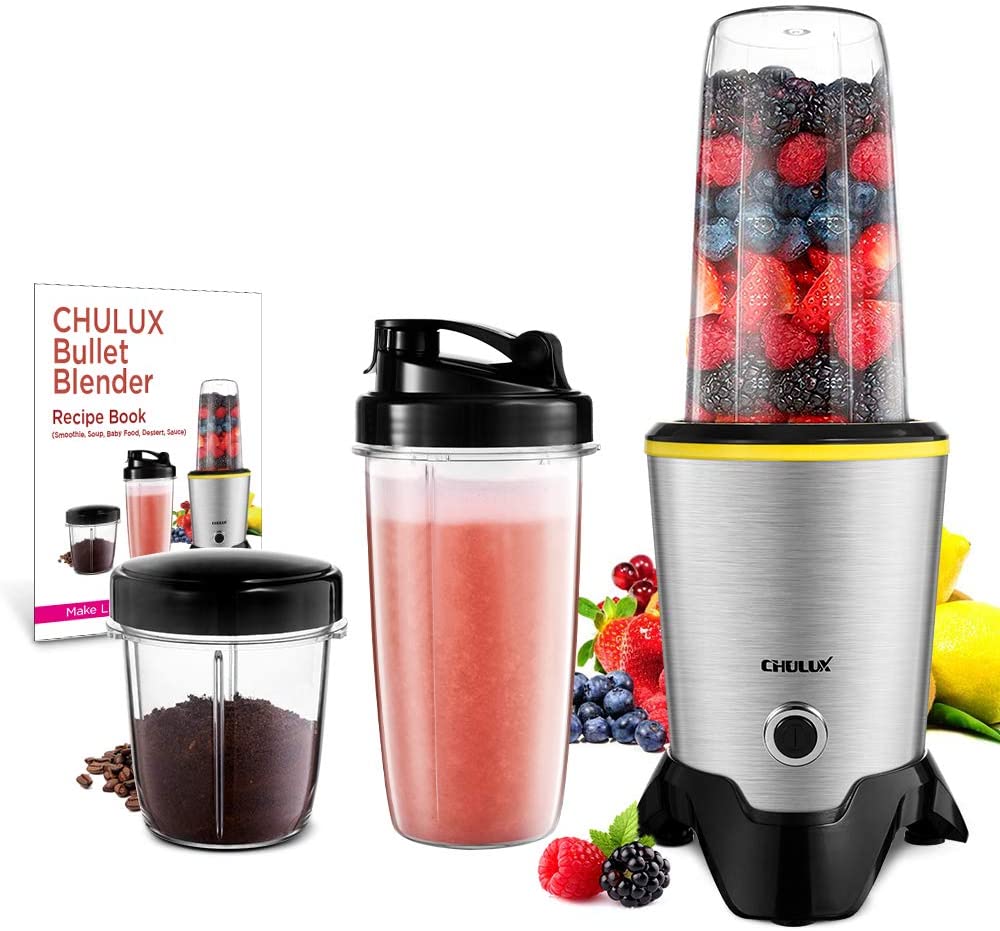 Leading a healthy life with a planned diet is what everyone would want to achieve. If you have gone through lifestyle magazines, you would have understood that a liquid diet is far better than a solid one because it is absorbed easily by the body. The Chulux smoothie bullet blender allows you to blend the best fruits, grind them into a tasty smoothie and enjoy it. When hitting the gym, just make a protein shake and you are good to go.
In terms of specifications, the blender can deliver an impressive 1000 watts of total power and you can blend fruits/vegetables or cashew nuts in less than 30 seconds. The quick blending and juicing option are delivered with the help of the powerful blades, efficient motor, and the firm design of the base. It lets you crush that stubborn block of ice which is an essential ingredient in any juice recipe.
The blades are made using 304 stainless steel material and they are extra sharp, designed to withstand demanding conditions. Another unique aspect of this product is the inclusion of two different cup sizes, the 32oz, and the 15oz cups. You can either choose to share the drink with a friend or split it up for breakfast and lunch. Either way, the inclusion of multiple cups are useful. It supports a quick one-touch button and uses a non-slip suction cup in the bottom for maximum grip.
What Makes the Chulux Smoothie Bullet Blender a Versatile Product?
The inclusion of a recipe book and two different travel cups makes it a useful bundle.
Ideal for making the best smoothies as the powerful motor and blades deliver juices without affecting its nutrients.
Who Should Buy This?
Anyone who would want the best smoothie experience with ultra-powerful blades should consider this product.
If you are in need of multiple carry cups and would like to invest in a solid blender, go for this.
Conclusion
People love smoothies and if you are busy browsing through magazines for the best smoothie makers under $100, you are probably expecting good value for your money. Instead of going for an all-expensive product, a portable blender or a tabletop smoothie maker can meet your requirements. Besides, you can finally convert to a healthy liquid diet with lots of vitamins, proteins, and the rest, to stay energetic throughout the day.