Technobezz is supported by its audience. We may get a commission from retail offers
X
Our Editorial Process
Each year more than 60 Million users visit Technobezz to solve a problem or research a product. Our goal is that everyone finds what they are looking for, and that is why we cover a variety of products, problems, and solutions on our website.

Writing an article that contains a lot of valuable information may seem simple. But when the article is written, the story doesn't end. We are constantly updating the content so that you can always get up-to-date and accurate information.
---
Technobezz's Editorial Guidelines
Smartwatches are pretty popular these days. You don't have to spend a lot of money to own one. There are
JENYNG Waterproof Smartwatch
MVEFOIT Health Management Smartwatch
Amazfit Stress Monitoring Smartwatch
Table of Content
Smartwatches are pretty popular these days. You don't have to spend a lot of money to own one. There are many affordable smartwatches on the market. All you need to do is find the best one according to your budget and needs. If you are still confused with so many options, we have picked some of the best smartwatches under $100 to buy. Keep on reading!
Buying Guide
Consider the following before buying a Smartwatch
Waterproof
Lightweight
Dual-mode Bluetooth functionality
Battery life
Compatible with both Android phones and iPhones
Brightness setting options
Easy to setup and connect
Alexa Voice Control
It supports both analog and digital displays
Best Smartwatches Under $100
A Multi-Function Smartwatch with Full HD Touchscreen
JENYNG Waterproof Smartwatch
Check Price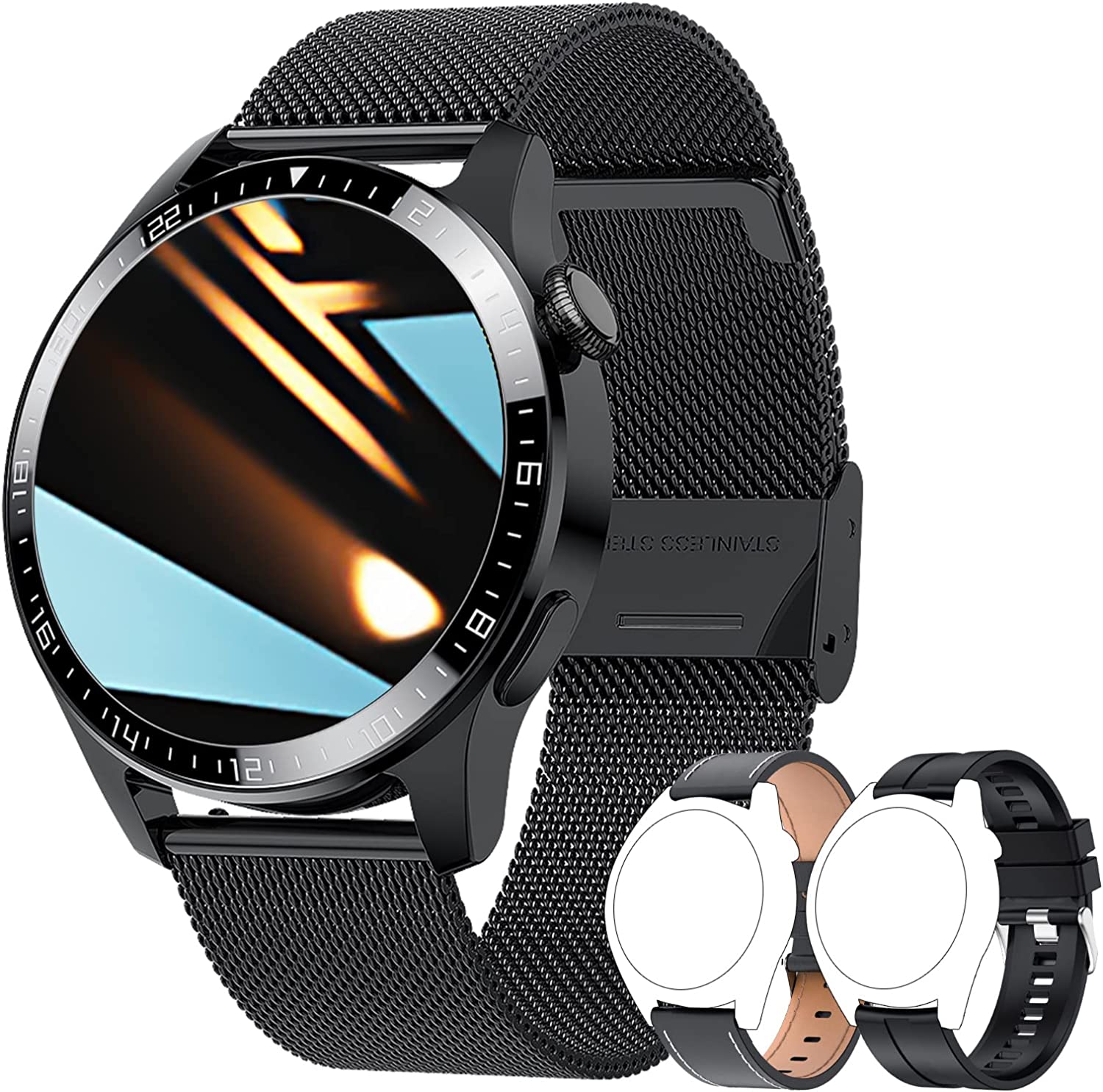 This JENYNG smartwatch sports a 1.32-inch diameter touchscreen Full HD LED black circular display with 360 x 360 resolution and is complemented by a matching silicone strap. The watch features brightness settings and several dial customizations. It supports Bluetooth 5.0 connectivity for hands-free operation on a smartphone.
The smartwatch has an inbuilt calorie counter to help you keep track of the distance covered, steps taken, and calories burnt. The watch also has 19 sports modes to provide additional details of everyday activities. The watch is waterproof, so you do not have to worry about the occasional water splash. It is ideal for both men and women. The smartwatch is powered by a 260mAh battery that charges fully in a couple of hours.
Smartwatches have multiple customization options that give you that new watch feeling every day.
The watch has very good clarity and high resolution, making its display easily visible for people of all ages.
It helps to keep track of almost all day-to-day physical activities and monitor sleep patterns, blood pressure, and heart rate.
Multiple brightness setting options
Long battery life
Compatible with both Android phones and iPhones
Cannot stop link request notifications for contacts and calls
A Large Dial Smartwatch with Multiple Color Options
MVEFOIT Health Management Smartwatch
Check Price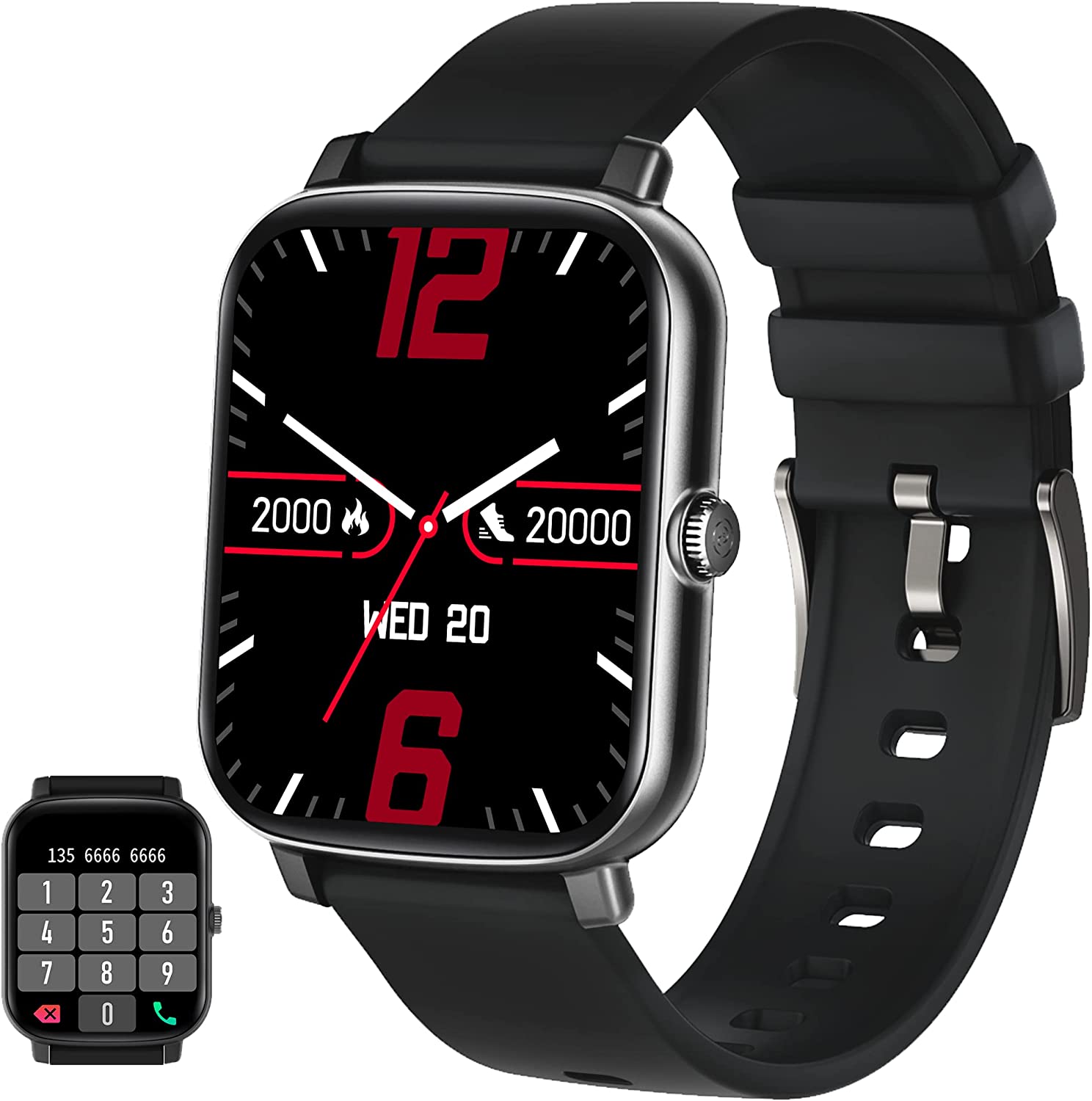 This MVEFOIT smartwatch has a large 1.7-inch square Super Retina HD display with a 245 x 285 resolution. The smartwatch can be paired easily with any smartphone through Bluetooth connectivity for a hands-free experience. The screen has good color saturation to render clear and delicate picture quality to enhance visual enjoyment.
Eight sports modes and an inbuilt PPG photoelectric biosensor chip that keeps track of your heart rate, sleep style, and blood oxygen levels help you maintain a healthy lifestyle. You can also use a smartwatch to keep a record of the number of steps taken, calories burnt and distance covered on a day-to-day basis. The watch has a breathing training feature and several reminder functionalities to remind you of nitty-gritty things that you tend to otherwise forget amid a hectic schedule.
The smartwatch has eight sports modes for people who enjoy basic sports like cycling, swimming, skipping, and football to record their performances.
The watch implements AI voice control to make calls, send messages, and open apps with voice base commands.
It is available in three color options: gray, black, and pink.
Multiple dial customizations
Several reminder options
Easy to set up and connect
Random freezing of the app
A GPS-Built In Smartwatch with Several Sports Modes
Amazfit Stress Monitoring Smartwatch
Check Price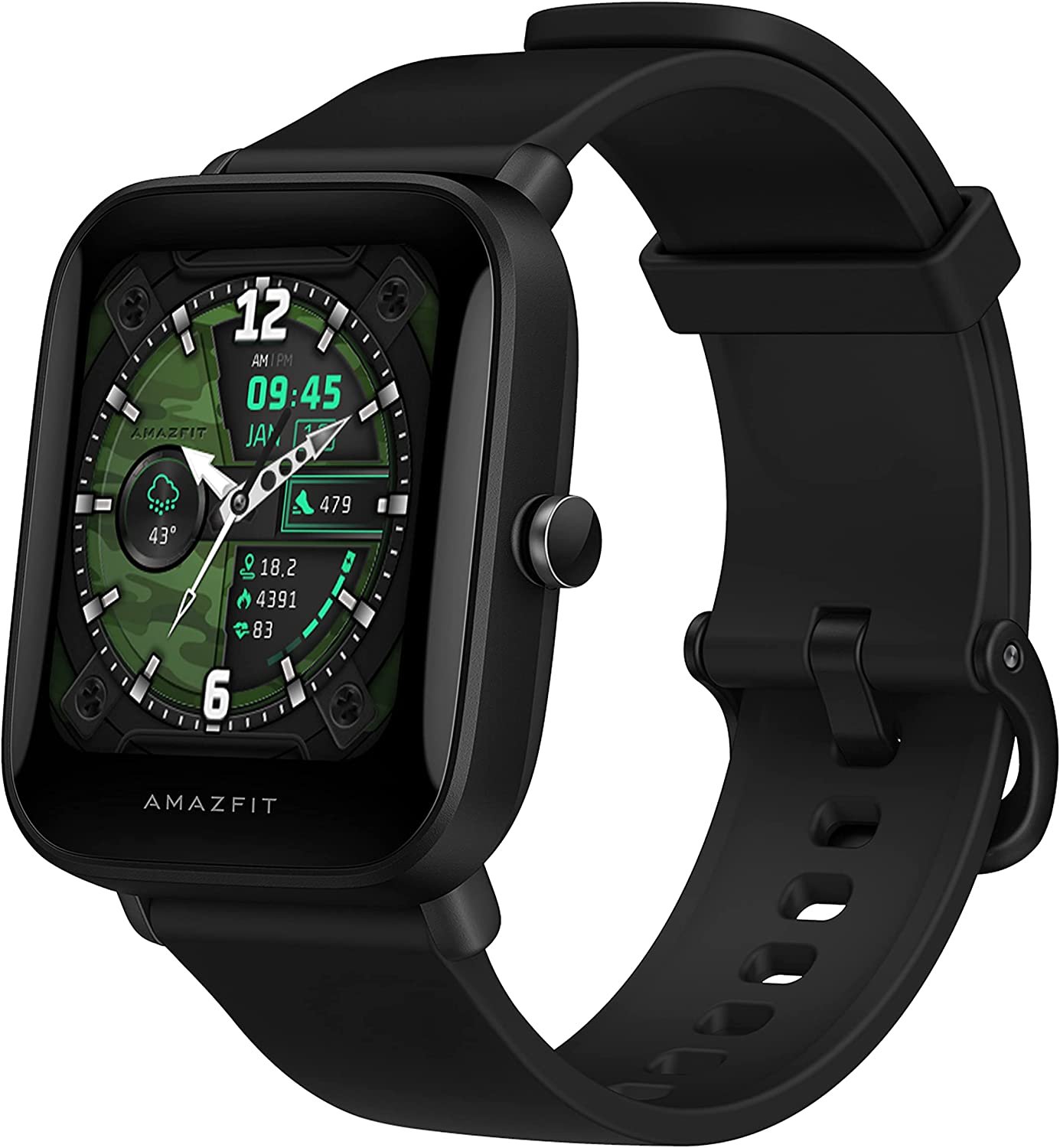 This Amazfit smartwatch features a 1.43-inch square touchscreen with 320 x 320 resolutions. The smartwatch has an integrated GPS functionality that helps in keeping track of your daily walking-related activities. The watch boasts 60+ sports modes to take your exercise to the next level. These sports modes incorporate a timer and a stopwatch.
The smartwatch has a water-resistant property that allows you to use underwater, like swimming. The watch features an all-around health tracking system that keeps track of standard health-related parameters, such as the female menstrual cycle. It also monitors your stress levels and offers training on breathing to keep your stress under control so that you remain calm and relaxed. The watch comes in eight color options with long battery life and is accompanied by a user manual and charger.
This smartphone helps to control the camera and music of the smartphone apart from providing reminders of incoming calls and messages.
The watch is lightweight, making it comfortable to wear on the hand for long hours.
It comes with Amazon Alexa to offer support for voice commands.
Battery life of 9 days
50 watch faces suiting any outfit or mood
Accurate GPS tracking
Replacement chargers are not easily available if lost or damaged
An Aluminum Frame Smartwatch with AMOLED Display
TouchElex Fast Charging Smartwatch
Check Price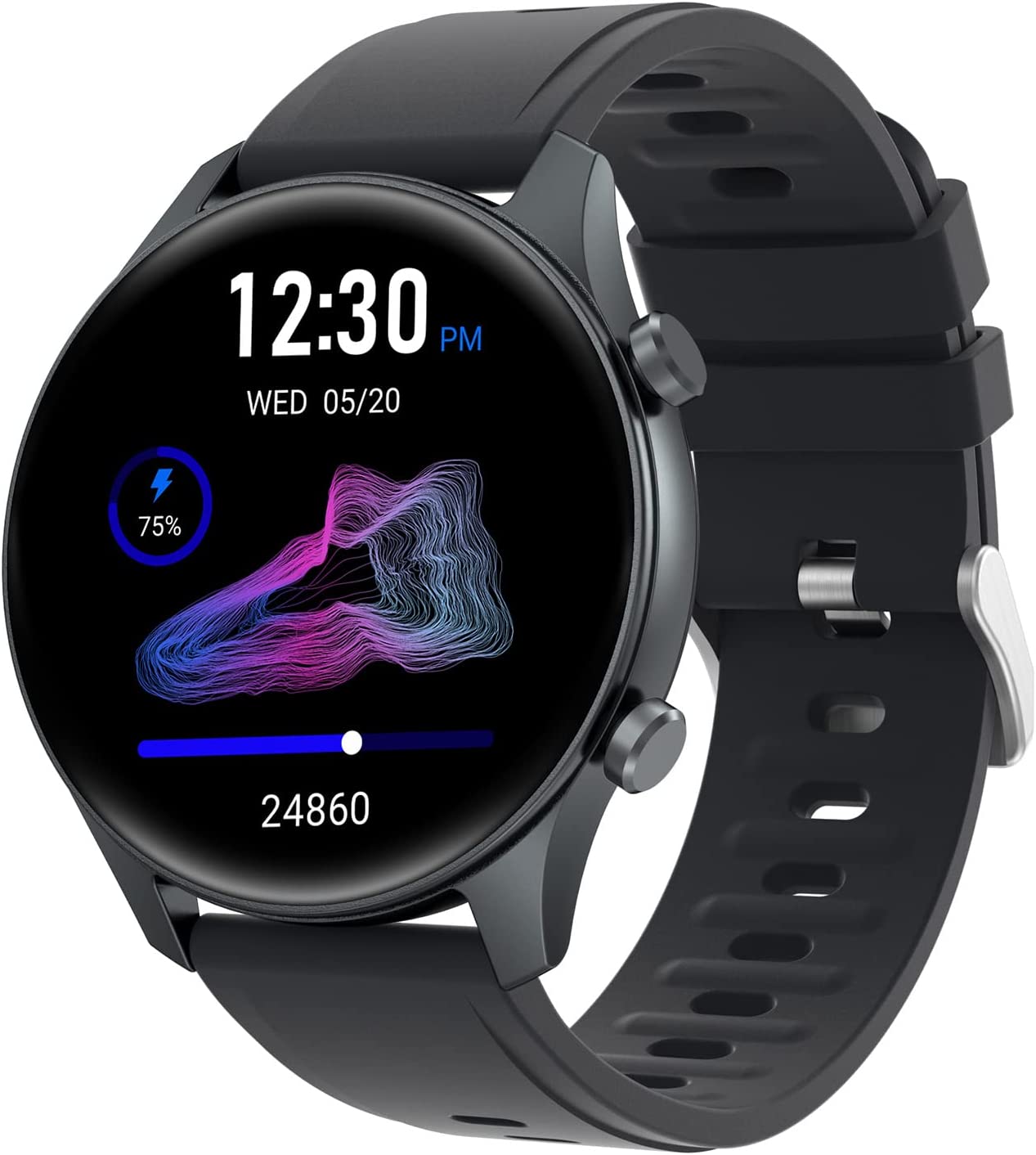 This TouchElex smartwatch boasts a circular 1.2-inch Always On AMOLED color display with a 2.5D bezel-less curved glass and 390 x 390 resolution. The smartwatch has a vibration action to keep you informed of any incoming notification. It has a thin 8mm frame that makes it appear stylish to suit any outfit. The watch offers quick reply support in text mode for incoming messages and calls on Android phones.
The smartwatch helps you adopt a healthy lifestyle by reminding you when it is time to move around when you have been sedentary for a long time or drink water. The watch also assists in keeping your breathing in check, measuring your blood oxygen levels twice a day, monitoring the heart rate round the clock and monitoring sleep patterns. It has 100+ watch faces and 14 sports modes and is splashproof, surf proof, and swim proof. This allows you to wear the watch under a shower. The watch attains full charge with just one and a half hours of charging.
Why Should You Buy This?
The smartwatch can be safely worn during activities like swimming or bathing without fear of it stopping to work with accidental water contact.
The watch allows you to see the time anytime and anywhere in any position without lifting your hand because of the Always On display.
It is backed by a one-year warranty that allows you to be assured of good customer service if needed.
Pros
Stylish and rugged at the same time
Easy to see the time always
Comfortable to wear
Cons
No quick reply support for iPhones
A Dual Mode Bluetooth Smartwatch with Smooth Operation
SOUYIE Low Power Consumption Smartwatch
Check Price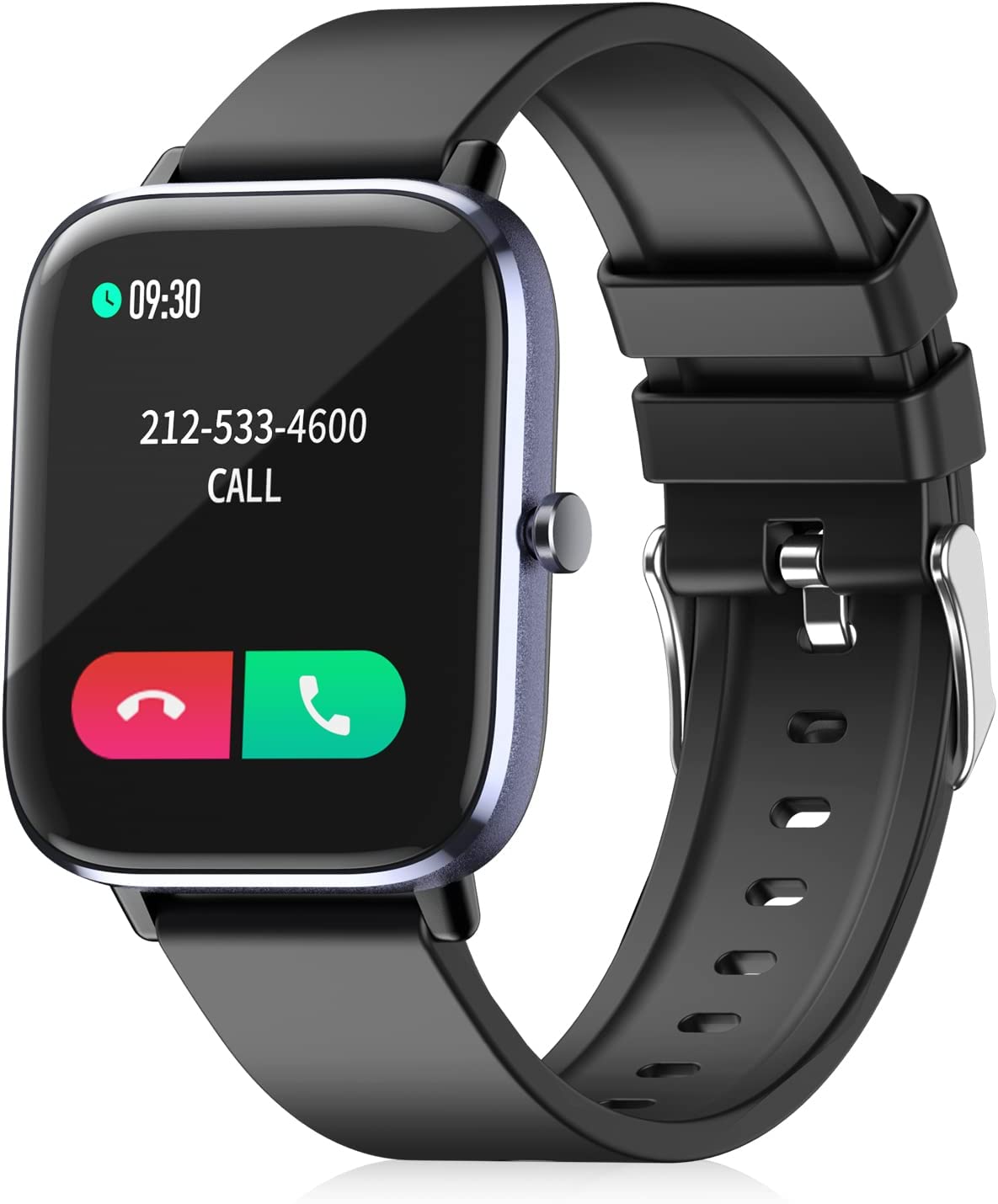 This SOUYIE smartwatch has a 1.7-inch colorful touchscreen with a sharp HD display. It is enclosed in an aluminum alloy case with a narrow frame and accompanied by a comfortable TPU silicone strap. The watch is fitted with an ultra-low power chip for smooth and power-efficient operation with less power consumption. It has ultra-high pixel resolution with 3D curved glass for a clear display effect.
The smartwatch analyzes your exercise data to track your exercise status in real-time and has a temperature sensor with thermal conductivity of high accuracy so that the monitoring data is accurate. The voice assistant allows you to give your phone simple voice-based commands and enjoy a hands-free experience, while the music player allows you to enjoy your favorite songs through the music interface. The watch has eight sports modes and is powered by a 230mAh battery that charges in two hours and lasts up to six days.
The smartwatch can be connected to a smartphone for making and receiving calls and adding a contact to the smartphone's address book because of the dual-mode Bluetooth functionality.
The watch offers real-time mental and physical health updates such as round-the-clock heart rate, body temperature, sleep pattern, blood oxygen monitoring, and other relevant reminders.
It supports different modes such as theater mode, do not disturb mode, and vibration mode that you can set based on the occasion.
Several functions for an affordable price
Easy to read and bright touchscreen
Provides live weather updates
Gets disconnected from the smartphone often
A LEDs Flashing Smartwatch with Long Battery Life
SoundPEATS Adjustable Brightness Smartwatch
Check Price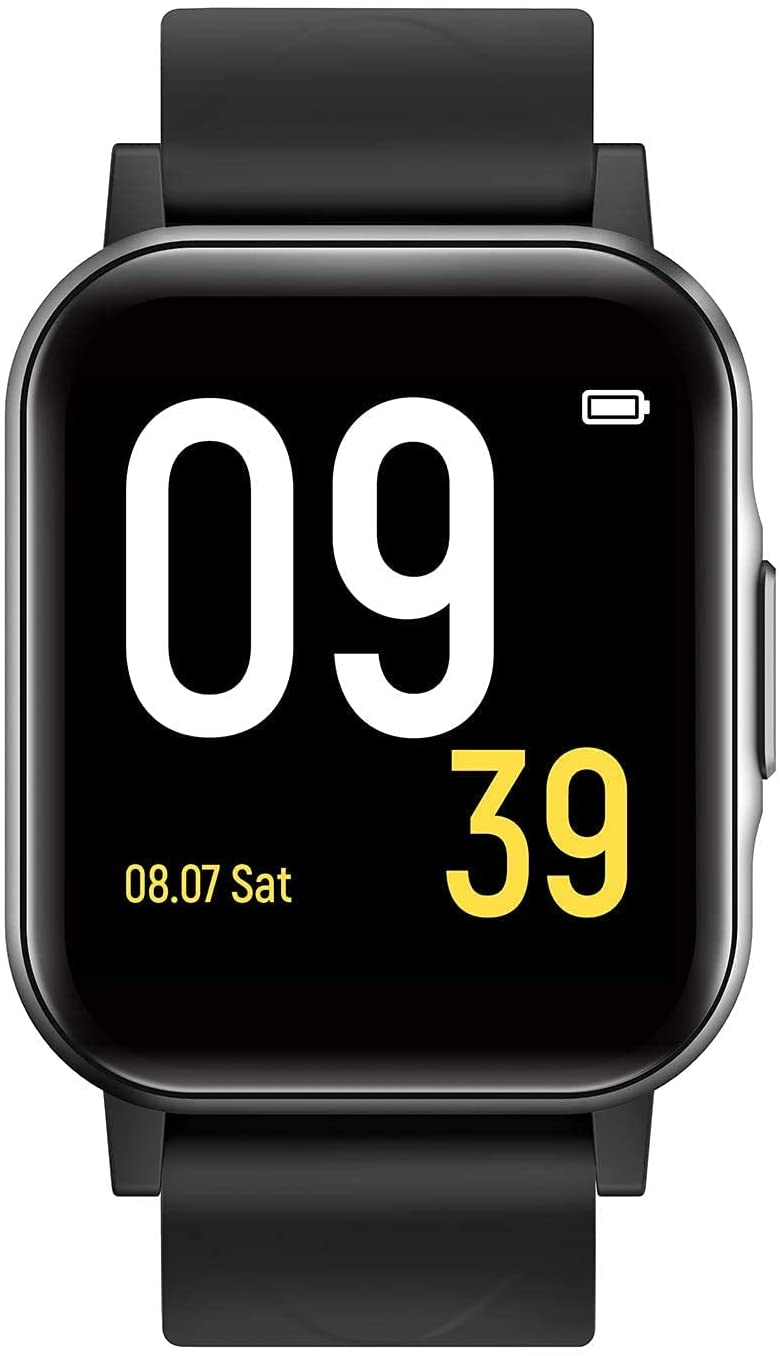 This SoundPEATS smartwatch has a 1.4-inch digital touchscreen and an adjustable wristband. The waterproof smartwatch has 12 sports modes and four brightness levels. The watch allows you to attend to incoming calls and receive notifications from various apps. It can be connected to a smartphone's GPS and record an individual's exercise patterns. The inbuilt PPG sensor has three LEDs that flash in green color to provide a real-time update of the heart rate so that you can adjust your workout routine if needed.
The smartwatch features an app that offers sleep quality tracking action and wakes you up from sleep with silent vibrations. The waterproof functionality allows you to take a shower, wash your hands, and go for a swim with the watch on your wrist. The watch has several other important functions like a sedentary reminder, breath training, music controller, and weather updates, to mention just a few. The Find Your Phone feature helps you locate your lost smartphone. It is powered by a 260mAh battery that lasts up to 10 days and only takes two hours to charge fully.
Why Should You Buy This?
The smartwatch makes it easy to track the heart rate of its users because of the flashing LED lights.
With its brightness adjustment support, the watch renders easy screen visibility at any point in time, both during the day and night.
Its built-in music controller helps you enjoy your favorite music during a workout when you cannot keep your smartphone without you.
Pros
Comfortable wristband due to smooth finish
No worries about the battery dying out soon
It supports both analog and digital displays
Cons
Best smartwatch under $ 100 with great design
Tinwoo Smart Watch
Check Price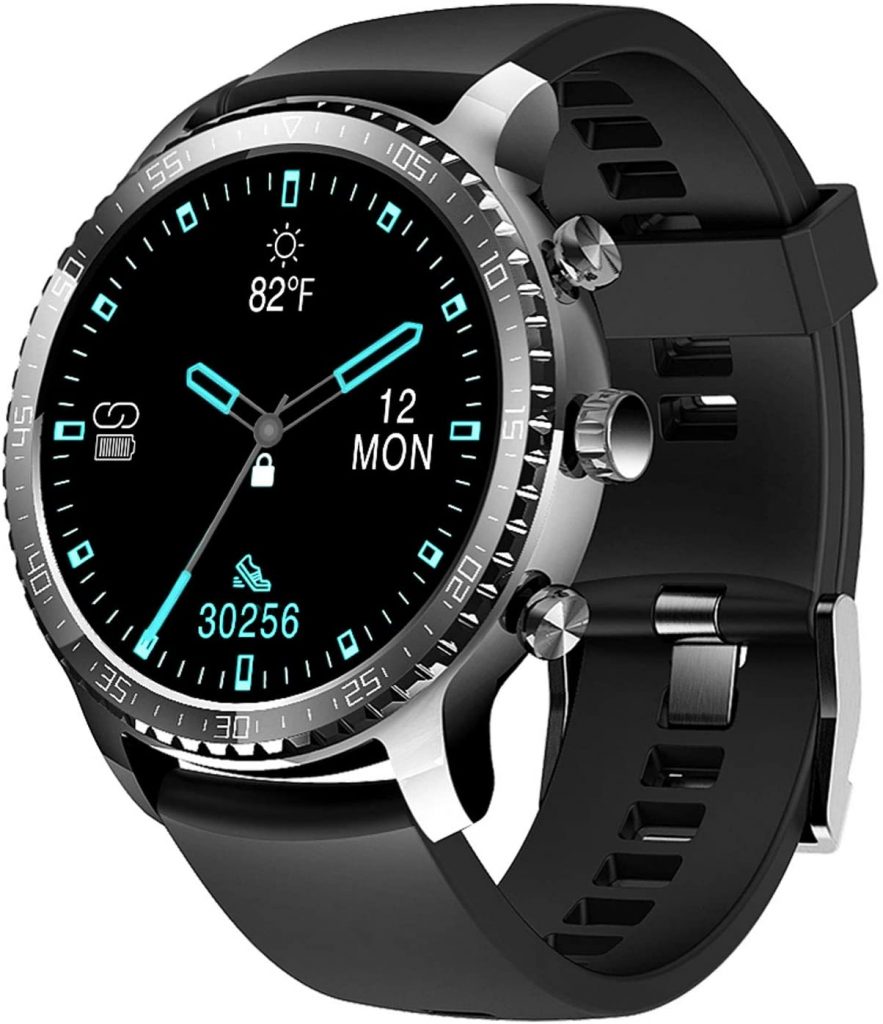 This is one of the best smartwatches for under $100. It is suitable for men, women, and kids. It is compatible with Android and iPhone, and it is available in several colors – Gray, black, brown, pink, and green so you can easily find the one that will be perfect for you. The watch is equipped with a metallic frame and a TPU band. There are 14 different clock faces, and all the essentials include GPS positioning function, step counter, distance, number of calories burned, and more. It supports wireless charging.
Best Smartband
Xiaomi Mi Band 5 Smart Wristband
Check Price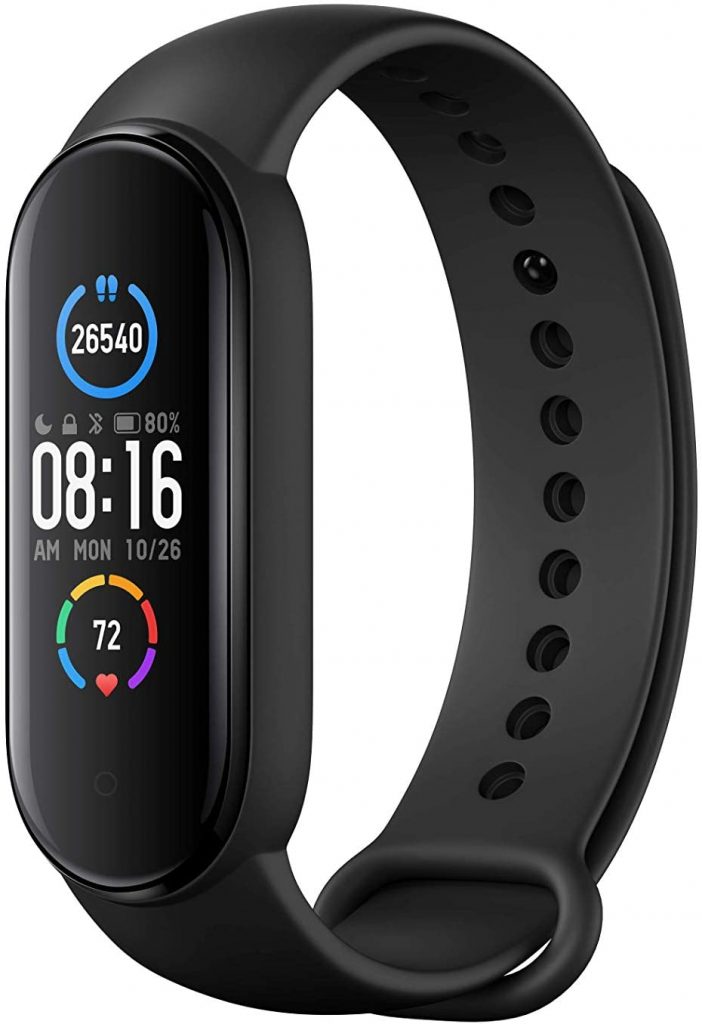 Many people like things to be as simple as possible, and if you are the same, getting a smart band could be a good idea. This one from Xiaomi is a great choice. It is affordable, looks great, and is quite simple, but it has some pretty cool features. It comes with 11 Professional Sports Modes, including outdoor running, walking, cycling, and swimming pool, just to name a few. In addition, the band comes with 24-hour Heart Rate Sleep Monitoring. It has a Dynamic Color Screen and over 100 watch faces.
After reading our list of best smartwatches under $100, we hope you aren't confused anymore and that you have already picked the one for you. With $100 or lower, you can still get a great smartwatch with a cool design and features.