Featured in this article (opens in new tab)
Summary –
The invention of the television set has pretty much changed the world more than one can imagine. It brought a whole new dimension in the way people can consume information and take part in its consumption. Grand events like sports world cups, elections, and even horrible ones like war coverage brought millions of people from all over the world together as they watched everything unfold right in front of the eyes.
Television sets have come a long way from the black and white sets with large antennas popping out. Their design and functionality have undergone several changes over the last few decades from merely watching video channels to accessing the internet, playing games, and more. Today, 4k TVs and 40-inch screens are very high in demand as people want bigger and thinner television sets to immerse themselves in their favorite content.
However, there is one big problem with buying large TVs and that is you need ample space to place it somewhere in your living room. Moreover, it is a huge pain to move it somewhere and heaven forbid if you have to move to a new place. Thankfully, technology and innovation have allowed us to have small TVs that offer greater convenience with more or less the same features that giant TVs have.
See also: Best Smart TVs
Best small TVs
A Small Cool TV
Sceptre X328BV-SR 32 inch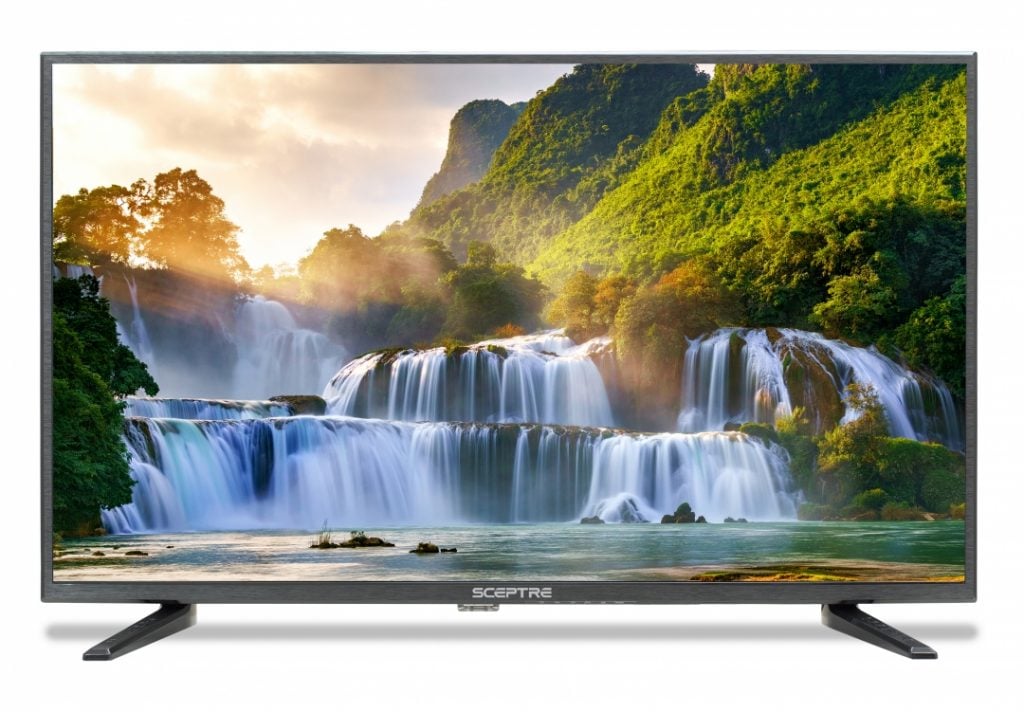 The Sceptre X328BV-SR is one of the most affordable and good value products in its size range. It has a 32-inch display with 720p resolution and 60 Hz refresh rate, a USB port, a mobile high definition link, energy star compliant, and the MEMC 120 feature. The visuals are crisp and sharp making your viewing experience quite fulfilling.
The MEMC 120 or the Motion Estimation and Motion Compensation feature allow each video frame to smoothly transition from one frame to the other allowing you to have a seamless high-quality viewing experience. The mobile high definition link provides you with the ability to stream content from a compatible mobile device to your Sceptre TV.
As far as energy consumption goes, the Sceptre X328BV-SR is Energy Star compliant. All in all, this is a decent TV that has good features and an extremely attractive price point. It's not the best-performing model out there in this price bracket but it offers solid performance and surely won't disappoint you.
What makes it stand apart?
Good energy saving
Stream content from mobile devices to the TV
Good visuals
Once Of the Best Small TVs for Watching Video Content
Samsung UN24M4500A 24 Inch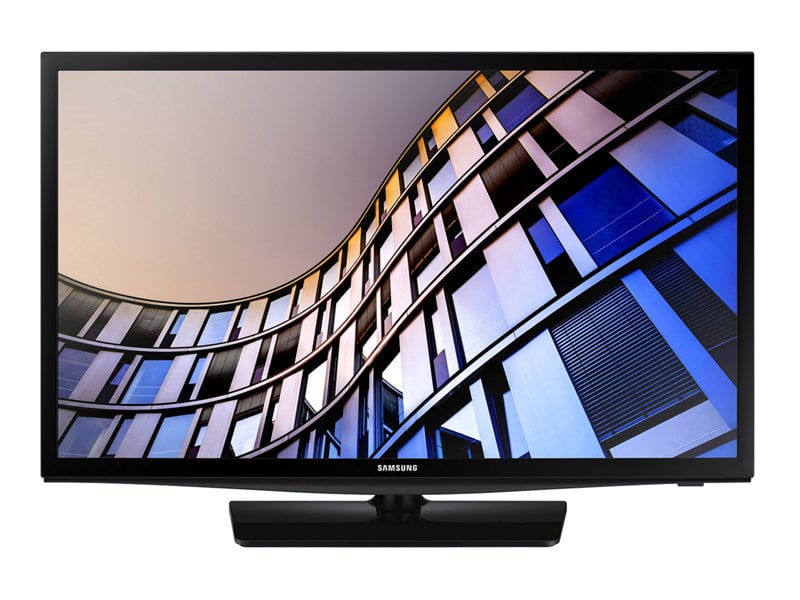 The Samsung UN24M4500A series comes in 24 inch, 28 inch and 32 inches but if you are looking for a small TV to put in your kitchen or a small room, then the 24-inch model is the one for you. The display has a refresh rate of 60 Hz and comes with the HyperReal Picture Engine which improves the visual quality by a significant margin.
It also comes with the Ultra Clean View feature that utilizes an algorithm to analyze the video content and transform it into high quality and crisp image quality. PurColor enhances the colors on the screen and improves the details to give you a great immersive viewing experience. Another interesting feature is the Micro Dimming Pro which divides the screen into different zones and then analyzes them to improve the overall contrast.
On this TV you can watch video channels, play games, and access your favorite content by using the built-in Wi-Fi functionality. You can also use the Samsung smart hub to access your favorite movies, TV shows, music, and other content.
What makes it stand apart?
Perfect for kitchens and small bedrooms
Excellent picture quality
Great price
The Supreme 32 inch Small TV
Samsung UN32J4000C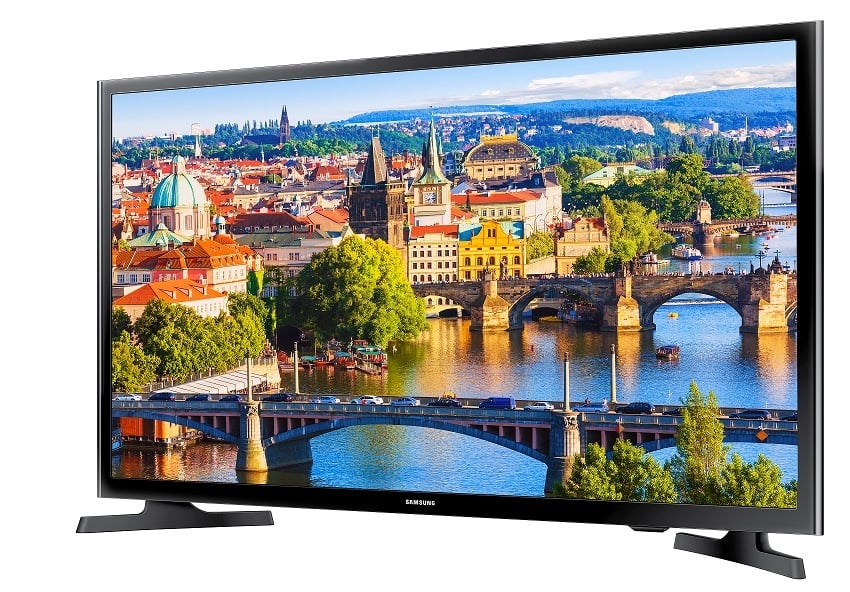 The Samsung UN32J4000C is truly one of the superior models out there today in the 32-inch size bracket. The 1080p LED display panel offers spectacular, crisp visuals making you feel like the moving pictures are coming to life right in front of you. It may have a sleek design but it has an imposing air to it making it hard for you to look away. Its quad-core processor makes everything run smoothly and fast.
One unique feature in this television set is the Micro Dim Pro that allows you to get realistic visuals and extraordinary sound.  Apart from that you also have a motion rate of 60 which makes every picture flow seamlessly from one frame to the other. What's great about this model is that the above features along with the backlight display make for a great viewing experience unlike any other.
The model also allows you to remotely connect to music, pictures, and videos from any mobile device. The series comes in 5 different sizes, in case you don't find the 32 inches one feasible for your room. However, not all of them will have the same features. All in all, this is one great affordable TV set.
What makes it stand apart?
Great price for its features and performance
Numerous features and apps
High-performance quad-core processor
Micro Dim Pro feature for superior visuals and sound
Eco Sensor that conserves energy
One of the Best Small Smart TVs
TCL 32S305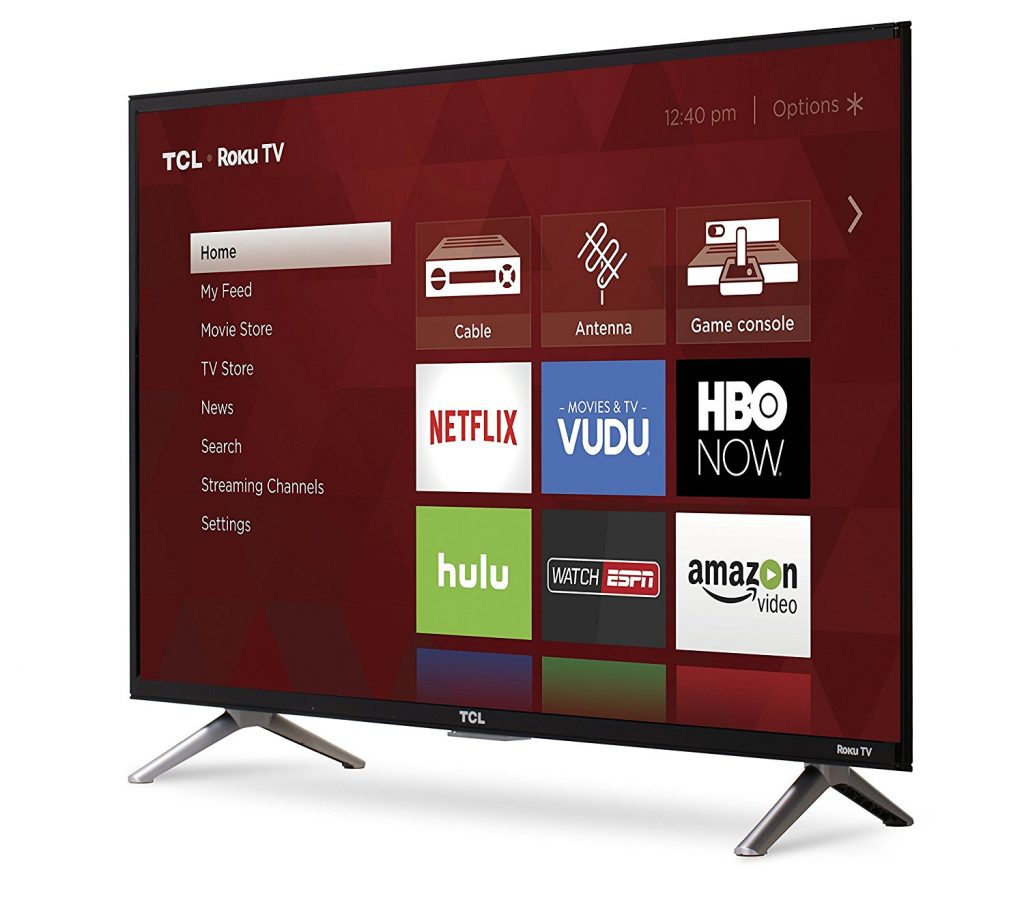 Featuring a 32-inch screen, 720p LED display, a streaming video functionality with a mobile App, and a great intuitive search tool, the TCL 32S305 is one of the best small smart TVs you can buy today. The built-in streaming player allows you to watch your favorite streaming content from popular services such as Amazon, HBO, YouTube, Netflix, and many more. You can also buy movies directly instead of going out and buying DVDs.
The TCL 32S305 looks great with an impressive screen to body ratio which is what you really want in a TV. The user interface is clear, simple, and easy to navigate. From switching on the TV to accessing the 4000 streaming channels, cable TV, and games, you can do it all in a few seconds.
A smart TV offers many features but actually typing using the remote can be a painful experience. With the Roku Mobile App, you can search for your favorite shows without the need to touch your remote. You can even use the app to stream your favorite content while you are on the go.
What makes it stand apart?
Crystal clear video quality
Roku Mobile App which allows you to access content easily and conveniently
The built-in streaming player with access to over 4000 channels
A Great Value Small TV
Samsung UN32M5300A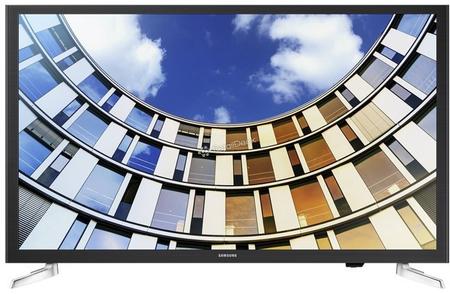 The Samsung UN32M5300A is a 32-inch television set that features an LED display with 1920×1080 resolution, smart hub feature, lots of apps, and the Tizen operating system. The visuals are crisp and sharp and offer a great immersive experience for users. The quality you get is almost double what you would get from most standard HD TVs.
The user interface is clean and easy to comprehend making it so easy to go from live TV channels, social media to apps and games within seconds. The amazing refresh rate makes sure that you always enjoy fluid visuals at all times. You also get built-in Wi-Fi for browsing and streaming content online.
It also has a wide color enhancer that will enrich the colors on screen not only on new content but even non HD content. The DTS premium sound 5.1 provides you with an amazing audio experience especially for horror films and sports.
Apart from all these features, you also get the Eco Sensor that will adjust the brightness of the screen according to the brightness of the light. It does so by sensing the intensity of the light present in the room to adjust the brightness of the display.
What makes it stand apart?
High-resolution crisp display
Eco Sensor for adjusting screen brightness
Tizen operating system
A Great Affordable Feature Heavy Small TV
VIZIO D32x-D1 D-Series 32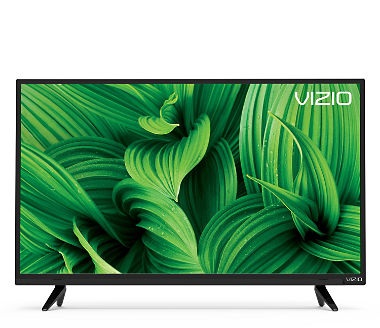 The VIZIO D32x-D1 is one of the most affordable television sets in the 32-inch market considering the number of features you get. The display comes with a full array of backlight LED that distributes the LEDs in an even order to provide uniform light for superior visuals. The design looks great with its slim frame and size making it easy to place just about anywhere in your room while looking good.
One great feature this television set has is the numerous VIZIO Internet Apps Plus which contains premium content such as movies, TV shows, music, and more for you to enjoy. These apps automatically get updated with new patches so you don't have to worry about whether they are the latest versions or not. You also get a full-screen app launcher for organizing and finding apps. Moreover, you also get incredibly fast internet speeds with its built-in Wi-Fi functionality while browsing online.
What makes it stand apart?
Affordable price
Numerous features and apps
Built-in Wi-Fi that enables great internet speeds
Slim design
A Great Wholesome Small TV
LG 28LJ4540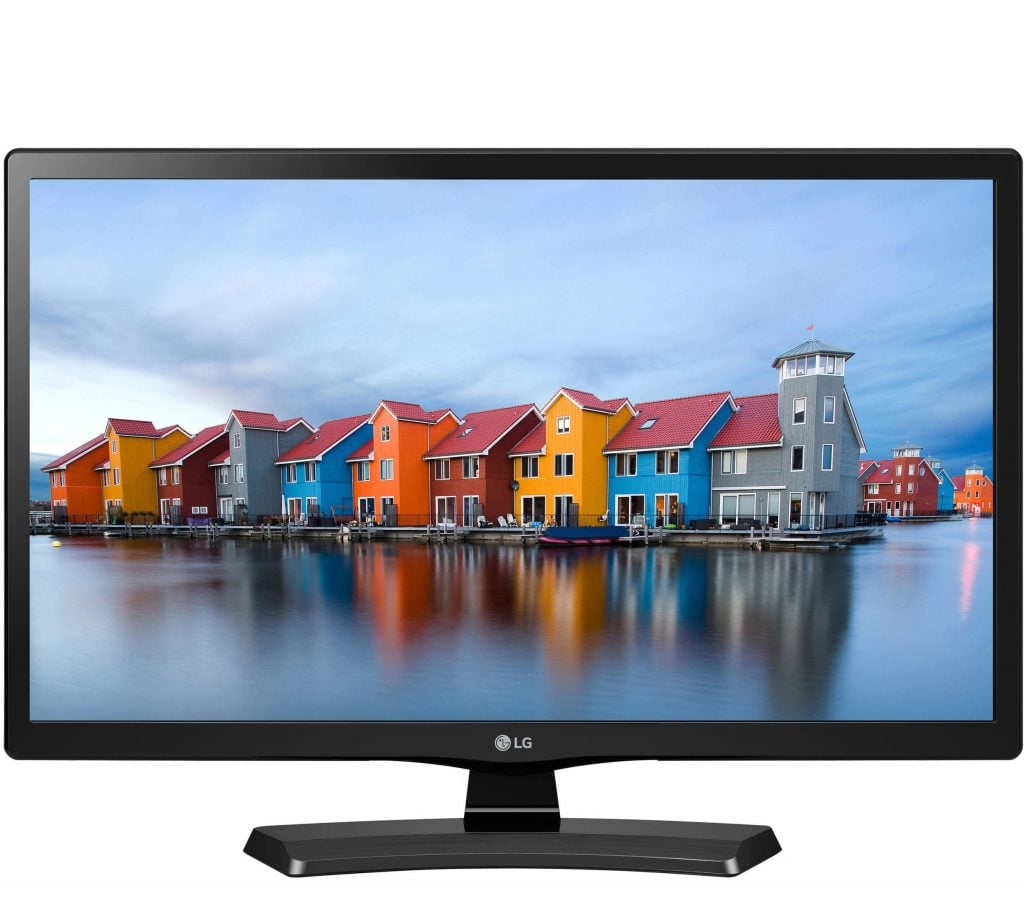 The LG 28LJ4540 has a 28 inch 720p LED display with a multitude of features such as HDCP, auto sleep, motion eye care, and triple XD engine. One of the greatest aspects of this set is that it is just the right size where it's large enough to give you a great immersive visual experience and small enough to conveniently place in any part of your room. Moreover, with a refresh rate of 60 times per second, it's perfect for kids to play their favorite video games on.
The triple XD engine offers you great natural colors and excellent contrast for a great viewing experience. You can even connect your storage devices via a cable to view your favorite content in high definition. This set isn't limited to television channels as you can connect your laptops and computers for enjoying movies, music videos, and games.
The eye comfort mode along with the flicker safe feature makes viewing videos a pleasant and comfortable viewing experience. Moreover, the smart energy saving feature ensures that you don't pay huge power bills every month. However, it is important to note that this isn't a smart TV.
What makes it stand apart?
Perfect size
Decent price for the size
Convenient features
The Bottom Line
Television sets have been in our lives for decades and have allowed us to witness some of the greatest moments in human history. It has helped people from all over the world to connect indirectly through content. As we move towards the future, technology is helping us to get better and more convenient features for us to enjoy. Huge 40 inch plus displays are all the rage right now because of how competitive space is. But not everyone needs a gigantic TV in their living room. A lot of affordable giant TVs offer bad visuals and some of them even hurt your eyes after long hours of viewing. This is where small TVs come in. There are numerous small TVs out there today that come with either similar features or in some cases offer better visuals than their giant counterparts. With a little bit of research, you can find the perfect small TV that will fulfill all of your viewing and entertainment needs.