Refurbished phones are an excellent solution for any buyer who would love to buy the latest flagship device without spending a small fortune.
The term 'refurbished' refers to phones taken back by the manufacturer due to defects or other reasons, made as good as new to be sold for a much lower price.
Buying them will help you get the best hardware specs, build, and flagship experience for a lower cost when compared to buying them at full price.
The refurbished phones can be released all over again or can be older ones. Depending on the condition of the phone, the pricing will vary.
See also: Best waterproof Android phones.
Buying Guide
Best Refurbished Phones
Water-Resistant Smartphone with 120Hz Display Screen
Samsung Galaxy S21 5G Refurbished Smartphone
Check Price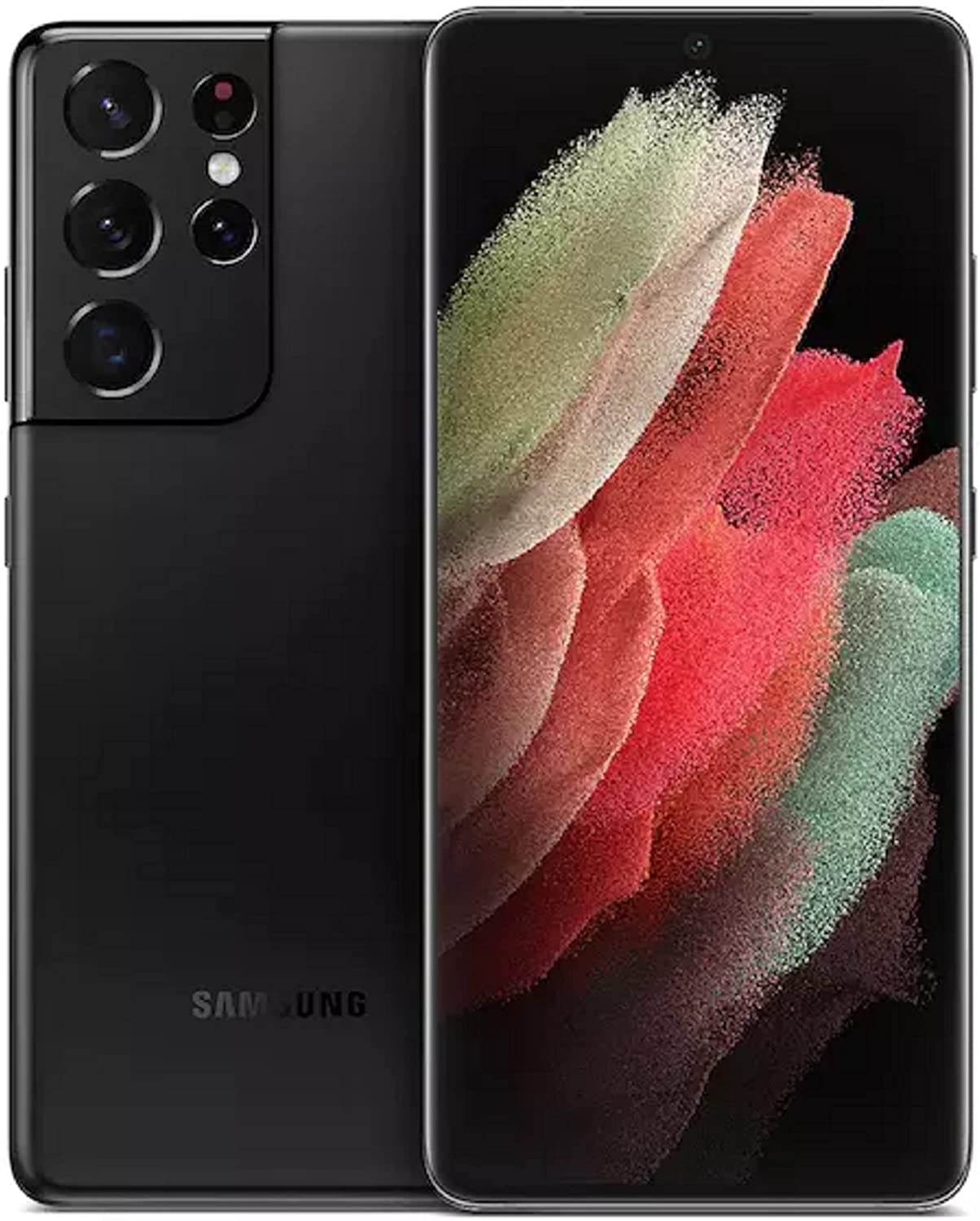 The Samsung Galaxy S21 5G has received an IP68 rating for being resistant to water and dust. Durability is one of the major assurances you get when buying this device. The 6.2-inch display screen has been designed for those who love watching movies and video-based content.
It offers a 1080 x 2400 pixels resolution and a 20:9 aspect ratio. The Qualcomm SM8350 Snapdragon 888 5G contributes to the device's highly efficient performance.
If you plan to buy a refurbished smartphone that proves to be durable in the long run, this would be one of the best devices to invest in.
The super-fast performance of this smartphone is one of the top reasons to buy it.
Robust processing unit
Ultrasonic fingerprint sensor
High-definition display screen
No headphone jack
MicroSD card slot not provided
Refurbished Apple Smartphone Backed By Amazon Renewed Guarantee
Apple iPhone 12 Pro Power-Packed Smartphone
Check Price
If you think an iPhone is too expensive, you should consider buying a refurbished model. This renewed iPhone 12 Pro has been tested and certified by Amazon, so you can be assured that it will be provided in good condition.
The design of this Apple device is highly appealing, and it is available in four different color variants, including graphite, gold, silver, and pacific blue. It supports 5G connectivity support and an internal storage capacity of 128GB.
A good option for those wanting to buy the iPhone 12 Pro at a slightly lower price.
It is one of the best options for individuals planning to procure a premium-quality refurbished smartphone.
Available in different color variants
Powerful performance
5G connectivity support
It comes with MagSafe technology
No expandable memory support
No charger provided
Refurbished Samsung Smartphone with Premium Features
Samsung Galaxy S21 Ultra 5G Sleek Design Smartphone
Check Price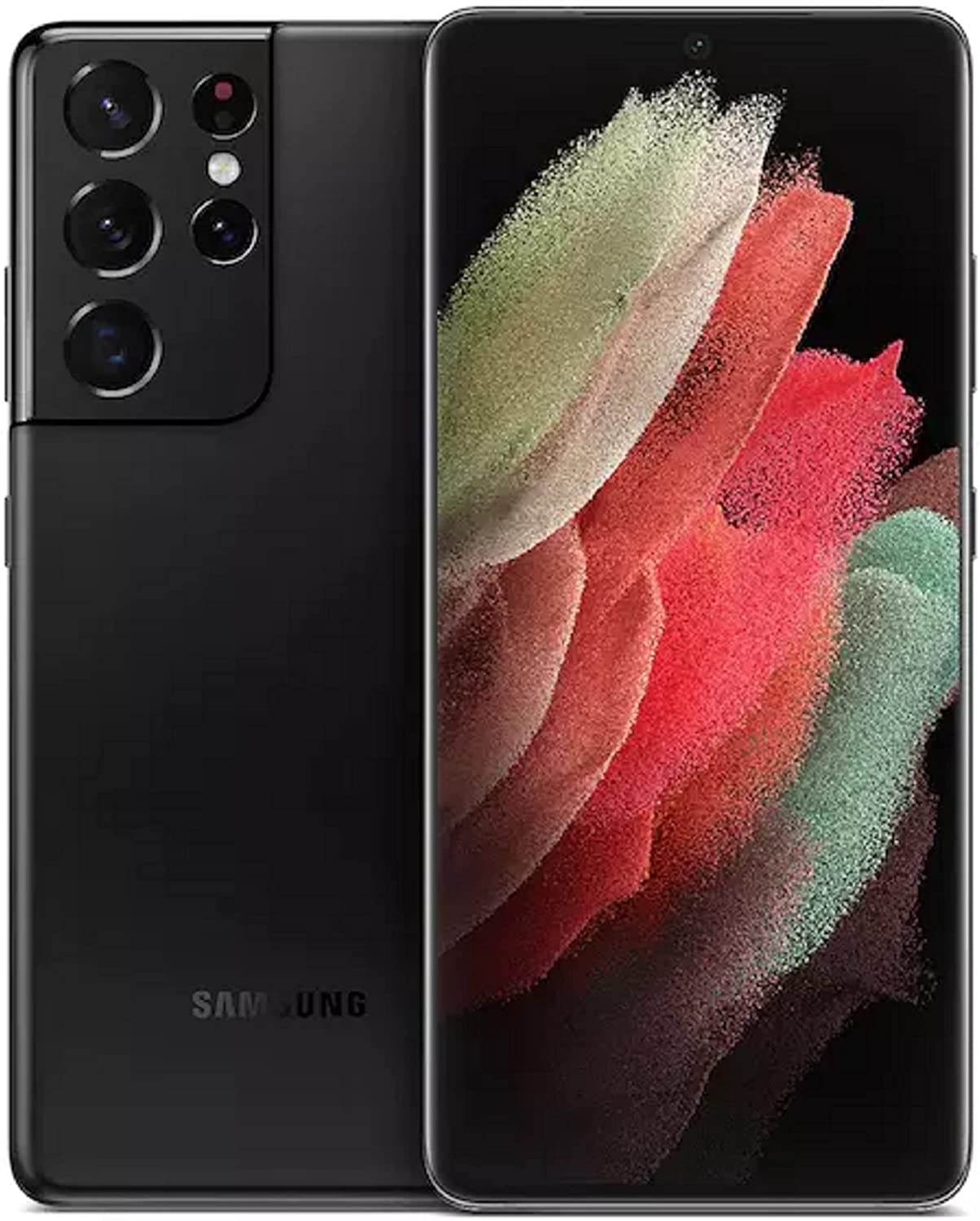 The Samsung Galaxy S21 Ultra 5G features a fabulous camera setup, including a 12MP ultra-wide lens and two telephoto cameras. Using its primary camera, you can capture 108MP images. The camera also enables you to shoot 4K videos. The 6.8-inch AMOLED display screen produces dynamic visuals, and the phone's audio output is impressive. The device comes with a Stylus pen that works very well.
If you have been looking for a high-quality refurbished camera smartphone, this would be the ideal device to invest in.
It is also recommended for those wanting to invest in a refurbished Samsung phone that offers great multimedia features.
High-definition display screen
Elaborate camera setup
Stylus pen support
Strong battery life
Slightly bulky
No microSD card slot
Refurbished Smartphone with 6.9-inch Display Screen
Samsung Galaxy S20 Ultra 5,000 mAh Battery Smartphone
Check Price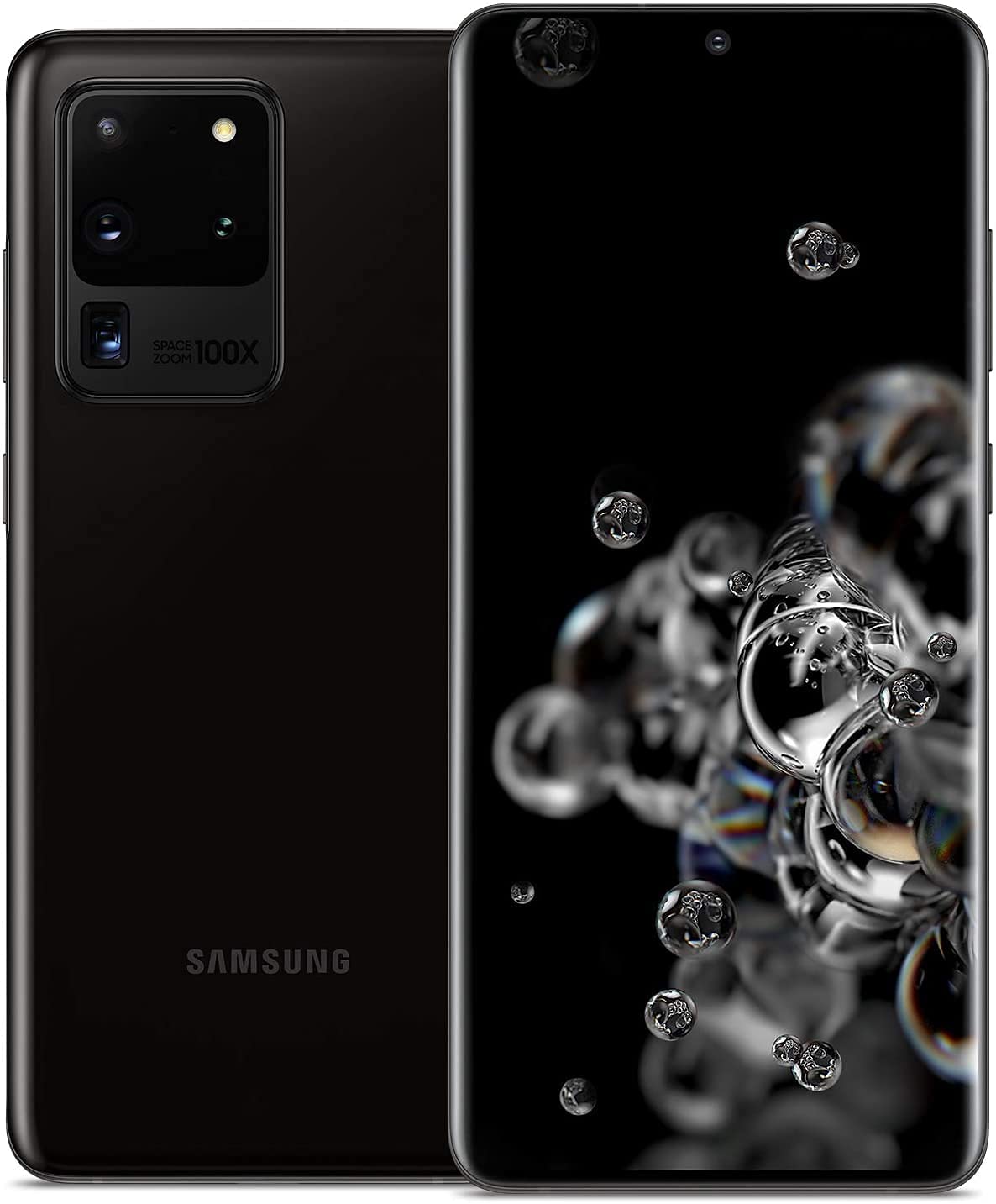 The 6.9-inch AMOLED screen on this Samsung device makes it desirable for those who binge-watch films and shows on their smartphone. With the screen offering a 120Hz refresh rate, you can't expect anything but a smooth video-watching experience. Though you will find many premium Samsung phones with batteries and a capacity of 6,000 mAh or higher, the 5,000 mAh battery this phone comes with should serve you well.
While the screen is large, the bezels are extremely thin, making it very comfortable for the user to hold the phone in their hands or carry it around. You will find the speaker grille, USB-C port, and the primary microphone toward the bottom of the device. At the top, you can see the secondary microphone and the SIM tray. The refurbished phone will arrive in a box containing a charger, cable, and tool to help you remove the SIM.
Why Should You Buy This?
This device should be a good investment if you are looking for a refurbished mid-range phone with premium features.
It is a good option for those who consume multimedia content extensively on their phones and can't do without a large and high-quality display screen.
Pros
Large AMOLED screen
Supports fast charging
In-display fingerprint sensor
Waterproof and dust resistant
Cons
Slightly heavy
High pricing
Refurbished Apple Smartphone with Powerful Processor
Apple iPhone 11 Pro Max Premium Quality Smartphone
Check Price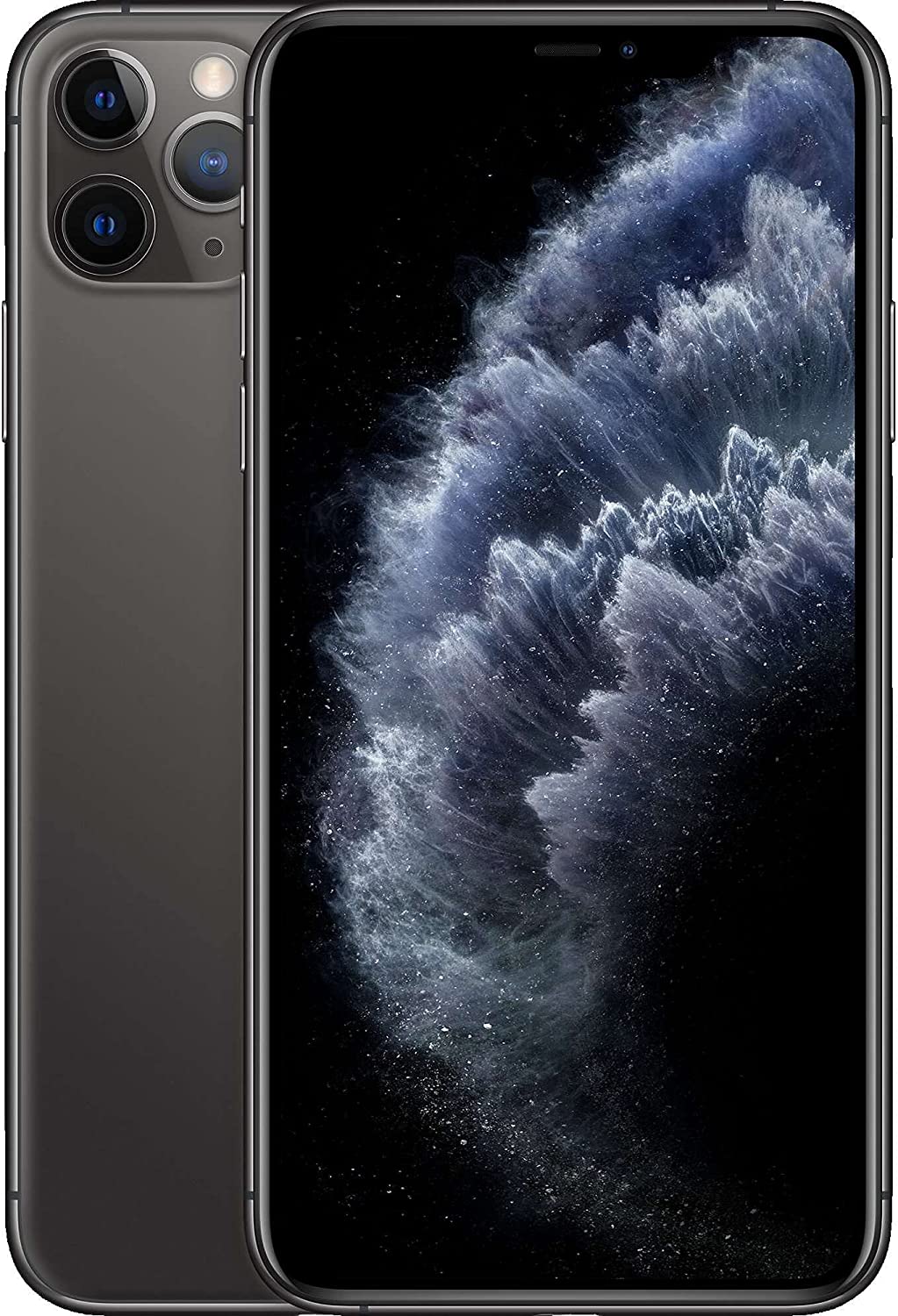 The 6.5-inch-wide OLED screen produces life-like images and is a delight for anybody who likes to watch movies and YouTube videos on their phone. With high-quality visuals, you are also treated to crystal clear sound courtesy of the fine stereo speakers. Even when you play multimedia files throughout the day, the battery will last for 20-21 hours on a full charge.
Each of the three cameras on the phone has a 12 MP sensor. The cameras are very efficient in taking good quality pictures and videos. The Night Mode feature on the phone lets you take sharp images even at night. Security features like the fingerprint sensor and Face ID recognition work very well.
The iPhone 11 Pro Max is one of the largest smartphones manufactured by Apple and is ideal for those who prefer large-sized devices.
It comes with a great design and offers premium quality features that make spending a lot of money worth it.
High-performing cameras
Appealing design
Good battery life
Excellent video and audio output
High-end pricing
More upgrades required
Budget Refurbished Smartphone with Good Features
Samsung Galaxy S10e Smartphone
Check Price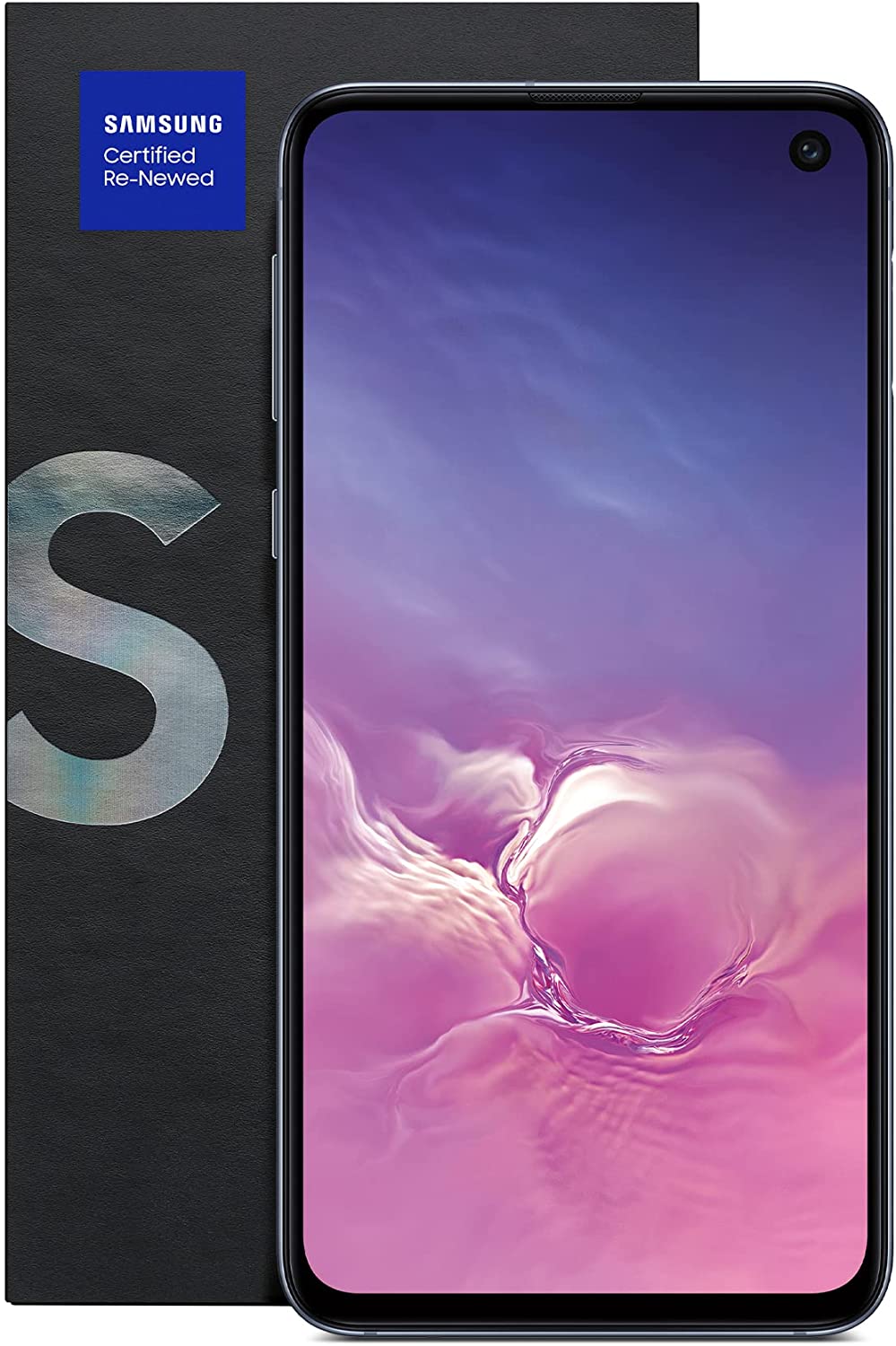 Essential is what the 'e' stands for in the Samsung Galaxy S10e. That tells you a lot about the features you can expect on this phone. The 5.8-inch display screen produces crystal clear images, and there are two well-functioning cameras and a battery that lasts a day. Apart from that, it also comes with innovative features like Wireless PowerShare that improve connectivity.
The phone has security features like a fingerprint sensor and facial ID recognition, but they are not as responsive as they should be. The bezels are a little thick, so if you have been using a compact-sized smartphone for the longest time, it will take a while to get used to it. If you compare the phones in the Galaxy series by Samsung, then, at 150 grams, it is pretty light.
Why Should You Buy This?
This is a good device if you want a refurbished Samsung phone that offers versatility.
This is an excellent device for those constantly on the move and need their smartphone to be packed with good connectivity options.
Pros
Multiple connectivity options
Moderate pricing
Sharp display screen
Available in different color variants
Cons
Slippery back
Security features are not strong
Refurbished Budget iPhone for Apple Enthusiasts
Apple iPhone SE (2nd Generation) Lightweight Smartphone
Check Price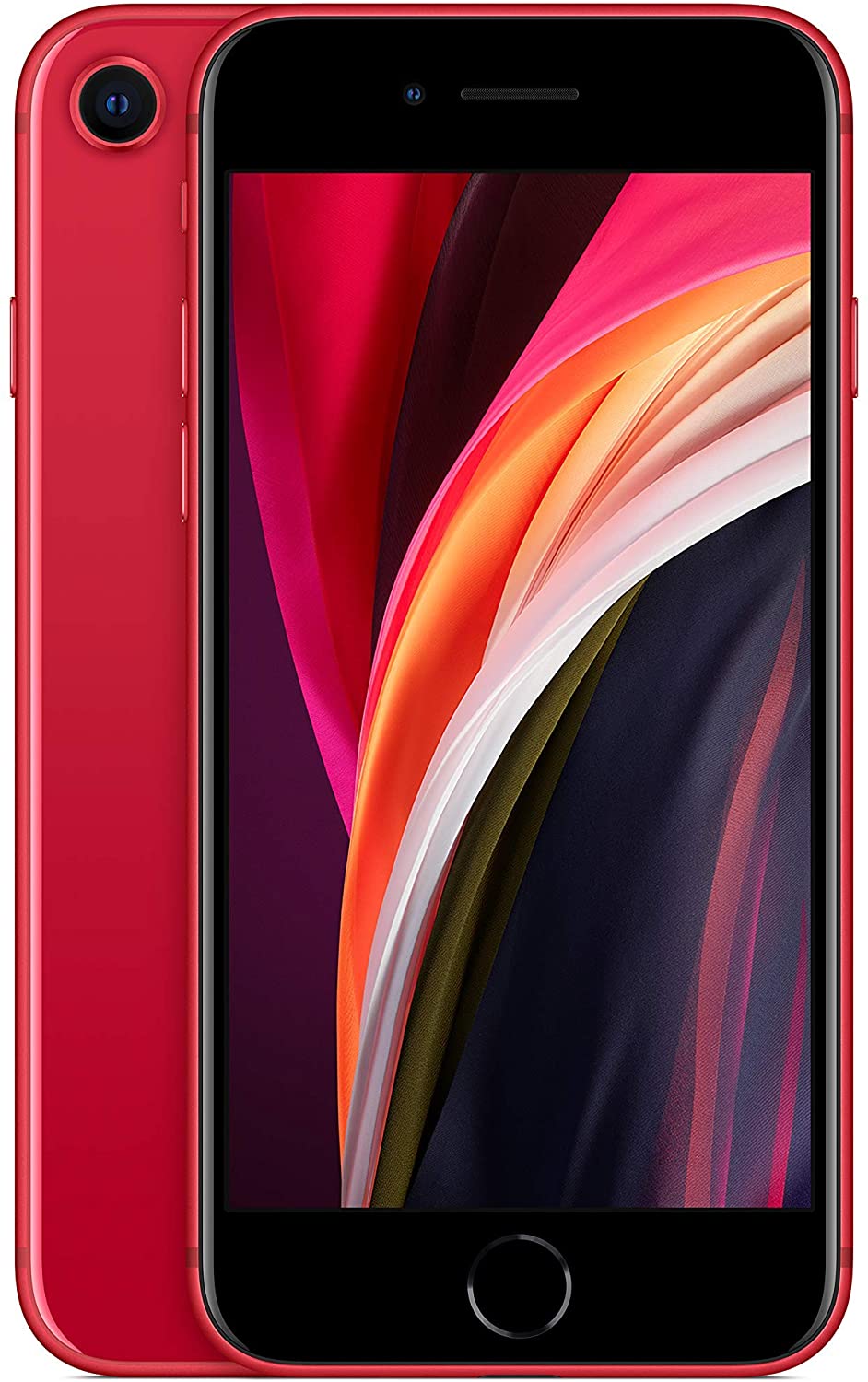 For years, the iPhone SE has been the preferred phone for those who like Apple products but are wary of the pricing at which iPhones come. This is a refurbished model, so this costs even less than what an iPhone SE costs.
The 2nd generation iPhone SE has a lightweight structure and features that will help you get through your day. Many of the features you expect in an iPhone, like FaceTime, iMessage, and the App Store can be found on the phone.
If you have used an iPhone in the past, the old but functional design will not surprise you. The 4.7-inch display screen should appeal to those who prefer compact screens. As far as the visual output, there is scope for improvement there. The fingerprint scanner works reasonably well as a security feature. There are many connectivity options, but you might feel a little disappointed by the absence of a headphone jack.
Why Should You Buy This?
If you are looking for an iPhone and are on a budget, a refurbished iPhone SE would be a good investment.
The phone operates on a powerful A13 chipset that ensures fast and steady performance for the device.
Pros
Powerful chipset
Can capture 4K videos
Water-resistant
Lightweight structure
Cons
Moderate battery life
No headphone jack
Refurbished Smartphone with Strong Battery Life
Moto G Power Moderately Priced Smartphone
Check Price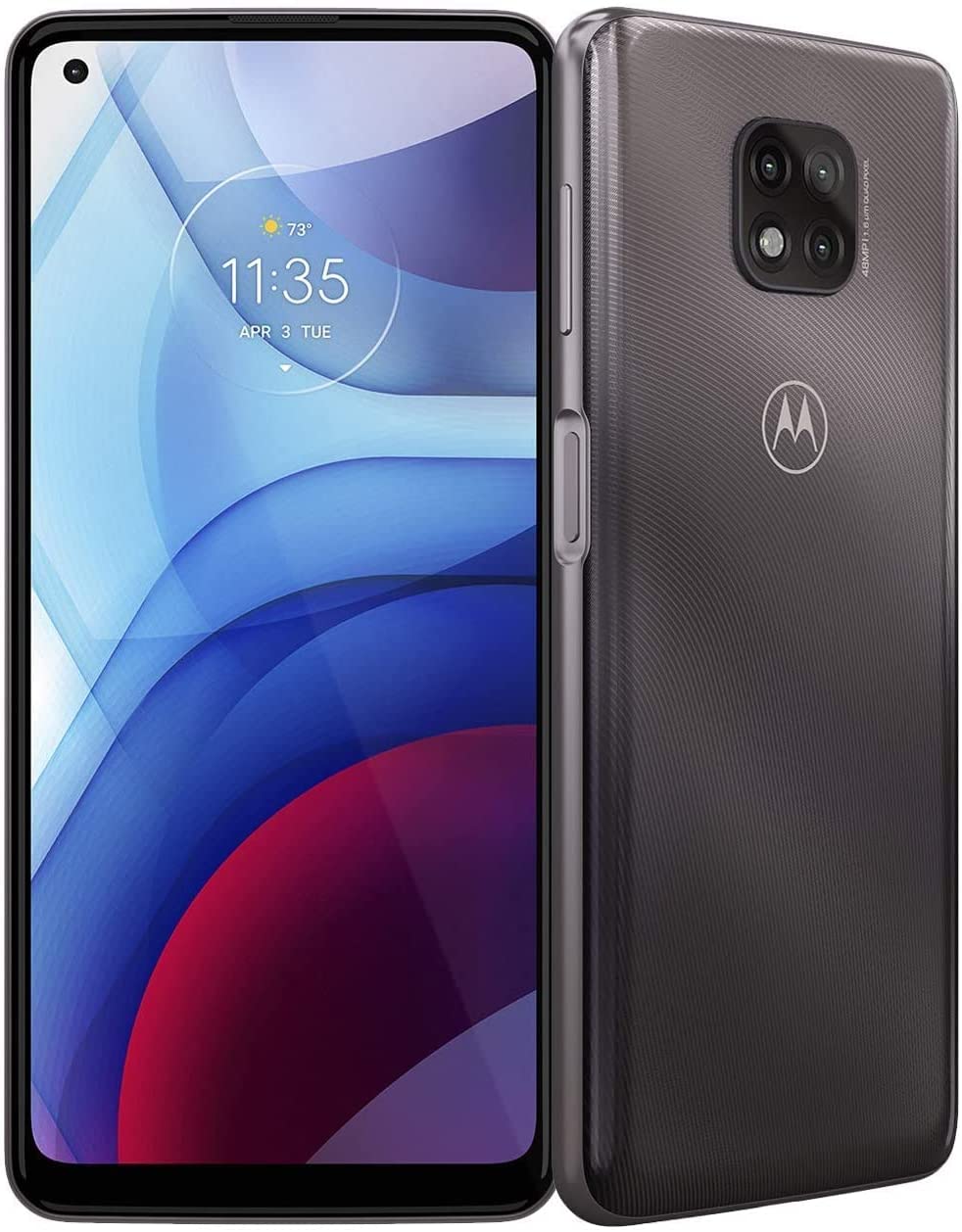 Most people expect a refurbished phone to be less durable than a brand-new model, but this refurbished Moto G Power comes with a splash-proof coating that assures protection to its internal components. Featuring a 5,000 mAh battery, this smartphone is an ideal travel companion for you.
The 6.4-inch display screen produces high-definition images and features a hole-punch inside, which lies the selfie camera. While the phone offers several connectivity options, it lacks NFC connectivity and doesn't offer wireless charging support. However, you get a good old headphone jack and a USB Type-C port.
Why Should You Buy This?
Despite being a budget smartphone, the Moto G Power packs features you would expect to come across on a premium smartphone.
An ideal option for those who travel extensively and need a smartphone with a solid battery life that is resistant to water and dust.
Pros
Expandable storage capacity
Vibrant display screen
Durable design
3.5 mm headphone jack
Cons
Average camera functions
No NFC connectivity
Refurbished Smartphone with Polycarbonate Build
Google Pixel 4a Mid-Range Smartphone
Check Price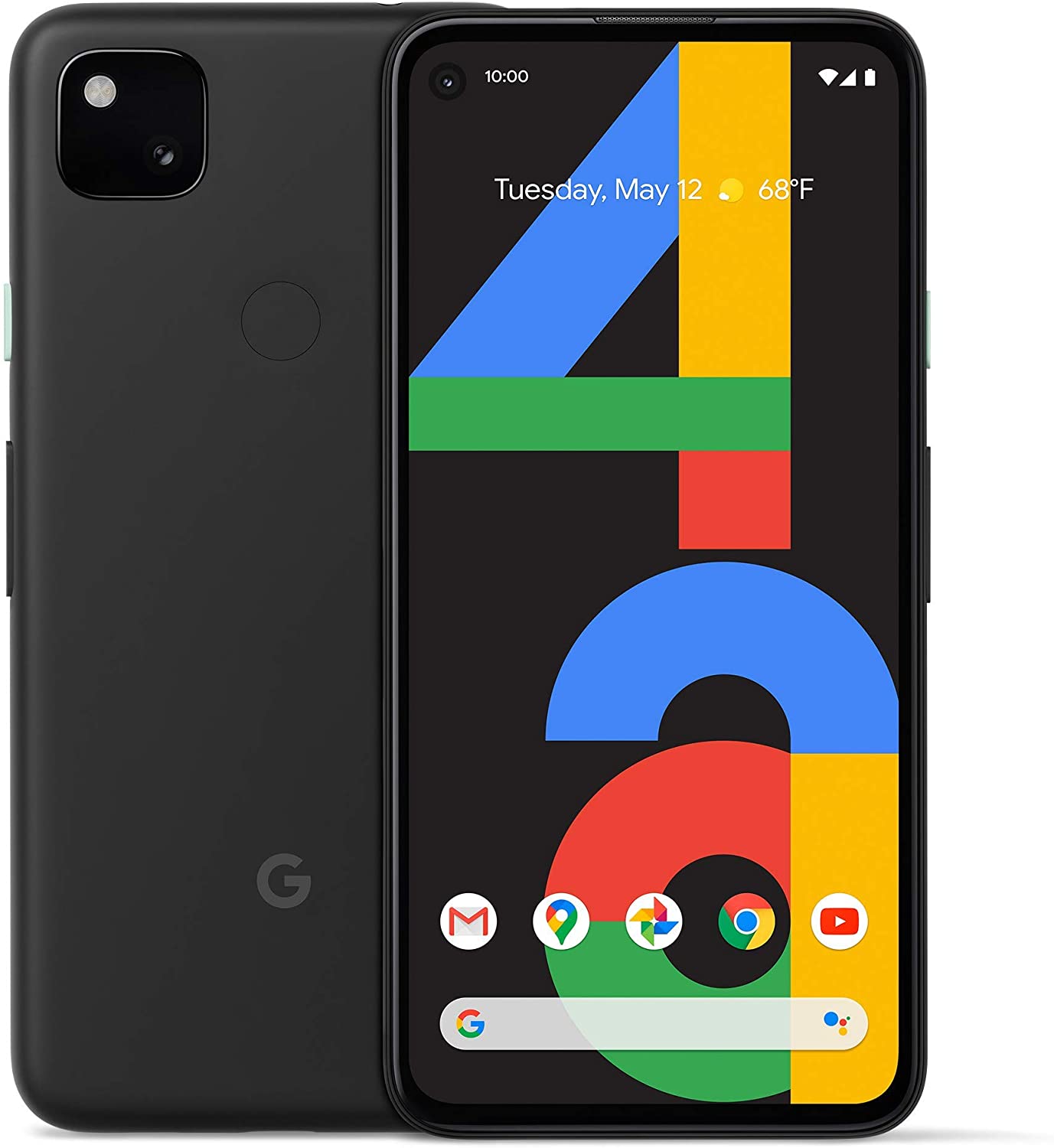 The Google Pixel 4a comes with a smooth Android interface that ensures you don't face any issues or lag while carrying out any task on your phone. The polycarbonate frame is quite durable, and the device itself is lightweight and compact enough to be carried around conveniently with one hand. The fingerprint scanner has been mounted on the rear end of the phone and is very responsive.
If you like to listen to music on a pair of headphones but cannot connect them to several modern smartphones, you will be pleased to see a well-placed headphone jack here. The 5.81-inch display screen offers a resolution of 1080 x 2340 pixels. The phone's weight is 143 grams, and its dimensions are 144 x 69.4 x 8.2 mm.
Why Should You Buy This?
Those looking for a compact and easy-to-carry smartphone would benefit by investing in this device.
It is also suitable for those who like the way Android functions and the kind of features and apps it provides.
Pros
Compact and lightweight structure
Features a headphone jack
Responsive fingerprint scanner
Good stereo speakers
Cons
Average battery life
No wireless charging
Well-Rounded Smartphone with a 64 MP Camera
LG V60 ThinQ 5G Dual-Screen Smartphone
Check Price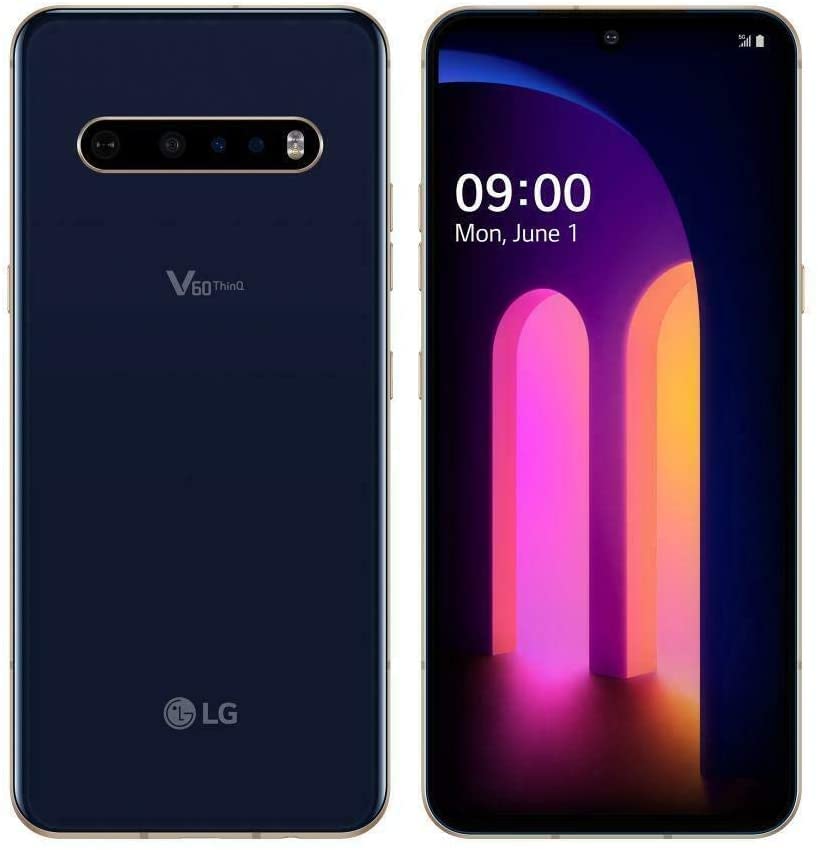 This LG smartphone has a dual-screen feature that lets you simultaneously carry out different tasks on two screens. The phone runs on the Snapdragon 865 process, which renders it fast and efficient. While the device comes with 128 GB of internal storage, it can be expanded to up to 2 TB with the help of a micro-SD card.
The smartphone's dimensions are 169.3 x 77.6 x 8.9 mm, and it has an IP68 rating for water and dust resistance. This is a great phone for movie buffs as it lets you stream 8K videos. The 5,000 battery gets charged up completely in very little time and lasts for several hours at a stretch. The phone supports wireless charging.
Why Should You Buy This?
This would be a perfect buy for you if you are looking for a dual-screen smartphone with high-utility features.
Boasting an IP68 rating, this phone is resistant to dust and water and is highly suitable for travelers and adventure seekers.
Pros
Dual FHD + OLED screen
ASMR recording
MIDI device support
Stereo loudspeakers
Cons
Slightly bulky
Basic software
Conclusion
The best-refurbished phones from Apple, Google, Samsung, and other brands are listed for your convenience. The renewed phones usually come with a limited warranty period, like 90 days, and are much cheaper when compared to buying a boxed edition. They help save a lot of money, and you can also explore multiple options as these refurbished phones are affordable.
The older generation flagship phones are as powerful as the current smartphones. Investing in a refurbished model will allow you to get the best experience without spending a small fortune on a smartphone. They will also last for years, just like a new smartphone, as refurbished devices are checked for quality before being sold to customers.