Featured in this article (opens in new tab)
Earlier, consoles dominated the gaming scene, but now PCs are gaining ground and are one of the major players of the gaming world. However, not all gamers prefer the mouse and the keyboard and would like to experience gaming with the classic controller or joystick with buttons. Well, there are many options among the best PC gaming controllers, so let's check them out. The following controllers are PC-friendly gamepads and you can find among these the perfect fit suitable for your style of play. Check out the design for comfort, build quality, compatibility, and customization options.
See also: Best gaming consoles 
Best PC Gaming Controllers
Advanced, Console-Type Gaming Controller
Logitech Gamepad F310, Blue with Black Highlights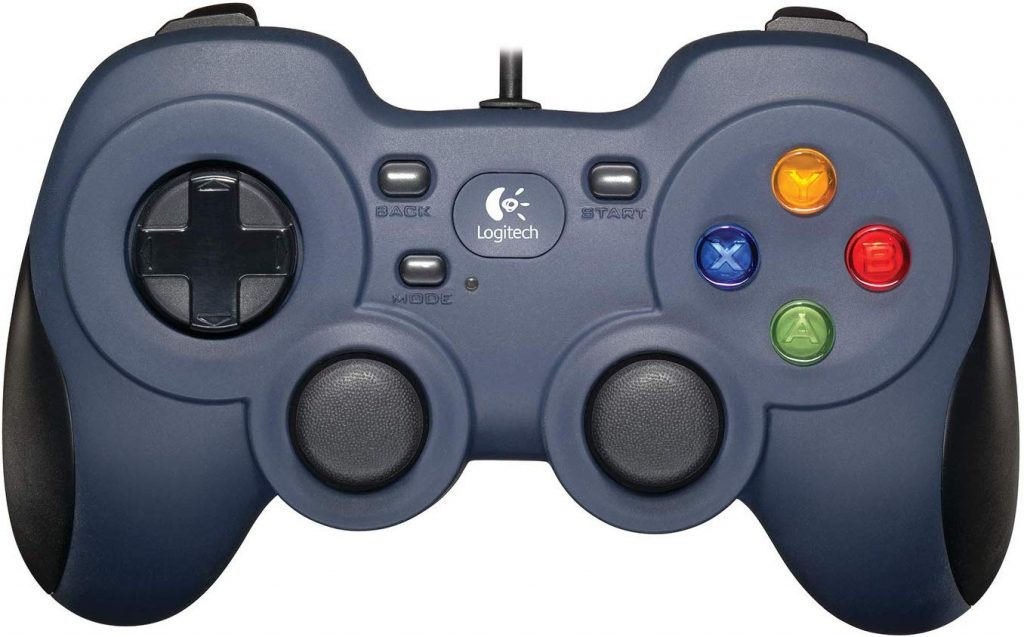 It is a console-style gaming controller and the controls are easy to customize, offering advanced support for popular titles. It is easy to set up using the Xinput or the Direct Input which are the popular standards for gaming controllers. The shape and layout are of the familiar style, with a floating D-pad useful for quick responses. All you need to do is plug it in and you can start playing your favorite games on the PC. It offers support for old popular games as well as the latest popular titles.
The dimensions of the Logitech Gamepad F310 are 6.8 x 2.9 x 8.1 inches and it weighs 10.4 ounces. It requires 2 AAA batteries. The gaming controller features 2 analog mini sticks with 2 trigger combos, one D-pad, and 4 buttons for action along with the usual buttons for back, start, and mode. The configuration can be fine-tuned using the Logitech software. There are 10 buttons that are programmable and an 8-way D-pad that is also programmable. You can customize it using the Profile software.
The gamepad is made of a solid molded plastic and is durable. The buttons offer good tactile feedback and the sticks move freely. It works with a simple plug-and-play USB connection and does not need any software for installation. It works with Windows XP, Windows Vista, and Windows 7.
Who Should Buy This?
Serious PC gamers who want the perfect controller.
Those who are looking for a decent PC gaming controller at a reasonable price.
High-End PS4 Gaming Controller
Astro C40 TR Gaming Controller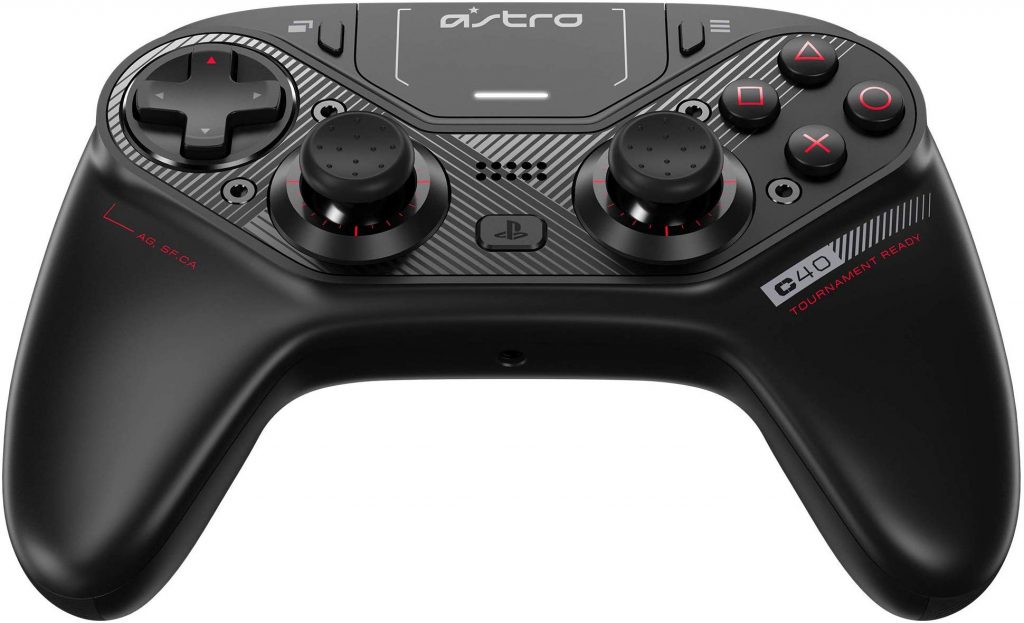 It comes in a premium, comfortable design with several customization options. It can be used either with wires or wirelessly, but it is an expensive gaming controller. The design is sturdy and it has several components that can be swapped with plenty of software options that can be customized. It sports all the buttons and triggers seen in a standard PS4 gaming controller along with a full-function touchpad. There are dedicated switches on this controller for switching onboard profiles or for swapping between the wired and the wireless modes.
The rear button layout has been optimized to offer superior ergonomics resulting in precision for critical moves. The flexibility of the controller makes it useful for all gaming genres and enhances response time. The analog stick and D-pad modules can be easily swapped for better performance. Configuration can also be set up in offset or parallel types. The gaming controller enables easy activation of the trigger stops, enabling better trigger throw and allowing for hair-trigger performance while playing most of the FPS titles. The game audio and voice chat are of the highest fidelity both in wired and wireless modes, using the 3.5 mm jack. It is also fully compatible with all gaming headsets.
It is suitable for serious gamers being both durable and serviceable and is an officially licensed PS4 peripheral which also works with Windows PCs. It is designed to meet the specifications needed by professional gamers. The software improves the versatility and accuracy of the controller. The dimensions of the Astro C40 TR are 8 x 5.9 x 3.8 inches and it weighs 10.9 ounces.
Who Should Buy This?
Those who are looking for a high-end, pricey, and elite gaming controller for PC and PS4.
Suitable for professional PS4 as well as PC gamers.
Those who want a tournament-grade gaming controller.
Built for the serious gamer.
Dual Frequency for Android and PCs
SteelSeries Stratus Duo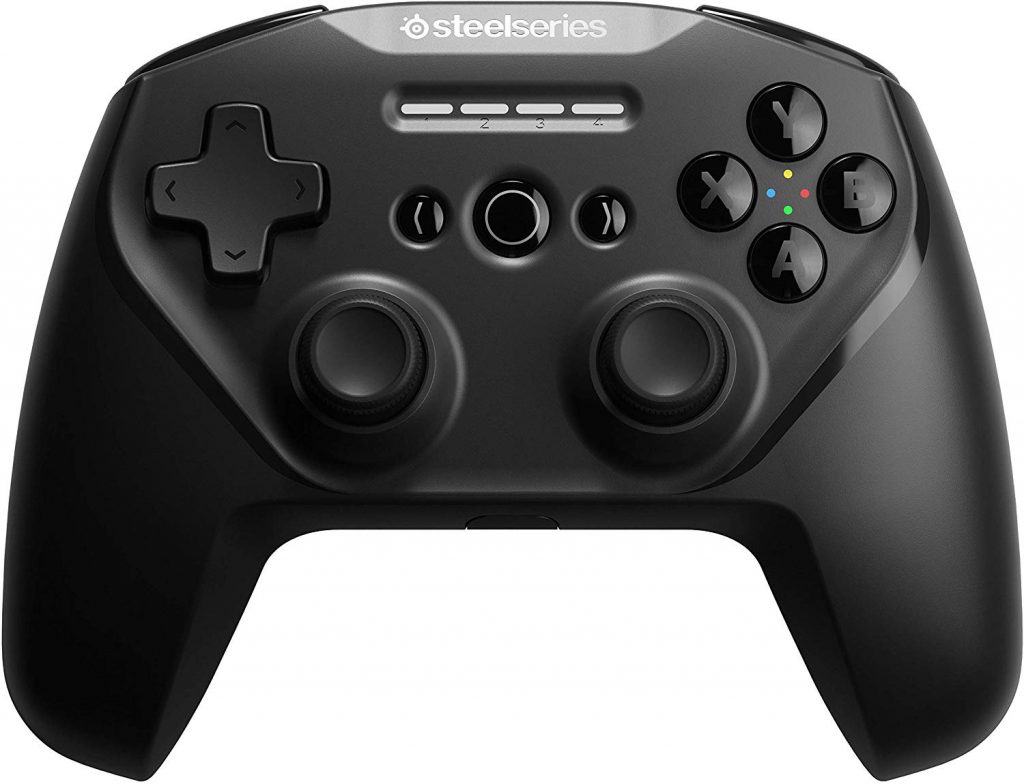 It is a dual-option gaming controller where you can use the toggle switch to move between a Bluetooth connection or a 2.4 GHz wireless connection using an adapter. The SteelSeries Stratus Duo gaming controller is solid and comes with well-designed sticks that are comfortable to grip. It is also officially compatible with the Fortnite mobile on Android. The 2.4 GHz wireless enables lag-free gaming on PC with more than 5000 gaming titles available on Steam.
It can be easily paired with Gear VR, Oculus Go, and other Android mobile devices. The battery is rechargeable and allows more than 20 hours of use. You can also charge the controller while playing.
It comes with a cable length of 1.8 m and offers connectivity of 2.4 GHz with Bluetooth version 4.1 or a wired USB. The range is 12 m and the dimensions are 4.3 x 5.5 x 2.5 inches, weighing 1 pound.
It is Steam-enabled and can be easily paired without the use of any drivers and software. The triggers are magnetic Hall Effect ones, being more durable than their conventional counterparts, offering a snappy performance for a lifetime. The design is ergonomic with clickable analog joysticks offering precision. In short, it offers a truly wireless experience for Windows PC or Android and VR. Inputs are faster and accurate. The main trick of the Duo is that it has a dual-frequency of 2.4 GHz wireless when playing on PCs and Bluetooth connectivity for mobile VR and Android devices.
Who Should Buy This?
Those looking for a gaming controller to play games on PC as well as Android and VR headsets such as Oculus Go.
For those who want a true console experience on PC and Android.
PC Gaming Controller with a Pioneering Design and Stunning Look
GameSir T4W PC Controller, Black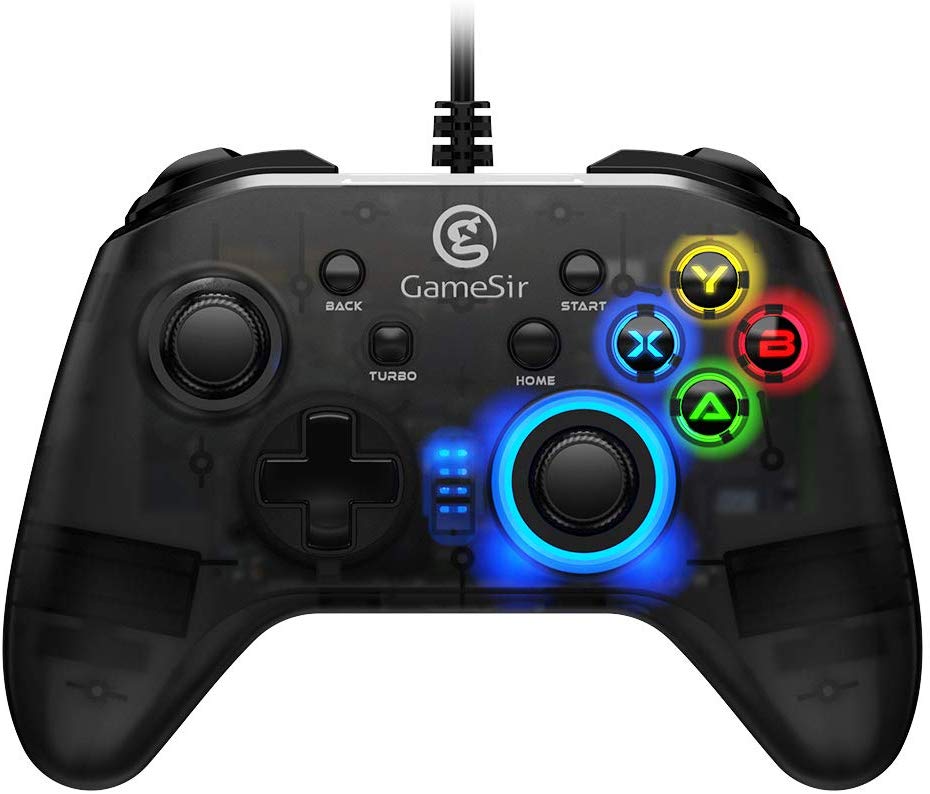 The GameSir T4W PC gaming controller comes with a dual vibrating motor offering a real-time and realistic gaming experience. The dual vibration motor is an asymmetric one having 5-speed levels offering an immersive experience so that every hit and every explosion can be felt more vividly. You can also adjust the intensity of the motor vibration. The design is comfortable, ergonomic, as well as sturdy as it is made of high-quality material. The joysticks are clickable and this is combined with an easy to use D-pad having smooth and responsive action buttons.
It has been specially designed for PC Windows gaming to offer a high-performance level. The design includes a colorful LED backlight in a translucent appearance with ABXY buttons and a joystick on the right side along with a stand. The LED intensity can also be adjusted. The cover is a semi-transparent one with a matte finish. It supports Windows PC 10/8.1/8/7.
The wired controller has more than 6.56 feet of USB cable offering plenty of free play for playing games freely. The computing capability is highly sensitive at 48 million times per second offering more accuracy. The product dimensions are 5.5 x 3.1 x 2 inches and it weighs 10.6 ounces.
Who Should Buy This?
Those who want a wired gaming controller for Windows PC.
Durable and Premium PC Gaming Controller
Xbox Elite Series 2 Controller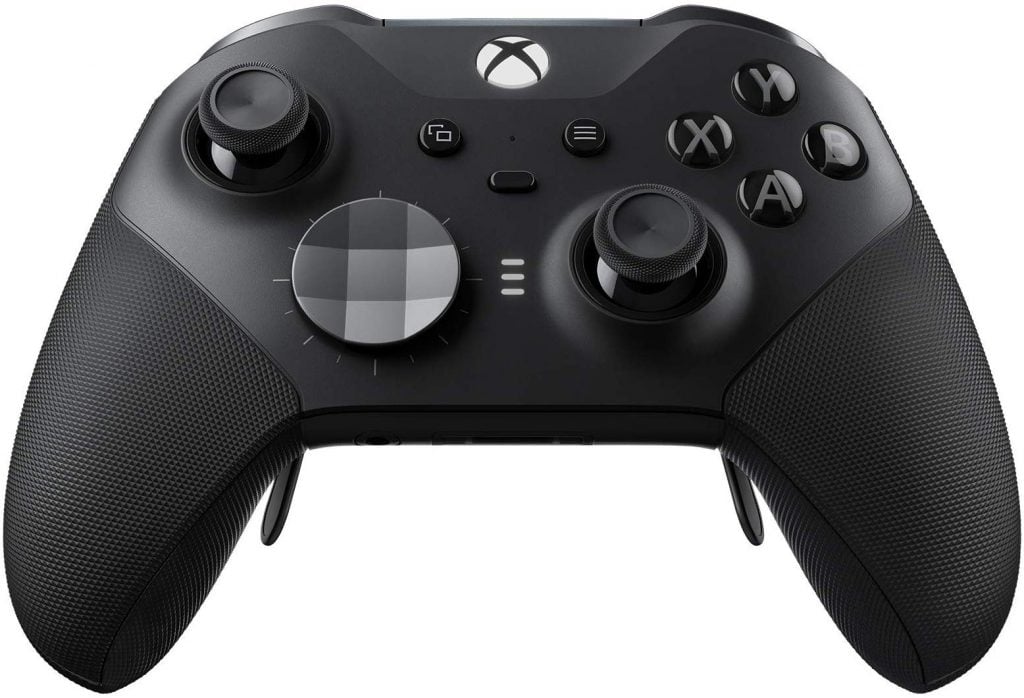 It is a Pro-standard Xbox gamepad from Microsoft and has a sleek, comfortable, and solid design. It includes a wireless charger pack, which can also be wired, and a USB C cable along with a variety of buttons. All the standard buttons are there along with changeable analog sticks and D-pad buttons, which can be replaced with the buttons included in the kit. There is a set of 6 thumbsticks – along with the two regular ones there are also 2 classic, 1 tall, and 1 white dome. Along with these, there are 4 paddles with 2 medium and 2 mini ones, one standard D-pad, and one faceted. The tension of the analog sticks is also adjustable with 3 settings.
Endless customization options are available using the Xbox Accessories application. The battery life is long at a maximum of 40 hours. Charging can be done inside as well as outside the carrying case, as it has a USB C cable along with a charging dock. You can use Bluetooth wireless or the USB cable for wired playing on Xbox One and PC Windows devices.
It is capable of enhancing gameplay with adjustable thumbsticks, short hair trigger locks, and a rubberized grip that can be wrapped around. You can save up to 3 customized profiles with one default profile on the gaming controller. The dimensions of the Xbox Elite Series 2 gaming controller are 1 x 2 x 2 inches and it weighs 2.89 pounds.
Who Should Buy This?
Those who are willing to pay the price for a premium PC gaming controller from Microsoft.
Professional gamers who want to play with an advanced PC gaming controller.
Designed for competitive gamers.
Gaming Controller for PCs and Android
IFYOO ZD V One Wired Gaming Controller for PC. Blue, Red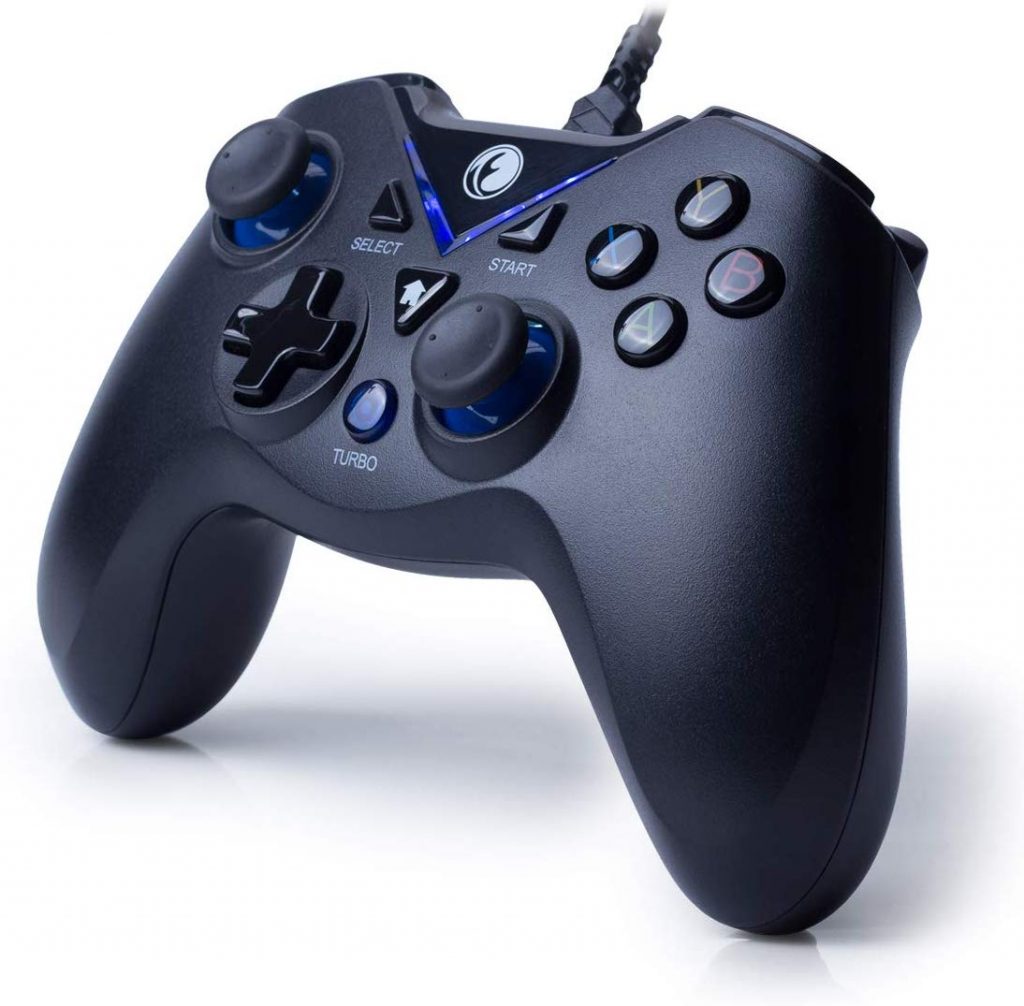 It is a wired gaming controller coming in a streamlined, smooth and compact design with textured grips that are comfortable to hold. The buttons come in a state-of-the-art layout and are easy to operate, being both smooth and efficient. It is a good PC gaming controller with a JD Switch function enabling ease of use with the D-Pad or the Left Stick. It has a D-pad that is of high precision offering a great gaming experience. The joystick is a top-of-the-line one with a rough surface and texture that is non-slip, also resulting in high precision while gaming. The Vibration Feedback function offers real-time feedback while gaming in different scenarios.
It offers support for Windows XP as well as Windows 7, 8, 10, and PS3 as well as Steam and Android devices. You can use the Plug and Play method for PC games that support Xinput modes without installing drivers except for the Windows XP software. It works well with PC Windows, Android 4.0, and PS3 using wired connections and also works well with laptops, TV boxes, and tablets.
The JD switch function allows switching between the D-pad and the Left Stick. You can also use the Turbo and key combinations for activating the Turbo function, for rapid and repeated hits. The dimensions of the IFYOO ZD V gaming controller are 6.3 x 4.3 x 2 inches and it weighs 11.2 ounces.
Who Should Buy This?
Those who want the best PC gaming controller for PC Windows, Android 4.0 as well as for PS3 using a wired connection. It is not suitable for playing with Xbox 360, Xbox One, Mac OS, and PS4.
Robust and Nifty PC Gaming Controller
Logitech Gamepad F710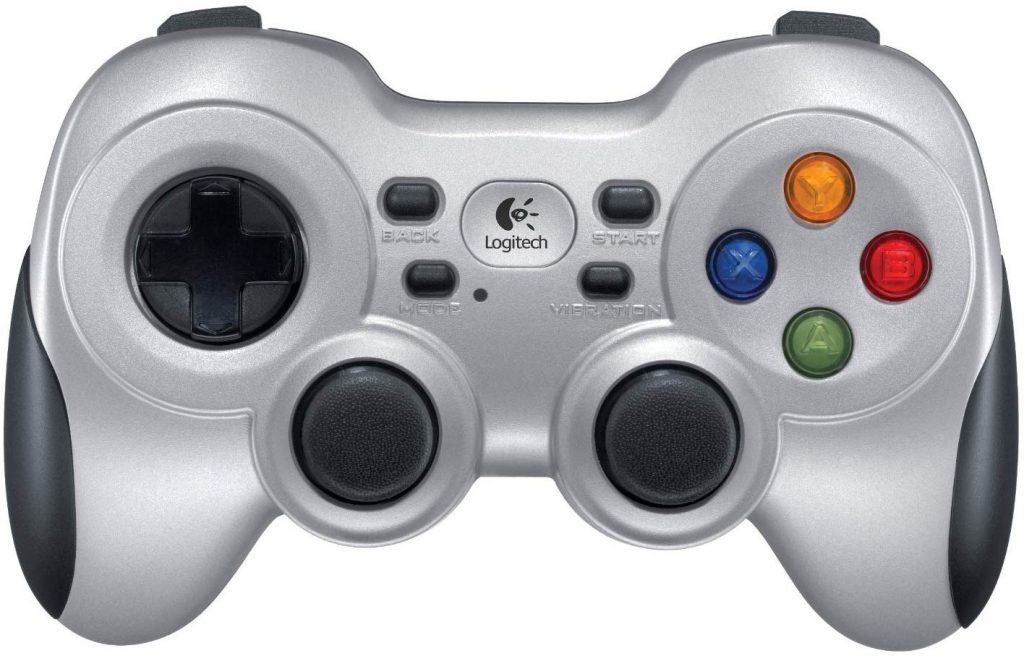 It is a wireless PC gaming controller with a good grip and an excellent battery life. It is silvery on the front and has a black matte coat on the back offering a better grip. It has a kind of retro look with a layout similar to the Sony DualShock 4. There are two analog sticks at the bottom with one D-pad on the top and the usual buttons. You can swap between the D-pad and the analog sticks for some titles.
The Logitech Gamepad F710 plays with a fast and reliable 2.4 GHz wireless connectivity. It features customizable controls with the use of the software. The dual vibrating motors support vibration for games and let you experience every hit and explosion in the game.  It works well with Windows XP, Windows Vista as well as Windows 7 and 8.
As it is a wireless controller, you can enjoy the freedom of playing without attached cables and wires. The transmission is fast without dropouts. You can also play on the TV by pairing it with Big Picture and navigating Steam, surfing the web, or playing the entire library of Steam games. The design is comfortable for playing long sessions as it has smooth curves and well-contoured rubberized grips. The standard D-pads can be rolled on the single-pivot to offer precise control and it offers a very responsive and tactile feel. The dimensions of the Logitech Gamepad F710 are 6.6 x 31 x 7.9 inches and it weighs 14.4 ounces.
Who Should Buy This?
Those who want a solid and responsive PC gaming controller at a budget price, offering good value for money.
Comfort and Economical PC Gaming Controller
ZDV+ Wired Gaming Controller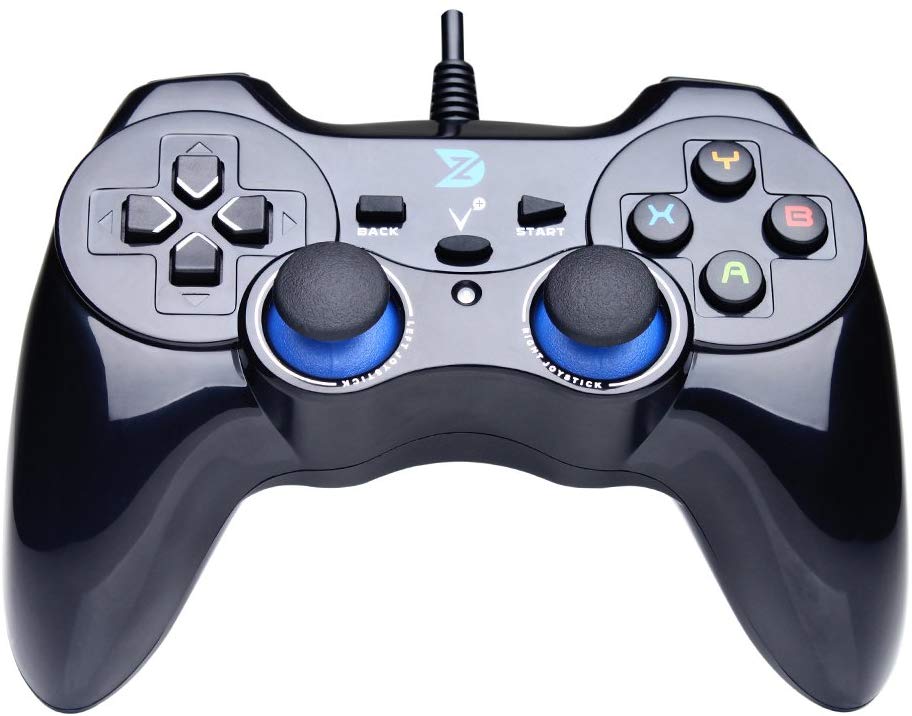 The ZD V+ USB wired gaming controller comes with plug-in-play compatibility, so there is no need for any installation software for its work. The buttons are decent, but there are no real triggers. Instead, it has 2 buttons acting as triggers. Input accuracy is excellent. The handles are big and shaped well for holding comfortably. The battery is rechargeable and it has a USB port placed between the shoulder and the triggers, for charging the lithium battery. It supports Plug and Play for PC games that support Xinput mode and for PS3.
It is compatible with Windows XP to Windows 10 and so, you can use it for playing games on the PC or laptops. It is compatible with PS3 and Steam. It is also possible to connect the gaming controller with smartphones and Android televisions.
The ZD V+ features a multi-mode Xinput and Direct input with Vibration feedback. The JD Switch function helps exchange functions of the D-pad with the Left Stick in the Xinput mode. It is a USB wired Gamepad. Not suitable for those who want a gaming controller for Xbox360/Xbox One and MacOS, as it does not support these devices.
Who Should Buy This?
Those who want a well-featured PC gaming controller at a cheap price.
Wireless Soft Touch PC Gaming Controller
Xbox One S Red, Blue, Gold, Orange, Pink, Purple, Green and Chameleon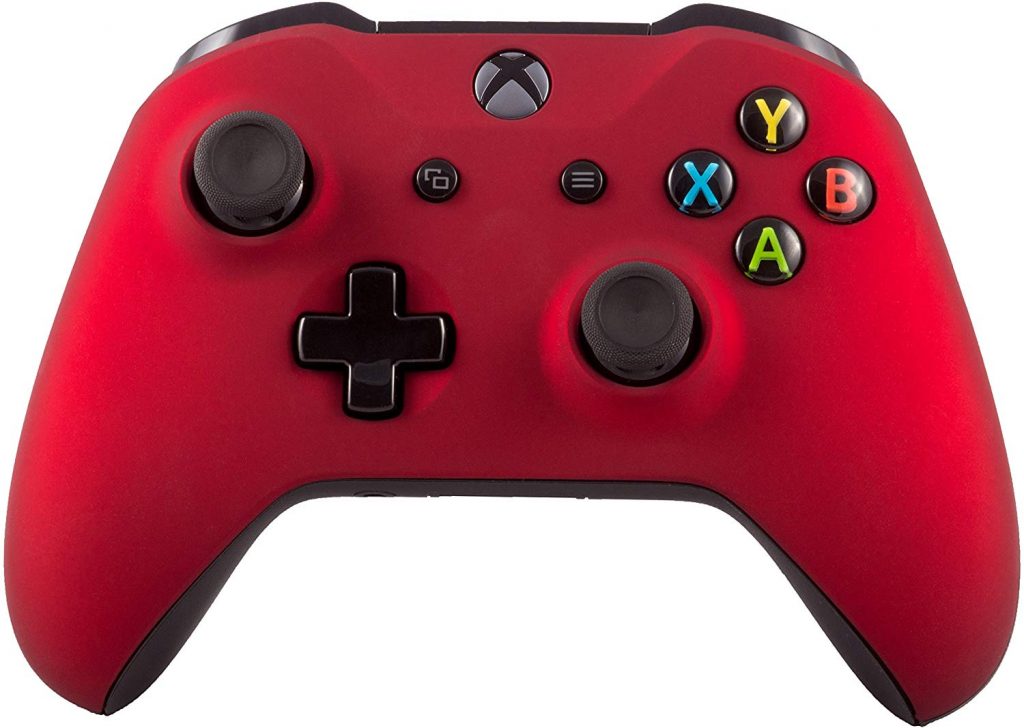 It is one of the best wireless gaming controllers for PC, for those who do not want to spend on the costly Xbox Elite. The Xbox One S is the successor to the Xbox One controller from Microsoft. It is one solid plastic piece in a sleek and clean design. The textured plastic offers a comfortable feel. Setting up is simple and quick for PC use. The Bluetooth functionality is useful as you do not need an adapter for pairing, so long as the PC is running on Windows 10 Anniversary Update. However, only one Bluetooth controller can be connected to the PC at a time, so you cannot use other attachments like headsets and stereo adapters.
In addition, it has a 3.5 mm jack for headphones and so a stereo adapter is not necessary. It works perfectly with Windows 10 devices thanks to its Bluetooth capabilities. The white surface is also easy to maintain just by cleaning it from time to time. It looks good and also feels good with a soft feel coming from the rubberized silicone material. There are AA batteries that come included in the box. All the controllers of the gamepad can be customized.
The dimensions of the PC gaming controller are 7.2 x 7.1 x 2.8 inches and it weighs 14.1 pounds. It is a first-party controller offered at a reasonable price.
Who Should Buy This?
Those who want the best wireless PC gaming controller option at a reasonable price.
Those who want a highly customizable gaming controller at an affordable price.
 PC Gaming Controller with Great Ergonomics
PS4 Controller ORDA – Blue, Berry Blue, Orange, Red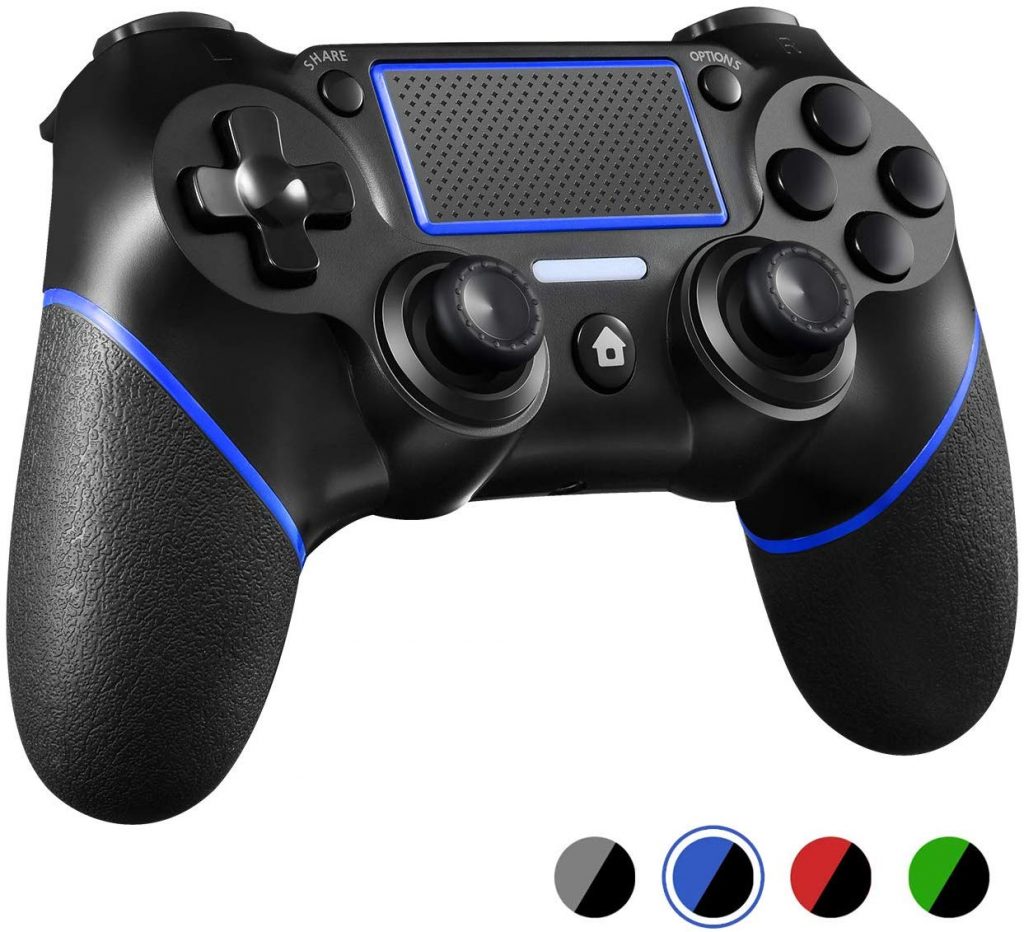 It works great with the PlayStation and is also suitable for PCs and laptops with Windows 7, 8, 8.1, and 10, as well as PS4 Pro. It is a versatile gamepad with dual-shock functionality, which means that it offers a totally immersive experience during gameplay. It also comes with a 3.5 mm headphone jack, which means that you can put on your headphones while playing and completely block out external noise. The design is ergonomic and comfortable to hold for several hours of gameplay as it makes use of a non-slip type of material that is also sweat-proof.
Using this gamepad, you can enjoy most of the popular games on several platforms. It has Shock Motion motors that are built-in, offering various levels of intensity resulting in an authentic gaming experience. The PS4 controller has dual analog joysticks. They are highly sensitive, resulting in minimal response time and greater accuracy during important moments of the gameplay. The handle is made of a non-slippery material and it is also sweat-proof and skin-friendly, which is comfortable to hold during long hours of gameplay.
The Share button enables the sharing of game videos and screenshots with friends. The touchpad is clickable and includes a light bar offering novel means of gameplay. It incorporates modern sensing technology with a built-in 3D gyroscope and accelerator. The online range of the Bluetooth handle is over 10m. It can be intelligently matched with PCs as well as laptop devices. The analog sticks are 360 degrees flexible with an ungraded button system layout that simplifies the gameplay. The controller offers instant vibration feedback, with 2 built-in shock motors. The dimensions are 6.5 x 5.5 x 3 cm and the weight is 10.4 ounces.
Who Should Buy This?
Those who want a gaming controller for multiple platforms such as PS4 and PS3 as well as PCs and laptops.
Gaming Controller That Works with Windows TV and Android
EasySMX ESM-9100, Wired Gaming Controller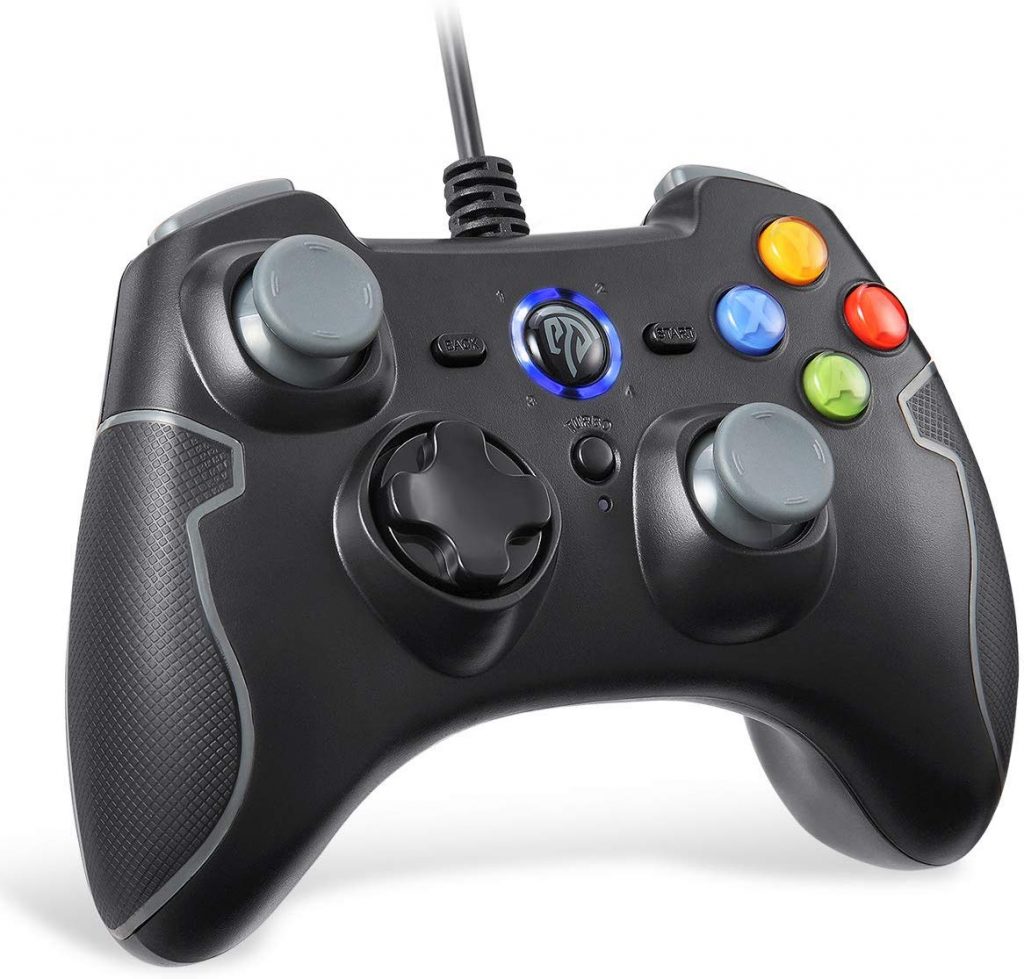 The EasySMXGaming Controller is easy to set up and use. It comes with a 2-meter long cable and so you can sit far from the console while playing. It includes dual vibrating motors built in the side grips that offer immersive feedback while gaming and thereby increasing the real-feel of the gaming scenarios. The 2 electric motors vibrate when something is shot at or while skidding, making the gaming experience more thrilling and realistic. You can turn the controller vibration on or off in the game settings. The design is ergonomic, with an asymmetrical pattern for the joysticks offering a comfortable thumb position.
All buttons and turbos can be customized for ease of play. The EasySMX wired PC gaming controller includes non-slippery textured grips made of rubber, preventing slipping due to sweat or moisture. The shape of the triggers is ergonomic and helps toward greater control. It is compatible with Windows 7 as well as Vista 8 and 10. In addition to using it with your PC, you can also use the controller with PS3 and Android devices with a 4.0 version. However, Android phones or tablets must be supportive of the OTG function.
The design is in the usual familiar pattern of A, B, X, and Y buttons, with 2 clickable analog mini joysticks and one 8-way D-pad along with a Home Button and a Sports mode. It has a USB connection with a comfortable and flexible cord providing ample stability and extension while playing. The dimensions are 6.3 x 4.7 x 3.1 inches and it weighs 10.9 ounces. Not suitable for those using Xbox 360, Xbox One, Mac, iOS, and Amazon Fire TV or Fire Stick.
Who Should Buy This?
Those looking for a wired gaming controller for PCs, Windows Vista, TVs, PS3, and also Android devices with 4.0 version and above.
Suitable for sports fans, sharpshooters, and other game enthusiasts who want to enjoy PC games in a relaxed manner.
Innovative and Powerful PC Gaming Controller
Steam Controller by Valve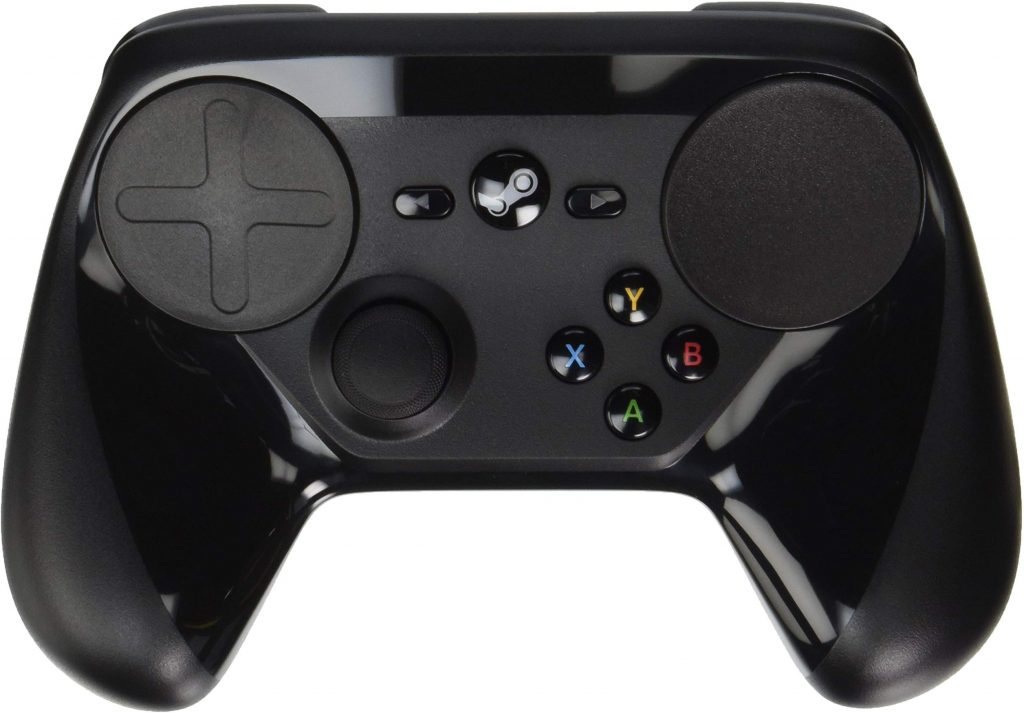 It is a powerful gaming controller with innovative touchpads and is useful for playing mouse-heavy games on PCs and TVs. The software is customizable and enables the controller to emulate the keyboard, mouse, etc. It supports the playing of the entire collection of Steam games on the PC or TV, including games that were created without considering controller support.
There are 2 trackpads along with one HD haptic feedback and dual-stage triggers. Other features include back grip buttons and control schemes that are completely customizable. You can find popular mappings within the Steam Community and also create your own and share them with others. The dual trackpads enable 1:1 position input using virtual controls, such as the trackball or an adaptive joystick that can be centered on the steering wheel. The dual-stage triggers are capable of switching between analog and digital all within the same trigger. The input buttons are all placed ergonomically and offer great precision as well as comfort while playing.
The controllers are wireless and can be completely configured. You can use it with the Steam Link in the Big Picture mode while playing games on the PC or the TV. The product dimensions are 8.4 x 6.3 x 2.7 inches and it weighs 1.2 pounds.
Who Should Buy This?:
Those who want a high level of precise control while playing games on PC or the TV with a gaming controller.
Those who want a gaming controller for Steam games on PC and TVs.
Adaptable Gaming Controller for Individual Needs
Razer Wolverine Ultimate Wired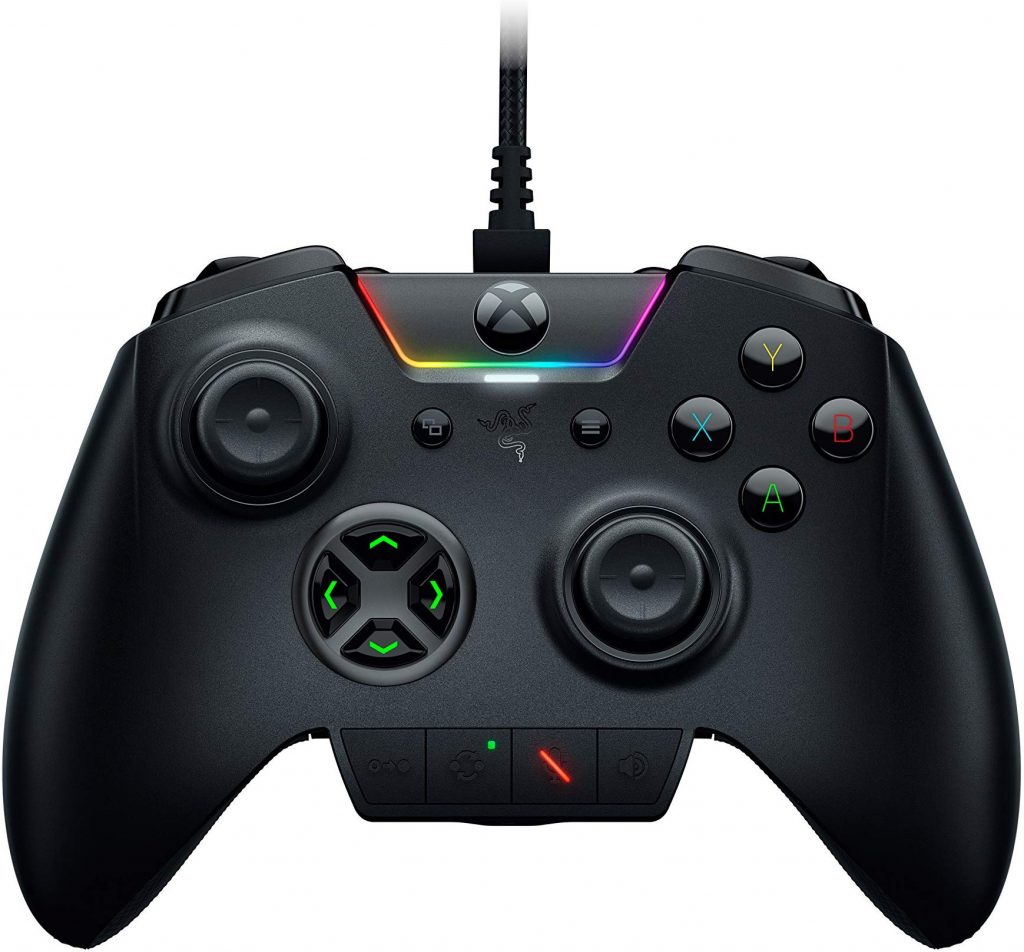 It has clicky and responsive face buttons and sports Chroma lighting, which is fun. The Chroma lights look very cool on the controller. The LED strip is short and does not distract players from the clean lines and the buttons on the gamepad. There are 6 additional buttons that are completely customizable. The texture is rubbery and grippy. The two sticks are swappable and it also has a D-pad that enables fine-tuning the layout. The USB cord is of high quality and durable. It works with both the Windows 10 PC as well as Xbox One natively.
The interchangeable thumbsticks and the D-pads enable optimized heights and shapes so that gamers can easily swap between a tilting layout or an individual D-Pad button one. The additional buttons include 2 remappable bumpers for multi-function, 4 multi-function triggers along one Quick-Control panel. This makes it easy to master techniques like moving and aiming with the two thumbsticks.
It also sports a wide range of lighting effects and customizable profiles. The ergonomics of the Razer Wolverine Ultimate have been optimized to offer ultimate comfort for hours of gameplay and the interchangeable parts are useful for adapting to individual playstyles. The dimensions are 4.2 x 6.1 x 2.6 inches and it weighs 13.6 ounces.
Who Should Buy This?
Those who want a wired gaming controller for PC and Xbox One.
Conclusion
Though PC gaming can be done with the keyboard and mouse combo, a great gaming controller is an important piece of equipment for fast-paced, competitive gaming. Some games work better with a gaming controller, especially racing games. What you need to consider is the layout, which mimics the classic geometric buttons on the face, especially for those who grew up playing PS games. You might also want to consider whether you want a cordless gaming pad or a wired one.
These are some of the best PC gaming controllers and are suitable for a wide variety of gaming genres, such as shooter games, fighting, action or adventure games, driving, etc. The battery life is good and some of them offer multiple modes, swappable components, etc. They can offer you the ultimate, total immersion in games and help you play games on your computer in the most exciting ways.