Featured in this article (opens in new tab)
If you are a professional photographer, you might need a special-purpose photo editing monitor to achieve the desired editing and enhancement features on your photographs. Professional photographers usually tend to have a specific set of needs and requirements that they want out of a particular monitor. These requirements tend to differ completely from that of a game freak or a busy corporate executive.
Buying Guide
For instance, gamers or executives would not need better refresh rates or a big viewing angle. To be able to view in a big frame or with a good amount of intricate detail is vital to a professional photographer. If you are on the verge of starting your journey as a professional photographer, here is the list of the best monitors for photo editing in 2023.
These are the factors to consider before buying a monitor for photo editing
your budget
size of the monitor
design, look, and feel
sRGB color accuracy
how big are the bezels
whether the monitor is height-adjustable
See also: The Best Laptops For Graphic Design
Best monitors for photo editing
An OnScreen Control Monitor with Adjustable Stand
LG 3-Side Virtually Borderless Design Monitor
Check Price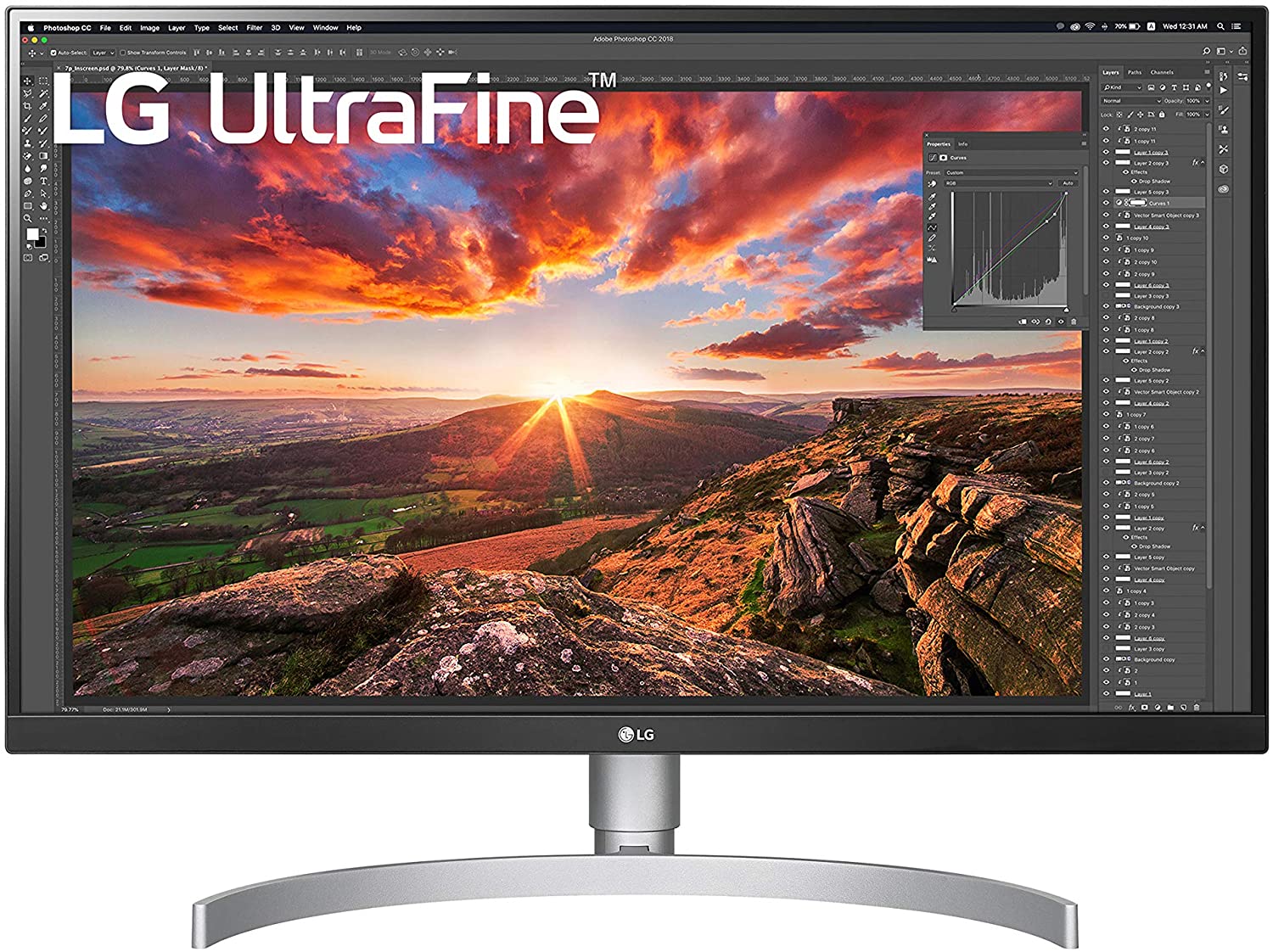 This LG monitor has a screen size of 27 inches. The monitor features an Ultra Fine IPS display with a 3840 x 2160 screen resolution. The product comprises a nearly borderless display on three sides and renders a color gamut of sRGB 99%.
The monitor has a USB Type C port with 60W power delivery and HDCP 2.2 connectivity. This helps the product render 4K content effectively from various sources. Its stand supports height, tilt and pivot adjustable options. The monitor comes integrated with a game mode, screen split functionality, a black stabilizer, and a dynamic action feature. The VESA Display HDR 400 feature ensures very clear pictures with 400 nits brightness.
The monitor has an anti-glare coating that minimizes strain on the eyes during long working hours.

The product can be turned at a clockwise angle of 90° to view the image for editing from different angles.

The split screen functionality helps you view multiple photos on the screen at a time.
Multiple adjustment options

Brightens dark scenes

Rugged metal stand
It breaks easily because of the plastic frame

Cannot control brightness with function keys on Apple keyboard
An Ultra-Slim Monitor with Panoramic Viewing
HP Low Blue Light Mode Monitor
Check Price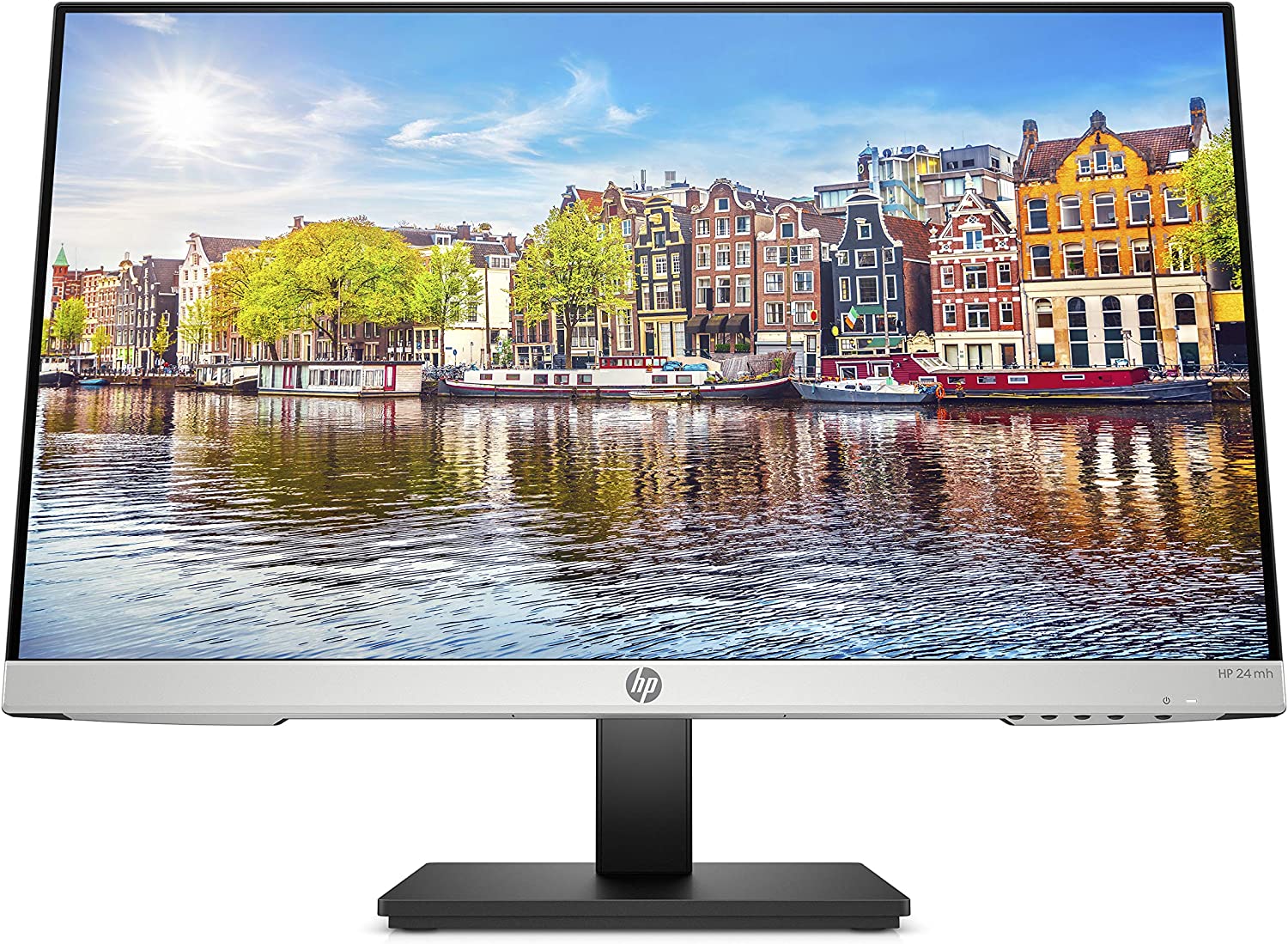 This HP monitor has a 23-inch IPS FHD display with 1920 x 1080 screen resolution at 75Hz. The monitor offers maximum screen real estate with its micro-edge display and minimum bezel on three sides. The product renders ultrawide vertical and horizontal 178° viewing angles.
The 24mh monitor delivers content with utmost vibrancy when viewed from any angle. The product also offers consistent image and color clarity from any angle. It has a slew of inbuilt ports like VGA ports, a Display Port, and an HDMI port. The energy-efficient monitor delivers less strain on the eyes while the two 2W inbuilt speakers produce incredible sound. It comes with a VESA mount and an HDMI cable and is backed by a limited warranty from the manufacturer for a year.
The monitor delivers less strain on the eyes with its natural whites and warm spectrum of colors.

The height and tilt adjustment features help view the edited photos from different angles.

The product can be connected to a laptop or desktop with either a VGA cable or an HDMI cable.
Good screen real estate to zoom in and out pictures

Can be assembled easily in minimum time

Excellent picture quality to give life to photos
Screen cracking when adjusting the tilt

Occasional turning off automatically
A Fast Response Monitor with 75Hz Refresh Rate
Sceptre Large Screen Curved Monitor
Check Price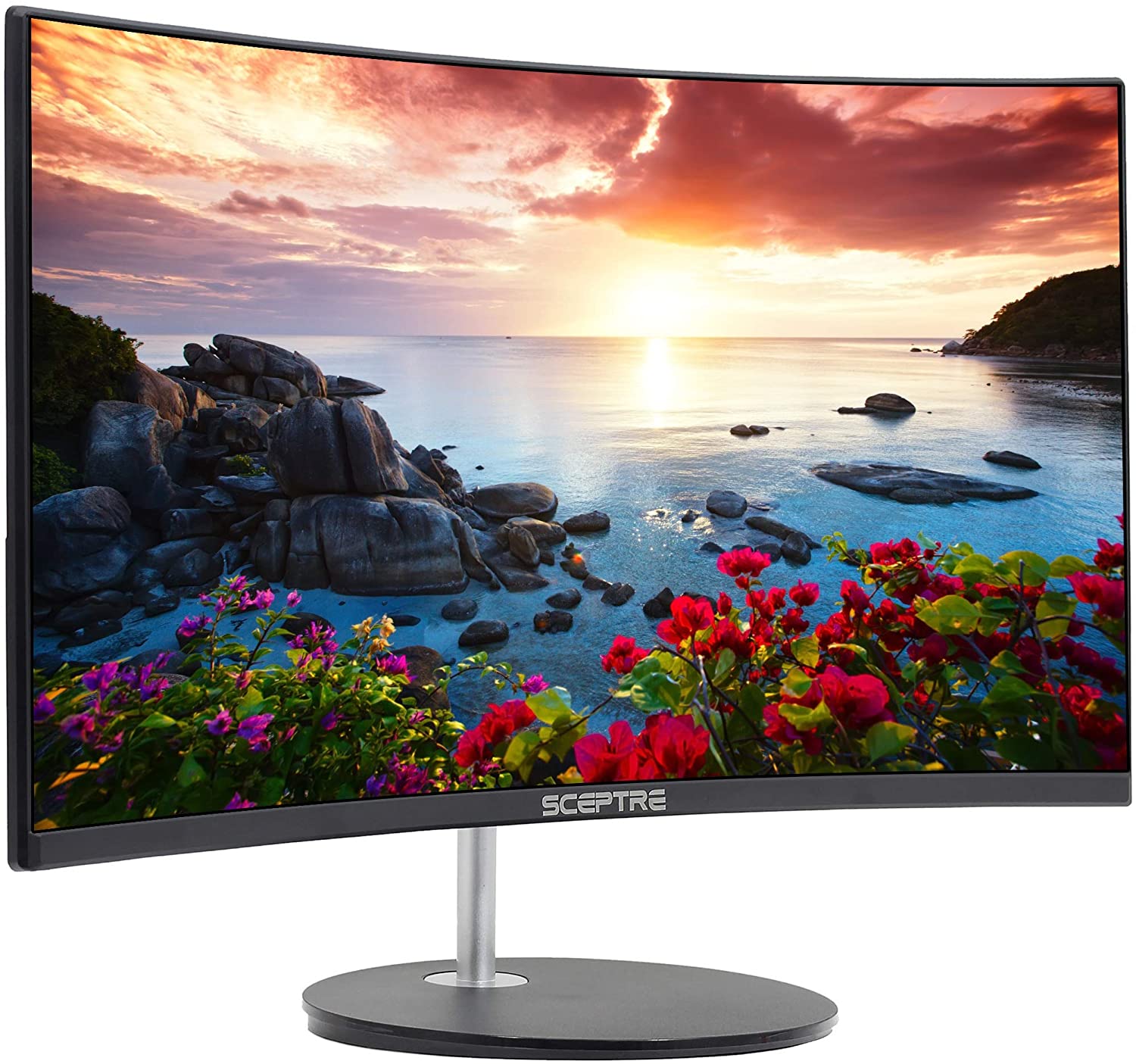 This Sceptre monitor has a 27-inch screen with Full HD 1920 x 1080 screen resolution and a maximum 75Hz refresh rate. The monitor also supports 98% sRGB and a 1800R curvature. The product can be tilted forward by 5° and backward by 15°.
The monitor has a narrow bezel on three sides, maximizing the viewing experience. The product has two HDMI ports, a VGA port, a headphone port, and a couple of inbuilt speakers. It can be assembled very easily with minimal effort. The monitor incorporates split screen support, blue light shift, and anti-flicker technology. It can be connected to gaming consoles like the PS5 and Nintendo Switch and comes with an HDMI cable.
The monitor has a stylish profile with its curved profile and portrays excellent picture quality.

The product comes at an affordable price for screen size.

The anti-flicker technology and blue light shift ensure you can use the monitor for a long time without eye strain.
Large monitor to view maximum content

Not very expensive for the size

Multiple port options
It cannot be raised or lowered

Speakers not up to the mark
A 21:9 Aspect Ratio Monitor with LED Display Technology
Samsung UHD Resolution Monitor
Check Price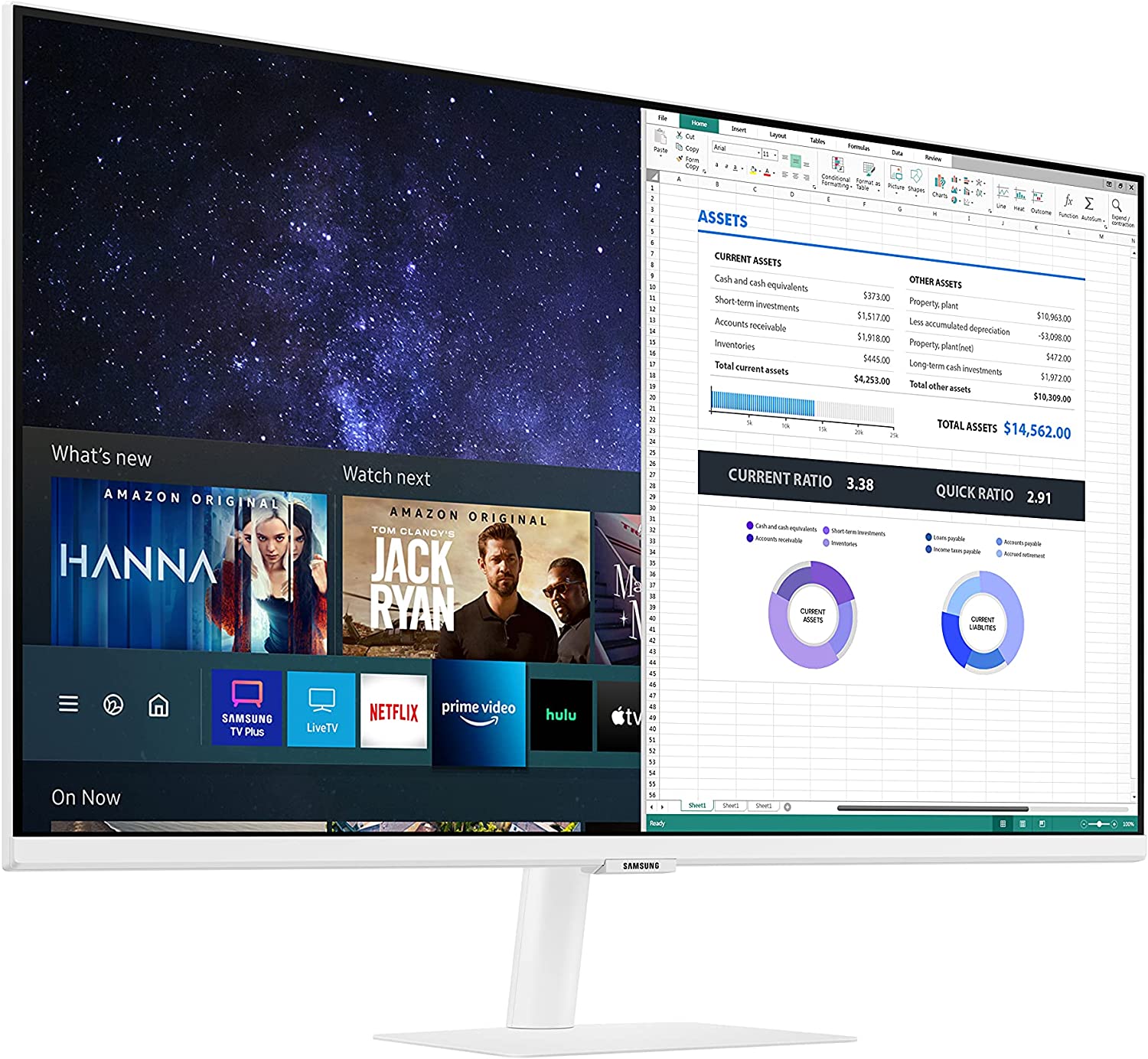 This Samsung monitor with a 27-inch display has a 1920 x 1080 UHD screen resolution. The monitor supports a 21:9 aspect ratio for viewing maximum content. The product features a Microsoft 365 suite for working and editing documents and various entertainment apps for you to enjoy your favorite movie or game without turning your computer on.
The monitor incorporates AirPlay 2 integration for seamless operation with Apple devices. The slim profile product rests on a 2.5mm high metal stand and sports a borderless design. It supports USB and HDMI connections. The monitor can detect the connection of external devices and displays the right signal when plugged in, thanks to the Automatic Source Switch Plus feature. It comes with black and white color options, an HDMI cord, a power cord, and a solar-powered remote controller.
Why You Should Buy This?
The monitor helps to view the photos that need to be edited in a bigger size because of the possibility of increasing the aspect ratio to 21:9.

The product can respond to voice-based commands, which makes it easier to operate.

The monitor has an inbuilt sensor that adjusts the picture brightness according to the surrounding light.
Pros
Rugged metal stand with a flat base

Can view photos in big size

Solar charging support for remote control
Cons
Brightness on the lower side

It does not work without a Samsung account
A 100% sRGB Monitor with Multiple Ports
ASUS ProArt Display Monitor
Check Price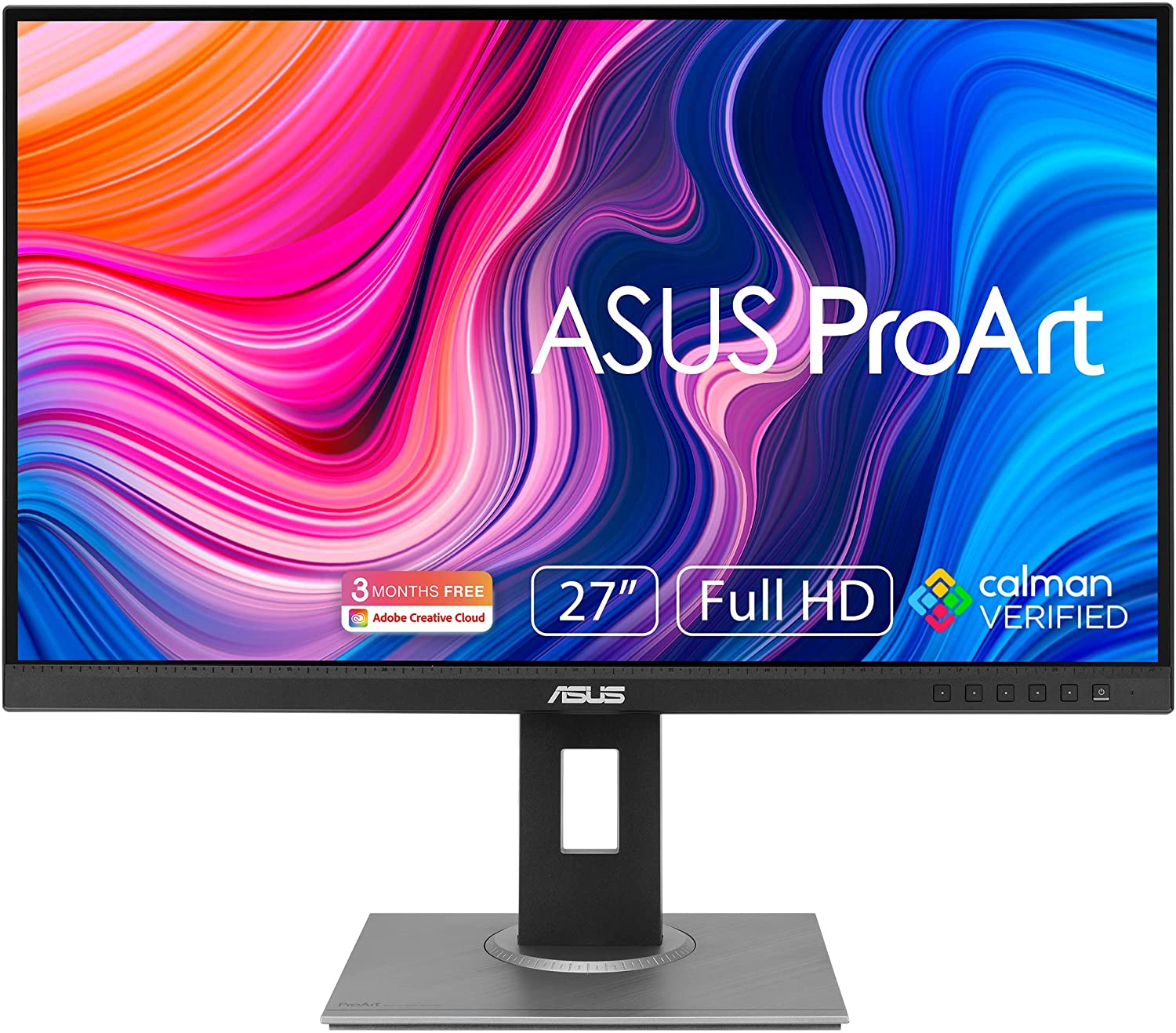 This ASUS monitor sports a frameless design, a 27-inch flat-screen, an IPS WQHD display, and a 2560 x 1440 screen resolution. The monitor also has a color saturation of 100% sRGB, 100% Rec. 709 color gamut, and factory calibration for color accuracy. The product incorporates ProArt Palette and ProArt Preset functions for several color parameter adjustments.
The monitor has a QuickFit Virtual Scale feature that helps to easily align documents and photos for editing. The product can be set at varying heights and tilted to a convenient angle of your choice. It has several port options like four USB 3.0 ports, a dual-link DVI-D port, an HDMI port, a DisplayPort, and a mini DisplayPort, along with an earphone and audio-in jack. It comes with a quick start guide, a warranty guide, a calibration report, and HDMI and USB cables.
The monitor helps to edit photos easier and with accuracy because of the supported grid layout by the QuickFit Virtual Scale feature.

Eye care, anti-flicker, and anti-glare technology help you focus on the minute photo editing details without any strain on the eyes.

The ProArt function helps you try out the various color settings for your photos to give them a natural and stunning look.
Excellent adjustment mechanisms for swiveling, rising, rotating, and tilting

Less desk space utilization with the firm base plate

It supports several color editing options
It comes with an expensive price tag

Backlight bleeding in some cases
A High Luminosity Monitor with 1ms Response Time
Z EdgeHDR Support Monitor
Check Price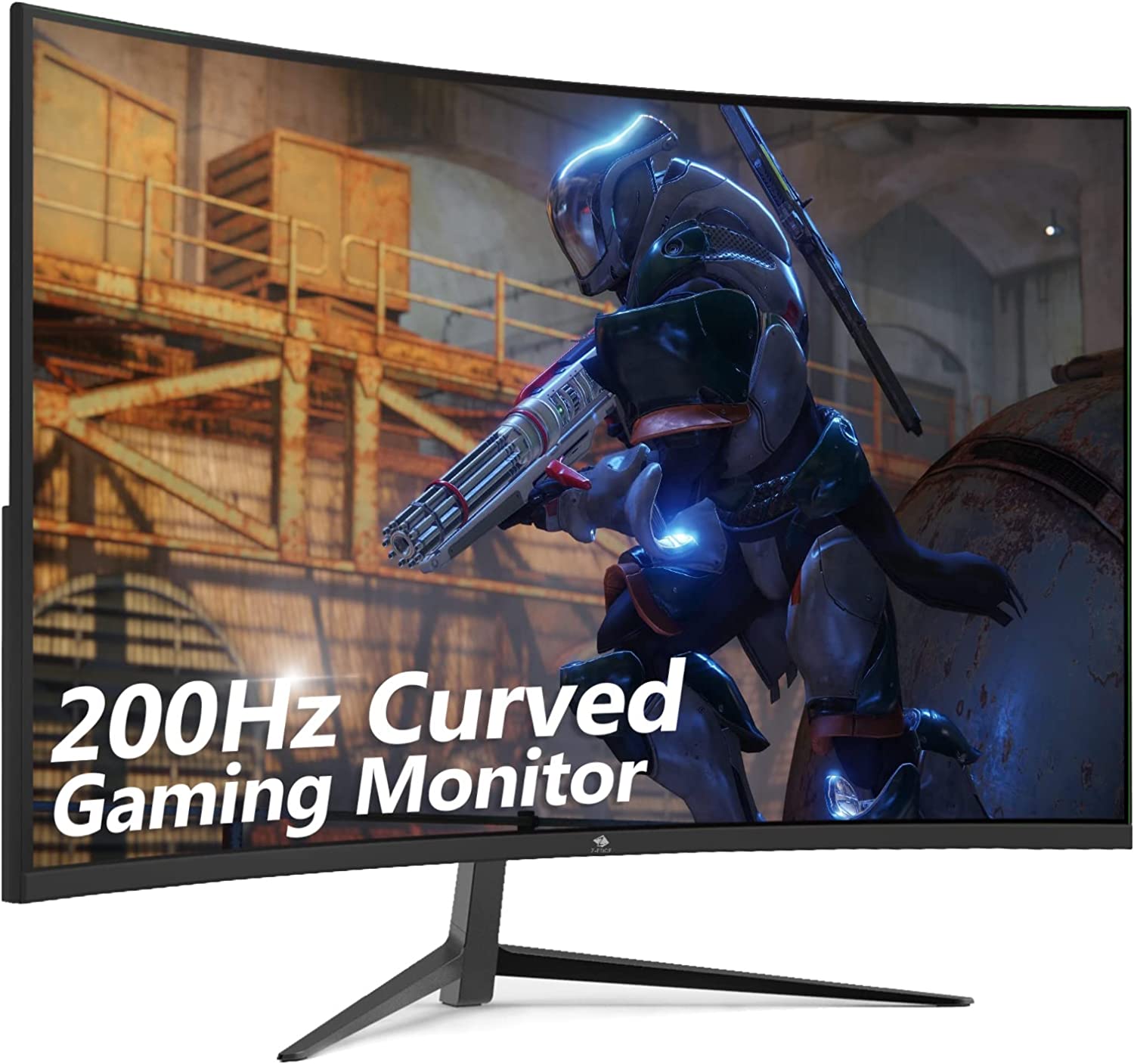 This ASUS monitor houses a 27-inch display with a 1500R curved screen. The monitor has an FHD 1920 x 1080 resolution, HDR support, 16:9 aspect ratio, and 3000:1 contrast ratio. The product also features a matte screen surface.
The monitor supports low blue light and flicker-free features for comfortable viewing. The product incorporates AMD premium free sync technology to eliminate potential input latency, stutter, and screen tearing. Its ergonomic design allows the edge-to-edge three-sided monitor to support a 100 x 100mm VESA stand. The monitor has two inbuilt speakers, two display ports with a 200Hz refresh rate, and two HDMI ports with a 144Hz refresh rate. It comes with its base, five mounting screws, a power adapter, and power and HDMI cables.
Why You Should Buy This?
The monitor has very little chance of causing blurriness and ghosting in imaging because of the rapid response time and high refresh rate.

HDR support makes the product capable of displaying the photos that have to be edited with better brightness, thereby giving them a lifelike effect.

The monitor is less pricey compared to several other counterparts with the same specifications.
Pros
Portrays a very high refresh rate

Displays pictures with utmost crispness and clarity

High contrast ratio to help work even in the dark
Cons
Unstable stand, causing monitor toppling

No edge-to-edge display
Bottomline
The best monitors for photo editing are available in different sizes and designs at varied price points. If you are a budding photographer or a video editor, you can easily opt for a budget-friendly 4K or 2K monitor that is often priced under $400. Such a setup will allow you to easily wall mount two or three monitors simultaneously. Multi-monitor setup helps split your software plugins and other tools into additional screen real estate. A more expensive setup could cost around $700 and comes with sRGB 100% color accuracy combined with improved build quality and more features geared towards photo editing. With so many options, it should be easy to find the one you like in terms of design, price, and features.