Featured in this article (opens in new tab)
Stock trading is a profession for thousands of individuals who primarily work from the comfort of their homes. They spend the majority of their working hours looking at the stock market changes. The best laptops for stock trading should let you take your mind off battery life, display, and performance, as it is a crucial job that requires a lot of attention. The right gadget is mandatory to focus on your work, rather than troubleshooting technical stuff on your laptop.
See also: Best Chromebooks for business
Buying Guide
The best laptops for stock trading should have certain unique features as the nature of this activity calls for it. These include a large, safe-for-the-eye display and better graphics. Stock trading involves studying a lot of presentations and charts. There are other requirements in laptops used for stock trading work. You can consider area by area.
Processor & Graphics: You will need a decent processor and a GPU to handle the regular data traffic plus the volume of activity that you see while growing over the next couple of years. So choose the processor and the GPU with attention and care. A good Intel or AMD processor and a matching graphics unit can do the job.
Display Size: The display size has to be at least 15 inches or above. If you are getting a 17-inch display. It's even better. Stock trading usually means you are watching the screen with loads of information; the larger the screen, the better it is on your eyes.
Display Resolution: Look for a better screen resolution than the regular ones, as a typical stock trading screen carries details that may be in small font. Check the details before placing the order.
Eye Protection: Constantly watching the screen as you will be doing while trading in stocks can be a strain on your eyes. There are laptops with special protection for the eyes. This will either be a special layer on the display panel or a separate screen. You should buy one separately if this is not part of the laptop supply.
Internet Security: You want to protect your laptop from cyberattacks. The threat of hacking always hangs over your head. Check if any antivirus/anti-malware programs are loaded onto the laptop. If it's not there, you will have to install one separately.
Laptop Security: You might want to keep the details of your stock trading activity to yourself and not share them with others. Your laptop for stock trading must include a secure login feature, either a fingerprint sensor or facial ID. Check the laptop before buying it.
Once all the above is taken care of, the remaining specs and features will automatically fall into place.
Best laptops for stock trading
Medium-Range Laptop with a Durable Structure
Lenovo IdeaPad 3 17.3-inch Screen Laptop
Check Price
Featuring a 17.3-inch screen, the Lenovo IdeaPad 3 appeals greatly to stock traders who wish to analyze the movement in the market using a large screen. The device comes in another variant that has a 14-inch-wide screen. The design of the laptop is quite simple but should work well for those who plan to carry it to their office. Apart from professional use, the laptop has several features that make it suitable for personal use. It comes with 8GB of RAM and offers 512GB of storage space.
It is powered by an AMD Ryzen 5 5500U processor that enables the device to work at a very high speed. The CPU offers a processing speed of 1.1GHz and ensures the system does not slow down even when you decide to execute multiple tasks together. The laptop comes with several advanced features like Eye Care which makes sure your eyes don't get strained even if you use the device for longer hours. The Noise Cancelation feature works towards canceling background noise.
A suitable option for those looking for a laptop with a very large screen.

It is also recommended for individuals who are into stock trading and wish to invest in a laptop that can be used for several hours at a stretch.
Updated technology

17.3-inch display screen

Adequate storage space

Fast-performing processor
Moderate battery life

Brightness levels could be higher
17.3-inch Display Screen Laptop Featuring A Classy Design
HP Intel Core i3-1115G4 Processor Laptop
Check Price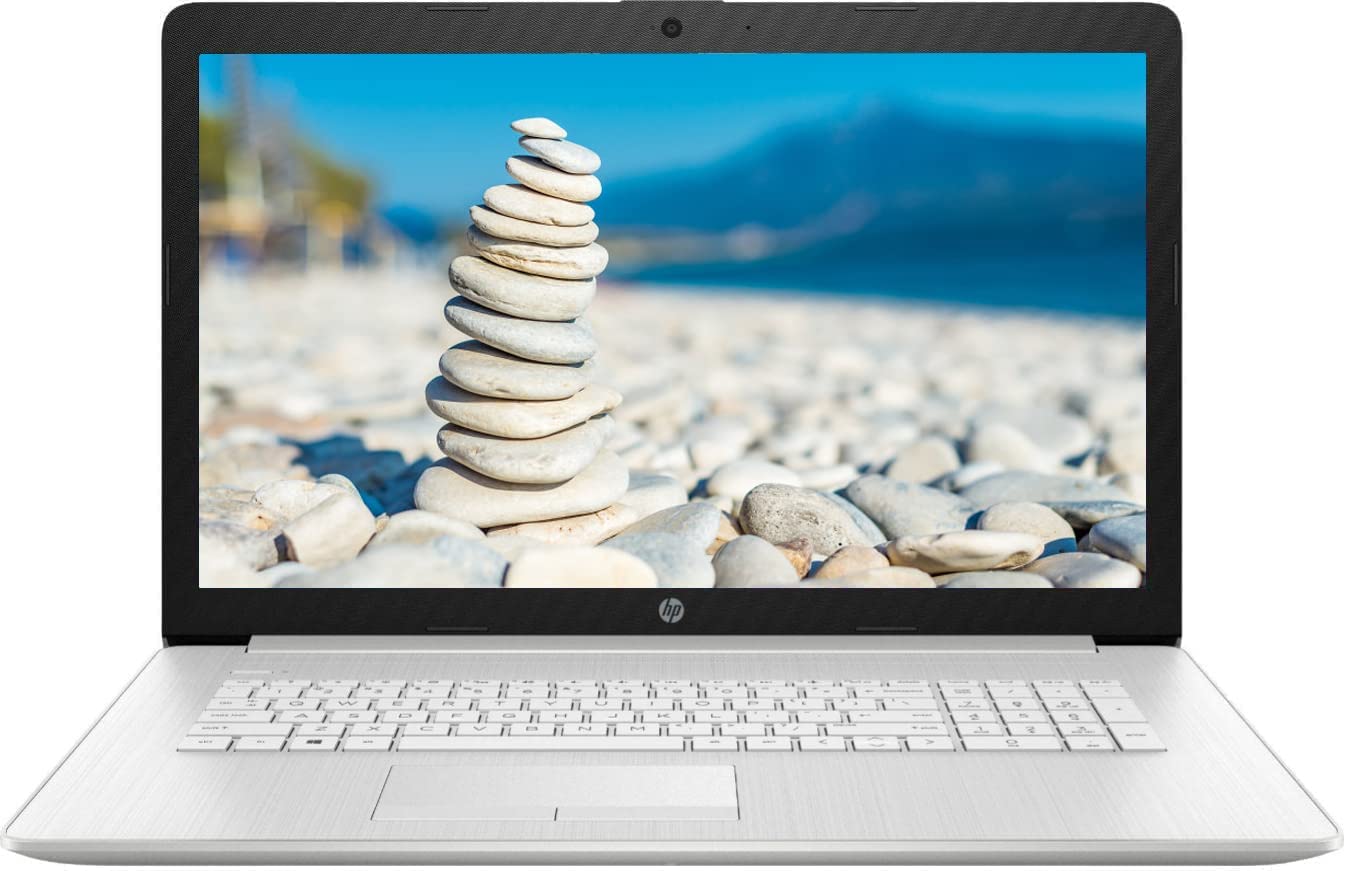 One of the things that makes this laptop highly desirable is its 11th Gen Intel Core i3-1115G4 processor, which offers a speed of 4.1GHz. The processor also boasts Intel Turbo Boost technology, and you can be sure about it registering high efficiency at all times. It comes with high-end features that help you get a lot of important work done without stepping out of the home. Apart from offering great accuracy, the device is highly responsive to commands.
The laptop features a 17.3-inch wide diagonal screen that produces high-definition images and offers great clarity. Apart from helping one keep a tab on the stock market, the screen is also highly suitable for watching movies and browsing the internet. Since the device has proven itself to be energy-efficient, it is preferred by a large number of people who are conscious of the environment and keep a tab on the energy consumed by their devices.
Highly recommended for those looking for a laptop device featuring a large and vibrant display screen.

Also a suitable option for anybody whose top priority is high-speed performance.
Stylish design

Energy-efficient

Fast performance

Large display screen
No optical drive

The screen is not touch-enabled
14-inch Screen Laptop with 512GB Solid State Drive
Asus VivoBook 14 Intel Core i3-1115G4 Laptop
Check Price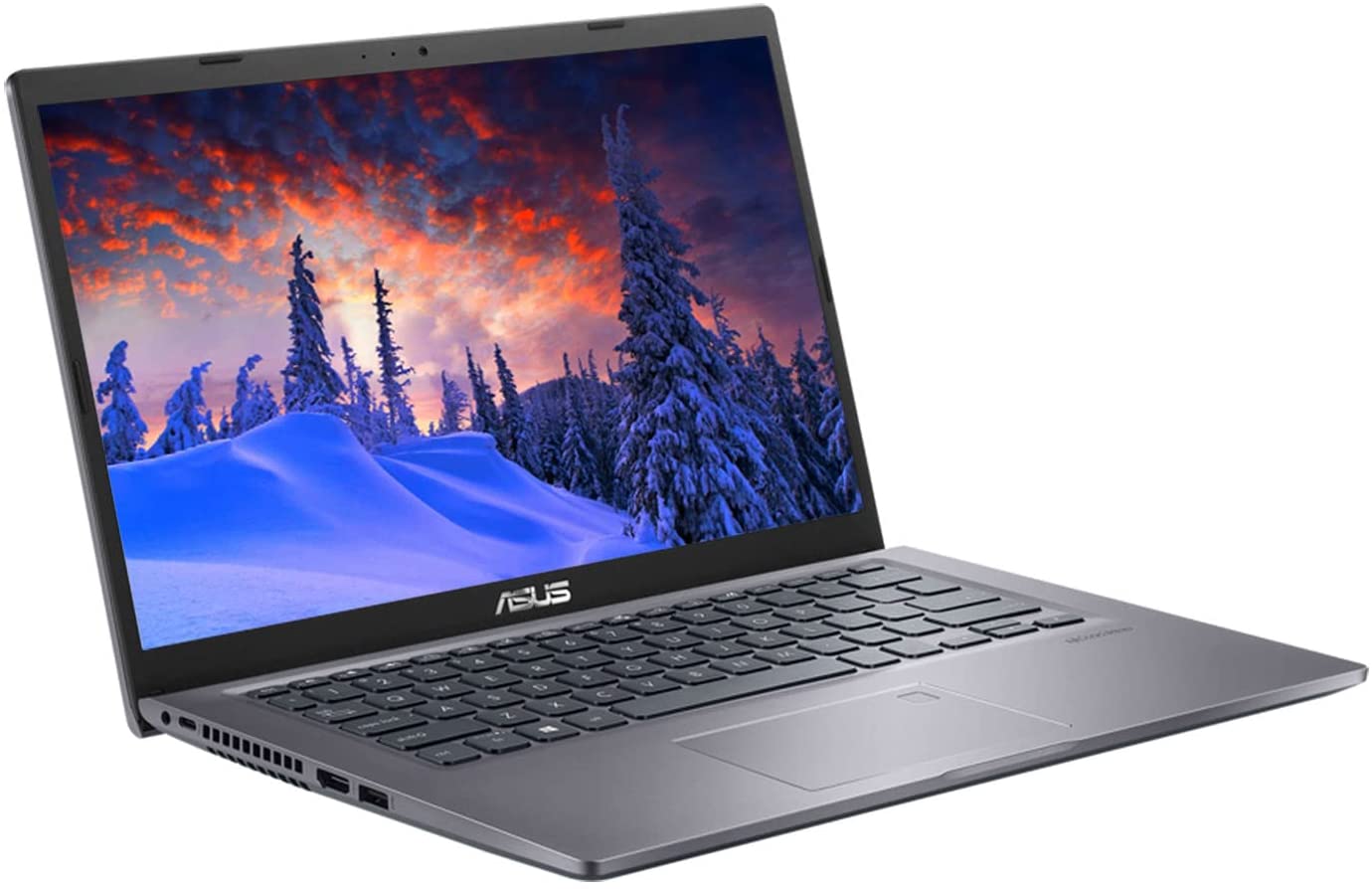 Asus VivoBook is widely renowned for the vibrancy offered by its screen. The display screen offers a resolution of 1920x1080 pixels and serves the purpose of checking out the stock market very well. The screen is equally suitable for consuming multimedia content. There are very few 14-inch laptops that offer the kind of image clarity it does. The body of the device is made of high-quality plastic that makes it look sturdy.
The device comes equipped with an Intel Core i3-1115G4 processor that ensures it runs smoothly and does not suffer from any lagging issues. The speed exhibited by the device can also be attributed to the fact that it features a 512GG solid-state drive. Even if you are used to storing a large amount of data on your laptop, you can be sure about never running out of storage space. Closer to the trackpad, you will find a very responsive fingerprint sensor.
It proves to be a good option for those who wish to invest in a laptop that comes with a super-fast processor and offers a good amount of storage space.

It is also recommended for those who are particular about buying a laptop with a 14-inch-wide screen.
Robust processor

Compact structure

Sharp display screen

Sufficient storage space
Average audio output

Inadequate battery life
Budget-Friendly Laptop with Strong Connectivity Features
BiTECOOL 14-inch High-Definition Screen Laptop
Check Price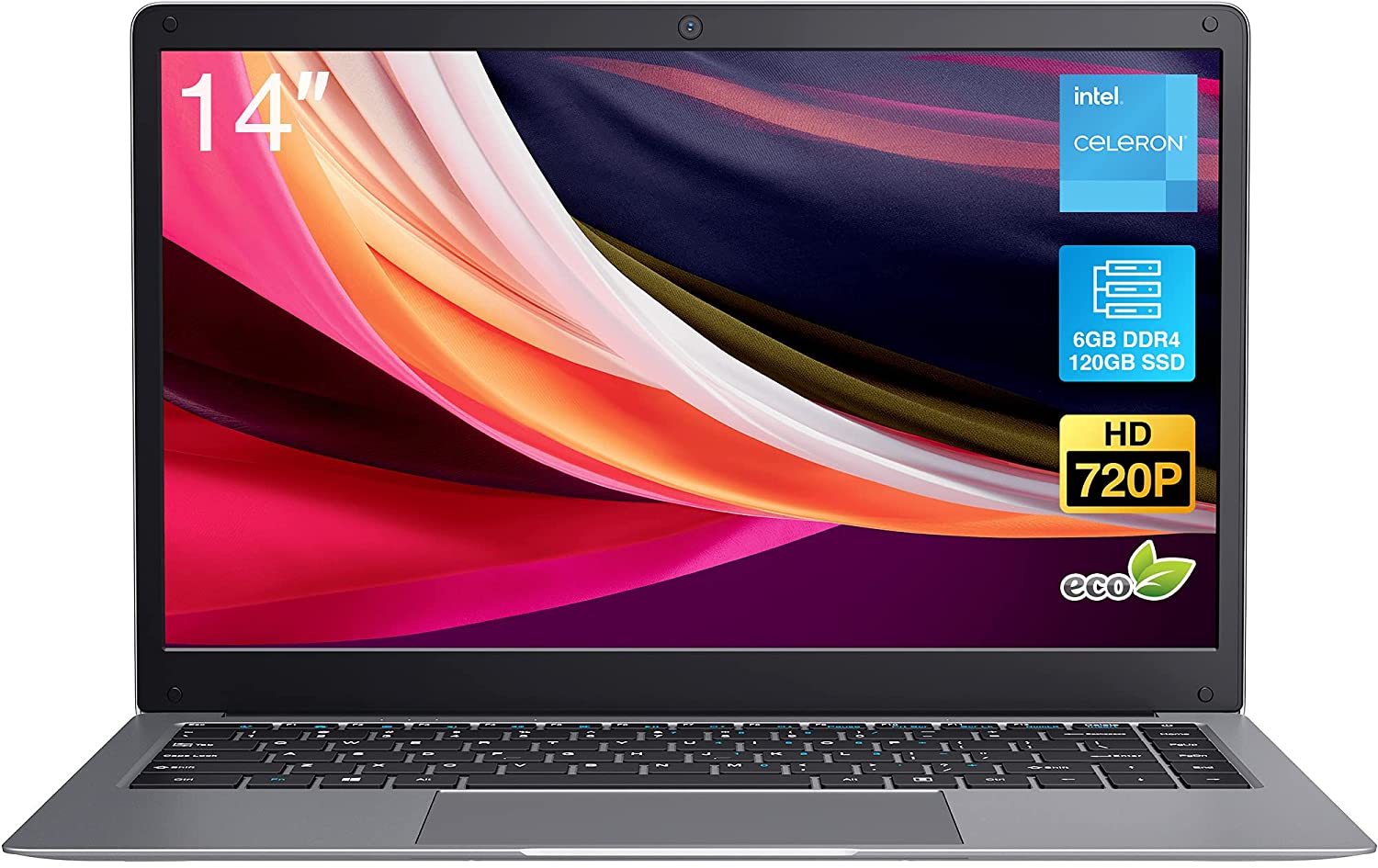 Though BiTECOOL is not the most popular brand, this particular laptop manufactured by the brand boasts excellent functionality and efficiency. The device features a 14-inch display screen with a resolution of 1366 x 768 pixels. The laptop comes with 6GB RAM and a 128GB solid-state drive that takes care of your storage requirements. You have the option of expanding the memory up to 1TB with the help of a microSD card.
The Intel Celeron J4005 CPU offers a processing speed of 2GHz, which is fair for a budget device. The device offers an array of connectivity options, including a 3.5mm headphone jack. At 2.7lbs, the device is very light and can be easily carried along during personal and professional trips. The bezels, too, are quite thin. For a budget device, the batter proves to be quite long-lasting. When optimally charged, the battery offers a runtime of 9 hours.
Why You Should Buy This?
A good option for individuals starting their career as a stock trader and planning to invest in a moderately priced laptop.

It is also recommended for those who like to connect multiple peripherals to their laptop while working.
Pros
Lightweight structure

Adequate battery life

Expandable storage support

Multiple connectivity options
Cons
Lacks premium features

Audio output could have been better
Moderately Priced Laptop That Offers Great Functionality
Asus Chromebook CX1 11.6-inch Nano Edge Display Screen Laptop
Check Price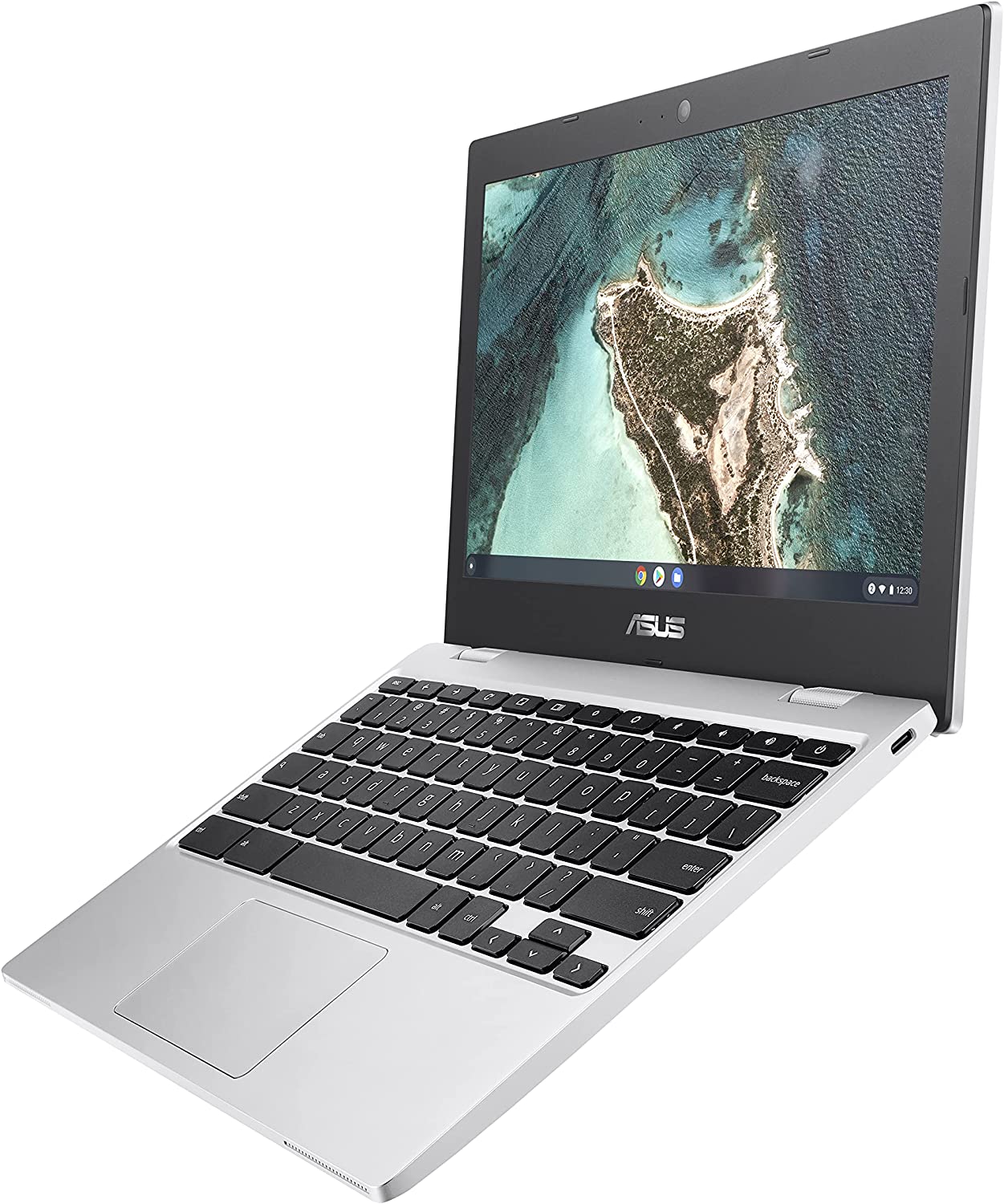 The Asus Chromebook CX1 can last for as long as 12 hours when optimally charged. The laptop is made of durable components that assure you of long-lasting usage. The biggest selling of this device, undoubtedly, is its pricing. It has been designed to cater to those looking for a budget-friendly laptop. Despite being an affordable laptop, it is equipped with several features you would expect to find in a more expensive device.
The laptop runs on the Intel Celeron N3350 processor, which is quite powerful and lends the device good speed. Apart from a bunch of connectivity ports, you get a 3.5mm headphone jack and a microSD card reader. When you buy this device, you get 12-month-long access to Google One. You can create a backup for all your important files, documents, and pictures on the internet. Since the device runs on Chrome OS, you will find a plethora of Google apps on it.
A good option for stock traders who are on a budget and need a laptop that can help them carry out their professional tasks with utmost efficiency.

It is also recommended for those who wish to invest in a very compact laptop device that can be carried around without facing any difficulty.
Portable

Strong battery life

Powerful processor

Good connectivity support
The processor requires an upgrade

Display quality needs to be improved
Affordable Laptop with Long-Lasting Battery
BiTECOOL 120GB Solid State Drive Laptop
Check Price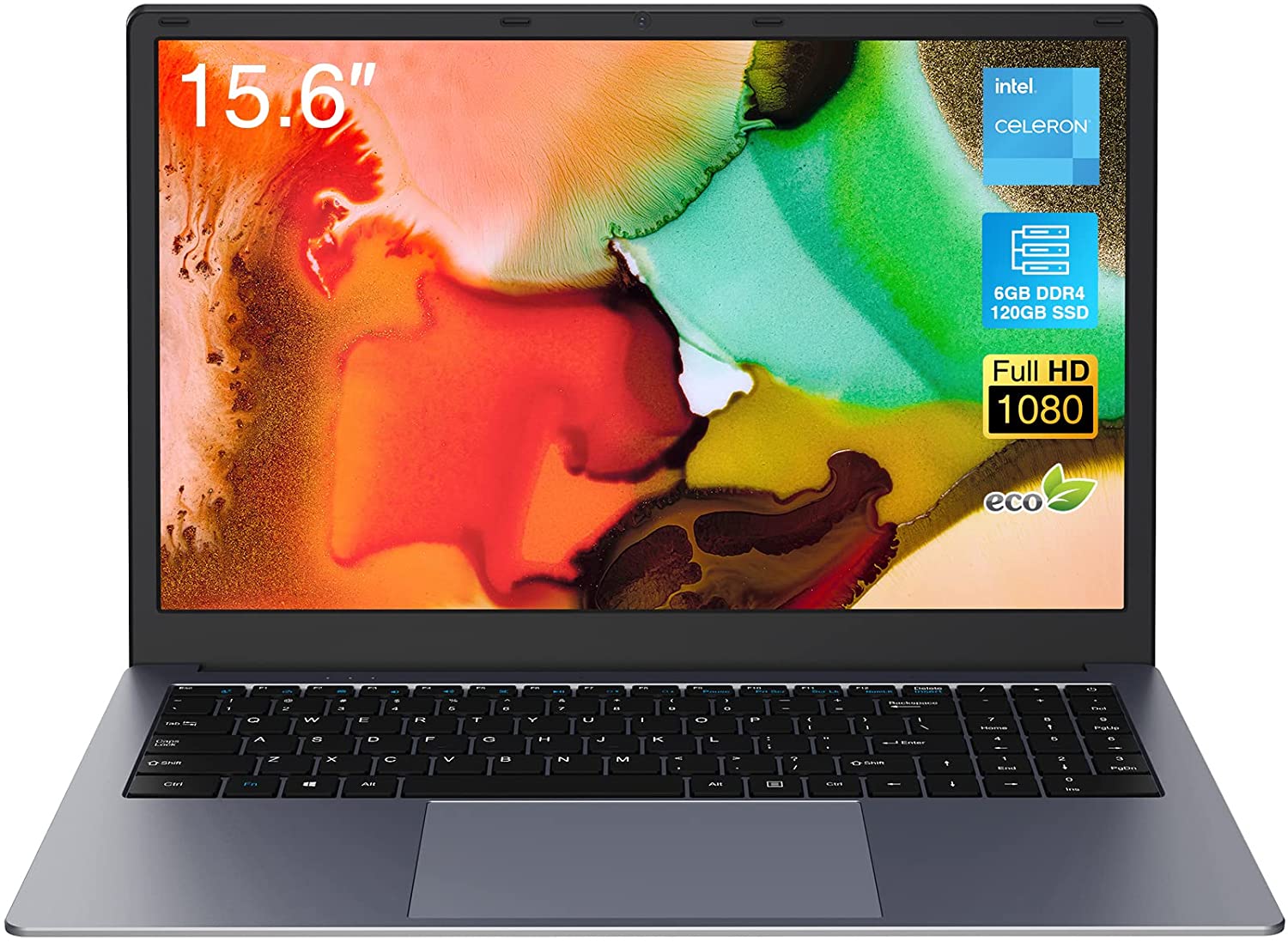 Laptops manufactured by BiTECOOL are known to be budget-friendly, and this one is no different. It has several features that a person engaged in stock trading would find useful. The laptop features a 15.6-inch display screen that does a fairly decent job of reproducing images. The device offers a good battery backup, so you can travel with it without any worries. The laptop's total weight is 2.7 pounds, which is another indicator of how portable it is.
Unless you keep adding data or files to your laptop daily, you should be okay with the 128GB SSD storage space it provides. Despite being a budget laptop, it comes with a CPU with a processing speed of 2.7GHz. The device functions most efficiently and does not throw up any lagging issues. The thermal management capacity of the device is quite good. So, you can use it for long hours without getting stressed out.
Why You Should Buy This?
An ideal option for those looking for a 15-inch screen laptop at a very affordable price.

It is also recommended for individuals who are planning to invest in a budget-friendly laptop that offers good battery support.
Pros
Economical pricing

Lightweight structure

Adequate battery support
Cons
Not suitable for high-end gaming
A Lightweight Laptop with a Brilliant Display
Asus VivoBook 15 Thin and Light Laptop
Check Price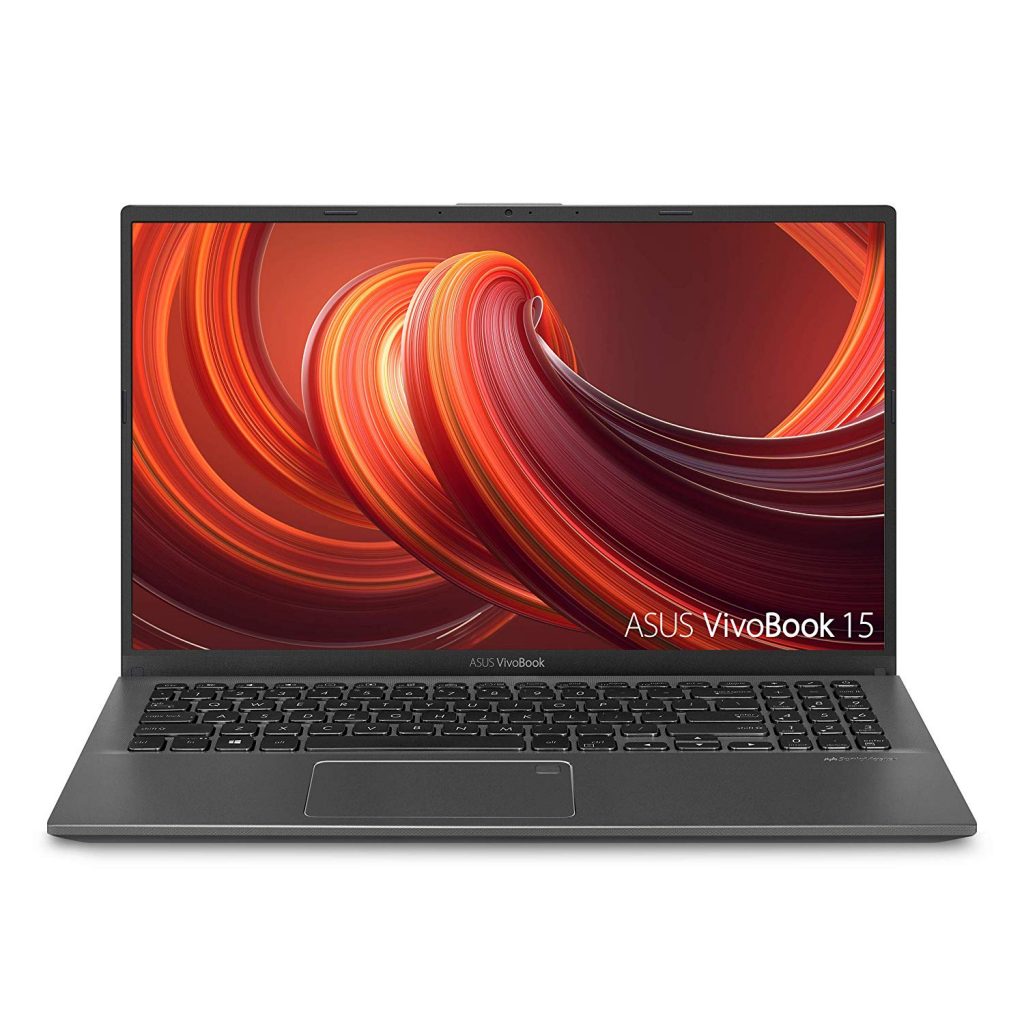 The best display is mandatory for a serious stock trader because you will mostly be staring at it for 12 hours a day or more. The Asus VivoBook 15 wins big in this area because of its near bezel-less design and the large 15-inch display that is magnificent. It is easy on the eyes. Combine it with the new Windows 10 dark mode, which can help you reduce eye strain. The bezel-less Full HD display lets you view more content on the screen without any intrusions and keeps track of them all.
Another selling point of this product is its lightweight design. The laptop weighs just 3.5 lbs, and you can easily carry it around in one hand. The slim and lightweight design will come in handy if you are doing stock broking while handling other businesses and are always on the move. The product is powered by an AMD Ryzen 5 quad-core processor with 8 GB RAM and 256 GB SSD.
The large SSD storage allows you to keep many files in the local drive and access them quickly. The SSD is not prone to any OS malfunction, even if the laptop is moved around a lot. The keyboard is backlit, so you can use it in the dark to glance into the stock charts, candles, and the status of your shares. There are plenty of connectivity ports, and it also supports Wi-Fi AC. The fingerprint reader provides an additional security layer.
What Makes the Asus VivoBook 15 a Good Choice for Traders?
The display is bright, bezel-less and ideally allows you to view stock trades easily.
The fingerprint sensor helps secure Windows login to safeguard your investment and privacy.
Recommended For:
For stock traders needing an extra security layer, the Asus VivoBook 15 Thin and Light Laptop is best recommended.
It functions with a fingerprint sensor that you can use as a way to log in to websites, into Windows OS and other apps.
Durable Laptops for Stock Traders
Asus Zenbook 14 Ultra-Slim Laptop
Check Price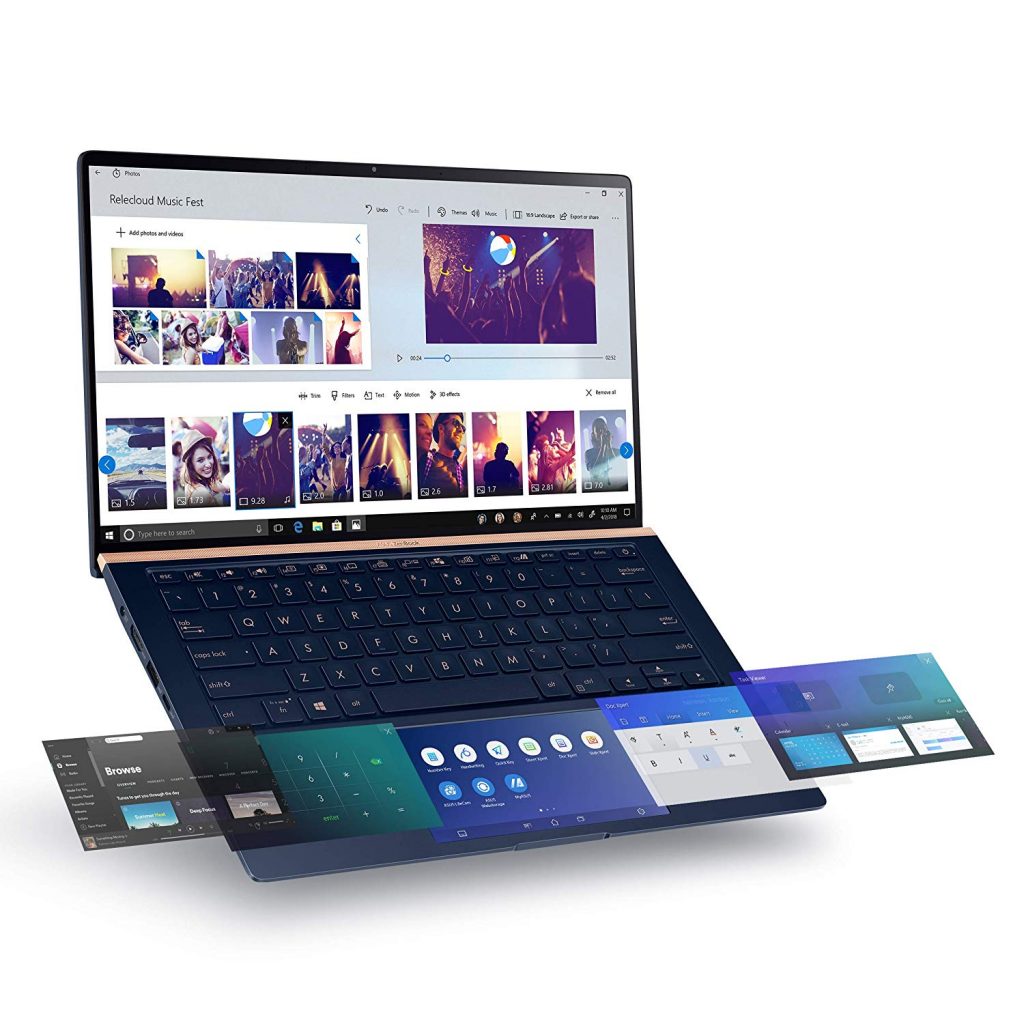 The Asus Zenbook 14 has lots of innovations from the company. For people who love something new, this premium laptop is ideal. The advantage that a trader will gain is the intuitive 5.65-inch touchpad at the bottom of the keyboard. You can instantly switch between multiple apps using hand gestures and use it as a secondary screen for the primary display.
When trading stocks, there are many moments where you have to take down notes in your handwriting. Some people use an Apple Pen or stylus, which can be used on their tablets. However, very few laptops allow you to do it on the trackpad directly. The ZenBook, however, is designed to support this new feature so that you can take notes.
The 14-inch HD display combines powerful internal specs, including an i7 processor, 16 GB of RAM, and 512GB of SSD storage space. The trackpad is responsive as it can be used to display the number keypad so that you can quickly enter numbers. For stockbrokers and trading professionals, it is quite useful if you work on an Excel sheet.
What Makes the Asus VivoBooks Ultra-Thin and Portable Laptop Unique?
The longevity of this laptop is great, and stock traders can use it all day long as it has cooling capabilities to maintain the optimum temperature.
The laptop uses a large trackpad that improves productivity.
Recommended For:
Stock traders are keen on productivity and want the very best experience.
The large trackpad is handy for computing, handling numbers, and stock software programs.
It is easy to use and quick to jump between apps.
Overall, the Asus VivoBook S Ultra-Thin laptop has a premium finish ideal for elite traders.
A Budget-Friendly Laptop with a Touchscreen
HP 17.3-inch Touchscreen Notebook Laptop
Check Price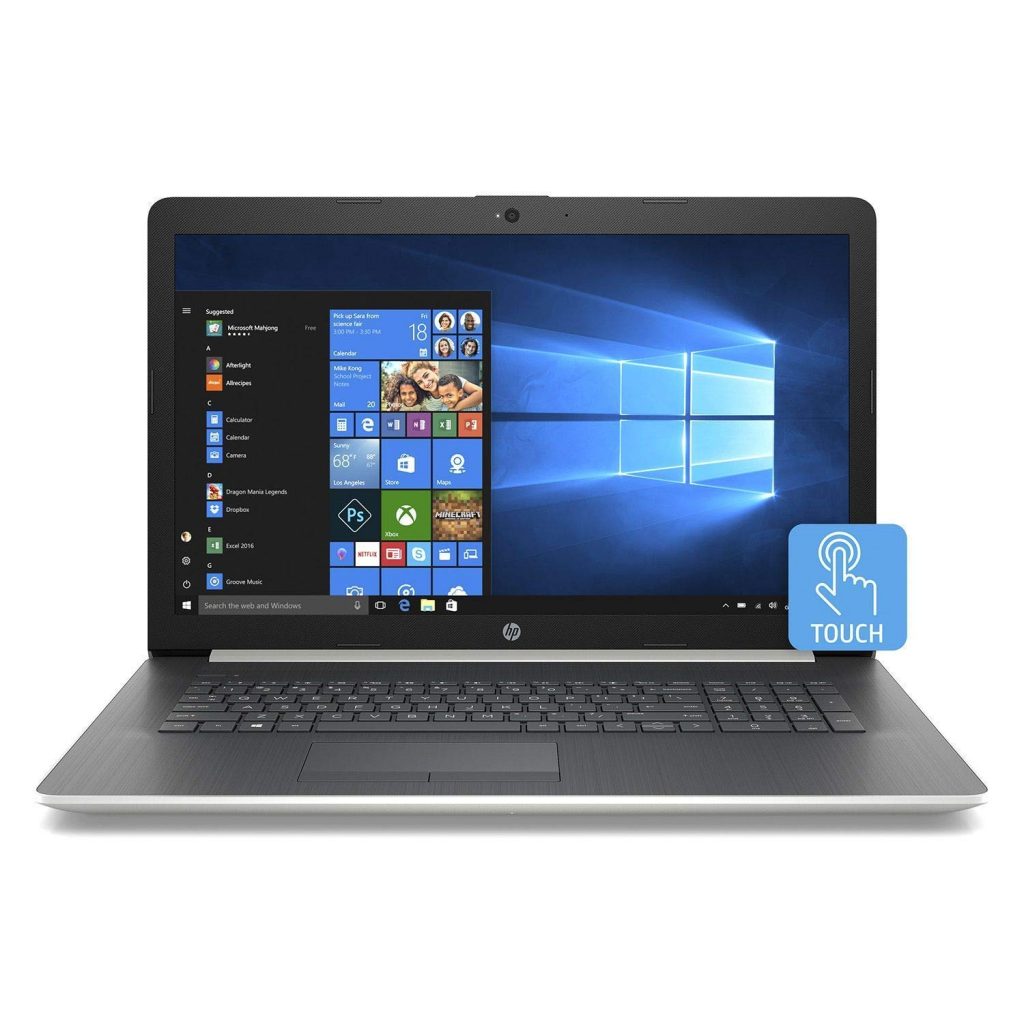 Touchscreen laptops go a long way in making life easier for professionals who are involved in dealing with the stock market. The Windows 10 stock app is just one of many interface programs. You no longer have to browse through different tabs manually but can switch using your fingertips. The HP 17.3-inch laptop has a large enough display to favor usage.
The laptop is powered by an AMD Ryzen 5 A9 processor with an AMD Radeon R5 graphics card. Many stockbroking applications use a graphical user interface to make it easier to manage multiple stock investments. The graphics card will help handle it efficiently, while the ample 12 GB of RAM and the large 1TB hard disk will make it all the more productive.
The HP laptop uses fast Wi-Fi AC connectivity for faster download and internet browsing speeds. The design is innovative, but the WLED Backlit display is great for work and entertainment. The laptop runs on a Windows 10 operating system designed for touchscreen usage, and you can also comfortably download all your apps from the store.
What Makes the HP 17.3-inch Touchscreen Notebook Laptop Desirable?
The touchscreen capability allows you to handle stock trading apps easily.
It is affordable for most stock traders and normal users.
Recommended For:
Stockbrokers who need to switch between multiple apps quickly use connectivity ports to transfer content while staying within their budget.
The HP 17.3-inch Touchscreen Notebook Laptop stands out in terms of performance and touchscreen intuitiveness and is priced right.
A Compact Convertible That's Affordable
Lenovo Flex 11 2-in-1 Convertible Laptop
Check Price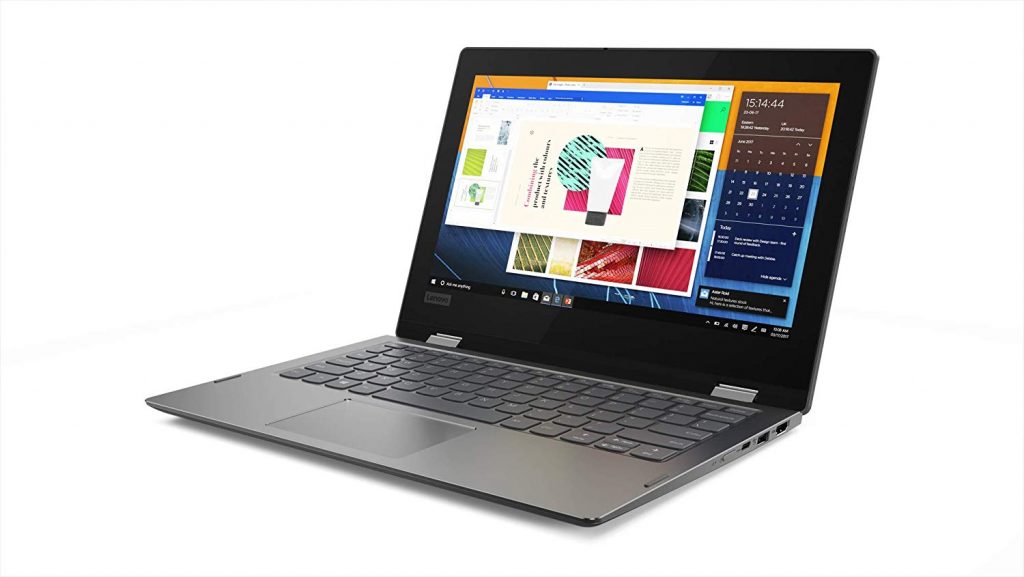 If you are a newcomer to the world of stock trading, there are some expectations from your first laptop. The Lenovo Flex 11 is a convertible which is quite affordable for most as it costs only about $300 and delivers great value for money. Besides, you can't carry a large laptop around when you're on the move, be it on the go to work or to trade in the stock market.
The smaller 11.6-inch display comfortably meets the requirements by being super-easy to carry around. The product weighs 2.75 lbs, meaning you will not even feel that you're carrying it around in your backpack. Despite the small size, it has many connectivity ports, including an HDMI, USB Type C, USB 3.0, and a card reader allowing you to connect to many devices, including an additional hard disk if needed.
The compact display lets you view all your trading content on the screen, while the Intel Pentium processor with 4GB of RAM and 64GB SSD keeps it responsive. The storage can be extended with an SD card or an external hard drive. The laptop uses an anti-glare display that makes it easy to use in bright sunlight. It also supports Dolby audio for superior sound reproduction.
What Makes the Lenovo Flex 11 2-in-1 Convertible Laptop Excellent?
The pricing is a huge plus for this product.
It has a small display and lightweight design making it exceptionally portable.
Recommended For:
For Stock traders looking for the best laptops for stock trading, this is a compact and easy one that can be carried around comfortably.
It is lightweight, has a decent screen, and has all the connectivity ports to stay productive wherever you go.
Frequently Asked Questions
Can I load special software for stock trading on the laptop?
Yes, you should be able to load any additional software you require for stock trading on the laptop you have purchased for this purpose. Most laptops come preloaded with Windows 10 Home editions. Software compatible with the Windows environment will run smoothly on the laptop. You must ensure that the software is from a reliable source and is free from malware.
Can I play games on my laptop for stock trading?
Playing games on the laptop for stock trading is not a problem as long as the specifications match the requirements for playing the game. Where the game cannot be played, you will normally receive an alert on the screen that the game is not compatible with this machine. The game's profile will describe the minimum requirements on the computer to play the game.
Is onboard storage important in the laptop for stock trading?
Onboard storage is important for any laptop. If your question is: do you need extra storage capacity in laptops for stock trading, it depends on the user. If you create large documents frequently and store them on your laptop, then the storage requirement can be higher. You would then need at least 1TB of storage memory. You can use external disks and cloud storage as backups if you require additional storage.
Is the battery life affected due to long hours of using the laptops?
All batteries have a terminal life, and you must replace them. If you keep charging and discharging the laptop battery frequently, you will find its life shortened. Connect your laptop to a power source if you are in a place where you can. This will increase battery life overall.
I accidentally dropped my laptop and the display is damaged. Can it be replaced?
You can approach an authorized service center and have your laptop checked if only the display panel is damaged. If the machine is otherwise functional, you can ask the technician just to replace the display panel. It will work fine after that. Check if accidental damage is included within the warranty period and check if accidental damage is included. You can then get the damaged display panel replaced free of cost.
Bottomline
Choosing the best laptops for stock trading is simplified with the list given above. The touchscreen display will surely come in handy as you can comfortably swipe between apps. Some laptops are convertible, and a stylus lets you take notes, mark stock changes and do your trading better when in tablet mode. The expensive laptops are ideal for professional traders, whereas the $500 or lesser products are a great solution for those still in their early stages of stock trading from home or on the move.