Featured in this article (opens in new tab)
Most online shoppers are looking for monitors that offer excellent image quality and compatibility, combined with a reasonable price. It can be challenging to find all these features from devices now available on the market. Many users also want screen-supported gaming and professional activities.
Are you looking for the best gaming monitor for under 150 dollars? A lot of your gaming experience depends on the monitor you choose. With the right speakers, you can enjoy an incredibly immersive gaming experience if you have a good monitor. This is why choosing the right monitor makes a huge difference. If you want to enjoy your gaming experience and you are hoping to buy a decent monitor for $150, then we have a few options that you can consider.
Buying Guide
Consider the following while buying a gaming monitor
Fast response rate
Built-in speakers
Blue light filter to protect the eye
HDMI and VGA cable connectivity
Compact with adjustable stand
Full HD display resolution
Stylish design
Compatibility with devices
Here are some top gaming monitors at reasonable prices. Lag can be a serious issue when playing spoilsport to your gaming excitement, so speed should be your priority. The technology used in the following monitors is made for ease of use so that gaming can become truly effortless and enjoyable. Invest in superior technology without spending a fortune!
If you're looking for one of the best gaming monitors under $150, check out product features and specifications in this guide.
See also: Top best lightweight laptops
Best Gaming Monitors Under $150
A 24-Inch Curved Gaming Monitor with a Fast Response Rate
Curved Gaming Monitor (24 Inches) by Sceptre
Check Price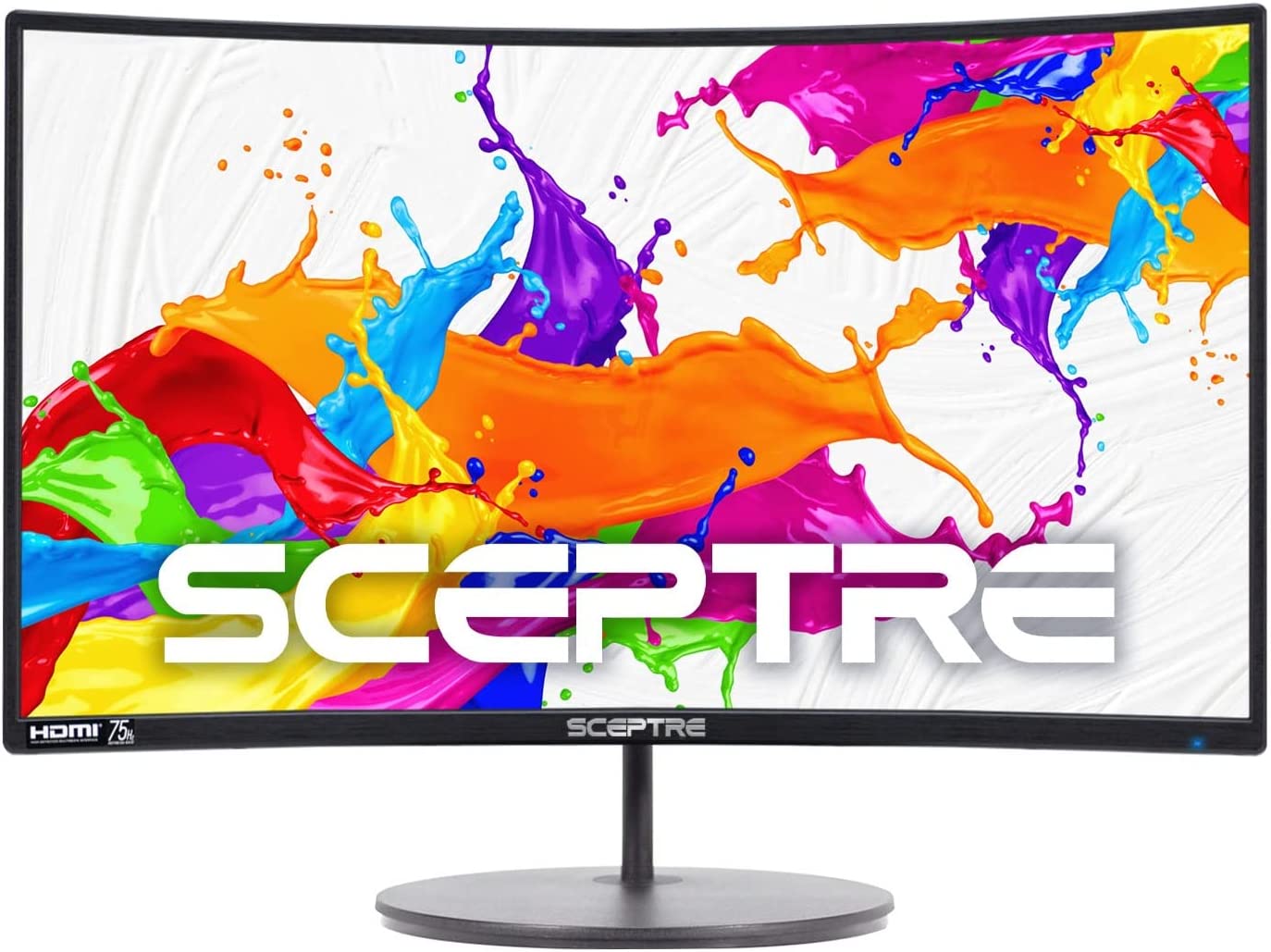 This gaming monitor's 1500R curved display and design are dedicated to meeting the requirements of gamers. With these features, you can get an insight into the opportunities and threats. Knowing these aspects will enable you to formulate the best strategy for beating your opponents. What makes this product a real deal is its fast response time, with which you can better focus on the screen without blurring and ghosting.
It offers a detailed appearance of colors that look visually pleasing to the eye. Its two distinct ports allow users to connect both VGA and HDMI cables. The built-in speakers of the 24-inch monitor produce great audio output. Though designed primarily for gaming, it can also come in handy for professional work.
It has a curved display and fast response time, allowing users to focus on the game.
It lets users connect HDMI and VGA cables for gaming and professional purposes.
Excellent audio output
Fast response rate
Built-in speakers
Blue light filter to protect the eye
Doesn't have screws included in the package to mount it on the wall
An Ultra-Slim and Lightweight FHD Gaming Monitor with Adjustable Display Stand
FHD Gaming Monitor (15.6 Inches) by KPKUE
Check Price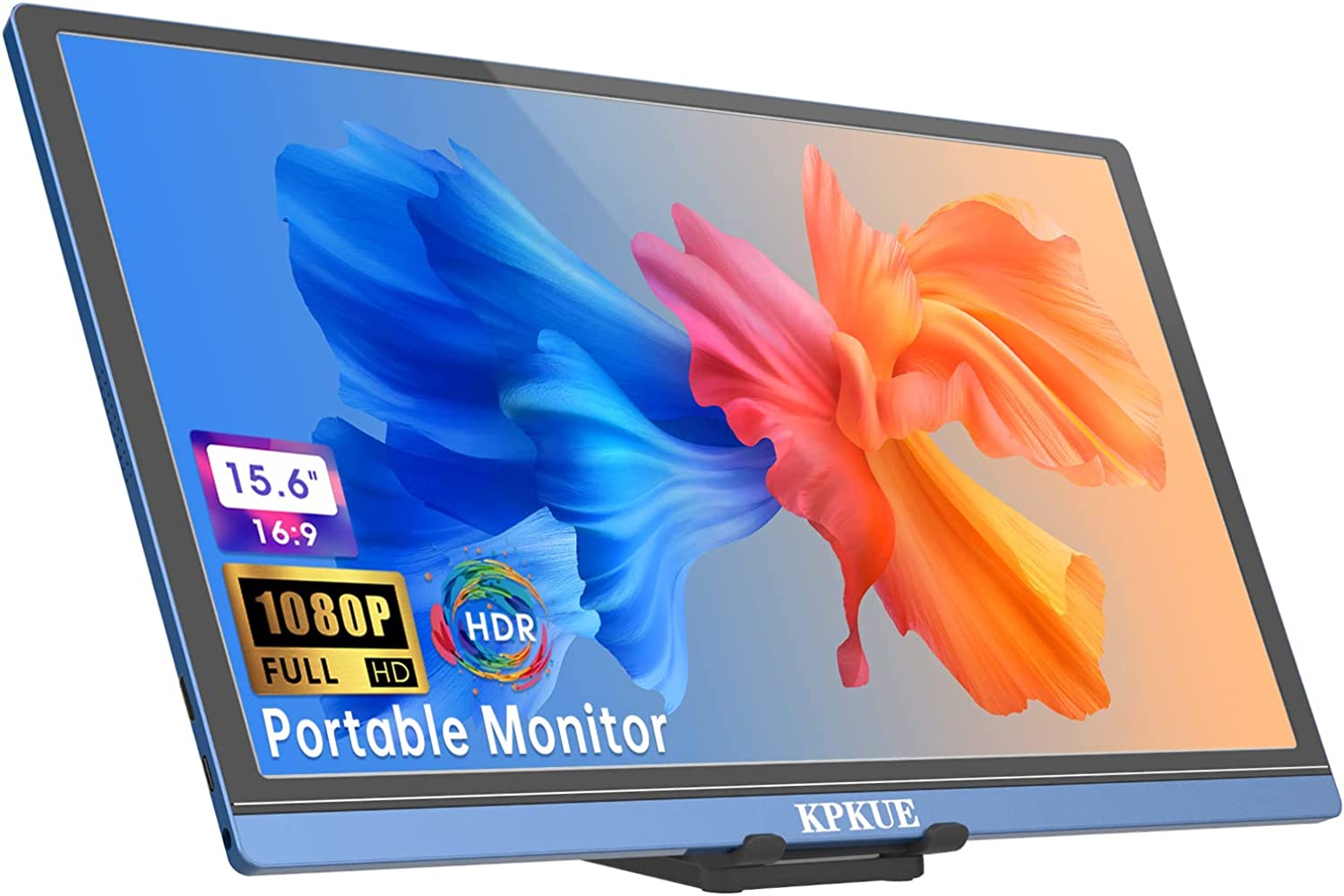 Equipped with an IPS screen, this full HD gaming monitor provides an immersive display with rich colors and the best contrast ratio for an invaluable gaming experience. The 178° viewing angles of the gaming monitor provide the best view and allow users to share the monitor's display with multiple users.
Also, the monitor has an excellent display rate of 60 Hz to provide a vivid view. It is both ultra-slim and lightweight. As a result, you can easily carry it on a traveling assignment. USB (type C) and HDMI ports make it compatible with many devices. These include XBOX ONE, Switch, PS4, PS3, smartphone, Mac, PC, and laptop. With the adjustable display stand of the 15.6-inch gaming monitor, you can adjust it to an angle for the best viewing experience.
It is an FHD gaming monitor that displays true color and the best contrast ratio for an immersive gaming experience.
It has an excellent display rate and supports HDMI and USB connectivity.
Lightweight and ultra-slim
The best viewing angle
Compatibility with different devices
Adjustable display stand
It has a weaker stand compared to the weight of the monitor
Has low brightness
A 24-Inch Gaming Monitor for Ultra-Smooth Gameplay Experience
FHD Gaming Monitor (24 Inches) by Viotek
Check Price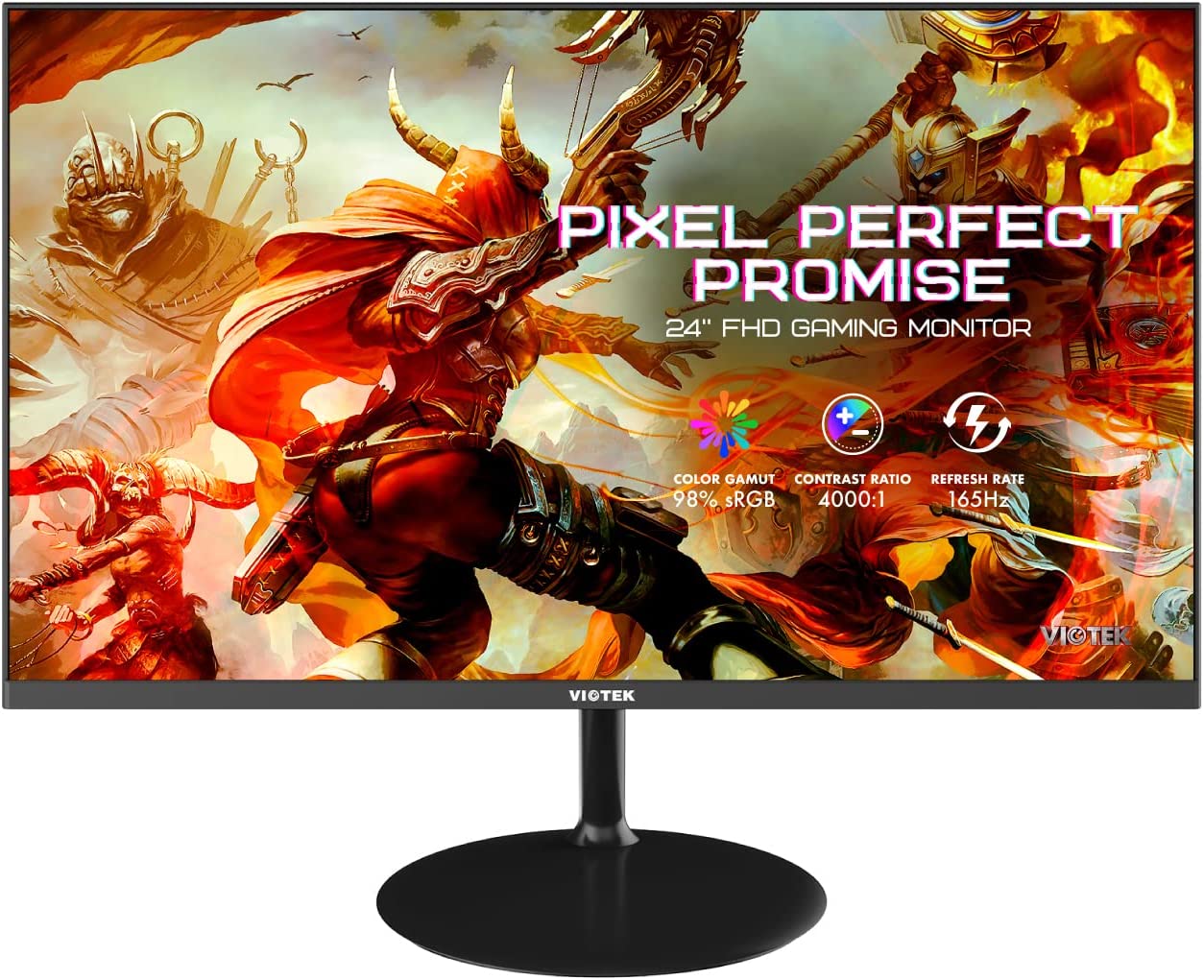 This gaming monitor provides ultra-smooth gameplay, a hyper-responsive refresh rate, and a 1080p resolution. It is ideal for playing fast-paced games due to its adaptive sync feature. This feature works well in conjunction with G-Sync and Freesync. The monitor provides a decent resolution when you use the HDMI connection. For an even better resolution, you can connect it to DisplayPort.
The best part about the gaming monitor is that it works well with other devices. These include home theater systems, laptops, and game consoles. The edgeless and slim design of the monitor adds flexibility. You can carry it easily as it is lightweight.
It has a 1080p FHD display and a good refresh rate to provide a smooth gaming experience.
It is lightweight and has an ultra-slim stylish design.
Ultra-smooth gameplay experience
Compatibility with a wide range of devices
Has several port options for connectivity
It shows up ghosting issue
Lags in displaying pictures at times
A 23.8-Inch Gaming Monitor with High-Quality Display
FHD Computer Monitor (23.8 Inches) by HP
Check Price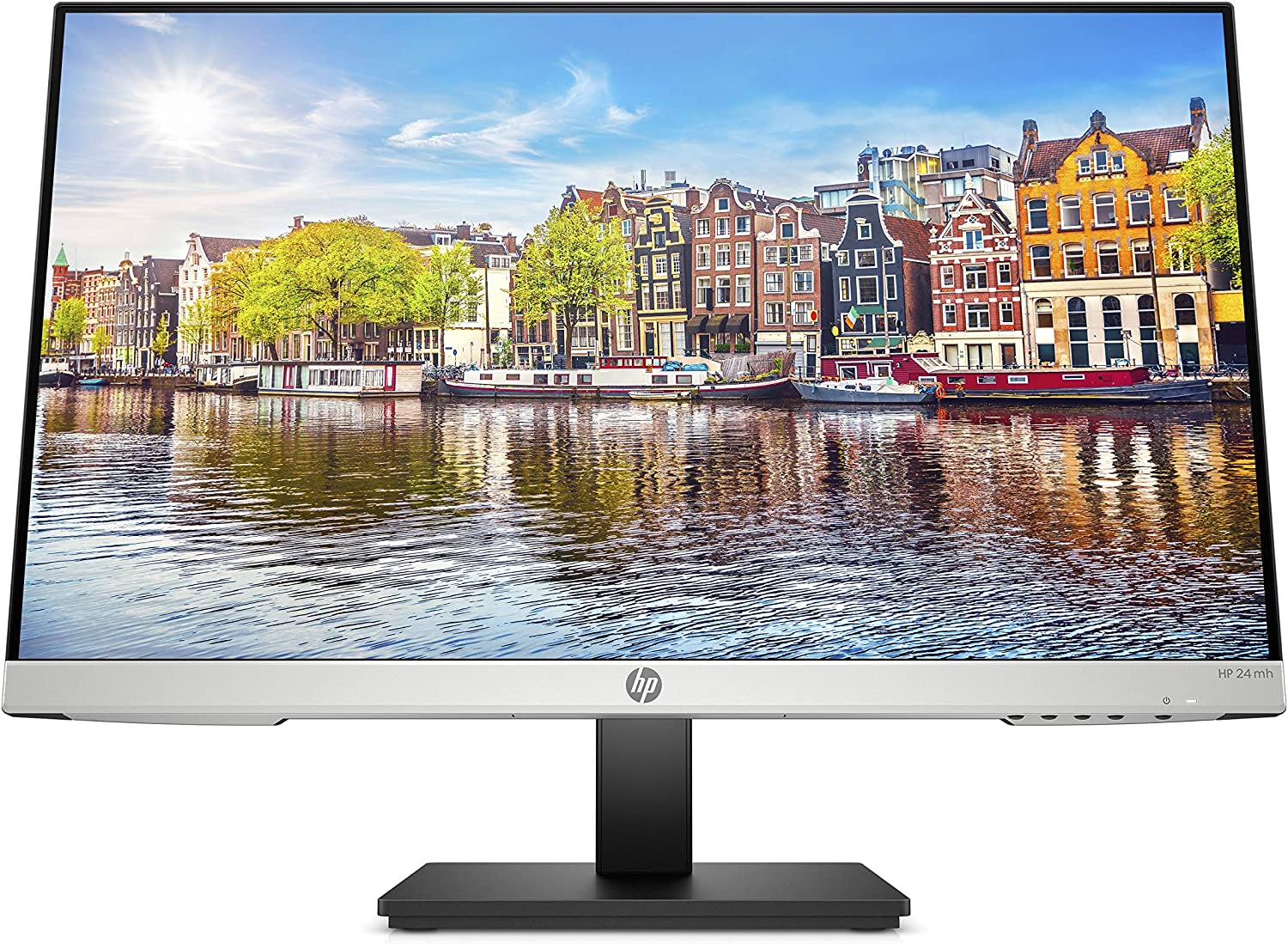 With quality display and brilliant visuals, this gaming monitor accurately displays pictures. Due to its wide-viewing spectrum, it is compatible with mobile devices and tablets. Given its ultra-slim design, it fits comfortably even on desks with little space. It can display images horizontally and vertically at 178° angles, so you can view clear images consistently. You can bank on its micro-edge display to set it up seamlessly in multiple setups.
It has VGA and HDMI ports along with a DisplayPort for easy connectivity. Thanks to its two built-in speakers, you can expect an outstanding audio output. The low blue light feature of the 23.8-inch gaming monitor puts less strain on the eyes even if you work with it for a long time.
Why Should You Buy This?
It offers a high-quality display with great visuals and a comfortable viewing experience.
Its design makes it an ideal product to fit into all setups without occupying a considerable space.
Pros
Precise images with brilliant visuals
Wide range of connectivity options
Good audio output
Wider viewing spectrum
Cons
It has big bezels at the bottom
A 23.8-Inch FHD Gaming Monitor for Smooth Gaming Experience
FHD Frameless Gaming Monitor (23.8 Inches) by AOC
Check Price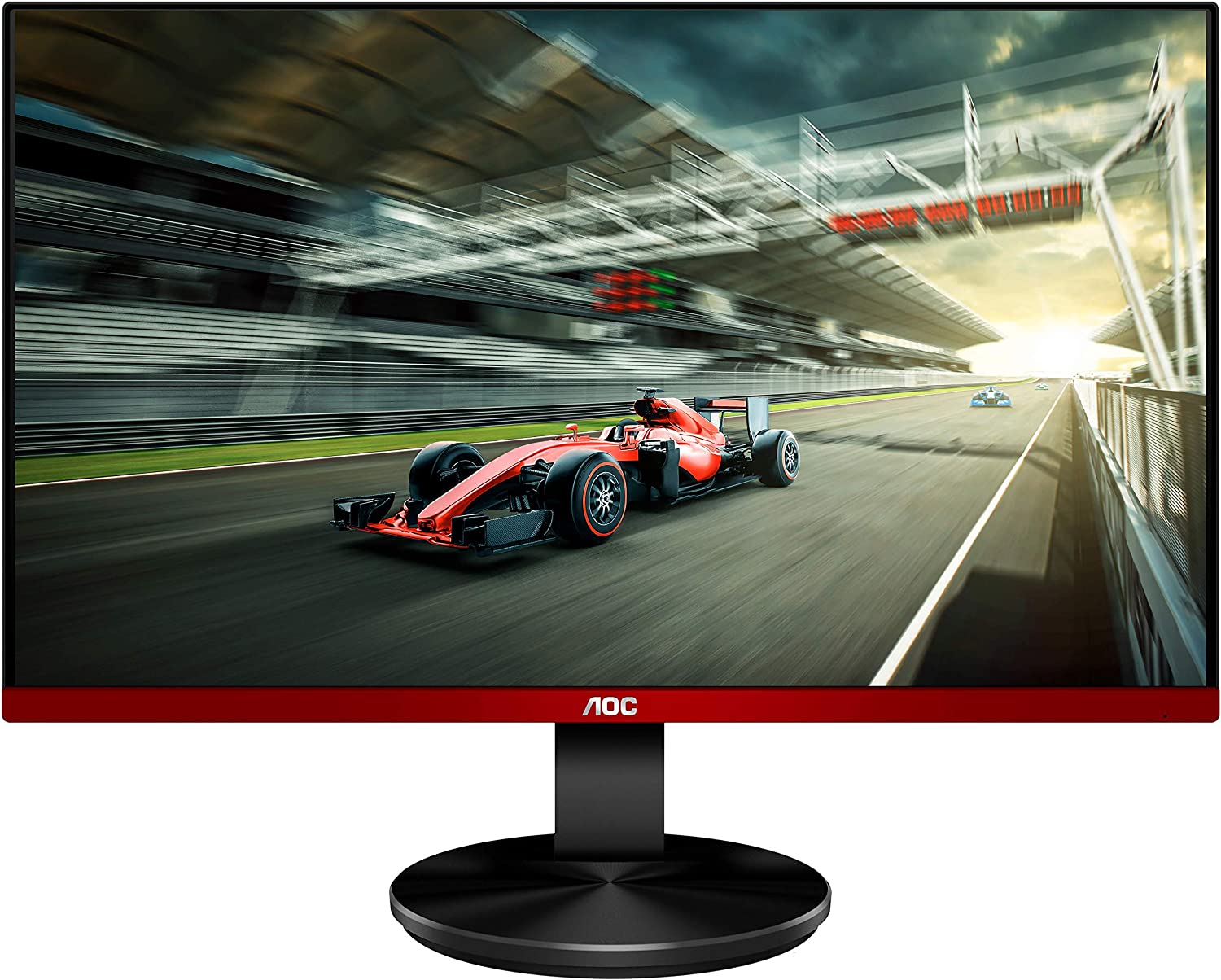 This gaming monitor provides a competitive gameplay experience with outstanding refresh rates and response times. Its 3-sided frameless design proves to be useful for a multi-monitor setup.
Look-wise, the monitor is pretty stylish, and due to its advanced VA panel, you can expect the best viewing experience. It can adjust brightness automatically, so you can expect a smooth gaming experience without any flickering. Even if you use it in conjunction with other monitors, this product's minimal bezel distraction feature will provide you with an invaluable gaming experience.
It provides the best gaming experience with its 3-sided frameless design.
It supports anti-flickering and works well even in conjunction with other monitors.
Outstanding refresh rate and response time
Stylish appearance
Advanced VA panel
Minimal bezel distraction
A 24-Inch Gaming Monitor with FHD 1080P, Blue Light Filter & Flicker-Free Technology
Gaming Monitor (24 Inches) by ViewSonic
Check Price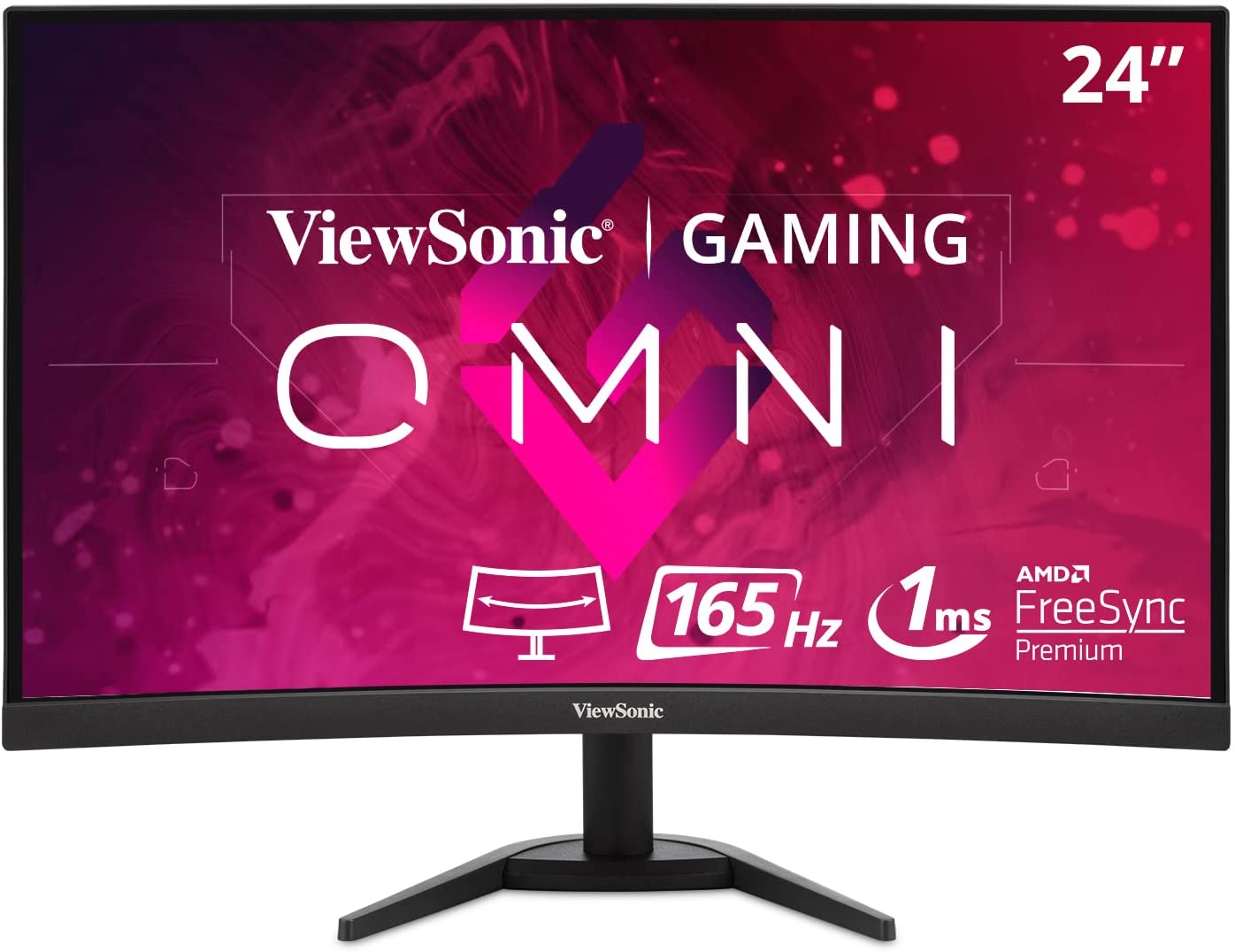 This gaming monitor is for those who prefer flexible connectivity. With HDMI and DisplayPort inputs, you can easily connect it with Macs, PCs, and laptops. Apart from FHD resolution at 1080p, the monitor can provide a panoramic view with great details. You can rely on these features for superb performance in a gaming session.
Its blue light filter and flicker-free technology let you use it for a long time without any visibility issues. You can bank on the refresh rate of the product to get a competitive edge over your opponents while playing advanced games.
Why Should You Buy This?
It offers FHD resolution and flexible connectivity options.
Blue light filters and flicker-free technology allow for a smooth gaming experience.
Pros
Several connectivity options
Full HD Panoramic view with great image details
Immersive curved screen design
Cons
Ghosting issues
It lacks the best viewing angles
You may also read: Best Laptops For Bloggers
Conclusion
Nothing can beat the excitement of a top-notch monitor for gamers, as it takes them to the next level of gaming. All the above-listed gaming monitors offer fast response times and show that you do not always have to shell out a lot of money for a good gaming experience.
You cannot expect a lightning-fast response or fantastic features such as adaptive sync at this price range. The best resolution for this price is 1920 x 1080 pixels, but this is the preferred format for gaming and other entertainment purposes. These monitors offer reasonable levels of field of view and are not yet obsolete. They typically have a refresh rate of 60 Hz and a screen size of around 24 inches, which is not so bad, considering that most professionals are comfortable with such screen sizes. As for the response time, 1 to 4 ms is considered good enough, with most of the above equipped with a 2 ms response time.
These top monitors under $150 for gaming can be considered the benchmarks for this category, so you can get your money's worth with them.
When we picked up the monitors for this list, we kept in mind the resolution, the lighting, the color balance, the reproduction of colors, and any additional features or effects. This helped us create our list of these monitors that stood out in all these points. The price was another factor which helped us choose these monitors. Keep in mind that you are looking for the best gaming monitor under $150; we have chosen monitors that perform well and do not cost too much.