Technobezz is supported by its audience. We may get a commission from retail offers
Big brands like Sony and Microsoft and Xbox have improved their gaming consoles to be in pair with the latest
Great Boy Handheld Game Console For Kids
TaddToy 3.0-inch Display Screen Gaming Console For Kids
KToyoung Handheld Gaming Console with Dual Joystick
Table of Content
Big brands like Sony and Microsoft and Xbox have improved their gaming consoles to be in pair with the latest technological trends in the industry. Of course, there are many great consoles for little ones. And if that's what you are looking for, this article is for you.
We have compiled a list of some of the best gaming consoles for kids in 2022.
Read also- Top Best Tablets For Bloggers
Buying Guide
List of Best Gaming Consoles for Kids
A Well-Designed Gaming Console with Children-Friendly Features
Great Boy Handheld Game Console For Kids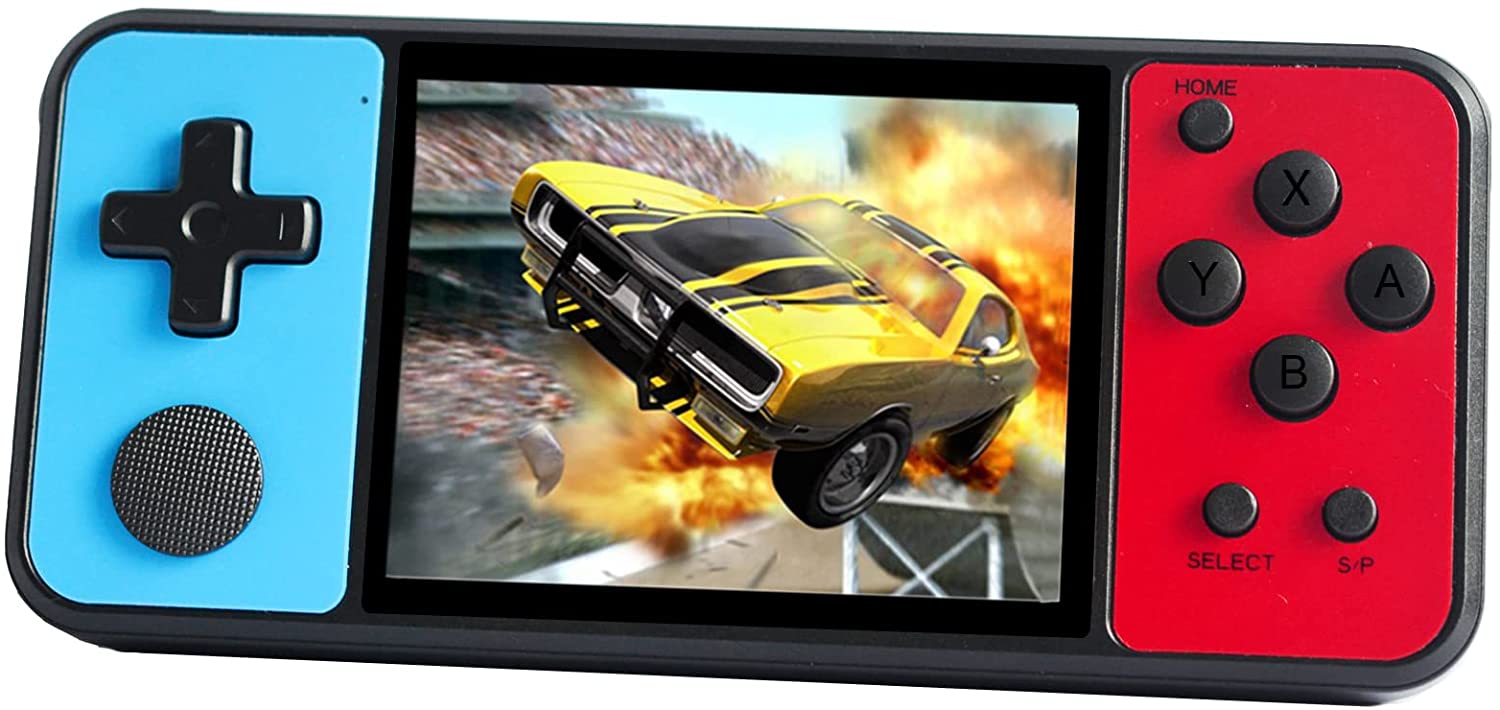 The first thing that strikes you about this gaming console by Great Boy is how attractive it looks. The design is modern and the kind that would get kids like it instantly. While the design is colorful, the keys/buttons are easy to locate. It weighs just about 120 grams, so kids would not find it difficult to handle either. The 3.0-inch screen offers good picture clarity and contributes towards making it a portable device.
If the kids in the house like the large-screen experience of playing video games, they can connect the brand-provided AV cable to their television and watch the different games unfold on a bigger screen. The device comes with a built-in rechargeable lithium battery that takes close to 2 hours optimally. On a single full charge, the battery offers a runtime of around 4 hours. A TF card, which offers you as many as 1015 classic games, is provided by the brand along with the main device.
Though the console has been designed for kids, it has the kind of features that make it quite suitable for adults as well.

If you have never used a gaming console before, this would be the right device for you to start your journey as a gamer.
Free TF card

Attractive design

Sharp display screen

Lightweight structure
Moderate battery life

Limited warranty support
16-Bit Gaming Console with 230 Preloaded Classic Video Games
TaddToy 3.0-inch Display Screen Gaming Console For Kids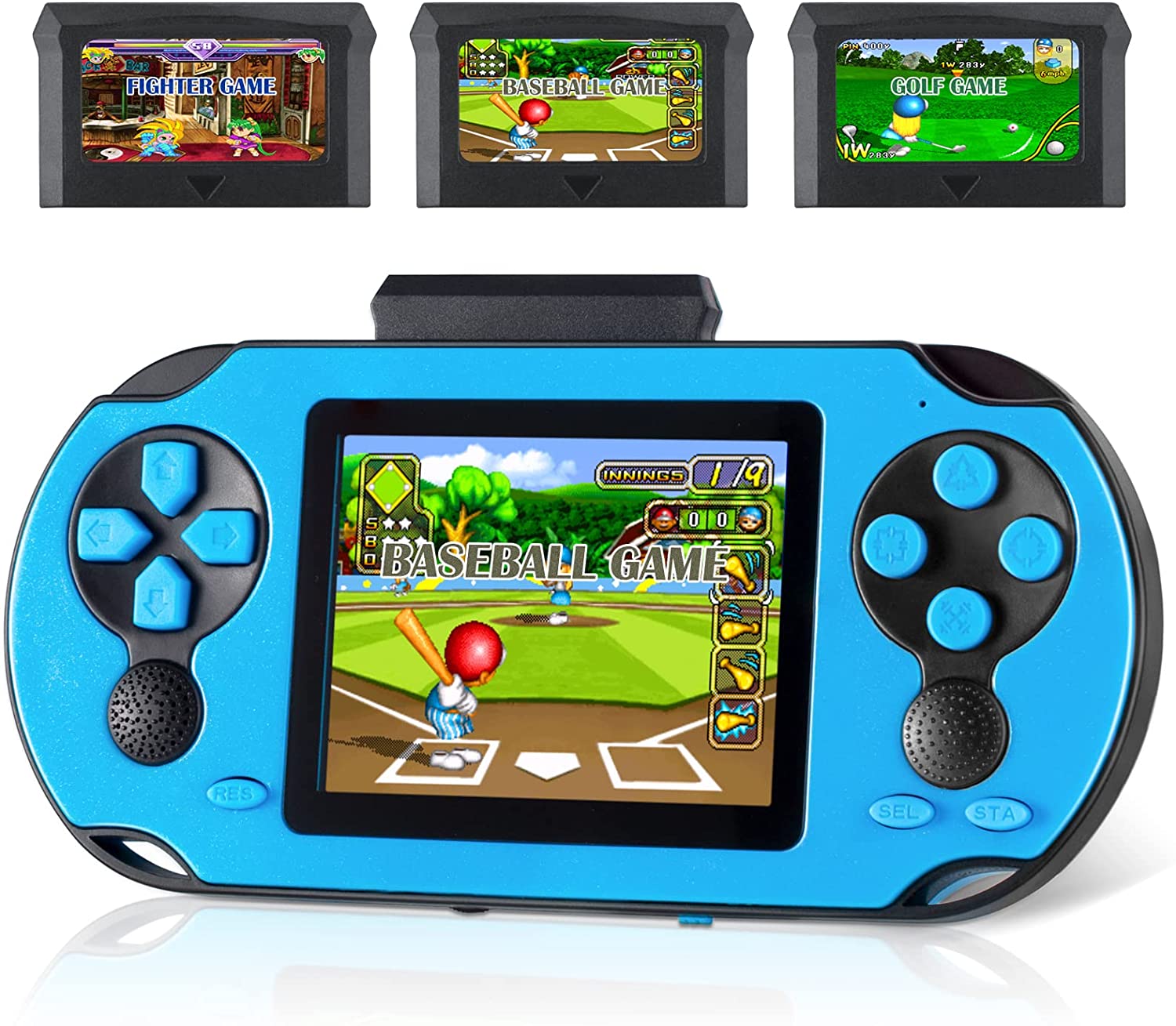 This gaming console by TaddToy comes at a fairly reasonable price and features 230 preloaded games. You get 3 game cartridges with it and each cartridge has a different set of games. Many of these preloaded games have been designed to improve the cognitive abilities and hand-eye coordination of children. The design of the console is quite nice and it is available in four different colors including black, blue, red and yellow.
The console comes with a built-in 800mAh battery. When optimally charged, the battery enables you to run the device for 5 hours. Though the console is made of plastic, it proves to be sturdy and durable. It must also be noted here that the plastic used here is environment-friendly and does not pose any threat to the safety of children. The structure of the device is also resistant to scratch and fingerprints.
An ideal option for parents who wish to gift their kids a good-quality video game console without spending a lot of money.

The device offers the kind of games that help tremendously in the mental growth of kids.
Adequate battery life

Available in multiple color options

Made with environment-friendly plastic
Durable Gaming Console with 4.3-inch High-Definition Screen
KToyoung Handheld Gaming Console with Dual Joystick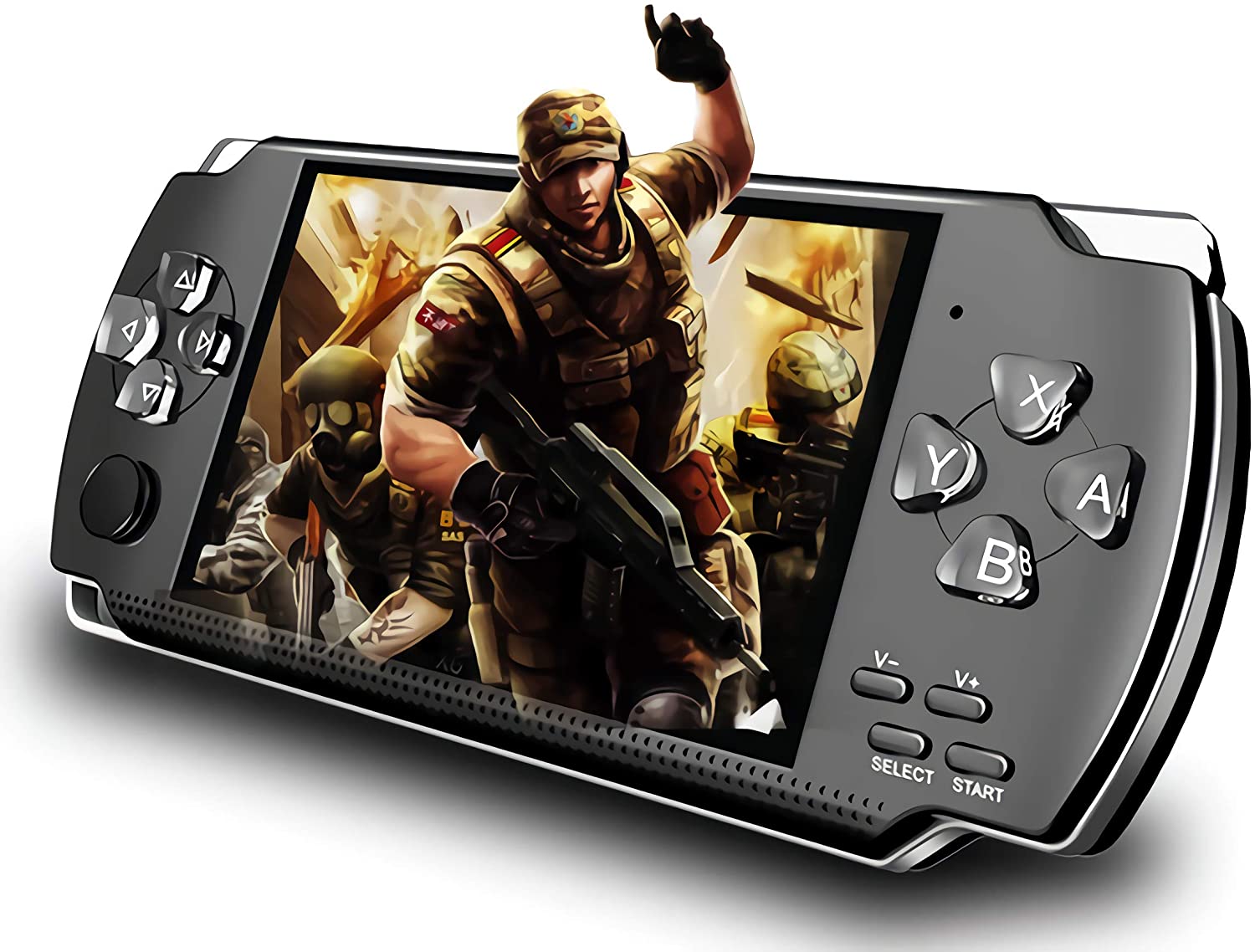 These days, even young children are particular about the kind of features a gadget, which they have been provided with, has. Kids, who keep themselves updated with new-age technology, would greatly appreciate the 4.3-inch screen this gaming console comes with. Apart from being larger than the screens you find in an average console, the screen produces high-definition images and makes the experience of playing video games absolutely delightful.
The design of this console will not just attract kids but greatly appeal to adults as well. The brand offers this device in three different colors, black, white, and blue. It comes preloaded with 1200 games which should keep kids engaged for a long time. One of the highlights of this console is its dual joystick feature. Each offers kids several other advanced features that contribute to enhancing their learning skills.
Ideal for kids who have an affinity for gadgets that comes equipped with new-age technology and high-end features.

Also recommended for parents who wouldn't mind playing video games on their kid's console once in a while.
Portable

Dual joystick

Modern design

Large high-definition screen
Does not feature many classic games

Some features could take a while for kids to understand
Vibrant Gaming Console with Good Connectivity Features
Jamswall Budget-Friendly Gaming Console For Kids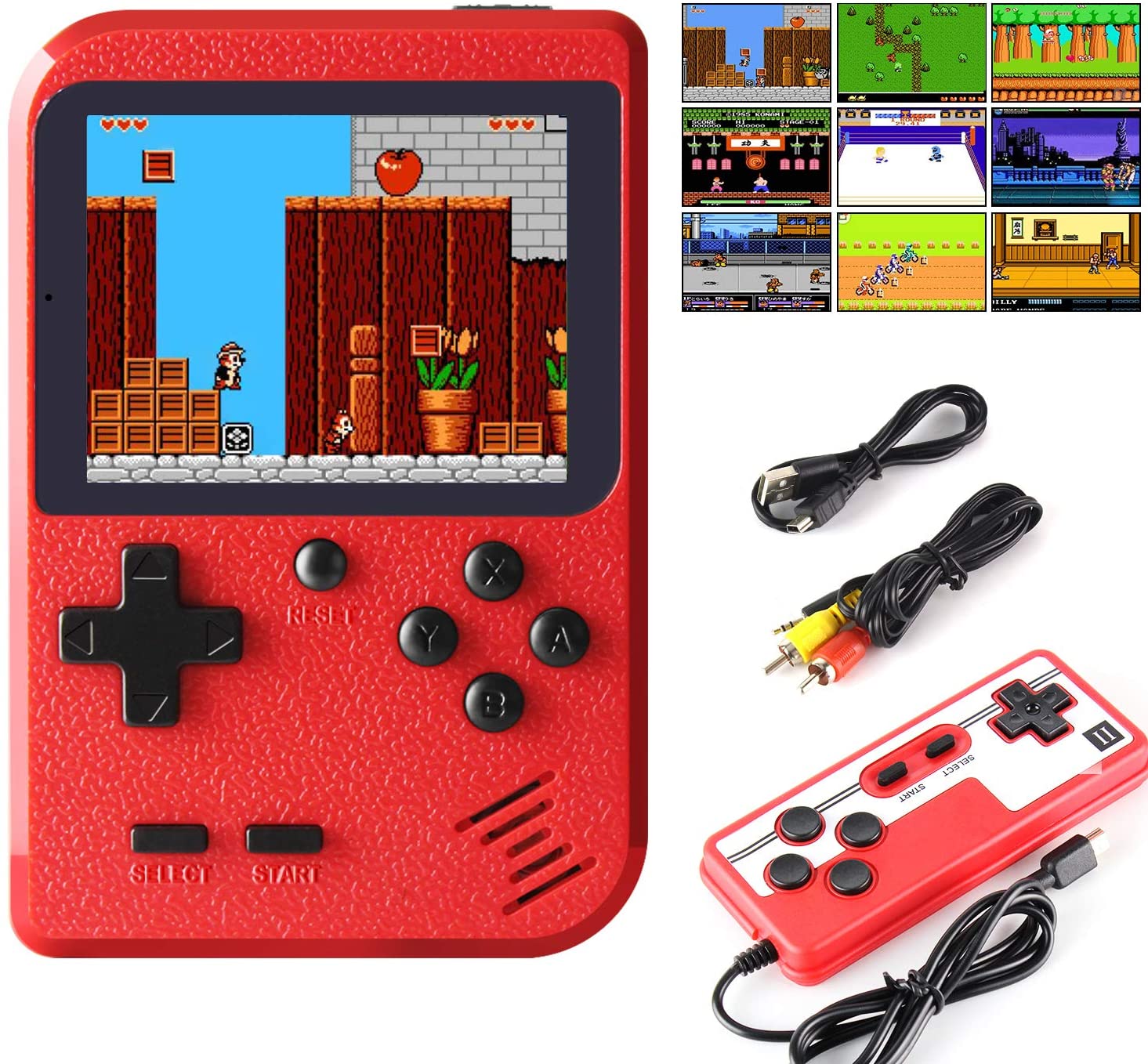 This gaming console by Jamswall comes at a very moderate price and offers a good mix of functionality and comfort. A gamepad has been provided which ensures that kids do not end up putting a lot of strain on their hands even if they use the device to play games for several hours at a stretch. It has been designed in a way that two kids can use it at the same time. So, if your kid loves two-player games, this would be the right console to gift them.
The device boasts of a design that is stylish and thoughtful at the same time. It is available in two color options, red and blue. The console comes armed with 400 classical games from different genres/categories like sports, action, shooting, racing, puzzle and adventure, among others. The device consists of a built-in 800mAh battery that, when fully charged, offers a runtime of 5 hours. The device has a compact structure, so you can carry it around without any difficulty.
Why You Should Buy This?
Recommended for parents who have been looking for an affordable gaming console for their kids.

Also suitable for kids who are more comfortable using a console that comes with a gamepad.
Pros
Good battery life

400 free classic games

Dual-user functionality

Multiple accessories provided by brand
Cons
Small-sized screen

Not suitable for older children
Moderately Priced Gaming Console For Kids
HigoKids Handheld 2.5-inch LCD Screen Gaming Console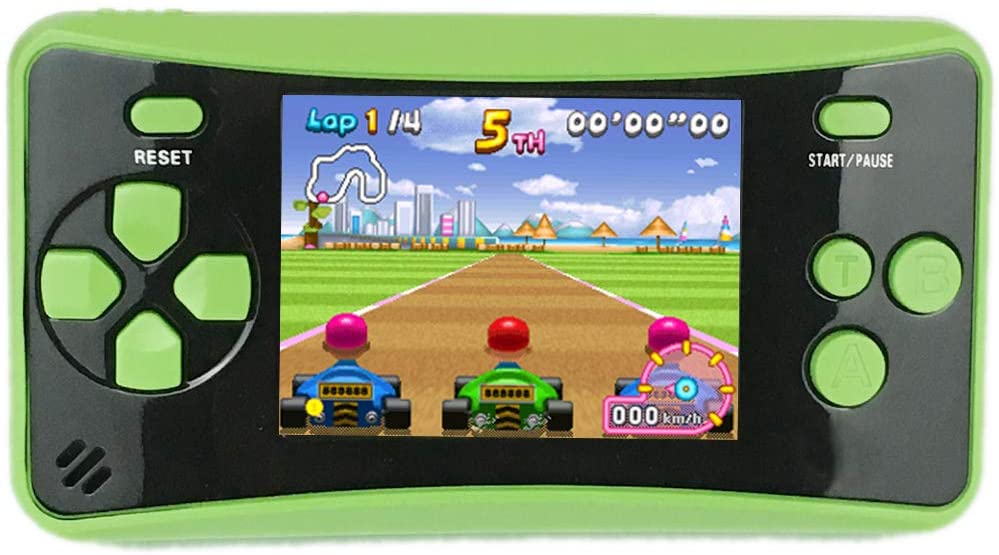 Kids always love the idea of having plenty of options at their disposal. This gaming console by HigoKids features a minimalistic design and is available in as many as 8 color options. The 2.5-inch LCD screen produces good-quality images. Though the screen might appear too small to some users, those who like using compact devices wouldn't have much of an issue. You can connect this console with a TV using a cable if you wish to see the visuals on a bigger screen.
The weight of the console is just 4 ounces. Therefore, it is just the right device to be used by a very young child. The lightweight and portable structure of this device make it convenient to be used while traveling around. The classic retro games are bound to please children and evoke the memories of parents who enjoyed playing them in their childhood. The device offers decent connectivity support lacks an SD card slot.
The device comes in a gift-box package and makes for a very good gift for younger kids.

If you have a 3-4-year-old at home, buying this easy-to-use gaming console would be a good idea.
Simple features

Compact structure

Supports TV connectivity

Available in multiple color options
No SD card slot

Small display screen
2.5-inch Wide Gaming Console For Kids
JJFUN Imaginatively Designed Handheld Gaming Console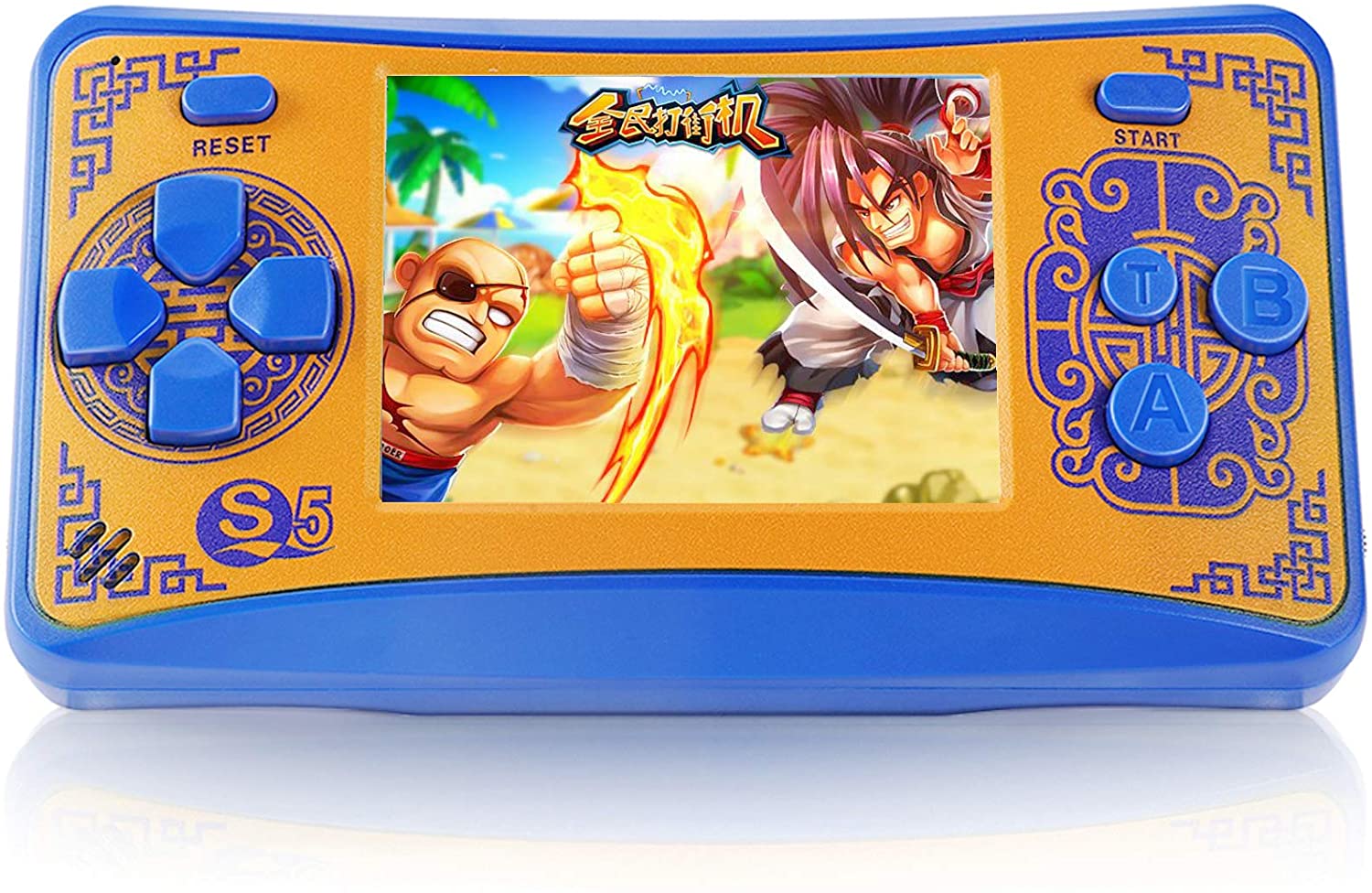 When you put together a product for kids, you have to ensure it looks attractive or at least, interesting. Looking at the design of this console, one can safely conclude that the brand was very much aware of this. This handheld gaming console features a design that is hugely innovative and eye-catching. The design, undoubtedly, is one of the device's biggest selling points.
Available in four different color options (black, green, red, and multi-colored), this 2.5-inch console offers great functionality apart from being a delight to look at. The device caters to the sensibilities of boys and girls, so it is suitable to be used by both genders. Though you get the option to adjust the volume on the device, it does not support the use of headphones.
Why You Should Buy This?
Recommended for parents who are planning to introduce their children to a video game console.

A suitable device for kids who react well to vibrant designs.
Pros
Long-lasting

Colorful design

Lightweight structure

Sold in different colors variants
Cons
Limited features

Not compatible with headphones
---