Men who have cool gadgets running on cutting-edge technology will never have a dull moment in their lives. You can use these cool gadgets while showering, working out, or watching television. You can also check these out for some excellent tech gift ideas. We all want to keep up with the latest tech gadgets. However, there's such a sea of options out there that it's possible to get lost and confused. We have listed some of the best gadgets for men this year. They range from gift ideas for music lovers to fitness gurus, smart home fans, and TV watchers. Take your pick!!!
Buying Guide
Before you splurge your money on buying some of these gadgets, ask yourself the following questions:
How often will I use this gadget after buying it?
Is this purchase worth the money?
How will this improve my productivity and make my life better?
Can I gift this to someone else?
See also: Best Portable Battery Chargers
Best Gadgets For Men
Ultimate Extra Bass Sweat-Proof Sports Earphones
Tempo 30 Wireless Earbuds for Men
Check Price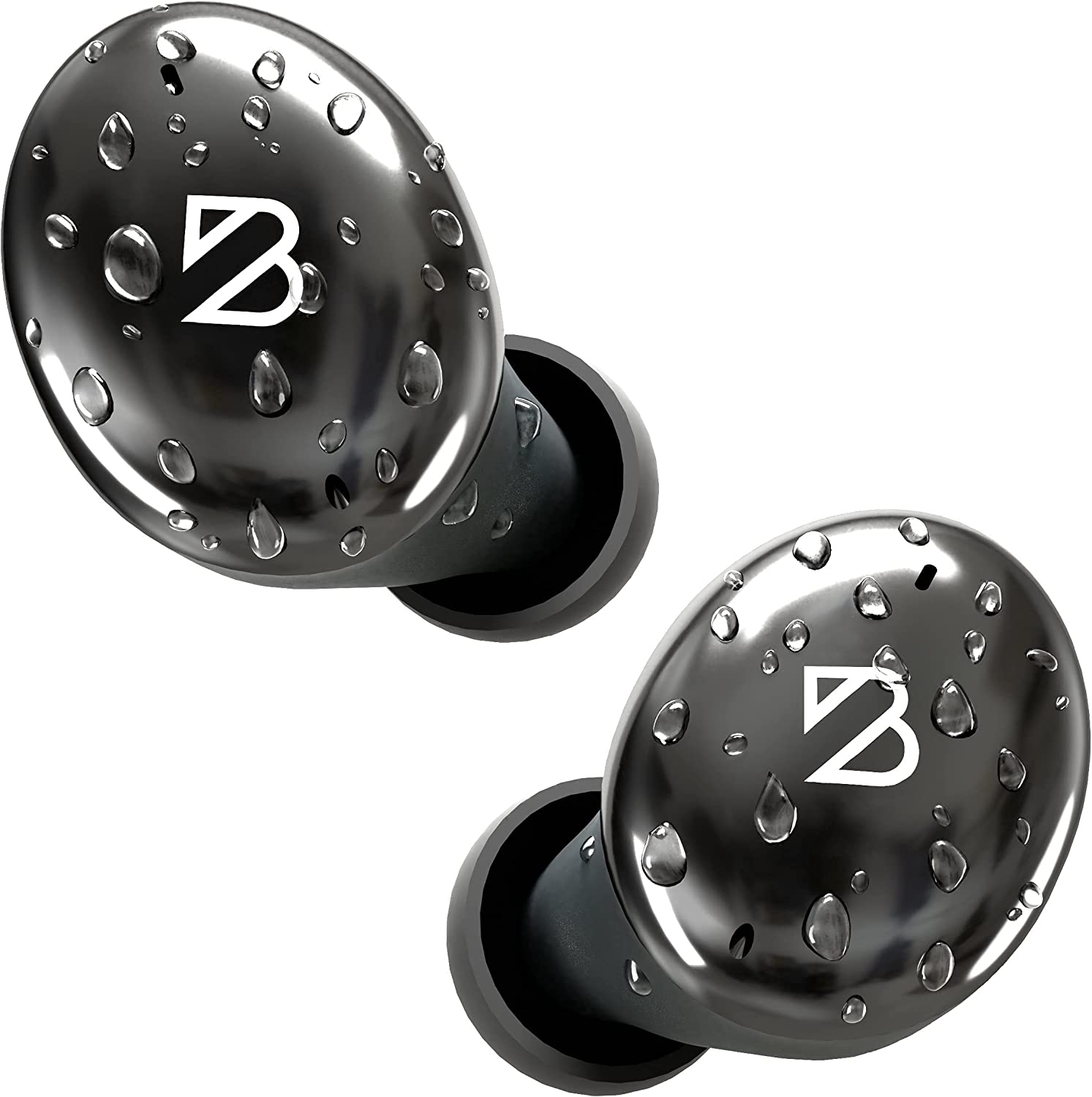 The Tempo extra bass wireless earbuds are perfect for men because of their exclusive man-friendly features. The earbuds are fully sweatproof, and water resistant with full IPX-7 rated waterproofing. In other words, no matter how much you toil in the rain and snow and sweat like crazy, these earbuds won't fall out. Besides, when doing an intense workout, you can easily switch from standard mode to bass mode to get that "extra push." 6 sizes of ear-tips are included, so whether you have smaller or larger ear openings, they fit in easily.
The super long battery life of 32 hours is a great feature and is extremely useful for men who tend to stay outdoors for a long time. You can also play music for as long as 8 hours. Dual microphones make it convenient for you to attend calls and control music without touching your smartphone or computer.
It is a great buy for men mainly due to features like extra bass, 32-hour long battery life, dual microphones, and wireless nature.
Since the earbuds come in 6 different sizes of ear-tips, they fit ear openings of all sizes.
Long battery life
Sweat-proof and water resistant
6 sizes of ear tips
Dual microphones
It may take time to connect
The noise canceling feature is not as expected
It cannot be used for swimming
The Best Fitness Smartwatch for Workout Freaks
Tactical Military Smartwatch for Men
Check Price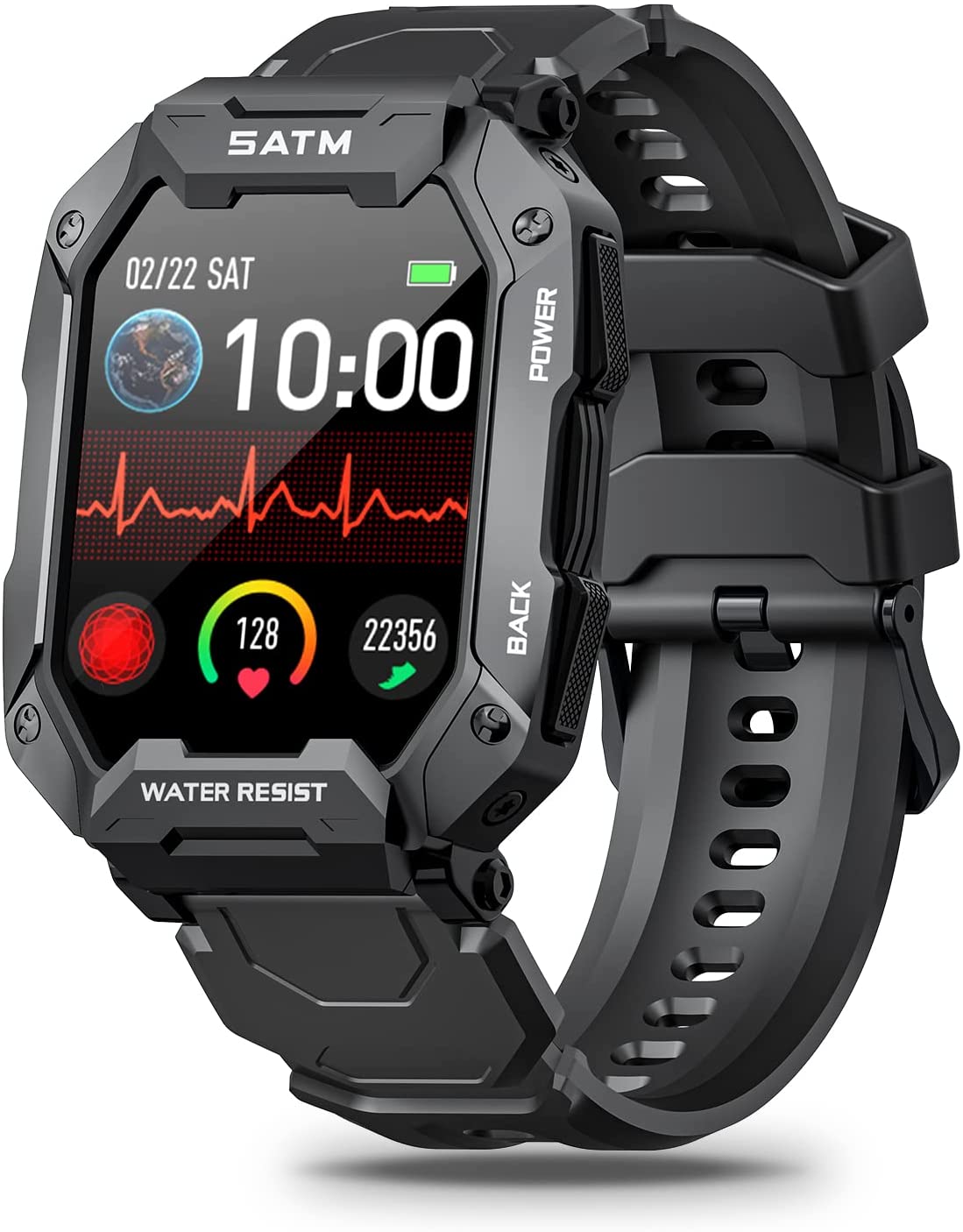 This military smartwatch is one of its kind, with 13 military-grade certifications. It can withstand any kind of harsh environment. Made of special composite materials, this smartwatch has passed dozens of standard tests, making it a reliable gadget for men.
You can stay informed of your physical condition by using the smartwatch to check your heart rate, blood pressure, blood oxygen, and sleep quality. If you're a sports and fitness freak, you can make good use of the 24 sports modes available. If you open the Da Fit app, all you need to take pictures is just shake!
Being extremely cold and heat resistant, the smartwatch withstands all kinds of harsh environments and is perfect for men who spend the most time outdoors.
The display provides a vast selection of over 50 watch faces, allowing you to match your outfit and mood on display.
It's an ultimate workout partner and a great physical guide, helping you monitor various health parameters.
Extremely durable, long battery life
24 sports modes
Tempered HD LCD screen with 50+ watch faces
Remote camera function
5ATM Fitness Tracker
Excellent Waterproof Action Camera with Touch Screen and Dual-Display
AKASO Brave Action Camera for Men
Check Price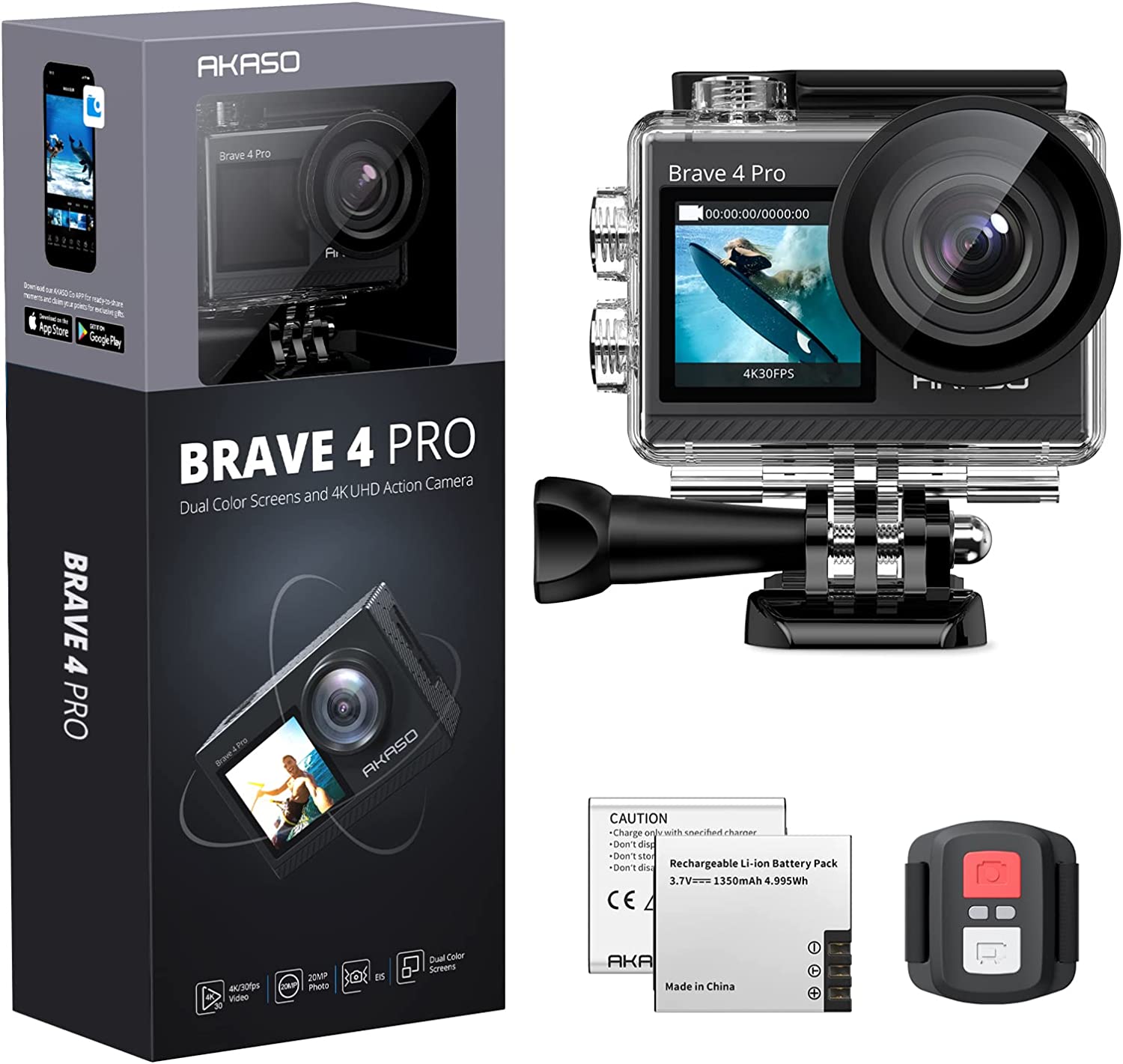 The all-new dual-screen design allows you to change the framing and monitoring views. Using this waterproof camera, you can shoot amazing videos with up to 4K resolution. The exclusive built-in EIS can detect motion and position changes. A stable video can be produced even when the camera accidentally moves, shakes, or tilts.
The 131 FT waterproof camera ensures that you can shoot in any kind of challenging conditions. There's an external microphone to capture sound from all possible directions.
The dual-screen on the camera is touch-friendly and hence easy to use for men, especially when on a ride or drive.
There is a built-in EIS with a 6-axis gyroscope to detect motion and position changes, so the video quality never gets affected when you are on the move.
You can wear the remote control on the wrist – convenient when hiking, biking, and more.
Dual screen setup
Longer battery life
Protective dive housing
Feature-packed for the price
Stable footage
Processor struggles at high resolution.
The remote control is not waterproof.
Third-party external microphones aren't compatible.
The Ideal Travel Electric Razor for A Smooth and Comfortable Shave
3-In-1 Cordless Electric Shaver for Men
Check Price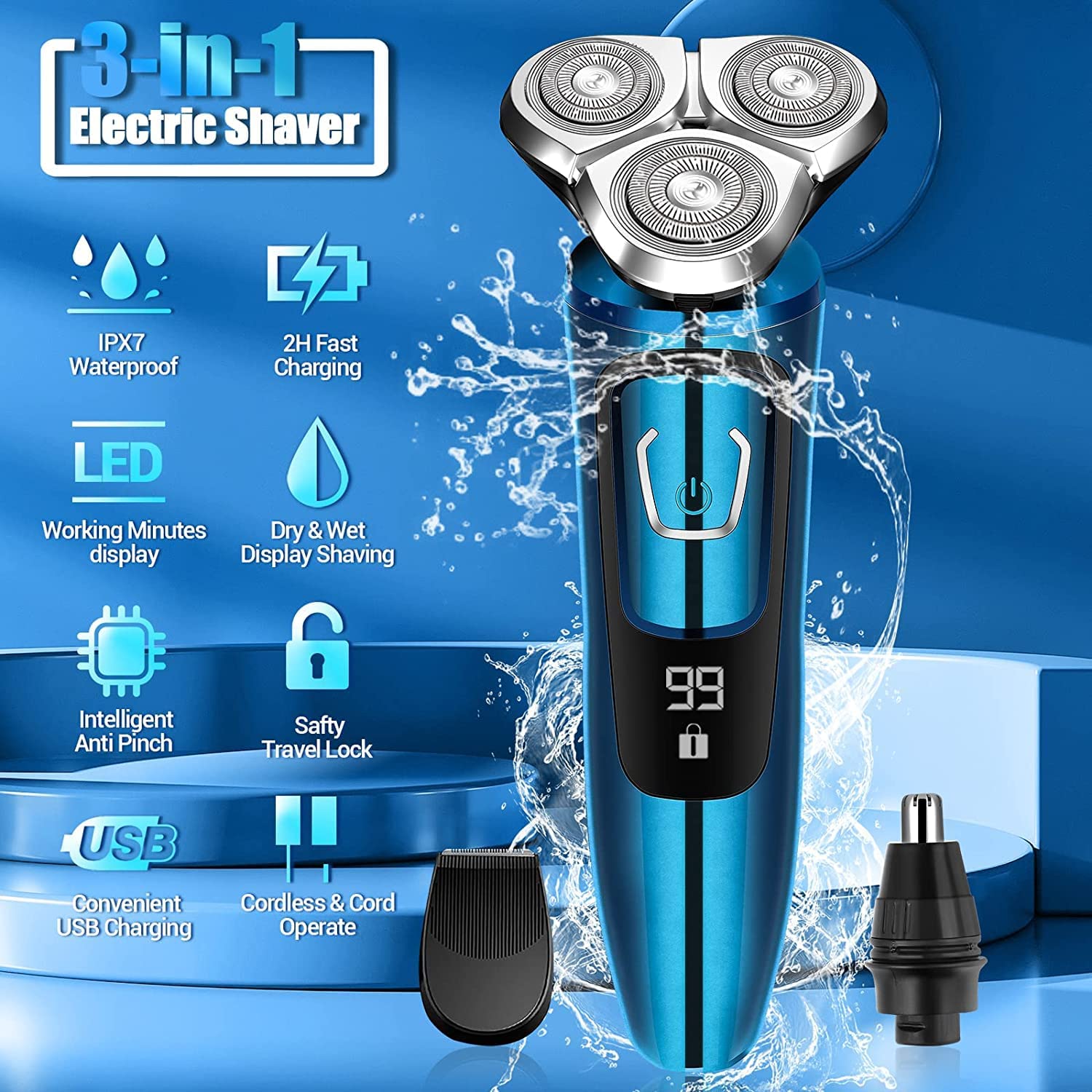 This extensive electric razor for men offers a close and smooth shaving experience. Its waterproof design allows you to easily adjust the shaving method as per your needs. Whether it's a dry shave or wet shave, men can do it comfortably. The razor comes with a travel lock and USB charging facility, so men can conveniently carry it to the office or use it while traveling. The unique electric shaver makes a great gift for men!
The skin-friendly precision trimmer helps give a finishing touch to your look. It's great to maintain your mustache as well as trim your sideburns. You can also quickly trim unwanted ear and nose hair without causing cuts or scratches.
Why You Should Buy This?
This electric razor for men uses a 3D float system, so you can flex it as you wish for a smooth shave.
There is a travel lock and USB cable for charging, so it is best for men who travel frequently.
There's a seven-level waterproof system, so it's easy to maintain.
Pros
Both dry and wet shaving
Convenient USB charging and safety travel lock
Waterproof
Three detachable shaving heads
Cons
It does not include a charger
Super Stable and Stylish Neck Fan to Keep You Cool on the Move
Portable Wearable Neck Fan for Men
Check Price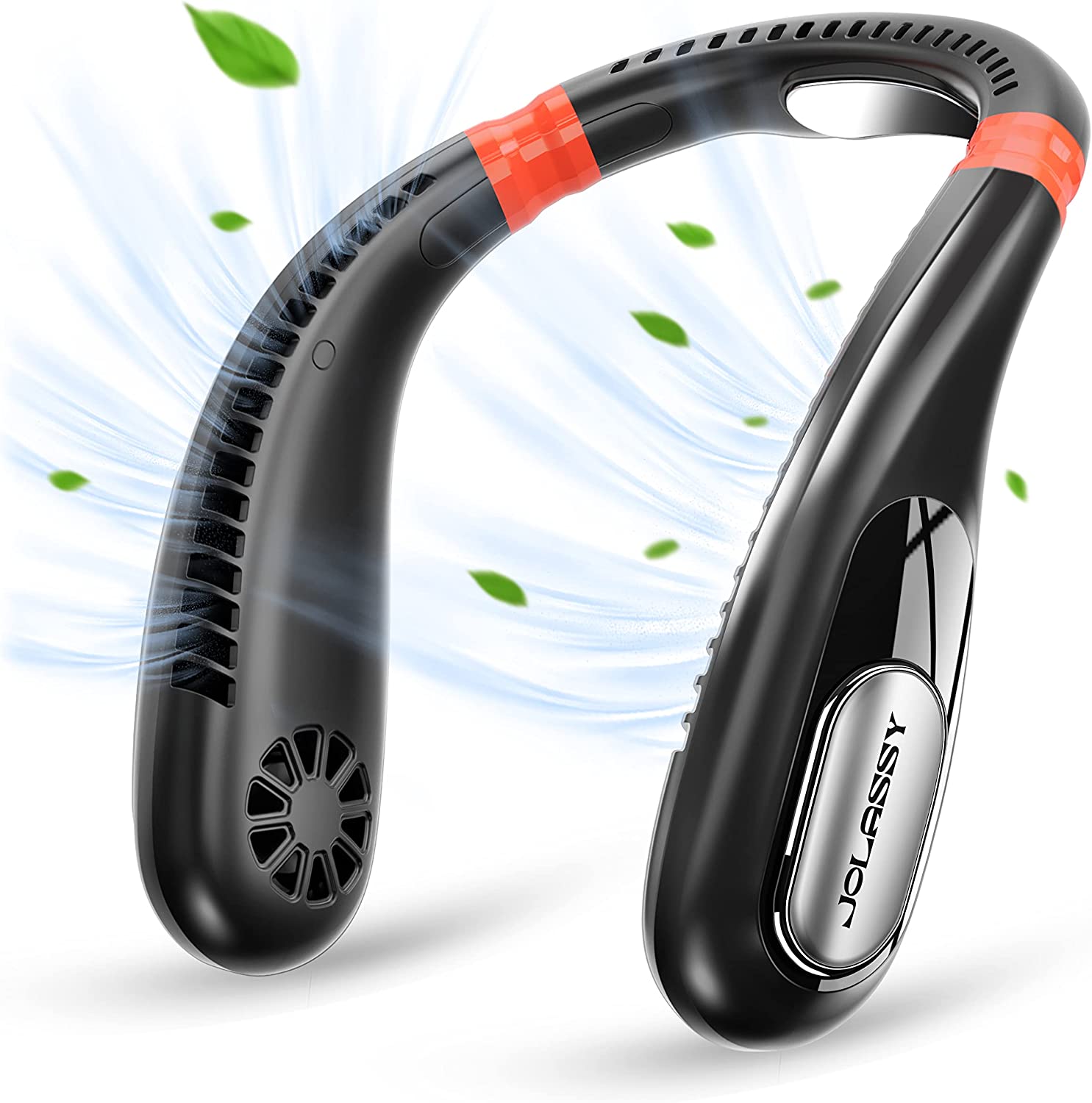 A portable neck fan is a great gadget for men who spend a lot of time in the heat, especially for those on whom heat has a negative impact. You can wear this flexible neck fan to keep yourself cool on the go. Its unique design ensures it stays on your neck and doesn't drop easily.
The wearable fan is designed in such a way that it generates extremely low noise, keeping you undisturbed at work. You can adjust air speed according to your needs using the three-speed settings. You need not worry about any damage caused to your hair because the neck fan is bladeless. This amazing portable neck fan is an amazing gift for men!
If you spend a lot of time outdoors and are easily affected by heat, this super cool neck fan is for you.
With three hours of charging, you can use it as a cooling aid for nearly 20 hours.
Portable
Highly stable
Adjustable as per needs
Worth the money
One year warranty
Do not blow air on your face
The Dashing Yellow LED Hand Sign Makes a Great Car Gadget
Yellow LED Hand Signs for Drivers
Check Price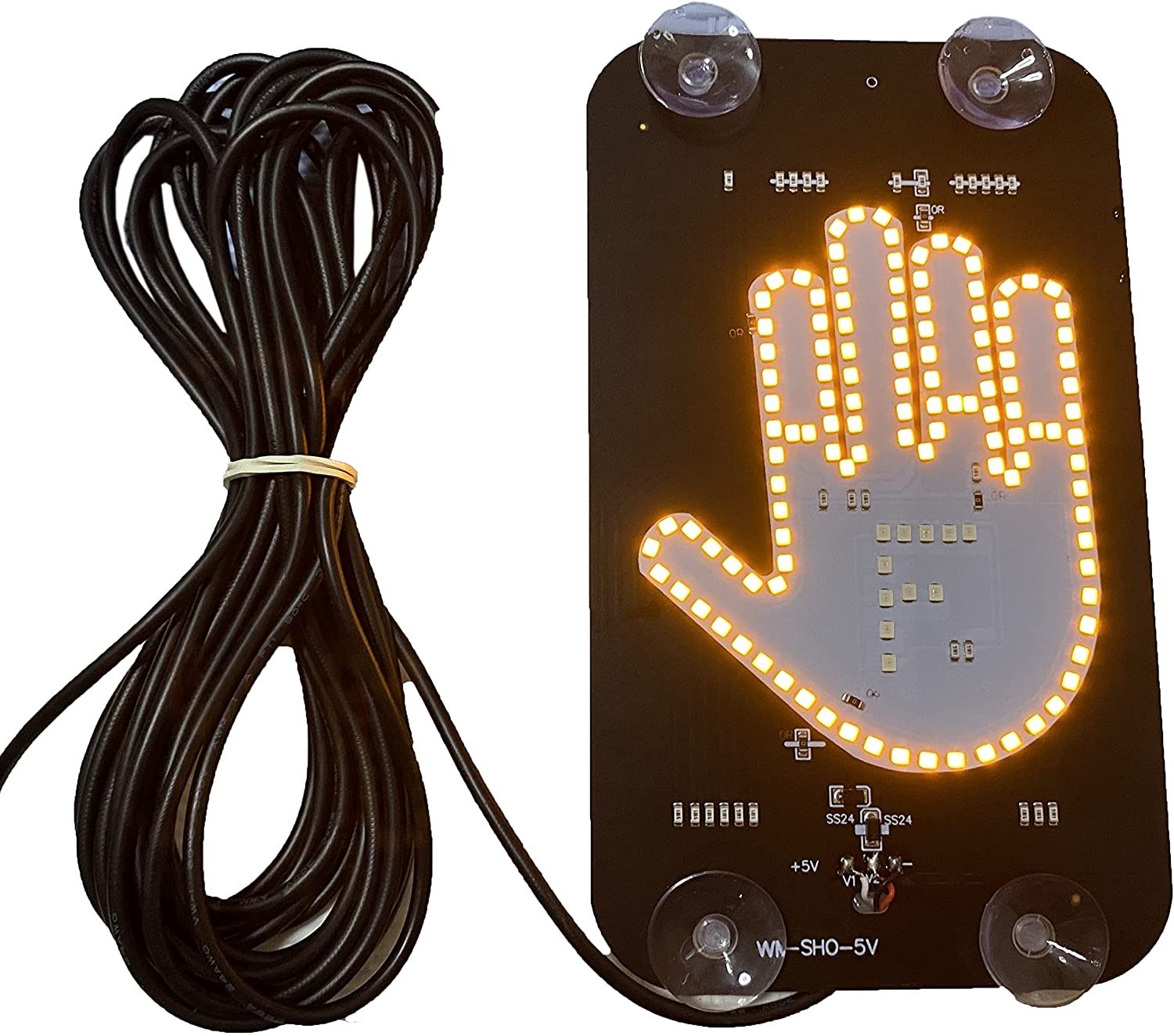 This LED hand sign is one of the must-have accessories for your car. It's bright during the daytime and dull at night. You can easily mount it on your car or truck.
There's a suction cup provided using which you can mount the sign on your vehicle. The illuminated hand sign is a great way to add style to your car.
Why You Should Buy This?
This LED hand sign is an amazing gadget for your car to express your attitude and style.
The yellow color and the non-flashing lights make it legal in most states in the U.S.
Pros
A good car décor product
Compliant with traffic laws
Easy mounting
Cons
Wired product
Build quality not up to the mark
Conclusion
If you are the kind of guy who loves the latest hot gadgets or recent technology, this list of cool gadgets is perfect for you. Finding the right electronic gadget or gift for men is not always easy. There are endless lists of smart home accessories, earphones, and gaming accessories, you name it! Check out this list to see whether you want to get ready for the holiday season or just buy an anniversary or birthday gift for all types of men, sports enthusiasts; gamers; or just a gadget using the latest technology.