Technobezz is supported by its audience. We may get a commission from retail offers
Summary – The advantage of having an external hard drive is that you can easily carry large amounts
–
The advantage of having an external hard drive is that you can easily carry large amounts of data anywhere and simply upload or download them from multiple computers/laptops at once. The traditional disc based hard drive is still in use, but there are many SSD's that you could buy these days. They are more reliable and long-lasting.
With this list of the best external hard drives in 2022, you can come across different types of hard drives. There are ones designed to be used static as backup servers in home or office. Similarly, there are portable ones that are compact and easy to carry. Major brands like Seagate, Samsung, Western Digital, Toshiba, Kingston, Corsair and many others make hard drives these days. The key is to understand your requirement, your usage scenario and the budget before buying the best hard drive to suit your purpose.
See also: Best hard drives
Best external hard drives
Best Portable Hard Drive That's Affordable with 1 TB of Space
Toshiba Canvio Basics 1 TB Portable External Hard Drive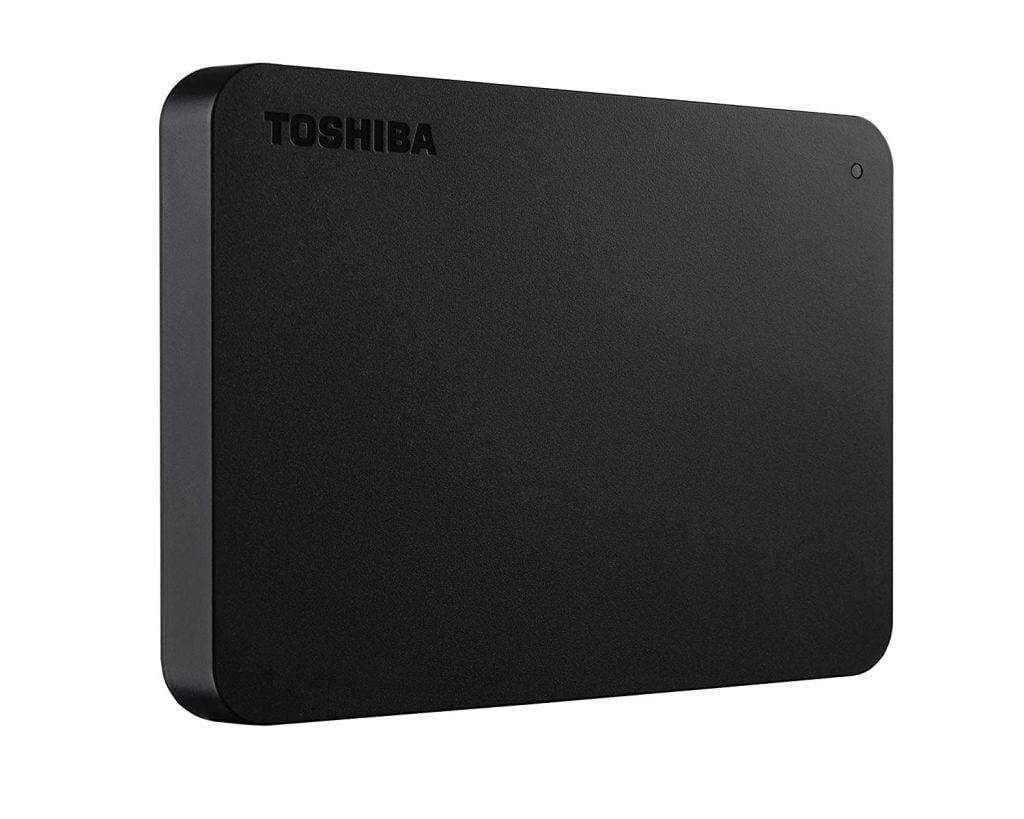 Toshiba is one of the popular brands that continue to make hard disks, despite stiff competition with other more popular players in the market. The 1 TB Canvio Basics series provides a very compact product that you could comfortably carry around in your bag. Besides, it is very affordable and you could even buy two of them if needed or go with much larger sizes, including 2 TB and even a massive 4 TB variant to store large files. The storage size is purely based on user needs and if you have a requirement, you can buy one.
When going for larger sizes with conventional disc-based hard drives, make sure to understand the fact that they may not be reliable in the long run, if you are going to move around a lot with them. Smaller sizes can last longer, typically a couple of years, before it starts showing disk failure errors. The design of the Toshiba product is quite appealing as they have opted for a clear matte finish on top which gets rid of fingerprints and smudges. The product works out of the box on any machine, enabling you to easily plug and play without having to install additional software.
The hard disk uses USB 2.0 connection which is slower than the newest USB 3.0 ports, but it does have an advantage. There is no need to connect an adapter or external power source which makes it easier to carry the hard disk anywhere to upload or download data. The product comes with one year warranty period so that you can get it replaced in case of any failure, but it should easily last you a couple of years. Just make sure to use a nice pouch to carry it around and reduce external vibration on it to improve the hard disk's lifetime.
What Makes the Toshiba Canvio Basics 1 TB External Drive the Right Choice?
It has 1 TB of space which is ample for most users to carry their data around.
The matte finish gives the hard disk a premium look and an ideal external solution to carry around.
Recommended For:
Buyers looking for a compact and easy to use 1 TB storage space at an affordable rate can opt for this one.
Best External Hard Disk with Massive Storage Space
Western Digital 4 TB Elements Portable External Hard Drive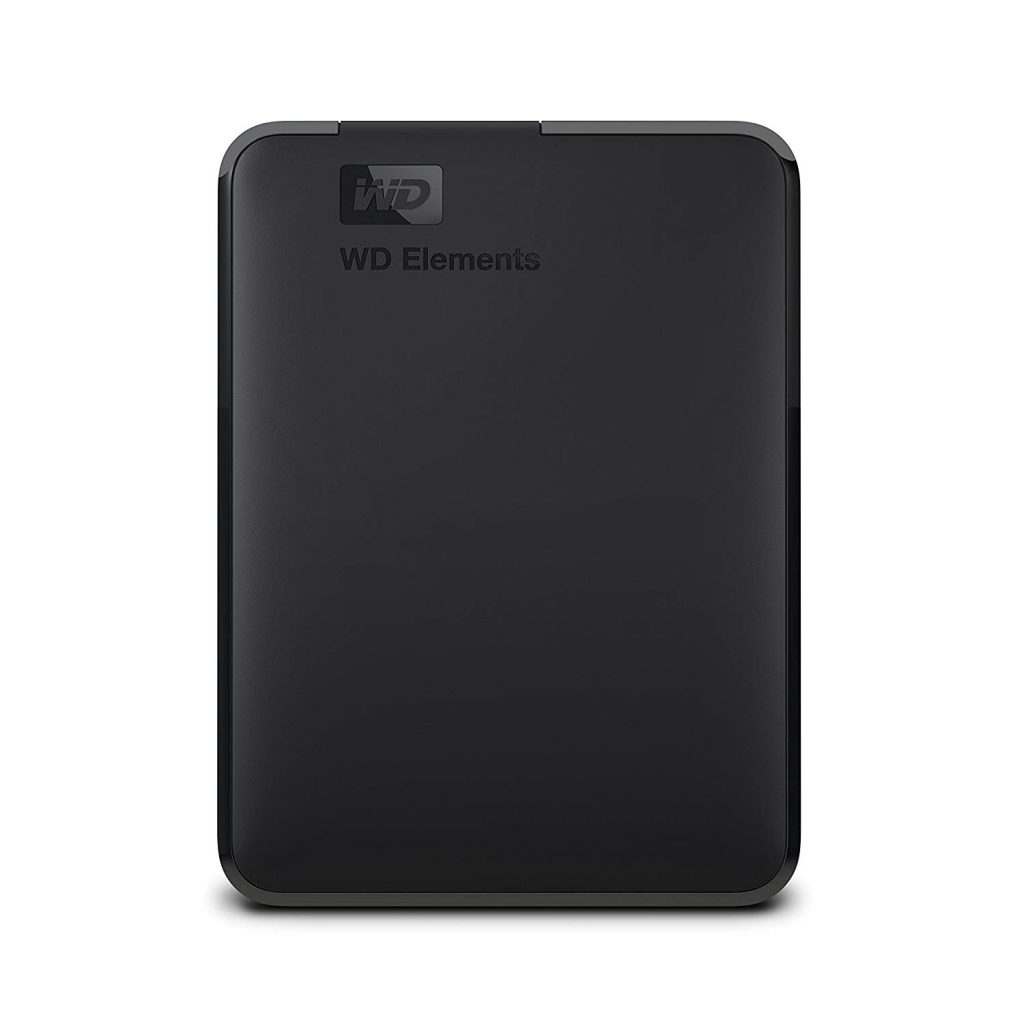 The Western Digital brand is a household name among hard disk owners as it has been around for a long time now and people typically buy the brand without second thoughts. If you are a serious PC builder for media editing or gaming purposes, you will probably know WD already. If not, all you need to know is that it is one of the best companies around with great warranty claim, warranty period and will definitely provide great value for the money you pay. The WD 4 TB Elements Portable edition is an extremely nice looking gadget even though all it does is store data and help you transfer it easily.
The hard disk has very little features to talk about because obviously it is an external storage solution and can be connected to your PC to transfer data. The device supports both USB 2.0 and USB 3.0 connectivity options. If your laptop or desktop PC supports it, you will be able to transfer large files at the highest possible speed. It delivers fast data transfers even though the company doesn't exactly specify the speeds. You should be able to know more about it in the official manual.
The matte finish on the black design makes it look appealing and it looks really slim. Most people wouldn't even believe that it has 4 terabytes of storage packed in it. The product comes with two years of manufacturer's warranty which should allow you to easily get it replaced in case it malfunctions within the said period. The hard drive also stands apart in terms of durability and the large capacity may not be for everyone but those who need it will definitely find the massive space come in handy whenever they need to do file transfers.
What Makes the WD 4 TB Elements Portable a Good Choice?
The ample storage space is something that will be really helpful for people who deal with large file sizes.
It is compact, easy to carry around and comes with a warranty period.
Recommended For:
Users who have large data to be constantly moved within their home, office or sometimes to different places can make use of this external drive in multiple scenarios.
Best Slim Hard Drive from Seagate to Carry Around
Seagate Backup Plus 2 TB Portable Hard Drive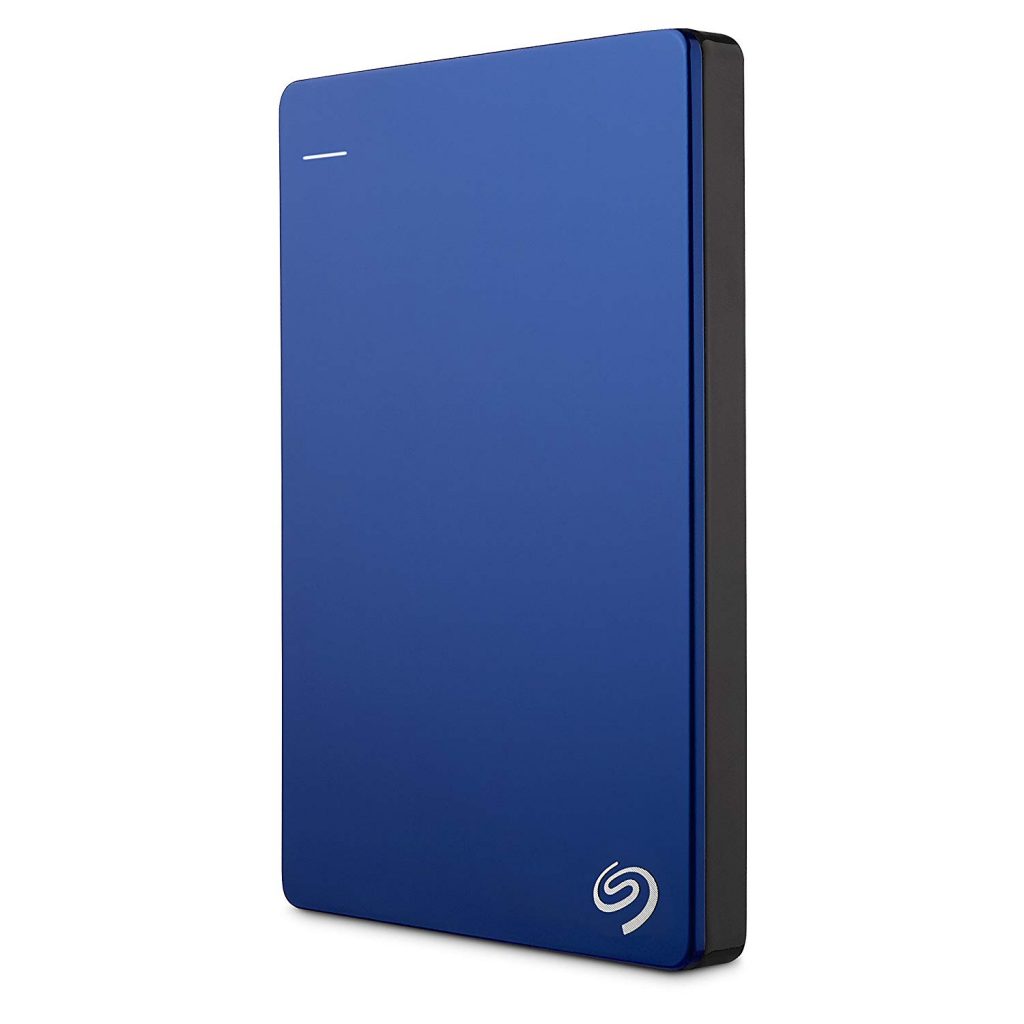 The best hard drives are the ones that are compact and easy to carry around. While there are large storage racks and NAS setup in which you have to actually keep them in the same place, most common users would be interested in having a portable, large storage solution. The Seagate Backup Plus 2 TB portable hard drive ideally meets this requirement. While the 2 terabyte storage is being listed here, it is not the only one being offered by the company. The hard drive is available in different size variants ranging from a simple 1TB all the way up to a massively sized 5 TB variant.
The technology-loving nerds may not be so keen on looks, but still, it wouldn't hurt to have an amazing hard drive that looks cool and easy to carry around to any place. The Backup Plus model from Seagate definitely ticks all the right boxes not just in terms of performance and features but surprisingly is available in a range of colours. You can buy a leather or cloth pouch to store the HDD so that you could take it out in style. The product is available in multiple colors including silver, black, red and blue with a matte finish. It is nice to touch and has a great finish which when paired with a nice storage cover will enhance its overall appeal.
The portable hard drive which offers 2 TB of storage also excels in being a user-friendly solution. The product from Seagate supports one click, on-demand backup that you can get done in a couple of minutes. For power users who want more control over the type of files they store or backup from their large PC storage, there are always custom options which will provide you more control over the backup solution. The USB powered hard drive can be accessed on any PC without using external power source and it also uses USB 3.0 for fast file transfers. It works on both Windows and Mac. The package deal provides buyers access to Adobe Creative Cloud Photography Plan for users who might be interested in making use of the two-month trial period.
What Makes the Seagate Backup Plus 2 TB Hard Drive a Cool Choice?
The external hard drive is available in different colours like red, blue for those who love the choice.
It is a fast solution, supports one-touch backup and available up to 5 TB sizes for those who might need it.
Recommended For:
A perfect pick for users who like to have fast speeds, great reliable performance but also don't want to compromise in terms of design. It is a colourful package for power users.
One of the Best External Hard Drives with 8 TB of Storage
Western Digital My Book Desktop External Hard Drive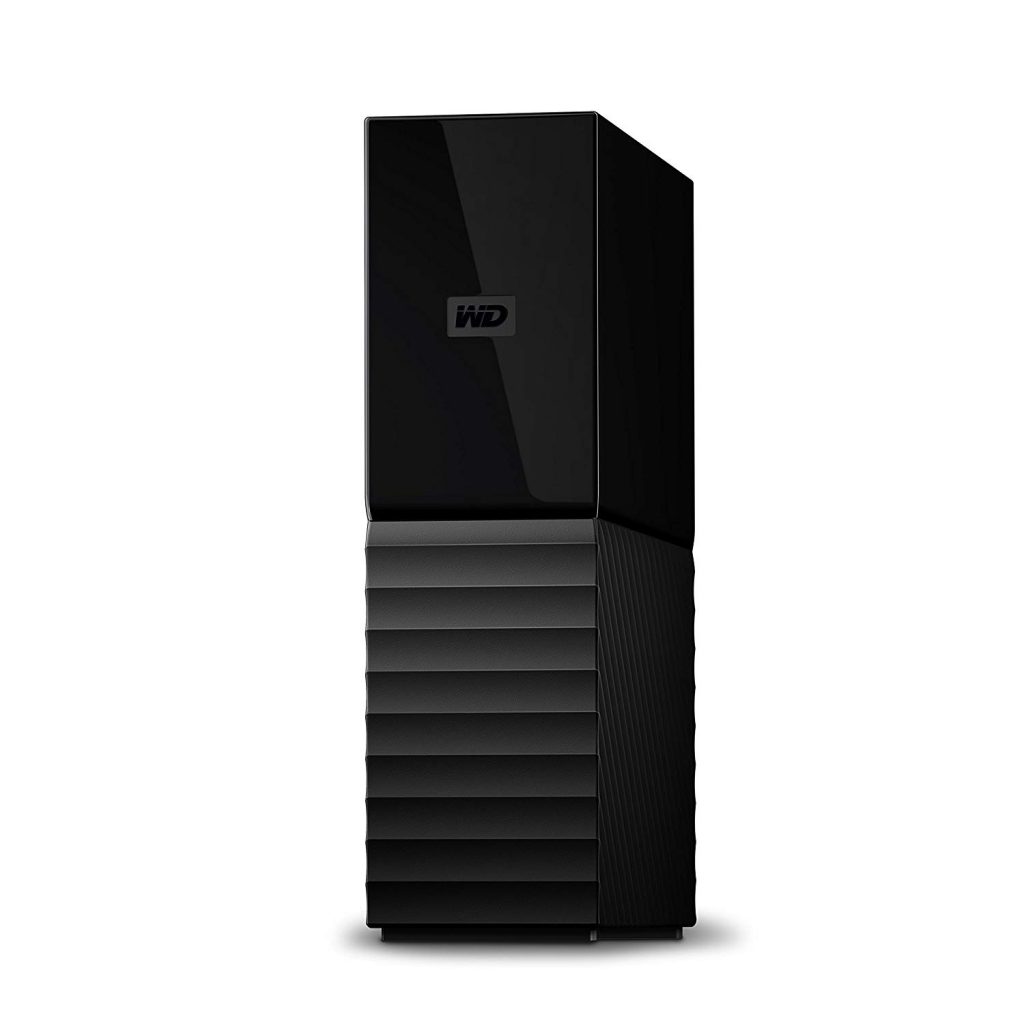 Western Digital pioneers a lot of great ideas as Seagate does in the storage solutions department. The WD My Book Desktop external hard drive is external in design but it is definitely not portable by any means. If you are planning to have something for the go, there are lots of other models from WD as well as different brands. But, the purpose of this model is to make it easier to store large, when we say large we really mean it. The brand provides massive storage solutions on par with servers as the highest variant has 10 TB of storage solution for your exceptionally large files.
At slightly over than $100, this is one of the best investments you could make, especially if you are looking for space to transfer files from different PCs into a single storage solution. Cloud storage is becoming the norm these days as more and more people are moving their files online. However, there are still some issues such as access to your files when there is no internet or privacy issues for files that have highly confidential personal information. In such a scenario, a local solution, such as this one, would work perfectly fine with immediate access to your large files whenever you need them.
Some of the key and exclusive features found in this external hard drive include the ability to automatically backup data. It is simplified with the help of the WD backup software and there is also a feature named Time Machine which helps identify old files. If you have accidentally deleted them or would like to see what was stored in the past, this feature comes in handy. The files stored can be password protected and encrypted for added security. It supports both USB 2.0 and USB 3.0 for fast data read and write speed. The hard drive is also covered by a three-year manufacturer's warranty.
What Makes the Western Digital My Book Desktop Ideal for Large Storage?
The hard disk is available in different size variants and the 8 TB variant should be more than enough for most users but there is also a 10 TB model.
It protects your data and is also designed to be more reliable even though it is an external drive.
Recommended For:
Users who are planning to set up a local storage server or have large files readily accessible in an external drive will find this product very handy
Best Portable and Rugged External Hard Drive
Silicon Power 1 TB Black Rugged Armor External Drive with Shock proofing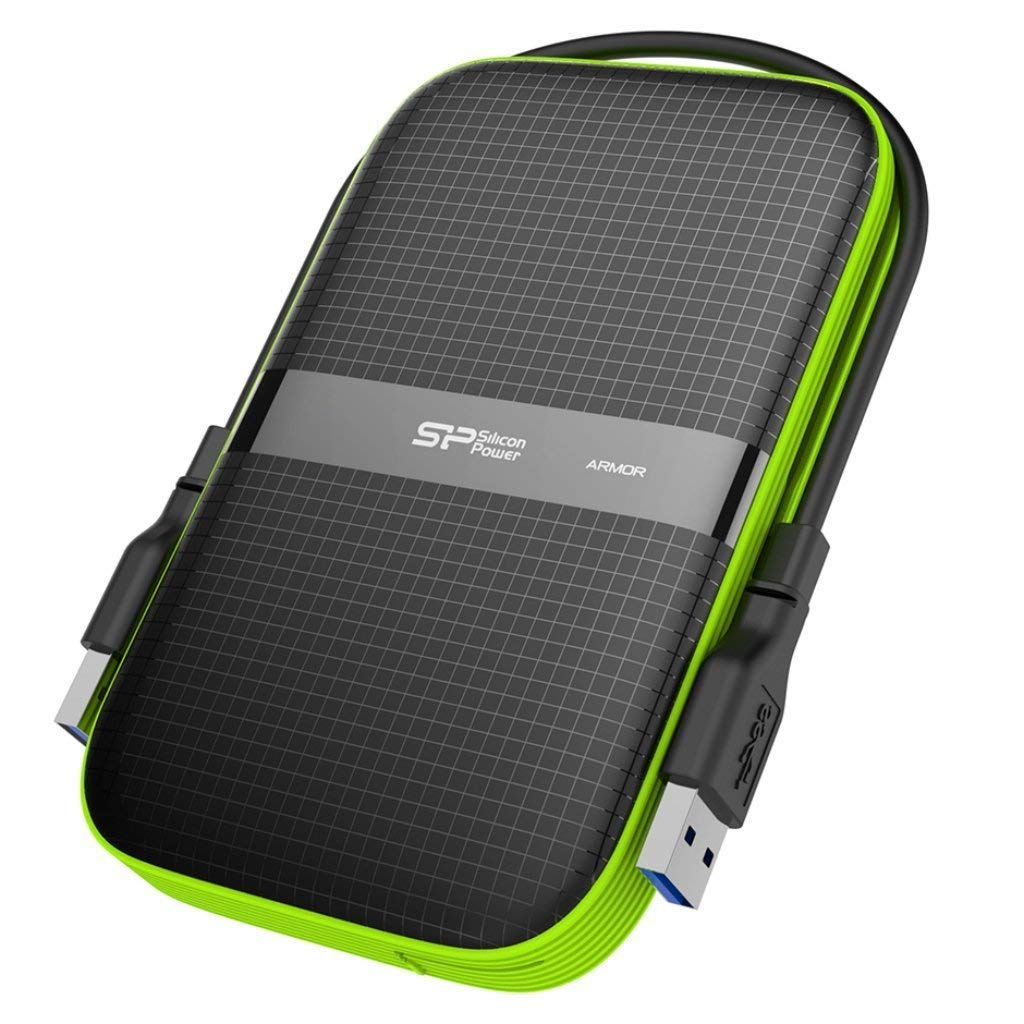 The Silicon Power is an extremely rugged product and the manufacturers tried to convey the information by using lots of different words. One of the keywords that you should definitely consider is shockproof which helps the product stand apart from every other product out there. While the hard disk is not SSD, it is still more reliable because of the external pouch used to cover the hard disk. It is supposed to keep the disc drive quite safe and safeguard it against accidental drops but make sure you don't drop it too many times. The longevity of the product is much higher because of the external cover used.
The product, according to the official specification, has been pre-formatted so that you can use it out of the box. It has been formatted in FAT32 format which will limit your transferring files that are over 4 GB in size. In case you have a specific requirement to transfer larger files, you can format it against in exFAT format so that it will accept 10 GB or even large files based on what you need it to. Another advantage of the hard disk is that it is gamer friendly as it seamlessly works on Xbox One, PlayStation 4 as well as other older generation consoles.
When it comes to ruggedness, the Silicon Power 1 TB external drive is certified to have military-grade shockproof and is also IPX4 water resistant. In case, you carry it outside in the rain or water splashes on it, the hard disk will not get affected. However, it is not advisable to sync it in water which could damage the internals when submerged for prolonged periods. The cable is directly fit to the case so that you don't miss it while travelling. The product works with USB 3.1, USB 3.0 and also USB 2.0 which enables it to transfer files at maximum possible speed. Another variant of this product is available with a massive 5 TB of storage space and USB Type C cable but it costs almost $150.
What Makes the Silicon Power 1 TB Hard Disk the Best?
It is certified to be military-grade shockproof.
The pouch is rugged and looks solid allowing you to carry it anywhere without the fear of dropping it on the floor.
Recommended For:
The most rugged hard disk around with 1 TB of space and is a great choice for anyone who photographs in the wild, travels to exotic locations with their camera and laptop as it is also water resistant
Best SSD External Drive
SanDisk 500 GB External Portable SSD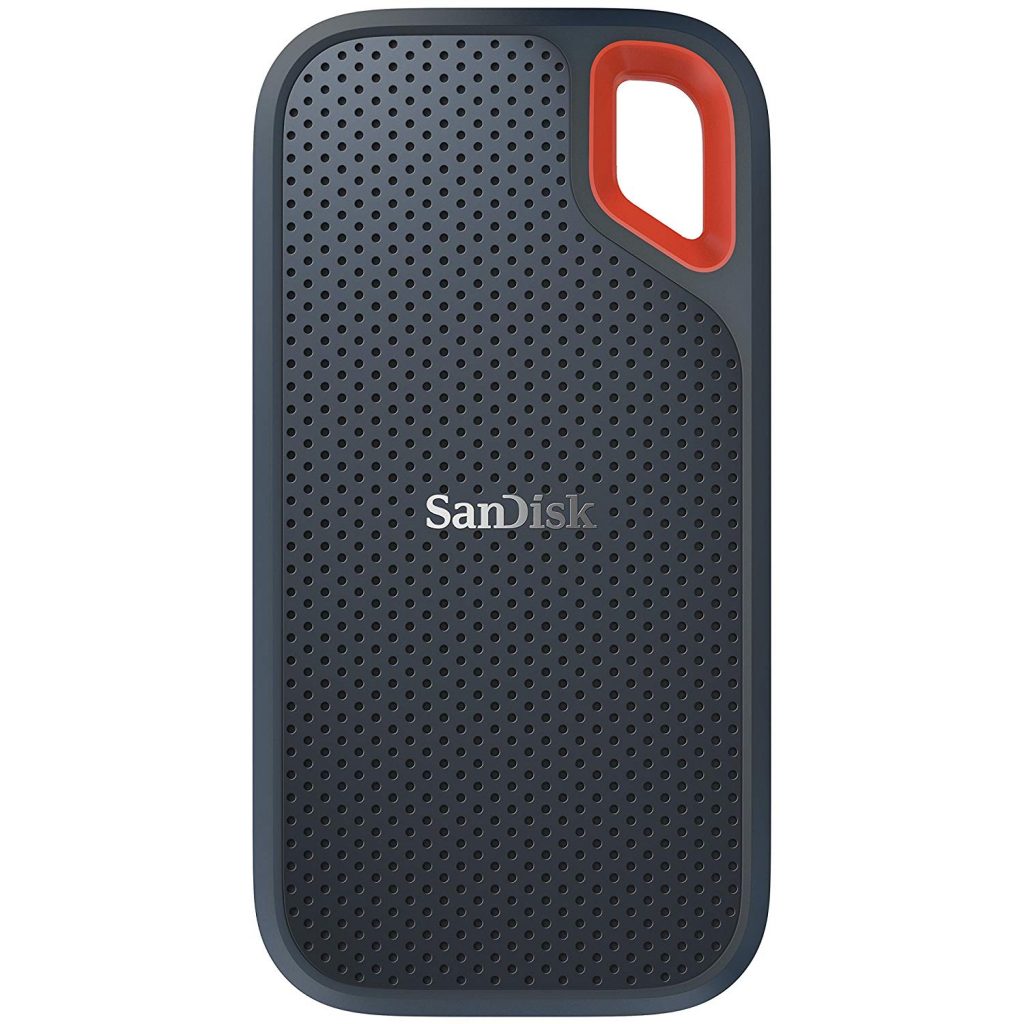 At first look, the SanDisk would immediately impress any buyer and will be an ideal gadget to take your data on the go. Compared to the technology being used in conventional disc drives, which is quite primitive now, the solid-state drives are more like pen drives or USB sticks that you use to carry data on the go. The data is stored on chips instead of discs as the latter is prone to data damage, data loss and other issues when it is constantly carried in the open. Be it keeping it in your backpack or accidentally letting the hard disk fall to the ground, the chances of data loss or the HDD getting damaged is much higher compared to SSD technology.
While it is much more expensive if you are going to buy 2 TB SSD's or even higher storage space, the smaller storage solutions such as 500 GB or 250 GB are much more affordable. The data transfer speed is extremely fast, as according to the official specification, the SanDisk product can easily handle 550 MB/s read speeds so that you can comfortably transfer large videos, photos and files from your PC or laptop to the external storage solution. Apart from being fast, it is also highly durable as the case has been certified with IP55 water resistant and dust resistant. The assurance lets you take it out in the rain if needed without worrying about splashes of water.
It is also certified to be shock resistant up to 1500 G and vibration resistant making it the most durable SSD around. The company has also certified it to work under temperatures ranging between 0 degrees Celsius up to 45-degree Celsius in heat. The compact design allows users to easily carry it in their pocket and it works on both PC and Mac. The product has a three year warranty period so that you don't have to worry about any issues at all as you can get it replaced in case if it fails to work as intended.
What Makes SanDisk 500 GB External Portable SSD the Most Durable of Them All?
It is certified to be dust, water and shockproof making it the most durable product that you could find to store your data as well as take it around.
The style is compact, rugged and easy to carry around besides being an SSD which is long lasting.
Recommended For:
Users who want the most durability and reliability on their storage solution should opt for SSD's and this SanDisk is the perfect choice
Top of the Line External SSD with Whopping 2 TB of Storage Space
Samsung T5 Portable SSD with 2 TB of Storage Space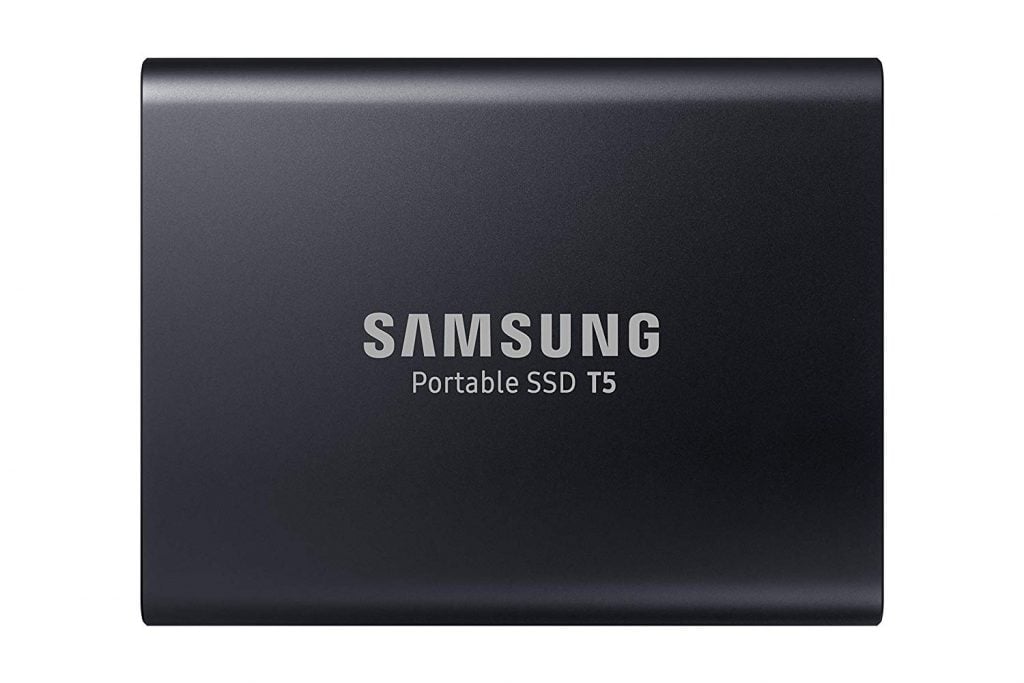 Before you delve deep into the technical specifications and the features found in the Samsung T5 portable SSD, it would be best if you know how expensive this premium product is. After all, solid state drives are quite expensive as they are still being slowly adopted in the mainstream market. While you can easily purchase one that is just 120 GB or 240 GB for your Windows operating system installation, buying bigger sized external SSD's for portable use it still an expensive solution. This particular product with a whopping 2 TB of storage costs nearly $350 but it is a worthy investment if you are going to move a lot of data around.
The lifetime of solid-state drives is much larger than disc-based external drives which are prone to data issues if you are not too careful with them. Samsung excels at making the best and fastest hard drives around. This is one of the best external hard drives in 2022 if you can handle the premium price tag associated with it. The T5 has a read and write speed of up to 540 mb/s and the compact design allows you to carry it in your jean pocket or any bag without filling too much space. It can also be secured with a password so that no one can open the files within. The AES 256-bit hardware encryption provides maximum protection against data theft for confidential files.
The product comes with a three year warranty period and works seamlessly on Windows as well as Mac. You can also use it to externally connect and transfer data from Android phones. It works without any power source and is designed for the future. The bundle includes USB Type C to Type C cables for devices that are already future ready whereas older devices can make use of the cable that uses USB C to USB A to transfer data at conventional write speeds.
What Makes the Samsung T5 Portable SSD 2 TB the Best Premium External SSD?
Despite the pricing, it provides large storage and should easily last you years providing maximum reliability for your data.
The compact design makes it very easy to carry around in your backpack or pockets besides being stylish to look at.
Recommended For:
SSD's are future ready and provides long-term reliability. If you require lots of storage space on the go and a compact yet powerful solution, the T5 portable SSD from Samsung should do it
Most Colourful External Hard Drive with Rugged Design
LaCie Rugged Mini USB 3.0 External Hard Drive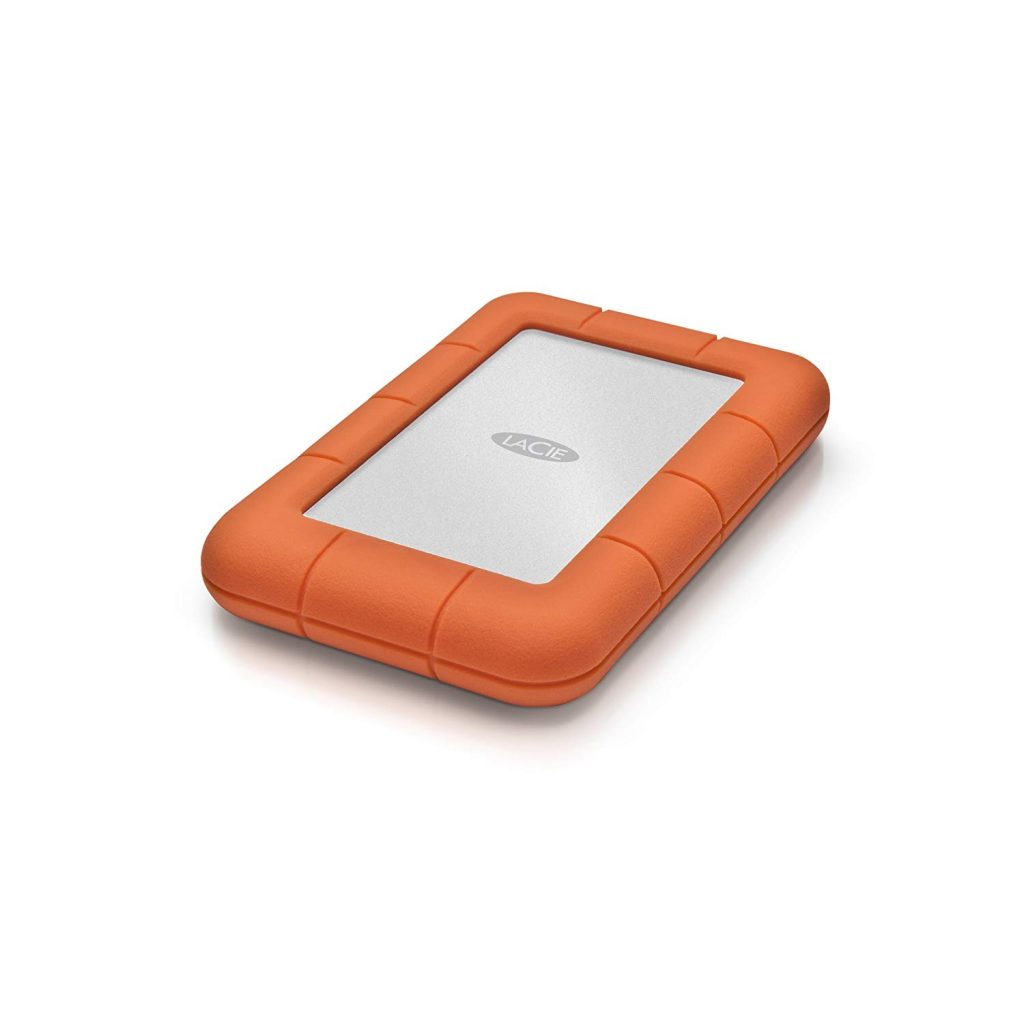 The LaCie hard disk has been designed to be a rugged product so that users could take it outside without the fear of dropping it or corrupting the data stored within. The hard drive is certified to be shockproof and can easily withstand any accidental falls up to 4 feet. The rubber edges on the outside ensure the disk drive is secure and it is also water, dust-resistant so that you can use it in completely different terrains in varying climatic conditions.
The product has password protection built-in and uses USB 3.0 by default, but you can also connect it to a computer with USB 2.0 to transfer data at slow speeds. The hard drive works with all Windows computers out of the box, but in order to use them with Mac, you will have to manually reformat it in the required format.
One of the unique aspects of the hard drive is that unlike many other products that look very professional, this one is being sold in an attractive orange tone. The HDD is also available with a range of connectivity options like USB C and Thunderbolt. The same product is also available in a range of different sizes. For users who are okay with minimal storage, 500 GB should be more than enough. You can also go for much larger sizes like 2 TB or 4 TB. Going for a conventional drive that is also portable with so much storage may not work out in the long run but great as instant solutions for the short term.
What Makes the LaCie Rugged Mini USB 3.0 External Hard Drive?
The Rugged Mini device is capable of being used in different situations as it is dust, water resistant.
Password protection enhances privacy.
Recommended For:
Users who like to have the most durable external hard disk around would find this product to be the best external hard drives in 2022 that they could buy.
Conclusion
The best external hard drives in 2022 are the SSD's that are more expensive yet more reliable, but if you are looking for higher storage space such as 2 TB or 4 TB, you could go for conventional hard drives. The compact ones are easy to carry around whereas the larger ones are ideal for local storage and server purposes.
See also: Top best USB flash drives
---