Technobezz is supported by its audience. We may get a commission from retail offers
Summary – Many enjoy cooking and find the whole process of churning out many exquisite food items
Many enjoy cooking and find the whole process of churning out many exquisite food items with their hands joyful and even therapeutic. While cooking is fun, the chore of washing the dishes after you are done eating often turns out to be a tedious and tiring process. Your body takes a toll as washing dishes require you to use your hands and clean the utensils vigorously so that not a spot of food remains on it and it looks squeaky clean.
Dishwashers have proved to be no less than a boon for people who despise the task of washing utensils manually. Just like washing machines help you clean up your dirty clothes without you having to do it manually, dishwashers serve a similar purpose with respect to washing dirty utensils. Though invented in the late 1800s, dishwashers became enormously popular only during the last few decades owing to technological advancements and changes in lifestyle among people, especially in developed nations.
See also: Best spiralizers.
Best Dishwashers
The Most Popular Dishwashers Around
Bosch SHEM63W55N 24″ 300 Series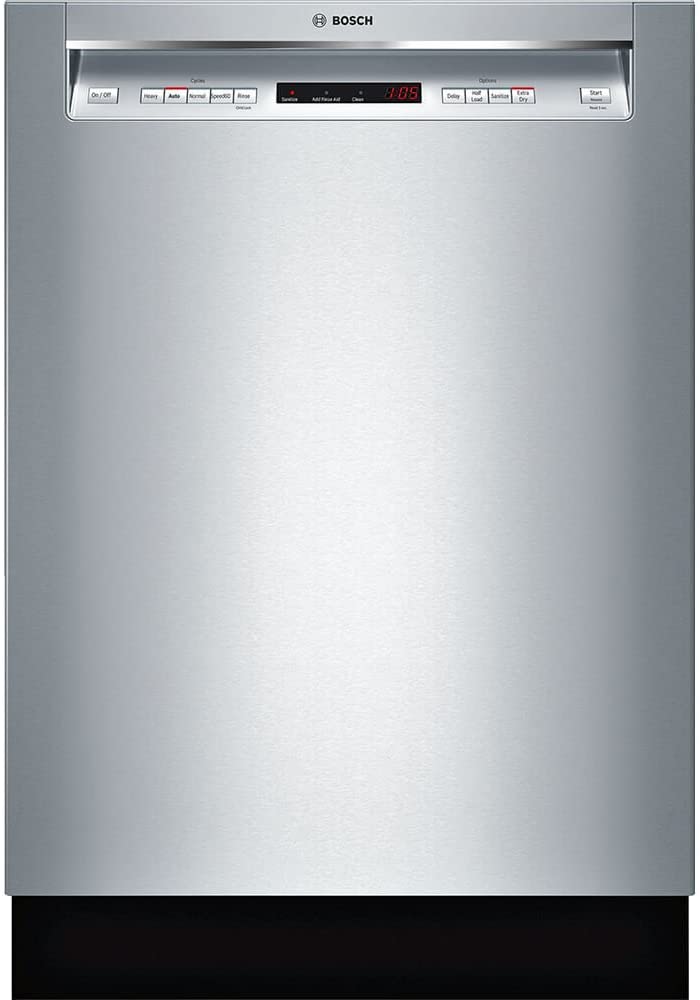 Bosch has been manufacturing dishwashers for years. With time, they have constantly upgraded their products to meet the changing demands of the consumers and keep up with the ever-evolving technology. The company is known to manufacture dishwashers that have a reputation for making the slightest noise. The Bosch SHEM63W55N 24″ 300 Series has been one of the highest-selling and best-received dishwashers in recent times.
The stainless-steel tub attached to the device helps speed up the drying up the process of the washed utensils and also helps in reducing the noise during the washing process. It also comes with an auto-wash option, a favorite of many, which lets you wash a bunch of utensils at the click of a single button.
The Speed 60 Cycle is one of the most popular functions of this machine. It is a cyclic movement designed to wash and then dry the utensils in about an hour. A couple of dishwashers in the market offer a half-an-hour cycle, but needless to say, the cleaning process in such a short time is not as effective as it ought to be. The Bosch dishwasher comes with a water-softener device that protects utensils against scratches.
What Makes the Bosch SHEM63W55N 24″ 300 Series the Most Popular?
It is one of the quiet and budget-friendly dishwashers in the market, loaded with a wide range of functions.
Who Should Buy This?
Middle-income households looking for a cost-effective dishwasher that covers a lot of ground should buy this one.
At 44 decibels, it creates minimum noise. Thus it is also appropriate for students to share accommodation.
The Most Budget-Friendly Dishwasher
Frigidaire FFID2426TS 24″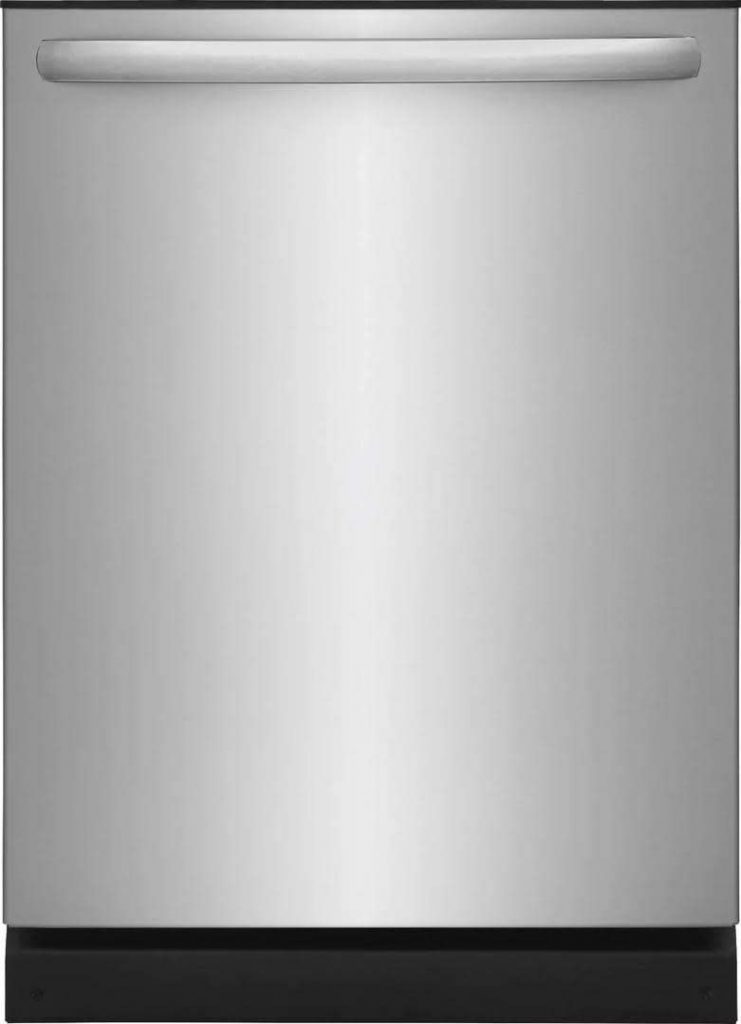 It is one of the lowest-priced dishwashers in the market and, performance-wise, the best in this price range. What catches your attention is the way it has been designed. The exterior has a sleek look accentuated by the fact that the controls have been placed strategically and not in a showy way, acting as a distraction.
The dishwasher tub is made of a polymer that adds to its functionality, and there are two nylon racks inside it. The rack at the bottom is 11 inches long, allowing enough space for dishes of various shapes and sizes to be accommodated. At 8 inches, the upper rack is not as elaborate but long enough for most standard-sized dishes to be kept.
The machine boasts of the latest, upgraded technology, including an OrbitClean blade spray arm covering roughly four times the surface area covered by most other spray arms. Different wash cycles are prescribed, such as the Rinse-only cycle. If the utensils are moderately dirty and for heavily soiled dishes that need a thorough wash, a Heavy-wash cycle.
What Makes Frigidaire FFID2426TS 24″ the most budget-friendly Dishwasher?
While there are dishwashers priced even lower than this, those are devoid of many of the advanced features offered by the Frigidaire dishwasher.
Who Should Buy This?
If you are in urgent need of a dishwasher but are operating on a tight budget, this is the best bet for you.
It is an Energy Star Qualified dishwasher and should be a good option for those who are conscious of the environment and ensure that their carbon footprint is kept to a minimum.
Best Countertop Dishwasher
Danby DDW631SDB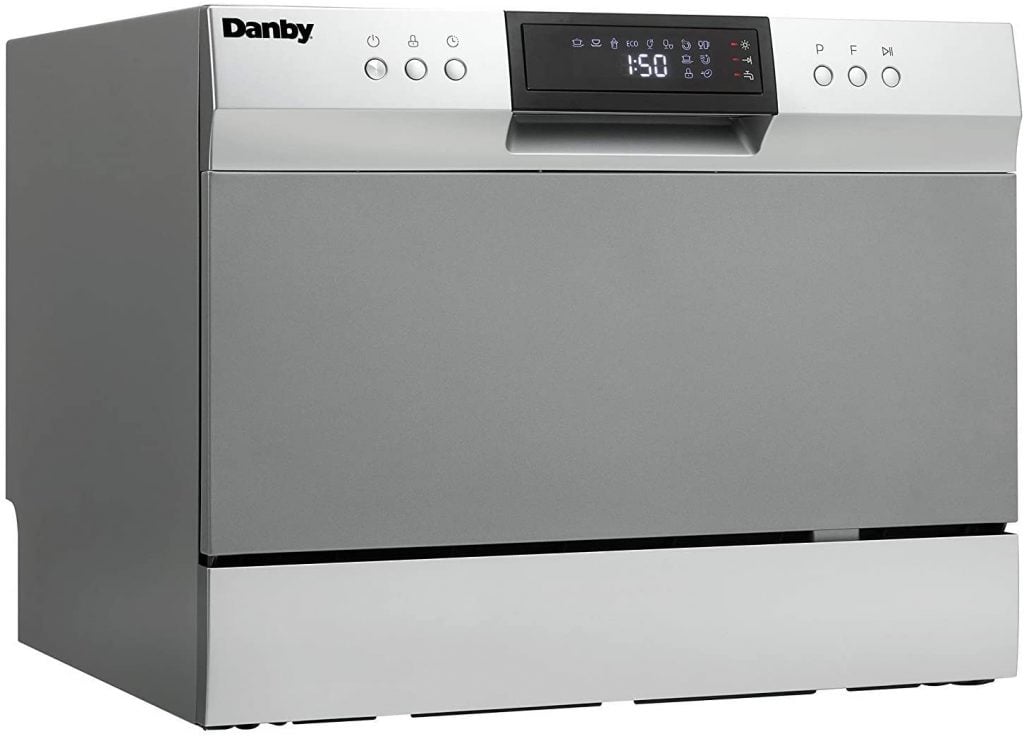 Danby is another company that enjoys an excellent reputation in the market when it comes to dishwashers. The DDW631SDB specifically has been lapped up by the consumers in large numbers in recent times. In the countertop dishwasher category, it has proven itself to be the best in terms of performance.
While full-sized dishwashers remain in demand, the popularity of countertop dishwashers, referring to the ones which are smaller in size and consume less space, has also grown in recent times. They are usually connected to a sink faucet for the water source. This dishwasher is light on your pocket and more environment-friendly as they tend to consume less water.
Apart from having several stand-out features, the one thing that has caught users' attention is its ability to clean up dishes pretty neatly and in an almost spotless manner. Standing at the height of 17.25 inches, a width of 21.63 inches, and a depth of 21.63 inches, it is a compact dishwasher. It is the only dishwasher manufactured by Danby, which boasts an in-built heater to moderately heat the water. This would make it easier for the grease and food remnants to be washed off the dishes.
What Makes Danby DDW631SDB the Best Countertop Dishwasher?
It comes with a battery and weighs just about 46.3 pounds, and so you can carry it along when you plan an outdoor excursion or go camping with your friends.
Who Should Buy This?
If you do not like wasting too much water but want the dishes to be squeaky clean, this is a good option.
If your kitchen is short of space, Danby DDW631SDB is the best choice for you.
Best Portable Dishwasher
SPT SD-9241SS: Energy Star 18″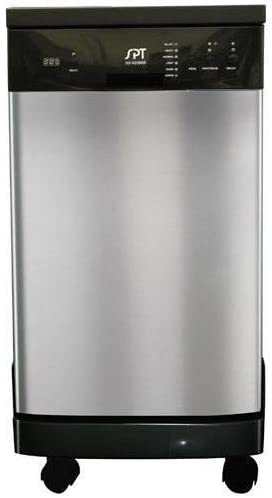 This compact dishwasher grabs your attention when you look at its lustrous exterior consisting of a stainless steel door and a black touchpad control panel. Its performance is top-notch with six wash cycles which also offer a time delay of 1 to 24 hours. The digital console also gives you important alerts and keeps you abreast of any technical error during the wash.
It is a small yet solid device with wide and spacious racks, wheels that lock it firmly into position, and surfaces made of stainless steel. As the manufacturers have pitched and designed it as a portable device, they have embedded it with features that make it easy to connect at different points across the house or wherever you are traveling around with it.
It does not utilize much water – it uses just about 3.65 gallons per cycle, and the temperature does not rise above 154 degrees while heating the water for washing the dishes.
What Makes SPT SD-9241SS: Energy Star 18″ the Best Portable Dishwasher?
This portable device scores well on its performance as it does on its looks.
Who Should Buy This?
It connects quickly to any kitchen faucet, so this would prove to be a good investment for those who shift homes.
The digital console has simple, easy-to-operate controls. So even if you are not at ease with technology, you can use it effortlessly.
Best Portable Dishwasher for Families
BLACK+DECKER BCD6W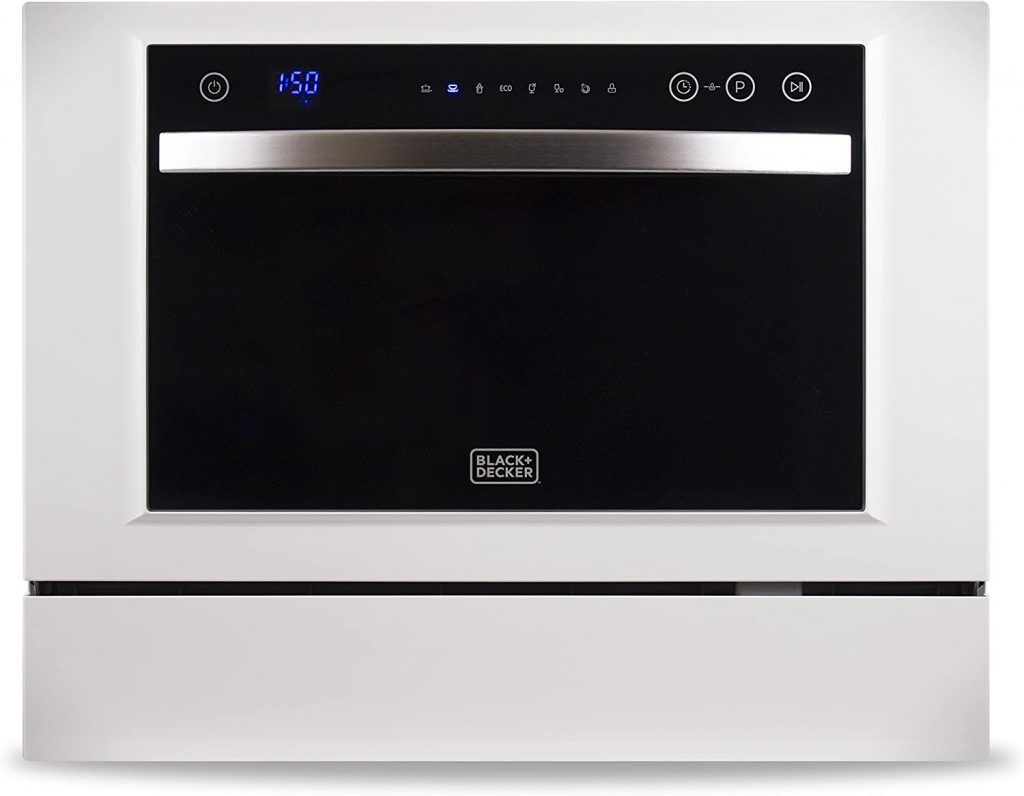 Besides being popular with people who live independently, many families also prefer using portable dishwashers for the multiple functions they offer. The top of these countertop dishwashers could serve as the base for keeping or for preparing food. It also fits in seamlessly as one of the built-in devices in the kitchen.
The BLACK+DECKER BCD6W has been designed in a way that it would fit in all kinds of kitchens. It can be attached easily to the kitchen faucet. While most of its features have been designed so that you will be required to do very little manually, it also comes with an easy loading feature. The only manual activity you need to do is slide the rack out of the device.
The entire body is made of stainless steel, ensuring protection from alkaline and other acidic solutions. Regardless of the detergent you use and the temperatures you operate, the machine's body will remain solid for years. It does not consume much water and saves up on energy too.
What makes BLACK+DECKER BCD6Wthe Best Portable Dishwasher for Families?
Along with its several features specifically designed to keep families in mind, it is designed and manufactured to fit into kitchen faucets of all shapes and sizes.
Who Should Buy This?
It is an excellent buy for families with small children as it comes equipped with a child-lock that ensures the safety of the children in the house.
If you are in a job involving frequent transfers, this dishwasher would be a good investment.
Best Dishwasher to handle heavy loads
Edgestar B07BR3XHYG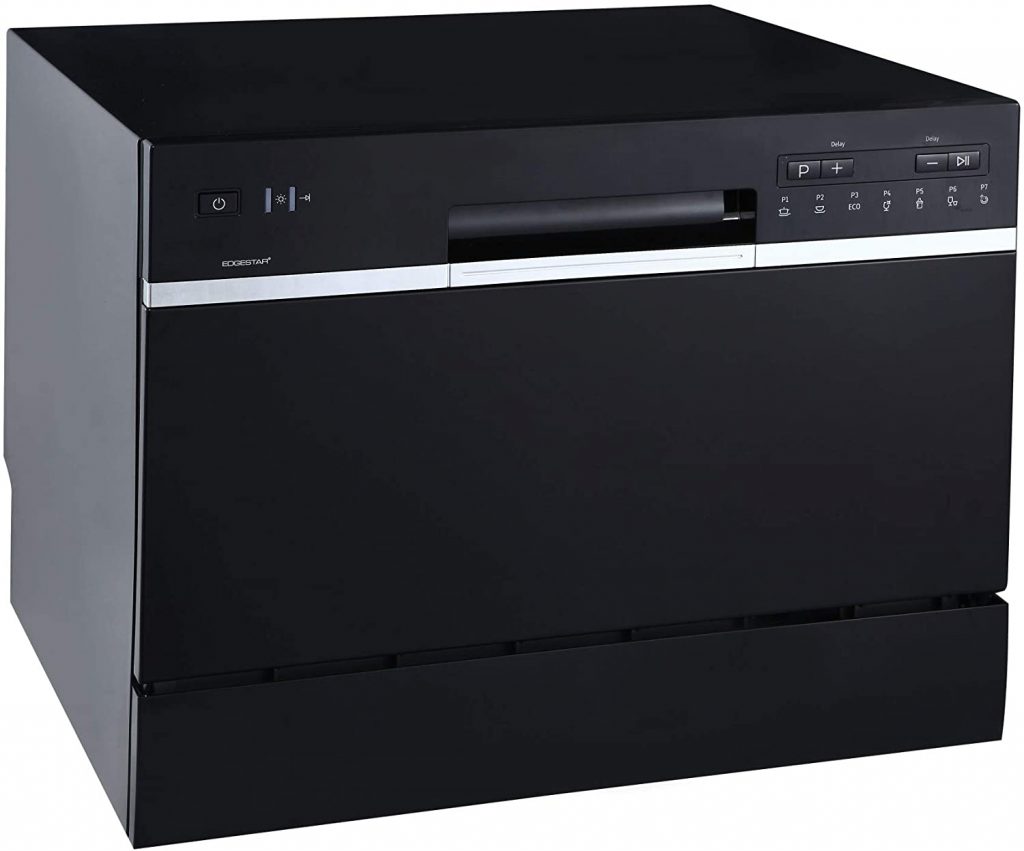 While portable dishwashers are used largely by bachelors or people living in shared accommodations, it is also preferred by families who live in relatively smaller houses and cannot make enough space to accommodate a full-sized dishwasher. At times, people also prefer a portable dishwasher against a bigger one for reasons of affordability.
It is the best option among dishwashers of this price range as it can handle heavy loads but consumes much less energy than other machines. It operates with 120-volt electricity with a 60-hertz frequency. This dishwasher has been manufactured keeping in mind the various requirements of different types of people. It has six different types of place setting capacity, which is useful for maintaining the order of the dishes in the machine.
The EdgestarB07BR3XHYGboasts of a sleek design that is easy on the eyes, and thus, it is not the kind of machine you would wish to hide when guests come home. It has a seven wash-cycle system and comes with a quick-connect adaptor that can be fixed on different power outlets in your house.
What Makes Edgestar B07BR3XHYG the Best Portable Dishwasher for Families?
Despite being a portable device, its capability to handle heavy loads and ease of use makes it an ideal dishwasher for families.
Who Should Buy This?
It is suitable for families.
People looking for a portable device that can handle heavy loads but operate using low power consumption.
Best High-End Dishwashers
Bosch 800 Series SHPM78Z75N
If budget is not a constraint for you and looking for the best dishwasher, regardless of the money you have to spend on it, then Bosch 800 Series SHPM78Z75N is something you must check out. It is the most highly-priced dishwasher manufactured by Bosch to date.
The device uses several new-age technologies that give your dishes the best wash possible. It uses the mineral zeolite, which automatically heats up when it touches water. Bosch invented a unique drying process called CrystalDry, which it got patented and now uses in the devices it manufactures. While CrystalDry helps in drying up the dishes quickly, the presence of zeolite adds noticeable shine to the dishes after they have been washed and dried up.
The exterior and the interior are made up of stainless steel, and the upper rack comes with an adjustable height system that enables one to accommodate large dishes. At 40 dBA, the machine operates at deficient noise levels, so even if you are sitting in the adjacent room, you will not notice that the machine is in operation.
What Makes Bosch 800 Series SHPM78Z75N the Best High-End Dishwasher?
Though highly-priced, Bosch has justified the cost by incorporating several features that should provide you good value for money.
Who Should Buy This?
For families and those who do not mind spending more to get the best product available.
It scores high on both style and performance and suits those who need a trendy-looking dishwasher.
The Best Dishwasher for Hard Water
GE Appliances GDT655SSJSS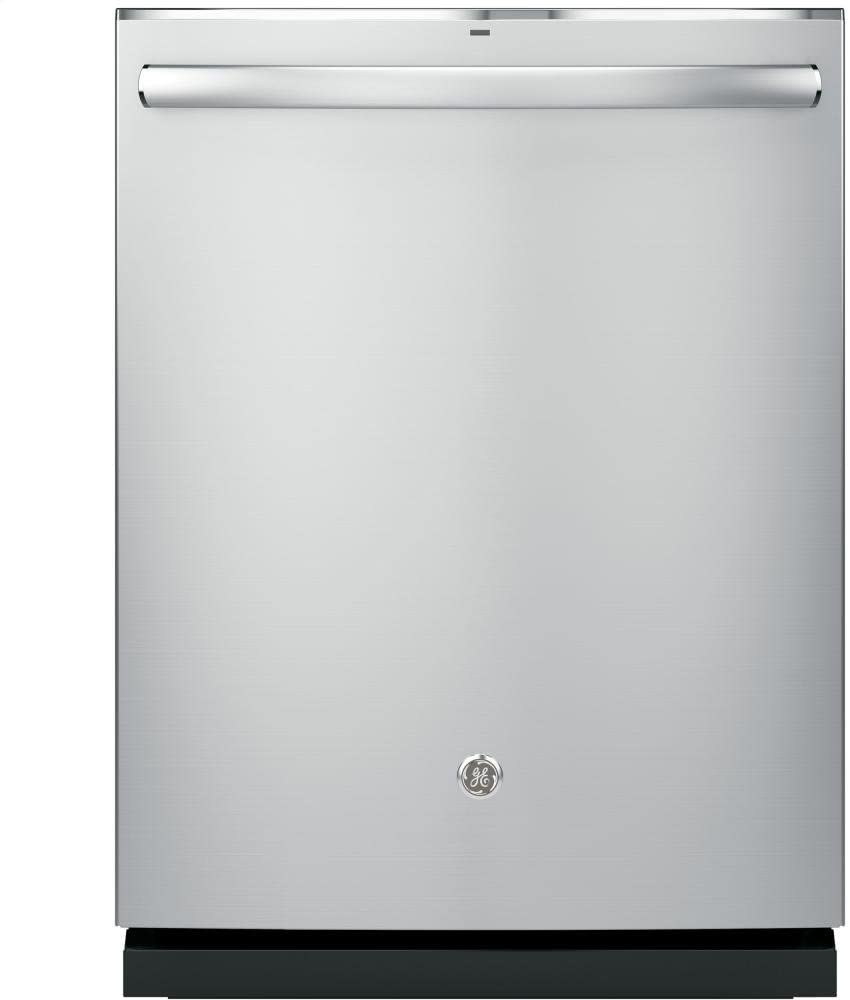 If you have hard water running through your kitchen taps, you will notice a residue on your dishes. It will be a milky, white residue that you would normally find at the edge of your dishes. To ensure that such a residue does not remain on your dishes after you wash them, you must install a dishwasher that is well-equipped to get dishes washed with hard water.
The mineral deposits found in the hard water are difficult to remove by scrubbing with hands, and you need the help of a dishwasher to do the same. GE APPLIANCES GDT655SSJSS has proved to be the most effective in this regard. Apart from cleaning the soiled dishes, its internal mechanism has been built to ensure that the deposits get washed away.
The dishwasher comes armed with an auto-sense wash cycle, a pre-wash steam option that helps it deal with many dishes at one go. The auto-sense system detects how dirty the dishes are and adjusts the wash settings accordingly. The small residual food particles are broken apart in the hard food disposer's steel blade, which rotates at 3,600 pm.
What makes GE Appliances GDT655SSJSS the Best Dishwasher for Hard Water?
It has been known to be extremely effective when it comes to dealing with the residual substance on the dishes.
Who Should Buy This?
For people who have hard water in their area, it's a must-buy.
It is also recommended for people who prefer a dishwasher with a long life. It comes with a one-year warranty period that covers parts and labor.
The Dishwasher with the Best Cleaning System
Sunpentown SD-2224DS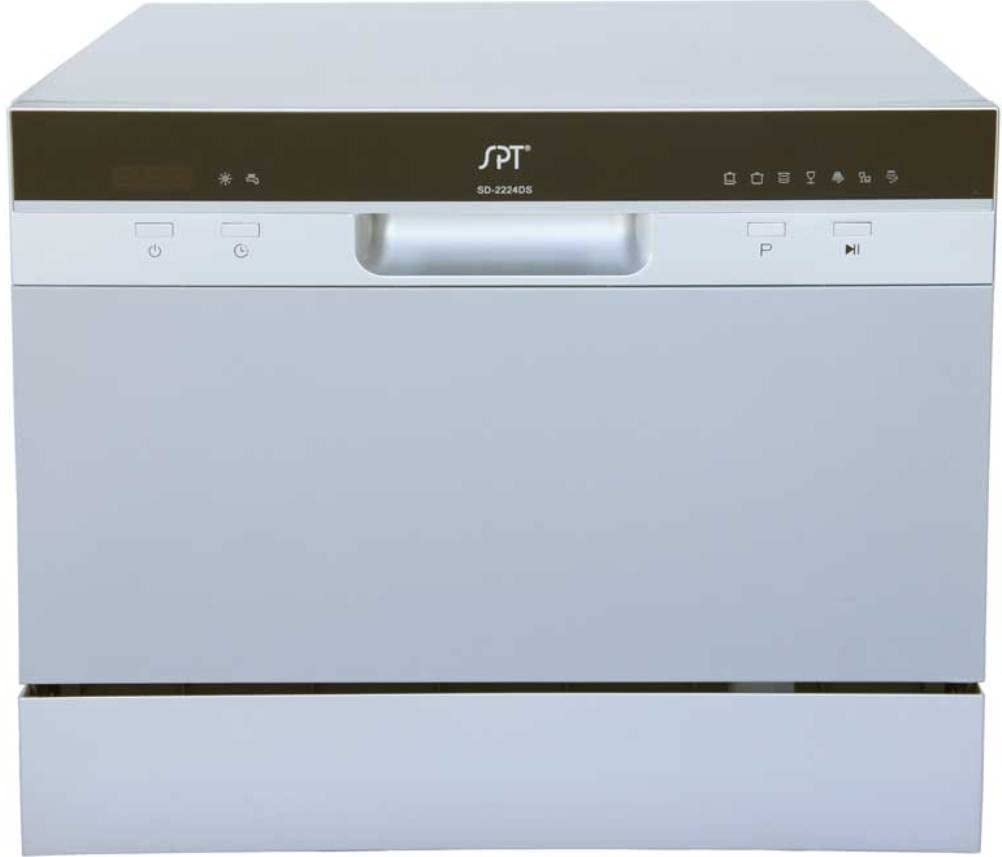 Before analyzing the several functions, it is important to look into that one basic function which we buy it for – cleaning the dishes. This particular model of Sunpentown has performed very well in this particular aspect. It has several features like automatic detergent and a rinse-aid dispenser, proving effective in the cleaning process.
It is compact, fits in easily with most kitchen faucets, and does not require any direct plumbing. It is easy to install permanently in a particular place as well. It can deal with heavy loads as it accommodates six standard place settings and dishes that are 10.25 inches long. It facilitates seven kinds of wash cycles – heavy, normal, light, mini-party, rinse, speed, and soak.
It is a perfect dishwasher for apartments, small kitchens, and places being rented out for shared accommodation. Though it is a countertop dishwasher, it offers as much strength and power as a full-sized dishwasher.
What Makes Sunpentown SD-2224DS the Dishwasher with the Best Cleaning System?
When cleaning the dishes thoroughly, this compact-sized dishwasher would give any full-sized dishwasher a run for the money.
Who Should Buy This?
If you are mainly interested in a dishwasher's basic function of cleaning the dishes properly, then this is a machine you should invest in.
It is a good buy for families who have small kitchens or live in apartments with space constraints.
The Best Dishwasher for Drying
LG LDF5545ST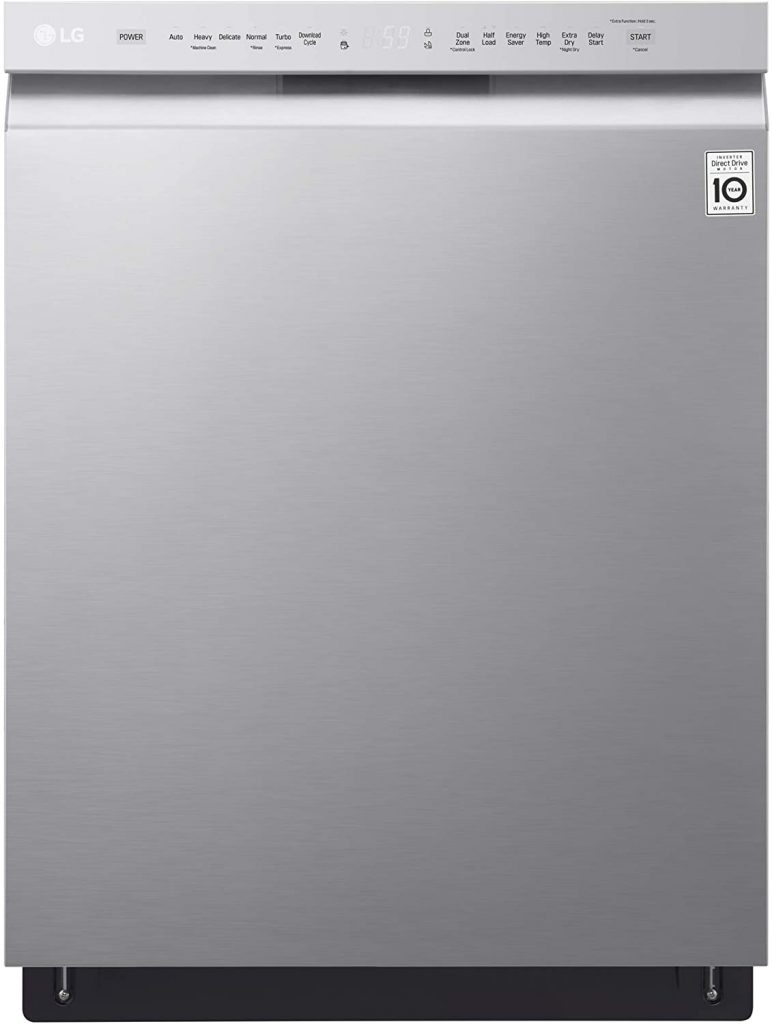 Those who are planning to buy a dishwasher also take into account whether it has a good drying function or not. For the dishes to be used immediately after they are washed, they must be dry. Hence, the device must have good drying features.
LG LDF5545ST is one dishwasher that has proved to be the most effective for fulfilling drying functions. By that, we do not imply that it is the only good thing about it. It boasts of excellent cleaning performance and the kind that can be compared to the best-rated dishwashers in this category.
It has different wash cycles – Normal, Turbo, and Heavy-Duty for different loads. If you have dishes stained with some hard-to-remove residues, it is advisable to opt for the Heavy-Duty cycle. This cycle takes a little longer, around two and a half hours, to complete, but once it is done, you will find the dishes completely clean and, most importantly, dry and ready to be used again.
What Makes LG LDF5545ST the Best Dishwasher for Drying?
While it takes some time to complete the process, it makes sure that the dishes come out 100% dry.
Who Should Buy This?
Large families that use a large number of dishes regularly need them to be dry at all times.
LG provides one year of warranty for full parts and service, five years for console and rack parts coverage, ten years coverage for the direct-drive motor, and lifetime maintenance for the stainless steel door liner and tub.
The Best Smart Dishwashers
Smeg 50's Retro DF6FABRD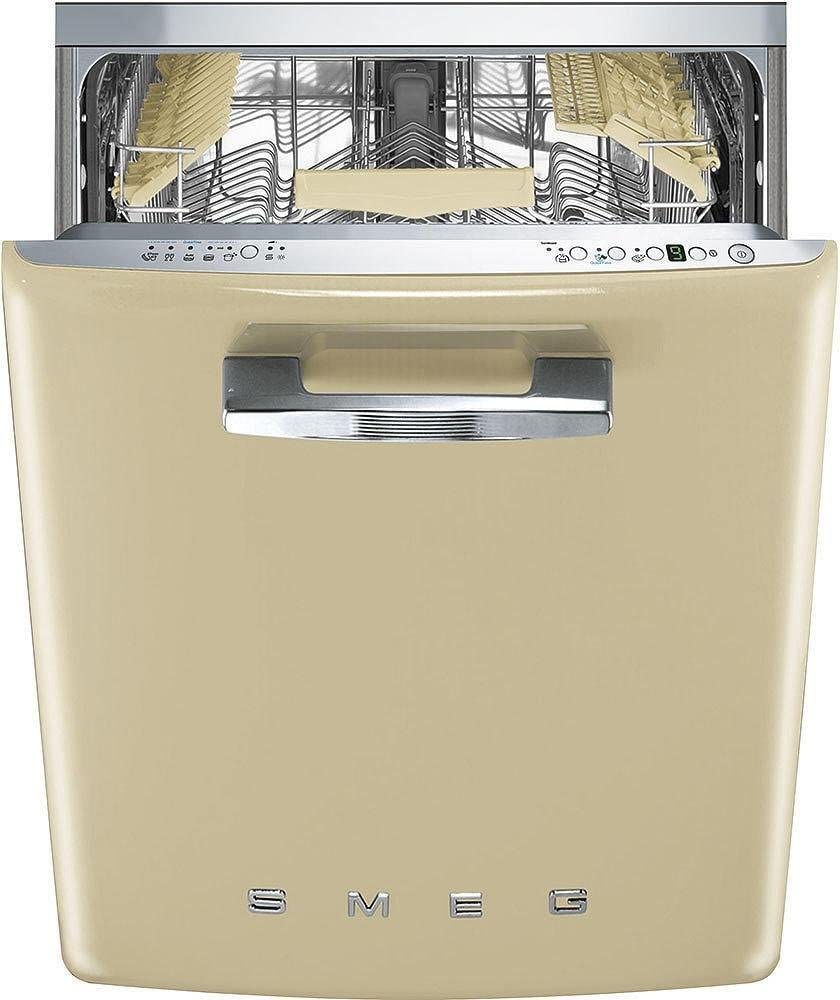 The difference between a smart dishwasher and a generic dishwasher is almost the same as a basic phone and a smartphone. While most dishwashers in every category come armed with upgraded technology and the kind of controls that make things easy for the user, smart dishwashers are the ones that are considered to be the most advanced in terms of technology and have the kind of technological finesse which non-smart dishwashers do not offer.
Smeg 50's Retro DF6FABRD is high-end and, thus, more expensive than other dishwashers around. The device justifies its price very well. For starters, it comes in a bunch of different colors. People who find the black, grey, and white color tones of most dishwashers boring, should be more than happy to invest in a device like this that breaks that monotony.
It justifies the 'smart' tag attached to it by offering several innovative techniques, including a quick wash executed as quickly as 27 minutes. It also has a unique planetary water jet system that sprays water from multiple points in the machine onto a spinning arm to ensure that the dishes go through a 360-degree cleaning process.
What Makes Smeg 50's Retro DF6FABRD the Best Smart Dishwasher?
It comes with an unbeatable combination of retro look reminiscent of the 50s and the modern, high-tech of the present times.
Who Should Buy This?
People who want to bring some vibrancy into their kitchen with a colorful, eye-pleasing dishwasher can opt for this.
It is equally suited for people who want their dishwashers to have the most upgraded technology.
Best Dishwasher for Plastics
Bosch SHXM98W75N 24″ 800 Series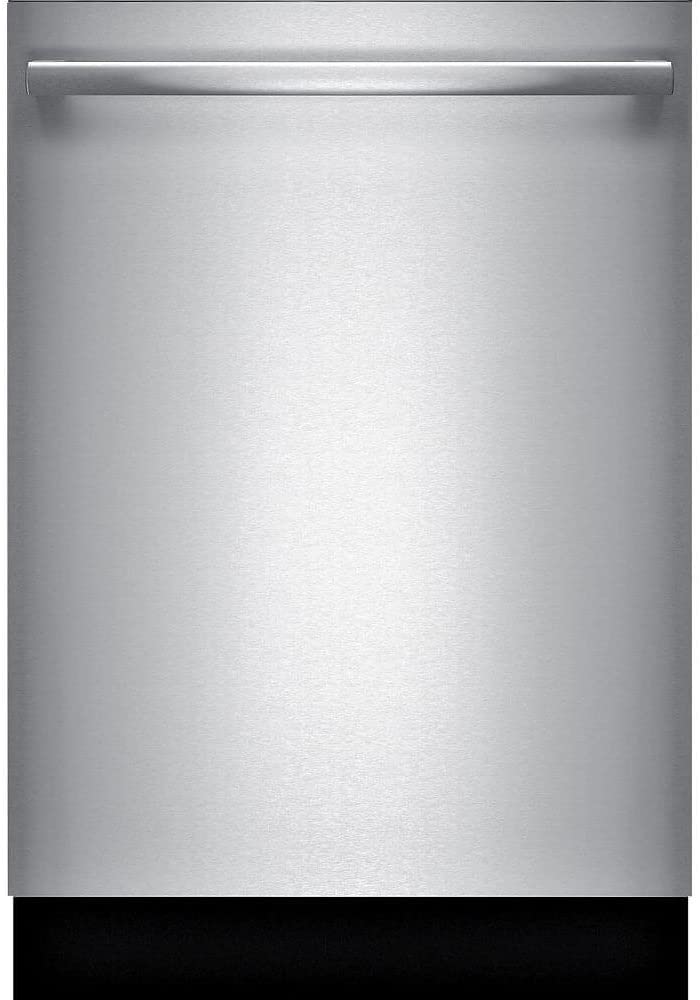 While most dishwashers can wash dishes of different kinds, if you wash jars, containers, or bottles made of plastic regularly, you have to be extra cautious while buying a new dishwasher as not all machines are adept at dealing with plastic material. Also, many dishwashers do not do an outstanding job at drying up the plastic material after it is washed, and one has to dry them up manually after it gets washed by the machine.
Bosch SHXM98W75N 24″ 800 Series is the best dishwasher available in the market for dealing with plastic. It contains minerals in a sealed CrystalDry chamber which heats the air inside the dishwasher and pumps it into the dishwasher to speed up the drying process. There is also a small heating element that refreshes the minerals to get ready to take up the next load and need not be replaced after a couple of washes.
While it is the best dishwasher for plastics, it is very efficient when it comes to washing non-plastic material as well. It is capable of taking big loads and cleans up dishes efficiently. It also has an extra deep third rack to hold small bowls, elongated material, and very wide utensils. The machine operates at minimum noise levels and has a tiny red-light blinker on the top surface to show that it is in operation.
What Makes Bosch SHXM98W75N 24″ 800 Series the Best Dishwasher for Plastics?
Apart from cleaning up regular dishes well, it is extra-sensitive towards plastic material and uses technology that does not damage the plastic dishes.
Who Should Buy This?
It is an apt dishwasher for individuals and families who have plastic utensils to wash in large numbers.
It has a very effective heating system which helps in drying up the dishes in no time.
The Best Dishwasher with Drawer
Fisher Paykel DD24DAX9N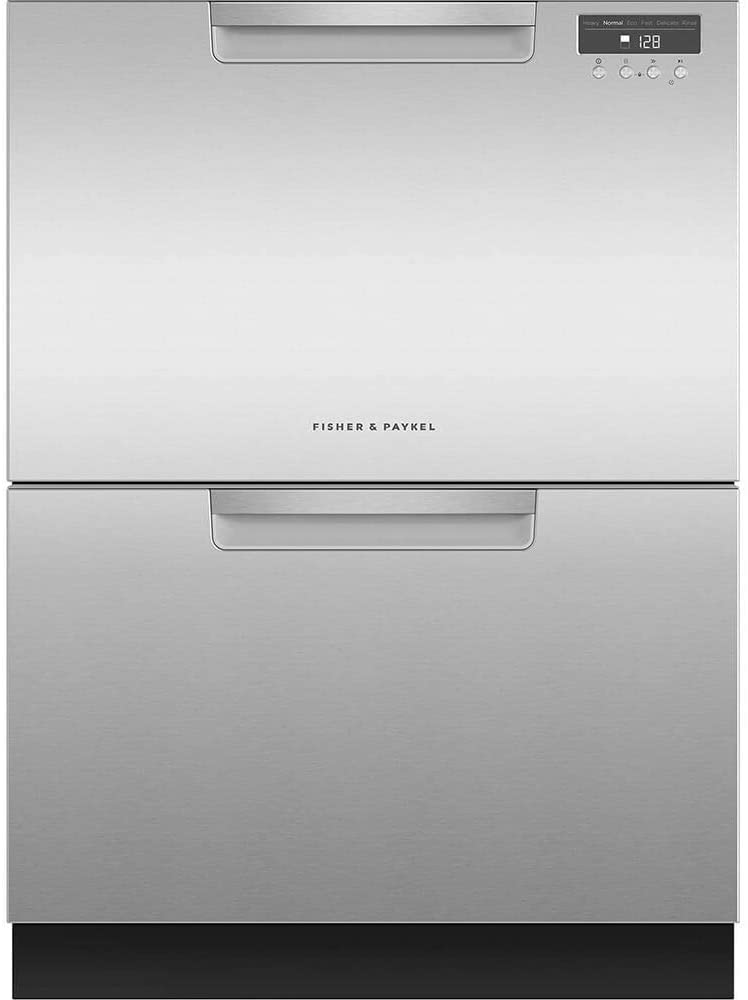 For the last several years, there has been just one company – Fisher Paykel, which manufactures dish drawers. A dish drawer is divided into tubs. The cleaning system and racks installed within it open like a set of drawers instead of sliding from behind a door. This particular dishwasher, made of stainless steel, comes up with a double-drawer unit and a breadth of 24 inches.
As there are two drawers in the machine, it almost functions like two dishwashers in one. The topmost compartment sources water from the same inlet as the lower compartment but both the drawers can either function independently or together. Each drawer has its separate detergent dispenser, wash-timer, and rinse aid reservoir, which means each unit can operate independently.
The controls are easy to operate. There are three buttons near the upper right corner of each drawer. You need to pull out a drawer to select the wash cycle you want to clean the dishes with. To do the same, you need to switch on the electrostatic touch-sensitive button.
What Makes Fisher Paykel DD24DAX9N the Best Dishwasher with the Drawer?
The dishwasher comes with two drawers which can be operational concurrently and smoothly.
Who Should Buy This?
It would be a good purchase for families that deal with heavy loads and need to wash a large number of dishes regularly.
If you are looking for a dishwasher that can also double as a storage unit, go for this one.
The Most Eco-Friendly Dishwasher
Amana ADB1400AGS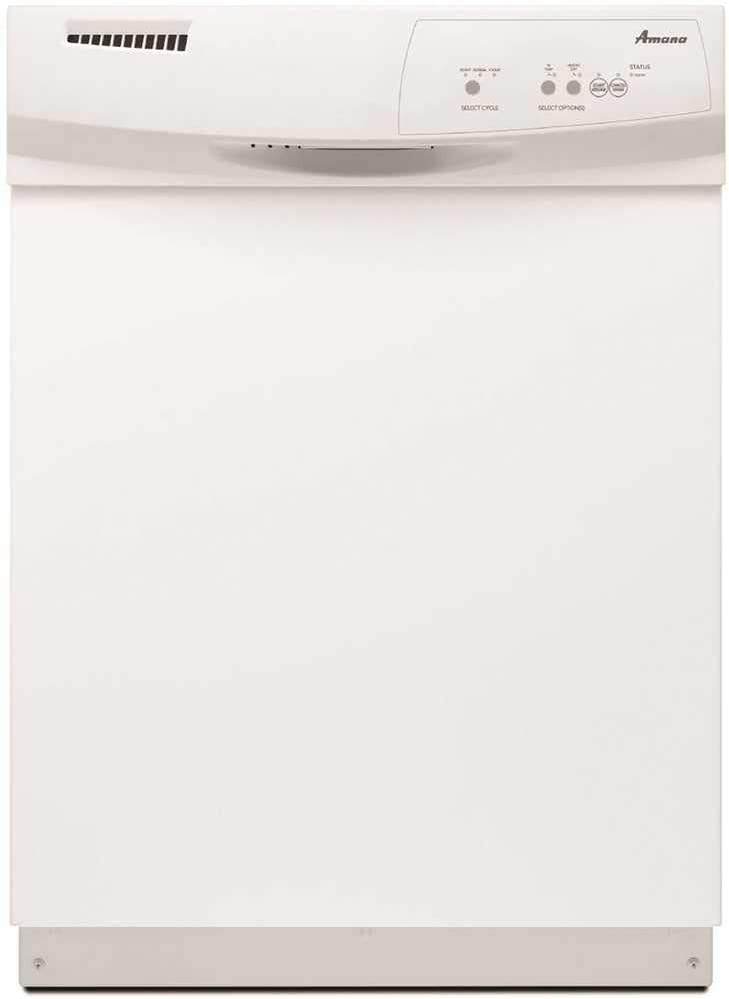 Environmentally conscious individuals like to invest in machines that do not consume a lot of energy. Usually, the dishwashers with the highest Energy Star rating consume the least amount of energy and are more conducive to the environment. Apart from scoring well with its cleaning performance, Amana ADB1400AGS has proved itself to be a device that consumes much less energy than its counterparts.
The dishwasher is made of stainless steel and has an exterior that boasts finesse and style. It is available in two colors – black and white. It has a heating element that gets activated automatically during the normal as well as heavy cycles.
The detergent dispenser has two levels, and you can decide how much liquid detergent you wish to add to a particular load. There are three wash cycles and tests that have found the normal cycle to be the most reliable for ensuring that the dishes turn out completely clean. The heating system also does an effective job of drying up the dishes quickly.
What Makes Amana ADB1400AGS the Most Eco-Friendly Dishwasher?
It enjoys a super-high Energy Star rating and has proved to be a device that consumes very little energy.
Who Should Buy This?
It is a must-buy for people who want their machines to exert minimum pressure on the environment.
Apart from its numerous appealing features, it scores high on looks and design and would be a good addition to a household that emphasizes aesthetics.
Conclusion
The task of washing dishes need not be as tedious as you find it to be and definitely not something which would dissuade you from cooking. While cooking requires manual efforts from your end, you can let your dishwasher do all the cleaning once you are done eating. Every dishwasher listed above has its unique selling point and a feature in which it excels. You can make a choice depending on that one essential task you want your dishwasher to perform.
---