Technobezz is supported by its audience. We may get a commission from retail offers
Summary – Super-intelligent smartphones have taken over the world of compact cameras and DSLRs
Super-intelligent smartphones have taken over the world of compact cameras and DSLRs or so people say but the professional, creative photographers continue to use and sustain their interest in costly standalone cameras. While DSLRs have an interchangeable lens and great customization features, the best compact camera can help you get professional-quality pictures while keeping the size of the camera small enough to carry in your backpack. When choosing your compact camera, consider its primary purpose as you won't be able to modify it like a DSLR or mirrorless camera, as a particular compact camera model is designed for its designated purpose only.
See also: Best camera smartphones
Best Compact Camera
Best Compact Choice with Excellent Zooming Capability
Canon PowerShot G1 X Mark III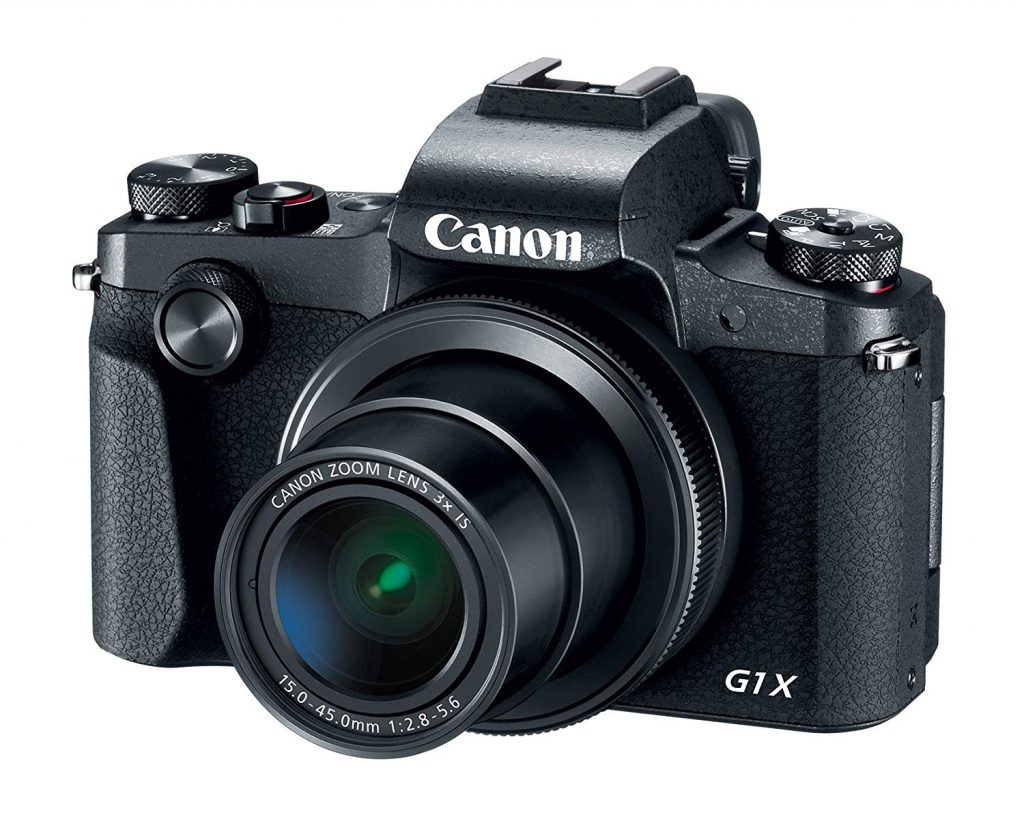 The Canon Powershot G1X Mark III is the top of the line product designed for enthusiasts who love to have a powerful DSLR-like camera at their disposal but with the compactness to easily carry it around. While the pricing of the camera might deter a lot of people, if you are looking for excellent zoom capabilities combined with high-quality pictures, this should be right on the cards.
The camera is powered by a 24-megapixel APS-C sensor which is already being used in the popular 80D Canon model. The zooming comes in handy if you are going to cover a lot of events, travel a lot, and enjoy taking long-shot pictures. The aperture levels might be a bit of a problem because they go all the way up to f/5.6 when fully zoomed but that is only for specific photos.
If zoomed photos are your primary requirement and you are not willing to carry a DSLR along with two different zoom lenses in a huge bag, the G1X Mark III is an expensive yet appropriate solution for your requirement. The picture quality is excellent especially when you capture photographs in close-up shots or moderate distance while you still have the freedom to go much higher in case the situation demands.
What Makes the Canon PowerShot G1X Mark III Ideal?
The camera is primarily designed for anyone who needs a zoom lens but is willing to compromise on the increased aperture.
It is compact, has a very reliable sensor and also delivers DSLR-quality photographs without any compromise.
Recommended For:
The photography enthusiast who specializes in long-distance shots. The Canon G1X Mark III is quite expensive when compared with other cameras but it offers a cool 3x zooming capability that you will find very handy. Especially if you take long-distance photographs while traveling or while covering events.
The camera also has a great sensor that is reliable for all kinds of professional photography, in a compact form.
A Compact Camera from Panasonic for 4K Photos and Videos
Panasonic Lumix LX100 II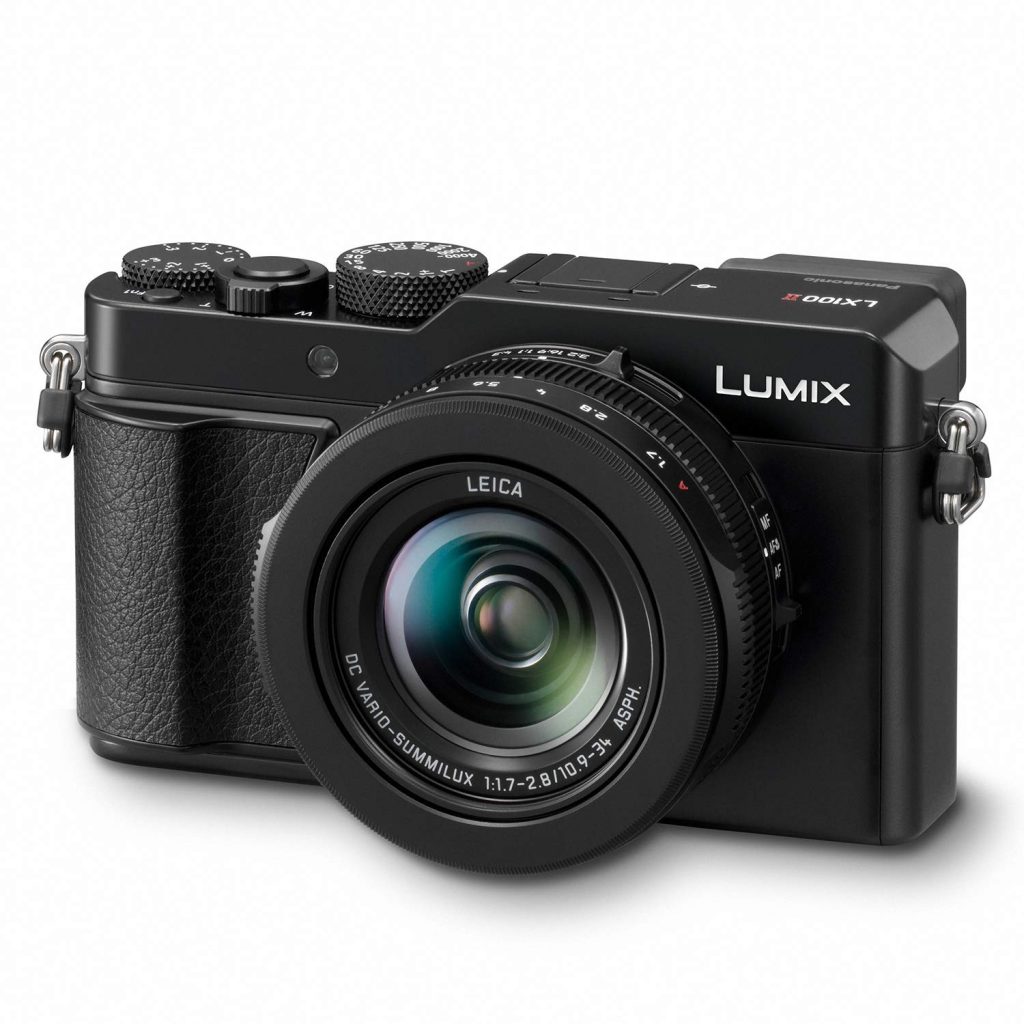 At first look, the excellent build quality and the design of the Panasonic Lumix LX100 II will impress and inspire you to probably buy the camera. When you go further into the technical specifications, you will find that the best compact camera has several other amazing features including a large micro four-thirds sensor. The compact camera is designed to help you click professional-quality 4K pictures and videos.
In terms of specifications, the camera is powered by a smaller 16-megapixel MFT sensor which allowed the manufacturer to keep the size of the product small and easy to use. The multi-aspect feature will allow professionals and enthusiasts to comfortably change the aspect ratio to 4:3 or a wide format based on their requirements. Such an addition allows photographs or videos to be captured in unique formats.
Despite being a compact camera, the manufacturer, Panasonic has added some physical buttons to make it easier to use. There is an external shutter that allows you to control the speed dial, an aspect ratio switch that makes it easy to change aspect quickly, and lens aperture ring. The camera has enough features for professionals but is still easy to use for newbies who look for a compact solution for their photography requirements.
What Makes the Panasonic Lumix LX100 II Stand Out?
The camera's capability to capture both 4K videos and pictures.
The aperture level of the lens is impressive as it is at f/1.7 and can go up to f/2.8.
Recommended For:
Those looking for a compact camera. The Panasonic Lumix LX100 II delivers a good and large sensor in a compact body.
The camera easily finds its way into the list of compact cameras that anyone could buy in a moderate budget. It still delivers some unique features that certain professionals and hobbyists would gladly pay for.
Look Stylish with a Touch of Retro
Fuji X100F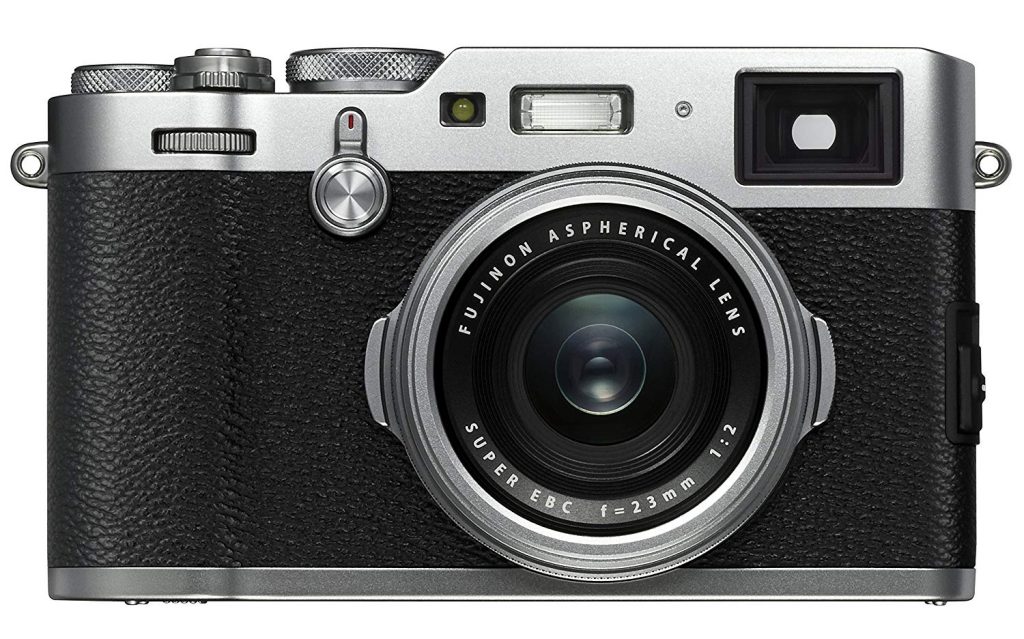 Some photographers love to roam down beautiful streets and locales so that they can simply capture the beautiful moments as and when they come across them, in the blink of an eye. The best compact camera is a good choice for those who like to be on the move without having to carry bulky bags or camera lenses. The Fuji X100F is right on the spot because the brand name already stands proof for its retro effect.
The entire camera's design is inspired by the cameras from decades ago and it adds a sense of style when you hold it to shoot picturesque photographs. However, it does come with a high price tag that is not affordable for everyone. The model is powered by the APS-C lens which is the same as the one found in DSLR models and it has an f/2.0 aperture with the 35mm fixed lens.
There is no point in trying to adjust its lens because most compact cameras are designed to be static and shoot on the spot. The Fuji model is ideal if you are standing before your subject or person to instantly capture it in bright daylight. The aperture may not be ideal to capture nightlife but it does have an amazing viewfinder that makes it a fun experience to use this retro-looking camera. The design just adds up to its appeal.
What Makes the Fuji X100F a Capable Product?
The retro design is definitely a selling point for this product.
You get the best of both worlds, digital and optical technology.
Recommended For:
The enthusiast looking for a nostalgic experience created by the retro-design.
For the traveler. Combined with the large sensor, the overall performance of the camera makes the Fuji X100F a great choice for people on the move. You can just capture all the beauty you see on the go and it is also ideal for street photography.
Long Zoom and Ideal for Wildlife Photographers
Sony RX10 IV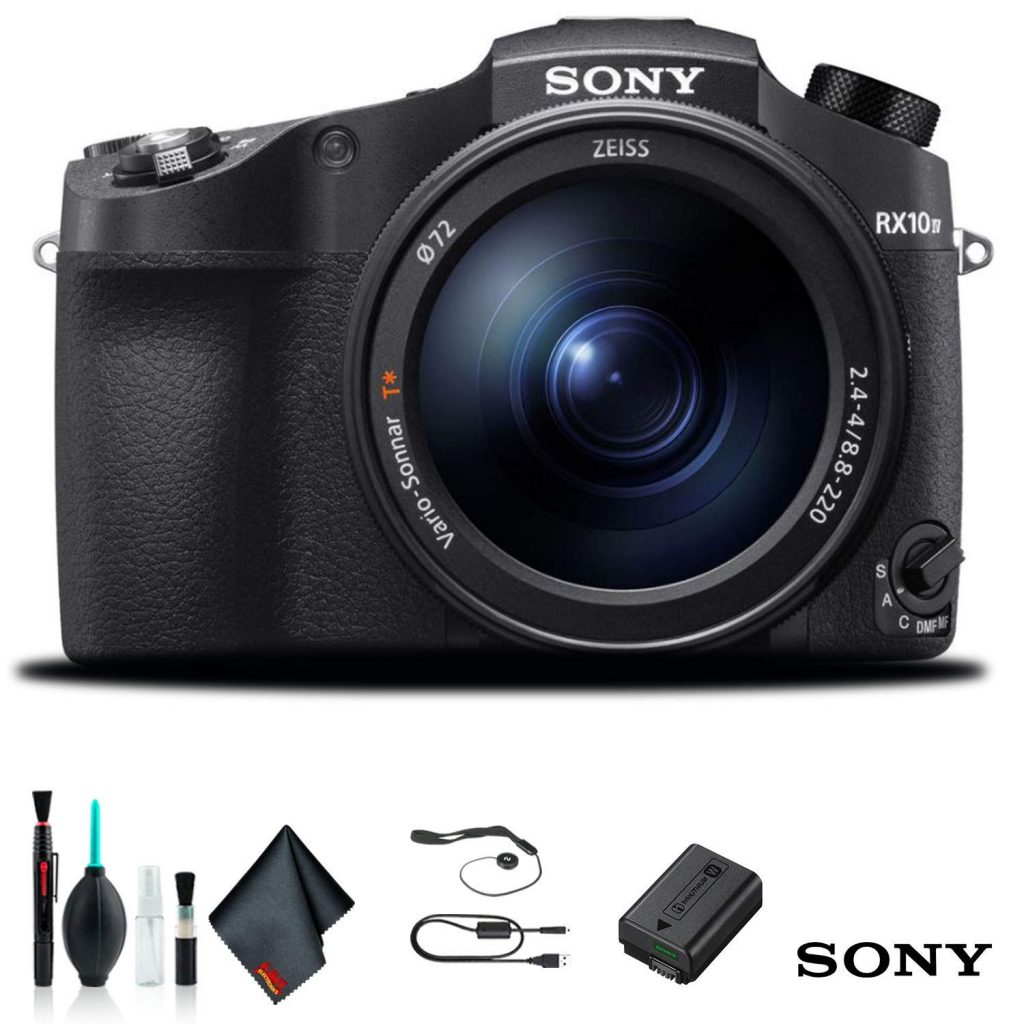 Sony has been going at a very strong pace in the recent past as the company delivers on all fronts. They have also been pioneering mirrorless cameras in their alpha range. The Sony RX10 IV is an excellent choice on a whole different league provided you are okay to overlook the expensive price tag. It is being referred to as the Bridge Camera and delivers way above what the term would suggest.
In terms of specifications, the camera will push off its opponents from the challenge with its amazing 25x optical zoom. The best compact camera with such an impressive zoom level makes it an easy suggestion for wildlife photographers or for those who are always on the move but like to capture events with great close-up shots. There is no need to change your lens or adjust the ISO settings constantly to get that perfect shot.
The Sony RX10 IV uses a 24-600 mm lens with an aperture level of f/2.4-4 making it a dependable camera to be used in low light conditions. The camera is powered by a 20.1-megapixel one-inch sensor and allows professionals to capture those exotic moments in 24fps. For anyone who loves nature photography or wildlife, it is a necessity despite its pricing. The camera also has a touch screen with tilt capability, 1-inch sensor and EVF to make the bundle even better. However, these features come with a steep price tag that is not easy to justify unless you really love some of the unique features it has to offer.
What Makes the Sony RX10 IV the best compact camera to buy?
The zoom capability is off the charts allowing you to get really close to your subject.
The compactness is quite handy for travel and it also has a balanced aperture level with a 1-inch sensor.
Recommended For:
Shooting wildlife photographs. The long-range zoom camera from Sony has a tilting, touchscreen display, best EVF and great build quality.
Travelers who prefer a handy, compact camera.
A Rather Expensive Camera with Amazing Picture Quality but No Zoom
Leica Q2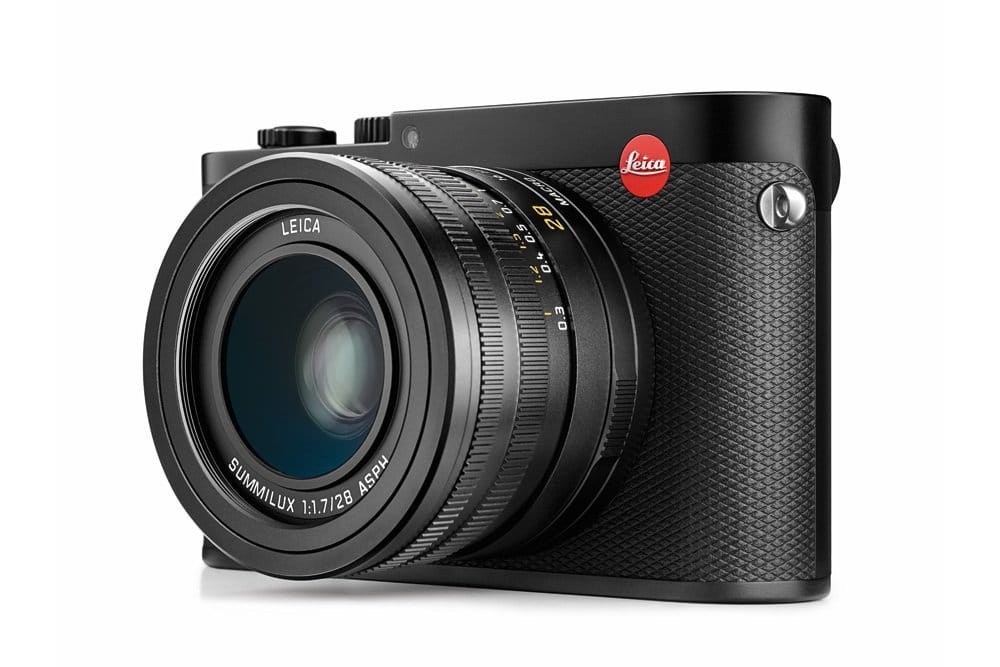 The Leica Q2 is positioned towards a very specific set of niche audiences – those who have thousands of dollars lying around and would like to distinguish themselves from the crowd. A majority of photography professionals have complaints about the lack of features and the ridiculously expensive cameras Leica makes. The company still delivers in its unique way, similar to Hasselblad in terms of picture quality.
The Leica Q2 is a camera model in its pedestal and truly justifies the term compact camera. It is extremely stylish and slim to hold with one hand so that you can shoot images comfortably. The model delivers a whole new level of build quality that is very impressive along with unique curves on all sides to make it easy to hold. The model uses micron 28mm f/1.7 aperture combined with a massive full-frame 24.2-megapixel sensor.
Some of the missing features are quite evident because there is no pop-up flash and it is built into the body similar to how older models looked. The full-frame image quality delivers on all fronts and they have a minimalistic yet professional finish to it with unique images that can only be produced by a Leica camera. The LCD panel is fixed on the Q2.
What Makes the Leica Q2 a Unique Model?
The Summilux lens used in the Leica is not something you will find in any other brand.
It has a very minimalistic design combined with the excellent build quality and compact frame.
Recommended For:
The Leica Q2 is purely for those who don't care about spending thousands of dollars on a camera that has some important features missing and no accessories to go with.
Those who prefer the stunning, amazing picture quality that has become a benchmark, which can be taken only with the compact Leica Q2.
An Iconic Product that is Compact and Full of Nostalgia
Ricoh GR III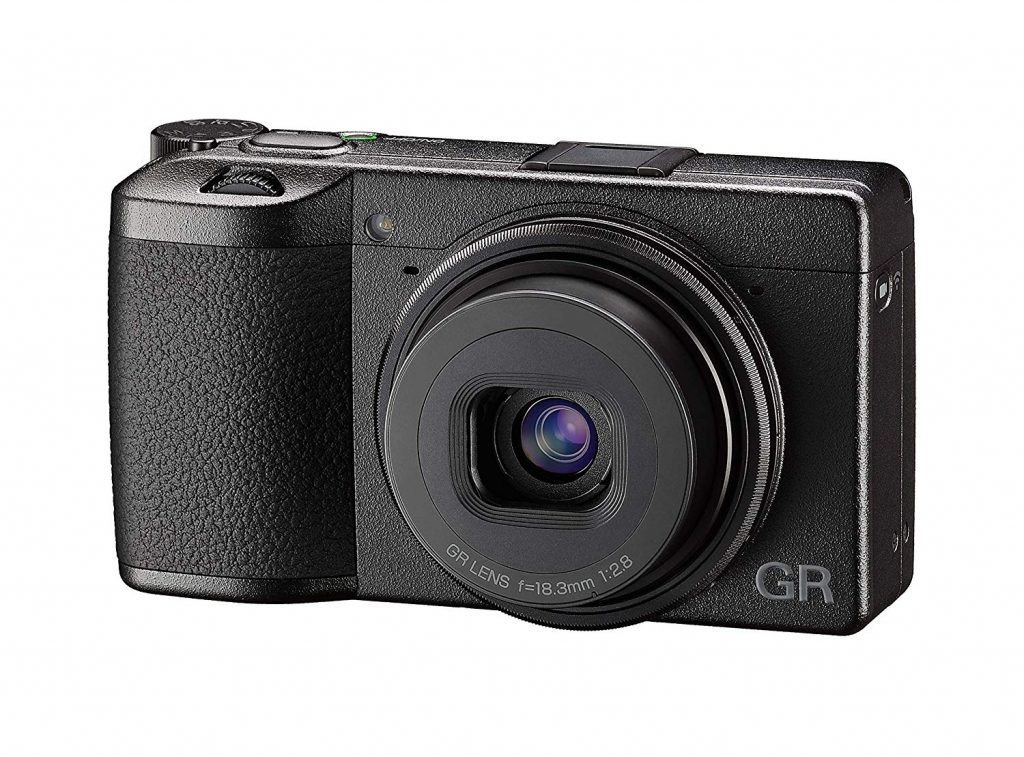 A professional photographer or hobbyist may not immediately consider spending hundreds of dollars on a product that is more of nostalgia and less of modern-day features. However, for those who have already invested in the professional photography scene and require something very unique, the Ricoh GR III has got it all covered. The brand has been around for a very long time with some great stories from the past.
The Ricoh GR III uses a 24-megapixel APS-C sensor that is adequate for capturing moments in all its glory. While the debate continues whether the brand has adapted well from its 35mm film days to the modern-day digital sensors, this is still an iconic camera in many ways for ardent followers of the Ricoh brand. Besides, the small and sleek design is very impressive defining the term compact camera.
Being a compact camera with a fixed lens that you can't change, it is all about the advantage of capturing the moment in the blink of an eye. Professionals would still prefer a camera that allows them to change the lens based on occasion but for anyone else, this compact camera is the way to go. You can either go for one with a prime lens or a zoom lens based on your most frequent usage scenario.
What Makes the Ricoh GR III a Classic Choice?
The Ricoh brand of camera transitioned into a great modern camera that you can use for street photography.
It is known for its compact design and build which feels sturdy to the grip.
Recommended For:
People on the go. It is a discreet camera that you can easily carry around in your pockets, but definitely on the expensive side.
For those who prefer a nostalgic product – ideal for use while traveling, to capture the beauty of new places.
A Great Performer within Your Budget
Sony Cyber-shot RX100 IV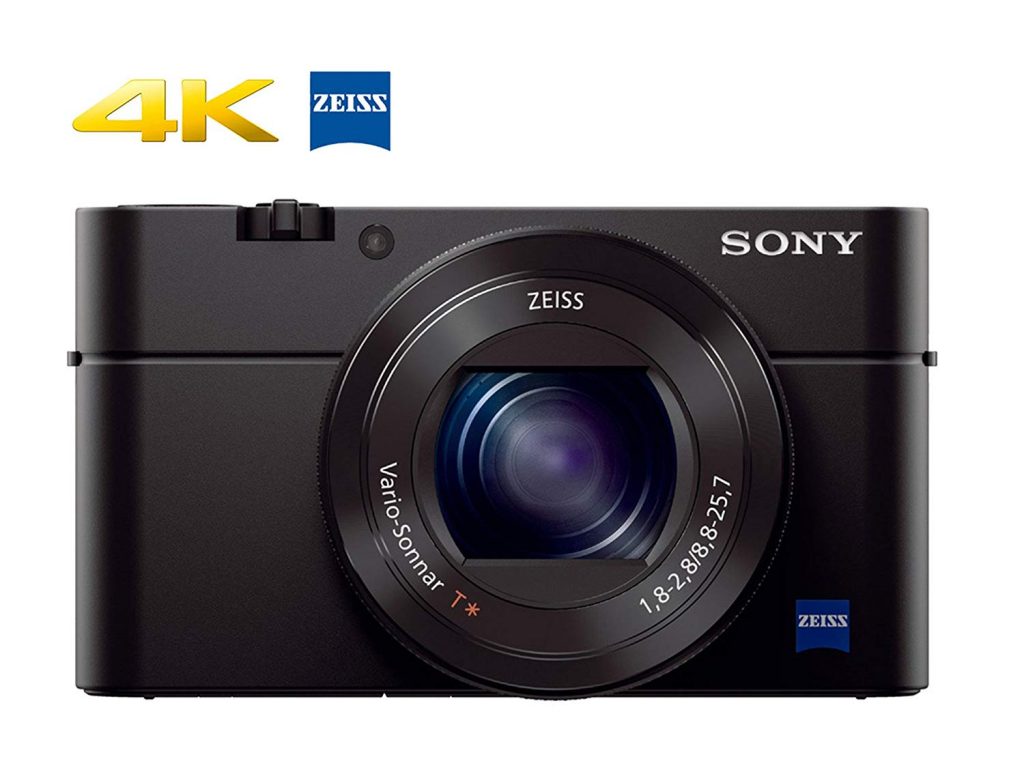 After a single glance at the camera, you will find yourself thinking that it is one of the best-looking and pocket-friendly cameras that you have ever seen. Sony has always been at its best when it comes to delivering amazing mirrorless cameras in its alpha series. While the RX100 IV is not the latest in the list, it still packs a punch and is among the best compact cameras that your money could buy.
The quality of photographs captured by the camera and its capability to easily handle 4K videos makes it one of the best choices to buy in the budget segment. The model is equipped with a 1-inch sensor and has a limited 24-70mm lens. The aperture range varies between f/1.8 to f/2.8 allowing users to capture videos or photographs both during broad daylight and in the night.
Everything that you would expect and need from a compact camera can be found in the Sony Cyber-shot RX100 IV because it does use optical stabilization and the viewfinder is not intrusive. You can comfortably carry the compact camera in your jean's pocket and capture some great quality images when needed. The size of the camera wins over everything else even though you should be extra careful not to drop it while holding it with one hand.
What Makes the Sony Cyber-shot RX100 IV the Best Compact Camera?
The size and design of the camera make it a truly compact device that you can carry in your pocket.
The quality of the sensor is very impressive considering the price and size of this model from Sony.
Recommended For:
Users who are looking for a budget-friendly and extremely compact device.
It is a camera for those who are willing to use an external stand while taking certain photographs, compromising on some of the ergonomic aspects of a camera.
The Ideal Compact Camera that You Need for Travel
Panasonic Lumix ZS200 / TZ200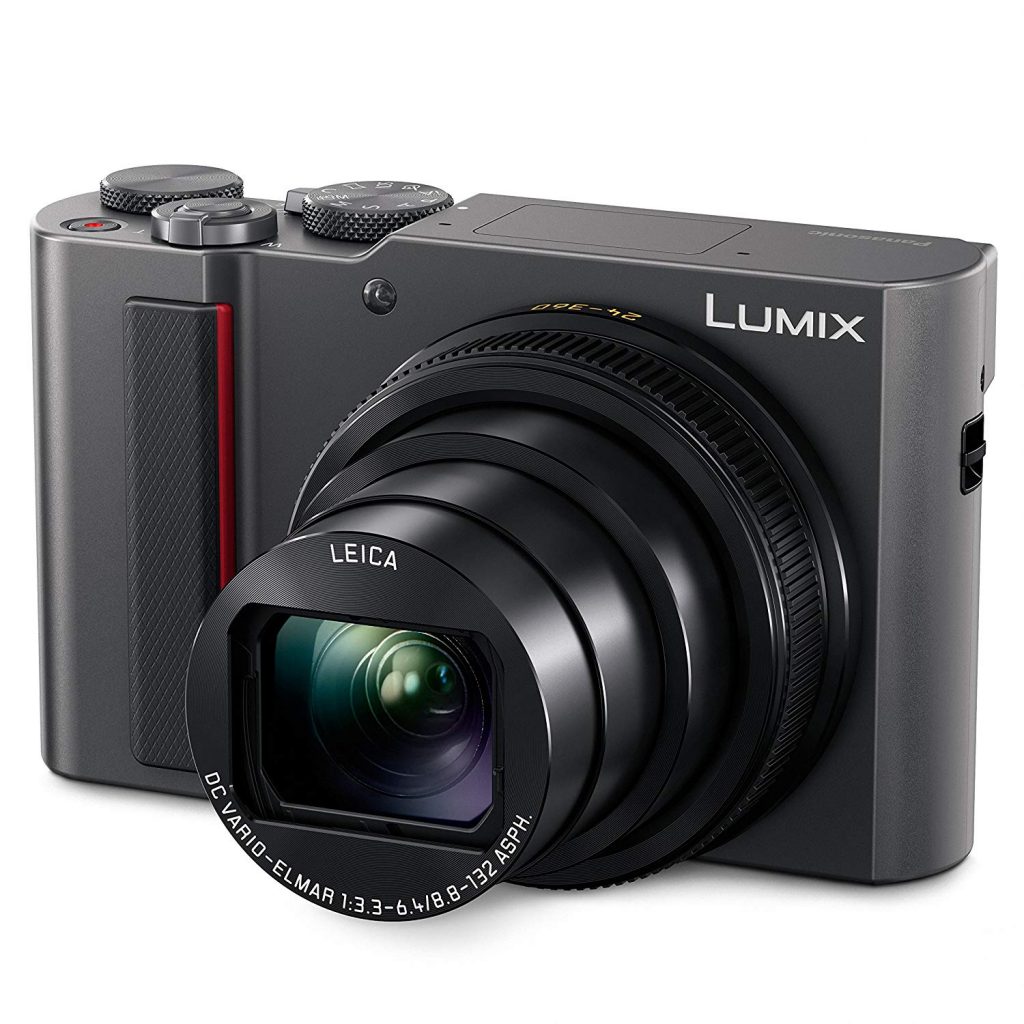 When you are traveling, you will often come across some beautiful locales or events on the road that should be captured at the precise moment. The best compact camera will ideally suit such a requirement and the Panasonic Lumix ZS200 / TZ200 is designed to be the right companion in every respect for such a situation. Equipped with a 1-inch sensor and a 20.1-megapixel capability, the camera simply impresses us with an amazing zoom capability.
The Lumix model is powered by a 15x zoom lens attached to it that covers from 25mm to 360mm so that you can easily capture objects, events or people from a distance. There is an electronic viewfinder that comes in handy combined with the camera's small, yet productive capability to capture videos in 4K resolution. The model is future-proof and will make sure it is worth the investment you make today.
Panasonic is the pioneer in this segment as they have already introduced compact cameras with a zoom lens and this particular model is no different. Besides delivering great value for money and excellent picture quality, the Lumix ZS/TZ series also provides an all-rounder package for travelers. Instead of having to carry multiple lenses or rely on smartphone photography, this professional yet compact solution should get things done.
What Makes the Panasonic Lumix ZS200 / TZ200 a Great Travel Choice?
The 15x zoom capability is just impressive and the best, considering how compact the camera is.
Picture quality and its ability to do 4K videos on the go makes it a great choice.
Recommended For:
The Panasonic Lumix ZS200 / TZ200 is for anyone who travels a lot and needs to take pictures with zooming capabilities.
For those who are looking for a compact camera that can deliver on all fronts.
A Compact Camera Made for YouTube Professionals
Canon PowerShot G7 X Mark III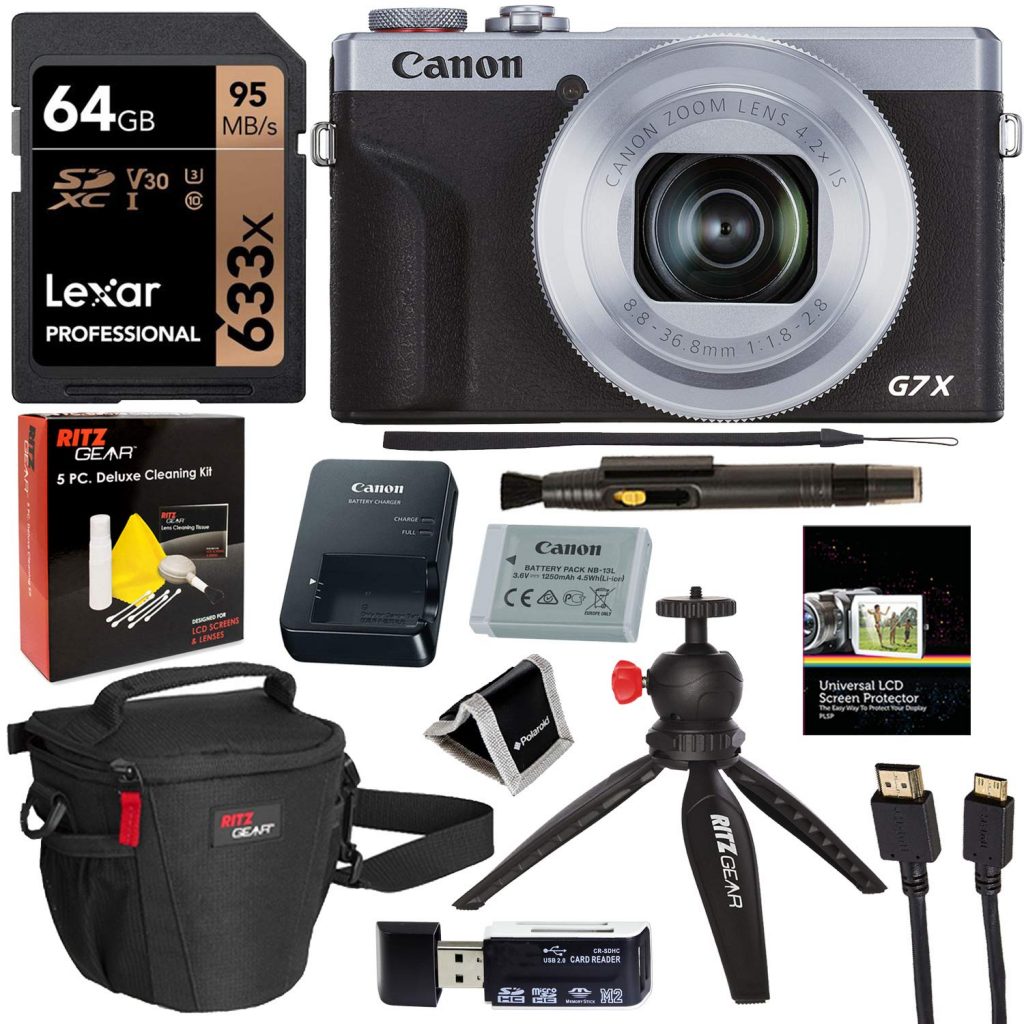 The sheer number of YouTube personalities working around the clock is pretty large these days and everyone needs a good camera they can use on the move. Once a vlogger goes out of the studio, it becomes mandatory to rely on the best compact camera to capture events, such as a food show or a crowd, efficiently. The Canon PowerShot G7 X Mark III is what such a person would need because it is a professional camera, just made smaller and easier to use.
The camera comfortably captures 4K videos so that you can use it to make footage for your YouTube channel or simply to cover an event for social media. There are so many different scenarios where the compactness of this particular model from Canon becomes prominent. The build quality of the camera feels good in the hands and easy to hold.
A prominent feature that will impress any professional video logger is the Canon PowerShot G7 X Mark III's capability to do super-fast burst shots. The touchscreen is quite responsive making it easier for the user to change settings, view the output and also make photographs better without having to rely on customization buffering period. While some features are missing, it does deliver what one would expect from this kind of compact camera.
What Makes the Canon PowerShot G7 X Mark III a Perfect Choice for Vloggers?
The design looks great and it is even more ergonomic than what you might have assumed looking at it for the first time.
The compact form factor is dutifully maintained at all points yet it delivers true 4K video quality and excellent photographs.
Recommended For:
The camera is made for quick videos and photographs which is why it lacks a viewfinder that professionals use to get that perfect shot.
It is for the video blogger, social media enthusiast or YouTube personality, to capture content that everyone would talk about later.
Best Compact Camera to Capture Moving Objects
Sony Cyber-shot RX100 VI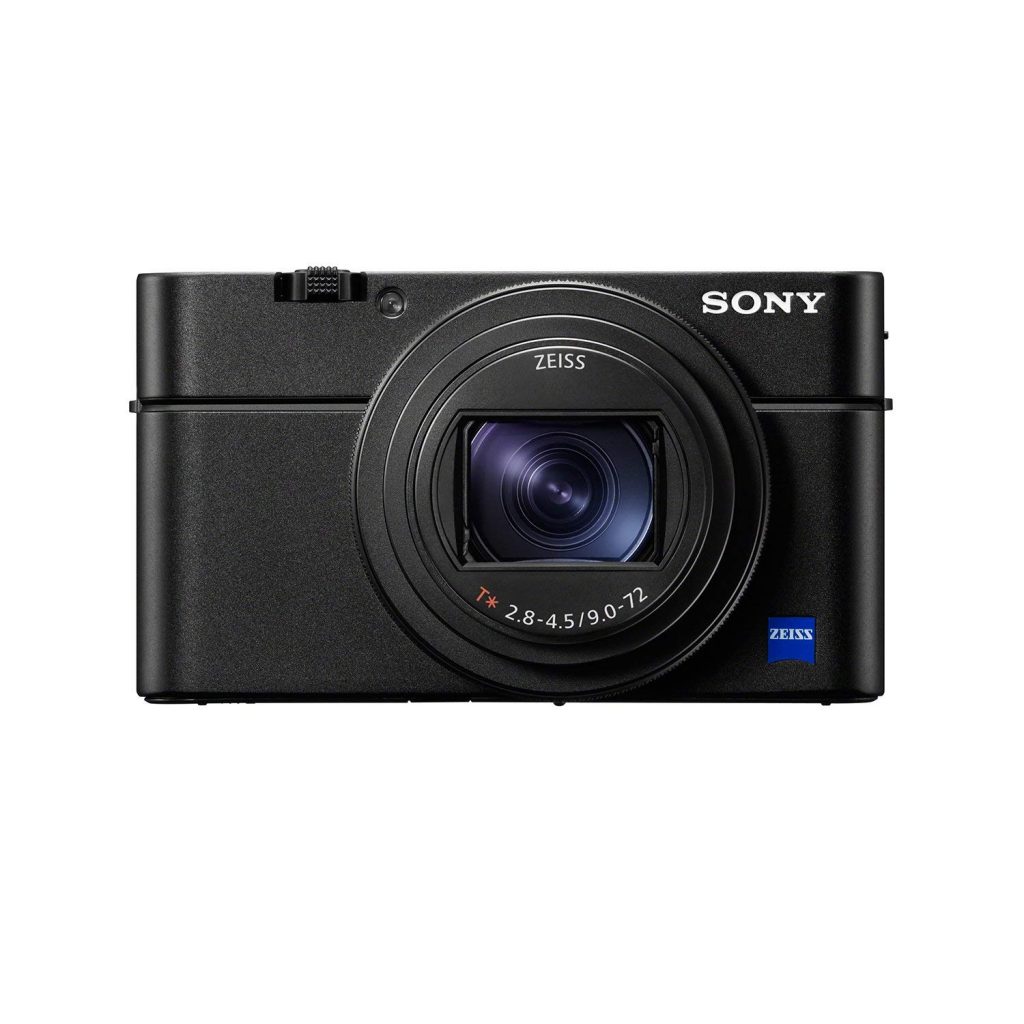 The requirement will change from one photographer to another because there are travelers who capture events such as people dancing or wildlife photographers who take pictures while on safari. While the professional equipment with extra-large lens does give better output, the Sony Cyber-shot RX100 VI impresses in terms of its sensor quality, its capability to capture fast-moving objects and the usefulness of having an extraordinary zoom capability.
All these interesting and useful features come at a price, a very expensive one at that for a compact camera. A thousand dollars is high but you can make the investment to enjoy the compactness and the quality that the camera offers. The RX 100 VI is bundled into a sturdy metal body that feels reliable and it can be used for high-speed shooting as well as 4K videos for those who need it.
The camera has some interesting features such as 40x slow motion capturing which is one of the popular claims made by smartphone cameras these days. However, the capability of this model and its image quality is definitely on par with any DSLR full-body camera. The zoom capability ranges between 24-200mm. The RX100 VI's lens allows the user to capture anything at a distance without much difficulty.
What Makes the Sony Cyber-shot RX100 VI a Great Device?
The pocket-sized camera is easy to use and you can easily carry it around while making use of the great level of zoom it delivers.
The camera delivers quality images and 4K videos besides allowing you to capture super-fast movements.
Recommended For:
It is a camera made for professionals who like to capture fast-moving objects or people during a festival, in the wild, or just while on a trip.
For those who require the highest level of zoom.
Best Compact and Tough Camera with Water Resistance
Olympus Tough TG-5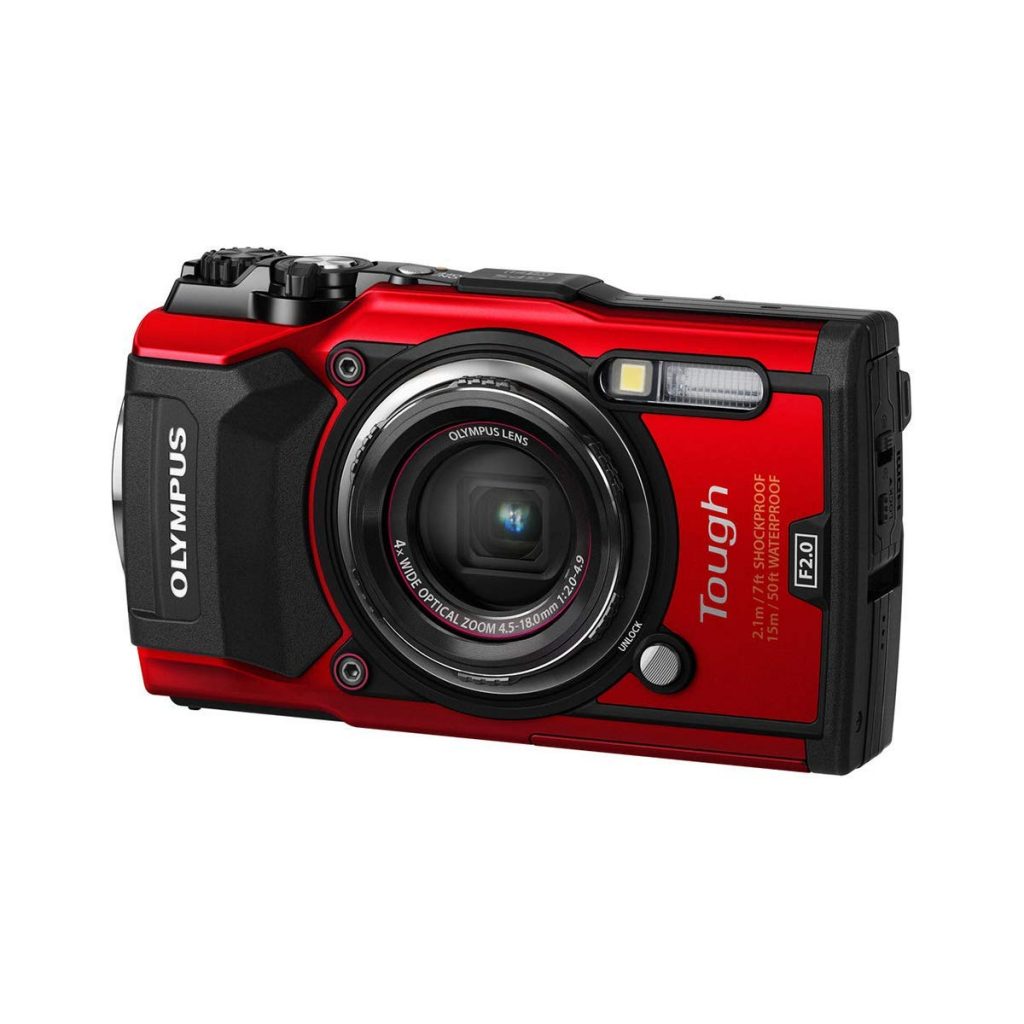 Designed solely for beginners and easy to use with a little customization, the Olympus Tough TG-5 stands true to its name and is one of the toughest compact cameras that you could find in the market. The brand is known for going the unique route in terms of build quality, pictures, and videos it captures but this particular variant is for those who need the ruggedness.
The Tough TG-5 can handle massive weight up to 100 kilograms while it is also drop-proof up to 2.1 meters. The camera's durability doesn't stop there as it can also handle temperature as low as 14 degrees Celsius and focuses on delivering better picture quality in low light or moderately lit conditions. The camera has just a 12-megapixel sensor but the increased ISO and its ability to take photographs in raw format make it stand out.
The rugged camera from Olympus can also handle 4K videos at 30 frames per second while it also boasts of excellent waterproof capabilities. Besides, the camera has been used by travelers and adventure lovers who used it in a wide variety of situations. Their positive reviews stand proof to the fact that the TG-5 is the toughest model available that you can depend on.
What Makes the Olympus Tough TG-5 the Most Durable Compact Camera?
The Olympus model has received an official waterproof rating and will also work in extreme climatic conditions.
It can be used to capture high-speed video content at 120fps and full HD resolution.
Recommended For:
Designed for those who do frequent adventure trips and therefore need the best compact camera that is extremely durable, while producing some great pictures and videos.
The Olympus Tough TG-5 is just the right choice for those who are looking for an all-rounder, robust model.
The Most Compact Camera with Limited Features
Nikon CoolPix A10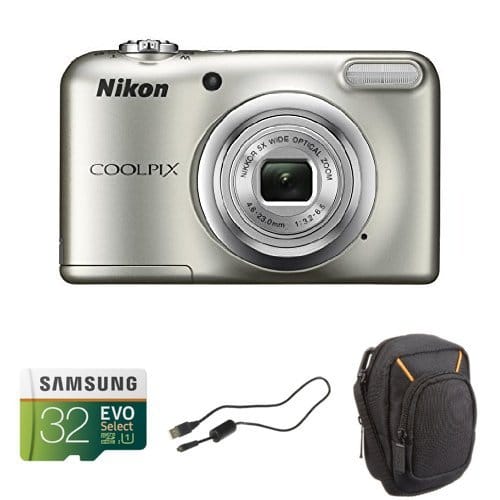 The design and the colorful outlook of the camera will immediately let you know that this is not meant for professionals. A true professional will not go for cameras that don't have an interchangeable lens and if all you need to do is just take some snaps with respectable quality, the Nikon CoolPix A10 will be right on the line.
In terms of specifications, the camera has a 16.1-megapixel CCD image sensor which can deliver some impressive photos considering how inexpensive the product is. You can easily capture HD videos but not in full HD while the 5x optical zoom allows you to get closer to your subject when taking photographs from a distance.
This camera has a 2.7-inch LCD which allows you to see the output before capturing a photograph or when recording videos. The design of the camera is impressive because it is not only compact but looks more consumer-friendly, that you can take it around and show off to your friends.
What Makes the Nikon CoolPix A10 a Good Choice?
The affordable price is a huge factor.
The model has a decent zoom and delivers quality photographs.
Recommended For:
It is a model made for the casual user.
The Nikon CoolPix A10 is great value-for-money and also delivers good quality pictures.
Bottomline
The best compact cameras can vary and you need to plan your purchase based on how you are planning to use it – your budget and the various features found in the camera. While DSLRs are much larger and deliver interchangeable lenses, the advantage of using a compact camera is that you can either go for a zoom lens or a prime lens based on the type of subject or events that you plan to capture. They are available at different price points from all major brands and all of them are easy to carry around, making them great compact cameras for anyone to own.
---