X
Our Editorial Process
Each year more than 60 Million users visit Technobezz to solve a problem or research a product. Our goal is that everyone finds what they are looking for, and that is why we cover a variety of products, problems, and solutions on our website.

Writing an article that contains a lot of valuable information may seem simple. But when the article is written, the story doesn't end. We are constantly updating the content so that you can always get up-to-date and accurate information.
---
Technobezz's Editorial Guidelines
Phone call recording apps have gained importance in recent years. They can help record your
Phone call recording apps have gained importance in recent years. They can help record your conversations and, at times, screen activity for future reference. This makes them a big asset for businesses to make smart business decisions and deliver a better customer experience.
The App Store is flooded with several phone recorder apps. Here, we have shortlisted seven apps with their best features to ease your selection process.
Best Phone Call Recorder Apps for iPhone Users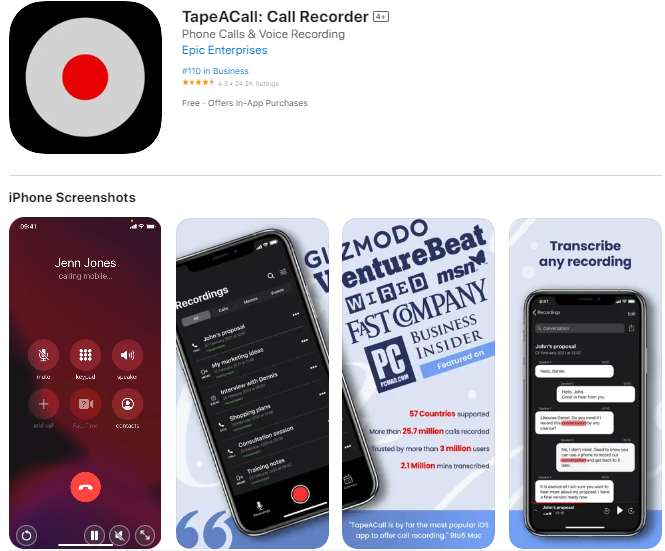 TapeACall helps you record even the most minute details of your conversations on your phone and transfer them to other devices. The app records outgoing calls automatically without the need for call merging. You can also record incoming calls.
The recorded calls can be transcribed to text with accuracy. You can access the calls right after the call is over. The app will also help you set reminders to access the recordings in the future. TapeACall allows to organize and label them for fast reference in the future.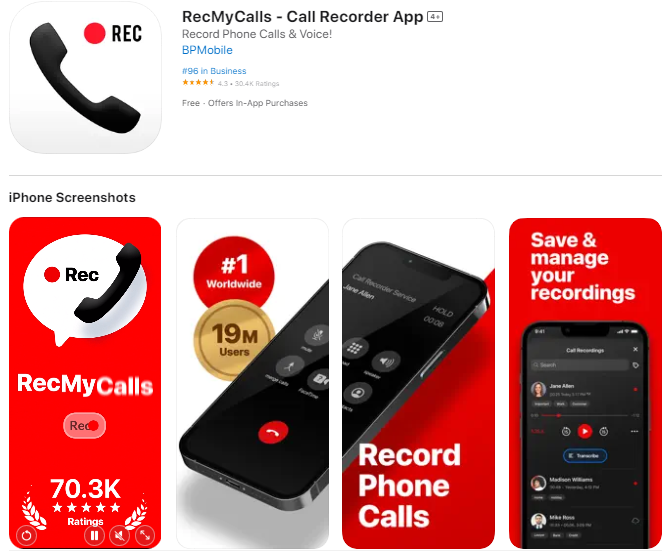 RecMyCalls makes recording outgoing and incoming calls a hassle-free experience with just a few taps. You can access recorded calls anytime and anywhere. You can also record voice memos with the Voice Recorder functionality apart from voice calls.
The app has a highly intuitive interface that makes it easy to use. You can export and share your recordings to other apps and devices. RecMyCalls allows you to rename the recorded calls for ease of identification at a later time.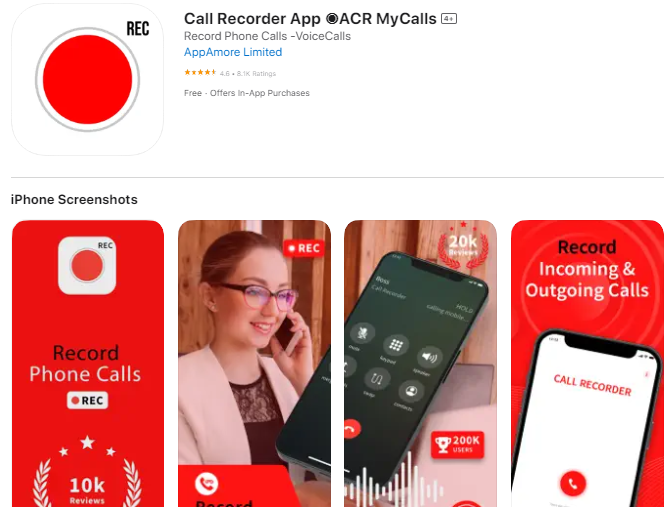 Call Recorder records any number of domestic and international calls on your iPhone with or without an active internet connection. You can rest assured that the recordings are safe and secure. The app also allows you to edit the audio that was recorded.
With Call Recorder, you can easily organize, download, save, and share the recordings. The network carrier should be capable of supporting 3-way calling for the app to perform its function. You can access the recordings from any device.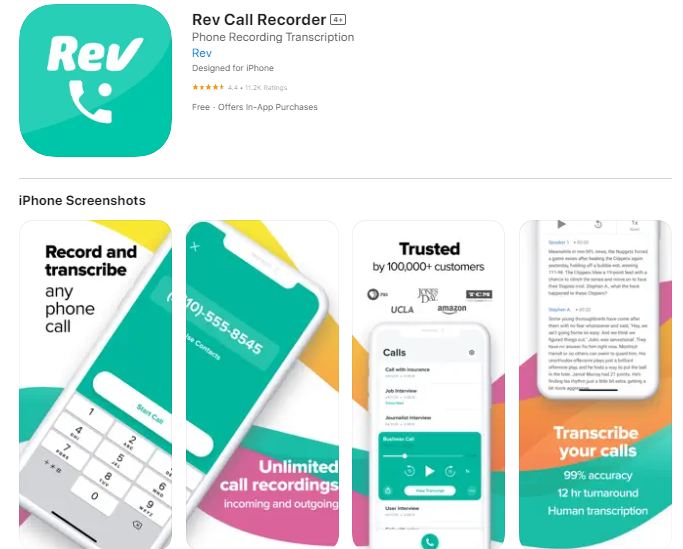 Rev Call Recorder ensures high quality for all your calls and playback without annoying ads. The app records calls with just a one-step simple process for free. You can record any number of calls for any duration of your choice.
The app allows you to place an order for a nominally charged transcript if you want a written reference of the exact conversation. Rev Call Recorder is undoubtedly a great option for podcasters, journalists, and content creators. You can easily get your recordings to others across multiple sources.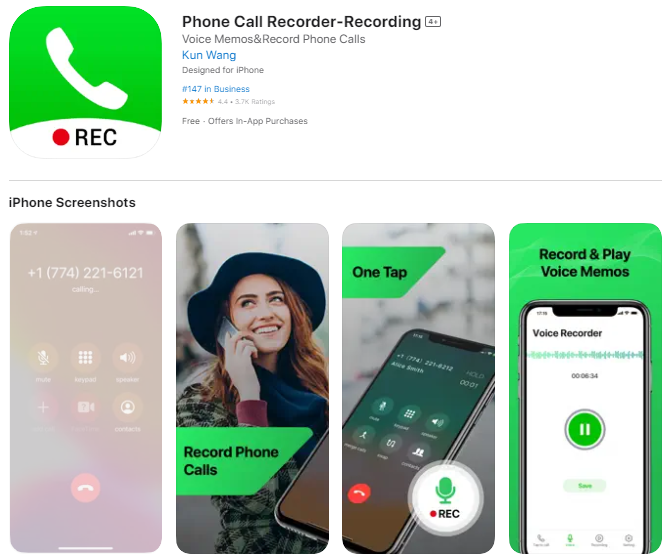 Phone Call Recorder can record any number of phone calls for you. The app not only allows you to play recorded calls but also any background recording. You can also set the recorder to automatically record the calls so that you do not have to initiate the process for each call.
The recorder helps you to retrieve in-depth details of the caller from the recordings. The Quick search function makes accessing the desired recording from the record log easy. Phone Call Recorder also allows you to add a tag to the recording for identification.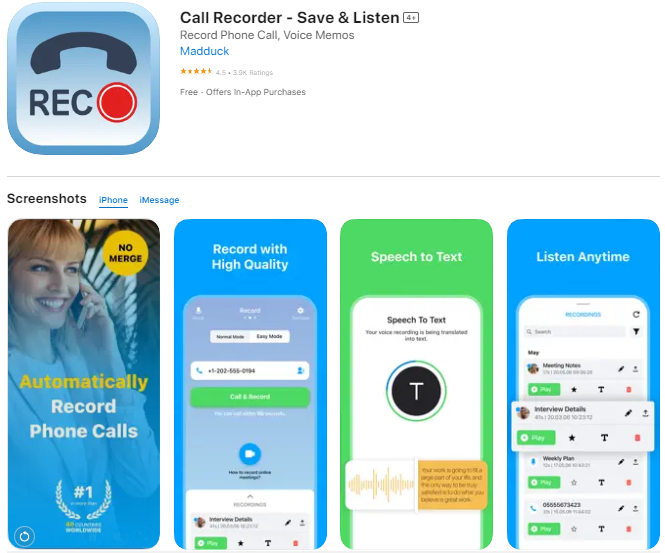 Call Recorder - Save & Listen allows you to record all your calls with just the tap of a button. The call gets automatically merged when the call gets connected and the recording starts immediately. The recording is then saved in the app after the call with excellent quality.
Save & Listen does more than just record phone calls for you and converts the recordings to text. The app can make voice memos of just about anything, like important tasks to be done if you don't want to write them down. You can protect your recording screen with a password to prevent unauthorized access, rename each recording, or mark selected recordings as favorites for effortless identification.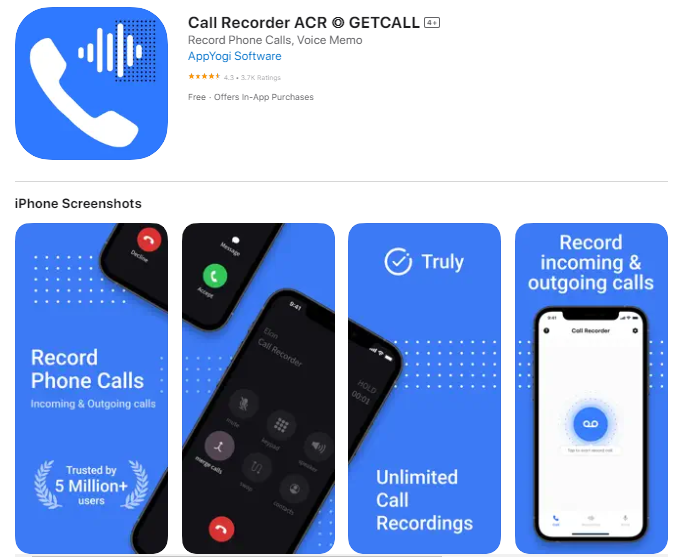 GETCALL makes a recording of not just one-on-one calls but also group calls. The group calls recording feature makes the app highly recommended if you want to relive group conversations at a later point in time. Press the Record button on the app for the recording to commence before the conversation starts and you are good to go.
The app produces a voice message or a beep to inform you that the recording will begin. Once the recording is done, GETCALL allows you to make changes to the recording by trimming off the unrelated portions. The recordings will be available almost as soon as the call is disconnected.
Conclusion
Most phone call recorder apps offer the option of storing the recordings on the cloud or sharing them through other media. This can result in a compromise on the privacy and safety of the recorded content. You can check out the salient features of some of the best phone call recorders for iPhones and decide which works best for you.