X
Our Editorial Process
Each year more than 60 Million users visit Technobezz to solve a problem or research a product. Our goal is that everyone finds what they are looking for, and that is why we cover a variety of products, problems, and solutions on our website.

Writing an article that contains a lot of valuable information may seem simple. But when the article is written, the story doesn't end. We are constantly updating the content so that you can always get up-to-date and accurate information.
---
Technobezz's Editorial Guidelines
An equalizer is an electronic equipment that helps one make suitable adjustments to the volume of frequency
An equalizer is an electronic equipment that helps one make suitable adjustments to the volume of frequency bands existing within an audio signal. Even when you are using an iPhone, you have the option of making audio adjustments using equalizer apps.
Best Equalizer Apps to Make Audio Adjustments on Your iPhone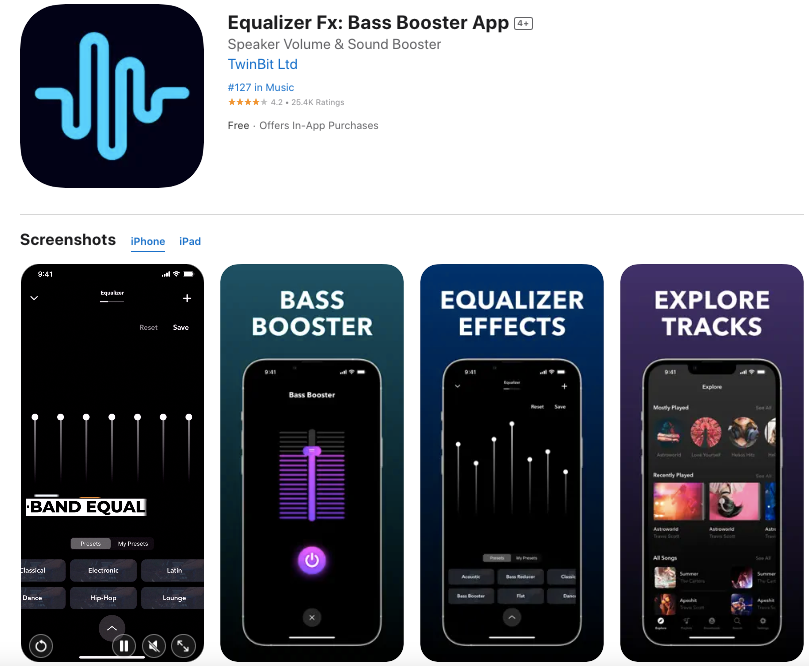 Equalizer Fx is an app that is known for offering roaring bass effects. It features a 7-band EQ coupled with well-designed DJ transitions, that make listening to music highly satisfying. To get complete access to all the features offered on the app, you can subscribe to it monthly or yearly.
The app offers a wide range of equalizer presets, including bass booster, acoustic, bass reducer, pop, flat, hip hop, rock, classical and Latin. You also have the option of putting together customized equalizer presets.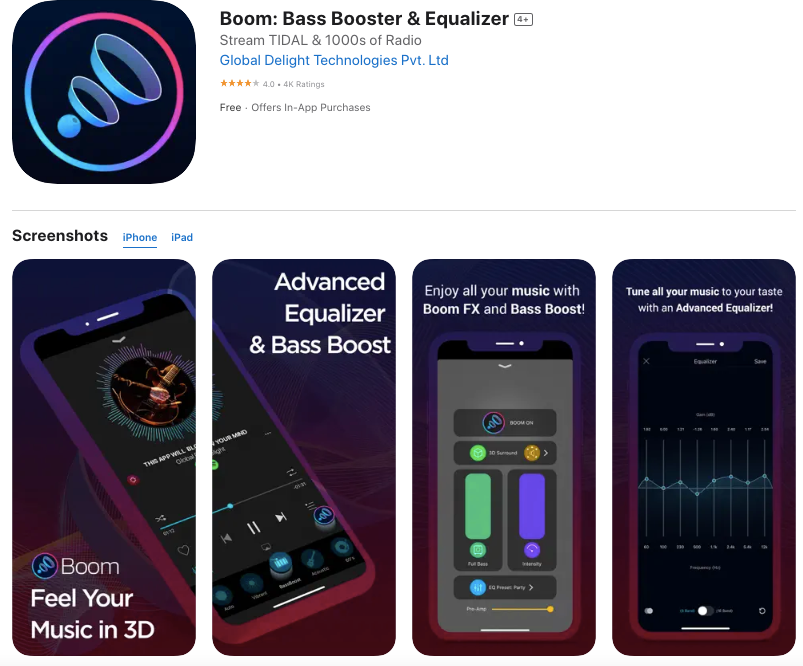 One of the highlights of the Boom app is its patented 3D surround sound that comes alive when you hear any audio track using your headphones. There are a plethora of other wonderful features, including a bass booster that helps you amplify the music you listen to.
Using this app, you can stream all the podcasts and radio stations that are out there. You can also instantly access your music on Google Drive and Dropbox. The app is popular across different age groups owing to its user-friendly interface.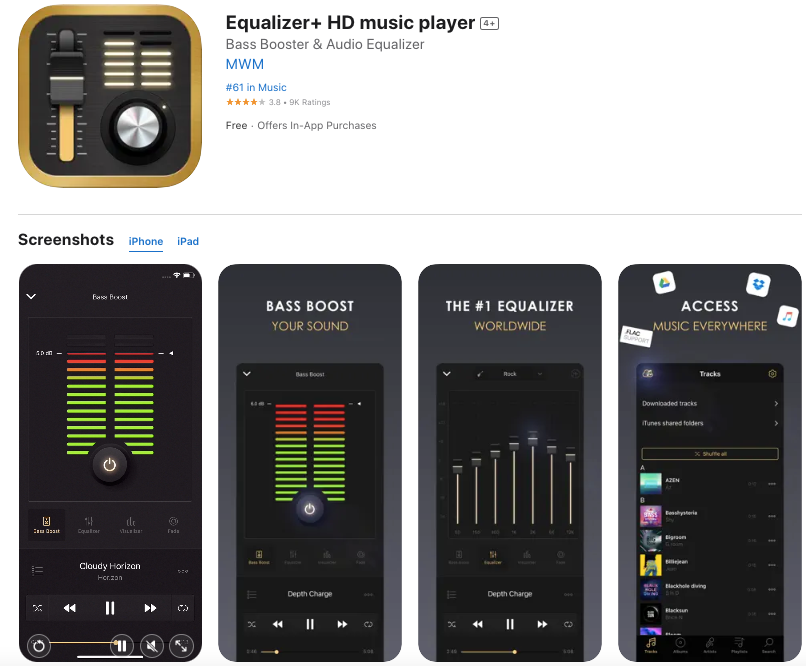 Many iPhone users look for an app that, apart from being a good equalizer, can also work as a versatile music player. Widely promoted as an 'all-in-one music player,' Equalizer+ has set high standards for equalizer apps and music players.
When you look at the features provided by the app, you know it has been designed for music aficionados. The app allows you to edit, mix and customize your tracks in several different ways.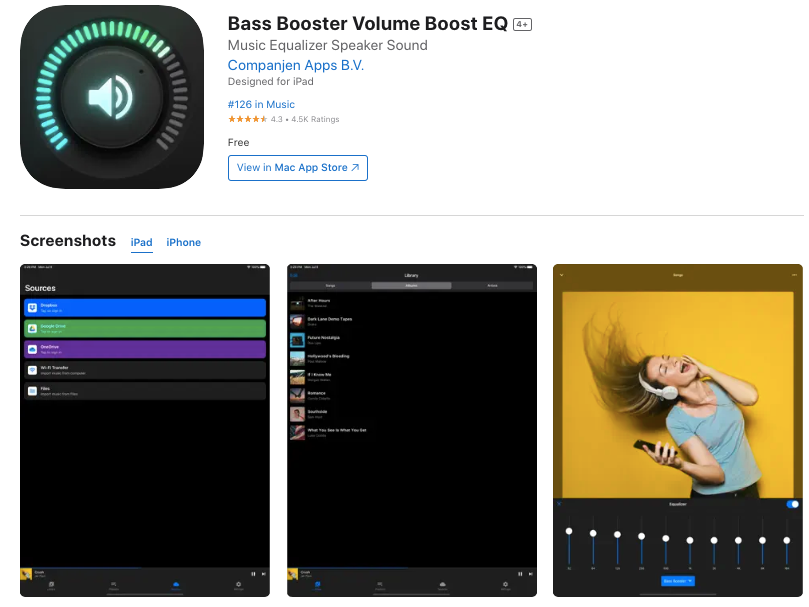 Listening to music through the internal speakers of your iPhone is a very different experience from consuming music through headphones. You should use the Bass Booster app to ensure that the music you listen to through the speakers is loud enough.
This app comes with a 10-band equalizer and offers you more than 20 presets to choose from. It also offers direct access to your iTunes library. You can put together customized playlists and save your favorite tracks conveniently.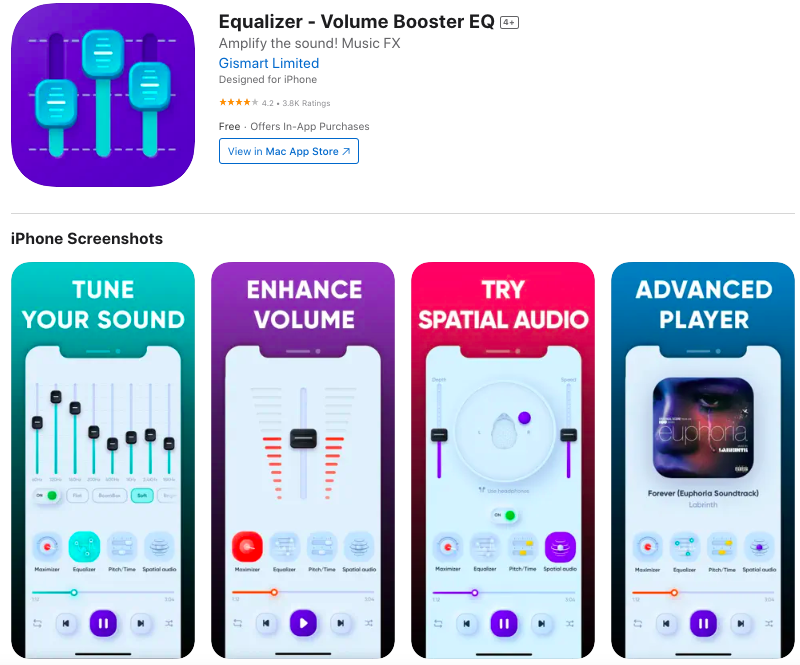 This will be your best bet if you are looking for a simple equalizer app with a user-friendly interface. As per your preference and mood, you get a wide variety of equalizer presets to choose from. Apart from offering you full access to your iTunes library, this app also enables you to source music from DropBox.
You can use the maximizer to adjust the volume according to your needs. If there is some frequency-related issue with a music or audio track, you can fix it instantly using this app. You can also change the pitch or key of a track.
This app has been designed for those who like to listen to music at a very high volume and with robust bass effects. While listening to an audio track, you can adjust bass and treble according to your preference.
While several features of this app are free, you must have a subscription to get complete access. For instance, the turn-on button in the equalizer mixer can only be activated when you subscribe to the premium version.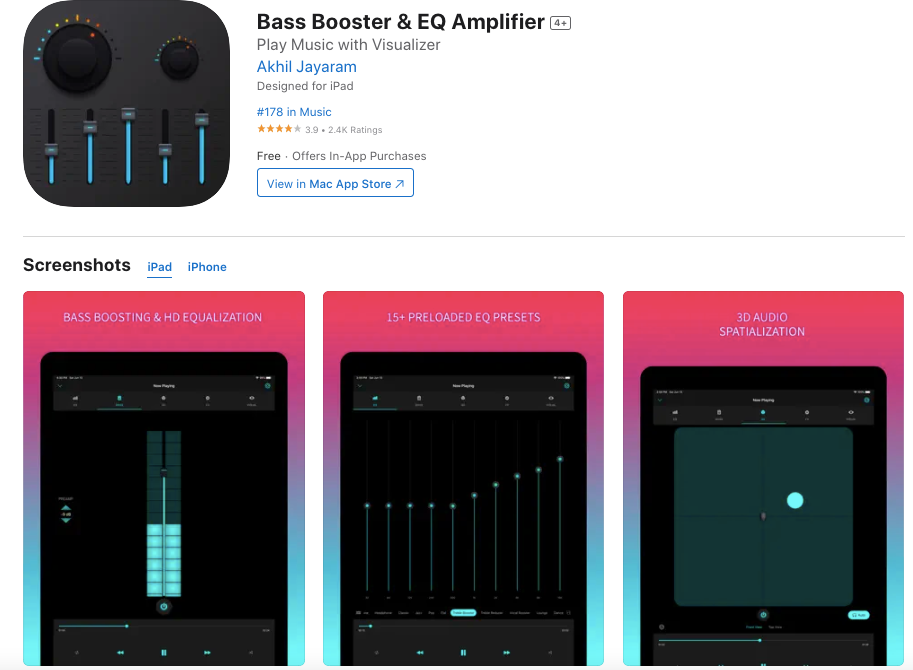 The Bass Booster & EQ Amplifier is an app that not only enables you to make alterations to the pitch, frequency, and other aspects related to your audio tracks but also ensures a wholesome experience while listening to music.
Along with a 10-band equalizer, 3D audio spatializer, and intuitive player controls, you get more than 15 presets to choose from. You can create various playlists from different platforms or sources like Dropbox, OneDrive, and WiFi.
Conclusion
While an iPhone device assures you of high-end audio output, you can do a few things to ensure that the audio output you receive offers you something extra. Using these equalizer apps is a great way to get the best out of the music you have on your iPhone.