X
Our Editorial Process
Each year more than 60 Million users visit Technobezz to solve a problem or research a product. Our goal is that everyone finds what they are looking for, and that is why we cover a variety of products, problems, and solutions on our website.

Writing an article that contains a lot of valuable information may seem simple. But when the article is written, the story doesn't end. We are constantly updating the content so that you can always get up-to-date and accurate information.
---
Technobezz's Editorial Guidelines
When trying to lead a disciplined life and stick to schedules, you have to keep track of
When trying to lead a disciplined life and stick to schedules, you have to keep track of dates and times. For instance, if you wish to achieve a goal by the 1st of September, you need to look at the calendar daily to find how much time you have left to fulfill your objective. Thanks to technological advancement, you do not necessarily have to carry a physical calendar with you.
If you own an iPhone, you will get the opportunity to choose from a variety of calendar apps that will help you know what time of the year or month it is. Most of these apps come with a plethora of features that help you stay organized.
Here are some of the best Calendar Apps for iPhone that are very useful: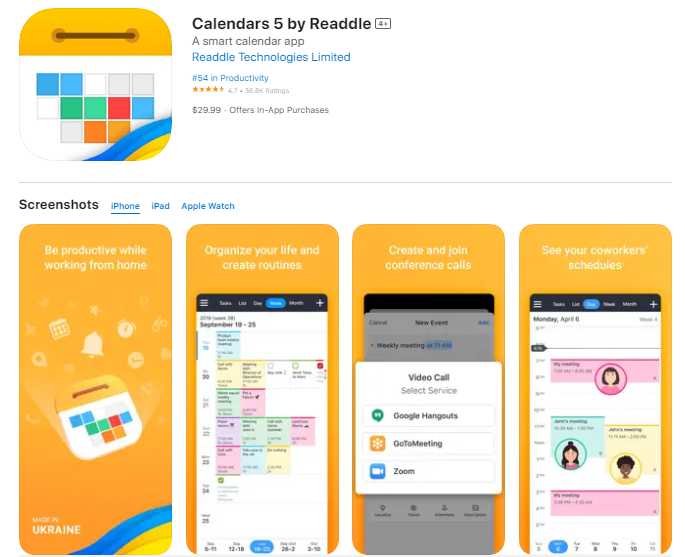 Developed by Readdle, Calendars 5 comes with several interesting features that make it one of the best "smart" calendar apps for iPhone users. Readdle has used the basic structure of a mobile calendar app as its base and incorporated several features that help the app stand out.
The app is widely used by iPhone users based in different countries because of the convenience it offers. Creating events using this app is as easy as it gets. You also have the option of illustrating your days differently to remember important things easily.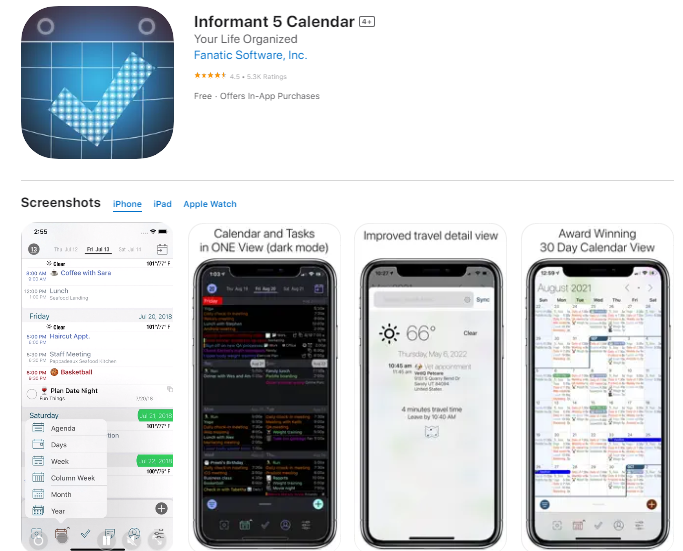 Informant 5 Calendar has been designed keeping in mind the requirements or necessities of working professionals. If you lead a very busy professional life and need a calendar app that helps you exercise a good amount of control over your schedules, this is the right app for you.
Through this app, you can categorize your tasks into different projects. You can also prioritize one task over another. While you can use it as a free app, when you upgrade to the paid version, you get several premium features to choose from.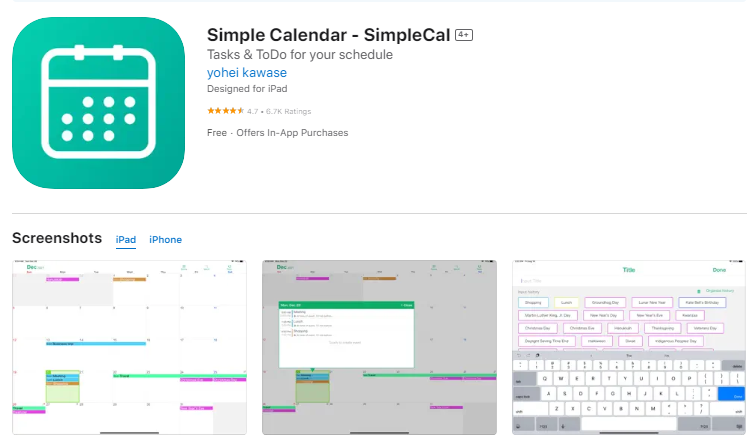 Simple Calendar is often referred to as one of the simplest and most versatile calendar apps. While it comes with a variety of high-end features, you will face no difficulty while using them. If you have been using some other calendar, you can comfortably transfer or sync all its data with this one.
The app has a dedicated weather section that keeps you abreast of the current weather conditions and also predicts what the weather could be like in the near future. You can use the app in both its regular mode and dark mode.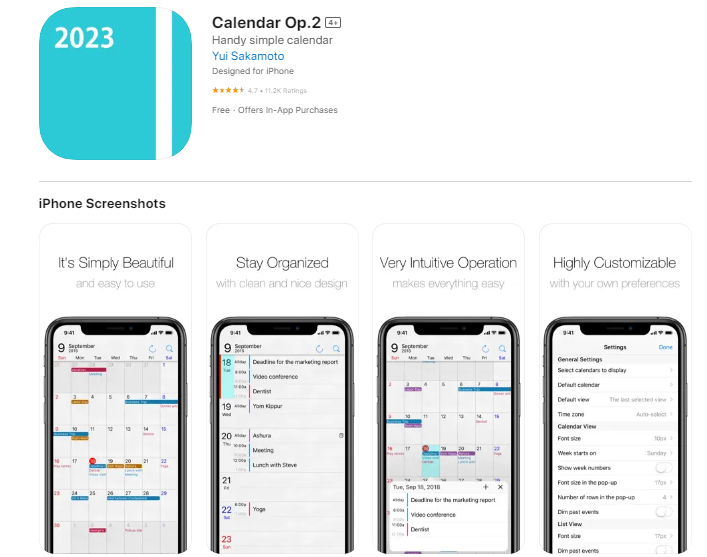 Just like its name, Calendar Op.2 is a very modern calendar app that you can download from the App Store. It comes with a mini pop-up window that will keep you updated or reminded about daily events.
You have the option of syncing the information present on it with Google Calendar and iCloud using the built-in iOS calendar. Through vertical scrolling, have a look at your schedule for the previous month and next month as well.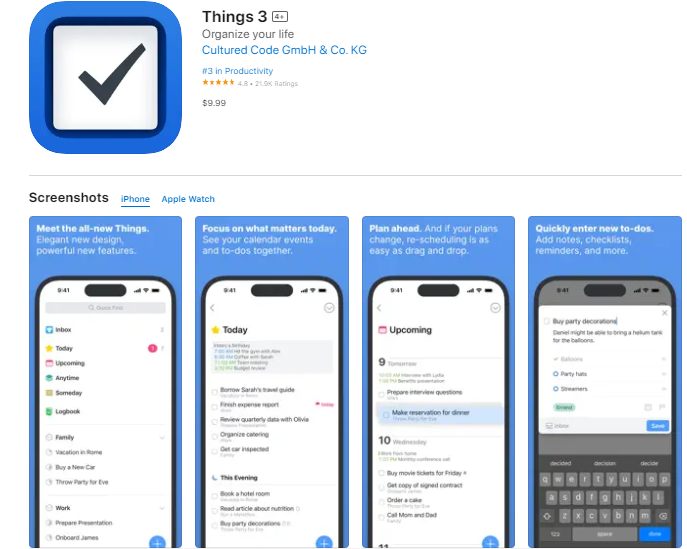 If you are open to the idea of paying for a calendar app, you should consider using Things 3. The app has won multiple awards for both its functionality and design. The best thing is that the developer keeps adding new features to it at regular intervals.
Using this app, you can create schedules or events under different categories like finance, home, and work. This app enables you to keep things organized and have a clean widget to look at. With the help of shortcuts, you can also get your workflow automated.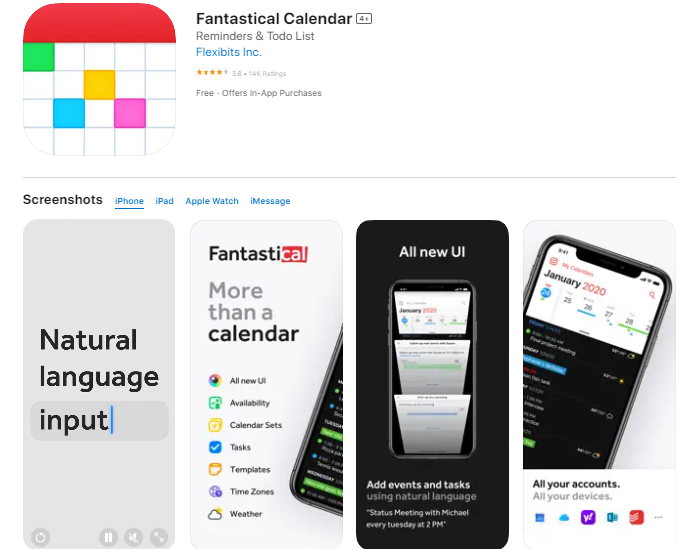 Apart from having a trendy name, the Fantastical Calendar app also boasts of an uncomplicated mechanism that helps you use this app with effortless ease. Apart from your iPhone, this app works very smoothly on Macbook, iPad, and Apple Watch.
This is a multi-purpose app as it enables you to add Google Meet, Microsoft Teams, Zoom, and Webex calls. Apart from doing a weather forecast for the day, it predicts the weather situation you could experience over the next three days.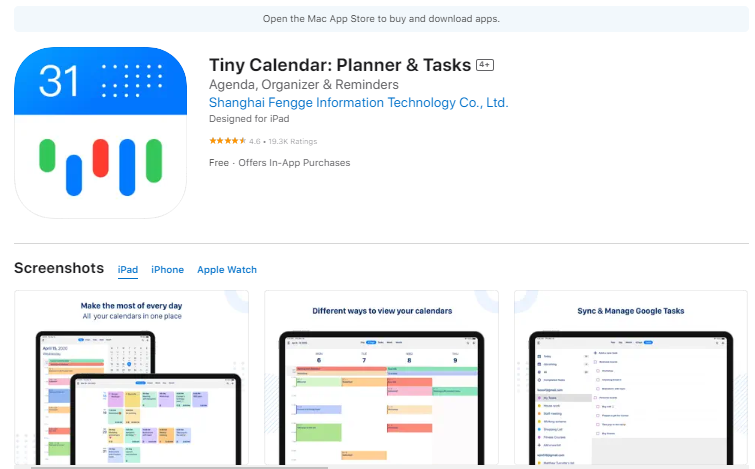 Despite the app being called Tiny Calendar, it offers a large number of useful features to choose from. Some of the most advanced features found on this app include natural language input, gestures, and drag and drop.
One of the highlights of this app is that it offers you 9 different ways to view it. Even if you have set multiple events, tracking them wouldn't be a difficult task at all. You have the option to get this app synced with your local iOS calendar and Google Calendar.
Conclusion
Apart from keeping you informed about dates and times, a calendar time helps you manage your schedule and carry out different personal and professional tasks. If you are using an iPhone device, then you should have at least one of the aforementioned apps installed.