X
Our Editorial Process
Each year more than 60 Million users visit Technobezz to solve a problem or research a product. Our goal is that everyone finds what they are looking for, and that is why we cover a variety of products, problems, and solutions on our website.

Writing an article that contains a lot of valuable information may seem simple. But when the article is written, the story doesn't end. We are constantly updating the content so that you can always get up-to-date and accurate information.
---
Technobezz's Editorial Guidelines
Barcode scanners have become increasingly popular for retrieving information stored in barcodes.
Barcode scanners have become increasingly popular for retrieving information stored in barcodes. It might seem frustrating to decide on an app because they all seem the same. This is why we have picked out seven apps for Apple and Android users so that you don't have to do too much research.
While all scanner apps may seem alike, they differ in various aspects, such as functionality. They have some noteworthy aspects in common too. Check out our list here to figure out what best meets your needs.
Best Barcode Scanner Apps for Scanning Your Products
QR & Barcode Scanner – Best Barcode Scanner App with Two-in-One Functionality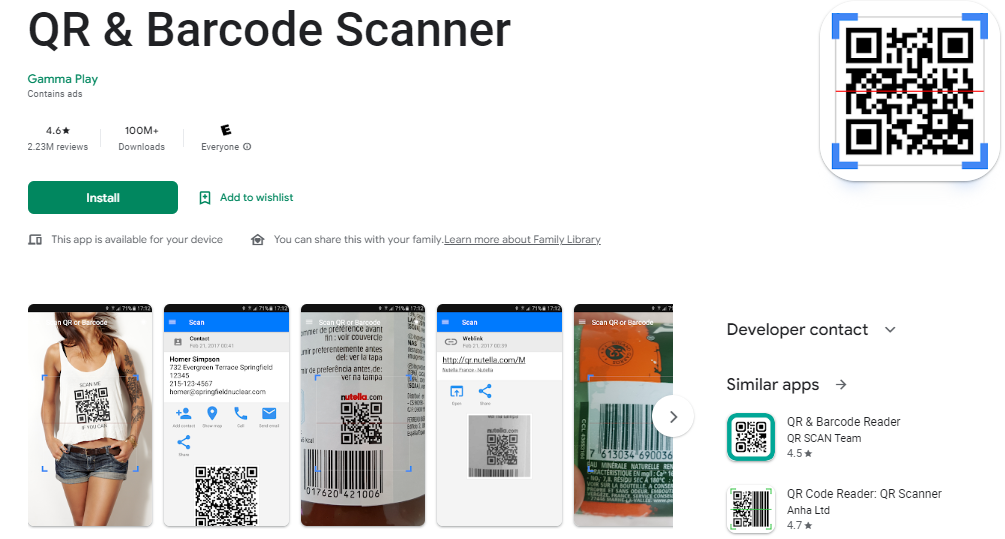 QR & Barcode Scanner does just what its name suggests. You can use the same app to scan both QR codes and barcodes. The app makes the scanning process very easy with its inbuilt scan functionality.
With QR & Barcode Scanner app, you have to direct the scanner over the code to be scanned and the scanning gets done automatically. You don't have to press any button on the scanner. There is also no need to adjust the zoom or take a photo of the code.
QRbot – Best Barcode Scanner App with Arbitrary Data Sharing
QRbot scans barcodes in multiple formats such as UPC, QR, Data Matrix, EAN, Aztec and more. The app can not only be used with existing codes but allows you to create your own QR codes.
You can use QRbot to include contacts in your virtual address book and share Wi-Fi hotspot credentials and website addresses in the form of QR codes to be scanned later. The app additionally supports easy management of inventory. It helps you get details of various products and their prices by scanning their EAC or UPC barcodes.
FreeScan© – Best Barcode Scanner App with Instant Scan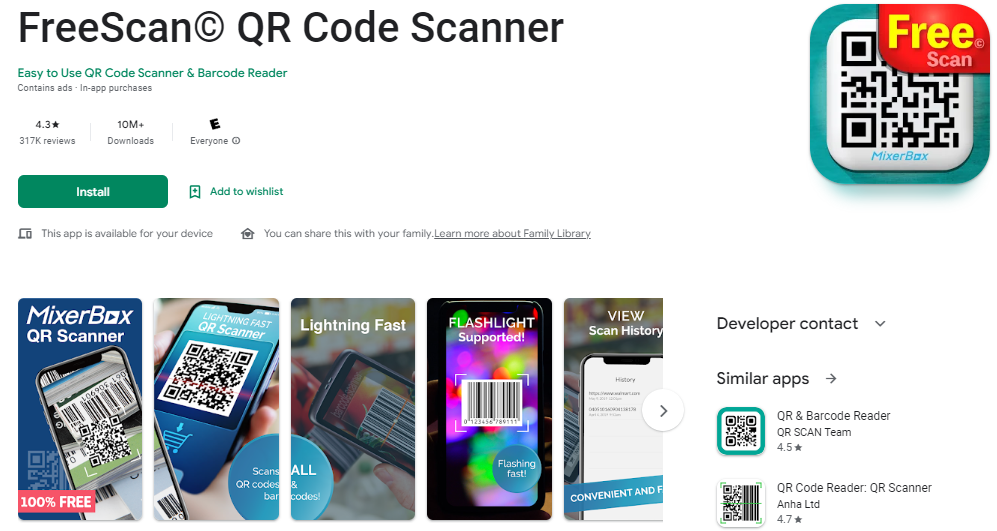 FreeScan© scans almost all types of barcodes and QR codes. The app instantly scans any standard 1D and 2D codes, making it simple and easy to use.
The scan takes place very fast and gets done almost immediately with FreeScan© irrespective of the code. You can use the scanner app to view the details or history of scans done in the past. The flashlight feature allows you to have clear visibility of the codes even in the dark, just like during the daytime.
Barcode Scanner – Best Barcode Scanner App with Notification Alerts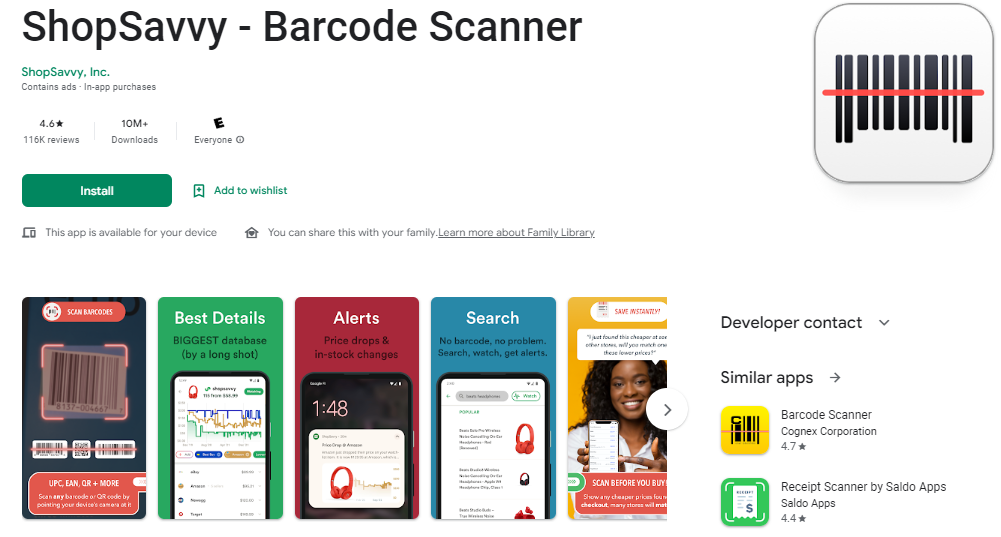 Barcode Scanner does much more than what its name indicates. The app identifies barcodes by implementing the most recent machine-learning techniques.
Barcode Scanner keeps you notified when you sell an item in your store. You can also use the app to be informed of price drops of products across retailers or locate stores near you with the item you want at the best price. The app additionally helps you compare past sales with an in-depth price history report.
QR Code Reader – Best Barcode Scanner App for Use on the Move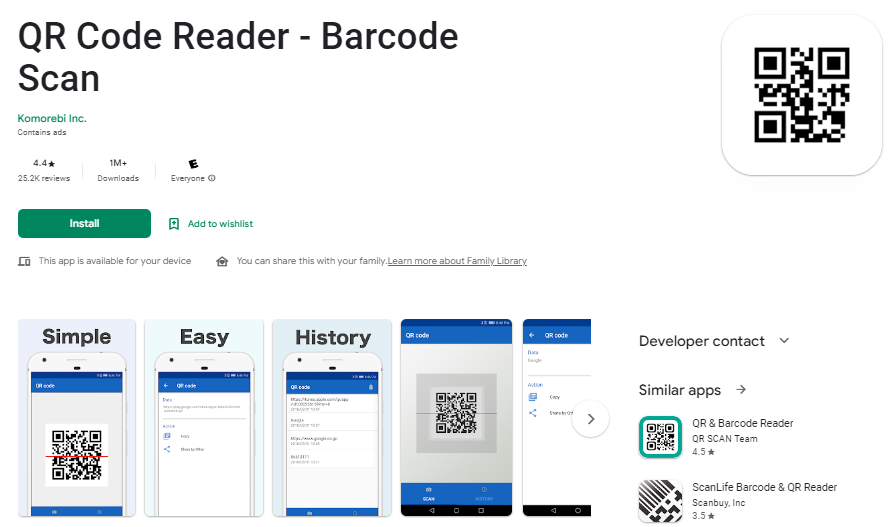 QR Code Reader helps you do a QR code scan when you are on the move. The app helps you get the URL, product information, text, URL, location, and more associated with the QR code you scan.
You can keep track of the QR codes you scanned and look them up at a later date with a QR Code Reader. The app launches really fast and the scan gets done very fast. You can also share the QR code to several other platforms.
QR Code Reader and Scanner – Best Barcode Scanner App with Malware Protection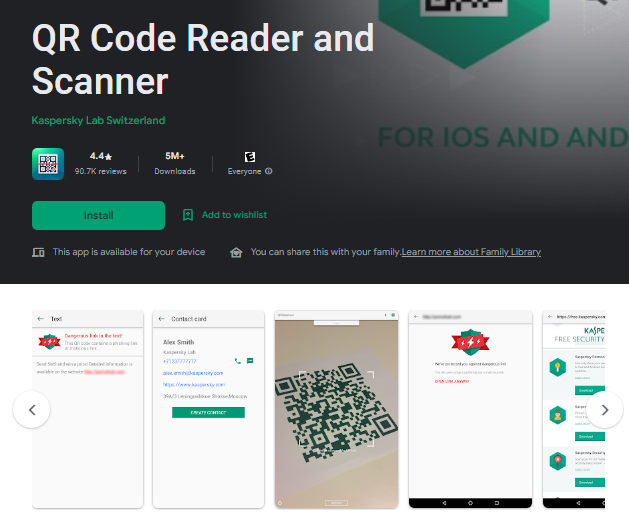 QR Code Reader and Scanner is your must-have barcode scanner if you're apprehensive of malware. The app checks instantly for the safety of the QR code along with its related website, images and texts.
Thanks to the QR Code Reader and Scanner, you can keep yourself safe against malicious QR codes featuring harmful links so that you don't fall prey to phishing traps and malware. You can also add new contacts from business cards to your database with a fast scan and store the results.
QR & Barcode Reader – Best Barcode Scanner App with Multiple Features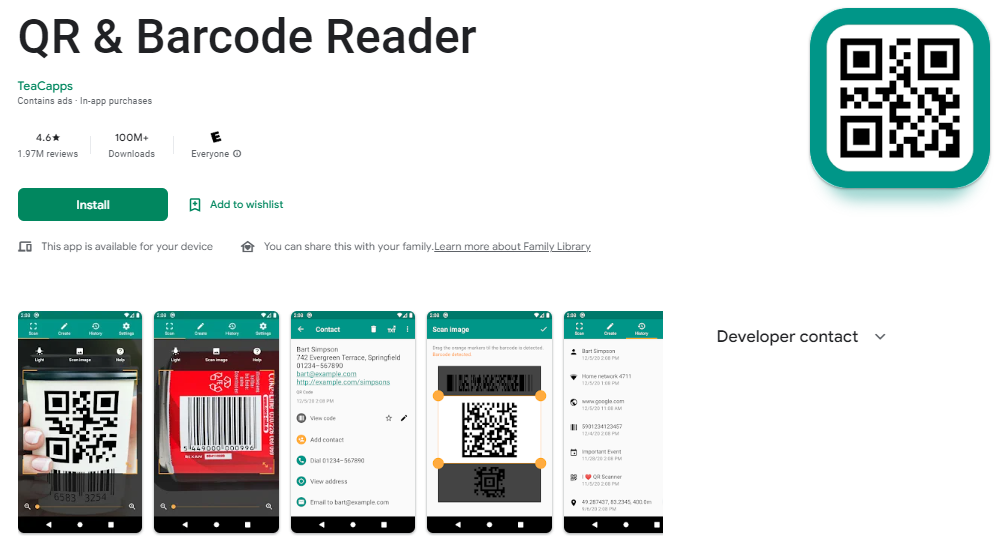 QR & Barcode Reader isn't just easy to use but also very fast. The app scans multiple codes in a short time. You can use the app to scan offline codes and codes from websites like Amazon, Google, and more.
You can use QR & Barcode Reader to share the scanned content with other apps. You can also view the address, email ID, and address related to the code. The app also allows you to add a contact for the code.
Conclusion
Barcode scanner apps help scan the code associated with each product and track the item's availability on the internet. Moreover, most apps scan QR codes that are gaining popularity for various instances like making payments. Now that we have told you the salient features of the seven best apps, you can easily choose what is good for you.