Apple recently doubled over their iCloud storage plan. They are now offering 2TB storage for the price of $9.99 as they had valued their earlier offering of 1TB storage space. The 1TB plan has been discontinued. The 50 GB plan is offered at $0.99 while those who subscribe for 200 GB iCloud storage space will have to pay $2.99.
With the rollout of iOS 11, the storage plans seem to be quite beneficial because now you can share your iCloud storage with your family members.
Apple users who are using the 50 GB plan for $0.99 would have to upgrade to their plan to either 200 GB or 2TB to be eligible to share their plans with their family members. The process of the upgrade is quite simple and once you select your plan you need to add the family members to use it. Here is how to add family members to a shared iCloud storage plan in iOS 11.
Read also- How To Upgrade To A Family iCloud Storage Plan In iOS 11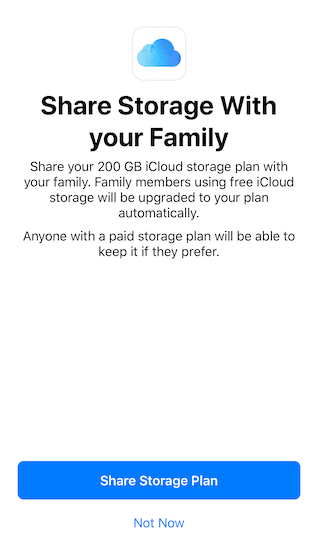 How to Add Family Members to a Shared iCloud Storage Plan in iOS 11
The user who has upgraded the iCloud storage plan on their phone will have to send an invitation to the Family Sharing Group
Go to Settings app of your iPhone
Here you need to tap on your Apple ID profile
Under this tap on Family Sharing
Next tap on iCloud Storage option
In the next step, you need to tap on Let Your Family Know
Once you select the Send button an invitation will go out to all the members of the Family Sharing group so you can share your iCloud Storage plan.
You will get a message on your screen saying that the invitation has been sent and that your family members will get access to the 200 GB/2TB storage plan when they join.
The same screen will have the option which says Close, tap on it to exit.
To finish the process to add family members to a shared iCloud storage plan in iOS 11 the family members need to accept the invitation so the process of sharing can begin.
Say, you have received an invitation to share the iCloud storage plan:
You need to open the Message app on your iPhone
Just tap on iCloud Invitation to finish the process.
You and your family members can now enjoy the iCloud storage plan together. For those who were already using the 1TB plan would be automatically upgraded to the 2TB plan. Exciting isn't it!
Read also- 4 Awesome AR Apps For iOS 11 You Should Try Out Now
Join our newsletter 🎉
Subscribe to our newsletter and never miss out on what's happening in the tech world. It's that simple.
Latest Tech News

Exclusive Tech Deals