iPhone 6 is the finest Apple device. This model is known for its new design, it has a larger HD screen, which is thin, and most advanced multi-touch screen ever made when it comes to iPhones. This model has Touch ID – fingerprint identification, and with it, you can be sure that all your data are properly secured in the device. Even if this phone truly is remarkable, many users around the world complain about overheating and fast battery drain issues. Here are 5 Ways to fix iPhone 6 getting extremely hot and battery drains rapidly and some useful tips that can prevent overheating and improve the battery life.
5 Ways To Fix IPhone 6 Getting Extremely Hot And Battery Drains Rapidly
Solution No.1: Restart your phone
The first thing you should do is to restart your iPhone. Press and hold the sleep/wake button and red the slider when it appears. When the phone is off, press and hold the same button until the Apple logo shows up.
Solution No.2: Apps that are draining the battery
Often, one or few apps that you have installed are the reason why the battery is draining as fast, so it is essential to figure out which app is causing the problem. To do that, go to Settings > Battery > Battery Usage.
You will get a clear picture and you will see which apps are draining the most of the battery. First, make sure to update those apps. If that doesn't work, delete the app and then install it again.
Solution No.3: Turn off automatic updates
This simple step may be very helpful. Go to Settings > iTunes & App store and under Automatic Downloads, toggle Updates switch.
Solution No.4: Turn off Background app refresh
Background app refresh is a super useful feature that allows the apps on your iPhone to refresh with all the latest info, but this can have a huge impact on the battery. You can turn off Background app refresh for all the apps, or you can turn it off only for some apps. It's up to you.
Go to Settings
Tap General
Tap Background app refresh
You can now tap on Background app refresh located at the top of the screen to turn off the features for all the apps, or you can turn it off only for some apps that you are not using as much by toggling the switch right next to the app.
Solution No.5: Turn off location services
Another thing you may do is to turn off location services.
Go to Settings
Tap General
Tap Privacy > Location Services
You can turn it off completely by moving the switch next to location services, or you can choose the apps that will use this feature.
What else?
The solutions we mentioned above can make a huge difference for the users who are experiencing battery drain and overheating issues, but there are a few more things you can do.
Update iOS
Sometimes, the software bugs are to blame for overheating and battery drain issues. If there is a new version of iOS available, make sure to install it.
Plug your device into a power source and connect to a Wi-Fi network
Navigate to Settings > General > Software and tap Download and Install.
Erase all content and settings
Reset to factory settings is always helpful. First, backup your iPhone. Go to General, choose Reset, and select Erase All Content and Data, and then tap on "Erase iPhone". After that, set up your iPhone as new and all the problems should be fixed.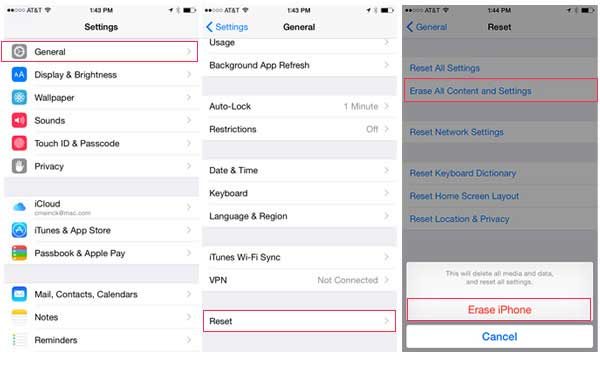 Tips to prevent overheating and improve battery life
Here are the things you can do to prevent overheating and make the battery last longer between charges.
Turn off Wi-Fi, Bluetooth, and GPS when not in use.
Turn off push notifications for the apps you are not using frequently by going to Settings > Notifications.
Remove the iPhone's case to keep your device cool.
Turn the Airplane mode on when you are in the area with poor reception.
Adjust the brightness. Navigate to Settings > Display & Brightness, turn off Automatic brightness and adjust it manually.
Use one email services and delete the others by going to Settings > Mail, Contacts, Calendars. Then choose the account you want to remove and tap Delete.
Uninstall Facebook app because it is one of the biggest battery drainers and access this social network using Safari or another browser.
Avoid playing games, especially 3D games.
These 5 Ways to fix iPhone 6 getting extremely hot and battery drains rapidly along with additional solutions and tips to keep your iPhone cool will help you solve these issues.